As an Amazon Associate I earn from qualifying purchases.
Montana is synonymous with fly fishing for trout. On the Bighorn River, flyfishing is king, and for good reason.
That's not to say other methods don't yield good fish here, but the Bighorn River presents unique opportunities to fly anglers no matter one's skillset or ability.
As a fly-or-die guy for the past 35 years and a professional guide for the last 15, I can confidently say that fly fishing The Bighorn River should be on any trout-purists bucket list.
The Bighorn River begins in northern Wyoming and flows into a series of dams just over the Montana border. While both sides of the river are quite productive, we're going to focus on the Montana side of the equation.
Fly Fishing The Bighorn River: Why Go?
The Bighorn River (or the Horn as locals call it) has had the good fortune to become a virtual trout factory.
There are a few things that have come together to make the Bighorn River trout fishing one of the most productive rivers in the country.
In 1964, the Corps of Engineers began work on Yellowtail Dam. Work was completed in 1967 and provided water conservation and hydroelectric power for the area. The smaller secondary dam, known as the Afterbay Dam, was started at the same time and finished in 1966.
These dams are both bottom-release dams. Water only spills over the top if the reservoirs are too full to prevent flooding.
This series of dams took a once silty prairie river and gave it new life. Consistent flows, reduced turbidity, healthy pH levels, and cold water from the bottom of the reservoir all add up to one thing: the perfect trout habitat. This is why fly fishing is so good on the Bighorn River.
The Bighorn River Fly Fishing: Tips & Tricks To Catch More Fish
While many anglers have their go-to tips and tricks for attacking a river and pursuing fish, having some local insight will help make the most of your efforts. The better understanding you have of the river before heading out, the more time you can spend maximizing your efforts.
Here's a list of the top ways to fly fish the Bighorn River:
Stop Into a Local Shop
Locals know best. They're on the water all the time and they're gathering intel from others. Most likely, your journey will take you through Billings, MT. There, you can stop into East Rosebud Fly and Tackle.
While not on the "Horn," these guys are out all the time and have guides sending them intel.
On the river itself, there are three fly shops. Two are in Fort Smith, MT, just below Yellowtail Dam and right at the Afterbay Dam – the genesis of the Montana side of the Bighorn River.
Both shops have extensive knowledge of what's working at any moment and have teams of guides that head out every morning, before returning with intel each evening. Both have plenty of flies to keep you in the game.
The third shop is just before 3 Mile FAS (Fishing Access Site, aptly named as it's 3 miles downstream from Fort Smith). It's called Cottonwood Camp and also has a good fly shop and guide-fed intel to share.
Don't Ask for Help and Not Buy
Fly shops are a great resource for information, however, they are first and foremost, businesses. Don't walk in to leech information and just leave.
Give equal reciprocity and buy some recommended flies, a new line, a hat, or a tee shirt – something in exchange for the help. Also, when it comes to buying flies, don't make the rookie mistake of only buying one or two.
Flies don't last forever. They fall apart. They get lost in trees and on rocks. The worst thing is finding the hot fly on the river and running out while the bite is hot.
Buy Groceries Before You Go
When fishing the Bighorn River, you need to know that accommodations are sparse.
There's a convenience store in Fort Smith but I wouldn't rely on it always being open or having what you need.
It's best to stock up in Billings before you hit the road. Otherwise, Hardin, MT is the last place to do so before heading up the Bighorn River to Fort Smith. While Hardin is much smaller than Billings, you'll still be able to get some essential supplies and water bottles.
This may not seem like a fishing hack, but you need sustenance to survive and keep on fishing.
BYOB
The entirety of the section of river in this discussion is on the Crow Reservation. And while there are state-regulated and maintained access sites to the river and some privately owned land there, the reservation as a whole is a dry reservation.
If imbibing on libations is part of a fishing trip for you, whether it's mixing cocktails post-river, having wine with dinner, or having cold ones in your boat cooler, you'll need to haul them in yourself.
Billings will be your best bet but the small town of Hardin, right on the border of the reservation and very near the river, is your last chance.
Think Small
One thing you'll notice when fishing the Bighorn River is that the bugs are pretty small. This is typical for a tailwater such as the Bighorn.
There are times when something larger like a worm, a large scud, or a streamer is appropriate. Most of the time, however, you're typically fishing 16 as your larger bug and sizing down to 20, 22, or smaller depending on the hatch.
Add Variation to Your Fly Box
Another thing common to tailwaters is technical fishing/picky fish. Whether fishing dry flies or nymphs, make sure you have different variations of the same insect.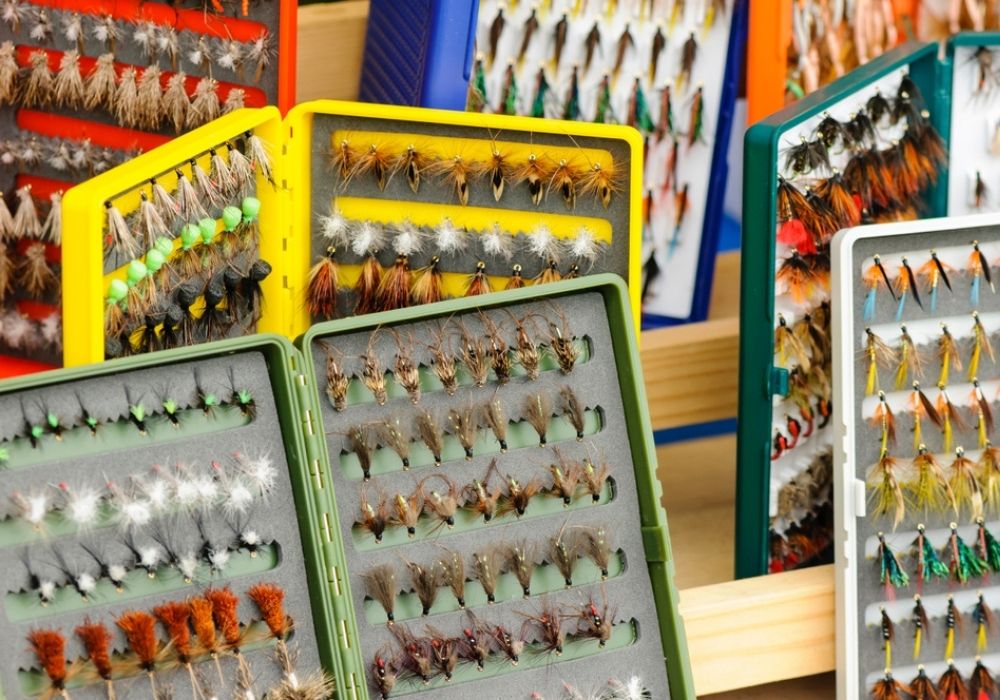 The fish on the Bighorn see a lot of bugs; natural and ones tied to tippets. They may, for instance, key specifically on cripple PMDs in the surface film still trying to exit their shucks. If you're fishing a PMD adult or spent spinner, you may miss out on the action.
So, arrive armed with slight variations of the same fly; variations in stage of life, and slight variations in color.
Use an Indicator for Dry Fly Fishing
Often, the dry flies on the Bighorn River are quite small. During cool-weather midge hatches and mid-summer trico hatches, it can be difficult to see your dry fly or flies. Small hooks, hundreds of thousands of naturals, or surface glare can make locating your flies difficult.
Bring extra small indicators to place a few feet above your first dry. I prefer the small white stick-on foam type as they land softly and don't disturb feeding fish.
Bring Many Different Tippets
Bighorn River fishing tactics can vary widely. Having many extra leaders is ideal, of course, but the strength/diameter of your leader isn't as important as having an arsenal of tippets.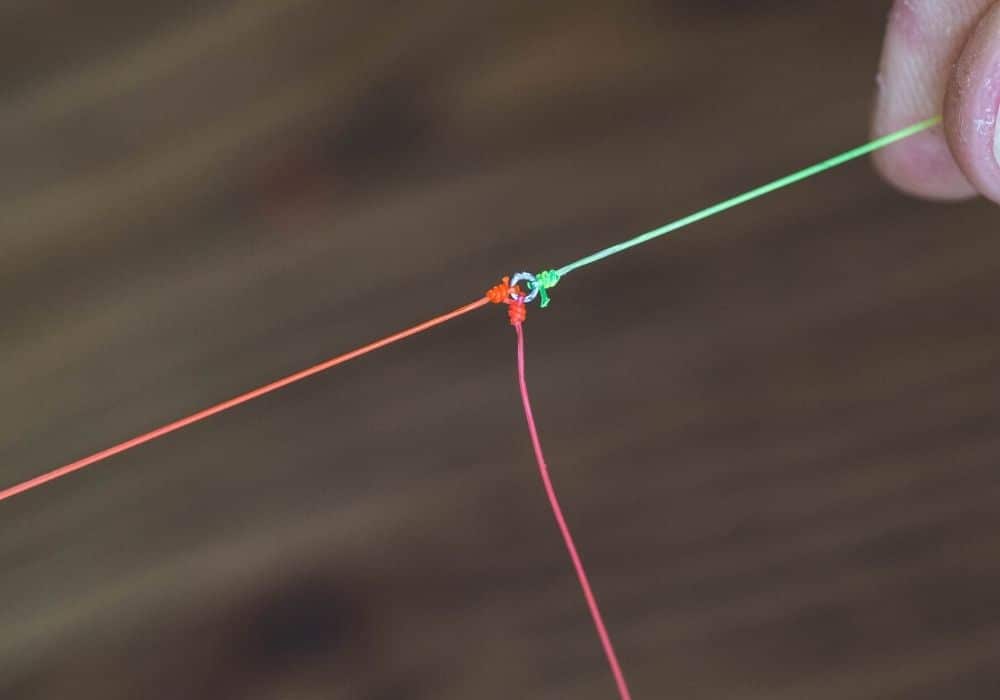 I prefer 7′ leaders to which I add the appropriate tippet.
Bring 2x, 3x, 4x, and 5x fluorocarbon tippets. Use pretty much any size leader but trim and add the appropriate tippet for the situation. Trim your leader to the point where it's just slightly bigger in diameter than the tippet you're tying on.
Fluoro sinks fairly quickly so it's best for nymphing and streamers. For dry flies, I still prefer good old nylon. It's less expensive and floats better, especially when using small dry flies. 3x, 4x, or 5x mono should have you covered.
Don't Skip the Shallow Water
Folks tend to want to fish in specific places like seams, riffles, and buckets. While these are all fine and good, don't just skip over the shallows.
In the late spring and through the hot summer months, when food is plentiful, you'll do well to toss dries or light, short nymph setups into shallow gravel. Something with a slight riffle or the most subtle drop are great targets.
This is especially effective during the hopper season. If you see a shallow, gravelly spot that goes from 8 inches deep and drops to 12 inches, toss that hopper over and get a drift!
On that note, don't think you have to pound the bank when fishing hoppers. Plenty of hoppers get carried out into mid-river seams to be gobbled up by lurking trout. Strong seams in the middle of the river are great spots for hoppers and other terrestrials.
Familiarize Yourself with the Teton Rig
The Teton Rig is a nymphing setup in which the split shot or a small bell weight is placed at the bottom of your setup. Tag lines are attached above the weight, one about 16 inches from the weight and another 16-18 inches above the first tag.
The Teton Rig gets your flies down and in place quickly and can be employed in a wide variety of depths. You may need to size up your indicator – Sindicators or Thingamabobbers work best.
Your indicator should bob/tick rhythmically as the weight registers the riverbed. If you're hanging up and not drifting, weight down. If your indicator isn't ticking, add more weight.
When the dry fly game is slow and others are struggling to catch much on traditional inline nymph methods, the Teton Rig shines. You can confidently attack fast water, deep holes, and pretty much anything over a foot deep.
More specifically, in cold weather (late fall through early spring) when trout are congregated in deeper pools and move a bit slower, the Teton Rig is most effective. In late summer, the moss grows thick and fishing a weighted Teton Rig in the fast, deep, weed-free runs will outperform others.
Be Courteous
Fishing can get busy on the Bighorn River.
With 5,000 trout per mile, people come from near and far to wade or float here. Boat ramps can become crowded.
Give people due space and be friendly. You'll have to pass others while wading or floating but give space when you can. Communicate with one another. Try to understand where someone is fishing and let them know where you intend to cross or move beyond.
If you're launching a boat, never set up your gear/boat while parked on the ramp. Park out of the way to set up your boat and rods. Then get into the queue to drop your boat in the water.
Regarding the Bighorn River access, the first two ramps, Afterbay (Dam) and 3 Mile FAS are wide enough for two boats to launch at a time. Bighorn FAS isn't as wide, but there are two ramps just a few dozen yards apart.
Don't Shuffle
The Bighorn River is so firtle, every time you take a step or move your feet you're kicking up rocks, gravel, moss, and lots of nymphs. Sometimes you'll even see trout start to stack up below you to feed on your chum line.
Fishing to those fish is frowned upon, ESPECIALLY when you're purposely shuffling the streambed to add natural (real bugs) into the current to attract fish.
Shuffling isn't sporty and it leads to the streambed being unnecessarily torn up.
Fish Species in The Bighorn River
Before the dam series was built and finished in the late 1960's, fly fishing The Bighorn River would have looked much different.
Pre-dams, the 'Horn' was a sediment-laden prairie river abundant with warm water species and fewer trout. With the dams in place and a serendipitous mix of elements, the post-dam era looks much different.
Yellowtail Dam is over 500 ft tall, meaning Yellowtail Reservior/Bighorn Lake can be almost as deep in some spots. Therefore, very cold water from the depths of the lake is spilled into the Afterbay Reservoir and then off the bottom of the Afterbay into the Bighorn River.
Rainbow Trout
Rainbow trout were introduced to the 'Horn' and absolutely thrive in the cold, bottom-release tailwater section on the Montana side.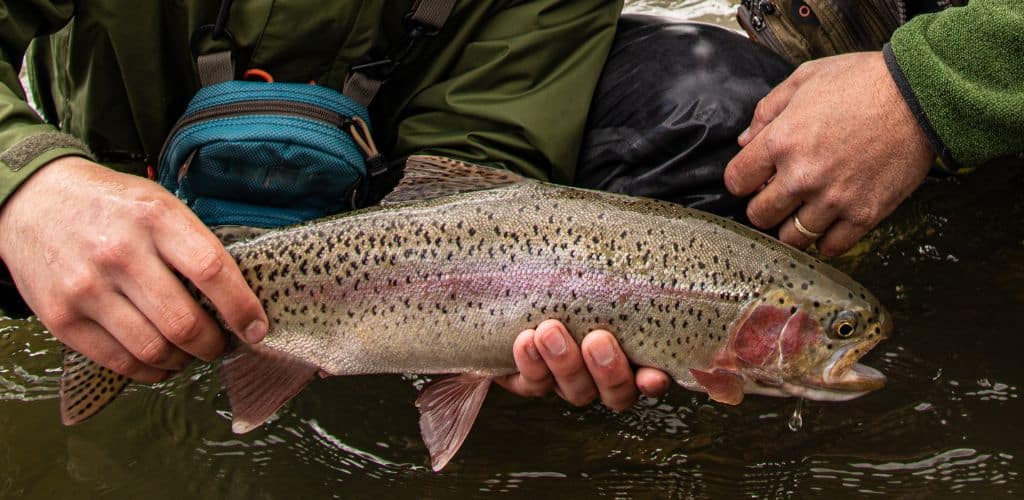 The number of rainbows is highest at the Afterbay Dam spillway in Fort Smith and holds quite steady for the first few river miles.
The population density declines slowly as you travel downriver and away from the dam but plenty of solid rainbows are caught up to 3, 13, and even 20 miles downriver.
The best flies for 'bows' tend to be whatever is hatching at the moment. Remember, small bugs are generally the way. Midge and BWO patterns in the cold weather (Bighorn BWO nymphs tend to be darker; deep olive green and even black-green).
PMDs, yellow sallies, and caddis dominate the warm weather with terrestrials (mostly hoppers), trico mayflies, and mahoganies later on in the summer. When in doubt, sowbugs and scuds are great go-tos as well.
Brown Trout
Generally speaking, the 'Horn' has more brown trout than other species.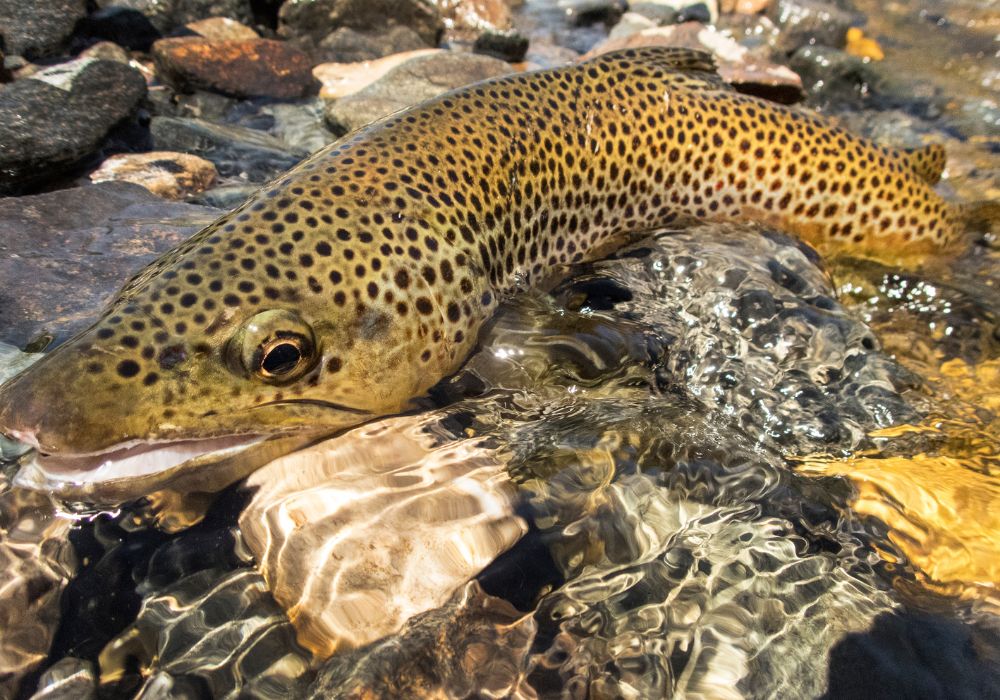 You'll find plenty of brown trout from the spillway and down the length of the river to Hardin and beyond. Browns, however, will start outnumbering the rainbows sometime around 3 Mile FAS.
For Browns, the same flies/species listed for rainbows will produce. However, in fall, spring, and in low light and/or low (atmospheric) pressure situations, streamers like Sex Dungeons, Lil' Kims, and even swung Kreelex Minnows will encourage aggressive browns to pounce.
Rainbows will take streamers too, no doubt. But the brown trout aggression really shines on the 'Horn' when tossing them.
Carp
Once a "no thank you" for fly fishermen, carp have become sought after for their size and chase.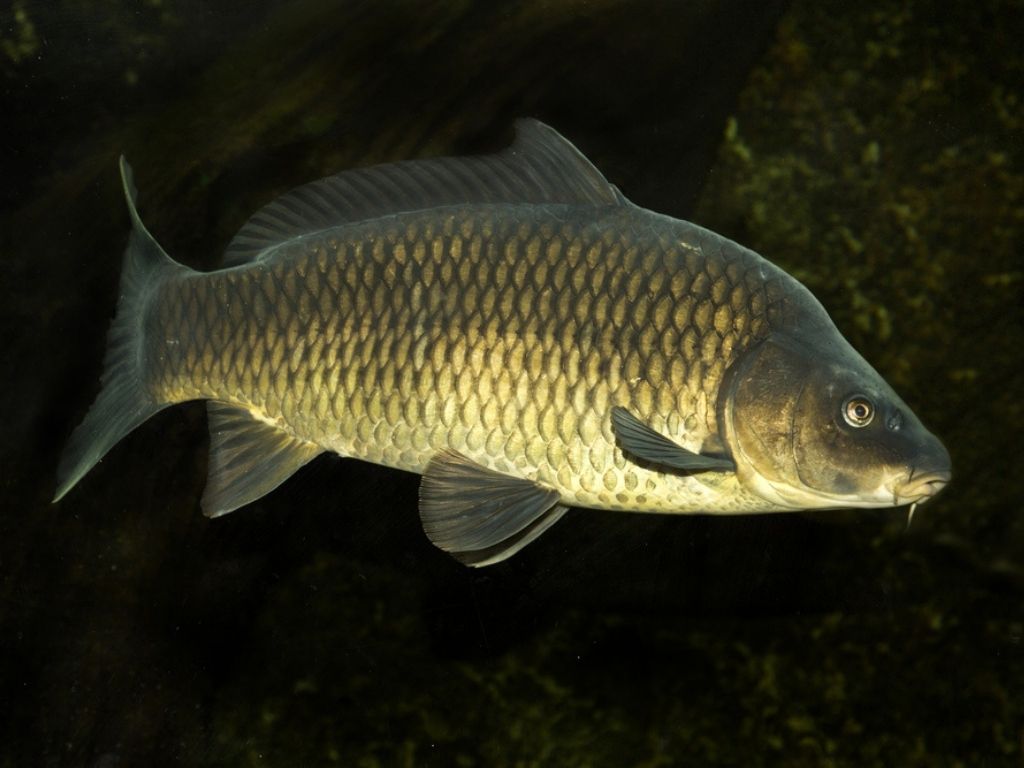 Carp fishing often resembles fishing saltwater flats, where you're hunting for fish and making perfect casts for everything to happen correctly.
If you haven't fished carp on the fly, you're missing out. You'll find great carp fishing near The Bighorn River on the Afterbay reservoir just above the river. You'll also often get big carp tossing streamers up against an undercut bank on the river.
Bring some carp candy and cicadas to fish dries to carp on the Afterbay. If they're not eating top-water stuff, strip small buggers, crayfish patterns, or callibaetis. On the river, any streamer will do.
Walleye and Pike
As stated before, the Bighorn was previously a silty prairie river with higher concentrations of warm water species. The lower reaches of the river to the confluence with the Yellowstone River still are.
More and more, folks have been catching pike and walleye that have moved up into the cooler trout reaches near the dam.
One reason for this is the abundance of food. Another is that there have been some warming trends regarding the water itself.
Sometimes high water spills over the top of the dams (the water on the top of the reservoir is most often the warmest water), and lake turnover (where the cold water flips to the top of the reservoir and the warm water goes to the bottom).
Whatever the case may be, small streamers stripped or swung can turn up walleye. Larger streamers tossed into shady cover or deep banks have been known to turn up some pike.
More on Fly Fishing Different Species of Fish:
Best Spots For Fly Fishing The Bighorn River
On the Bighorn River, fly fishing is usually relegated to the "trout section" which generally refers to the upper 13 miles from the Dam to Bighorn Access.
There's still good trout fishing downstream from Bighorn Access but the numbers are fewer and you'll really want to be familiar with the river and the fishing if you plan on going below Bighorn FAS, but the best fishing in The Bighorn River is from Bighorn FAS and up.
The best Bighorn River fishing spots that I'd recommend are:
Afterbay (Dam) FAS
Afterbay FAS is right below the Afterbay dam at Fort Smith. The parking lot is large and so is the boat ramp. It can get busy here but, if you're floating or walking in, it's a good place to start.
When walking, you can't really fish right in the spillway (it's dangerous and the water is pretty fast), but off to the sides of the concrete walls, you'll find great eddies and perfect riffle.
Almost anywhere in the upper few miles holds fish, even the middle of the river. If you're wading, you can make your way down to the "Breakfast Hole" – the first island and back channel. Fishing the back channel or the main river will produce.
It's pretty difficult to wade down past the Breakfast Hole as the brush gets thick and everything is surrounded by private land.
3 Mile FAS
3 Mile FAS is 3 river miles down from the Afterbay dam. It's a short float from the dam to 3 Mile so you can make a day of stopping often or do another lap on the section.
If you're wading, 3 Mile has 3 distinct braids to fish. The far channel is the main channel. There are two smaller channels on the FAS side of the river. Numerous cut-throughs also connect the two.
As far as Bighorn River fly fishing goes, 3 Mile access site gives wade-only fisherperson the most options and water to fish. You could spend all day at 3 Mile Access alone.
If the river is up, do be careful though. Sometimes crossing is nearly impossible. It does get hot in the summer, so to cross deeper channels, swimming isn't out of the question!
Bighorn FAS
Bighorn FAS is 13 Miles down from the dam (Afterbay FAS). For most floaters, this is the end of the line.
Drifting from the Dam to Bighorn FAS will take the better part of a day for sure.
If you're wade fishing, crossing anything at Bighorn FAS isn't going to be easy. The river is broad here.
You will, however, be able to walk up and downstream a bit for the easier-to-reach buckets. At times, you can get out pretty far, or even cross some shallow gravel to the small center island near the boat ramps.
Best Flies For The Bighorn River
The best flies for The Bighorn River can be a long and varied list.
It's a tailwater, meaning it comes from a dam, so there's often some technicality to Bighorn River fishing.
Sizes 16-22 are the most common. These fish see a lot of naturals and a lot of imitations. They can afford to be picky and will often be. You may have to not only know what natural they're eating but also what stage of life, shape, and exact color they're keying on.
It's best to know the current hatch, and possible hatches, and bring some variation in your imitations. And always have some worms, scuds, and sowbugs to fall back on.
From personal experience, these are the best Bighorn River flies:
Best Dry Flies For The Bighorn River
I've been through my fair share of dries on the Bighorn. It wasn't easy, but I've narrowed the best flies for the Bighorn River down below:
Midge
The Horn has prolific midge hatches in the cold months. I've had some amazing midge dry fly action from November to February. Sizes 18-22 are the most common. A 24 might be necessary if you can make it happen.
Griffith's Gnat – Hi-Vis
Foam post parachute midge
Haslam's Death Midge emerger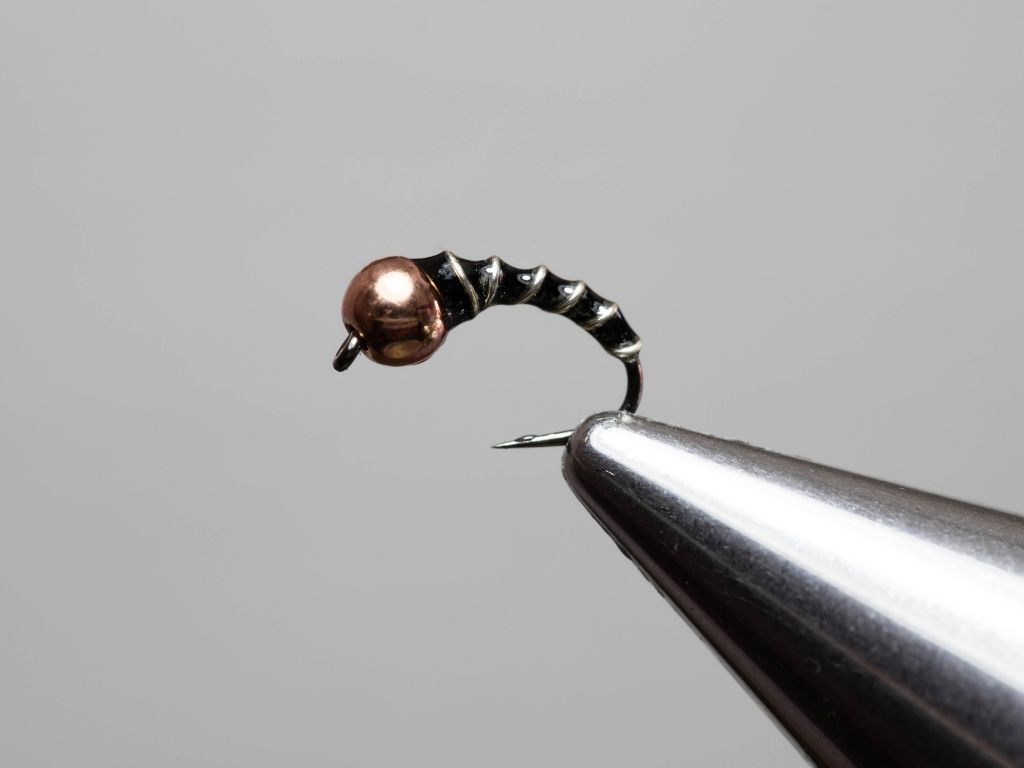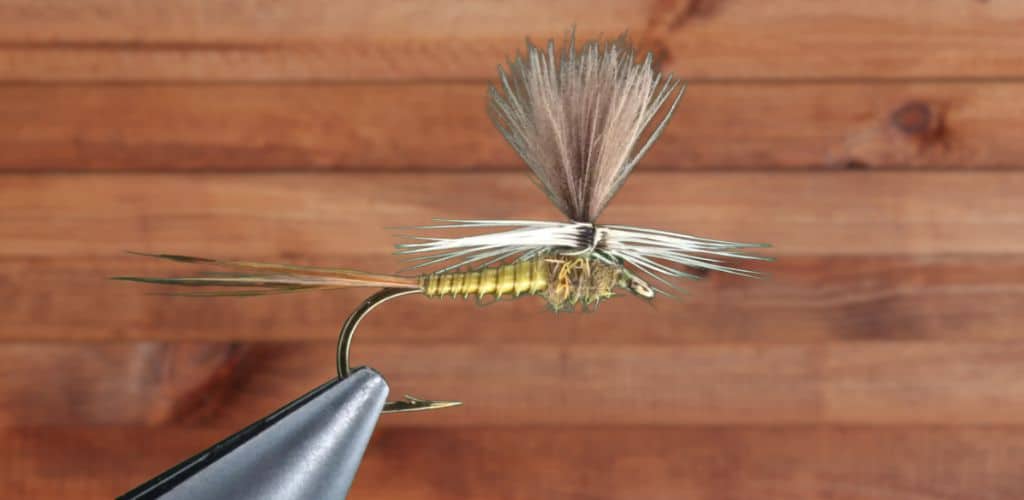 BWO
After midge, blue-winged olives are probably the second most prolific hatch. You'll generally get two big hatch periods, one in the fall and one in the spring. Winter hatches are absolutely an occurrence too.
Sizes 16 and 18 are the most common. Size 20 is possible.
BWO Comparadun
Umpqua CDC Biot BWO
BWO flash cripple
No hackle BWO dun
Caddis
Caddis are all over the Bighorn. And, while you won't see them in the winter, a spring or fall day may still have caddis present. The 'Horn' mainly is known for its massive summer black caddis hatch.
Sizes 14, 16, and 18 are most common.
Elk hair caddis – tan, olive, and black
Henryville Caddis – tan, olive, and black
X Caddis – tan, olive, and black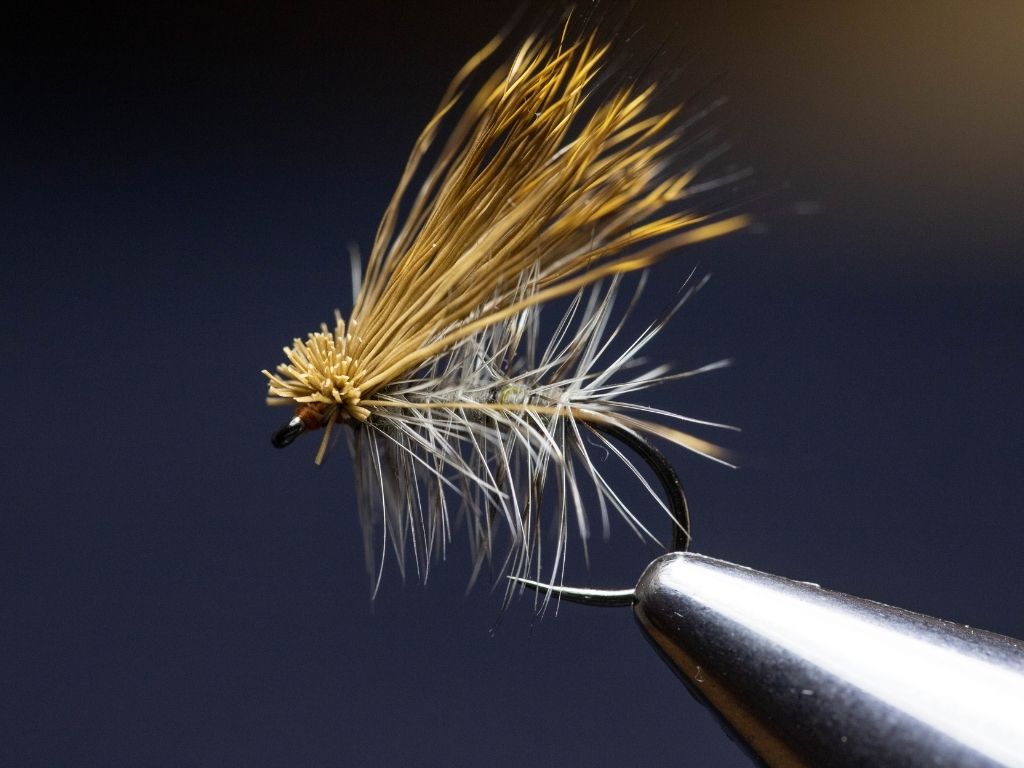 PMD
Like many rivers in the trout game, the Bighorn River has a strong summer Pale Morning Dun presence. You'll often see a strong hatch late morning and again in the evening.
Sizes 16 and 18 are the most common.
PMD Comparadun
Umpdqu CDC Biot PMD
Etha-wing emerger
PMD flash cripple
Yellow Sallies
In the heat of the summer months, June through August, Yellow Sallie stones are a big food source on the 'Horn'. It's really the only stonefly hatch you'll see.
Watch for sallies to come off in cool, riffly water, (even somewhat fast water), on hot sunny days. Sizes 16-18 are most common with size 14 possible.
Elk hair caddis – tan with a yellow body
Yellow stimulator
Parachute Yellow Sallie (w or without red egg sack)
Trico Mayfly
The Bighorn River has one of the most spectacular trico hatches around. In some rivers, you have to fish these tiny flies with 12-foot leaders and make a 50-foot cast and a 100-foot, drag-free drift to spook fish in slow, shallow, clear water.
On the 'Horn', you can fish them almost anywhere, even in the riffles. This gives the novice/less skilled fisherperson a much better chance. The Bighorn trico hatch can draw crowds though.
Sizes 18 – 22 are the most common.
High viz trico spinner – both male (black body) and female (light gray/white body)
Trico comparadun
Parachute trico
Terrestrials
The 'Horn' flows through a lot of hot, dry hills and agriculture fields. The terrestrial game can be absolutely lights out. You'll generally want to wait until summer gets really long and hot – at least July. But August, September, and even early October are generally perfect hopper conditions.
Central and eastern Montana also have a strong cicada presence. Anywhere there are big cottonwood trees, you'll find cicadas in the heat of summer.
Rainy's Grand Hi Vis – tan, green, pink, and yellow – some with red legs can be key
Moorish Hopper – same as above
Bullet head hopper – same as above
Pinecone Cicada – black/orange
Read more about: Dry Fly Fishing
Best Streamers For The Bighorn River
Streamers are an effective way to target good-sized fish on the Bighorn. Some of the best Bighorn River fly fishing can be had on streamers.
The closer you are to the dam, the more you'll probably want to wait for spring, fall, or cloudy/stormy weather to break out the streamer arsenal.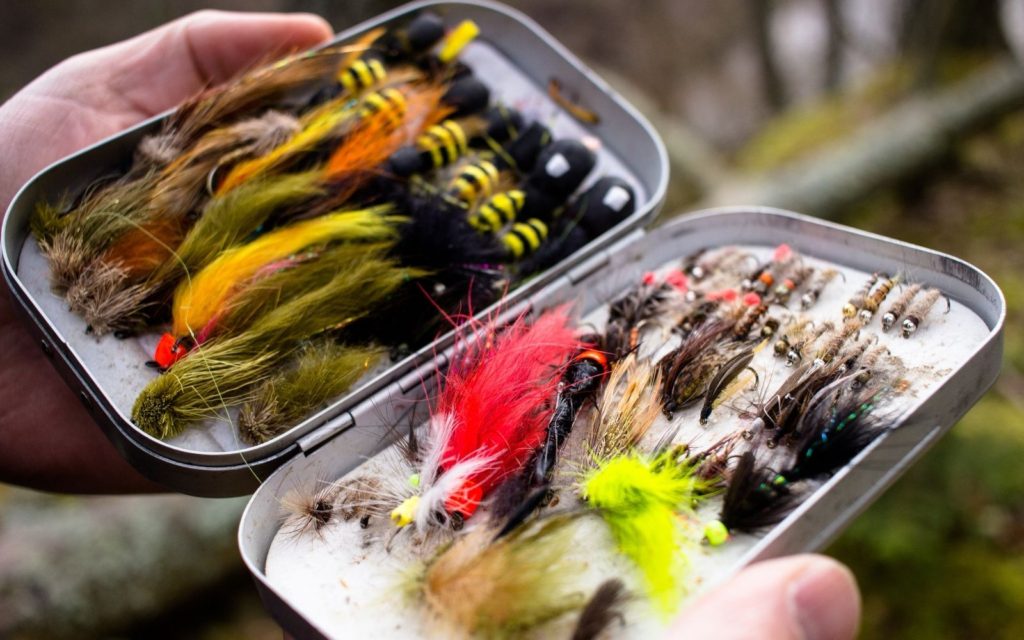 The farther downriver, the less strict those guidelines seem to be. This is likely due to the high availability of food and high fishing pressure on the upper river.
Whether stripping, dragging, or swinging streamers, you may just come up with the fish of the trip, or even a lifetime! Brown and yellow seem to be the go-to color combo for this river. Black, olive, and natural are great choices too.
Bighorn Secret
The Bighorn Secret is a wooly bugger variation, usually without a cone or bead, with rubber legs. It comes in the go-to coloration for the Horn – brown and yellow.
Wooly Bugger
Streamer fishing and wooly buggers are synonymous. This workhorse is great for the Bighorn in olive, black, brown, or natural.
Sex Dungeon
This Kelly Galloup design is as famous for its catching ability as it is for its name, (I actually know and fish with the person who helped name this pattern!). The articulation and movement are second to none.
Have some in the Bighorn color (brown and yellow), black, and natural.
Kreelex Minnow
This (relatively) smaller minnow is great at imitating baitfish and minnows.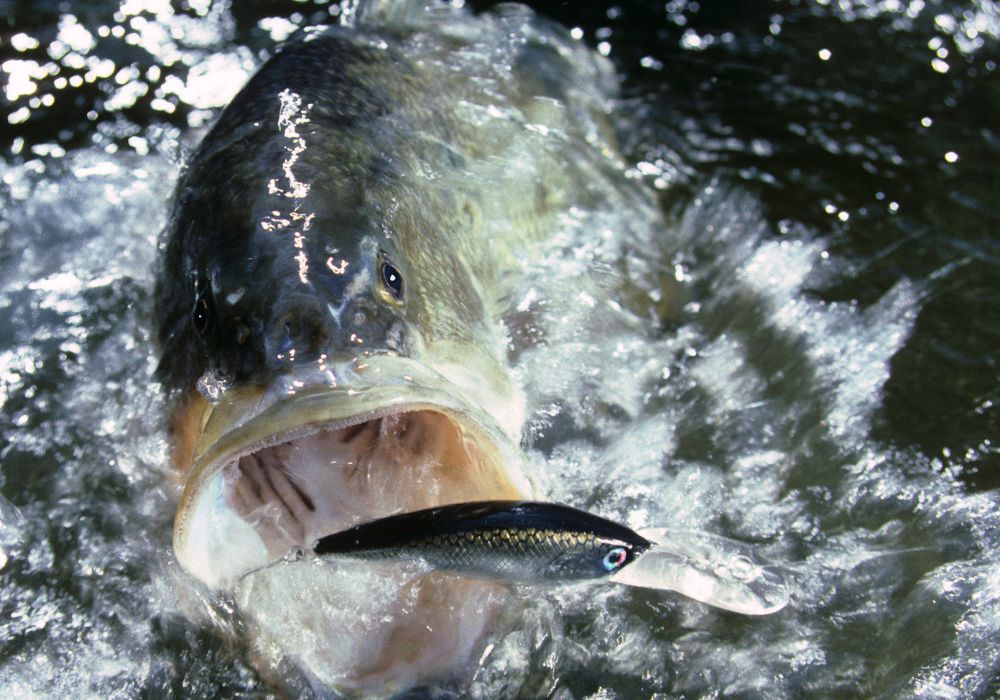 The simple body fibers move very well in the current. Feel free to strip this one if you like but, especially in fall, winter, and spring, the Kreelex kills it on the swing.
Brown and gold is probably the best color combination for the Bighorn.
Matuka
The Matuka has been around for a long time now. Sometimes, old school is the way to go. The Matuka is simple, smaller than modern streamers, and deadly whether alone, with some weight, or as a trailer behind a larger conehead wooly bugger.
Black or olive are perfect choices. Both should have red "gills" that predator fish will key on and attack.
Read more about: Streamers
Best Wet Flies For The Bighorn River
Wet fly fishing is something that isn't a big discussion anymore, but it should be!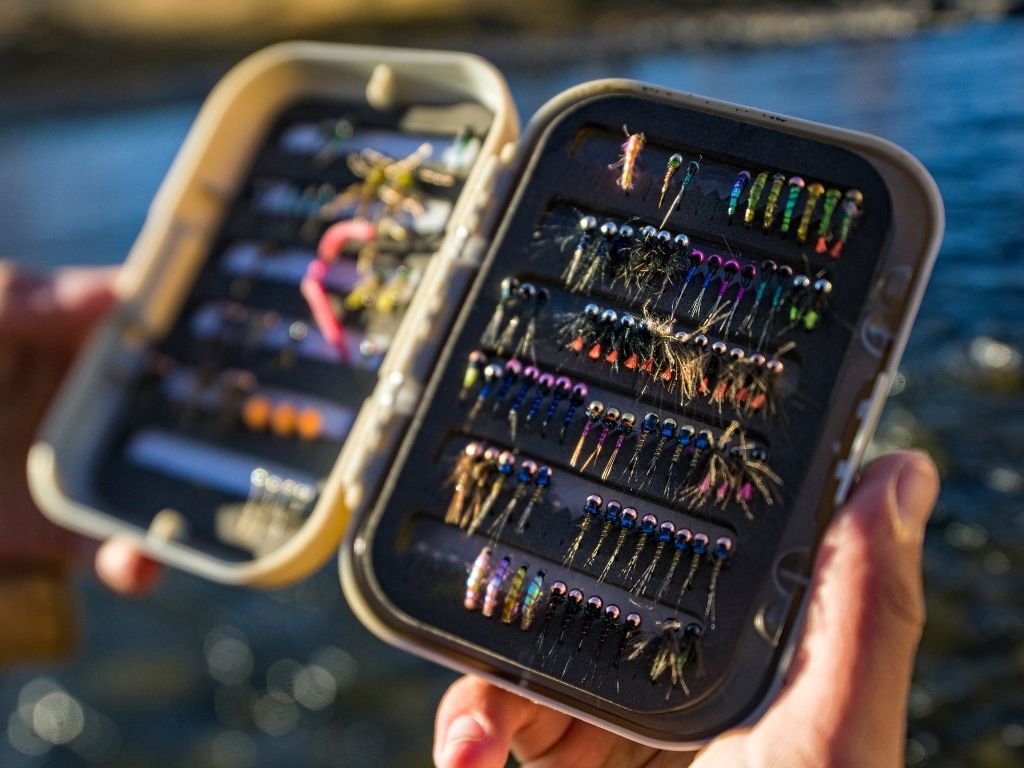 Most will simply fish wet flies under an indicator on a nymph rig. If you fish them under a twitched dry or swung in the current, wet flies can be really deadly.
Soft Hackle Sowbug
The soft hackle sowbug is a Bighorn staple and has been around for as long as I can remember. Bring pink, orange, gray, tan, and olive. Not only will you find sowbugs naturally in those color variations, but you can also represent other hatching insects using this simple pattern.
Sizes 14-18 are standard. Sometimes, if things get slow, using a size 12 or 10 can get the fish's attention. This pattern can be fished all year long.
Partridge Wet Fly
An old-school wet like a partridge (or an updated version of this) is a great way to imitate various hatches. Use brown, yellow, or rust for hatching PMDs, yellow for sallies, olive for BWOs, black caddis, and brown or rust for lighter caddis. 14-18 is a great range.
Carey Special
Another "classic" wet, the Carey Special works great for hatching mayflies. Use brown or yellow for PMDs, Olive for BWOs, and small/black for tricos. Just because I find it best for mayflies, that doesn't mean you shouldn't try one during a caddis hatch.
Red Ass Soft Hackle
The red ass doesn't look like much; greenish black body, red thread at the back of the body, and partridge soft hackle, but it can be a day saver. Try this one on the swing during a caddis hatch.
Sizes 14-18 are recommended.
Beadhead Pearl Soft Hackle
A pearl-soft hackle is a deadly addition to any fly box.
This wet fly can be fished on the swing, under a dry, or on a nymph rig.
The bead gives a little more weight for fishing a dry-dropper setup or for nypmhing. The soft hackle covers the bead but lets a bit of the metallic flash through.
The body is a pearl flash (green/blue flash) which imitates off-gassing of hatching bugs. Caddis, especially, give off a bit of gas in the pupa stage when hatching or moving to hatch, and the pearl color is a great flashy imitation of this.
Sizes 16, 18, and 20 are recommended.
Read more about: Wet Fly Fishing
Best Nymphs For The Bighorn River
Nymphs are super important to have here. On cooler days, you won't hook a fish unless you have some of these:
Killer May
The Killer Mayfly nymph is a great Bighorn bug.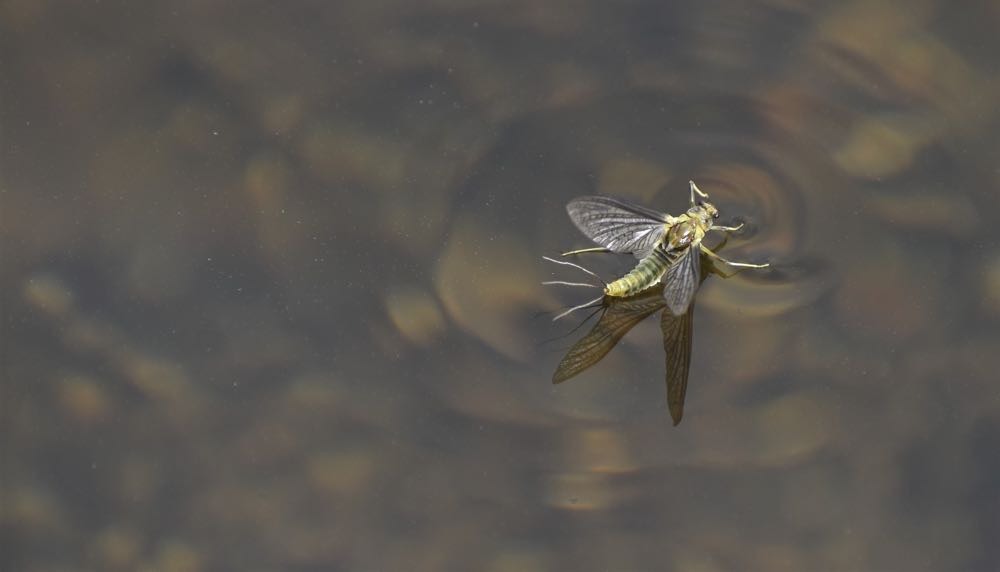 Its thin body and distinct fork tail, along with its availability in a variety of colors, make it a great choice.
It's a non-beaded nymph and, on the Horn, should be fished in olive or black for BWOs, brown for PMDs or mahoganies, and black (small black) for tricos.
Sizes 16 and 18 are great for PMD, BWO, and mahoganies. 18-20 works great for tricos.
Split case emerger
The telltale sign of a nymph just beginning to enter the emerger stage is the split in the thorax case. This split will be yellow on a PMD and usually an off-white, mint green, or yellow-green on a BWO.
The Split case emerger looks exactly like this emerging stage. Have them ready in olive and brown in 14, 16, and 18. Olives are BWO imitations, best for fall through spring. Brown is better in warm weather situations.
Quill nymph
Quill nymphs are a simple small, black emerger style nymphs with a flashback and sparse tail.
Trout on the Horn love them and they work for midge or small BWO emergers.
Keep 16s, 18s, and maybe some 20s handy. These are highly effective when fished from fall through spring. Sometimes it'll get the job done in the summer too.
Soft-hackle scud
The soft hackle scud by Yellowstone Fly Goods takes the already-effective scud pattern and adds soft hackle for movement and a semi-sheen back case to make it look like a real crustacean.
This is a highly effective fly year-round. Get them in both orange and pink in sizes 14-18.
Zebra midge
Another simple, yet effective fly is the zebra midge. The good old black with silver wire wrap is a must.
Red, tan, chocolate, and olive variations are also highly recommended.
Arm yourself with different colors, beadhead and non-beaded, in sizes 16-22. These are most important in cooler weather, (fall through spring). There are times when a small black midge will be beneficial in the summer too.
Read more about: Nymph Fly
Find The Best Flies For Any Fishing Scenario:
Fly Fishing The Bighorn River: Gear Recommendations
Bighorn River fly fishing can be a technical affair. One could get very in-depth regarding gear from rods to lines and reels, but it's possible to keep it simple and straightforward if you'd prefer as well.
Fly Rods For The Bighorn River
The Bighorn River is a fairly good-sized river. It's quite broad as far as western trout streams are concerned.
The combination of small bugs and open, often windy conditions can mean a few different rods to help with scenarios.
9′ 5 wt – Best for dry fly fishing and light nymphing. This will present smaller flies delicately enough for this river.
9′ 6wt – Best for blustery wind and heavier nymphs. Sometimes, in the wind, a little more power is needed. A 6-weight can fish dries, especially bigger terrestrials, in the wind. You can use this for heavier nymph rigs and streamers too.
9′ 7wt – For the serious streamer fisherperson. Chuck big meat with confidence!
If I had to pick only one, the 9′ 6wt would cover the most territory.
Optional rods:
10′ 6wt – The extra length is great for making reaching, and mending easier. It will also keep streamers farther from the boat when false casting. The extra foot of length almost makes it as powerful as a 9′ 7wt.
11-11.5′ 4 wt trout spey – Swinging flies on the Horn can be a deadly way to get fish. Swing streamers, soft hackles, or a combo of the two.
More Lists Of The Best Rods:
Fly Reels For The Bighorn River
Regarding trout fishing, you can go bananas and buy a Maako if you want to. You can brag about your new Hatch to your friends.
That's all fine and great but, for my money, a Lamson or mid-priced Sage are great options.
Constant, sealed drag systems will take abuse and keep all trout, even large trout, under your control. Save your big dollars for saltwater reels but don't skimp on your trout reel either. Cheap reels will fall apart, damage your line, and have terrible drag systems that fail often.
Lamson: Good solid, sealed drag and dependable performance is what Lamson is all about. The Guru Reel is a trout workhorse. The Speedster is a real looker with performance to match. The Remix is an extremely solid reel at a lower price.
Sage: Sage has proven itself for decades and decades. The Spectrum series is a really solid trout reel. The Abor XL is a very good-looking reel with great line pickup. The Spectrum C is very solid and quite inexpensive as far as fly reels go.
For a spey reel, you'll simply need to size up a bit. A 4 wt trout spey rod can be paired with a 7 wt reel. Spey line is thicker, heavier, and takes up more space.
Again, if I had to choose one, a 6 wt reel to match the preferred 6 wt line would be best. From there, pick your preferred price/performance point.
Fly Line For The Bighorn River
By this point in the game, I'm sure we're all aware we need a 5 wt line for a 5 wt rod.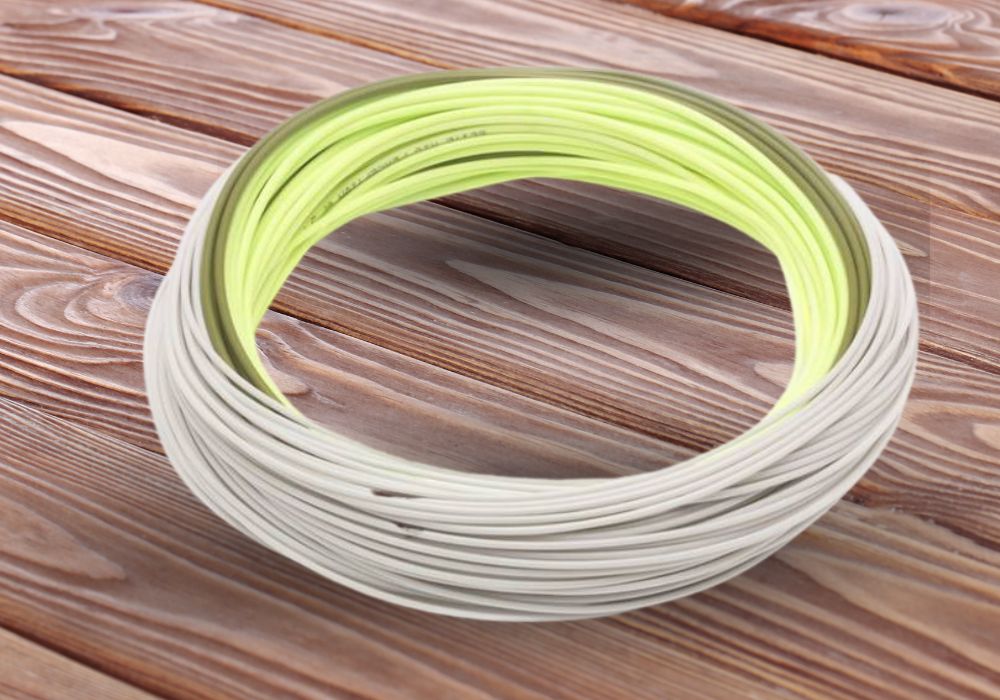 I would never recommend underpowering; using a 4-wt line on a 5-wt rod. Inversely, a 6wt line can be used on a 5-wt rod.
Overweighting used to be quite common. However, many newer lines are weighted up a half size anyway. So a 5 wt line you're buying is often a "5.5" wt line. This helps load today's fast-action style rods.
Rio Gold or Rio Gold Elite are great trout lines. You can use the Gold line for dry flies, nymphs, or streamers. Rio floats well and has a softer feel many fisherpeople really like.
Scientific Anglers Amplitude or Mastery MPX – Amplitude is top-end, and Mastery is a little less expensive but still performs highly. These will also work well for dries, nymphs, and streamers. SA has a great texture for floating and shooting better and is a little stiffer than Rio in my opinion, which many prefer.
Rio In Touch Trout Spey – This line is only for use on trout-spy rods. It's weighted and shaped very specifically for spey casting.
With all the different options out there, it's good to note that a simple floating, weight-forward line covers the most territory.
Other Gear
Other essential gear for your outing will include:
Waders – The Bighorn, being a bottom-release tailwater, can be startlingly cold, even in the summer. In the hot weather, while on a boat, I prefer wet-wading. The cold water is a nice reprieve from the searing sun. If you're wading all day, even in summer, you may want waders.
Neoprene Socks – If you're wet-wading, neoprene socks allow you to wear your wading boots without waders. They help keep your feet warm in cold water too.
Hat – Bucket, trucker, dad hat, whatever you choose, wear it. The bill blocks the sun AND helps keep errant flying hooks away from your face. No one fishing in my boat is allowed on without one.
Polarized Sunglasses – Sunglasses should really be worn at all times too. Your eyes need protection from the sun and flying hooks as well. Also, even on cloudy days, polarized glasses cut surface glare and allow you to see into the water. This helps you see fish and/or structure and improves your fishing tenfold.
Rain Jacket – No matter if it's sunny and 95 degrees out, have a rain jacket handy. Nasty storms can come off the mountains in a hurry and without warning.
UPF Shirt – Wading or boating, full coverage is recommended. Hooded shirts are a great way to go.
Sun Gloves – The back of your hands get absolutely beat by the sun. Protect your skin with some gloves.
Face Mask – For the same reason as a UPF shirt. Your nose and ears burn easily. Masks can also prevent you from breathing in the crazy black caddis hatch.
Net – Seems obvious, but there's always someone trying to hand-grab a big trout. Use non-abrasive rubber to protect the fish. A longer or extendable handle net is great for a boat. A personal net should have a tether to ease your burden while wading.
Organization – This includes a pack of some sort, chest or hip. You need pockets for leaders, tippets, weights, indicators, your license, and large pockets with various boxes to organize your flies. Fly boxes with foam slits or magnetic bottoms are good bets.
The Bighorn River Fishing Season
The Bighorn River fishing season is truly year-round. There's no bad time to fish this location.
If you can handle the weather, you can usually find fish.
In winter, the deep water in the reservoir is warmer than the top water (which is often iced over). This warmer water is what flushes into the river and keeps the river ice-free for many many miles even in the dead of winter.
Summer has the most hatch variety but sees a lot of fisherpeople too. Both wade fishers and floaters will arrive en masse around Memorial Day and stay through Labor Day.
Spring and fall provide a good mix of milder weather and thinner crowds.
Fly Fishing The Bighorn River in Spring
Fishing in the Bighorn River in Spring is really great. Flows are low and approachable for floating or wading. Weather varies in April in the sense that it can be quite chilly, or it could be a tee-shirt kind of day.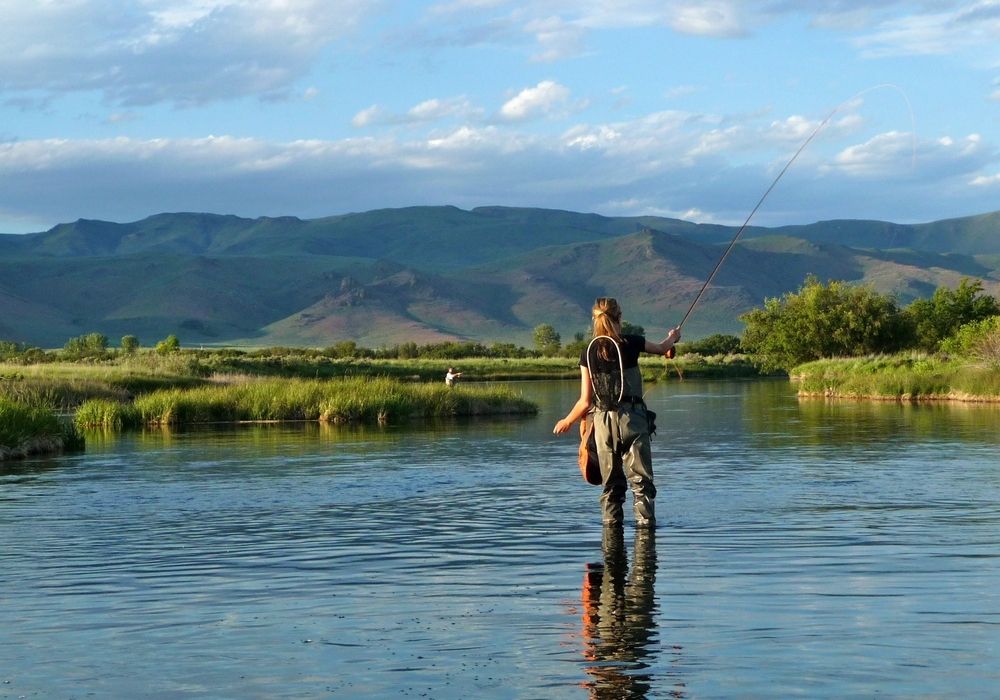 May is usually mild and quite warm.
Early spring means big fish are warming up and on the hunt for food. It's a great time to get fish actively searching for food. Late spring sees hatches speeding up and a variety of bugs starting to move.
Sometime in May or June, the melted snow will fill up the reservoirs and the dams will open up a bit. The river will be bigger and faster to allow for big irrigation draws downstream.
Fly Fishing The Bighorn River in Summer
Summer is hard to beat on the Bighorn. It's the time of the most varied hatches, including the boat hatch.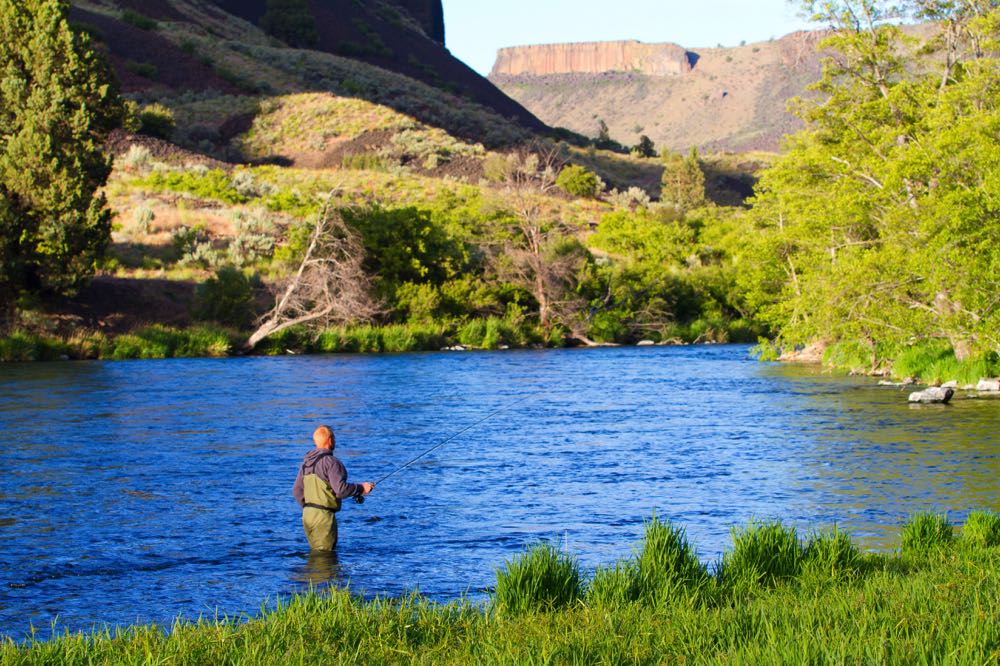 Yes, there will be heavy traffic at this time but there are plenty of fish to catch.
The weather can get hot – into the 90°Fs and 100°Fs! But the river stays cool and the fish keep eating.
Late summer sees the moss levels rise and it starts to become an issue. You'll have to deal with cleaning your hooks and leader from time to time and target open gravel or faster, moss-free runs.
The moss is annoying but fishing is still great.
Fly Fishing The Bighorn River in the Fall
As the nights get longer and the mornings cooler, the fishing remains hot.
Fall is a spectacular time to fish the Bighorn.
The trees change colors, the flows settle down a bit, and the brown trout get hungry to prepare for the coming spawn. Crowds start to slowly thin as hunting season approaches.
Fly Fishing The Bighorn River in Winter
From a crowd perspective, winter is the best. December can be chilly but not too cold.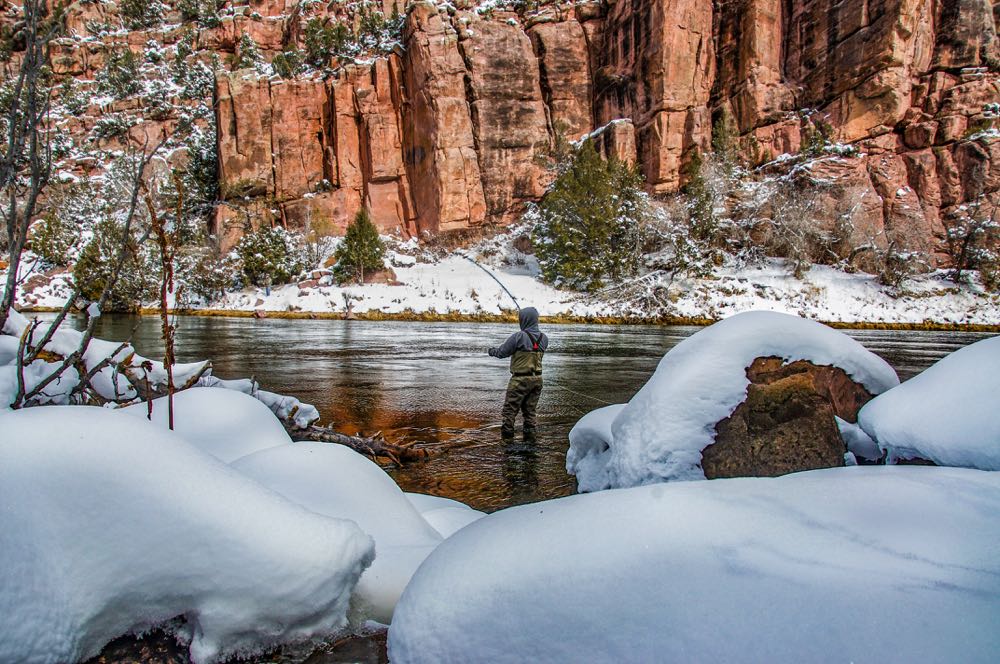 January and February, however, can be downright frigid.
Even with cold temps, the river doesn't ice up much. The bugs get smaller and the fish don't move as fast. Midge, BWOs, and scuds/sowbugs become important. Takes can be subtle.
If the weather is in the high teens or twenties and up, you can really have a great day on the Bighorn in the winter.
Wading in at 3 Mile FAS means you can get back to your vehicle to warm up as needed. As for floating, some of the best streamer days I've had were in the heavy snow on the upper 13 miles.
Best Time of Day To Fish The Bighorn River
I wouldn't say that there is a best time of day to fish the 'Horn'. It depends on tactics and time of year.
In the cold months, waiting for late morning or mid-day high temps will be your best bet. In the summer, some hatches are at daybreak, some late morning, and some are in the evening. If there's no hatch, nymphing morning, noon, or night is always a good option.
If you want to toss streamers, on a sunny day, mornings and evenings in the low light are the best options. If it's cloudy, all day is great, especially right before or after a storm.
The Bighorn River Trip Planning Tips
Planning a destination fishing trip always means a lot of logistics. Make sure you have everything in place.
Get Your Montana Fishing Licence
You can buy your license online at https://ols.fwp.mt.gov.
From there, you can print your license or take a screenshot. Montana allows for electronic versions. Just make sure you save your photo to your favorites folder for easy access, and ensure your phone doesn't die too. I recommend turning your phone off or to airplane mode while fishing to save battery.
All fly shops will have licensing systems and can get you set up as well.
Book Lodging
Booking your lodging is easy. Any of the fly shops will have options for lodging. There's also an emerging Airbnb market in Fort Smith. This is a great way to find more accommodation options in the area.
If you're using Airbnb, check the map and make sure you're choosing a location in or near Fort Smith, MT.
Check The Weather Forecast
The Bighorn River is a place of extremes. Always check the forecast every day before you head out.
Winters can be very cold. January and February can see high temps below zero, and well below zero with the wind chill. Fishing at 20°F degrees already takes a lot of effort. Below that, it's nearly impossible.
Summer can be very very hot – we're talking 90°Fs and 100°Fs. I've guided at 110°F degrees! Needless to say, we got in the water a lot! Summer also sees some very strong electrical storms.
Spring and Fall can be tough to forecast. It can be tee shirt weather, rainy and windy, or blowing snow – you just never know.
Check the Water Level at Tailwaters
Checking the dam release is always a good idea. Thankfully the Afterbay Dam allows a generally pretty steady release that doesn't fluctuate much in a given day.
Check the following link and pay attention to the Afterbay Dam discharge rate:
Bighorn Lake and Afterbay Dam Current Data
Book Your Guide
Guided trips are a great way to get to know the river, its sections, and the methods used to catch fish on the Bighorn. These guides are knowledgeable and take a lot of the guesswork, physical work, and logistics out of the equation for you.
Fly Fishing Guide Services on The Bighorn River
These are the main local guide shops for the area:
Bighorn Angler
577 Park Dale Ct, Fort Smith, MT 59035
(866) 979–3231
The "Angler" (Bighorn Angler) is one of the first commercial buildings you'll see coming into Fort Smith. This shop has been here for over 30 years. Stop for bugs, guides, a report, or a room.
Bighorn Trout Shop
7477 Park Dale Ct, Fort Smith, MT 59035
(406) 666-2375
Bighorn Trout Shop is the second-longest tenured shop in the area. For well over 20 years, the Bighorn Trout Shop has helped anglers make the most of their trip. Guides, lodging, and a full fly shop are all here under this roof.
Cottonwood Camp
270 Cottonwood Cp Rd, Fort Smith, MT 59035
(406) 426-4530
Cottonwood Camp is just downriver from Fort Smith, meaning you'll most likely drive by it before you get to town. Located just outside the 3 Mile FAS, Cottonwood Camp has cozy cabins, guides, and a full fly shop too.
This place is perfect if you plan on wade fishing or starting your float at 3 Mile FAS. You'll save yourself a few miles not having to drive into town.
The Bighorn River Fishing Report
The Bighorn River fishing report is not a heavily guarded secret. The shops want you to come and have a good outing.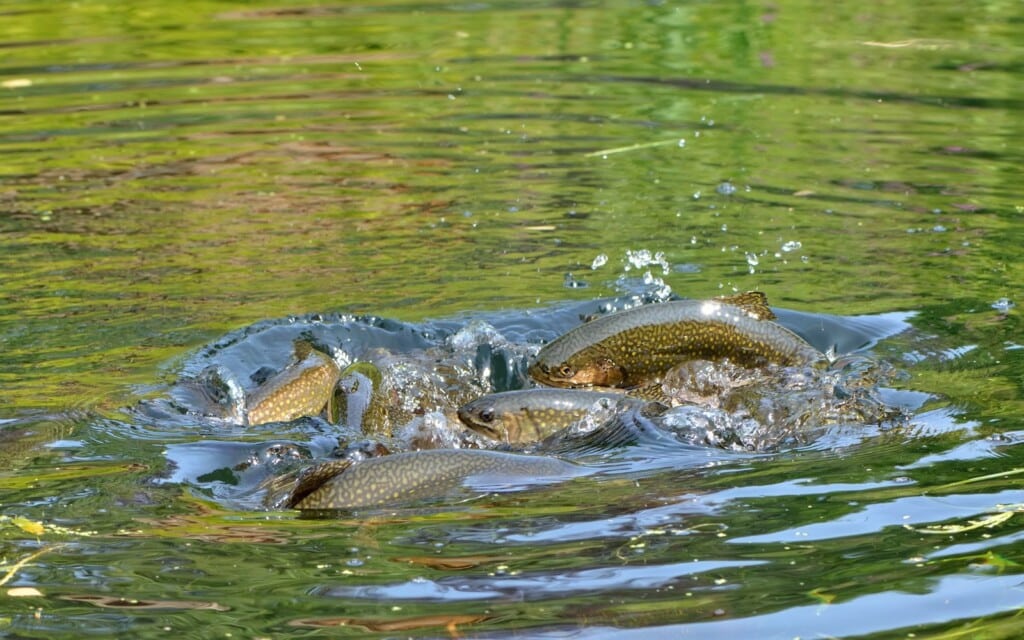 All shops post a report or blog online on their respective websites.
For a more up-to-the-minute Bighorn River fly fishing report, stop into any of the shops and check out the report boards. Strike up a conversation with the shop workers and guides for more personalized intel.
Don't just ask for info and head out. Make a fair exchange and buy some local bugs, get a shuttle, or hire a guide.
Right now, you've got your typical late-summer situation. Trico hatches are thick in the morning and taper off as the sun gets high. Black caddis and tan caddis are found bouncing on the water's surface most of the day.
The black caddis are fading and tan caddis are picking up the lower downriver you go. Hoppers are around but you're better off fishing them on a windy day when naturals are blowing into the river.
The moss is starting to be an issue so be patient and pick your spots accordingly. It's just part of the game this time of year.
Fly Fishing The Bighorn River: The Verdict
All in all, the Bighorn River fly fishing scene is pretty top-notch. If you haven't done it yet, put it on the list. If you have, you know you need to head back again.
It's hard to beat the number of fish, varied hatches, and overall fishing experience on the Bighorn River. From novice to hardened expert, this river has something for everyone, and lacks nothing for anyone!
Amazon and the Amazon logo are trademarks of Amazon.com, Inc, or its affiliates.
As a part of the Amazon Associates Program and other affiliate programs, Into Fly Fishing® may receive a comission if you order products through links on this website.