As an Amazon Associate I earn from qualifying purchases.
Compare The Best Saltwater Fly Rods
The Best Saltwater Fly Rods of 2023
Now that we've gone through some considerations to be taken when selecting a rod, let's have a look at some of the best saltwater fly rods of 2023. We've selected a couple of rods at different price points. Whether you are a novice or a seasoned saltwater dog, there's something for you.
1. G. Loomis NRX+ Salt
Available weights: 7 – 12
Pros:

Durability, Lifetime Warranty, Handcrafted in USA

Cons: Price
G. Loomis has a cult-like following in Seychelles and their new NRX+ Salt is without a doubt their best saltwater fly rod in 2023.
Their GLX Salt and previous NRX models were very durable and remained the first choice for many top guides and anglers, but the NRX+ is simply the next level.
The design of this rod is impressive, particularly the 12-weight model. Its butt diameter is substantial compared to other brands, while the rod remains ultra-light.
Compare At:
AvidMax
Telluride Angler
Amazon
2. Scott Sector
Available weights: 6 – 15
Pros:

Lifetime Warranty, Handcrafted in USA, wide selection of weights

Cons: Price
The Scott Sector is the new premium saltwater offering from Scott. It replaces the popular Meridian that was a joy to fish with, especially in the 8 and 9 weight variants. The Sector remains a fast action rod but with an improved blank recovery rate.
An exciting rod lineup ensures that there's a rod fit for every application. From a 6 weight 9 foot four-piece for small reef species to an 8 foot 4 inch 15 weight for tuna and marlin.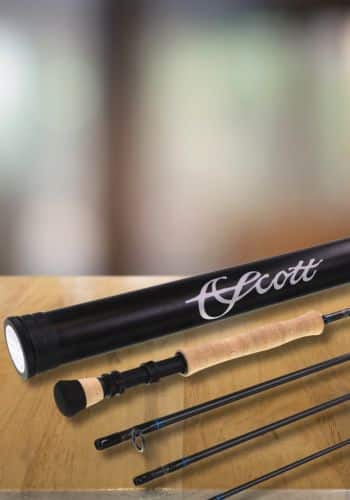 Compare At:
Telluride Angler
Trouts Fly Fishing
What is Trident? Click Here
3. Sage Maverick
Available weights: 6 – 14
Pros:

Good value, Wide selection of weights, Lifetime Warranty

Cons:

Not for the guy that only wants a rod at the cutting edge as it features Sage's Konnetic Technology of yesteryear.
No introduction needs to be made for Sage. Their track record of great rods is nearly endless. As there have been many mention and write-ups on their exceptional premium rods (The X, Salt HD, and Ignitor), I want to introduce you to their mid-ranged saltwater specific rod – The Sage Maverick.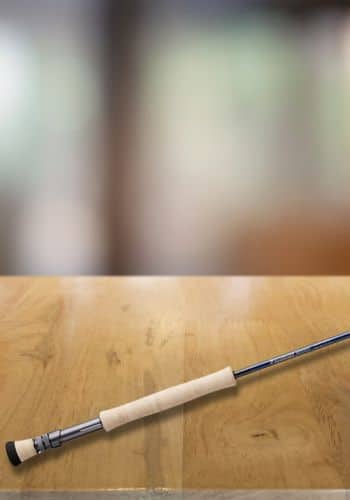 Built on Sage's previous-generation technology (Konnetic Technology), this is an unbeatable value for money in a high-performance package.
The blank has been optimized for fishing up close, where short and medium cast accuracy is paramount. Even if this isn't your first choice for your primary rod, it makes an excellent backup rod.
Compare At:
Telluride Angler
Trident Fly Fishing
4. Temple Fork Outfitters Axiom II-X
Available weights: 5 – 12
Pros:

Great value

Cons:

Flashy color might be too much for some
Replacing the TiCrX, TFO designed this fast-action saltwater specific rod incorporating their Axiom technology (basically including Kevlar in the blank). It's a rod designed for medium to long-range casts and will give the intermediate to experienced angler the ability to do this with ease and precision.
The Axiom II-X a perfect rod for the saltwater angler that needs a great primary weapon that doesn't break the bank.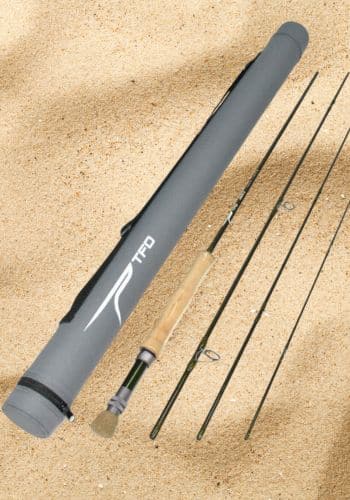 Compare At:
AvidMax
Trouts Fly Fishing
Trident Fly Fishing
5. Echo Boost Salt
Available weights: 6 – 12
Pros:

Price

Cons:

Weight compared to rods in a higher price bracket
This low-price offering from Echo is a perfect saltwater fly rod for the novice. It will also fair well as a low-cost backup rod. Featuring a fast action and titanium guides, it's a workhorse that will serve you well for years.
The Eco Boost Salt is for sure the best budget saltwater fly rod in their lineup and it is one of the best saltwater fly rods for the money.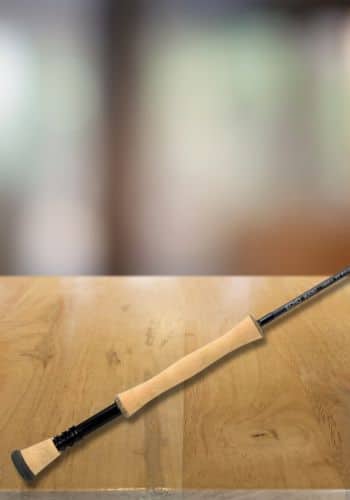 Best Saltwater Fly Rod Combo
A great way to purchase a saltwater fly rod is to get it as part of the package. That way, you can ensure that you get all of your weights right and that every item in your kit is corrosion-resistant and saltwater-ready.
Sage Salt HD Fly Rod Combo
Available weights: 6 – 12
Pros: A pretty complete kit, high-quality rod, and reel
Cons:

A bit expensive
The Sage Salt HD Full Fly Fishing Outfit is one of the highest quality fly fishing combo kits on the market. With it you can get the Spectrum Max or the Hatch reel, fly line, leader, tippet, backing and a nice aluminum case for the rod.
Sage has long been a leader in high-quality fly fishing equipment and this Salt HD is the best outfit they offer for saltwater anglers.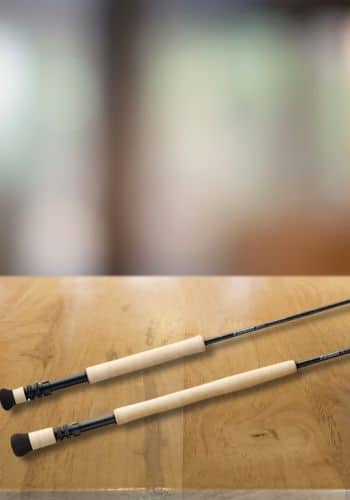 Compare At:
Trident Fly Fishing
Telluride Angler
See Also: The Best Fly Reels of 2023
Saltwater Fly Rods Buyer's Guide
As a former professional fly fishing guide in Seychelles and Costa Rica, and after hundreds of hours spent casting saltwater rods over the past 20 years or so, I figure I know a thing or two on the subject.
In this post, I'm going to share with you my pick for the best saltwater fly rods 2023 has to offer, as well as the best saltwater fly fishing combo. I'll also go over the most important features to look out for when shopping for a saltwater fly fishing rod.
Complete Your Saltwater Fly Fishing Arsenal:
Best Saltwater Fly Reels
Best Saltwater Fly Line
Best Saltwater Flies
Best Saltwater Fly Rods vs Freshwater Rods
I'll be answering this question by making use of an example. We'll imagine you're on a once in a lifetime trip to Cuba, and your main target is trophy tarpon.
But, instead of bringing saltwater specific gear, you thought you'd bring your 6 weight trout rod onto the skiff.
This would be a huge mistake.
Not only would your rod potentially snap because the fish you're casting for are too powerful, but you won't be able to cast into the heavy winds that are common on the seas and oceans and your rod will also get damaged by another, slower killer… the salt.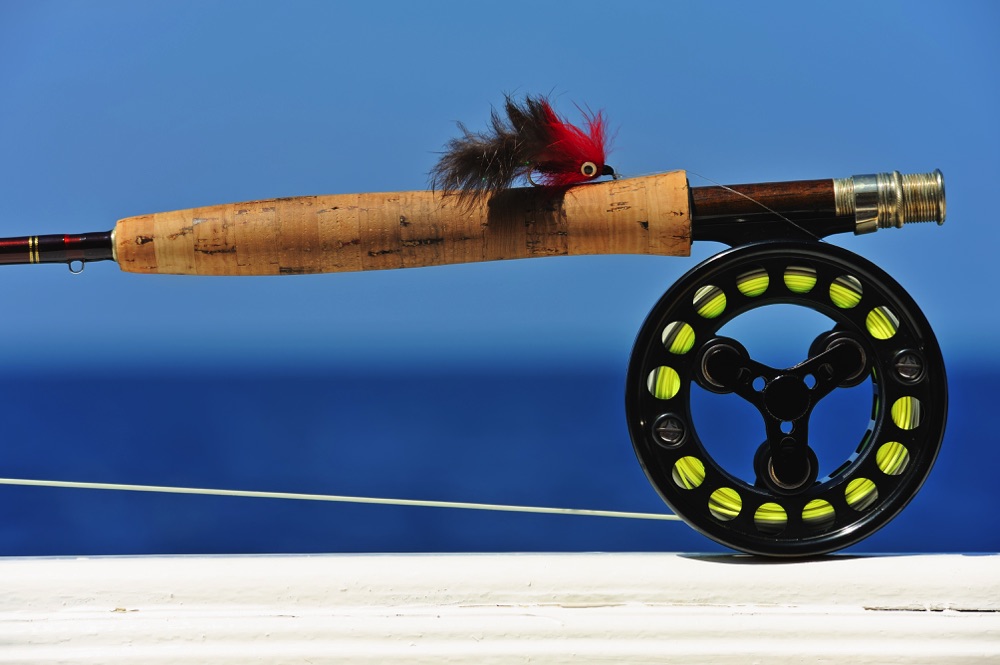 As crazy as it would be to fish the teeming tarpon waters of Cuba with a 6-weight, just bear with me as I explain how this could totally ruin your fishing trip.
Watch The Video
Getting The Fly in Front of The Fish
You are standing on the casting platform, line stripped out and your back planted against the lean bar. Pablo, your guide for the day, screams: "Make a cast 11 o'clock, 60 feet!" You look up and in the distance, you see two small tarpons following a bus lead fish.
Pablo chooses to rig you up with a four-inch purple and black Tarpon Toad fly. You start making the cast, but, while putting in as much energy as you can and hauling your butt off, you just can't get the fly out to the target.
What makes a saltwater rod so special is its ability to present relatively large flies to a target. It should be able to do this accurately and, usually, straight into the wind. This last point is the reason why most saltwater specific rods have a fast action.
The best salt water fly rods are accurate and can toss line at high speeds into wind.
A fast-action fly rod, if cast using the proper technique, generates higher line speeds. This assists the fly line and fly to cut through the air, making it possible to cast into the wind.
Fighting Ability
Now, back to you on the bow with your 6 weight casting at a 160-pound tarpon.
By sheer luck, and with some cunning poling techniques from Pablo, you manage to land the fly 10 feet in front of the lead fish. After your first long strip, the fish shoots up, engulfs the fly and makes a 180-degree turn. He's heading for the horizon.
Even after the incredible aerial display of the first 30 minutes, you can't turn the fish. The fish is just too heavy and strong. The rod does not have enough power.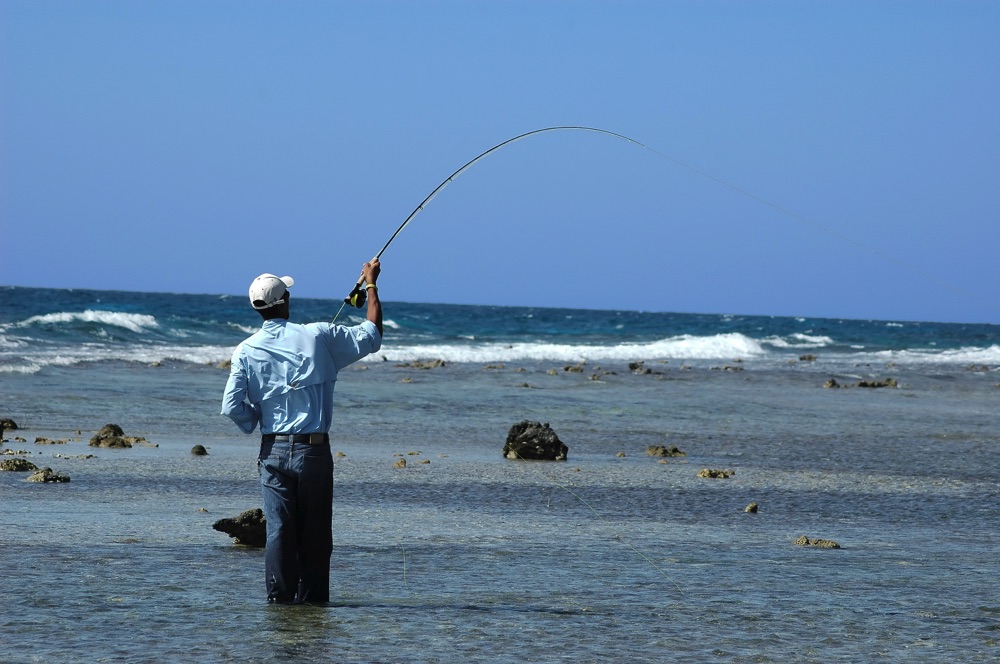 A saltwater fly rod should have enough power for the intended quarry. A 1-meter-long giant trevally will head straight for the bricks. It's up to the angler to keep the fish away from the structure or at least manage the fish.
If you don't have enough backbone you will either lose the fish of a lifetime or even worse, prolong the fight duration causing the fish to die due to overexertion.
Durability of The Best Saltwater Fly Rods 2023
After you fought the massive tarpon on your 6 weight for an hour, the hook just popped. Broken from the arduous fight and the immense disappointment, you drop the rod down next to the seat on the skiff. You lean into the cooler box for a cold refreshment and take a seat next to your boat partner, Bill.
It's in moments like these where fly rods get the most damage. Gear lying around in the skiff, something maybe dropping on it, etc. It's unavoidable on these trips. Things happen.
For this reason, a saltwater fly rod is designed to be durable and should be able to take a beating. Not only from being fished but also in transit and around the skiff. Durability also speaks to how the rod can withstand saltwater corrosion.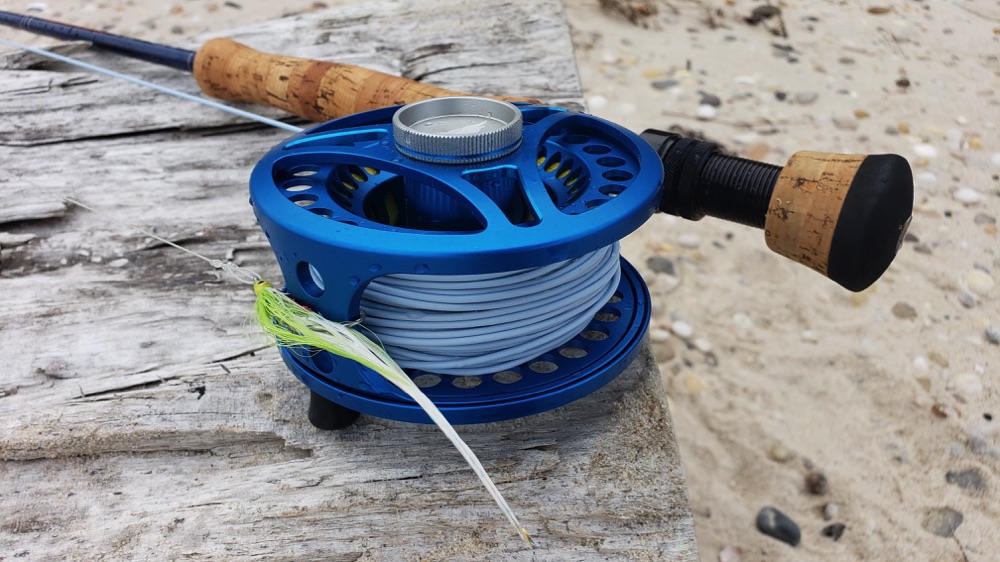 Fishing with a saltwater rod, you'll have corrosion-proof guides, eyes and reel seats, ensuring that the rod will live to fish another day.
Best Saltwater Fly Rod Line Weights
The line weight rating you choose will be determined by various factors. This will include your target species, the relative size of that target species and typical flies and tippets used.
Most of the best saltwater fly rods will be weighted 8-13 and beyond.
Below is a breakdown of general saltwater fly rod weights with typical applications for each.
8 Weight
A perfect rod for bonefish as it can be swung around the entire day without much of an issue, or too much physical fatigue. The fact that the line itself is lighter makes more delicate presentations possible. This comes in handy when targeting skinny water bones.
9 Weight
If I could only take two rods on any saltwater trip, a 9 wt would be the first I'd pack. As far as fly rods for saltwater go, this is weight is where you'll find the majority of the best saltwater fly fishing rods on the market today.
If used with restraint, it can present a fly as delicately as an 8 wt. However, it has that little bit of extra "oomph" in the cast should you need to generate more line speed or carry larger flies.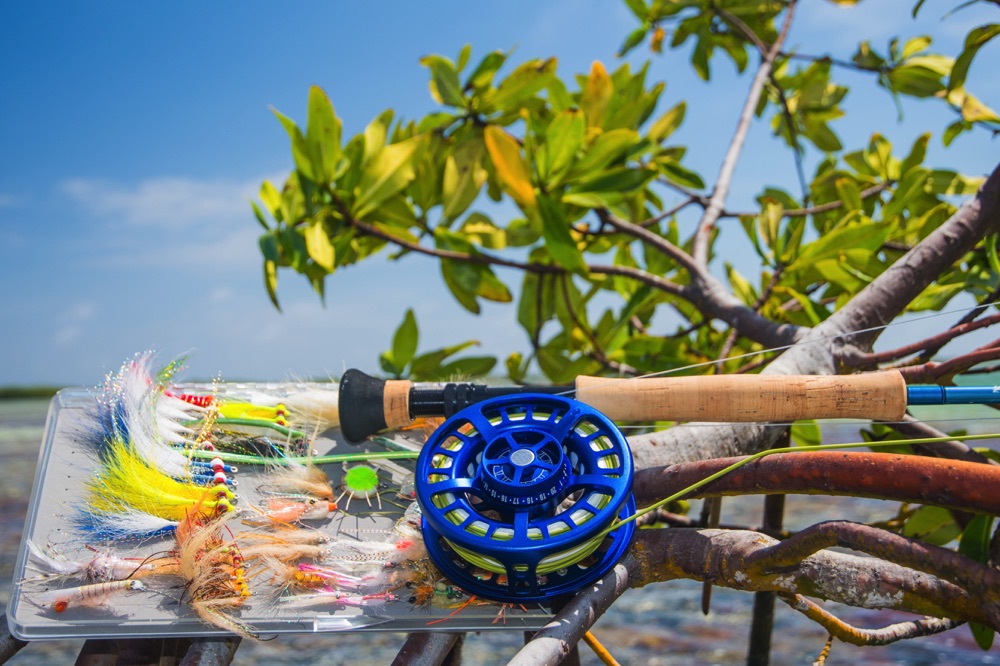 This rod is perfect for species such as bonefish, small trevally, permit, and triggerfish. It can also double up as a very capable freshwater rod for species like salmon and golden dorado.
10 Weight
The choice for anglers seeking to target larger permit or milkfish. It is still capable of some level of finesse in the presentation, but the beauty lies in the fighting capability. If it has enough backbone to stop a large milkfish, then I'm happy.
11 Weight
Traditionally a popular choice of many tarpon anglers who target these majestic fish on shallow sand flats. It has plenty of backbone yet still friendly enough on the arm to allow you to cast most of the day.
12 Weight
If the 9wt was the first rod I chose when I could only take two rods on a trip, then the 12 weight would be the second. This is the "heaviest" rod that still feels like you're casting a fly. It has a reassuring sweet spot in the cast that will send large, heavy flies to your intended target.
Maintain a low rod angle during the fight as the power of the rod lies in its butt section. This is not a rod most people will be able to cast the entire day, but you'll be happy you have it on your side when a massive bohar snapper hits your popper.
13 Weight and beyond
These rods are designed with one thing in mind – fighting ability. It's not a rod that can be cast delicately. Potential target species include billfish (marlin, large sailfish), tarpon, tuna, etc.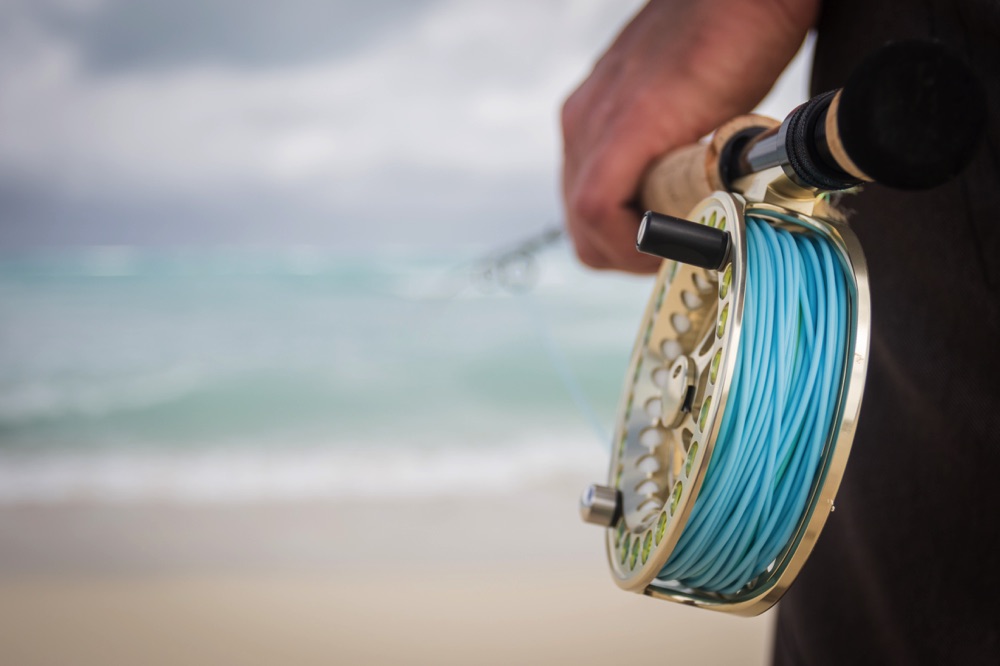 Review
Conclusion
In conclusion, I hope that this post has cleared up some questions you might have had around the best saltwater fly rods and which rods to choose for your next saltwater trip. Remember, as with all things in life, there is no replacement for practice.
Make a turn at your local fly shop and get a couple of casting lessons. It might make a difference between you catching that fish of a lifetime or not.
If you have any other questions, please feel free to get in touch in the comments below. I'll be happy to assist where I can.
Like This Article? Pin it!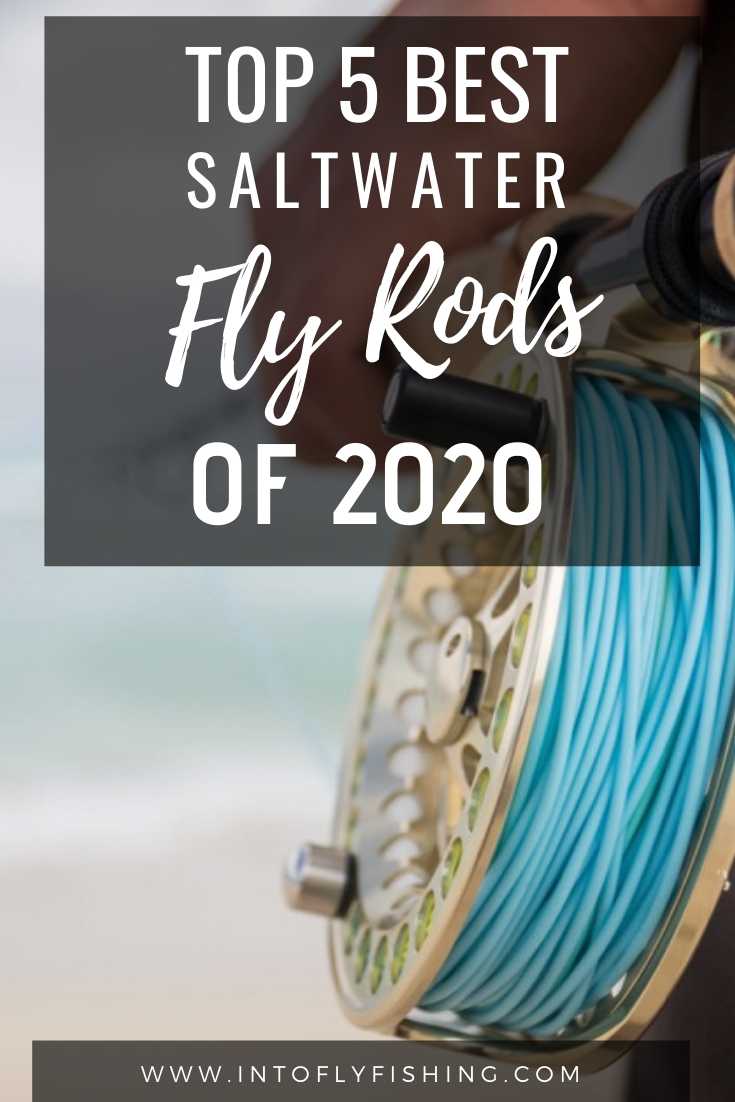 Amazon and the Amazon logo are trademarks of Amazon.com, Inc, or its affiliates.
As a part of the Amazon Associates Program and other affiliate programs, Into Fly Fishing® may receive a comission if you order products through links on this website.