Choosing the best fly reel may not be quite as important as choosing some of the other gear in your kit, like rods and flies, but it's still important that you know exactly what you're looking for when shopping for reels.
Fly reels come in so many different form factors, weights, drag systems, sounds, etc., so to have the best chance of landing that fighting brown on the river, the beautiful rainbow in your local lake, or that massive giant trevally at the beach, you'll need to be prepared.
OUR TOP 3 FLY REELS 2022
Lamson Speedster S 3+ (Best overall)
Redington Behemoth (Best Value)
Maxcatch Avid (Best Budget)
As an Amazon Associate I earn from qualifying purchases.
Compare Fly Fishing Reels
Prices pulled from the Amazon Product Advertising API on:
Not all of the best fly reels are expensive. While companies like Sage and Orvis tout themselves for using aviation-grade aluminum, proprietary drag mechanisms, and fast-retrieve technology, you really don't have to spend a fortune to get a great fly fishing reel.
In this post, I'm going to list all of the best fly fishing reels to buy in 2022. Many of these reels have been around for years and still stay at the top of the heap when it comes to quality, durability, and function, but I'm still going to list the best of the brand new reels that came out in 2022 to keep this list up-to-date.
There are different fly reels for different species of fish, as well as different conditions, casting techniques, water sources and weights of fly rods. In this post, we're going to cover everything you need to know about choosing the perfect fly reel for you, no matter what your fishing scenario.
What Are The Best Fly Reels?
A lot of people ask us what the best fly reels are in 2022 and after researching all of the best reels on the market, we came up with this simple answer:
The best fly reels are the Redington Behemoth, Maxcatch Avid, Piscifun Platte, Lamson Speedster S, Sage Spectrum MAX (for Saltwater), Lamson Light Speed G5, Orvis Hydros SL, and Lamson Center Axis.
Update 2022: Late in 2020 Lamson came out with a new Lamson Speedster S – 3+, a complete redesign of their previous Lamson Speedster models with faster line retrieve rate and a 20% reduction in overall weight.
Because of this, the Speedster S – 3+ now tops our list of the best reels in 2022. Even if you already have a previous model of the Speedster S in your kit, then this new version might warrant an upgrade.
How To Choose The Best Fly Reel
There are a few things you need to keep in mind when choosing a fly reel. The weight is definitely the most important, but there are other factors to consider as well.
Here are a few things to consider when shopping for the perfect reel:
The Weight Of The Fly Reel
The weight is the most important thing when considering which is the best fly reel for your current set-up. Fly reel weight isn't referring to the actual weight of the reel in ounces, but instead, it's a way to categorize your fly reel so that you can match it up with your fly rod and fly line.
You would never want to have a 5 weight reel with a 7 weight rod. The reel and the rod should both be of the same weight, no matter what.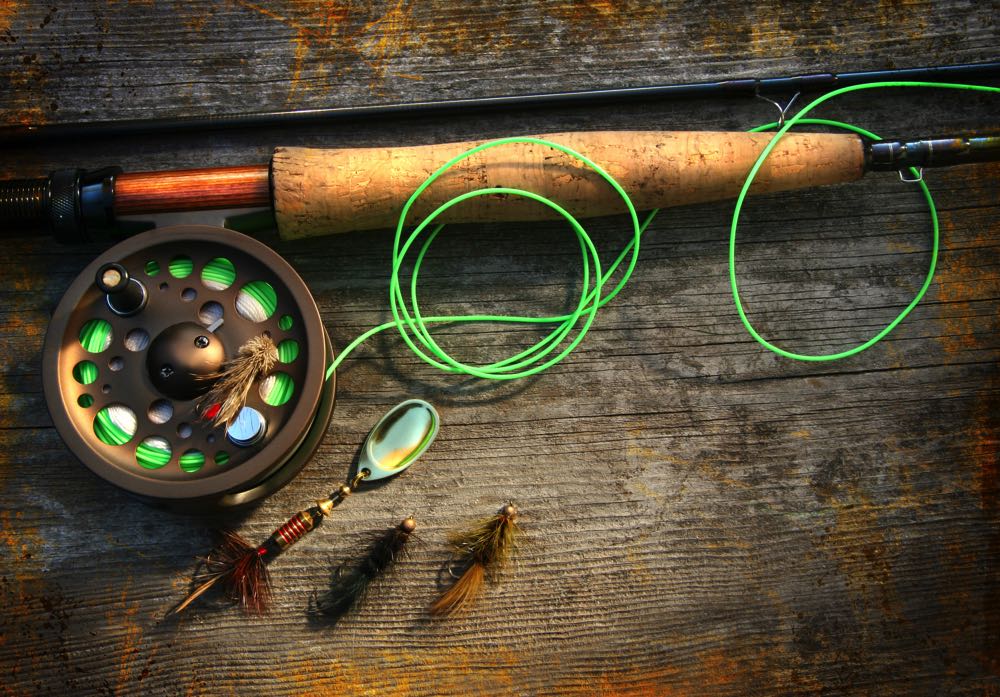 The larger the weight of the reel, the larger the tackle that it is meant to handle. It would be hard to put a 7-weight fly line on a lower weight reel because they just aren't built for it.
Just like you would have a hard time casting an 8-weight line with a 3-weight rod, the kit just wouldn't work properly.
Quick Tip: You need to match your fly reel weight to the weight of both the line and the rod.
Recommended Fly Reels By Weight:
Right-Handed vs Left-Handed Reels
There aren't actually any reels that are specifically created for right-handed or left-handed anglers, instead, the way that the reel is facing on the rod, and the way that the line is spooled onto the reel will decide which way it will be reeled in.
If you cast with your left hand, then you'll want the reel to face to the right and vise versa.
When you purchase a pre-spooled fly reel, make sure to request that it's spooled for your preferred direction of casting. Fly reels are ambidextrous, in that all of them can work for both lefties and righties, but you'll need to set them up as such first.
Quick Tip: If you tell the fly shop or the online store that you want the rod to be spooled left-handed, they'll know what you mean.
Pre-Set Up Fly Fishing Kits
One of the best ways for beginners to purchase new fly reels is as part of an entire kit. Pretty much every fly shop and online store will offer some kind of ready-to-go kit that you can purchase.
Not only are these usually a better deal than buying each item separately, but it helps ensure that the reel, rod, line, backing, and leader will all be set up to properly match.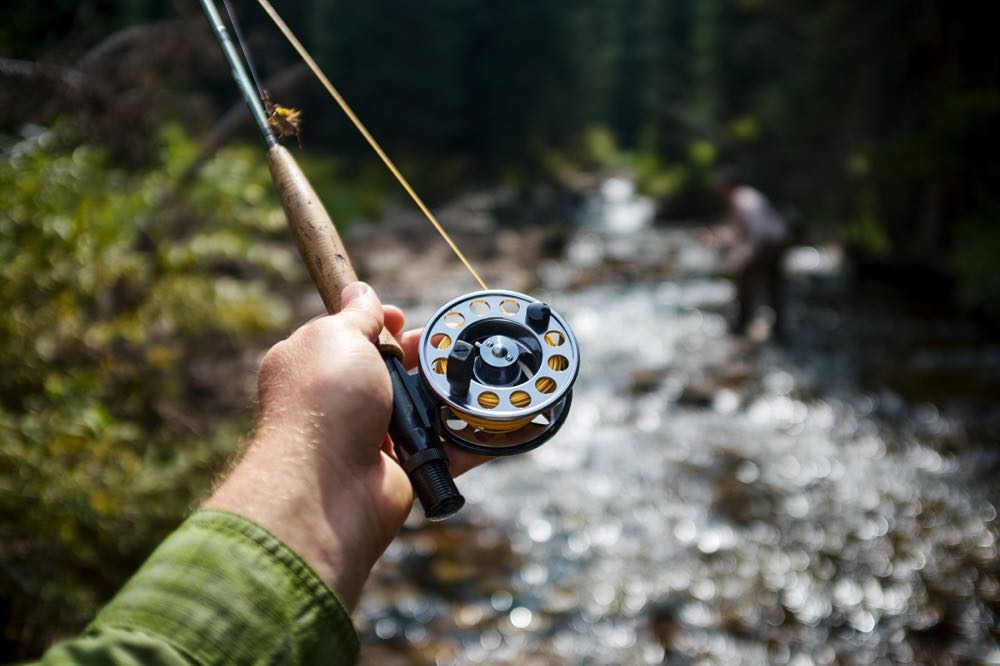 We have an entire guide on the best fly rod combos and kits which includes important features to watch out for, what a good outfit should include and much more. Make sure you check it out before purchasing any fly rod and reel combos.
Quick Tip: When purchasing a fly fishing outfit, make sure you tell the shop which hand you cast with.
The Price
This can be a major factor for many anglers. I've personally had expensive Sage reels that I've loved, and others that weren't so great, while I've used cheap fly reels that were total garbage, and others that could compare to the best on the market.
Ultimately you don't want to purchase a reel that's out of your budget. If you have the money to spend, and if the cheaper reels just don't have the features you're looking for, then it's worth splurging.
But if you're on a tight budget or you're new to the sport, then consider something a bit cheaper to get started with. We have a full buyer's guide on the best budget fly reels and the best fly reels for the money; the latter may not be the cheapest, but they're of great value.
Quick Tip: Shop for reels based on the size and features you need, not based on brand names and price.
The Sound
This may sound a bit ridiculous, but believe me, the clicking sound that a reel makes when being stripped out or reeled in can have a massive impact on the way you feel when retrieving a fish.
Not only are quiet reels hard to hear if you're casting with a strike indicator and not paying attention, but they're just not as fun. Unfortunately, most reel producers don't disclose the sound of the reel on their sales pages but don't worry, I'll include it in my reel selection in this post.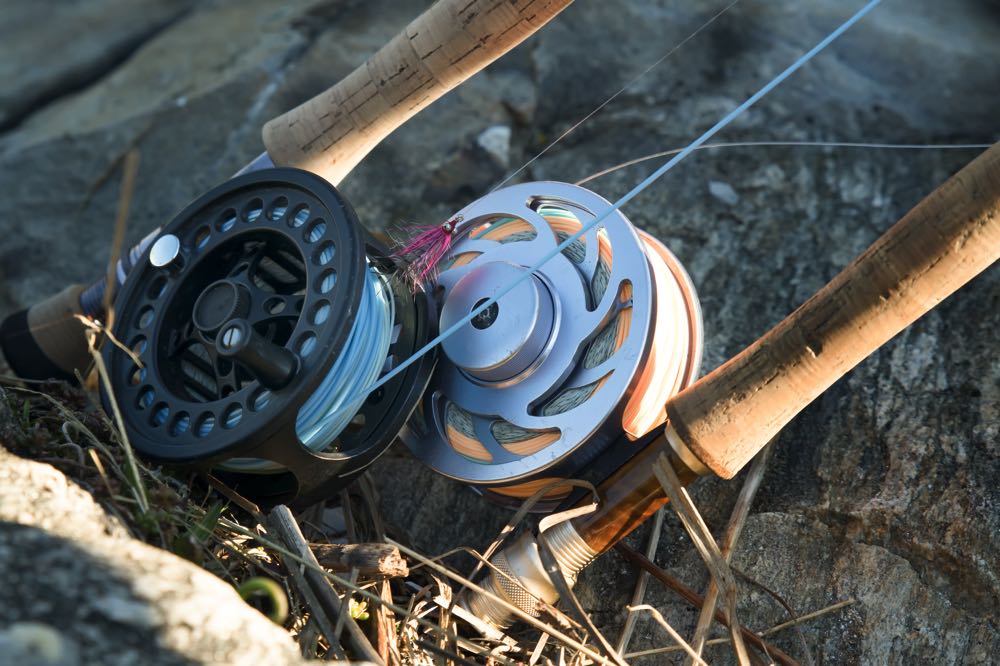 My last reel was an Orvis Encounter, and it was a decent budget reel… except for the sound. It was too quiet.
Click Here to listen to an ocean fly reel screaming and you'll get the point.
Quick Tip: You want your reel to have a satisfying click that gets the blood pumping when you hear the fish take the fly.
The Reel Material
Most of the fly fishing reels that you'll find on the market today will be made of machined bar-stock aluminum, which means that reel was carved down from a single solid piece of aluminum by a machine.
Die-cast aluminum Reels, on the other hand, are die-cast, which means they are made by pouring molten metal into molds.
Both reels can be very well-built and last for years, but without a doubt, the highest quality is the more maintenance free machined aluminum.
Quick Tip: If you can afford a machined body reel… go for it.
Arbor Size
The arbor size of a fly reel is a relatively new concept. Back in the day, all reels used a conventional spindle in the middle which is where the line would be spooled onto, but these days there are reels known as "mid arbor" and "large arbor".
Basically, the larger the arbor, the larger the diameter of the center of the reel, which means it can take in line much faster. How much faster? With large arbor reels, you can retrieve line as much as three times faster than a conventional fly reel.
Unless you're fly fishing in saltwater or fly fishing for salmon, it's unlikely that you'll need a large arbor reel. These are the most popular for larger ocean fish because of the faster retrieve time and larger backing capacity.
That's not to say that trout fishermen can't still use a large arbor reel, it's just that these are much more common in salt water.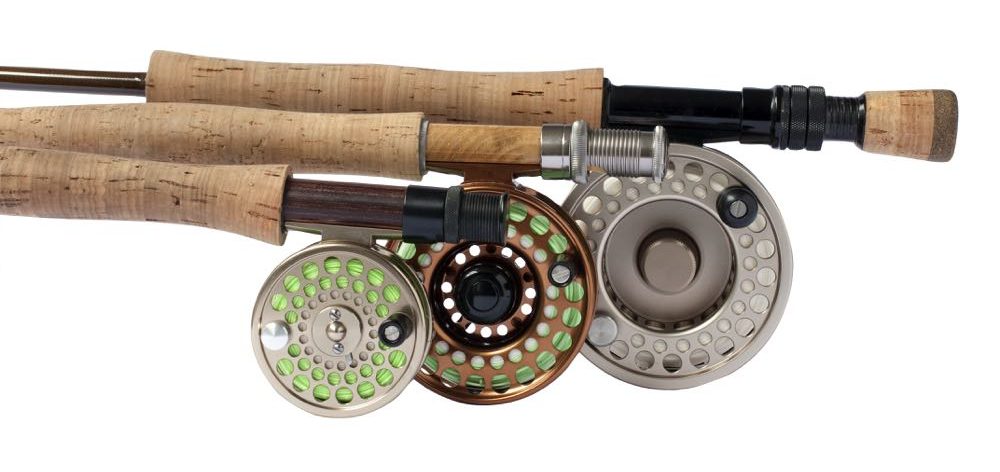 If you're trout fishing, the smaller traditional reels will be perfect for you. They're more light-weight, easier to cast and very responsive.
These days, the compromise is the aforementioned mid arbor, which gives all fishermen a bit of added retrieve speed and load capacity, without sacrificing agility and weight. The mid-arbor sized reels are making waves with saltwater and trout anglers alike.
Quick Tip: If you want the best of both worlds, go for the best mid-arbor reels.
The Reel Drag System
The drag system within a reel is the mechanism at which the reel uses to slow down the fish so that you don't end up peeling all of your line and backing from the reel and ultimately losing the fish.
The drag system inside the reel will allow the angler to set a tighter or looser line peel (known as high or low drag).
Drag Types
Typically fly fishing reels come with three types of drag system, the click-drag, the disc drag system, and the spring-and-pawl.
Click-drag and disc-drag are both are excellent systems, but the "spring and pawl" system is the old school way of slowing the reel with cogs and these types of reels are becoming increasingly difficult to find.
Basically, if you're fishing for larger game, you'll want to have the more modern disc-drag system in your reel. For smaller fish, the click-drag reels are still the favorite of many anglers.
Drag Materials
There are also three types of materials that fly reel manufacturers use to build their drag systems. Cork systems were once the most popular because of their low startup inertia, but these days synthetic materials like Delrin, nylon, Teflon, and other plastics and polymers are used in place of traditional cork.
Quick Tip: Don't set the drag higher than the breaking point of the tippet/line
---
The Best Fly Fishing Reels in 2022
Alright, let's get started with this list. These are the top picks for the best fly reels of all time. Not all of these reels were manufactured in 2022 because, hey, sometimes the best fly reels 2019 are still the best in 2022. What was great 10 years ago may still be great today.
1. Redington Behemoth – Best Value Fly Reel
Pros: Quick Retrieve, Good Value, Good Sound, Great Drag
Cons: Die Cast Aluminum, slightly loose drag knob
Arbor: Super Large Arbor
Available Weights: 4-12
I know I listed die-cast aluminum construction as a con, but even though the Redington Behemoth reel is die-cast, it's no slouch, and there's a reason that this reel isn't machined.
This is easily one of the best fly reels for the money.
When you look at the intertwined, twin-molded design, you'll see that there's no way you could machine this reel.
But that doesn't mean that it sacrifices quality in this case. The unique design gives the reel an incredibly durable and long-lasting final product, as made evident by their lifetime warranty.
Redington is known for putting some of the most effective drag-systems in their reels and the Behemoth is no different.
If you're an angler into looking cool on the river, this beautiful reel comes in 5 colors, black, gunmetal grey, desert yellow, hunter orange and O.D green.
The one issue with this reel is that while it has some of the best drag mechanisms inside of it, the drag and spool knobs that you have to use on a daily basis do feel a bit wobbly and cheap.
The Behemoth will be a great reel for freshwater but is best for saltwater and large-mouth bass fishing.
If you're interested in this reel, be sure to check out our full, hands-on Redington Behemoth Review.
2. Maxcatch Avid – Best Budget Fly Reel
Pros: Med-Arbor, Good Sound, Amazing Price
Cons: Sub-par Drag Adjustment, Cast Aluminum Design
Arbor: Large
Available Weights: 3-8
The Maxcatch line of fly reels are surprisingly well-built for the money. I'm not saying they're perfect, but when you're looking for a budget reel, or a budget fly fishing setup, you really can't go wrong with the Maxcatch brand.
My Maxcatch reels have lasted me and they feel great. The Maxcatch Avid is the best of the bunch, especially considering you can pick one up for under less than the cost of a cheap dinner for two.
The main con about this reel is that the machining can be a bit misaligned sometimes, making the spool feel a bit wobbly. But honestly, for the price, you can't really complain.
If you're looking to get into fly fishing for the first time and you don't want to spend a lot of money on your kit, then get the Maxcatch Avid reel. It comes in 3-8 weight sizes.
3. Piscifun Platte – Best Midrange Reel
Pros: Large Arbor, Machined Aluminum, Fully Sealed for Saltwater
Cons: Sub-par Drag Adjustment
Arbor: Large
Available Weights: 5-10
When you're looking for a reel in the midrange category, under $200 but more than $100, the Piscifun Platte is hard to beat, especially considering it has a strong, but still reasonably lightweight anodized 6061 T6 aluminum frame as well as a fully sealed drag system for saltwater use.
For that price, you also get a one-year warranty making this our pick for the best fly reel under $200. This Piscifun fly reel can compete with much more expensive reels on this list.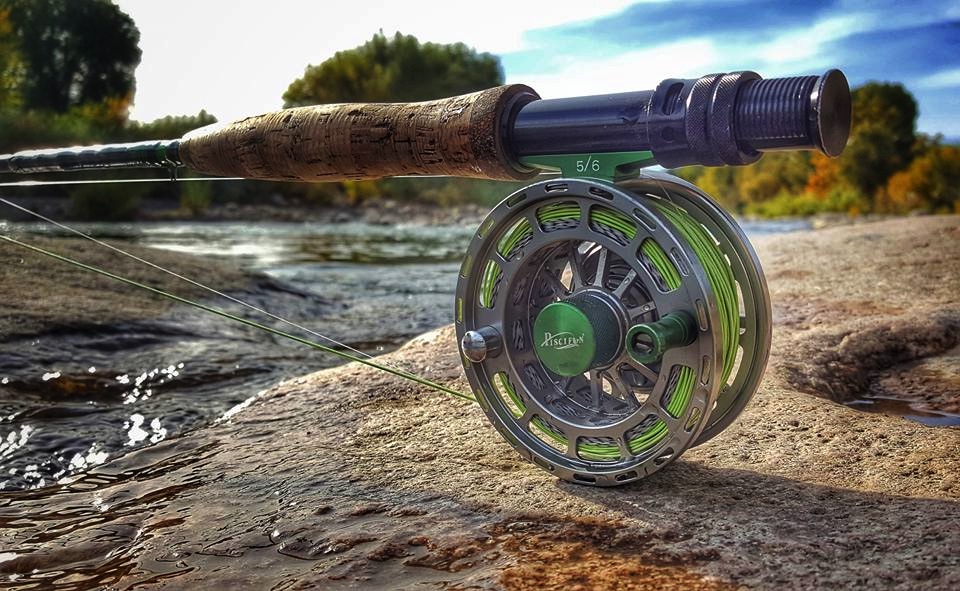 The main two issues with this reel is that it's hard to swap it from left to right hand retrieve, with some small losable parts inside, and at 10.6 oz this is one of the heavier reels on this list.
4. Lamson Speedster S – Best Overall
Pros: Hyper-light, Beautiful Design, Durable, Machined
Cons: High Price
Arbor: Super-Large
Available Weights: 3-10
Lamson has always made some great quality reels, and while some of the others in the line like the Guru reels could be a bit lighter, Speedster S is their cream-of-the-crop ultra-lightweight fly reel with the highest retrieve rate.
The beautiful looking extremely large arbor design makes this the ideal fly reel for saltwater fishing, but the Speedster a very desirable reel for all water types.
Like with all Lamson reels (including the awesome Lamson Guru series), the Lamson Speedster sounds amazing, with a loud tinny purr peel out, and a satisfying reel-in click.
Taking in an incredible 9.64 inches of line per turn, this is also one of the largest arbor reels on this list, meaning that you'll get the fish in the net faster than with pretty much any other reel on the market.
If you're willing to spend $450 on a fly reel, then you're probably not the type of angler that's looking to cheap out on your gear. The Lamson Speedster S is worth the money for sure, thanks to its futuristic, high-quality design, functional fast retrieve, excellent seal drag system, and high-quality material.
5. Sage Spectrum Max – Best Saltwater Fly Reel
Pros: Best Sound, Best Quality Machined ultra-high quality Aluminum, Carbon Sealed Drag System, Fast-Action Drag
Cons: High Price, Light on Drag
Arbor: Large
Available Weights: 5-12
Sage has always made the best fly rods on the market, but they seem to frequently fall short on their reels, with many of them lacking a few key features or comfortable ergonomics that anglers are looking for.
But I think they finally hit the mark with the Sage Spectrum Max.
This is like the Bently of saltwater fly reels and if you have the money, then you can't go wrong with this top-of-the-line large-arbor reel in the Sage lineup.
This is the best fly reel for salmon fishing, saltwater fishing, and large-mouth bass fishing as well.
The first fly reel I ever owned at 8-years-old was a Sage Fly Reel and it still works today more than 25 years later, so while they don't always get the best reviews by anglers, they're built with high-quality materials and are made to last.
Sage reels are expensive, but you get what you pay for with the Spectrum Max. A new angler doesn't need to go out and spend $450 on a reel, but for amateur or professional fly fishermen, you really can't beat this beautiful reel.
The Sage Spectrum Max is fully machined with cold-forged, tempered 6061-T6 aluminum and comes equipped with the coveted proprietary Sage Sealed Carbon System (SCS) Drag.
The drag system is great and while you can get an incredible 25% drag capacity with only a half-turn of the knob, the reel itself maxes out a little loose on the drag overall, particularly for a saltwater reel. Aside from a hefty, but the justifiable price tag, this is the only con we found with the reel.
The sound of this reel will send you into cardiac arrest. It's loud, buzzy and oh-so-satisfying. Of course, sound is subjective, but in my opinion, this is the best sounding Sage reel on this list, hands down.
6. Lamson Light Speed G5 – Best Trout Reel
Pros: Great drag system, good for salt and freshwater
Cons: High Price, Not The Best-looking Design
Arbor: Large
Available Weights: 3-12
It's really not a big surprise that another Lamson reel shows up in this lineup. They've been consistently building some of the best reels on the market for years now, and the G5 is the best of the bunch.
In 2015 Trident Fly Fishing did a pretty extensive and scientific analysis of 25 different 5-weight fly reels and they came up with the Lamson Light Speed IV as their clear winner.
At that time, I agreed with the overall analysis as the Lamson Light Speed IV is a great reel, but Lamson has since released the Light Speed G5 fly reel that I think takes the new trophy home as the best trout reel on the market.
It has all the pros of the Light Speed IV, like the light, strong design, the huge arbor design, and the smooth drag, but with a cleaner finish and higher quality 6061 bar stock aluminum material (which means that it's corrosion-resistant even after being scratched and dinged).
It may not look as sexy as some of the other reels on the market, but the G5 gets the job done better than all others.
Like with most Lamson reels, the G5 comes with a super-strong Teflon/Delrin Alloy-built proprietary Conical Drag System. This system is notoriously lightweight and powerful and Lamson continues to top other reel-makers when it comes to their drag systems.
7. Orvis Hydros SL – Best Reel For Bass
Pros: Best drag in class, large arbor good for bass
Cons: Not the best sound, annoying drag knob.
Arbor: Large
Available Weights: 3-11
It's about time there's an Orvis reel on this list! When you're looking for a fly reel for bass, you're going to want to look at the drag, retrieval rate, and durability, and the Orvis Hydros SL fly reel ticks all of the boxes.
At just 7.7 ounces, this is the lightest fly reel of this caliber on the market and the drag is the most powerful you'll find in any reel.
At 10 inches per turn retrieval rate, this is also one of the quickest-retrieve reels on the market, with an ultra-large arbor design which is great for bass fishing. Because of this, and it's sealed carbon fiber drag system, it's also one of the best saltwater fly reels.
The sage just squeaked it out on this list, but if you're on a tighter budget, the Orvis Hydros could be your pick for the best saltwater reel as well.
The only reel cons for this reel are the sound and the annoying drag knob that is simply too small for this reel and it throws off the ergonomics a bit.
Overall though, this is easily one of the best fly reels on the market today, for most types of fishing.
8. Piscifun Sword – Best 3-weight Fly Reel
Pros: Med-Arbor, Good Sound, Good Price, Machined Aluminum Design
Cons: Sub-par Drag Adjustment
Arbor: Mid
Available Weights: 3-10
It's really hard to list any cons on a reel that comes in under $60, especially one that's made with machined aluminum like the Piscifun Sword II. This is one of those reels that once you have it in your hand, it's hard to comprehend spending $600+ on a reel.
Having said that, it's not without its flaws. Even though it's listed at the mid-arbor size, it's actually closer to the diameter and retrieve-rate of a small-arbor reel. Also, the drag adjustment knob feels a bit flimsy.
But honestly, other than that you really can't fault this reel. If you're looking for the cheapest reel you can buy, while still having a quality design in the small to the mid-arbor range, then check out the Piscifun Sword II.
This reel could easily compete with the Maxcatch AVID for the best budget reel, or with the Behemoth as the best value reel (both listed above).
9. Galvan Torque T-5 – Best 5-Weight Fly Reel
Pros: Good Sealed Drag, Low Startup Inertia
Cons: Tiny Reel Knob
Arbor: Large
Available Weights: 2-12
At 4.8 ounces, the Galvan Torque definitely isn't the lightest 5-weight reel on the market, but it has an excellent drag system and no startup inertia to speak of, which is always a bonus in the 5-weight category.
It was a toss-up between this one and the Galvan Rush Light for the 5-weight fly reel, but ultimately we went with the Torque because we really like the looks and feel of this reel.
Coming in at around 7.15 inches per full turn of the reel, the T-5 is about the middle of the line when it comes to retrieving speed, but it's a little hard to comfortably reel in a fish with the tiny handle that Galvan fly reels decided to place on this reel.
Other than that though, this is a great reel. It has a sealed drag system which is great because the reel is powerful enough for even the strongest bonefish in the Caribbean.
10. Nautilus CCF X2 – Best 8-Weight Fly Reel
Pros: Great ergonomics, quick line retrieve
Cons: A bit too heavy
Arbor: Large
Available Weights: 8-12
Finally, a Nautilus fly reel makes the list, coming in as our pick for the best 8-weight fly reel on the market.
The reel has an incredibly powerful drag system that maxes out at an impressive 15.6lbs.
Unlike most other Nautilis reels, this one actually has a great sound to it, and with a line retrieve rate of 9.9" per turn, you'll be pulling in a lot of line when listening to the CCF X2 purr.
The only reel con to this reel is that it's quite heavy and a bit expensive.
Best Fly Fishing Full Outfits
Fully built-out fly kits are a great way for beginners to get started. If you're kitting out your fly fishing gear from scratch, then it's usually worth it to get a fly fishing combo – including the reel, rod, line and protective cases.
Below I've listed the best full kits based on price and quality.
Orvis Encounter 908-4 Fly Kit – Best Budget Outfit
Included: Fly Reel, Fly Rod & Case, Fly Line, Leader
Pros: Decent rod, includes leader, line & tippet
Cons: Plastic reel design, quiet reel
Available Weights: 4, 5 & 6-weight
The Orvis Encounter Set-up was an easy choice. As far as a cheap full outfit goes, you really can't go wrong with the Orvis Encounter set-up. This one comes with literally everything you need to get started. A great 9-foot 8-weight fly rod with the reel to match, as well as the line, leader and backing.
I ordered this full kit last year and the only real complaints I have with it is the reel. After pretty extensive testing, the rod, rod case and line is actually really good quality for the price, but the reel is the part of this set-up that falls a little bit short.
The reel has a plastic design and is just about silent both on the retrieve and on the peel out, which is a bit disappointing when you get a good-sized fish on. It's like sitting inside of a Ferrari, expecting the loud roar of the engine, and then realizing it's electric.
If you're brand new to fly fishing, then you won't likely find a better price than this kit, but if you're intermediate, or purchasing your second set-up, I'd recommend upgrading to the next level.
Read More: Full Hands-On Review of The Orvis Encounter Set-up
Lamson Center Axis – Best Mid-Range Outfit
Included: Fly Reel, Fly Rod & Case
Pros: Center aligned for great balance, High-quality design, great case
Cons: Rod isn't as good as some other Lamson rods
Available Weights: 4, 5 & 6-weight
You won't get the fly lines and leader with this kit, so you'll have to order that separately, but this kit is definitely a great value for the money.
This kit comes with the excellent Lamson Litespeed center-mounted reel and the Lamson Center Axis Rod. Together, this is a really well-balanced outfit.
You can get this set-up in 4, 5, or 6-weight set-ups.
Sage Trout LL – Best Top-End Outfit
Included: Fly Reel, Fly Line, Fly Rod & Case
Pros: One of the best classic sage reels included, excellent rod
Cons: Doesn't include leader and tippet, expensive
Available Weights: 3, 4, 5 & 6-weight
The Sage Trout LL outfits are an amazing option for a full Sage kit with reel, line, rod, and case. The Sage LL Trout Reel that comes with this kit is a great option as well, with a sealed drag system, machined aluminum full-frame construction, and a large-arbor design.
The rod comes with an aluminum tube, while the reel in this kit comes with a neoprene case.
Unfortunately, it only comes with a fly line (no backing, leader, tippet), but the line is extremely high-quality and you can always pick up some backing and leader for cheap.
It's not the cheapest kit out there, but if you've always wanted a full Sage fly outfit, then it's definitely the best deal you can get for this quality of rod and reel with line.
Top Recommended Fly Reels By Weight
For many anglers, you just need that perfect reel to go with your favorite rod. Of course, if your favorite rod is that versatile 5 weight, then you're going to need to shop for a 5 weight fly reel to ensure you have a properly balanced set up.
But not all reels are created equal in all weights. Sometimes a 3-weight version of the same reel is lighter, has better balance or feels better in the hand. A perfect example of this is a lot of the budget reels and saltwater reels.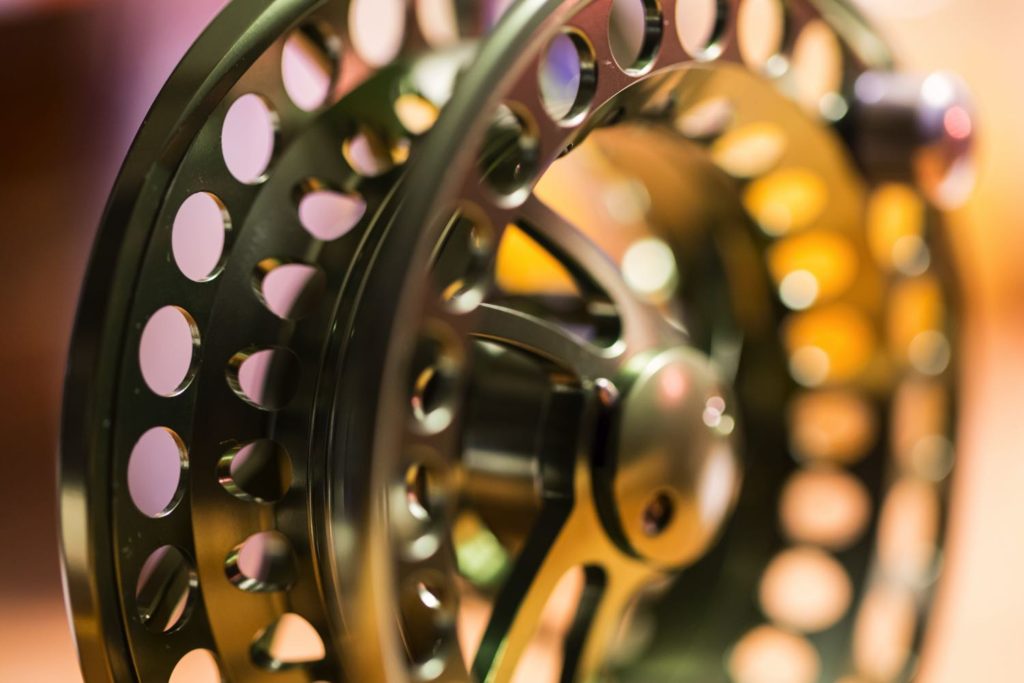 It might be great to have a budget reel freshwater reel in smaller weights, but if you are putting strain on larger reels, or corroding them in saltwater, then you'll probably be looking for a higher quality reel.
Here I'll list the best fly reels of each weight, plus I'll link to each of our posts for that weight of fly reel, which includes a few reel options, including the best budget, midrange, top-end models and more.
3 Weight
Best used for small trout species, small creaks and nymphing, the 3 weight is many angler's favorite rod weight for it's light presentation of small flies and the feel sensitivity of the rod blanks, allowing you to feel every turn and tug of the fish.
Redington Zero
Perfect for small rivers and streams and for tossing tiny nymphs and awaiting trout, the Redington Zero 2/3 is an affordable and well-built reel. Redington has long made some of the top budget-friendly fly reels on the market and the Zero in the 3-weight is one of their best offerings.
→ Check Out Our 3 Weight Fly Reel Buyer's Guide
4 Weight
Still a great line weight for small nymphs and backwoods streams, the 4 weight is getting big enough to target slightly larger trout and to toss larger terrestrial flies in with more ease.
Galvan Torque T4
The disc drag system on the Galvan Torque T4 is smooth and easy to adjust and even though the reel isn't the cheapest, it could still compete as one of the best 4 weight fly reels for the money.
You just can't go wrong with this beautiful reel. It's a self-lubricating, almost frictionless, maintenance-free reel with pretty much no start-up inertia to speak of.
It looks great, feels great and even though the Torque series makes great reels of many weights (the T8 is also one of our favorites), the T4 just feels the best out of all of them.
→ Check Out Our 4 Weight Fly Reel Buyer's Guide
5 Weight
The most versatile rod and reel weight of all, the 5 weight is small enough to use tiny nymphs in a clinch, while big enough to land a lot larger fish species. If you're looking to only have one rod and reel in your kit, make it a 5 weight.
Redington Behemoth
For the price, you can't beat the Redington Behemoth 4/5 and in the 5 weight category, this isn't just our favorite reel, it's also the best reel you can get for the money.
Yes, the design is cast iron, but the way they've interwoven the material really makes this rod sturdy and strong. At 5 weight, you're starting to get big enough that you'll need some torque on that drag and the Behemoth has the strongest drag in its class.
That's why this reel appears as our favorite reel in a few different weights. Catch a big 5 pound trout on this reel and when you hear the drag and feel the smoothness of the reel, you'll want to catch all future fish on it.
→ Check Out Our 5 Weight Fly Reel Buyer's Guide
6 Weight
Getting into the spectrum of small saltwater species and even river salmon, the 6 weight is for those who are targeting larger species, but still want the ability to cast in mid-sized rivers to mid-sized trout without having the setup overpower them.
Hardy Ultralight ASR
The Hardy Ultralight ASR 5/6 is the favorite 6-weight fly reel of Dallas – one of our professional anglers, and he has gotten plenty of use out of it. I don't personally have a 6-weight in my kit currently, but Dallas does and after trying many reels in this category, he still stands by Hardy's ASR offering.
The reel 4-11 weight but the 6 weight really stands out, although you'd be happy with the Ultralight in any weight.
It might not be as affordable as the Behemoth, but it's still a great value reel with a strong disc drag system and a smooth feel in hand.
→ Check Out Our 6 Weight Fly Reel Buyer's Guide
7 Weight
I've had my share of 7 weights in my day and it's a great rod size for those who want to target both saltwater and freshwater fish. Get a reel with a sealed drag in this weight so you can do that without harming the reel by corroding it in the salt.
Orvis Hydros SL
I mentioned that you want a reel that is saltwater ready in the 7 weight category and to me, the Orvis Hydros SL 7/8 is the best one on the market, especially considering the high-value mid-range price tag.
This is surprisingly the first Orvis reel to appear on this list of the best fly reels by weight, but they really do make some incredible reels.
Dallas listed the Orvis Clearwater as his favorite 7 weight in this class (as you see if you click the buyer's guide link below), but I had to disagree with him on this one.
I think it's worth the extra money to get the Hydros SL for the added quality of the reel and the sealed carbon drag is far superior to the Clearwater, especially for saltwater fly fishing.
→ Check Out Our 7 Weight Fly Reel Buyer's Guide
Who Makes The Best Fly Reels?
Every angler has their favorite fly brand and they tend to return to them for all of their fly fishing purchases. Kind of like how there's Ford people and Chevy people. But with reels, anglers often have whatever brand they feel like purchasing at the time.
But not all brands are created equal. Here are some of the most popular brands with links to their products on Amazon, in case you didn't find the perfect reel for you already in this list.
Budget Fly Fishing Brands
Mid-Range Fly Fishing Brands
Top-End Fly Fishing Brands
Review
In case you got this far and still haven't been able to choose a reel. Check out the table of contents to jump back up on the page.
Watch The Video
In Conclusion
Whether you purchase your fly fishing rods and reels separately, or you go for a full fly fishing outfit, you will need to consider many different factors when shopping for the best fly reel.
This article was meant to answer all of your questions about fly reels and which ones are best for each situation. I hope you found it useful! If you did, please feel free to share it and comment below if you have any questions.
Happy casting!
Like This Article? Pin it!