When looking for the best fly fishing nets on the market, you should be considering quite a few things. First, you should be thinking about where you plan on using this fly fishing net and what species you're going after.
Targeting trout? Don't worry, we've included the best trout fishing nets.
Will you be fishing it in the wide rivers of New York, the empty streams of South Dakota, the cold brooks in Iowa, or one of the thousand lakes in Minnesota?
Will you be angling for massive salmon and steelhead, or small brown trout? Both the destinations you choose and the species you go after will play a part in choosing the best net for fly fishing in different situations.
Compare Fly Fishing Nets
This blog is reader-supported. As an Amazon Associate, I earn from qualifying purchases.
| Image | Title | Best For | Price | Buy |
| --- | --- | --- | --- | --- |
| Top | SF Soft Rubber Net | Best Overall | | Buy Now |
| | Pesca Brail Rubber Net | Best Budget | | Buy Now |
| | ODDSPRO Fly Fishing Net | Best Large | | Buy Now |
| | Aventik Trout Net | Best Deep Net | | Buy Now |
| | Leo Foldable Telescopic Net | Most Compact | | Buy Now |
Prices pulled from the Amazon Product Advertising API on:
Your next thought should be – what should the fly fishing net be made out of, and how long of a handle do you need. Some people like rubber fly fishing nets and others enjoy nylon.
All of these factors are going to come into play when you're out on the water. This is because each situation is going to be different and you'll need the net to have different features in order to accommodate the situation.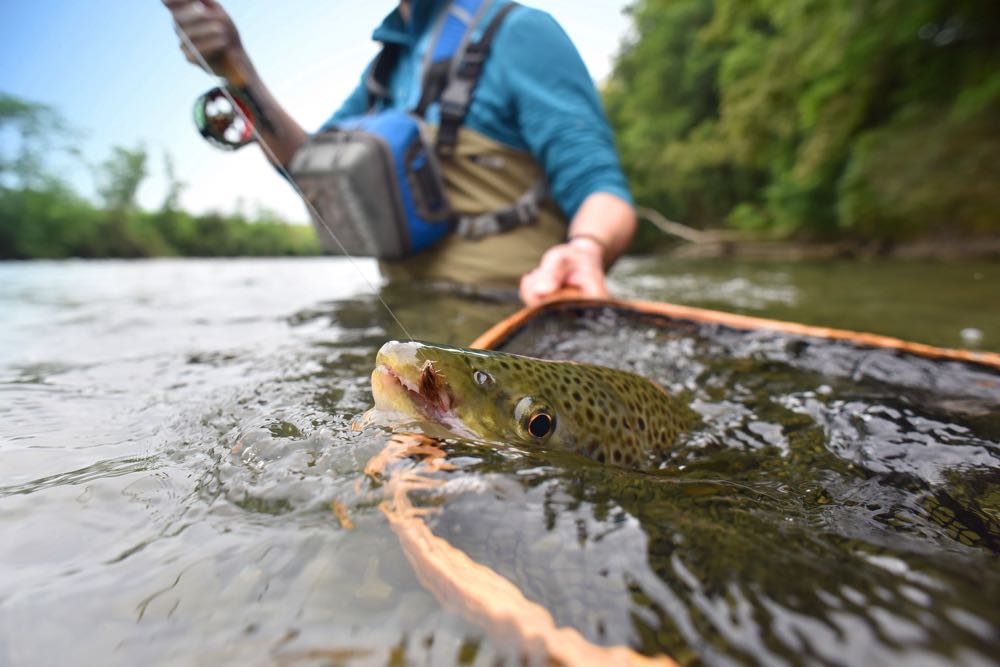 The last thing you want is to be out fishing and you have to use your hat as a net to try and land that 22″ rainbow trout you just hooked.
Below we're going to go over a few different types of fly fishing nets and how each one is going to help you out on the water.
Jump To→ Best Fly Fishing Nets
★ #1 Best Net Overall: SF Rubber Net ★
As an Amazon Associate I earn from qualifying purchases.
Best Fly Fishing Nets
The five nets that we're going to go over below are all different and will work best in scenarios. Before continuing, think about what you're looking for in a net. Do you want something you can strap on your back and easily wade a river?
Or do you want something with a nice long handle that allows you to pluck a fish from the water while leaning over the side of a drift boat? Because we're going to go over both types below.
1. Thickened Fly Fishing Net
Dimensions – 22″ X 12.6″ X 1.57″
Material – Mesh Net. Aluminum Alloy handle
Pro – Price, Easily portable
Con – Durability, no clips or magnets
The Thickened Net is a small, lightweight fly fishing net that would be ideal for anglers who enjoy taking long trips back to their favorite waters. Or someone who enjoys the outdoors with just a dash of fishing.
The net is large enough that you could easily land most freshwater fish. Large pike or muskie would not be sufficient but trout, bass, catfish, or other fish in the same size frame would be fine.
The price tag is hard to beat, especially in the fly fishing net world where nets could get close to and above $100. Overall, the net is fine for the recreational angler who enjoys hitting the water a few times a year.
Someone who is just starting out and doesn't want to drop a lot of money may also find that this is a great option for them. Couple this with a good beginner fly rod, or a decent fly rod combo and you're ready to go.
A hardcore fly angler, however, may find the durability would not meet or even come close to the standards they need.
2. SF Rubber Fly Fishing Net
Dimensions – Handle 9″, Hoop 9.5 x 16″, Deep 10″
Material – Wood Frame. Rubber net
Pro – Great for the price, Rubber net, comes with magnet clips
Con – Not for trophy fish
As The Dude would say, new information has come to light. Rubber fishing nets protect fish. We all know that trout have mucus on their skin that helps protect them from bacteria and parasites.
This is not only one of the best rubber fly fishing nets, but it's also the best trout fishing net on this list.
So when you use a net with a material not made of rubber then you're rubbing that protective mucus off the skin of the fish and leaving it vulnerable.
This is why the SF Rubber Net is also the overall best fly net on this list. The added protective benefits that it has for tout makes it a no brainer to be at the top.
This is especially true if you practice catch and release fishing. So, if you plan on returning all of the fish you catch back t the water then pick up a rubber net and help protect our fisheries.
This is the best trout landing net that will help you to keep the fish protected when releasing it back to the wild.
3. ODDSPRO Fly Fishing Landing Net
Dimensions – 11.5 x 15.5 x 10 inches
Material – Carbon Fiber body, nylon net
Pro – Great for a budget, large net size, Carbon Fiber design, Light
Con – No magnet clip-on for back storage
While the ODDSPRO Fly Fishing Landing Net does have a magnetic clip-on at the end of the lanyard, they do make a magnetic clip sold separately here. With that, you could easily pull on and off your fly fishing vest, backpack, or fly waders.
The clip that it uses to attach itself with is easy enough but nothing is easier than just pulling a net off of a magnet.
The Carbon Fiber body is super sturdy and lightweight, making it easy to transport while walking back to your favorite fishing spot. While also not being too cumbersome while wading a river.
The large mouth of the net allows for the angler net and land larger than average fish. Perfect for someone who is looking to go after above average sized fish.
4. LEO Fast Folding Net
Dimensions -33″ X 17″ X 13″
Materials – Aluminum Alloy body, Rubber net
Pro – Fish safe rubber net, durability
Con – Not for wading. Difficult to carry
The LEO Fast Folding Net net can be used for wading if you really want it to. Its main purpose would be for boat use. The fact that it folds gives you extra storage space and it quickly unfolds to reach out and snag fish from the water.
If you wanted to use this net for wading then it would be best to use it with a fishing buddy. Someone who can hold onto the net and unfold it to land the fish.
The net does have a carabiner clip that you can use to clip on your vest or pack for easier transportation. Or you could clip it to something stable on your boat so the net does not accidentally fall into the water.
The rubber net is perfect for ensuring the safety of the fish you'll be catching.
5. Aventik Trout Net
Dimensions – 30″ X 18″ X 18″
Material – Aluminum body, mesh net
Pro – Lightweight for the size, Strong
Con – 12lb capacity, Hooks get stuck easily
On top of being a long net that you can utilize from the boat, the Aventik Trout Net is also saltwater approved. it's large enough that it can hold most fish but the 12-pound capacity makes it not ideal for hauling in those large fish.
Even though it's fine for saltwater it's still recommended that you rinse it off with tap water after each outing to ensure it does not corrode.
The great thing about this net is that it's also foldable and extendable. Perfect for storing in your boat and then easily flipping it out when reaching your fishing spot or when a fish is on the end of the line.
What makes a good fly fishing net?
Now that we've gone over some of the different types of nets that you can find on the market. Let's go into depth about what sort of features you should be looking for in a net of your own.
Below we're going to cover price, material, size, as well as the different types of nets. So, take a look and use it to help you with your net finding journey.
The Best Fly Fishing Net Material
We went over this a little bit earlier, but the material of your net is very important. Especially if you plan on fishing for trout.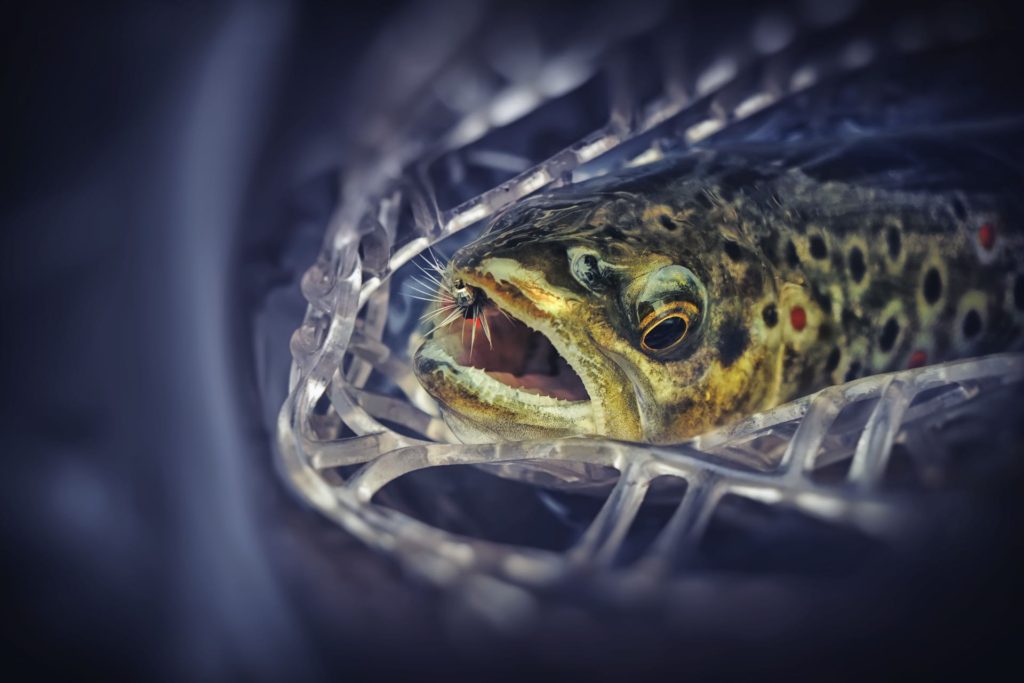 You'll want something that is made of rubber because it helps protect the outer layer of mucus that they have on their skin.
They also prevent hooks from getting stuck in them. Nylon and other materials work well but is not recommended for use on trout.
Frame Material
Most frames are going to be made of wood, aluminum, or fiberglass. Aluminum and fiberglass are going to be the lightest and strongest of the nets.
Wood nets are strong and lightweight as well but can carry a heavy price tag as they are often hand-made.
They are typically the most aesthetically pleasing of all the nets though. So if that's one of the features you like then a wood frame will be the one for you.
Handle Grip and Comfort
Most nets that are made of aluminum or fiberglass will come with some sort of grip for their handle. This helps with the grip so that the net does slip out of your wet hands while handling a fish.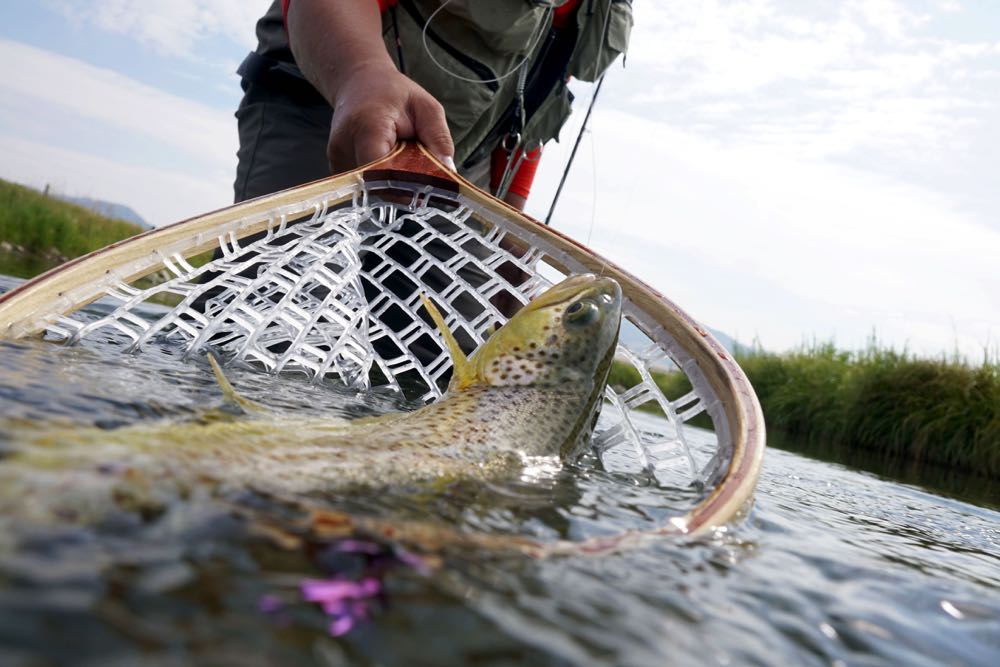 Most wooden nets will not have a grip. However, there are some that have a curved handle. These allow you to get a better angle on the fish when dipping the net into the water to capture it.
Fly Fishing Net Size
When taking size into account you should think about where you plan on taking the net. If you enjoy blue lining for Brook Trout in the mountains then a long telescoping net might not be the best net for fly fishing for you.
The opposite applies to people who plan on going out fishing for muskie, pike, or saltwater fish. You'll need a net with a large head, deep mesh, and strong long handle that you're able to reach over the side of the boat.
Price
When it comes to price you'll typically find that the pricier they are the better crafted and durable they're going to be. A lot of the handcrafted wood nets could easily be three digits.
While beautiful and useful, that's not a realize price tag for most anglers. Loko for something made of aluminum or fiberglass that comes out to a better price tag. There are even some cheaper wooden models as well.
Types of Nets For Fly Fishing
Below we're going to talk about the three different types of nets and what they're best for. They are collapsable, scoop, fixed frame, and handle. Each one of these has pros and cons and should be taken into consideration.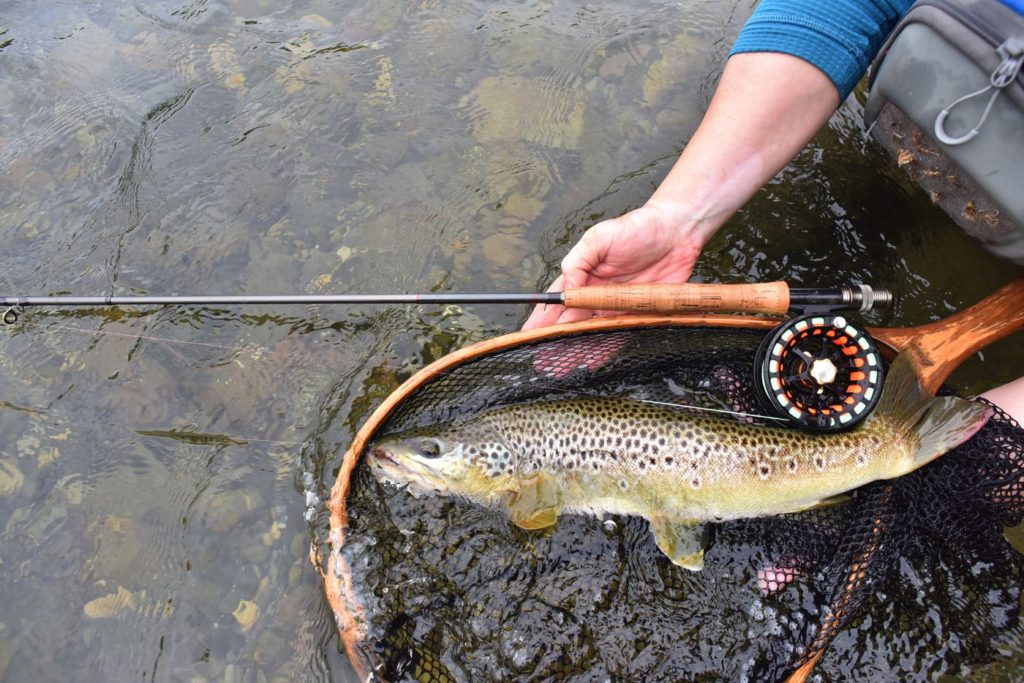 Some are made for different types of fishing and different species of fish and would not do well in other aspects.
Collapsable Fly Fishing Nets
These are the perfect net for someone who is tight on space but wants something they can whip out quickly when a fish is on. Typically these allow for the net and frame to collapse and store in the handle.
It could be great for a long hike back to a spot. Just remember to unfold it first before you begin fishing. It would not fare well to do so while a fish was on.
Scoop Nets
A scooper net is going to primarily be used by anglers who need to net a fish that is a good distance away from them.
Usually used by either a fishing buddy to net your fish or by someone who is trolling in open water or someone fishing on steep shoreline.
It's an ideal net for a saltwater fisherman who must hold his saltwater fly rod while leaning over the side of the boat in order to net the fish.
Fixed Frame and Handle Nets
The classic fishing net. It does not unfold, nor does it collapse into itself. They come in many different styles and models. Each can be used for different fishing situations.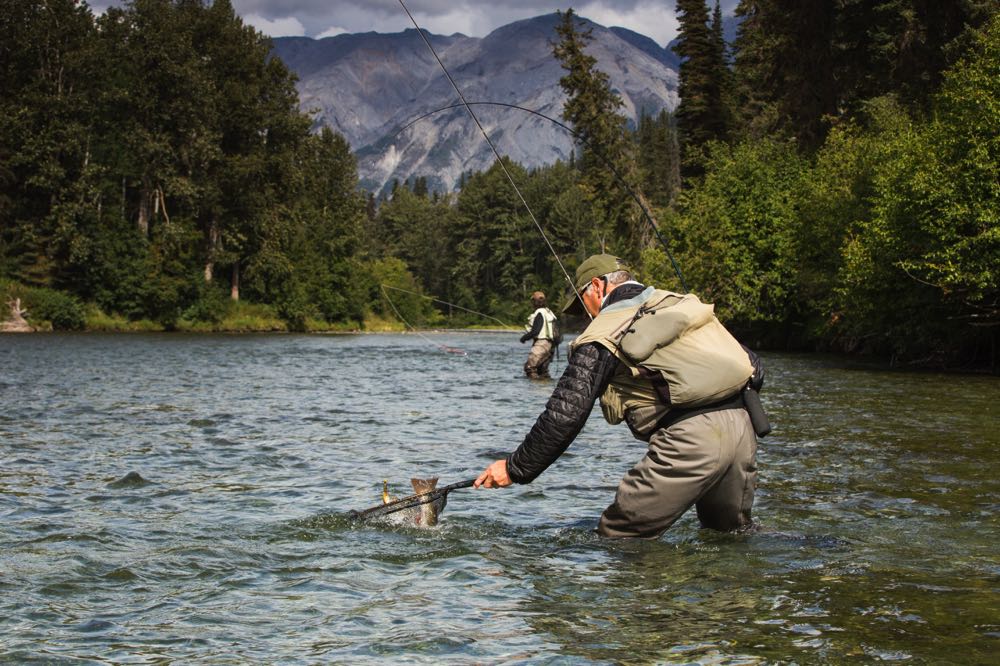 They make long and short models so if you want a fixed frame then look into how long of a net you need and chances are they make a fixed net in that size.
Review This Post
Conclusion
There are many different types of nets but hopefully, you know now what to look for when checking out the best fly fishing nets. Find something that meets the type of fishing you plan on doing. Whether that be a long handle, short handle, or large mouth for the net.
So, head on out to your local sporting good store, or check out any of the hotspots online for your next fly fishing net. You won't regret having a good fly fishing net.
Some images in this post are courtesy of Shutterstock.
Like This Article? Pin it!