As an Amazon Associate I earn from qualifying purchases.
Fly fishing in Minnesota are words not often found together in the same sentence. Spin anglers and ice fishermen dominate the fishing scene throughout the Land of 10,000 Lakes. The still water brings anglers in from all over the world, leaving the streams and rivers to the rest of us.
The first 18 years of my life were spent in central Minnesota. I grew up traveling around the state in search of all the fish Minnesota had to offer. I've caught brook trout, bass, carp, and everything in between.
Anglers spend years in Minnesota and don't even come close to running out of places to wet a line. The trout-filled streams in the northern and southern regions of the state are a must for anyone in the Midwest.
As a part of the Amazon Associates Program and other affiliate programs, Into Fly Fishing® may receive a comission if you order products through links on this website.
Why Fly Fish in Minnesota?
It wasn't until my brother found himself hooked on fly angling that I realized the quality of Minnesota fly fishing. We had spent our younger years on our family bass boat using traditional gear. We quickly realized Minnesota fish rarely see flies, resulting in an untapped oasis with trophy fish waiting to be caught.
This is another landlocked state, so like in South Dakota and Iowa, you can leave your saltwater fly rod at home.
Minnesota Fly Fishing: Fish Species
Minnesota is a wonderful state fish due to the variety of species available to be caught. Lake Superior provides the typical Great Lakes fish, and the rest of the state offers countless chances at everything from Musky to Carp.
Take your pick on what type of freshwater fish you'd like to catch and Minnesota will give you a shot at it.
Brook Trout
Minnesota only has two species of native trout: brook and lake trout. Brook trout up to five pounds can be found in the headwaters of streams in southern Minnesota and all over lakes and streams in Northern Minnesota.
Some of my favorite places to catch brook trout are the Knife River, Buckingham Creek and Coffee Creek. When the fish are aggressive, use smaller flies like Pheasant Tail and Prince Nymphs in size 16-20.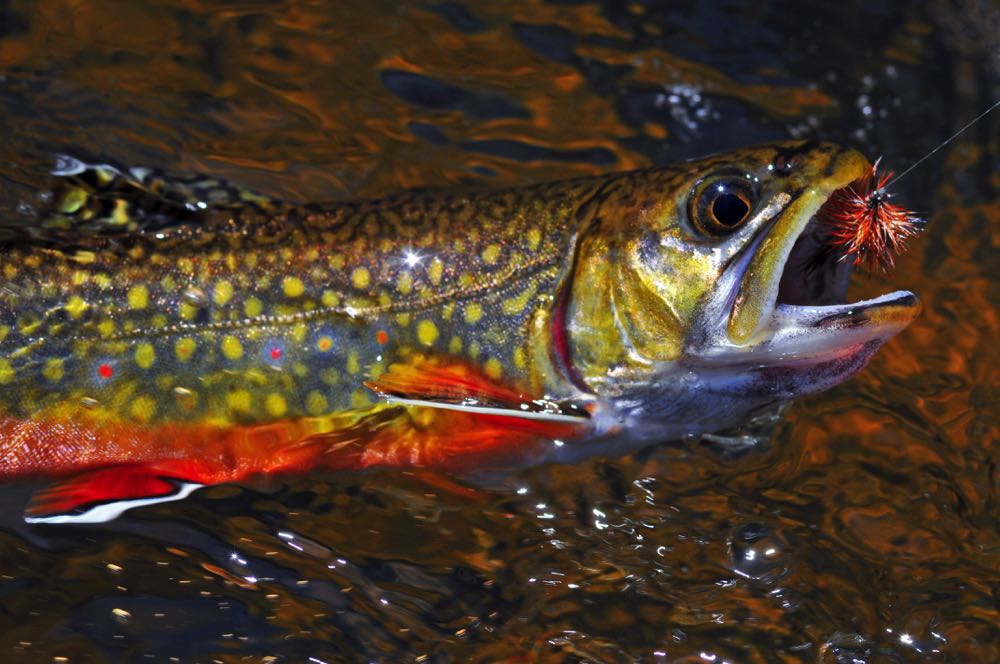 Bring your best 3 weight fly rod along for fishing brooks.
Brown Trout
Brown trout are most often found in southeastern Minnesota. These fish are common to the Driftless Area. They have an average size of 15 inches, and can be found in the Whitewater River and Trout Run Creek.
They're stocked in these areas, so they're less picky with their fly choice. I find that Woolly Buggers along with Little Black Caddis work well.
Rainbow Trout
Rainbow trout are another stocked trout found in both the southern and northern portions of the state. Some wonderful places to find them are the French River in northern Minnesota and the Root River in southern Minnesota.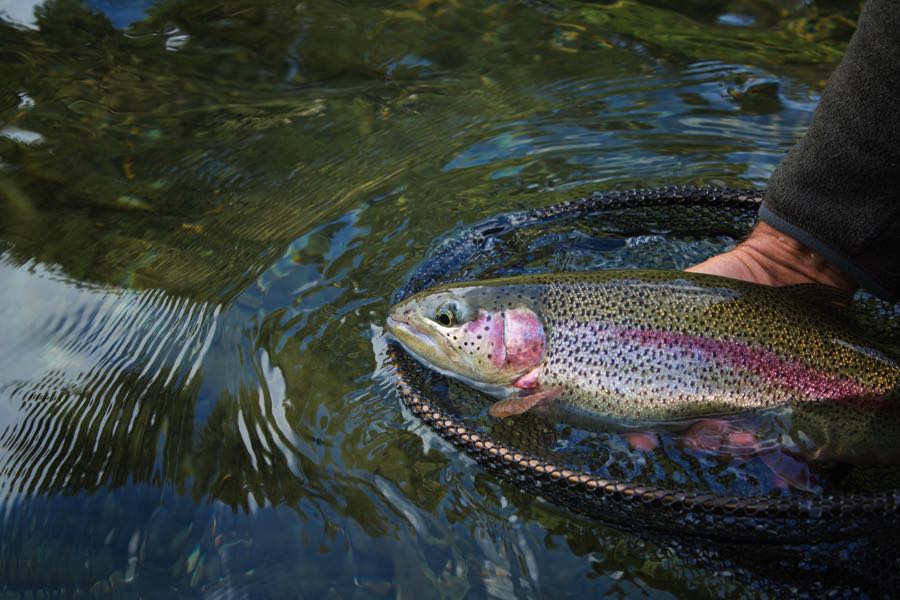 I typically use a Copper John or Zebra Midge to attack these fish. They'll average around 13 inches, but still put up a great fight.
A decent 5 weight fly rod is a versatile rod for rainbows.
Pink Salmon
Pink salmon are the only self-sustained salmon in Minnesota. While these rarely are found over three pounds, they're a unique fish to catch.
They hang out in the Baptism, Cascade and Temperance Rivers in northern Minnesota and can be caught in the late fall. I've had success using Black Ghosts, Woolly Buggers and Egg Sucking Leech streamers to catch these fish.
A good 8 weight fly rod will be your best bet for pinks.
Bass
Throw a dart at any body of water in Minnesota and you can find bass. These fish are great to catch on the fly. If you're looking for some quality fisheries around the Twin Cities, try the Mississippi River.
Also, the St. Croix River near the Wisconsin border is another place where I've caught countless bass. Remember, these fish like commotion. Poppers and obnoxious baitfish streamers will catch them.
Carp
Catching carp on the fly is one of the more challenging feats in the world of fly fishing. Carp can be found in large numbers on the Mississippi near the Coon Rapids Dam. Also, Lake Minnetonka is another hotbed. Carp like smaller bonefish flies as well as terrestrials. Lay the fly down softly, otherwise they'll spook.
Best Fly Fishing Spots in Minnesota
It's difficult to choose the best spot to fly fish in Minnesota. The variety of water all over the state gives anglers many reasons to make a return trip. If you're in search of seclusion amongst tall rock formations and beautiful pines, the north is for you.
The southern Minnesota trout streams meander through farm fields and forests in what is called the Driftless region. During the final ice age, the glaciers stopped short of the Driftless, and it now contains beautiful cold-water trout streams.
Combine the north and south with the quality fishing in central Minnesota and you'll find yourself yearning for a trip back.
Fly Fishing Rivers in Minnesota
Minnesota fly anglers can have their choice of wide-flowing rivers, compact streams and everything in between. These bodies of water have exceptional clarity and provide wonderful sight-fishing opportunities. Don't forget to pack the appropriately weighted rod because some of these fish will test your fly fishing gear.
Baptism River
📌 Location: Baptism River, Highway 1 Bridge
The Baptism River is a tributary of Lake Superior up near Illgen City. I usually choose to target steelhead and coho salmon in the river during the spawn. Also, you can find native brook trout along with stocked rainbow trout. The river flows through Tettegouche State Park.
The river has easy access and open casting lanes. Go ahead and toss Prince Nymphs and Pheasant Tails for the trout. For salmon and steelhead, a pink or orange egg pattern will do the trick.
If you time a fall trip correctly, you can have access to pink salmon. The Baptism River is a must for any Minnesota angler. The close proximity to Lake Superior along with the beauty of the North Shore make it a no-brainer for anyone visiting.
Root River
📌 Location: Root River Forestville State Park, Minnesota
The Root River system is another must for Minnesota anglers. Located near the town of Forestville, the Root River trout fishing is wonderful with brook, brown and rainbow trout available. The Upper South Branch holds more of the wild trout and is a bit easier to wade.
Bring your 4-weight and pack Parachute BWOs and Tricos in size 18-20. These trout can be spooky due to the clear water, so keep your distance.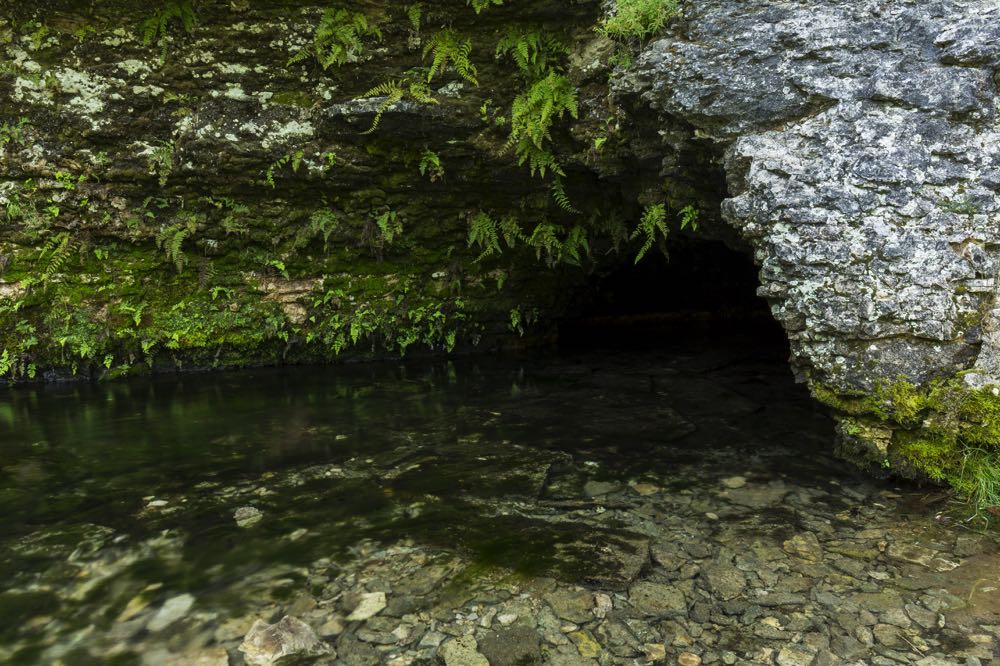 This river is a part of the Driftless system in eastern Minnesota, western Wisconsin and northeastern Iowa. Don't limit yourself to only one stream in the Driftless. If you're making the effort, be sure to do your research and hit numerous streams. I've fished many of them, and they all contain something special.
Canon River
📌 Location: Canon River Miesville Ravine County Park, Minnesota
This is the most accessible river on the list for those who live in the Twin Cities. It's located an hour south of Minneapolis and holds a variety of fish. I've caught everything from carp to trout in this slow-moving river.
I've found that poppers work well for the bass in the evenings and Woolly Buggers will catch any of the fish living in the Canon River. For Minnesota fly fishing, this river has some of the most variety.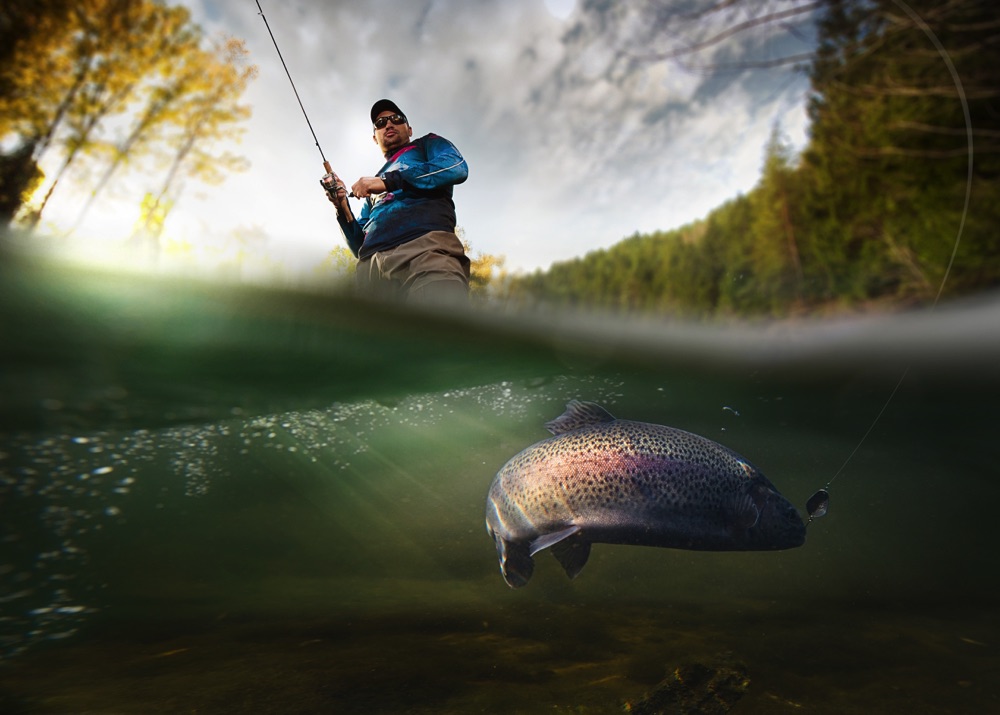 This river is wonderful to float. Due to the wide and slow-moving water, it's manageable for anyone looking to try their hand at float fishing. It's great prep for a trip to a larger river out West. Bring a 6-weight along because you'll want the power to handle the variety of fish you'll catch.
Whitewater River
📌Location: Whitewater River Whitewater Wildlife Management Area, Minnesota
The Whitewater River is near the top of my Minnesota trout fishing list. Because it's a tributary of the Mississippi, most anglers think the water is warm and dirty. In fact, it's cold, clear and stocked with brown, rainbow and brook trout.
The river has great access due to the fact it flows through a wildlife preserve and two state parks. I use small nymphs like Copper Johns with an indicator when I'm fishing the Whitewater River. You'll only need a 3 or 4-weight to handle it.
On top of the quality fishing, the Whitewater Wildlife Management area is a wonderful place to spend a day observing the different wildlife. It's a great place to bring the family and use your best fly rod, your best fly reel, or your best fly rod and reel combo.
St. Croix River
📌 Location: St. Croix River Wild River State Park, Minnesota
The St. Croix River, located near Stillwater, provides fly anglers a solid chance at musky and bass on the fly. I usually choose to fish this extensive river from a drift boat, but shore fishing is possible. The uninhibited banks allow for beginners to try their hand at casting a fly.
If you're just starting out, bring your best beginner fly rod and give it a go.
Minnow and crayfish patterns are your best bet when it comes to choosing flies. Also, be sure to use an 8-weight rod when fishing the St. Croix.
The St. Croix can be an intimidating body of water to fish. Learning to fish large bodies of water, however, takes time. Don't worry if you aren't catching fish right away. You'll soon learn their patterns and hook into a few.
Fly Fishing Lakes in Minnesota
Minnesota is known for its lake fishing. There are well over 10,000 to choose from and each has its own unique features. If you're after trout, I recommend staying in northern Minnesota and fishing the thousands of lakes up near Brainerd and Duluth.
The rest of the state's lakes hold bass, pike, carp and all sorts of panfish. You won't ever run out of lakes to fly fish in Minnesota.
Trout Lake
📌 Location: Trout Lake, Minnesota
This lake is found in the northeast corner of Minnesota, and it's an amazing lake to fly fish. It only stretches 260 acres, but holds natural producing lake trout as well as stocked rainbow trout. This area in northern Minnesota is well worth a visit due to the beauty of untouched forest land.
Bring your 5-weight as well as some larger minnow patterns. In the evening, throw mayfly patterns on 6x tippet. Mayflies will do wonders on the stocked rainbows.
While this lake is quite a ways away from any large town, the other fisheries surrounding it make it worth your time. I've never run out of fishing opportunities in this part of Minnesota.
Steiger Lake
📌 Location: Seeiger Lake, Minnesota
Steiger Lake is another smaller lake, but it has sizable populations of largemouth bass and northern pike. Both of these fish are tons of fun to catch on the fly. Bright streamer patterns along with poppers will anger these fish enough to strike.
I always use an 8-weight rod with 1 or 2x leader to handle the viscousness of these fish. Access is plentiful and it's a great place to learn the ins-and-outs of fly fishing.
Located only 45 minutes south of the Twin Cities, this lake provides great opportunities for the majority of Minnesota's fly fishing population. You should take advantage of the minimally visited Steiger Lake.
Sand Lake
📌 Location: Sand Lake, Minnesota
Sand Lake is the largest lake so far on this list, coming in at 4,328 acres. It has a massive amount of structure and is full of large pike and bass. I always fish this lake with a boat.
There's great structure all throughout that isn't reachable from shore. If you're limited to only shore fishing, the casting lanes are open if you're willing to wade in a few feet.
Bring your 8-weight with 1 or 2x tippet to handle these fish. If you're after panfish, grab your 2-weight and some small mayflies and cast along the banks. It's a great chance for you to practice your dry fly fishing. The shores of Sand Lake have numerous lodges and is the perfect spot for your next getaway.
Lake Kabetogama
📌 Location: Lake Kabetogama, Minnesota
Believe it or not, this isn't the most confusing name of a lake in Minnesota. Kabetogama is a my personal favorite spot for kayak and canoe fishing. The lake is within the boundaries of Voyaguers National Park up near the Canadian border. It's a long haul to get there, but it's worth the effort.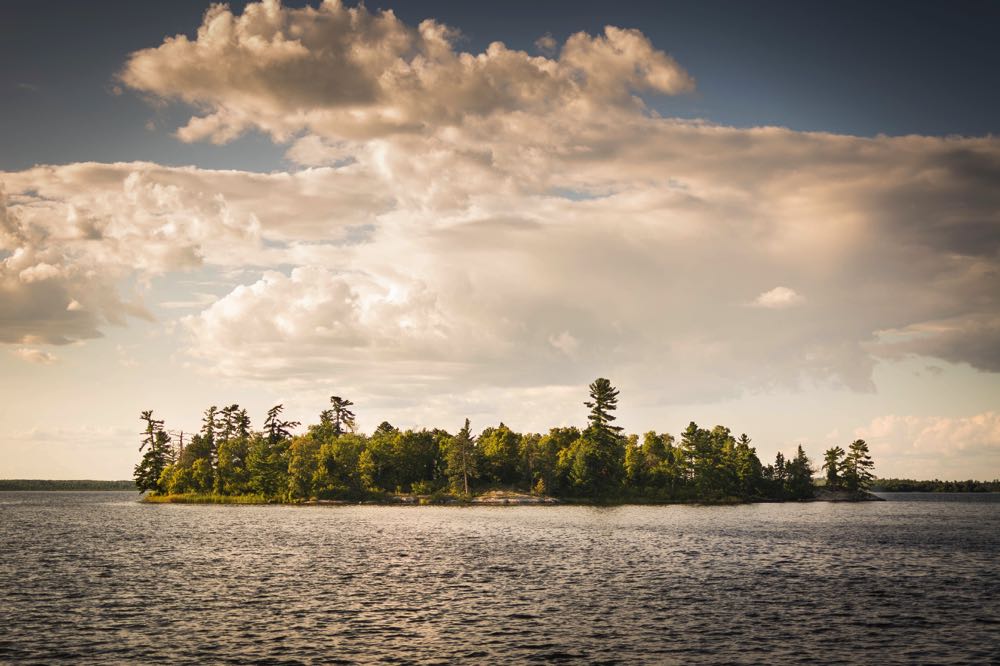 It holds pike, bass and quite a few baitfish. Similar to other lakes on this list, it's not only great for fishing, but has beautiful views and hiking trails surrounding it.
I recommend bringing your 6-weight with heavy leader (1 or 2x) to Kabetogama. The many bays and fingers of this lake make for a relaxing day on the water. These bays are great to hit in the evening when the flies are hatching.
Little Black Caddis and BWOs are wonderful options to throw in the evening. Also, tie on frog patterns to catch bass. They can't say no!
Cenaiko Lake
📌 Location: Cenaiko Lake, Minnesota
Cenaiko Lake is a unique body of water. It's located in a Minneapolis suburb, and the Minnesota DNR regularly stocks the lake with trout. It's a great chance to get some practice fly fishing in the heart of a city. It's also filled with quite a few baitfish, so it's a wonderful place to bring someone to learn.
Bring small caddis or terrestrial flies to try on Cenaiko. You won't need anything more than a 6-weight to handle any of the fish you pull out of the water. Also, there's a nice path that surrounds the lake providing easy access.
Minnesota Fishing Season
Minnesota is a wonderful place to fish year-round, but for fly anglers, the best season is from May until October. By May, the majority of the snowmelt has deteriorated and fishing improves as the summer continues. Beware of the warming water temperatures as the summer progresses. Fish will dive deeper.
In northern Minnesota, mosquitoes will be a problem all the way until September or October, so be sure you're prepared with repellent. They've ruined more than one day of fishing for me when I haven't been ready for them.
Fly Fishing in Minnesota in May
Fly fishing Minnesota in May is tricky. In northern Minnesota, you'll still be dealing with the snow and ice on the lakes, but the rivers will be free. Be careful wading and be sure you have the proper warm weather gear.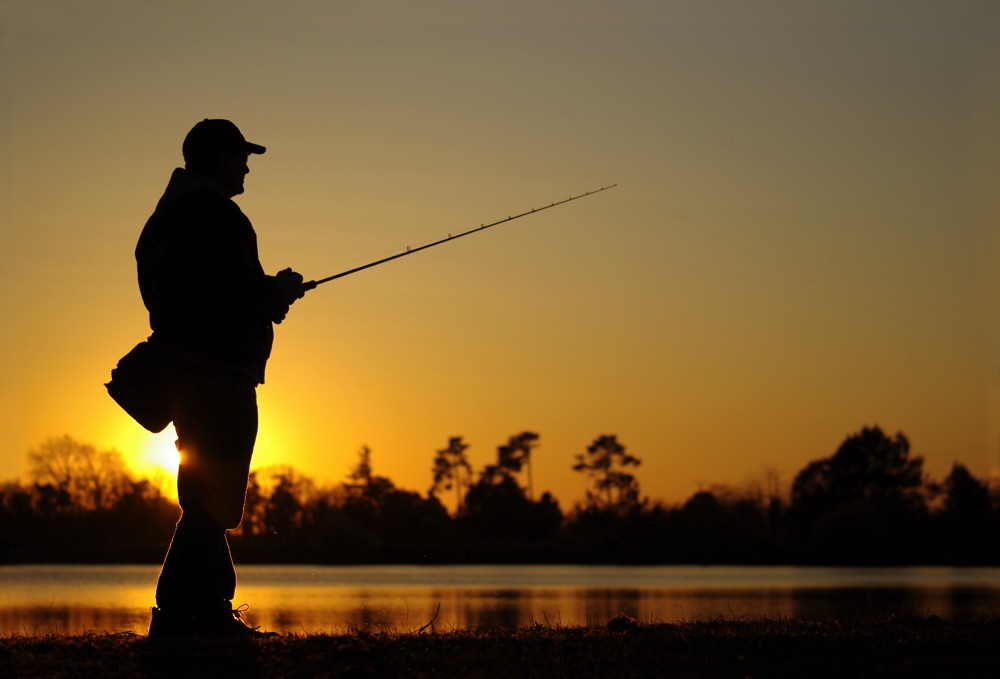 In the south, you may still be dealing with snowmelt, so the water clarity and depth will be tricky. Darker and larger flies will do the trick to entice the hungry fish.
Fly Fishing in Minnesota in June
By June, the lakes in northern Minnesota will be cleared of ice, and the river banks will be much more manageable. At this point, the hatches will be in full swing and the trout are still hungry.
Temperatures haven't warmed the water too much, and you can still sight fish. Be sure you have your Pheasant Tail Nymphs and Mayfly patterns ready at all times.
In the south, the streams will be in prime condition. The water is still cold and the fish are very active. Hendricksons and small streamers will pull the fish out of the pools and banks. Don't miss June fishing! It's a prime time in Minnesota.
Fly Fishing in Minnesota in July
At this point, I prefer to head north. The water temperatures throughout the Twin Cities and the south will rise and the fish become more sluggish. The northern temperatures and streams are still flourishing and provide a nice getaway.
The trout will be active in the mornings and evenings. I like to spend the middle of the day sightseeing and fish the bookends. For bass, frog patterns are wonderful in July. I tie on large streamers for pike and Hendricksons for trout.
Fly Fishing in Minnesota in August
August fly fishing in Minnesota is quite similar to July. Temperatures are still warm and the fish won't be as aggressive.
As a result, you'll need to target the prime feeding times. I strip streamers low and slow in both lakes and rivers to get a reaction bite and fire up some of those bigger fish. Woolly Buggers will work along with minnow patterns.
Stay positive, the best fly fishing in Minnesota is right around the corner.
Fly Fishing in Minnesota in September
Go north. The salmon are beginning to run as well as some of the lake run trout. For these, use Egg Sucking Leeches as well as other egg patterns. It's perhaps the best time of year to visit Minnesota.
The leaves change to their fall colors and the fishing is hot. Plus, the trout that hang in the rivers are looking to eat some of the terrestrial flies. It's a dream scenario for anglers and one that I look forward to every year.
Fly Fishing in Minnesota in October
By the end of October, the salmon are finishing up their runs and the northern fish start to prepare for a long, cold winter. Don't give up on fishing! Head to southern Minnesota and take advantage of the beautiful fall evenings.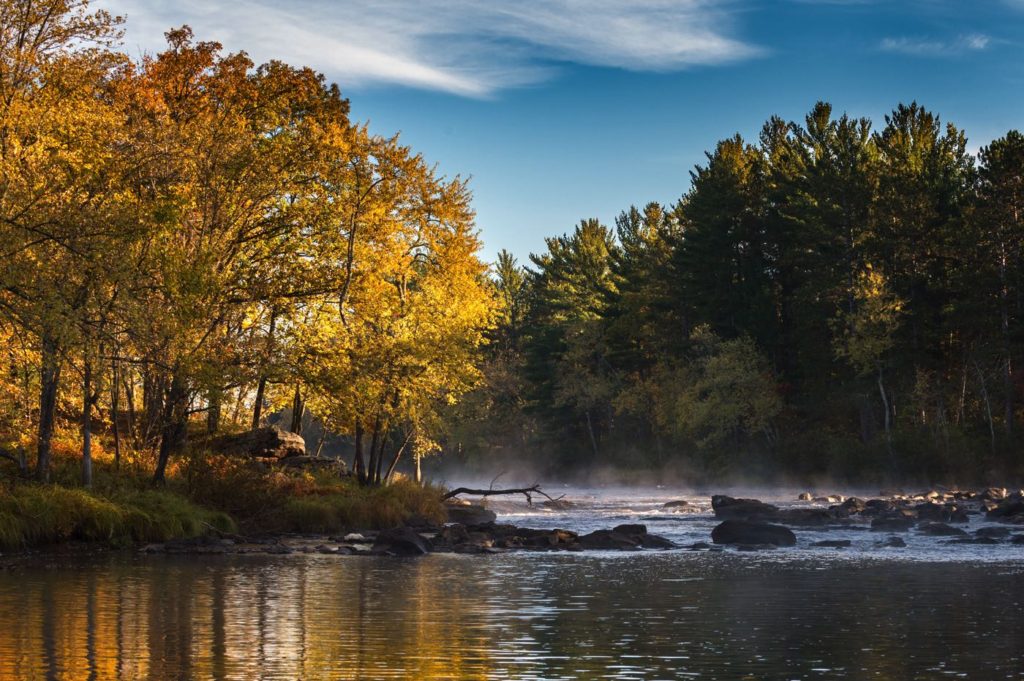 The trout will still hit streamers and are plenty active. It's still beautiful outside and the fishing is consistent.
Best Fly Fishing Lodges in Minnesota
Minnesota is much more known for its traditional fishing lodges. These are plentiful all throughout the state, but fly fishing lodges aren't yet available. There are, however, a few fly shops that offer great insight and guided trips in Minnesota.
Driftless Fly Company
Driftless Fly Company is located in Preston. This fly shop offers guided trips and has comprehensive information on the entire Driftless region. Give it a try when you make your next trip to southern Minnesota.
Bob Mitchell's Fly Shop
Located in the heart of the Twin Cities, Bob Mitchell's Fly Shop is legendary in the Minnesota fishing world. It has information about all of the fly fishing across the state and offers wonderful classes for anyone looking to get into the world of fly angling.
Conclusion
Fly fishing in Minnesota is one of my favorite things to do in my home state, mostly due to the limited pressure and a multitude of options available. Anglers can find any freshwater fish they desire and have ample opportunity to land a large fish.
You may receive funny looks from the majority of anglers in Minnesota with their spinning gear, but don't let them scare you. You're at an advantage because most of these fish rarely see flies. Pack up your entire fly gear collection and try your hand at Minnesota fly fishing. You'll be shocked at what you can find.
Some images in this post are courtesy of Shutterstock.
Like This Article? Pin It!
Amazon and the Amazon logo are trademarks of Amazon.com, Inc, or its affiliates.