As an Amazon Associate I earn from qualifying purchases.
What's most popular isn't always best. There are numerous extremely well-known fly fishing towns in Montana. These towns and local waters fill up early in the summer with anglers who plan on spending the better part of the summer chasing trophy fish.
Missoula, Montana, is one of those lesser known towns that doesn't receive nearly the amount of visitors that you might find in a place like Bozeman. Take advantage of these areas. The fly fishing in Missoula is world class and a perfect fit for the die hard.
On my many visits to Missoula, I've found every type of fishing I could want with some of the best scenery anywhere in the lower 48. It's a fun college town with lots of accommodation options and plenty to do (and eat and drink!) after a long day of fly fishing. Plus, when you see the size of fish, you'll wonder why you never visited before.
Don't miss our full guide to Fly Fishing in Montana.
Fly Fishing Missoula: Why Go?
Every time I visit Missoula I find a new section of water to fish, and I've run into some of the friendliest anglers in the world. The fly shops are appreciative of the business and willing to give out wonderful tips and tricks.
Plus, the beautiful scenery and nice amount of seclusion is wonderful. Missoula is a lovely Western town that'll blow your mind in a variety of ways. Don't even think about skipping it on your next trip out West!
Species For Missoula Fly Fishing
The species of fish you can hook into in the rivers surrounding Missoula are similar to the ones you can find in the majority of other Montana rivers. You'll appreciate their size as well as their plentiful numbers. It's not easy to encounter areas to fish with such large fish counts!
Rainbow Trout
Rainbow trout are one of the larger populations of fish that live in the rivers near Missoula. Each of the four surrounding rivers hold these fish. They thrive in colder waters filled with insects. Thankfully, you don't have to drive too far out of town to find some of these fish.
You can find rainbow trout between 12 and 18 inches in the Clark Fork, Bitterroot River, Rock Creek and Blackfoot River. Bring your 4 or 5-weight when targeting these fish. Also, make sure you target them with PMDs, caddisflies and Pheasant Tail Nymphs.
The rainbow trout population across the nation is dropping. As a result, you need to be extremely careful when you handle these fish. Make sure to wet your hands before you handle them and keep them in the water as long as you possibly can.
Brown Trout
Brown trout are another common species that you'll find in the rivers surrounding Missoula. These are heartier than rainbow trout. You'll be surprised at how large these fish grow and where they can survive.
It's still important to remember that these fish need to be cared for in the most careful way possible. Bring along your 4 to 6-weight rods when targeting these fish. They can grow upwards of 25 inches in the waters surrounding Missoula.
Westsloap Cutthroat
The upper portion of the Bitterroot River is home to a nice population of Westsloap cutthroat. These fish aren't easy to find! When you do hook into one, you'll know it. They fight harder than almost every other type of trout species. It's an honor landing one of these.
These cutthroat also happen to be obsessed with dry flies. They spend the majority of their time looking at the surface for something to eat. Make sure you indulge these fish in their cravings!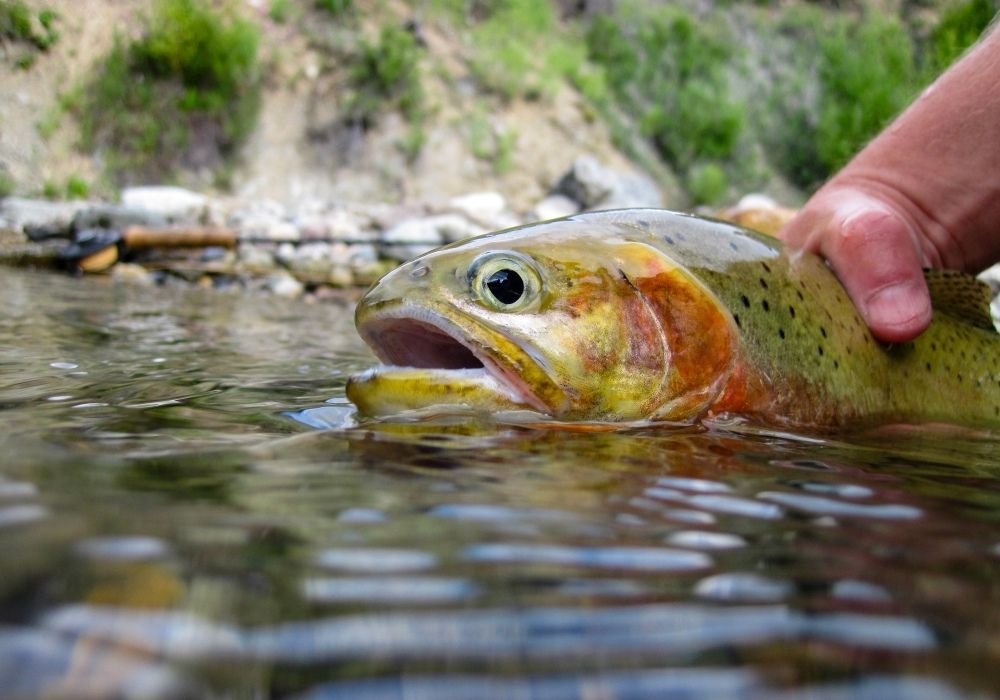 These fish are also in danger. Please do your part in caring for them. Use barbless hooks, keep them in the water and wet your hands before handling them. We can't lose any more of these beautiful fish.
Bull Trout
The final fish you must target near Missoula is the bull trout. These fish are aptly named. They're large and mean. If you're fortunate enough to hook into one of these, you'll be quite pleased with the result!
Best Spots for Fly Fishing Missoula
There are four world-class rivers to fish just a few minutes outside of Missoula. Whenever I visit, I make sure to block off at least five or six days so I can hit all four at least once. Take it from me, you have to leave time to spend a day on each of these bodies of water! You'll regret it if you don't.
Bitterroot River
The Bitterroot River is one of the premier dry fly fisheries in Montana. You can start throwing dries around March and all the way through October. It's easy to find gravel bars, deep pools and a nice amount of seams throughout this river.
You can float and wade this river. It's very angler friendly. If you're new to the sport and want to cut your teeth, make sure you do it on the Bitterroot. The Upper Bitterroot north of Hamilton is home to a population of the Westslope cutthroat.
My favorite place to go when I fish the Bitterroot is the upper portion of the river. The cutthroat trout who live there are always looking up! They want to eat your drive. Bring those caddis and mayfly patterns and wait for the evening hatch.
Blackfoot River
The Blackfoot also holds a good amount of the Westslope cutthroat, along with a nice population of bull trout. This is a great river. It's clear, has all of the fishy looking areas, and holds some impressively large fish.
If you choose to fish the Blackfoot, make sure you spend your time in Box Canyon. This is one of the most beautiful stretches of water that you'll find in the western United States. This portion of the river is best fished via drift boat.
This canyon is also filled with impressive brown, cutthroat and rainbow trout. Anglers who love to fish with streamers need to make it a priority to fish the Blackfoot.
Bring the salmonflies, stoneflies and Green Drakes.
Clark Fork
The Clark Fork has been through quite a bit in the past 200 years. It was the home of one of the largest floods in Montana history and has seen quite a bit of sediment and toxic materials enter its waters.
However, after a few hundred million dollars in relief efforts, the Clark Fork is beginning to regain its form. The Clark Fork is home to 160 miles of wild trout water. You'll have your skills tested when you fish the Clark Fork.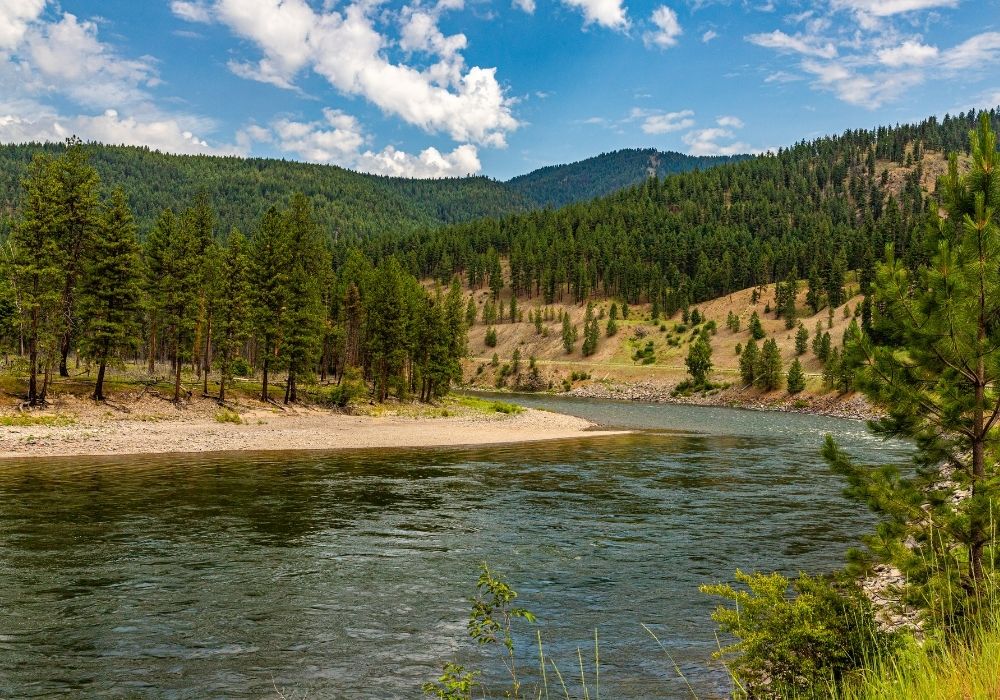 The casting lanes aren't easy and the fish can be a bit picky. However, it's your duty as a fly angler to take advantage of this river. It was almost lost at one point, so we need to experience all the efforts that have been made to restore it to its former glory.
Spend time downstream of Missoula and make sure you're equipped with mayflies, terrestrials and caddisflies.
Best Flies For Missoula
There are dozens of flies that will catch you fish in Missoula. The biggest thing to remember is that your flies need to be presented accurately. The fish won't eat if you don't make it appealing!
Golden Stone Flies
Any angler that fishes in Montana will want to experience a stonefly hatch. All of the rivers surrounding Missoula have these hatches. Golden Stone Flies are the fly pattern to keep in your box. As soon as you start seeing the "sheds" of these flies, start throwing them.
I recommend you spend the majority of your time drifting them along the cut banks. If you fish an area with vegetation along the bank, it's even better!
Hopper
Once August hits, get ready for the terrestrial bite. Hopper flies will lead to some of the best strikes of the year. There's something amazing about seeing a 20-inch fish slurp your fly from the top of the water.
Your best bet is throwing these with 3x leader and 4x tippet. You don't need your fish getting spooked because of a poor setup.
Elk Hair Caddis
Elk Hair Caddis need to have a home in your fly box. These flies drive the trout crazy on all of the rivers around Missoula. It's important to use these flies with floating lines. If your line starts pulling the fly underneath, you won't be happy with the results.
Also, make sure you cover these flies in floatant. You want them sitting high on the surface so the trout can easily identify it and think it's a fully grown adult. Cast this fly near any rise that you see and wait.
Skwalas
Skwala flies are great flies to use earlier in the season. These are most successful from April to June. If you're itching to get out on the water before the true runoff season begins, make sure you have these in size 10-16. You'll be pleased with the result.
Blue Winged Olives
Blue Winged Olives should also have a home in your box. They're a bit smaller and difficult to operate, but when you see the bugs hatching in the evenings, you must use the flies! You'll find them hatching late and early in the season.
Missoula Fishing Season
Missoula is best fished from late June through September. It's best that you're either fishing before the runoff begins or you wait until late June when it starts to subside. The summer months in Missoula are beautiful. Many times I've stood in the cool water even when the temperatures were hot.
Missoula Fishing Report
The water around Missoula seems to be fishing well all year round. I last fished the Blackfoot late in July and had plenty of success. The fish were hiding deep in the pools. I threw streamers throughout the day and had a heck of a time during the caddis hatch in the evening.
On other occasions the fishing was a bit slower, but I didn't mind one bit. I knew there were three other top rivers just across town, and I also knew that when I wasn't throwing flies I'd be having lots of fun in the friendly, funky small town. You really know you're in the West in a distinctive Montana town like Missoula.
Conclusion
Missoula, Montana, is a favorite in the fly fishing community. It takes a little more effort to reach, but you'll be pleased once you're there. You'll also be not too far from Idaho and some other phenomenal water in the mountains all around.
There are over 350 miles of water to fish within a few hours of Missoula. You won't likely be skunked, and you'll leave with a lifetime of memories after your next visit to Missoula.
Amazon and the Amazon logo are trademarks of Amazon.com, Inc, or its affiliates.
As a part of the Amazon Associates Program and other affiliate programs, Into Fly Fishing® may receive a comission if you order products through links on this website.