As an Amazon Associate I earn from qualifying purchases.
Mentioning Park City, Utah, always causes winter sports enthusiasts' ears to perk up. While the skiing and snowboarding is world class, summer activities receive less attention, especially fly fishing.
It has beautiful mountain streams and some of those true Western rivers that anglers can experience. Depending on what you're looking to do on a particular day, you'll have the opportunity.
I've had the luxury of visiting Park City in both the winter and the summer. While I love snowboarding and originally went there to do that, I also was pleasantly surprised with the Park City fly fishing experience.
I've spent long days fly fishing the several nearby rivers and streams, and I've pulled out some impressive specimens of several species of trout. And the experience was made even better by bringing my family with me and spending time in the friendly, colorful town surrounded by gorgeous mountain summary.
In sum, I had my fair shot at some trophy fish and I really didn't have to travel far to do it. It's one of those excellent fly fishing destinations where you can go with your family and they'll find plenty to do while you're away casting a fly.
Fly Fishing Park City: Why Go?
You'll have the chance to stare at the beautiful Uinta Mountains while you're fishing around Park City. These mountain silhouettes are some of the most beautiful in the world. On top of that, you can participate in a variety of other outdoor activities.
Whether it's hiking or mountain biking, Park City has something for everyone. Bring along your entire family and be sure to sneak away long enough to spend some time on the water.
Species for Park City Fly Fishing
When you visit Park City, you'll have access to several trout species and other large freshwater predators. The numbers of fish in the rivers and lakes are impressive. You shouldn't have any trouble getting yourself some fish even if you're new to the area.
Brown Trout
Brown trout are one of the more common fish you can find in Park City. Whether you're spending time on the Lower Provo River or high up in the Uinta Mountains, you'll find these fish. They can be caught upwards of 18 inches depending on where you are.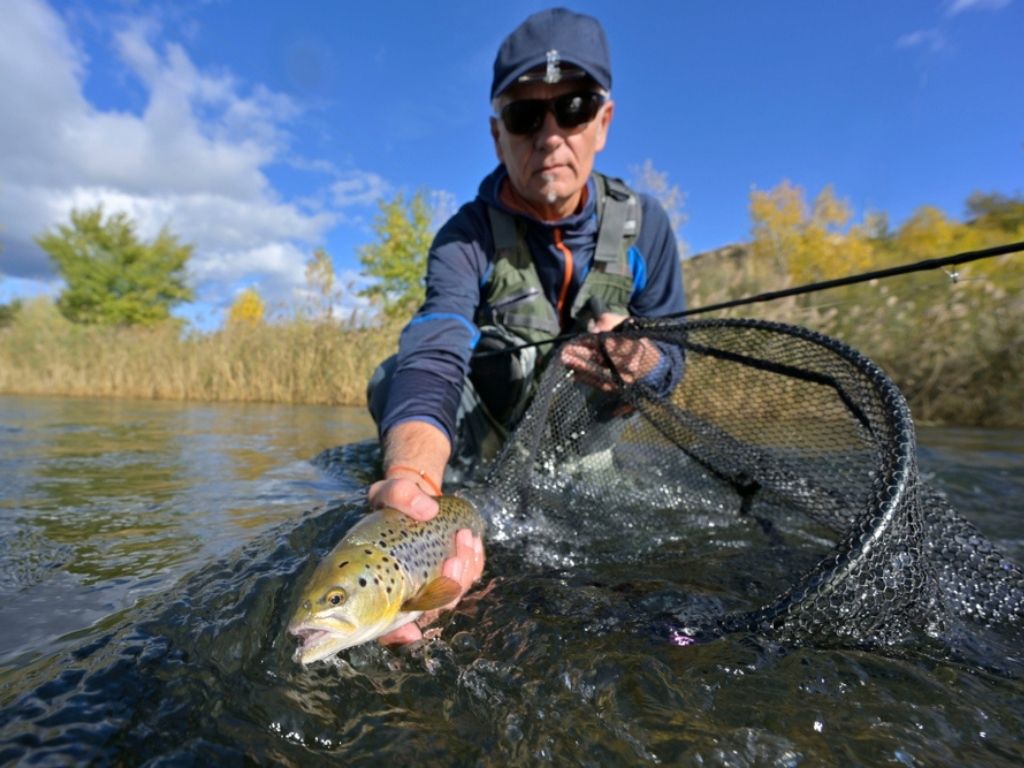 Bring along your San Juan Worms as well as leeches when you're targeting these fish. They sit in large pools throughout the moving water, and you need large flies to get to the bottom.
Rainbow Trout
Rainbows are also a common target near Park City, Utah. The Provo is filled with them and so is the Weber River. They can be commonly caught around 15 inches.
I always make sure to bring along my Pheasant Tail Nymphs and Griffiths Gnat patterns. The water is extremely clear, so have your thin tippet along.
Bonneville Cutthroat Trout
The cutthroat species is the pride and joy of Park City waters. The Utah DNR uses the Weber River as one of the main stocking points for these fish. I've caught plenty of cutthroat trout between 10-12 inches.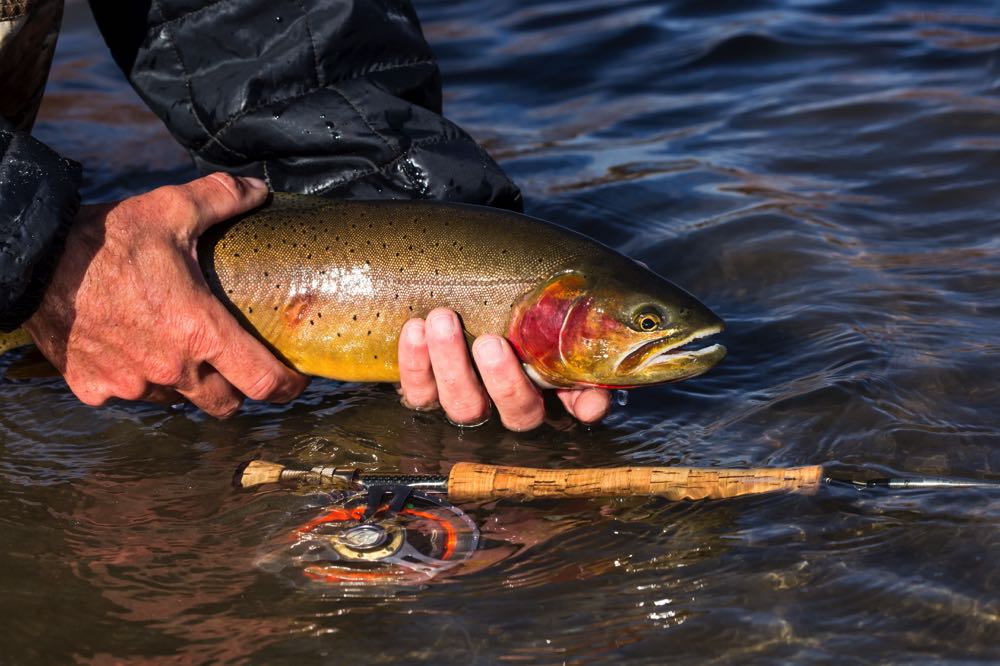 Hare's Ear Nymphs as well as French Nymphs are great fly options. French Nymphs were actually developed on the Provo River in Utah. It's great to bring this pattern back to its home waters.
Best Spots for Fly Fishing Park City
Whether you want lakes or rivers, Park City has great options for you. You can find water that fits your fly fishing abilities. This isn't common for many Western towns. Most require you to be extremely talented, but Provo is a bit more forgiving.
Lower Provo River
The Lower Provo flows out of the Deer Creek Reservoir. The hatches in this river are amazing. I've been lucky enough to experience a few of them, and the trout were going wild.
If you're a nymph angler, this river will scratch all of your itches. Whether you fish Zebra Midges or Scuds, you'll have an amazing amount of success.
I've found that some of the best fishing is right near the Sundance Mountain Resort. You can easily wade it in the summer! The water is cold, but depending on your toughness, you could even wet wade it. Honestly it was a little too cold for me, but I did have my waders with me anyway.
I recommend you bring Sow Bugs in size 16 as well as size 18 Zebra Midges. Bring along an indicator too! You'll need to be able to detect those sensitive strikes.
Weber River
This river starts in the Uinta Mountains and flows all the way towards Salt Lake City. The river is wide and has quite a bit of room for anglers. The thing that makes this river special are the numerous tributaries that you'll find flowing in and out of it.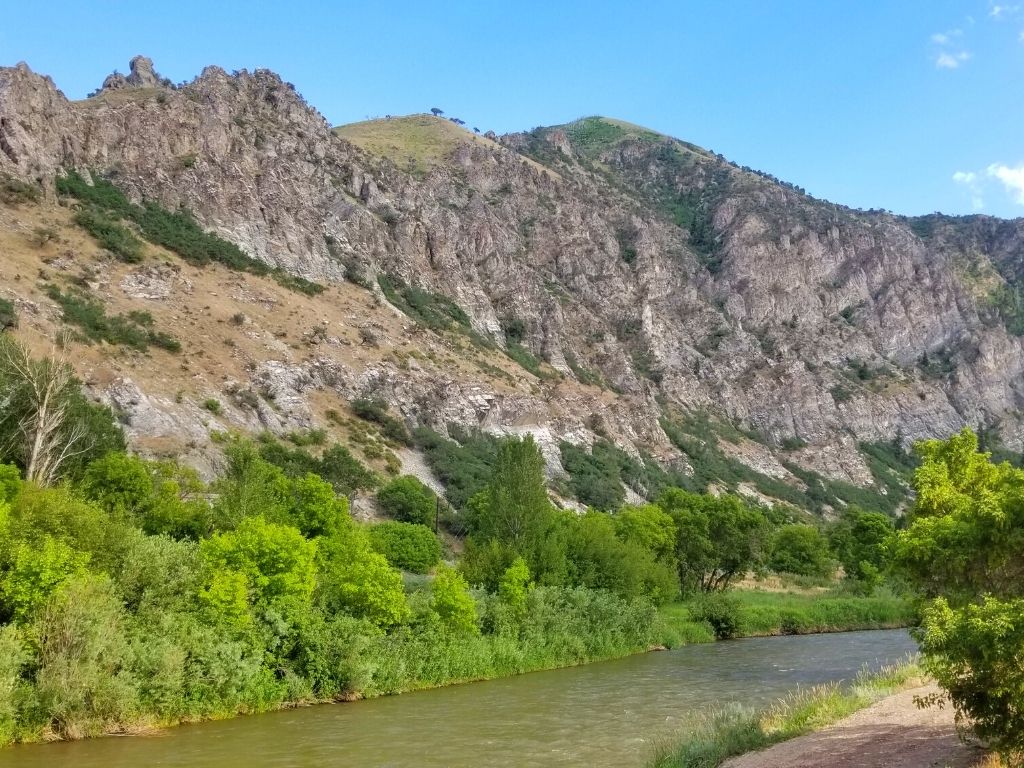 These tributaries are where you'll find the Bonneville cutthroat trout population. I can't tell you how much fun I had hooking into them. Spend your time along I84 and you'll find plenty of spots to pull off and park. Leech and San Juan Worm patterns will be your best friend.
Uinta River
The Uinta has a nice population of brown and rainbow trout. If you head into the mountains, you'll even find brook and cutthroat trout.
This river is filled with surprises. You may spend the whole day and hook hundreds of fish or only catch one upwards of 5 pounds. Most days I've been there, I've done better than that, but I must admit I have been skunked once (maybe twice).
Best Flies for Park City
The ample number of hatches throughout Park City makes matching the hatch a bit more challenging. Pay close attention to the hatch chart before you make your decision.
San Juan Worm
The San Juan Worm won't steer you wrong while you're fishing the waters in Park City.
It works great in the extremely clear and deep water that you'll find. You can fish this as a dropper as well.
Don't miss our full fly tying guide on how to tie a San Juan Worm fly.

Bunny Leeches
Bunny Leeches are the ideal streamer for Park City. Find any deep pool, let this dead drift, and you'll likely catch a fish.

Griffith's Gnat
If you see surface strikes, the Griffith's Gnat is a great option. They're small patterns, but fish can't seem to get enough of them.
Don't miss our full fly tying guide on how to tie a Griffith's Gnat fly.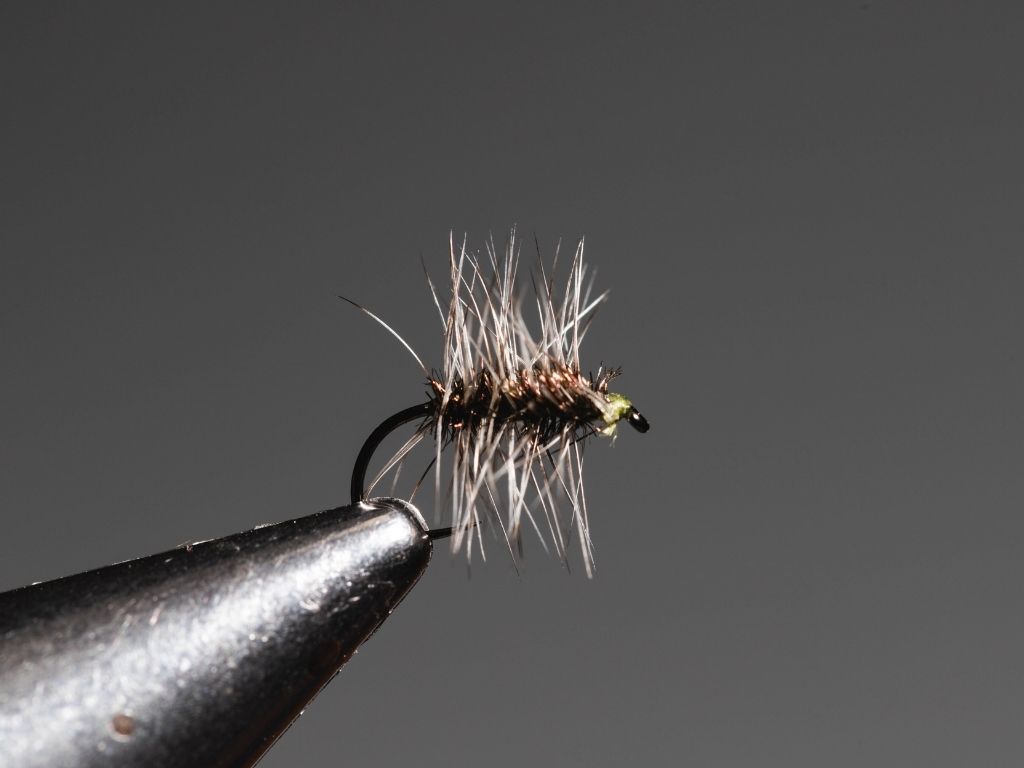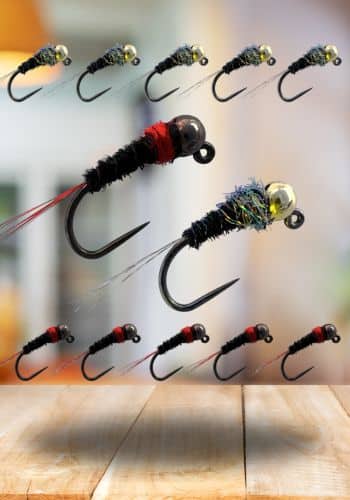 French Nymphs
French Nymphs are buggy looking and the fish love them. Fish them through the seams and pockets.

Pheasant Tail Nymph
The BWO hatches near Park City are massive. Go ahead and throw a Pheasant Tail Nymph in the early spring and see what happens!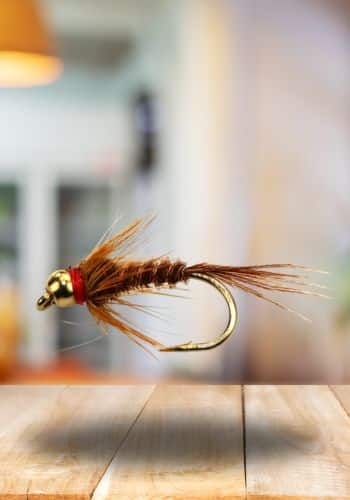 Park City Fishing Season
Park City is best fished from June through October. Since many of the rivers receive quite a bit of runoff, you'll have to wait until it slows down before the fish start feeding. Every angler should experience the Park City fishing season.
Park City Fishing Report
Park City was fishing great last July. The Prince Nymphs were working wonderfully throughout the seams and pockets on the Provo River. I also threw a few leech patterns in the Weber River. The rainbow and brown trout were feasting on them!
I only had a few days to spend, but I caught at least 10 fish each day. The sunlight bursting over the mountains in the early mornings was truly a sight to behold. I can assure you that even if you don't get one bite, you'll still have a wonderful time enjoying the nature around Park City.
Conclusion
Park City is perfect for outdoor enthusiasts. It's not often you can find such a hotbed of outdoor activity! Make sure you do quite a bit of research before you visit, such as into the hatches. It helped me a lot when I found myself surrounded by a cloud of bugs and I had the same one in my fly box.
You must visit some of those backcountry mountain streams if at all possible. And while you do, your non-fishing travel companions will be having just as much fun hiking, mountain biking, or exploring the cool little town.
Amazon and the Amazon logo are trademarks of Amazon.com, Inc, or its affiliates.
As a part of the Amazon Associates Program and other affiliate programs, Into Fly Fishing® may receive a comission if you order products through links on this website.