As an Amazon Associate I earn from qualifying purchases.
Wyoming has long been known as the outdoor adventurer's best kept secret. Yellowstone and Grand Teton National Park bring in millions of visitors each year, but that leaves thousands of acres of land throughout the rest of the state to explore.
The fly fishing in Wyoming must be ranked up there with the quality you'd find anywhere else in the world. Casper, Wyoming, specifically offers anglers unbelievable access to some of the best water anywhere on Earth. Any chance you have to visit Casper, take it. You'll struggle to leave without landing a fish close to your personal best.
I spent several summers living in the Western United States and made it a point to visit Casper as much as possible. This friendly and authentically Western town in central Wyoming is surrounded by mountains, with great opportunities for hiking, skiing, and of course, fly fishing.
I went to fly fish, and I discovered waters that are just as good but not nearly famous as hotspots in Montana and elsewhere in the West. In Casper, the trout are hungry, the scenery is spectacular, and the seclusion is hard to beat.
There are few places in the world that make me as excited to visit as this historic Wyoming town. Casper fly fishing is first rate and opportunities for it are nearly endless.
Fly Fishing Casper: Why Go?
There's a section of river right outside of Casper known as the Miracle Mile. This should tell you almost all you need to know about the quality of fishing you'll find there. You can hunt some of the biggest fish you'll find out West and do so in beautiful landscapes.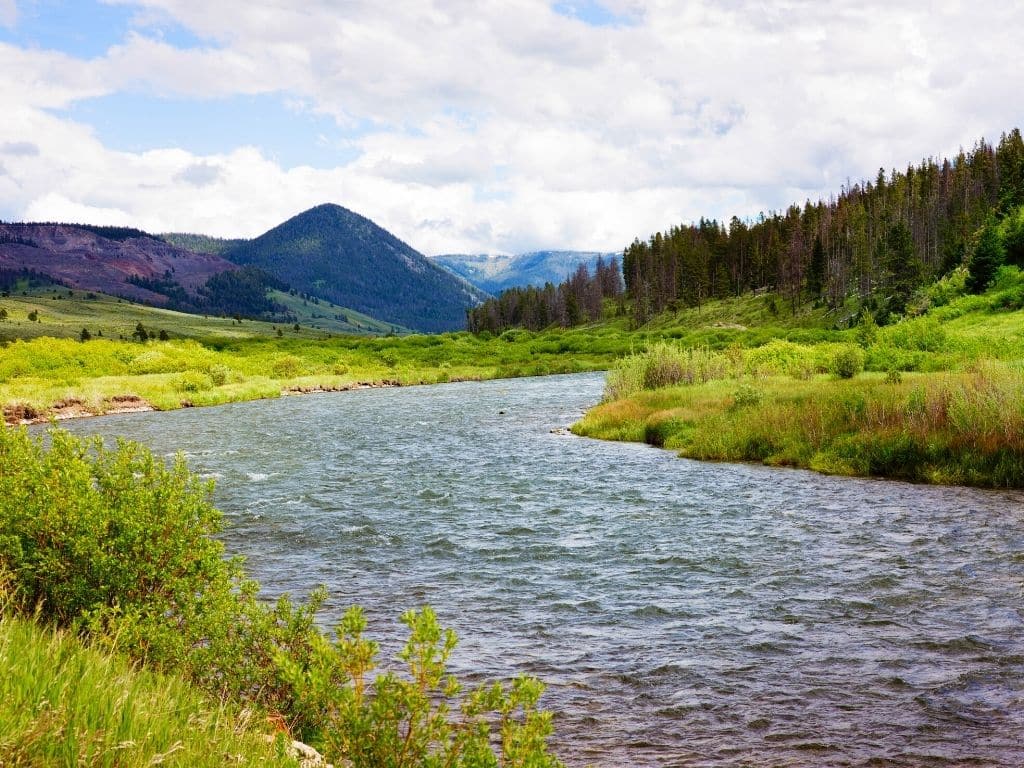 The fly fishing community in Casper is also well known, and for good reason. The fly shops treat people well and love bragging about all of the pristine water. Visiting these shops and swapping fish tales with the locals is part of the charm and fun of spending time in Casper.
See more: Don't miss our complete guide to fly fishing around Wyoming.
Species for Casper Fly Fishing
Casper is home to a variety of species that anglers of all levels love to target. You won't find yourself wishing for more when you make your way out there. The fish species available will keep you plenty busy.
Brown Trout
The brown trout near Casper grow to be massive. I've caught plenty of browns upwards of 25 inches, and they fight extremely hard. On average, you'll find yourself landing 15 to 17 inch fish.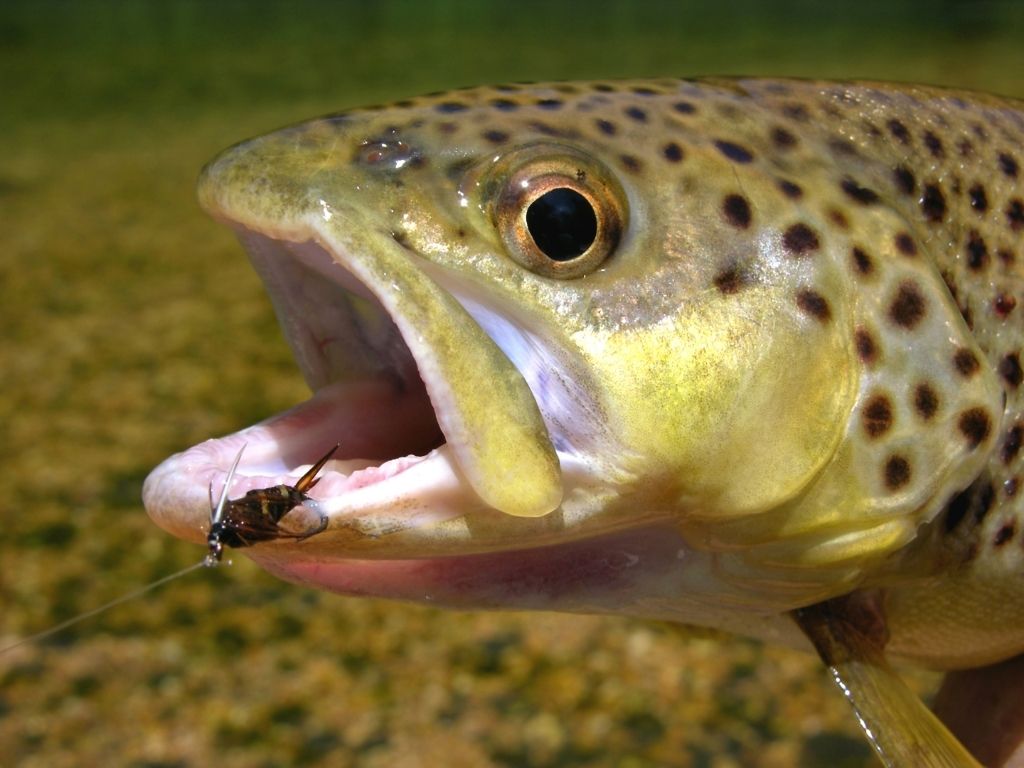 If you're looking to land these fish, your best bet is to spend quite a bit of time in the Grey Reef area near the Grey Reef Reservoir, which lies between Eagle Creek and the North Platte River. This is about 25 minutes southwest of Casper.
To land these fish, make sure you have an assortment of Pheasant Tails, salmonflies, caddis and terrestrial patterns. Depending on the time of year, you're going to have to match the hatch.
Rainbow Trout
The rainbow trout near Casper are nothing to scoff at. These fish grow to be extremely large and are truly aggressive. These fish will put your gear to the test and give you everything they have before you defeat them.
The rainbows are plentiful throughout Grey Reef as well as the Miracle Mile. Look for any eddy or pocket and there's likely a sizable fish sitting there. Bring along those Pheasant Tails, stoneflies, caddis and leech patterns if you want to land these.
If you ever see fish feeding near the surface, get in on the action. You'll be surprised at the size of fish you can land.
Cutthroat Trout
Cutthroat trout are some of the most beautiful fish in the world. Their distinct features combined with their aggressiveness make it hard not to fall in love with them every time you land one. These aren't the most common fish in the North Platte, but you can definitely find them.
They'll eat everything from BWO patterns to leeches. They're great to target with streamers if you have the chance. Their hits are well-known. They strike the fly with as much force as possible! Look for these fish in deep pools.
Best Spots for Fly Fishing Casper
If you enjoy moving water, then you'll probably want to spend the majority of your time on the North Platte. There are over 100 miles of blue-ribbon water that anglers need to explore when they visit Casper. Yes, there are some nice reservoirs, but you'd be doing yourself a disservice if you didn't spend most of your time on the North Platte.
Grey Reef
Grey Reef is almost entirely private water, but there are a few public access points for anglers to try. If you want to fish this section, you're either going to have to know somebody or book a private trip. The investment for a guide is well worth it! The average fish is almost 19 inches.
The lack of pressure on this portion of the North Platte is incredible. There are almost 8000 fish per mile here. That's almost unheard of!
Miracle Mile
There are few places in the world more productive than the Miracle Mile. It's actually 7 miles long, and the water comes from the bottom of the Seminoe Reservoir. Both brown and rainbow trout migrations produce massive fish.
Plus, this section of the North Platte is actually the longest section of public water on the North Platte. Hit this portion of the river in July, and you'll be in the midst of the world famous stonefly hatch. It's a once in a lifetime opportunity that anglers need to experience.
Fremont Canyon
If you don't want to spend time in a drift boat and want to see how capable you are in the water, then Fremont Canyon is the ideal spot.
The fish are large and the water doesn't flow too quickly. Besides the excellent fishing, this is also one of my favorite spots for scenery. The canyon is gorgeous and is a great place to bring the family for some hiking or a picnic.
Best Flies for Casper
The best flies for Casper are similar to those for many tailwaters out West. However, when one of these flies are what the fish want, then you'll find yourself pulling in fish after fish.
Pheasant Tail Nymphs
Since there's so much food below the surface of the water, fish don't often come to the surface to feed.
As a result, you need to fish the blue winged olive hatch with the Pheasant Tail nymph.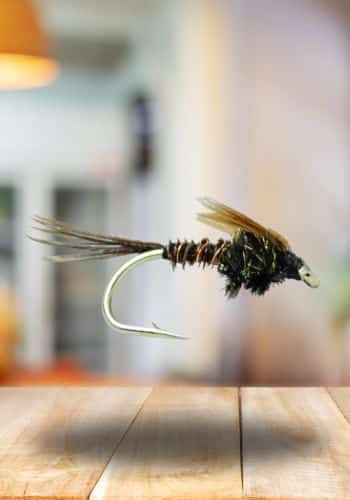 San Juan Worm
Don't forget about the trusty San Juan Worm. This fly is a great option all over the country, and it can be especially productive on the North Platte.

Midge Patterns
Midge flies are also another option you need to have accessible in your box. These are going to be your most productive dry fly option, and they hatch all year round.

Platte River Spiders
Platte River Spiders are obviously a very specific pattern to the North Platte, and you'd be mistaken if you didn't have it in your box. The more specific you can get, the better.
Orange Blossom Specials
These flies are a great subsurface pattern that are hard for trout to ignore. The flashy colors make it a wonderful small streamer option.
Casper Fishing Season
You can fly fish in Casper all year round. The water is productive throughout the year, but July through October are the best months. This is when the fish are most willing to eat and are extremely active.
Casper Fishing Report
The North Platte was fishing wonderfully when I was last there in July. The hatches were occurring all day long, and I spent the majority of my time on the Miracle Mile focusing on the pools and banks. Dead drifting my flies seemed to be the way to go!
I used Orange Blossom Specials and San Juan Worms quite a bit. The San Juan Worm was the dropper on my fly most of the time. I was mostly catching hard-fighting rainbows, but I did pull out a few brown trout and some nice cutthroat too. It was one of those fishing trips that made me immediately think about when I could return for more.
Conclusion
Casper, Wyoming, is beautiful and extremely productive. The section of the North Platte that runs through this area of Wyoming is perfect for fly anglers. Every aspect of it sets you up well to land a trophy fish. If you're looking for your personal best, odds are you'll find it here.
Nothing against Montana, because it's one of my favorite places in the world. But if you focus all of your fly fishing efforts on this more famous state, but never make it over to Wyoming, you're doing yourself a disservice and missing out on some truly world-class fly fishing.
Amazon and the Amazon logo are trademarks of Amazon.com, Inc, or its affiliates.
As a part of the Amazon Associates Program and other affiliate programs, Into Fly Fishing® may receive a comission if you order products through links on this website.