As an Amazon Associate I earn from qualifying purchases.
Fly fishing in South Dakota is often overlooked due to the appealing water a few hours farther west. As a result, the streams are empty and anglers have the opportunity to spend the day fishing without seeing a single person.
Growing up in the midwest gave me the opportunity to fly fish in the trout-filled cold water streams in western South Dakota for years. It wasn't such a long drive to some of my favorite spots, like Spearfish Creek and Split Rock Creek.
I can't count the number of times I've made the trip to South Dakota for some fly fishing, and the times I brought my family along turned out great as well. The vast amount of family activities combined with stellar fishing leads to a wonderful getaway in South Dakota.
As a part of the Amazon Associates Program and other affiliate programs, Into Fly Fishing® may receive a comission if you order products through links on this website.
Why Fly Fish in South Dakota?
The variety of water available for fly fishing in South Dakota provides challenges for experts and is forgiving enough for beginners. There's ample opportunity to try everything from dry fly fishing in pocket water to stripping streamers through deep pools.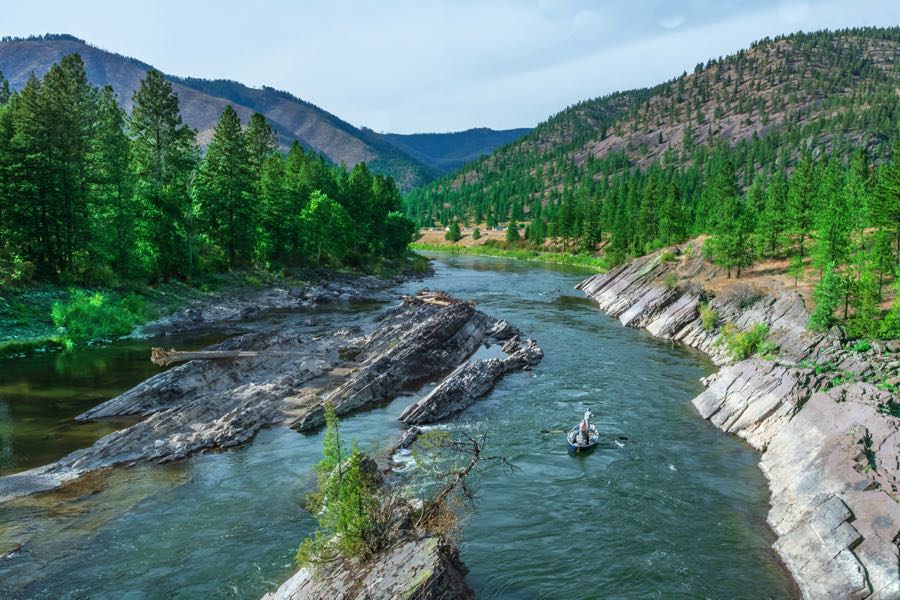 Anglers have the chance to fish in the heart of cities and deep in Ponderosa Pine forests. And just when you think you've mastered all of its water, South Dakota will throw another challenge your way.
South Dakota is a landlocked state, so you can leave your saltwater fly rod at home and head out on the river with your best freshwater gear. As someone who's caught hundreds of fish in this under-the-radar state, I assure you that you won't be disappointed by the fly fishing in South Dakota.
South Dakota Fly Fishing: Fish Species
The numerous types of fish able to be caught in South Dakota always provides an entertaining day on the water. If you're up to the challenge, you can catch several types of trout, large and smallmouth bass, carp, and several other species.
Fly fishing in South Dakota is always a learning experience. Pack your fly box with a plethora of flies and see what you can find. I can tell you, it took me years of trial and error to find the right flies to use in this state.
Rainbow Trout
South Dakota trout fly fishing doesn't receive enough credit. Rainbow trout up to 20 inches can be found in Rapid Creek, Grace Coolidge Fishing Area and the lakes throughout Custer State Park. Pheasant Tail Nymphs, Woolly Buggers, and Caddisflies will always help you catch them.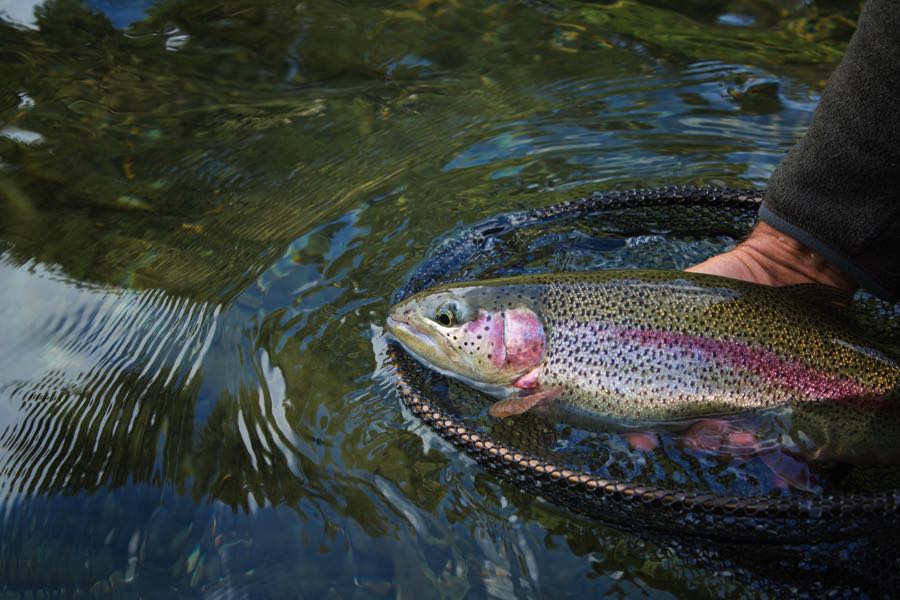 Brown Trout
Brown trout are the other common type of trout found in the Black Hills of South Dakota. Up to 25-inch brown trout can be found throughout French and Spearfish Creek along with the Custer State Park lakes. You'll catch them on Woollys, Blood Midges and any sort of Pheasant Tail Nymph.
Tiger Trout
Tiger Trout are a rarity in the Black Hills, but they can be caught. These are the offspring of brown and brook trout and only get to 10 or so inches long. They can be found in Stockade Lake in Custer State Park and some throughout French Creek. You can catch them on dark Pheasant Tails and Caddis Flies.
Bass
Bass are also prominent throughout South Dakota and can be caught from the eastern border to the west. Multi-pound bass can be found in Lake Sharpe and Lake Oahe in central South Dakota and Deerfield Reservoir in the western part of the state. You'll find them on popping flies and baitfish streamers.
Carp
Before you scoff, fly fishing for carp in South Dakota is wonderful. They're a sensitive fish that easily can reach 30 pounds and put up wonderful fights. A small bonefish-style fly or even a beetle can entice these game fish. You can find them in Lake Herman and Lake Francis Case.
Best Fly Fishing Spots in South Dakota
Your fly fishing location in South Dakota will mostly depend on what type of fish you're after. If you want cold water streams filled with trout, you should spend all of your time on the Western border.
You can find bass, carp and any other traditional freshwater fish all over the state, but the best fly fishing in South Dakota for these fish will come on the Missouri River system. This is always my go-to spot when I bring a newcomer into the area.
Fly Fishing Rivers in South Dakota
The majority of rivers in South Dakota are easy to maneuver. You can shore fish or wade and have plenty of success. The water clarity is solid and sight fishing is often a possibility. Always remember your polarized sunglasses. Due to the darker tint of the water, it may be hard to spot fish with the naked eye.
Spearfish Creek
📌Directions: Spearfish Creek, South Dakota
No South Dakota trout fishing trip is complete without a visit to Spearfish Creek. This creek winds its way through the beautiful Spearfish Canyon and is located only a few minutes out of the town of Spearfish. Access is plentiful, but you'll need to be technical with your casts. Fishing can be tight.
In the creek, you'll find rainbow and brown trout. These fish are extremely spooky, so the smaller the flies, the better. Size 18-24 nymphs along with Elk Hair Caddis flies will catch fish. The water is extremely clear, so keep your shadow away and use 6 or 7x tippets. Some say it's the best fly fishing in South Dakota, and I tend to agree with them.
Rapid Creek
📌Directions: Rapid Creek, South Dakota
Rapid Creek is the longest and largest stream in the Black Hills. It flows out of Pactola Reservoir and into the Cheyenne River. In the middle of the creek, you can fish in the heart of Rapid City. Catching brown and rainbow trout in the midst of a booming city is quite the experience.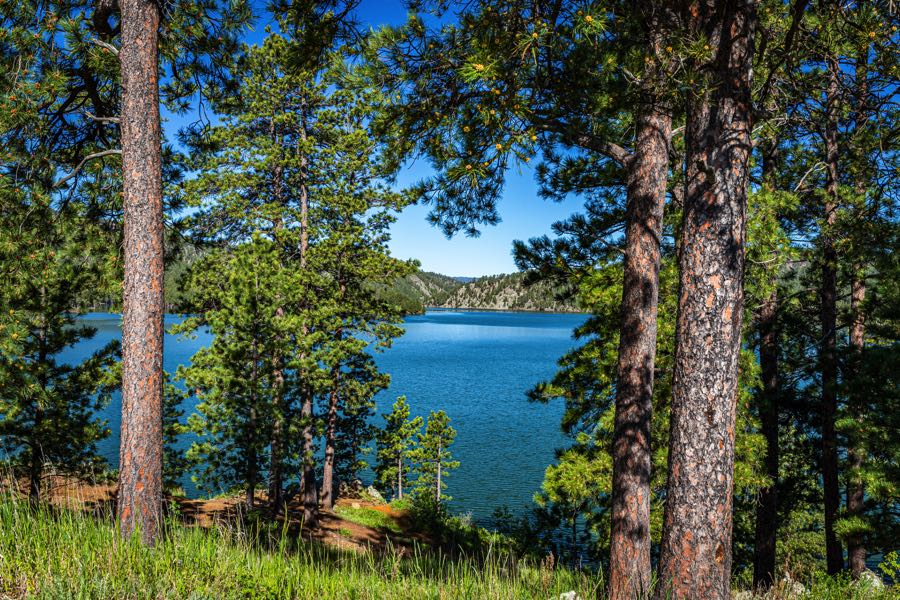 Access is plentiful along Rapid Creek, but be sure to be confident in your casts before you tackle it. The overhanging trees can make for a long afternoon. To combat the obstacles, use a 3 or 4-weight rod. Strip Woolly Buggers attached to 5x leaders through the pools. You're always in for a fun day on Rapid Creek.
Grace Coolidge Creek
📌Directions: Grace Coolidge Creek, South Dakota
Grace Coolidge is the perfect option for a beginner fly angler. Fly fishing in South Dakota doesn't get much easier than Grace Coolidge. The portion across from the Grace Coolidge Campground in Custer State Park is a three-mile walk-in fishing area equipped with six man-made pools.
Bring your family along and teach them how to fly fish. Remember, you'll need to pay the park fee upon entrance.
On the creek, throw a Pheasant Tale or Prince Nymph into the pools below the rock overhangs and see what strikes. Also, I like using large streamers in the deep man-made pools. You won't need anything more than a 4-weight rod with the matching fly reel to handle any of the fish you catch.
Split Rock Creek
📌Directions: Split Rock Creek, South Dakota
Split Rock Creek is a great option for anyone on the eastern side of South Dakota. Located right outside of Sioux Falls, the creek is filled with bass, carp and panfish. Access is great right in the midst of Palisades State Park. It's a free-flowing creek with great pools and pocket water.
If possible, fish this creek on a kayak or canoe. You can access locations that otherwise wouldn't be possible. In the evening, rip some popping flies with your 8-weight along the banks and be prepared for the bass to strike. Also, sight fish for carp, but remember to be delicate. These fish are spooky!
Spring Creek
📌Directions: Spring Creek, South Dakota
Still in the Black Hills, but want some more versatility? Spring Creek flows out of Sheridan Lake and is home to trout, bass, and even some pike. Located a few miles from Hill City, it's a great place to bring your family. Leave them at the beach and whip out your best fly rod or your favorite fly rod combo.
You won't need anything more than a 5-weight rod to handle the fish you catch. Access is a bit limited on Spring Creek, but there are plenty of places to fish as it flows out of the lake. The water is usually a bit stained so use darker flies. Larger Woolly Buggers are the most fun flies to use.
Fly Fishing Lakes in South Dakota
Fly fishing the lakes across South Dakota is well worth an angler's time. While the streams of the Black Hills are tempting, overlooking the lakes is a mistake. I've caught some truly massive fish on the fly in South Dakota lakes.
Pactola Reservoir
📌Directions: Pactola Reservoir, South Dakota
This is the largest lake in the Black Hills and the most fun to fish. It covers over 1200 acres and reaches depths of 200 feet. This lake holds massive lake trout, bass, and even some walleye. You'll want to use at least a 6-weight with 2 or 3x leader to handle the fish you find.
You need to cause a commotion in the water to have success on Pactola. If popping, use some of more your vibrant Boogle Bugs to attract the bass. For the deeper fish, use brighter Grim Reapers and fish them slow. The fish will likely hit them on the fall.
Stockade Lake
📌Directions: Stockade Lake, South Dakota
Stockade Lake is the least-visited lake in Custer State Park. It's easy to access, but it isn't located near any resort. As a result, the pressure is limited. I've had long days on Stockade Lake when I never saw another soul.
It has great shore fishing with nice casting lanes and you can find bass along with quite a few stocked trout. Be sure to use a 6-weight with a 3 or 4x leader.
Stockade Lake is deeper than you think, so if you're stripping baitfish streamers, let them fall. When you strip, pull hard, let it fall for a second or two and repeat the process. These fish will eat, but they usually like to eat it on the fall.
Also, try Elk Hair Caddis in the evening. The dry fly bite is amazing.
Deerfield Reservoir
📌Directions: Deerfield Reservoir, South Dakota
The Deerfield Reservoir is located 20 miles west of Hill City and is home to some wonderfully sized rainbow and brown trout. Also, there are some impressive lake trout available to be caught. Shore fishing is easy and casting lanes aren't difficult to find.
When fishing, you want bright and flashy colors. Also, do your best to cast your 6-weight near structure.
The majority of fish seem to follow your flies off of the rock piles or logs. Minnow and crayfish patterns in size 2-4 are great flies to use. Also, tie on 2 0r 3x leader. The fish aren't shy!
Francis Case Reservoir
📌Directions: Francis Case Reservoir, South Dakota
This reservoir is found in south-central South Dakota near Chamberlain. It's a massive lake and can be a bit overwhelming at first. Don't fret, because the bass and carp will bite. This lake is best fished by boat if possible.
There's a massive amount of fishable water, so don't short yourself by only shore fishing. It took me multiple trips to fully appreciate this large body of water.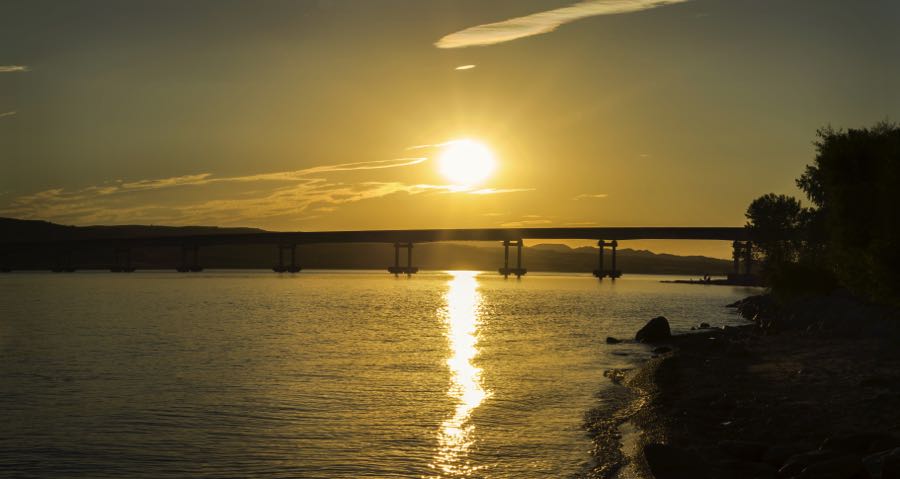 Bring along your 8-weight rod for Francis Case. The fish are large and you'll need the power. These fish aren't tippet shy, so don't worry about spooking them. Use Gutless Frogs for topwater and Jawbreakers for some of the bottom-feeding fish.
Lake Sharpe
📌Directions: Lake Sharpe, South Dakota
Lake Sharpe is another strong smallmouth fishery in the Missouri River system. Hooking a smallmouth on a fly rod will always lead to a memorable battle.
Do your best to fish near drop-offs and structure. Shore fishing is possible and casting lanes aren't difficult to find. You may be alone when it comes to fly fishing, but don't worry. There are plenty of fish here.
These fish look for baitfish patterns. Any sort of frog, crayfish or minnow pattern will help you. You don't need to be slow with your retrieve. Stay aggressive and be willing to cast all day.
You'll have a sore arm, but it'll worth it when you hook into your first smallmouth.
South Dakota Fly Fishing Season
Fly fishing in South Dakota is possible year-round, but May through October are the most productive months. The rain and snow will usually have subsided by then and you won't be hit with much inclement weather.
On top of the nice weather, the water clarity becomes better and better as the season progresses. The fish become a bit more spooky, but can still be caught with enough finesse and patience.
South Dakota Fly Fishing in May
South Dakota is susceptible to flooding, so it's best to check local flow charts before you hit the water. By May, the water temperatures have increased and hatches are becoming more plentiful.
In the Black Hills, the midge, Spring BWO and Little Black Stoneflies will be hatching. The trout are hungry.
South Dakota Fly Fishing in June
By June, the flooded rivers should begin subsiding and water clarity improving. The water temperatures increase so the fish begin to dive deeper. Fish the morning and the evenings and strip streamers through the deep pools.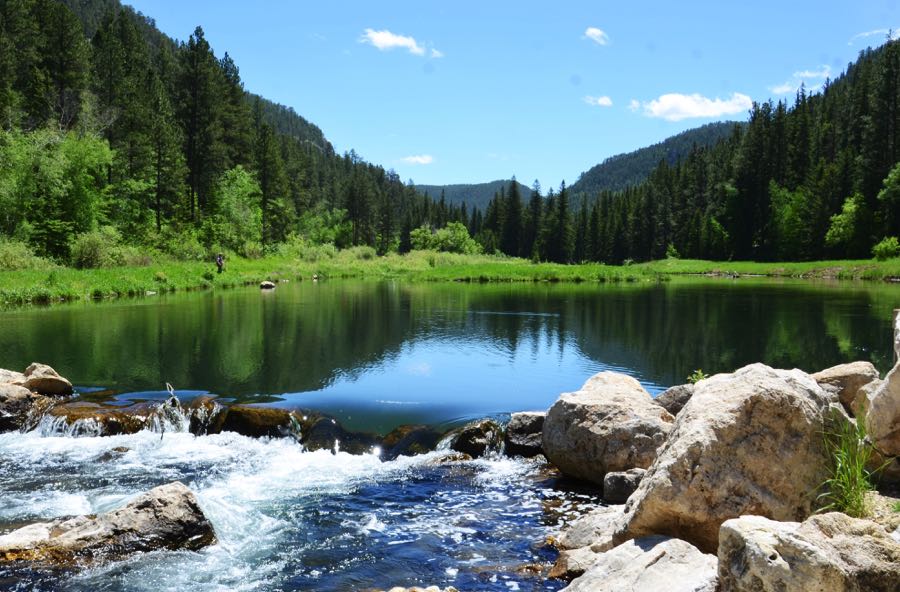 Hungry trout are always waiting for a baitfish streamer to pass their face.
South Dakota Fly Fishing in July
July is a warm month in South Dakota. As a result, the fish are deep and a bit more sluggish. You have to find them during their prime feeding times in the morning and evenings.
The dry fly season is in full swing, so use your Elk Hair Caddis in size 18 and do some sight fishing at golden hours.
South Dakota Fly Fishing in August
August marks the beginning of every South Dakota fly angler's favorite time of year: terrestrial season. This is the month I like best for fly fishing in South Dakota.
The grasshoppers and beetles start falling into the water, and the trout are looking to eat. Drag some of these patterns off the weeds and wait.
The trout sit along the cut banks and are more than willing to slurp up some of these.
South Dakota Fly Fishing in September
September fly fishing in South Dakota is amazing. The colors are beginning to change, the terrestrial bite is on fire, and temperatures are cool. Spend as much time on the water during this month as you possibly can. You'll always be catching fish.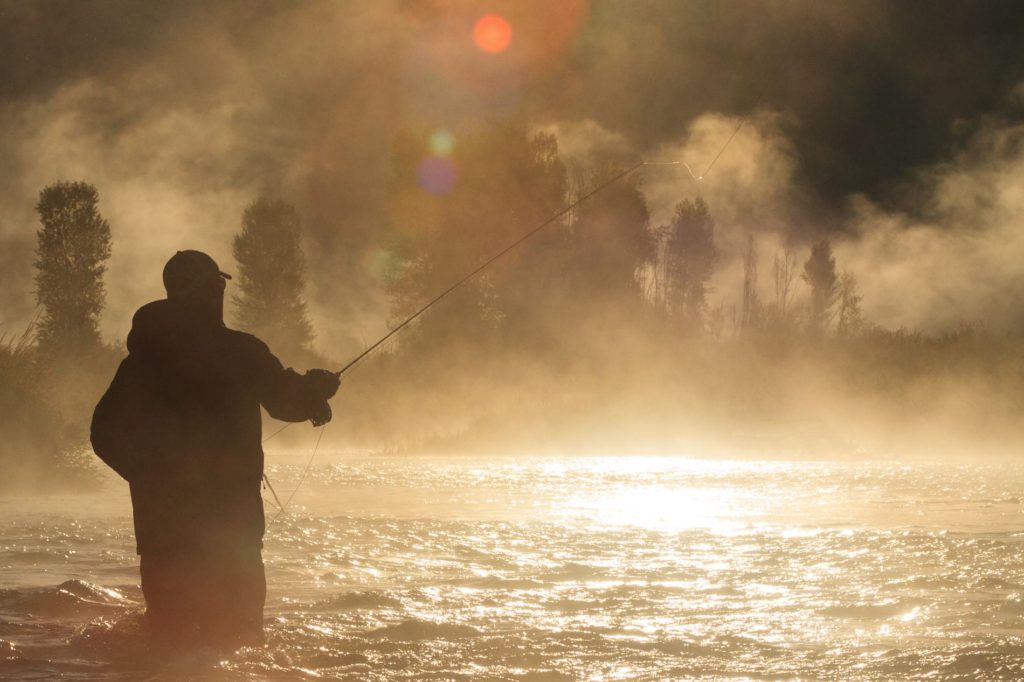 South Dakota Fly Fishing in October
The terrestrial bite begins to slow in October, but the trout are still hungry. The warmer times of the day are great for sight fishing. The fish will be in shallower water and you can drift your small dries right over the top of them and watch them eat.
Best Fly Fishing Shops in South Dakota
South Dakota isn't known for its fly fishing lodges. Many anglers appreciate this because of the ability to access more water and fewer people flock to the state to catch a trophy.
There are a few guide services and shops to choose from if you're interested in being taught by the experts.
Dakota Angler & Outfitter
Located in downtown Rapid City, Dakota Angler & Outfitter is a reputable fly shop and employees have great knowledge of Black Hills fly fishing. There are numerous guides for hire along with a strong selection of equipment to help you prepare for your fishing expedition.
Stop in and support the shop on your next visit.
Spearfish Creek Fly Shop
Spearfish Creek Fly Shop is located in Spearfish on the north side of the Black Hills. The employees understand the challenge that Spearfish Creek presents and will give you their best advice. Plus, the fly selection is wonderful for all types of fly fishing in the Black Hills.
Official References
Conclusion
Fly fishing South Dakota is a must for anyone passionate about the sport. The streams and lakes are easily accessible. None of the streams are overwhelming and all are chock-full of fish.
The Black Hills of South Dakota hold the best trout fly fishing opportunities in the midwest. They're a great stop on your way out to some of the more famous waters in the West. Trophy-size brown and rainbow trout are possible, but you have to be willing to put in the work.
On top of the trout, you can find massive bass and carp in the waters throughout the rest of the state. Don't dismiss South Dakota. The angling opportunities will keep you coming back for more. Indeed, I'm due for a return visit sometime very soon.
Some images in this post are courtesy of Shutterstock.
Like This Article? Pin It!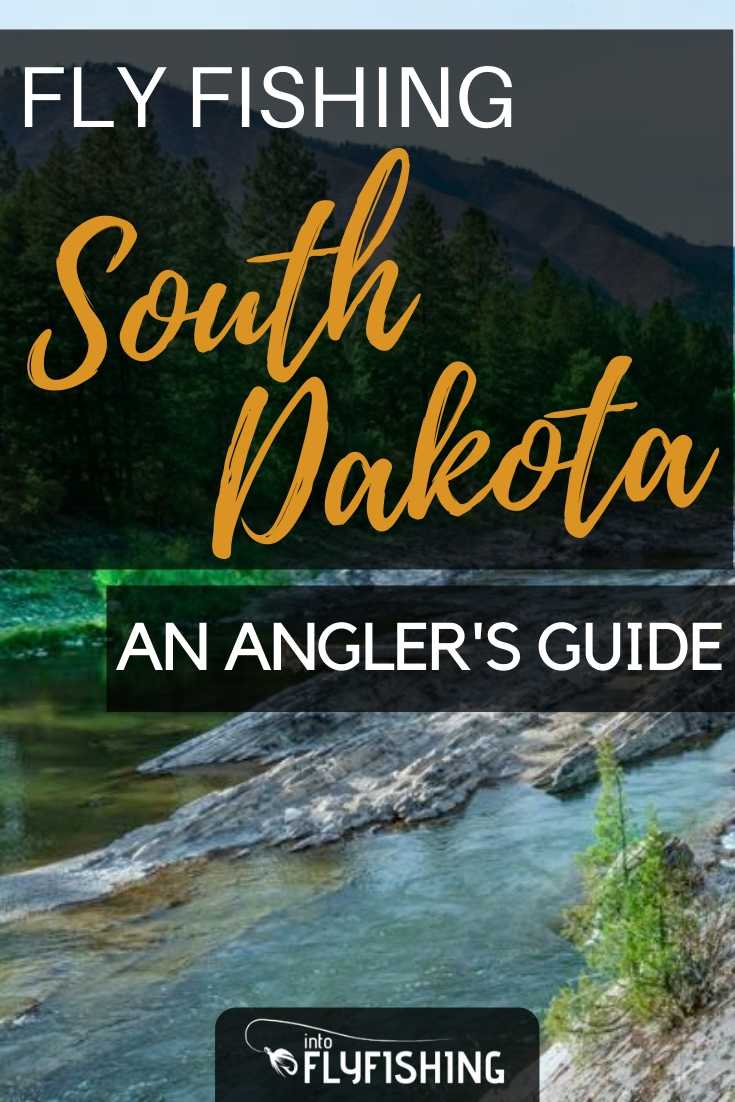 Amazon and the Amazon logo are trademarks of Amazon.com, Inc, or its affiliates.