As an Amazon Associate I earn from qualifying purchases.
Fly fishing the Allegheny River has gained more and more notoriety in recent years. The river has many different faces and fish, from tailwater trout to gritty, urban flathead catfish in Pittsburgh. It's a very diverse waterway.
I was born less than a few miles from the Allegheny but didn't get to fish it until later in life. It was impressive seeing what I had missed out on. I caught fish species I had no idea existed there and saw numerous large trophy specimens.
Fishing the Allegheny River has many benefits, but can be very intimidating. This article seeks to shorten your learning curve a bit.
Where Is the Allegheny River?
The Allegheny River flows about 325 miles through western Pennsylvania and part of New York. It meets the Monongahela River in Pittsburgh to form the Ohio River.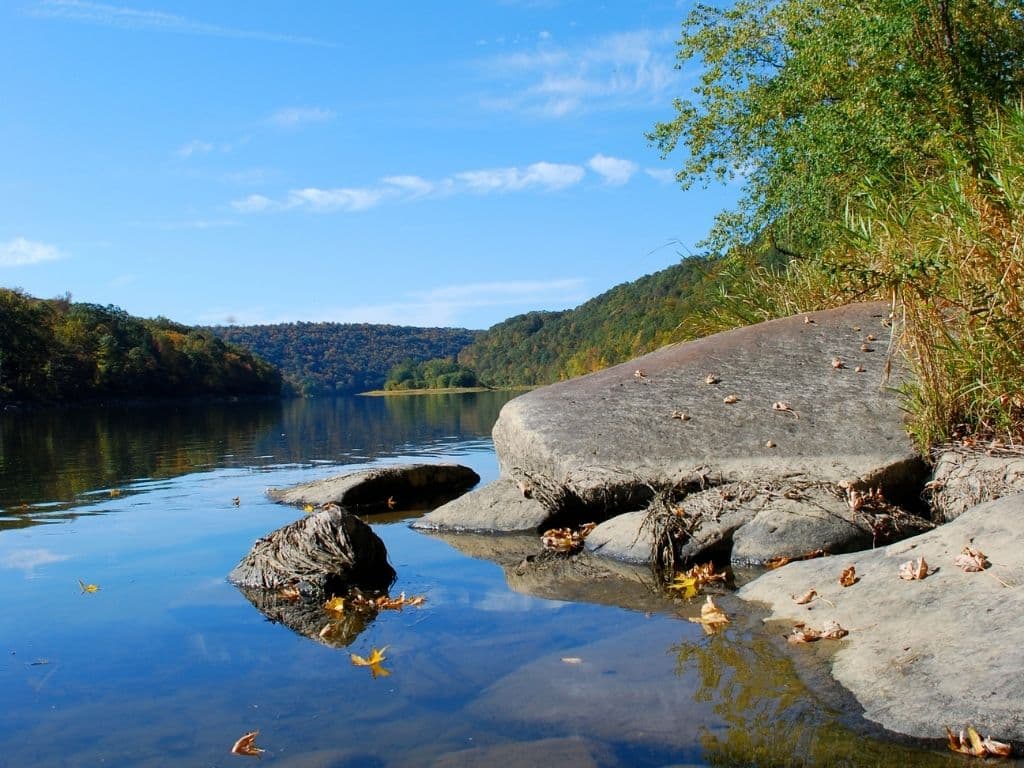 The Allegheny flows through wooded hills with many small towns along its banks. Its upper reaches are small and narrow, once a notable trout fishery that's no longer as good. The giant Allegheny Reservoir creates a tailwater below Kinzua Dam.
Allegheny River Fishing: Why Go?
The diversity of species as well as large trophy fish are the big draws of fly fishing the Allegheny River. Giant brown trout, smallmouth bass, and muskie are all possible. Through most of its length it's also a very scenic waterway.
Types of Fishing on the Allegheny River
There are many types of fishing available on the Allegheny.
Fly Fishing
Fly fishing is most popular for trout in the tailwater. However, it's also great way to catch a variety of fish throughout the river system. Pike, smallmouth bass, carp, and more are all species that can be caught on the fly there.
Spin Fishing
Casting a spinning rod is one of the most popular ways of fishing the Allegheny River. Anglers cast jigs and bait for smallmouth bass and walleye, or leave a cut bait on the bottom to seek giant catfish.
Bait Casting
Bait casting with huge plugs and spinners is one of the primary ways to tangle with Allegheny River muskies. It's also often done for huge flathead catfish near the confluence in Pittsburgh.
Allegheny River Fish Species
The Allegheny has a very diverse fish population. Below is just a small number of species of interest to fly fishers.
Largemouth & Smallmouth Bass
Both largemouth and smallmouth bass can be found in the Allegheny River, often reaching trophy sizes. Smallmouth definitely overshadow largemouth here in abundance and quality.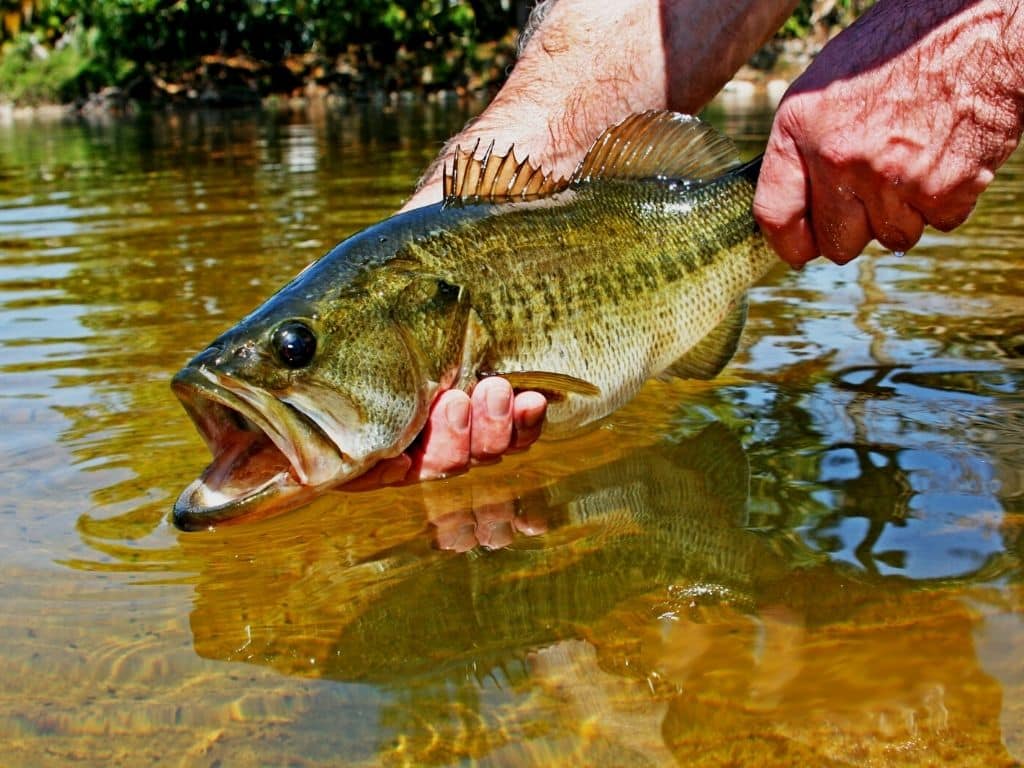 Fish exceeding four pounds are possible.
Walleye & Sauger
Walleye and their lesser-known relative, sauger, are found throughout the system. The river is known for producing particularly large walleye. During the spring, they usually make runs up the major tributaries and can be caught on the fly.
Trout
Trout are only present in the cold tailwater section below Kinzua Dam. Both browns and rainbows can be caught, and the Allegheny is known to produce huge specimens of both species.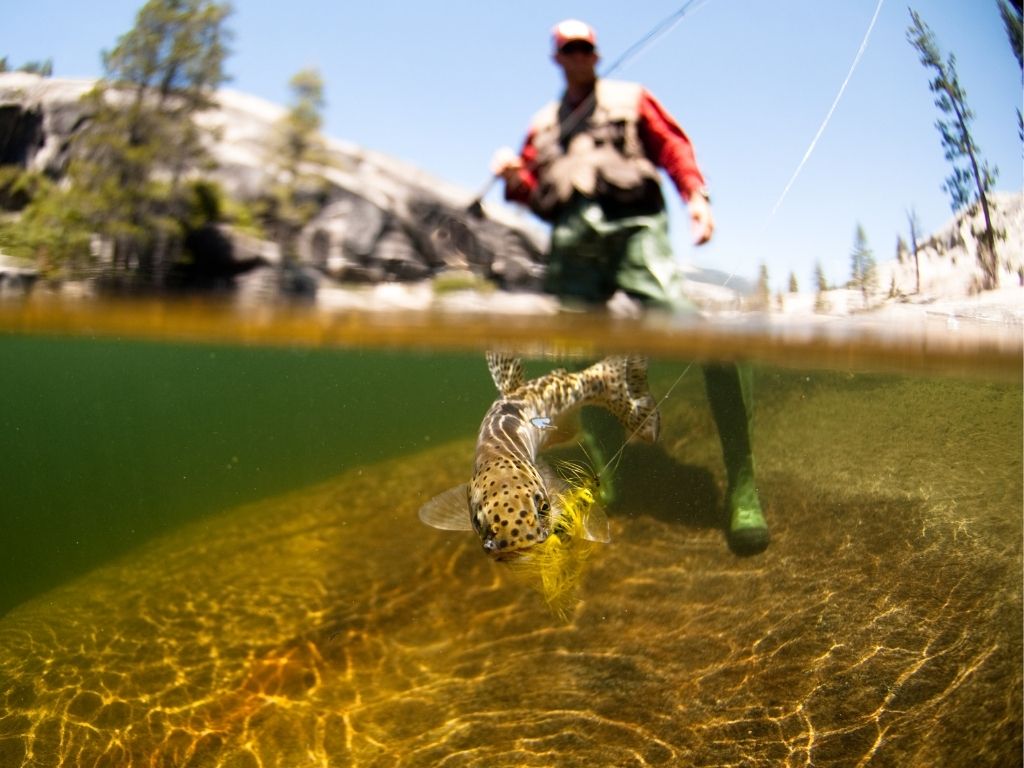 Pike & Muskie
Northern pike and muskellunge are found throughout the system, but are more abundant in some stretches than others. Pike are more common, of course. There are a number of guides targeting muskie on the Allegheny.
Suckers & Redhorse
These underrated fish are found throughout the Allegheny River and its tributaries. They are a true fly rod challenge, and nymphing for beautiful and hard fighting redhorse during the spring is an excellent way to spend a day.
Best Spots for Fishing the Allegheny River
The towns below provide access to good fishing on the Allegheny River.
Warren
The small town of Warren is the primary area of interest on the Allegheny tailwater. This is a great trout fishery, but it's big and sometimes intimidating. Focus around the islands and look for fish rising in pool tailouts during a hatch.
Templeton
The boat launch in the town of Templeton provides access to some productive stretches of muskie water. This isn't a very wadeable area, but a kayak will work if you don't have a boat.
Oil City
The river from Oil City to Franklin is rocky and mostly shallow with some large deep pools. This is good bass, pike, and walleye water. Much of it can be waded. It's a good place to try in the summer.
Best Flies for the Allegheny River
Since there are so many fish species and types of water, it seems a dozen full fly boxes is barely enough. Don't leave the house without these: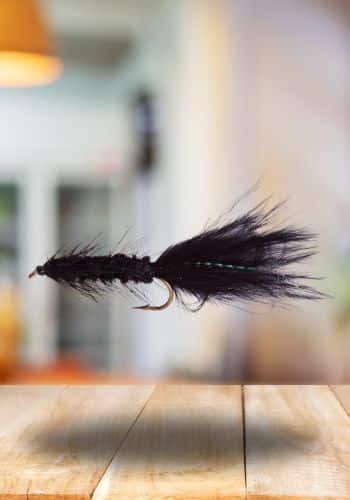 Woolly Bugger
The ever-productive Woolly Bugger is a good fly for virtually any predator fish in the Allegheny. It is, of course, a bit small for a muskie.
Try sizes 10 to 2, in olive, white, chartreuse, black, and yellow.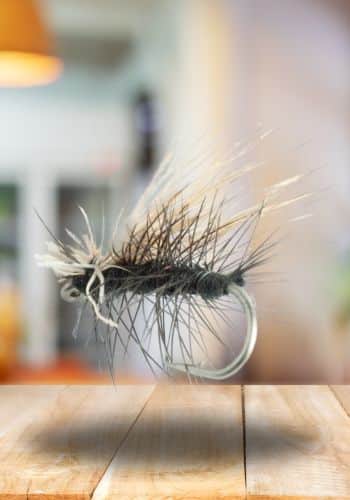 Elk Hair Caddis
The Elk Hair is a classic dry fly for trout and can be productive in the tailwater. Fish it as a dry dropper when there isn't a strong hatch happening.
Target the choppy, riffled water. This is the area with the most small invertebrates, and most trout spend time feeding in such spots for at least part of the day.

Flashtail Whistler
The Flashtail Whistler is a classic pike and muskie fly. Cast it around weed beds and drop offs with a sink tip line.
Don't be shocked if a big bass latches on before a muskie does!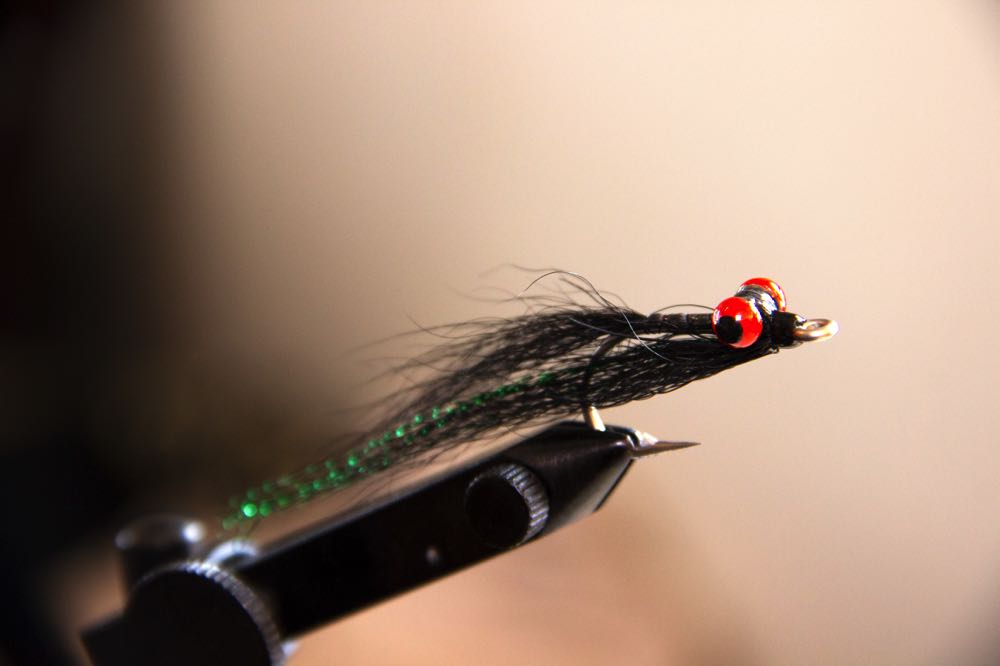 Clouser Minnow
The Clouser Minnow is an all around great fly for bass, walleye, and even trout in the Allegheny River. It works very well when fish are interested in a jigging style retrieve.
White and olive, white and chartreuse, and black and purple are good color patterns to have with you.

Hare's Ear Nymph
Of course, the Hare's Ear Nymph is a good choice for trout in the tailwater, but consider fishing this classic nymph for suckers or bass as well.
You may be surprised by a catfish. I've nymphed up a few channel cats in Allegheny River tributaries.
Allegheny River Fishing Season
The Allegheny River is open to fishing year round. Each season provides chances at different species of fish.
The tailwater remains cool throughout the majority of the year, but avoid fishing for trout there in the dog days of summer when the water gets 70 degrees or more.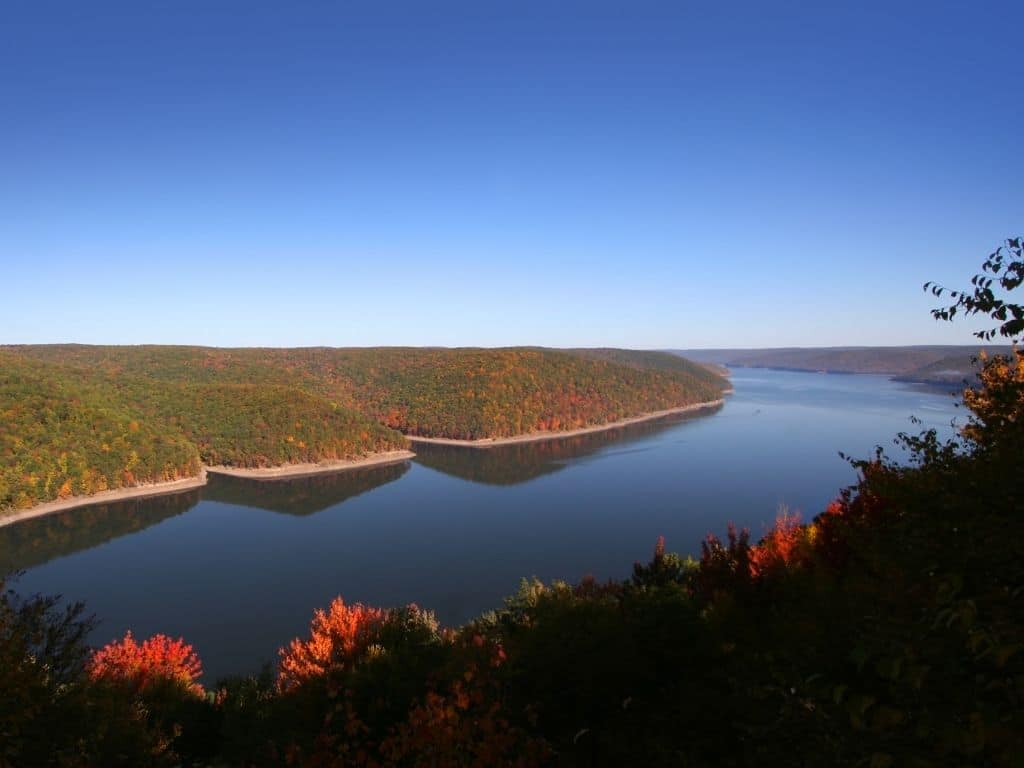 Winter is an excellent time to throw streamers for giant brown trout. There are some good windows to fish for muskie too. When the water begins to warm up during the spring, look for walleye, sauger, and suckers running up tributaries.
Early summer is prime hatch time in the tailwater and an excellent season for smallmouth bass fishing. Pike and muskie remain active but may get lethargic the hotter it gets. Fall is another prime season for big brown trout.
Allegheny River Fishing Report
I fished the Allegheny River in the middle of low, clear, late summer water. Plenty of smallmouth bass and suckers were seen and a few were caught. Big bass were holding around rock structures with moderate current. Unfortunately, a significant cold front passed through and slowed down the fishing.
Allegheny River Fishing Guides
Here are a handful of fishing guides that can put you on fish in the Allegheny River system.
Allegheny Guide Service
Red Childress of Allegheny Guide Service specializes in big muskie and offers many other trips for fly and conventional anglers alike on the Allegheny River. Trophy trout, muskie, pike, and smallmouth bass trips are all options. Red has been putting clients on big fish for years.
Keystone Connection Guide Service
Guide Jeff Knapp caters primarily to those looking to fish for smallmouth and largemouth bass with spinning and conventional tackle. Jeff guides the Allegheny as well as some surrounding waters.
Fin & Fly Adventures
Guide Brian Minich provides float trips on the Allegheny tailwater out of Warren, Pennsylvania. This outfitter is well suited to those looking to fly fish for trout at this unique fishery.
Conclusion
Fly fishing the Allegheny River can be an extraordinary experience. It's a large river, and there's so much water to fish that it can be very intimidating. Be patient and observant, though, and it will reveal its secrets.
Trophy brown trout, pike, smallmouth bass, muskellunge, and many other fish call the Allegheny River home. These fish can be caught on a variety of tackle throughout the whole year. Any trip has the potential to produce the fish of a lifetime.
I haven't gotten to fish the Allegheny River as much as I'd like, but it's certainly a place I'll be going back to again and again. It's a beautiful place with great fishing. What more could you ask for?
Amazon and the Amazon logo are trademarks of Amazon.com, Inc, or its affiliates.
As a part of the Amazon Associates Program and other affiliate programs, Into Fly Fishing® may receive a comission if you order products through links on this website.