As an Amazon Associate I earn from qualifying purchases.
Fly Fishing in New Hampshire is some of the best in the Northeast. Many of New Hampshire's rivers hold trout. Its lakes are full of smallmouth and panfish. The majestic White Mountains provide one of the prettiest backdrops in the Eastern US.
I've been going fly fishing in New Hampshire for years, since I was just a beginner. I mostly go for the small stream wild brook trout fisheries, but the state has plenty more to offer.
Freshwater fishing in New Hampshire is excellent. There are cold, fast-flowing wild trout streams, big smallmouth bass, and even some pike and carp. It's also easy to forget that the state has a small shoreline on the Atlantic and some good striped bass fishing too.
As a part of the Amazon Associates Program and other affiliate programs, Into Fly Fishing® may receive a comission if you order products through links on this website.
Why Go Fly Fishing in New Hampshire?
New Hampshire's scenery and fast-paced trout and bass fishing are just two of the perks of visiting this small New England state. Dry fly fishing to hungry brook trout is a thrill.
The trophy section of the Upper Connecticut River produces hue brook trout, brown trout, and even landlocked salmon. Lakes and ponds in southern New Hampshire have excellent fishing for warmwater species. These lakes have big smallmouth bass and, uniquely, some of the biggest white perch in the country.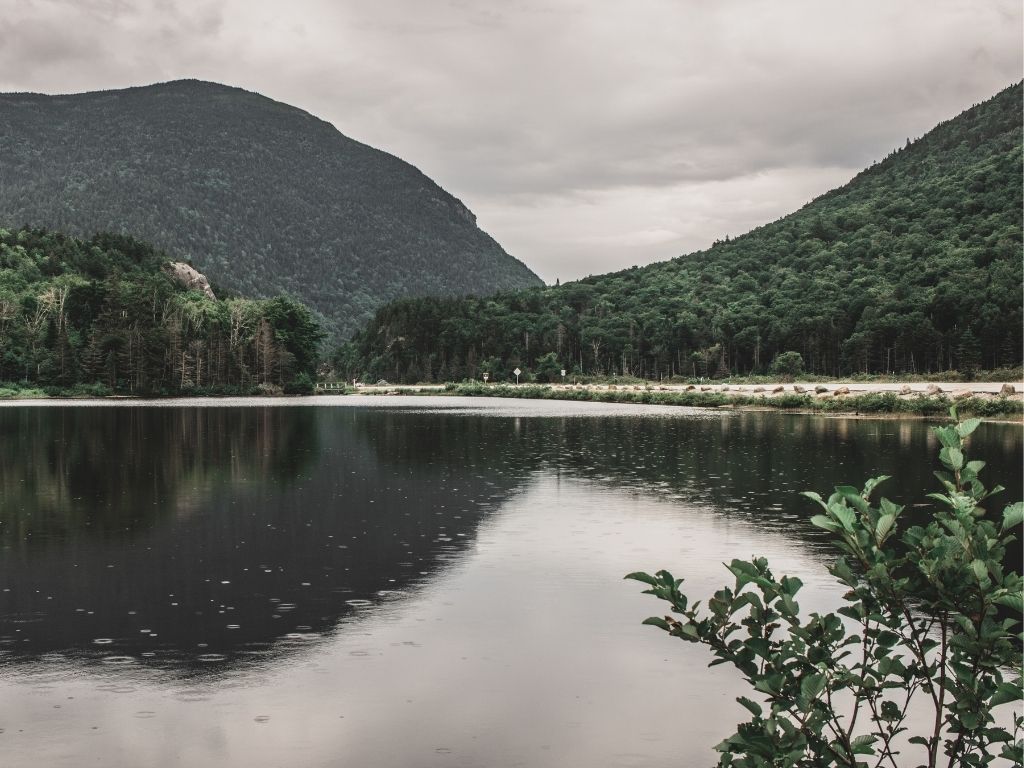 There are also numerous streams to explore that have bass, trout, and panfish. The small but beautiful shoreline has some good summer striper fishing.
New Hampshire Fly Fishing Species
New Hampshire may not have as many species as some of neighboring states, but it makes up for it with some trophy-sized specimens. The abundance of some of the fish in the state's waters is also excellent for fly fishers.
Brook Trout
Brook trout are native to New Hampshire. Small streams across the state, as well as a handful of mountain ponds, have wild brook trout. These are mostly small, though there are brook trout up to 18 inches in some waters. The Upper Connecticut River has both wild and stocked brook trout over 15 inches, with some reaching as many as 24 inches.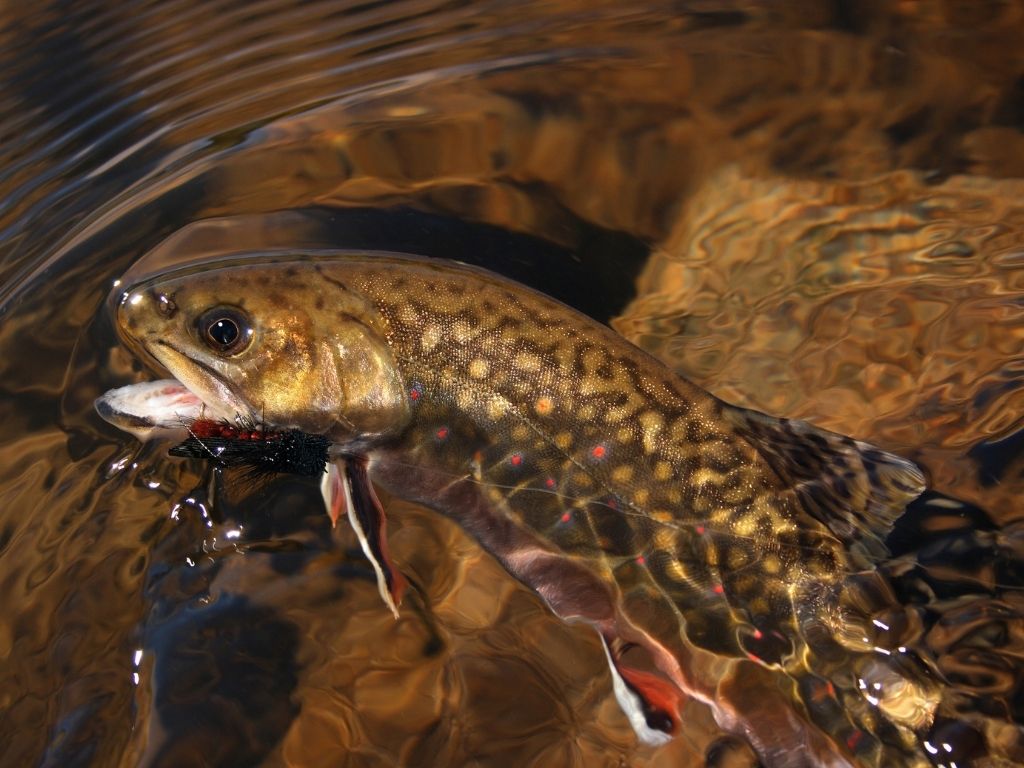 The state also stocks brook trout in a variety of places. Light rods and dry flies are great for the small stream natives, but bring 5 weights and nymphs or streamers if you're looking for the giants.
Brown Trout
Although most brown trout in New Hampshire were raised in hatcheries, there are wild populations scattered throughout the state. The Connecticut River is the only place where wild brown trout routinely reach trophy size.
However, the stocked fish in other waters allow fly fishers the chance to fish for good sized brown trout. For brown trout fly fishing in New Hampshire, 4 and 5 weight rods are best. A 6 weight may be of use when fishing big streamers for those monster browns in the Connecticut River, though.
Rainbow Trout
New Hampshire has both wild and stocked rainbow trout. The wild ones are found in scattered populations mostly in small streams. There are some good sized wild rainbows in the Connecticut River as well.
Of course, most rainbow trout in New Hampshire are stocked fish and can be caught in numerous streams and ponds. Spring is an especially good time to fish for rainbow trout in New Hampshire.
Black Bass
Freshwater fly fishing in New Hampshire is certainly not exclusive to trout. The state has some great smallmouth and largemouth bass fishing. The smallmouth are most notable. Fish to five pounds or bigger can caught in some lakes, and one to three pound bass are not at all uncommon.
Fishing a black popper on a floating line on an 8 weight fly rod is a great way to catch trophy New Hampshire smallies. Go out early in the morning in the summer and look for rocky reefs or shoals.
Panfish
Fly fishing for panfish in New Hampshire isn't to be ignored. It can be a lot of fun to go out and cast small foam topwater bugs for bluegills, or little streamers for perch and crappie. If you explore lakes, ponds, and warmwater creeks in New Hampshire, you're bound to find some panfish to cast at, and 4 and 5 weight rods are ideal.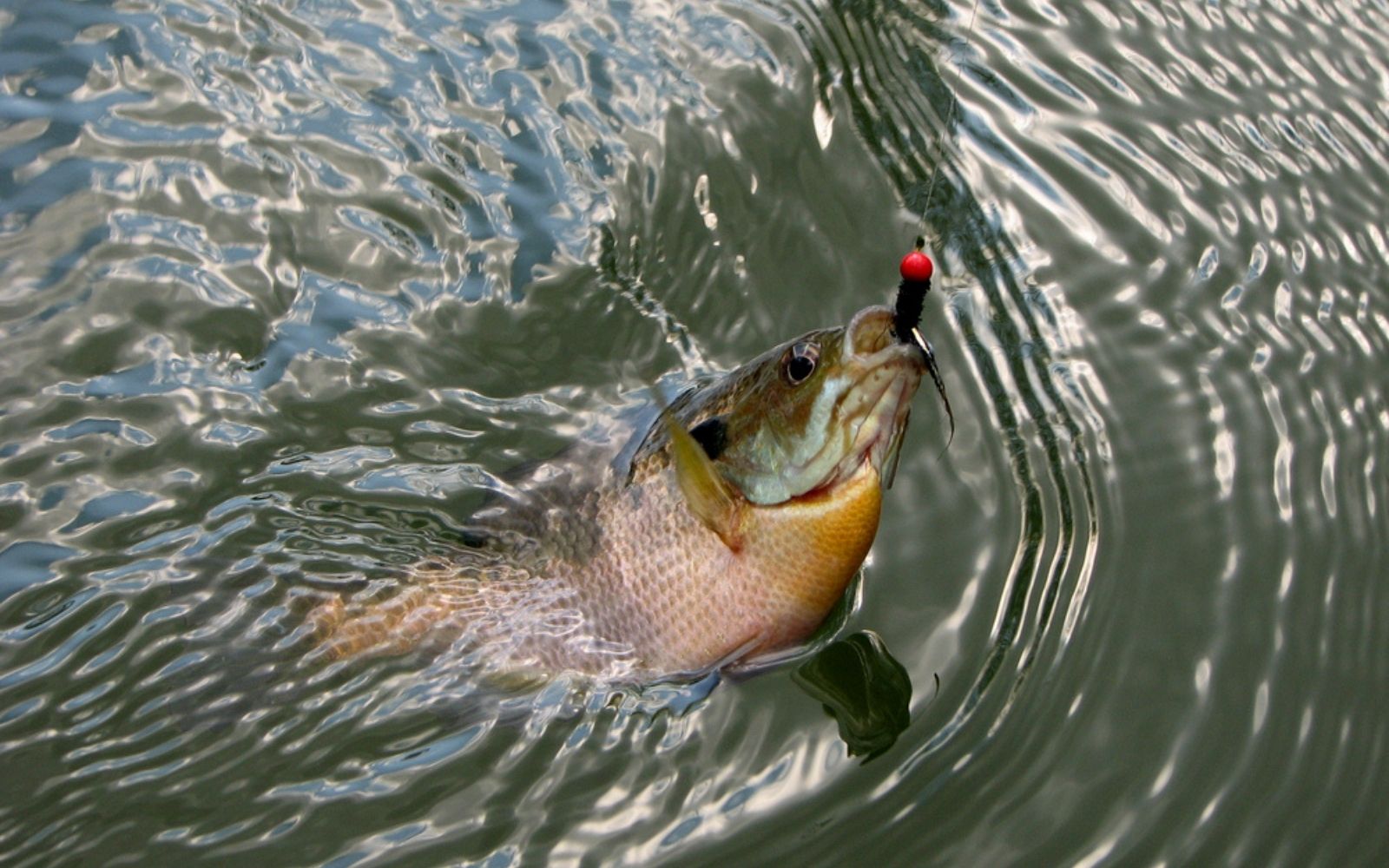 Uniquely, Lake Winnipesaukee has some of the largest white perch you'll ever see. Although ice fishing is a popular way to catch these fish, fly fishing works too. Fish sink tip lines and small streamers for these hard fighting silver temperate bass.
Striped Bass
New Hampshire's small shoreline sees an annual influx of striped bass from spring through fall. These fish feed on Atlantic herring, mackerel, menhaden, and crabs, among other bait, and 8 to 10 weight fly rods are best.
Bring both floating and sink tip fly lines for saltwater fishing in New Hampshire. Poppers, Gurglers, Deceivers, Surf Candies, and Hollow Flyes are good fodder for striped bass.
Landlocked Salmon
Some of New Hampshire's rivers hold landlocked salmon. Although they average less than 18 inches, these high-flying fish are very sporting on the fly rod. Look for landlocked salmon in the Connecticut River and rivers that feed Lake Winnipesaukee.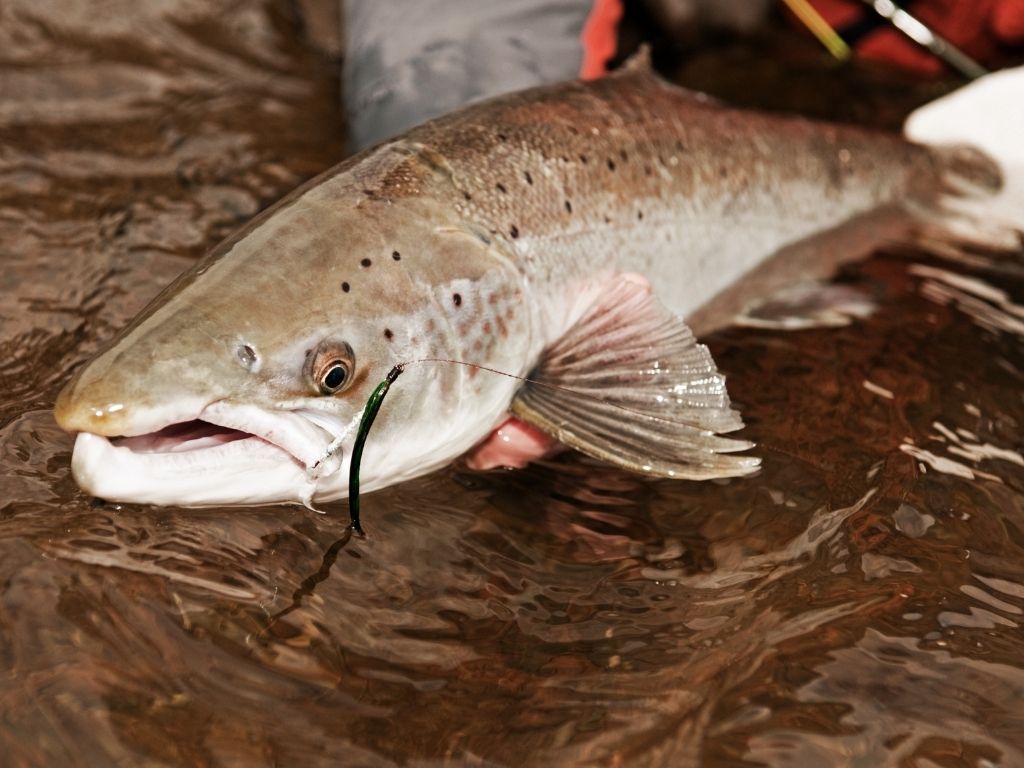 These fish will eat small streamers and nymphs, as well as dry flies on some occasions, and 4 and 5 weight fly rods are best. Expect lots of jumps from even small landlocked salmon.
Pike & Pickerel
Pike aren't especially abundant or large in New Hampshire waters. But there are some fun fisheries for both northern pike and chain pickerel scattered across the state. The Connecticut River is the best place to look for pike. Pickerel are native and spread throughout many shallow lakes and ponds.
Fish flies like Flashtail Whistlers and Deceivers for pike. Gurglers, Woolly Buggers, and Clousers are great fly choices when trying to get a trophy chain pickerel.
Common Carp
Common carp aren't abundant in New Hampshire waters. However, the Connecticut and Merrimack rivers have populations of these finicky fish. Look for slow muddy or rocky backwaters and tailing fish. Carp fishing in New Hampshire might be at its best in May and June.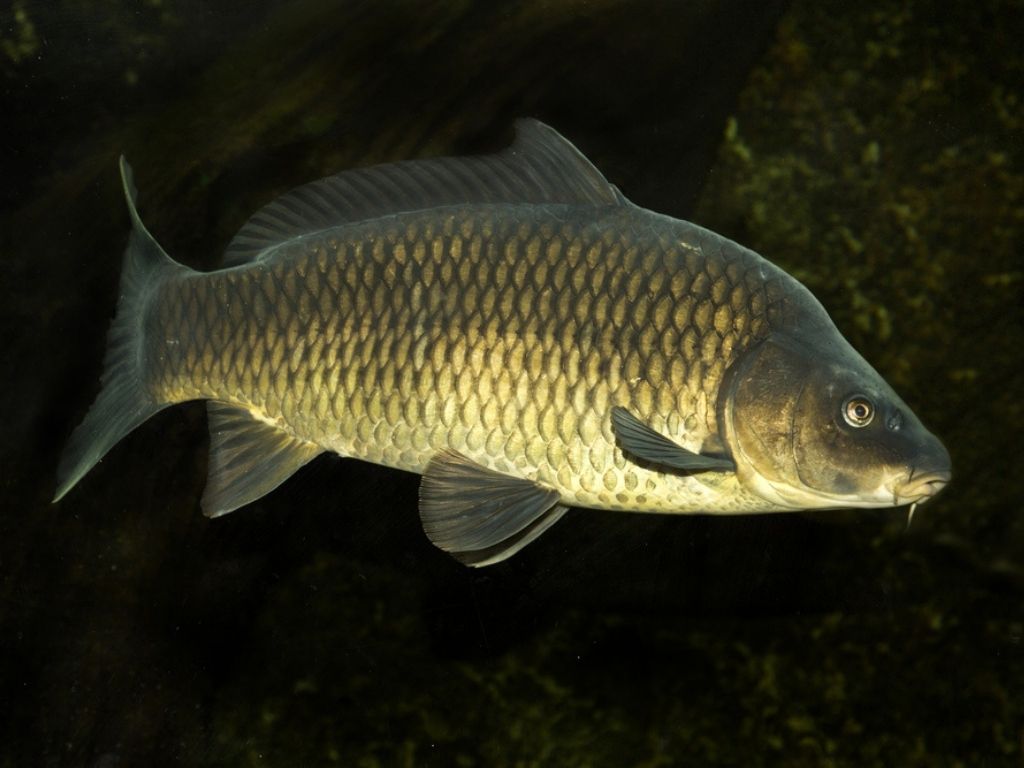 An 8 weight rod is ideal. Carry flies like Carp Bitters, Carp Carrots, Woolly Buggers, Sucker Spawn, and John Montana's Hybrid. Sight casting for carp on a fly rod is a big challenge, but one of the fun things to do when freshwater fishing in New Hampshire.
Best Fly Fishing Spots in New Hampshire
New Hampshire has a fantastic variety of water to fly fish in. Big brawling rivers like the Connecticut hold large trout and landlocked salmon. Shallow, weedy lakes and ponds hold pickerel and largemouth bass. The state's big deep lakes hold some truly large smallmouth bass.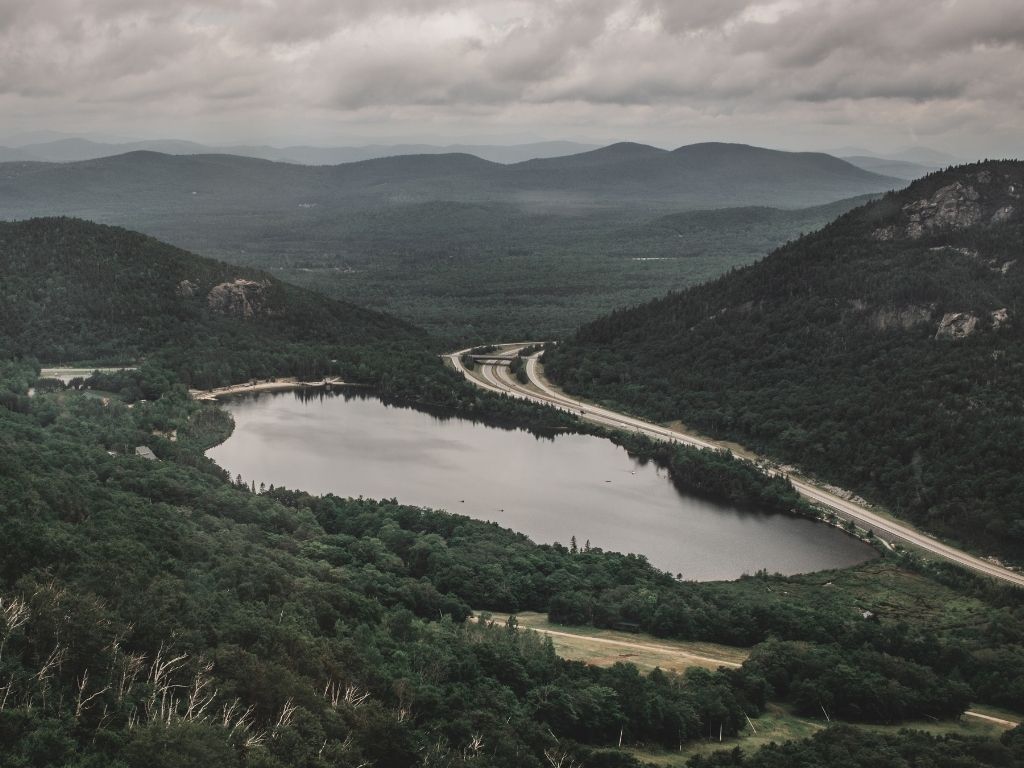 Of course, though small, we should not ignore New Hampshire saltwater fly fishing either. The striped bass fishing can be phenomenal.
Fly Fishing Rivers in New Hampshire
New Hampshire's rivers very greatly. The White Mountains alone have crystal-clear freestones full of granite boulders and waterfalls, along with slow, meandering creeks full of beaver dams and mud.
There are some excellent big rivers with both warm water and coldwater species. The streams in southern New Hampshire have a mix of trout, bass, pickerel and sunfish.
Connecticut River
For purposes of easy comprehension, I'm going to divide the Connecticut River into two separate sections: The tailwater and the warmwater stretch.
Tailwater: From the outlet of First Connecticut Lake to well below the town of Canaan, the Connecticut River is a cold tailwater fed by two dams. The First Connecticut Lake dam forms the short Trophy section, which is a couple miles of boulder filled pocket water loaded with big trout and landlocked salmon.
Below Francis Lake the river is wider and slower, but still full of trout. Some guides offer float trips on this stretch. The tailwaters have brown, brook, and rainbow trout as well as landlocked salmon. Some of the fish are wild. Trophy size fish over 18 inches aren't uncommon.
Warmwater: From where it joins the Passumpsic River on south to Massachusetts, the Connecticut River is primarily a warmwater fishery. Pike, bass, carp, walleye, panfish, and catfish inhabit this part of the river. Shore access isn't bad and some stretches can be fished very well from a small boat.
A kayak or float tube can also get you to the fish in this bigger water. An 8 weight rod and large selection of streamers is ideal here.
Piscataqua River
The Piscataqua is a tidal estuary and provides good fishing for striped bass. Although there's some shore access, it's best to fish this system from a boat. The striper fishing is best from May until October.
Saco River
Flowing through the town of Conway, the Saco River is one of the popular trout streams near the White Mountains. Most of the river's fish are stocked, but some reach sizes of over 20 inches and there are some beautiful wild brown as well.
Dry fly fishing can be fantastic in the spring and early summer, and remains good through September as well. The flow isn't very fast nor the bottom irregular, so wading is easy here. The size of the river also offers ample casting room. A 5 weight is a great all-around rod for the Saco. Bring plenty of dries, nymphs, and streamers.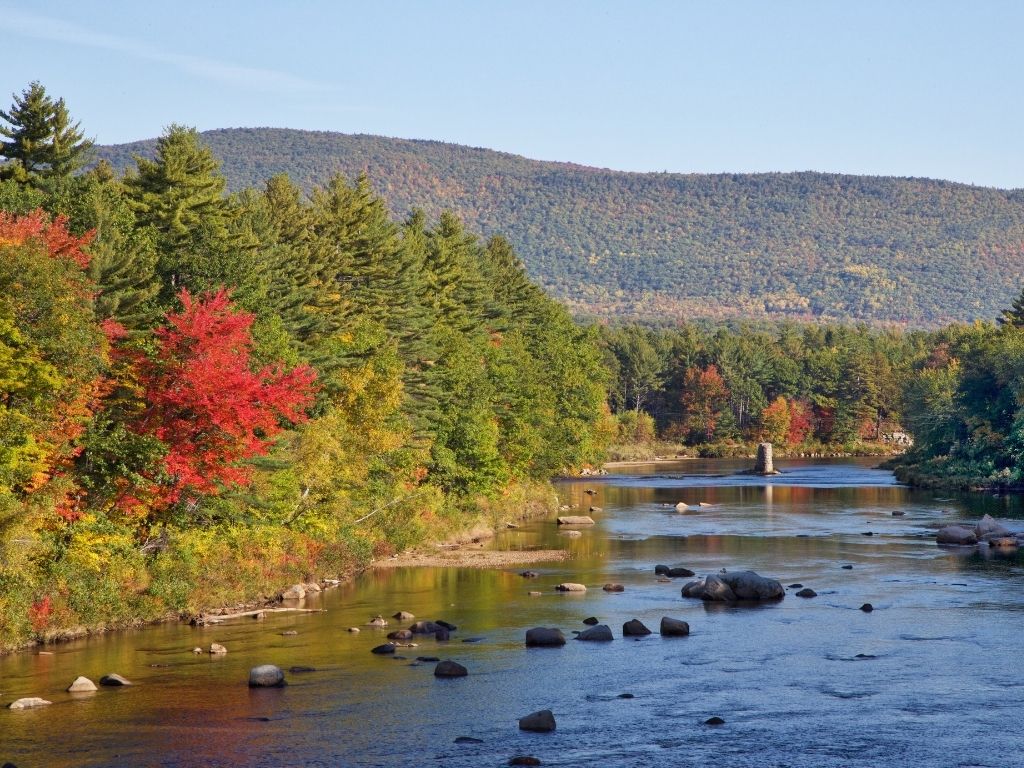 Fishing the river in the spring or fall with streamers can produce some big brown trout. The Saco is considered some of the best trout fishing in New Hampshire.
Pemigewasset River
On the other side of the White Mountains from the Saco in the Pemigewasset. This river has a very different character. It's rockier and faster flowing in most stretches. Above the town of Lincoln, the Pemi has good fishing for wild brook and rainbow trout.
It's extremely clear, so a careful approach is necessary. Casting space can be tight at times. Fish dry flies like beetle and ant imitations or Wulffs. Also carry some buggy nymphs like a Hare's Ear or Prince Nymph. The fish are mostly small and wild, and a 3 or 4 weight rod is the heaviest gear you'll need.
Fly Fishing the Pemigewasset may not produce big fish, but it sure can be a fun experience.
Merrimack River
The Merrimack flows from the town of Franklin south to the Massachusetts border. This river is primarily a warmwater fishery. The Merrimack flows through some of the state's most populated areas. Although many stretches feature heavily wooded banks, much of it is also very much urban water.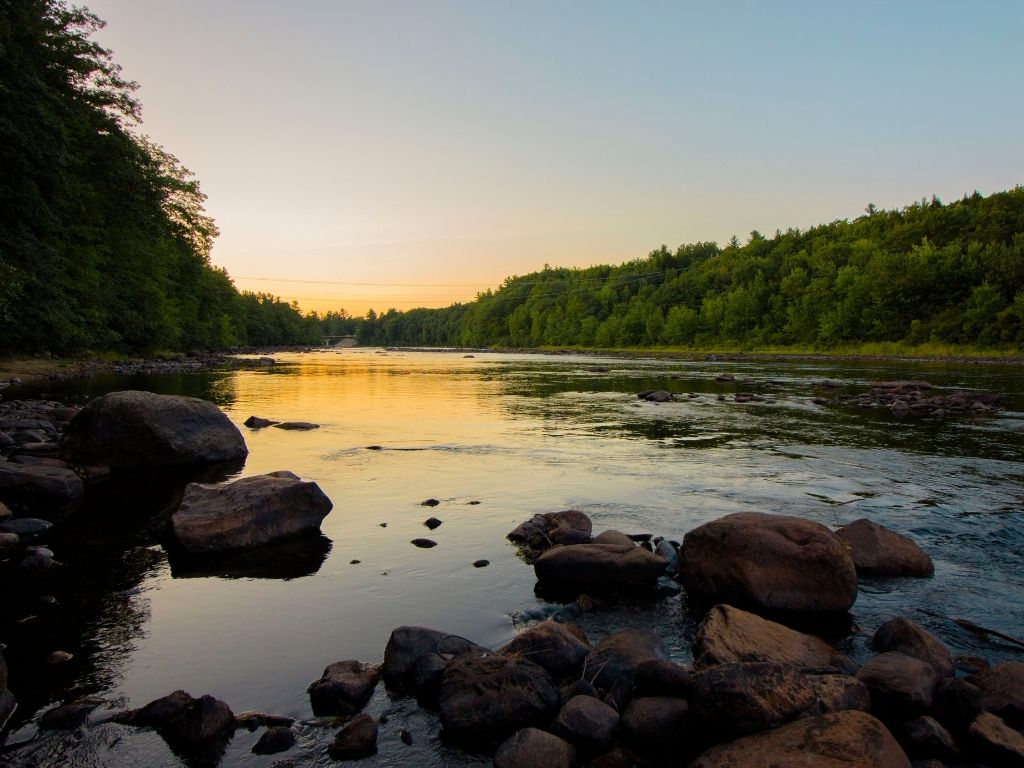 Smallmouth and carp are the headliners here. Search the rocky, faster stretches with Clousers and Woolly Buggers for the bass. Look for tailing carp in the slow, muddy back eddies or flats.
Fly Fishing Lakes in New Hampshire
New Hampshire's stillwaters sometimes get overlooked by fly fishers. That's unfortunate, because there are plenty of lakes and ponds across this state where fly fishers can cast to warmwater species and even trout.
Lake Winnipesaukee
The largest lake in New Hampshire may seem daunting to fly fishers, but it's a great place to visit. The lake holds some trophy smallmouth bass and giant white perch. Lake Winnipesaukee is definitely best fished from a boat. There are plenty of shore access points for those without boats, however.
But if you want to get the most out of your trip to Lake Winnipesaukee, don't count on staying on the shoreline. Getting out on the lake is the best way to find the big bass and panfish. If you want to catch the salmonid species that live in the lake, though, you're in luck.
Fish around the mouths of the tributaries in spring and especially in the fall with streamers to catch landlocked salmon. There's also a chance at lake trout here, though I wouldn't expect one.
Profile Lake
Profile Lake is in White Mountain National Forest, north of Lincoln. This is a small and easily accessed fly-fishing-only lake. It has abundant brook trout to over 18 inches. They can be fished with a 5 weight fly rod. Unless there's a hatch on, small streamers and wet flies work well fished on floating or light sink tip lines.
Vary the retrieves to see what the fish are interested in. If there are rising fish, try dry flies like Hexegenia, Parachute Adams, midges, or terrestrial imitations. This is a great place for stillwater trout fishing in New Hampshire. The scenery around it, a place called Franconia Notch, is incredible.
Sawyer Pond
Similar to Profile Lake, Sawyer Pond is a small body of water with mostly stocked brook trout. Unlike Profile Lake, Sawyer Pond is off the beaten path. Sawyer Pond is a few miles south of Hart's Location in the White Mountain National Forest. This hike-in fishery is perfect for adventurous fly fishers looking for seclusion.
New Hampshire stocks the pond by helicopter since it's miles from the nearest road. Needless to say, visiting and fishing here is not for the inexperienced woodsman. Be sure to do thorough research and be prepared with maps, water, and food along with your fly fishing gear.
Massabesic Lake
Near the city of Manchester, Massabesic Lake is a sizable body of water with plenty of public access. Massabesic Lake is best fly fished from from a boat. The lake is a public water source, so take a look at the regulations before visiting. Fishing for smallmouth bass, chain pickerel, sunfish, and perch in Massabesic lake can be very good.
Bring a 5 to 8 weight rod and floating and sink tip lines. Strip streamers in the deep, rocky areas or cast poppers around the structure. The state also periodically stocks trout in the lake.
Sunapee Lake
Although the rare arctic char that used to live in Sunapee Lake and take its name is now extinct from New Hampshire, the lake is still a good place for fly fishers to visit. Shore access is limited and the lake is a big one, so fishing by boat is the best option.
Sunapee Lake has both largemouth and smallmouth bass and plenty of panfish. There are also landlocked salmon, which can be caught in the fall when they enter tributaries.
Fly Fishing Saltwater in New Hampshire
New Hampshire's shoreline is so small there wouldn't be much point in trying to list five different spots. However, it's worth a mention. There's great fishing for striped bass throughout the spring, summer and fall. Try spots around Hampton Beach and Portsmouth.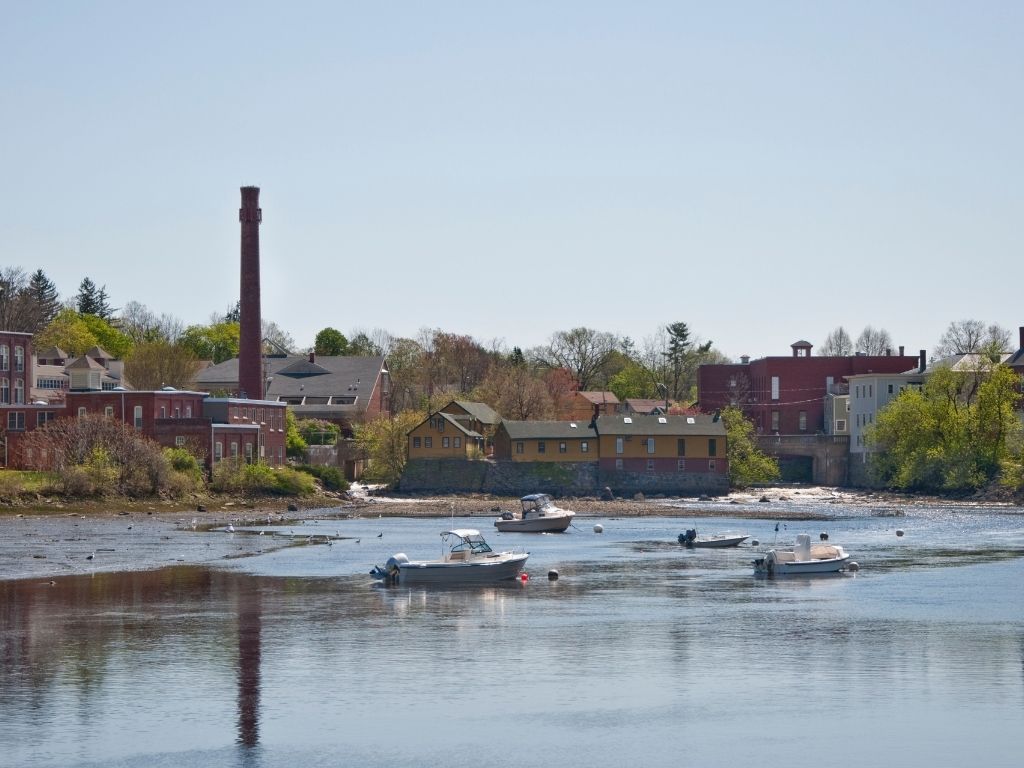 Fishing can be good both off the beaches and in the tidal creeks. Saltwater fly fishing in New Hampshire is not often talked about. However, if you are in the area, make sure you have an 8 or 10 weight and some classic striper patterns!
New Hampshire Fishing Season
There's decent fly fishing all year round in his state. However, the best New Hampshire fishing season is certainly from early spring to late fall. Hatches are great through spring and summer for good dry fly fishing, landlocked salmon run in the fall, and even in the winter some big brown trout could be caught.
The trout season in most New Hampshire rivers is open from January 1st to October 15th.
New Hampshire Fly Fishing in December-February
This is a rough time in the frozen North. Little more than trout fishing is worth trying in the winter months here. In some select streams, dredging big streamers in January and February could produce a bruiser brown trout.
Try flies like Coffey's Sparkle Minnow or the Full Pint on heavy sink tip lines. Woolly Buggers fished under an indicator can work too.
New Hampshire Fly Fishing in March-May
Spring is a much more pleasant time, though it comes later the farther north in the state you go. Some small streams might not be very accessible until mid April. At first, streamers and nymphs are best for most trout fishing. Come May though, the hatches are in full swing.
Bass, carp, and pike become much more active as well. May also sees the first striped bass blitzes of the year along the coast. May fly fishing in New Hampshire is as chaotic as it is anywhere.
New Hampshire Fly Fishing in June-August
Summer is a glorious time for fly fishing in New Hampshire. Some of the best hatches happen in June in Saco and Connecticut. The brook trout fishing in small streams is great during June and July in the White Mountains. Be careful fishing trout ponds, though, as they warm up to a point where trout fishing puts the fish at too much risk of dying.
Bass fishing with poppers is fantastic in July. Fish around rocky shoals and around shoreline structure for big largemouth and smallmouth bass. The striper fishing is excellent in the summer.
New Hampshire Fly Fishing in September-November
New Hampshire fly fishing in the fall can be fantastic. If you're fishing a river on or after October 15th, make completely sure that you're on legal water to do so, as most are closed to trout fishing. In the fall, landlocked salmon move out of lakes and into tributaries and can be caught on streamers.
Striped bass make their annual migration back south and blitz along the shoreline into October.
Best Fly Shops in New Hampshire
Fly shops are spread out in New Hampshire, and it isn't always easy to find one. Here are a few to get you started.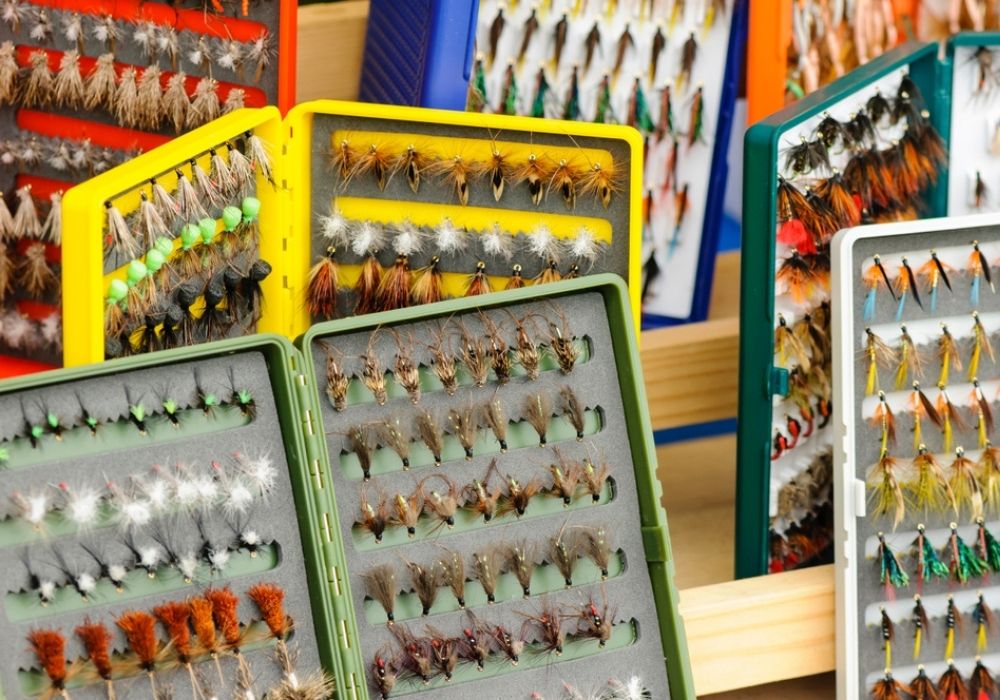 Stone River Outfitters
This fly shop in Amherst is well stocked with flies, fly tying materials, and gear. It's family owned and located in the southern part of the state. It is a good place to visit before fishing the Merrimack River or any southern New Hampshire streams or ponds.
Mountain High Fly
This fly shop in Lincoln opened in 2016 and has become very popular. It's a must-visit for anyone fly fishing in the White Mountains. Mountain High Fly is a good stop for a local New Hampshire fishing report or to stock up on gear before fishing local streams or heading up to the Connecticut River tailwaters.
North Country Angler
On the other side of the White Mountains in North Conway is North Country Angler, another small fly shop in operation for over 50 years. They carry a great selection of trustworthy brands. North Country Angler sits just 5oo feet from the Saco River.
Conclusion
New Hampshire is an excellent fly fishing state. The trout streams are beautiful and numerous. There are wild brook trout in abundance in some of the small mountain streams. Finding a large wild brown isn't out of the question either.
Warmwater fishing for bass, panfish, and other species can be phenomenal in many of the state's lakes and rivers. The saltwater fishing is often ignored, but produces some great striped bass. And the scenery? Spectacular! There is nothing else in the Northeast like the splendor of the White Mountains.
Fly Fishing in New Hampshire is a great experience. This state is worth adding to your bucket list.
Amazon and the Amazon logo are trademarks of Amazon.com, Inc, or its affiliates.