As an Amazon Associate I earn from qualifying purchases.
The fly fishing in Michigan is underrated and a whole lot of fun. For fly fishermen and women who enjoy seclusion, it's one of the best places in the US. Anglers have access to more miles of rivers than any state in the country. These blue-ribbon waters are home to fish that anglers dream of catching.
Its northern location makes it a less common state to visit. Unlike Montana and Wyoming, whose waters are often crowded, Michigan provides seclusion that few other fly fishing destinations can offer.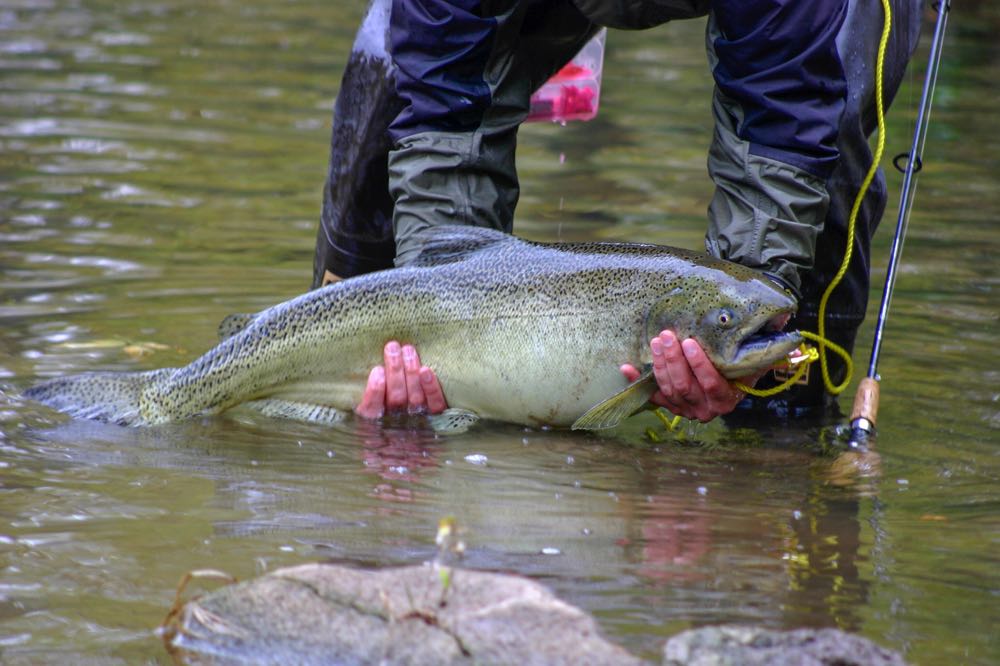 I grew up a few states away from Michigan, and it took me a little while to finally make a fly fishing trip. I'll never forget that spring my family finally packed up the camper van and headed out.
From rainbow trout on the Au Sable to muskie in Lake St. Clair, the fish we caught were truly spectacular. And we didn't even make it to the famed Upper Peninsula on that first trip!
After that first trip, we realized how important it was to make an annual visit. We haven't even come close to experiencing all of the angling opportunities Michigan provides because we keep visiting the same incredible spots every year.
As a part of the Amazon Associates Program and other affiliate programs, Into Fly Fishing® may receive a comission if you order products through links on this website.
What to Pack for Fly Fishing in Michigan
Here are a few of the essential items for any fly fishing trip. These have all come in handy during my many trips to Michigan, as there are so many different styles of fishing in the state.
Why Is Michigan Fly Fishing So Great?
Michigan is a great state to visit regardless of whether or not you're fishing. You can bring the entire family and find fun for everyone. Combine this with the plethora of fishable water, and you'll be in heaven.
Michigan Fish Species
Trout, steelhead, salmon, bass and muskie roam the waters of Michigan. These fish are found in astonishing numbers, and I've always been able to catch them.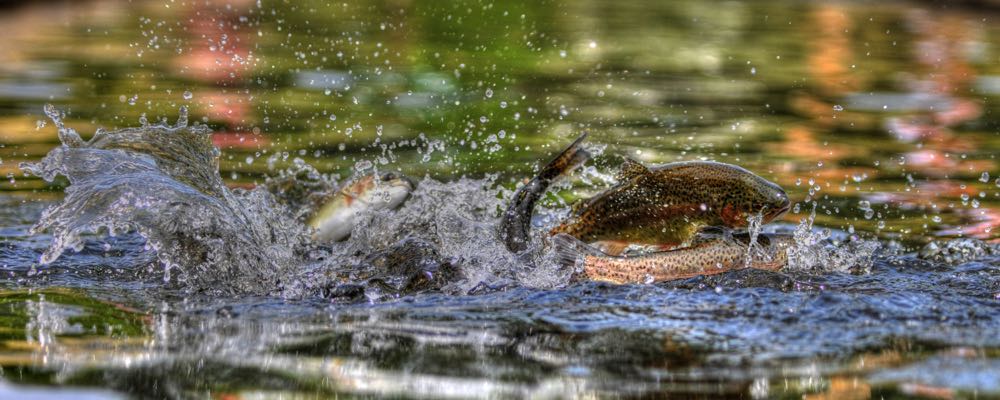 You can spend a lifetime targeting each one of these fish, but be sure to keep an open mind and target all of them at some point. Each requires a different technique and puts up impressive fights.
Here are the specific fish you can find in Michigan. I've hooked into all of them in various places throughout the state.
Brown Trout
Brown trout are most commonly found in northern Michigan. The lake-run browns are more silver and the spots are difficult to identify. I've found these fish up to eight pounds throughout the inland waters.
To catch these fish, use Rusty Spinners and Mahogany Duns. Woolly Buggers and Zonkers are also smart to use. Some common places to catch these are the Au Sable, Pere Marquette, and Manistee Rivers.
Bring your 5 or 6-weight to catch these fish!
Brook Trout
Fly fishing in Michigan for brook trout is very common in the Upper Peninsula. These native fish are usually found around 10 or 11 inches throughout Michigan streams.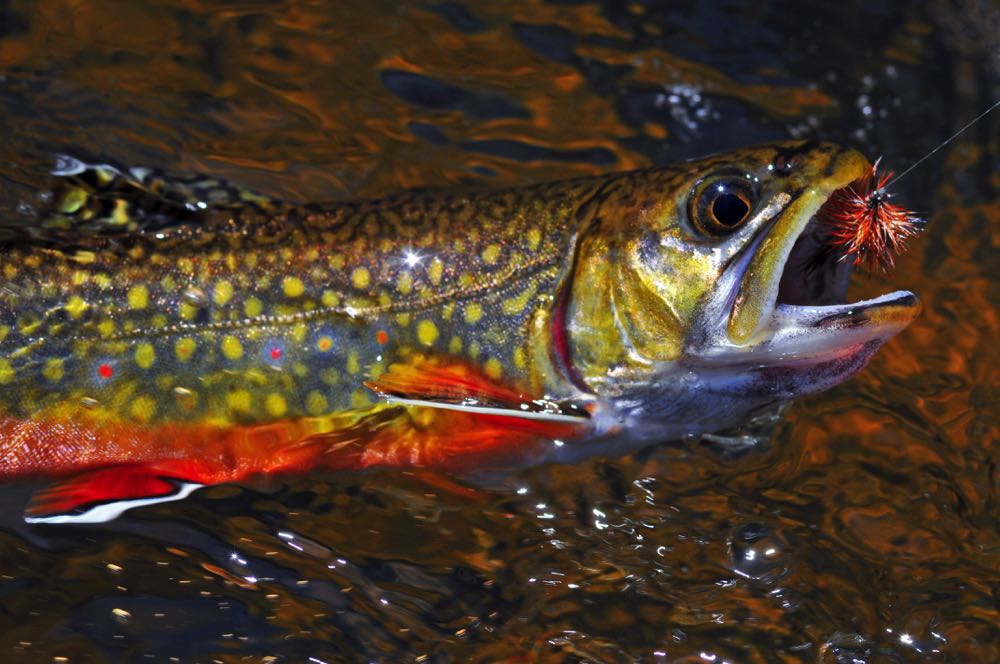 I've found them all throughout the Black River system, but they're common in almost every trout fishery in Michigan. Pheasant Tail Nymphs, Elk Hair Caddis, and Adams flies work. Bring your best 4 weight fly rod or a 5-weight to catch these fish.
Rainbow Trout
Rainbow trout were introduced to Michigan from California in 1876. They were first placed in the Au Sable and can still be found there today. I've hooked into fish around 10 pounds throughout the streams.
If you're fly fishing in Michigan state, you'll catch these fish in the Fox, Jordan, and Pere Marquette. I've had success using Adams, Green Caddis, and any Prince Nymph pattern to catch these fish. You'll need your 5 weight fly rod or a 6-weight to land these rainbows.
Steelhead
Steelhead can be caught in Michigan from October to May. These fish are typically caught between six and seven pounds. These lake-run rainbow trout are known for strong fights and impressive strikes.
To catch steelhead, visit the Dowagiac and Pere Marquette Rivers. These fish will eat egg patterns and Pheasant Tail Nymphs. When I'm targeting them, I typically use a 7 or 8-weight with 2x leader. They're a gorgeous fish!
Salmon
Salmon fishing in Michigan is the most productive from September through October. I've run across king and coho salmon in the Lake Michigan tributaries. These fish can grow upwards of 15 pounds.
To catch these fish, visit the St. Marys, Muskegon and Manistee Rivers. You'll need to use Egg Sucking Leeches, Intruders, and Chicken Littles. These are bright flies that bring out angry strikes from the salmon.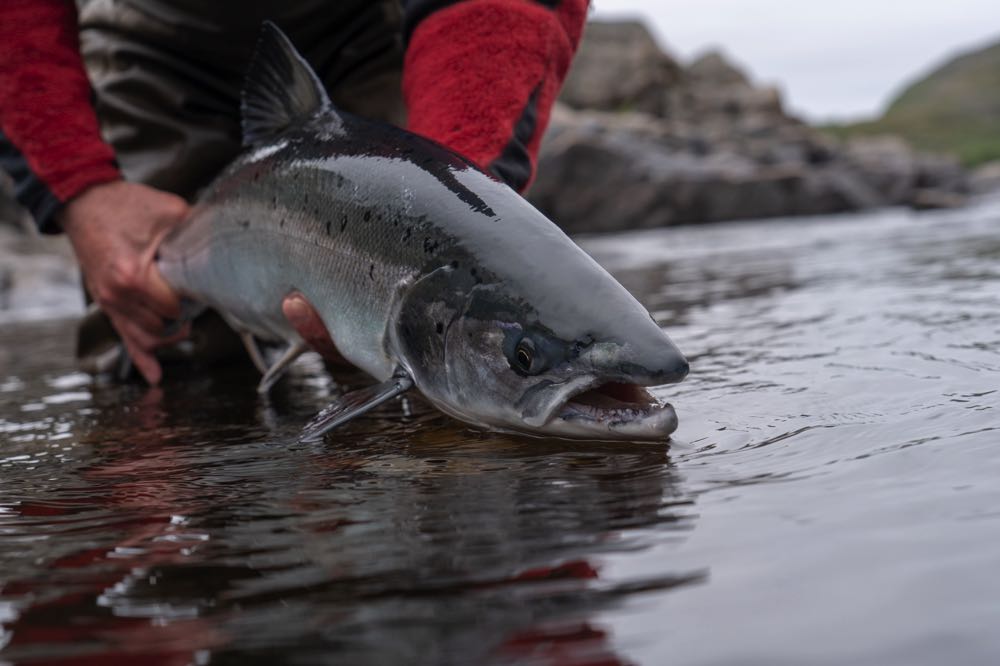 In order to catch salmon, I swing or dead drift the streamers. A good technique is to cast upstream of a pool and let the fly drift into it. Wait for a strike at the beginning of the pool because this is where the fish most often sit.
Bass
Smallmouth bass are often found throughout the rivers in Michigan. Pound for pound, these fish are some of the best fighters you can find. You'll definitely want your 7 or 8-weight to handle these fish.
The Menominee, Thunder Bay, and Shaiawassee Rivers are great places to visit if you're in pursuit of smallmouth bass. They'll eat Murdich Minnows, Boogle Bug Puppers, and Bennet's Lunch Money flies.
As the waters in Michigan warm throughout the summer, the smallmouth bass fishing improves.
Muskie
Muskie aren't a common fish caught in Michigan, but there are certain areas that hold solid populations. These fish are amazing to target on the fly. You'll work hard to catch one, but you won't regret the effort.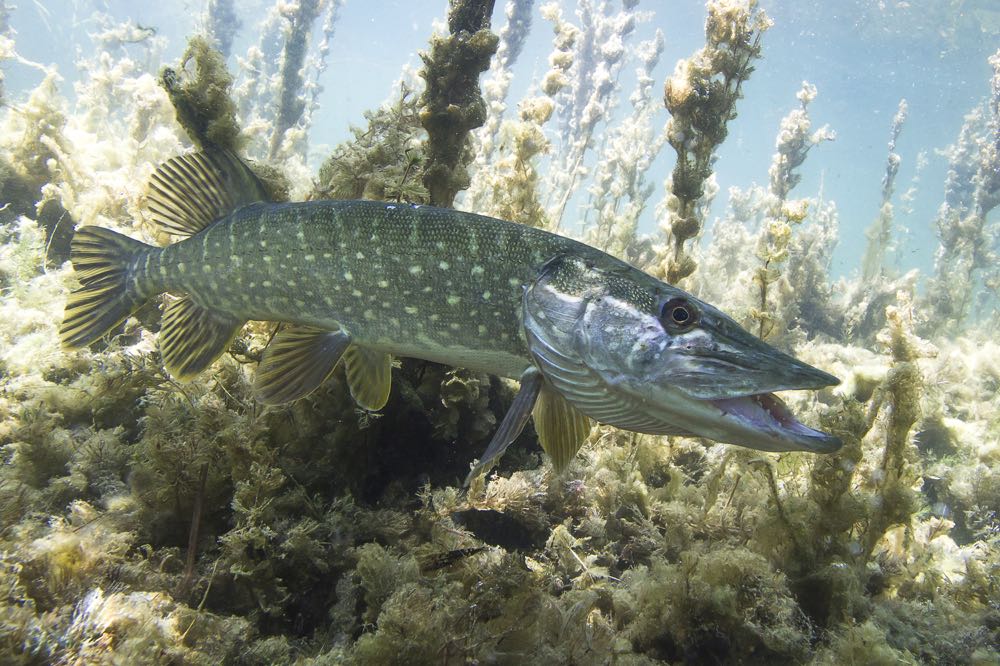 I've caught muskie in Lake St. Clair, Lake Hudson, and Thornapple Lake. The rivers and tributaries that run out of these lakes hold muskie as well.
Bring your 9 or 10-weight to catch these fish. Use 0x leader with Double Bufords, White Bastards and Tandem Baitfish flies.
Best Spots for Fly Fishing in Michigan
There are thousands of lakes and rivers to choose from in Michigan. During my many fly fishing expeditions, I've fished small creeks, wide rivers, and remote lakes. It's not hard to find plenty of fish in the majority of fisheries in Michigan.
You can stay secluded or fish right in the heart of a city. You won't be bored with any of the places you cast a fly rod in Michigan.
Best Rivers in Michigan for Fly Fishing
The amount of moving water in Michigan is overwhelming. It's extremely difficult to know where to fish, but stay confident that almost every river holds large fish. Take your pick and be ready!
Au Sable River
Directions: Au Sable River, MI
Seeing this river on the list is no surprise for any Michigan angler. The Au Sable is always going to be worth your time. It's the first river I headed to in Michigan, and for good reason. It's spring-fed, holds wild trout and the hatches are impressive.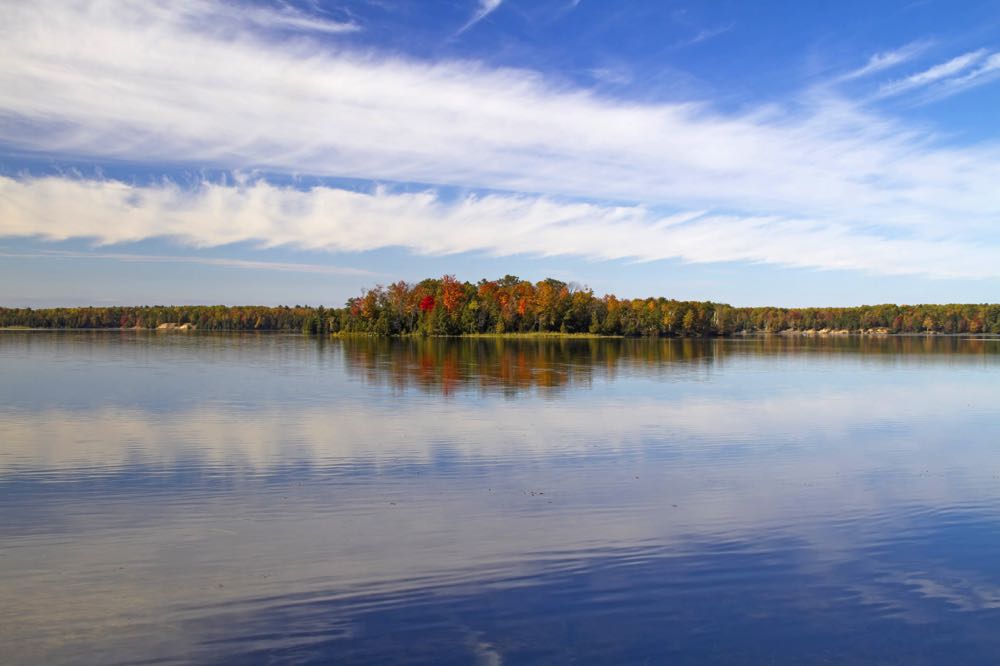 When fishing the Au Sable, take advantage of the brook and rainbow trout fishing. These can grow very large and are more than willing to eat. The dry fly fishing is top notch!
To catch fish on the Au Sable, bring your 7-weight with nine-foot leader and 6x tippet. Hendrickson patterns are a successful pattern. Also, Rusty Spinners and Mahogany Duns work to catch fish.
The Au Sable takes time to learn. While there are large fish populations, they can be a bit picky and expect natural presentations. Keep your casts accurate and stay focused!
Betsie River
Directions: Betsie River, MI
The Betsie provides anglers with some of the best salmon and steelhead fishing in the entire country. In my experience, the trout fishing isn't all that great, but the steelhead and salmon runs are downright fun. These fish can be caught from August to May.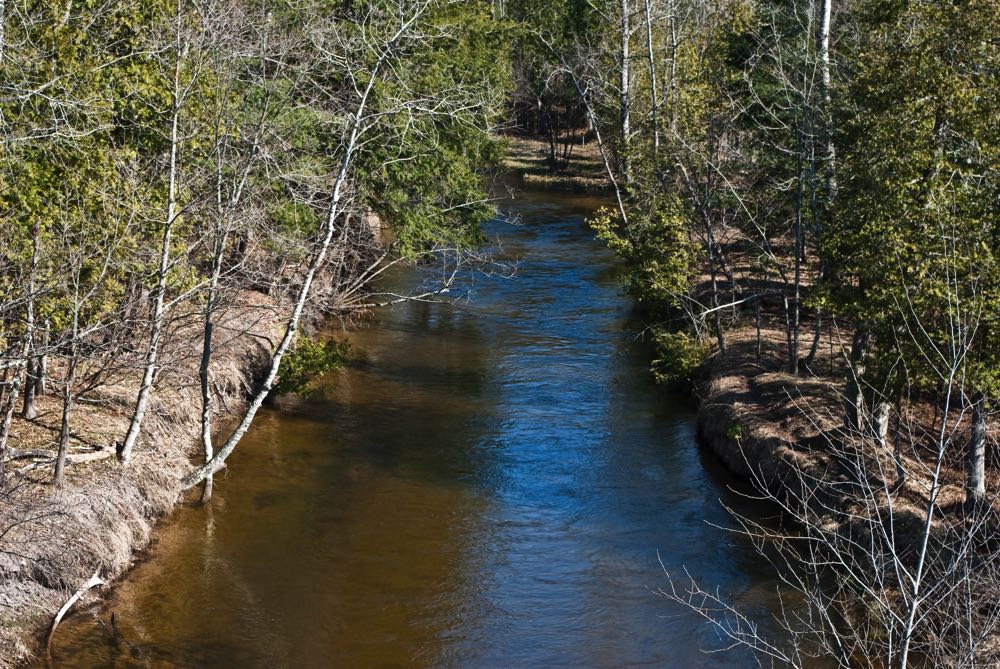 Access is plentiful on the Betsie, so don't worry about finding a place to fish. Bring your waders because casting lanes can be difficult to find. The wooded shorelines can cause headaches.
Bring your 7 or 8-weight rod with 12-foot leader and 2x tippet. Dark leech patterns with flash, egg patterns, and Egg Sucking Leeches always work on the Betsie. Dead drift or swing those streamers!
Pere Marquette River
Directions: Pere Marquette, MI
The Pere Marquette River is one of the blue-ribbon trout waters in the state. You'll also see runs of king salmon in the river starting in October. This river is a must-visit for anyone looking to fish in Michigan.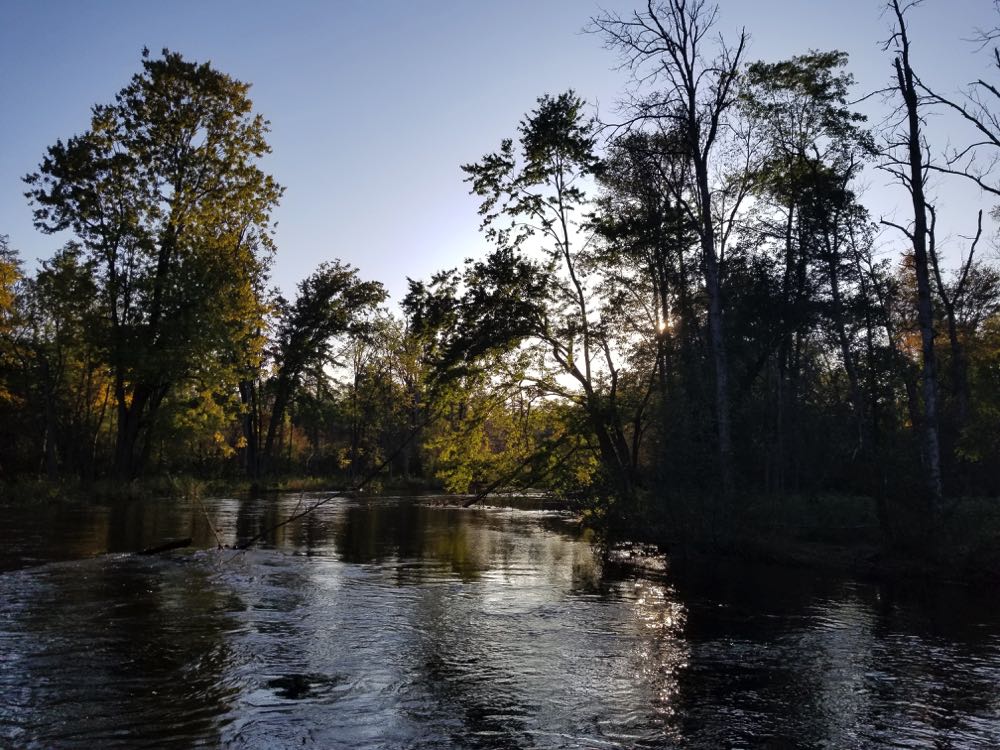 You'll want to visit this river during the salmon run. Catching trout on the fly is entertaining, but nothing compares to salmon on the fly rod. Access is plentiful and you can find locations to fish from shore.
Bring your 8-weight if you're fishing for salmon or your 5-weight if you're targeting trout. Sinking tip line will work for the salmon and weight forward is best for trout.
I like to use Egg Sucking Leeches, Intruders, and Chicken Littles when fishing for salmon. For trout, throw Black Stone Flies, BWOs, and Sulphers. The Pere Marquette will challenge you, but patience always wins.
Manistee River
Directions: Manistee River, MI
The Manistee is an extremely unique fishery that will challenge anglers of all skill levels. The several times I was there, I hooked into steelhead, salmon and brown trout.
The steelhead are most often caught from September to May and the salmon are present from July to October. Trout are caught year-round on a variety of different flies.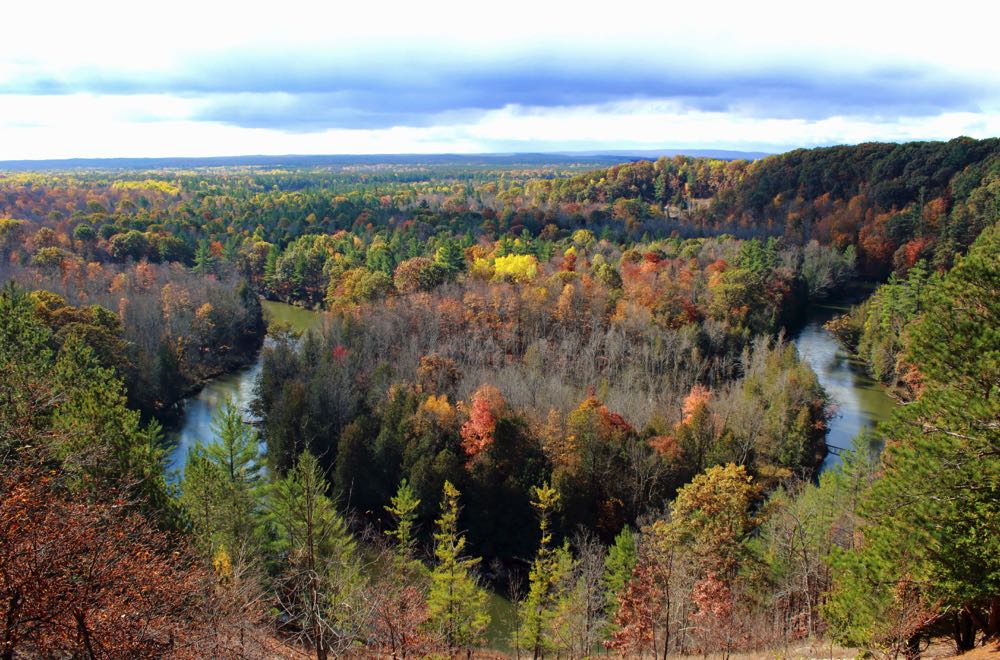 I recommend fishing this river with a pair of waders. You'll want as much access to this river as possible. There are numerous pools and pockets around every bend, so it's best to be as prepared as you can.
Bring your 8-weight with 2x tippet for the steelhead and salmon. Use sinking tip line for these fish. Egg Sucking Leeches, Deceivers, Woolly Buggers, and Cluster Minnows will work. Dead drift them through the pools.
Bring your 5 or 6-weight for the trout. These fish like to hit Black Stone Flies, Prince Hair Nymphs, and Adams flies. Weight forward line will do the trick along with 6x tippet.
Muskegon River
Directions: Muskegon River, MI
The Muskegon River is a must-visit for anglers in Michigan. The wide flowing waters are great for spey rod fishing. I've found chinook salmon, steelhead and trout all throughout its waters.
If possible, fish this river via drift boat. The heavily forested banks make it difficult to find casting lanes. The drift boat will give you access to some untouched waters.
Use your 8-weight rod in the Muskegon. This will work for the trout as well as steelhead and salmon. Caddis, mayfly, midge, and egg patterns all work in the "Mo."
The Muskegon also hosts a large population of smallmouth bass. The warm waters from July to September draw the bass in, and fly anglers have a blast catching them. Poppers and minnow patterns are best to use for bass.
Best Lakes in Michigan for Fly Fishing
Due to the hundreds of quality rivers, most fly anglers don't even think about fishing the lakes. As a result, these fish rarely see flies and when they do, they'll eat them.
Depending on what type of fishing you'd like to do, you can fish for trout, bass, and muskie. Lake fishing in Michigan is of the same quality as river fishing.
Lake Michigan
Directions: Lake Michigan, MI
Yikes, all of Lake Michigan. Yes, this is a bold choice, but it's a must-hit for any fly angler. You can catch trout, bass, carp, steelhead, and salmon out of the lake. Anglers have a field day targeting all of the fish in Lake Michigan.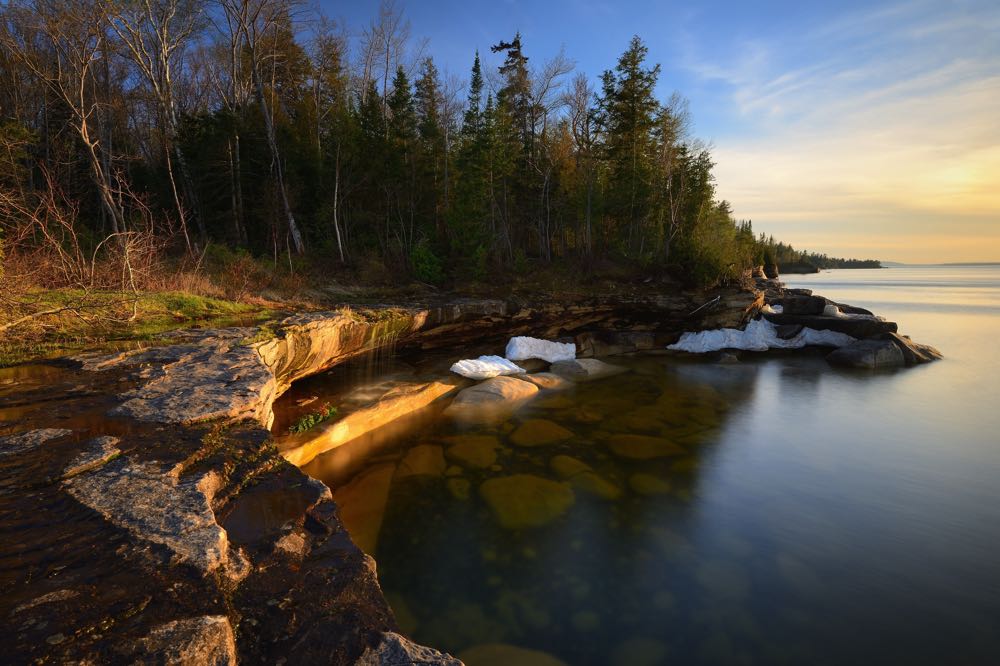 Obviously, if you can fish this lake by boat, do so. However, there are over 180 miles of shoreline that you can fish. Access is plentiful and casting lanes are generally open. Find areas with drop-offs close to shore and you'll be in business.
It's best to carry your 8-weight around Lake Michigan. You never know what is going to strike so it's smart to be prepared. Bring 0x tippet and sinking line to reach the depths where most fish like to congregate.
Fly choice depends heavily on the fish you target. However, minnow, crayfish, and leech patterns are always going to have success. Streamer fishing is the way to go. Vary your retrieve speed and see what the fish like.
Lake St. Clair
Directions: Lake St. Clair, MI
Lake St. Clair is often overshadowed by Lake Huron and Lake Erie. However, the smallmouth and muskie fishing is top-notch. You can begin fishing St. Clair as soon as the ice is out.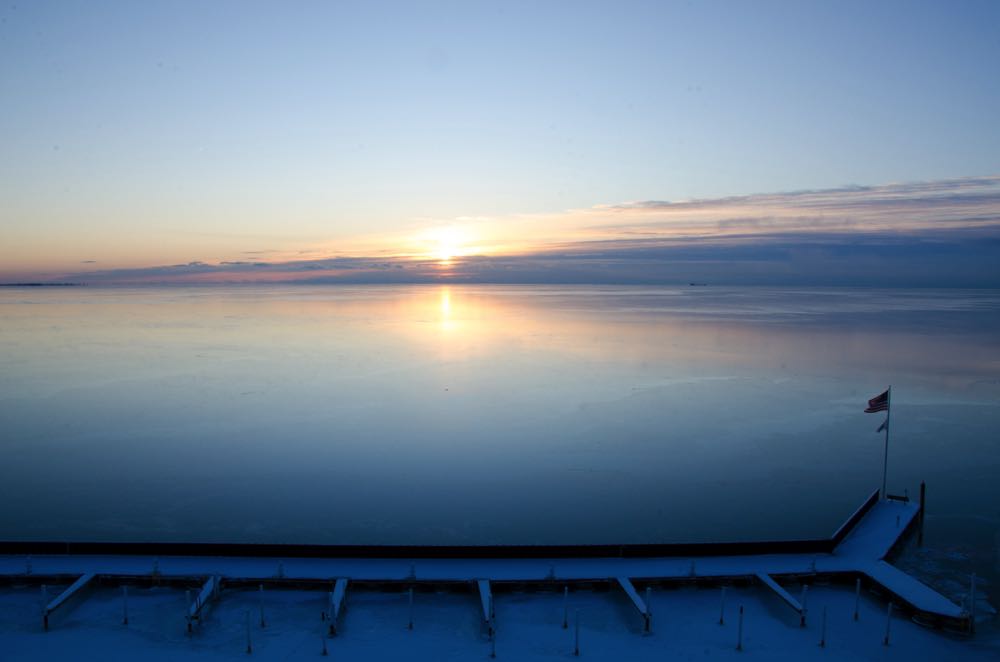 This lake is best fished from a boat, but there is plenty of shore access if you prefer to fish on land. Bring some waders so you can a few more feet for your casting lanes. Also, the water is clear, so bring your sunglasses to sight fish.
Your 8-weight rod with 0x tipper and sinking tip will help you catch the bottom feeders. It's not bad to bring your weight forward line in case any of the fish are higher in the water column.
Bucktail Deceivers, May's Identity Crisis, Tungsten Jig Buggers and Cowen's Baitfish patterns will all work. Baitfish are the name of the game in Lake St. Clair.
Singer Lake
Directions: Singer Lake, MI
Singer Lake is on here for one reason: to enlighten anglers on the massive amount of small trout fishing lakes in the state of Michigan. There are hundreds of small lakes in northern Michigan that are regularly stocked with trout.
These rainbow and brown trout are most often found around 15 or so inches. If possible, visit these lakes because they're rarely visited and the fish are eager to eat. The lakes are best fished by a small Jon boat, canoe, or kayak. The more access you can have, the better.
Bring your 5 or 6-weight to these lakes because you have the potential to catch bass and pike. Bring weight forward line and always have baitfish streamers on hand. In my experience fishing Singer Lake and other small lakes in Michigan, Woolly Buggers, Cluster Minnows, and crayfish patterns seem to work well.
Do your research on Michigan's DNR website and see what trout lakes you can find.
Trout Lake
Directions: Trout Lake, MI
Trout Lake is located near the Upper Peninsula and provides anglers with a true northwoods experience. You'll find bass, crappie, and pike in the lake. It's a great place to bring the family as well as your fly rod.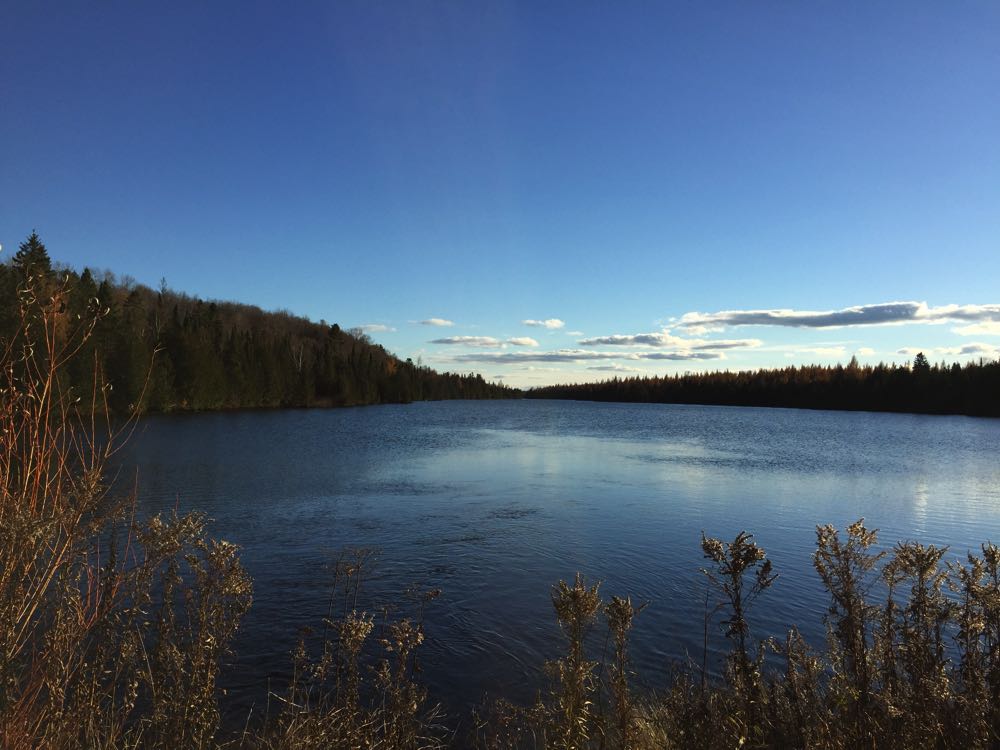 If possible, fish this lake via boat. There are wonderful spots to fly fish near the middle of the lake. However, shore fishing is possible if you're willing to wade in a bit. The shores are covered in trees so the casting lanes are tough to find.
Bring your 7 or 8-weight with sinking line. Pack your weight forward line as well in case the fish are near the surface. Either way, you should be able to find fish. Crayfish and minnow patterns, as well as Woolly Buggers, work in Trout Lake.
Black Lake
Black Lake is a perfect place to target pike and muskie. These fish are mean and love to hit your fly as hard as they possibly can. There aren't many lakes in Michigan filled with muskie, so Black Lake well worth the trip if that's the fish you're after.
I've had the most success fishing this lake from a boat. The muskie hang out near different rock piles and points in the lake. Shore fishing is possible, but it's not nearly as productive as it would be on a boat.
When pike and muskie fishing, I use a 9 or 10 weight rod with sinking tip line and 0x tippet. You need to be prepared to provide these fish with quite a bit of action. They like to hit flashy streamers.
Snake Charmers, Musky Moneys, CF Baitfish Flies and CF Whistlers will help you find the muskies. Remember, the more action the better with pike!
Michigan Fishing Season
Fly fishing in Michigan is productive all year round. Many of the streams and rivers don't freeze, but access can be a nightmare due to the massive amounts of snow. Also, be careful of the runoff in the spring!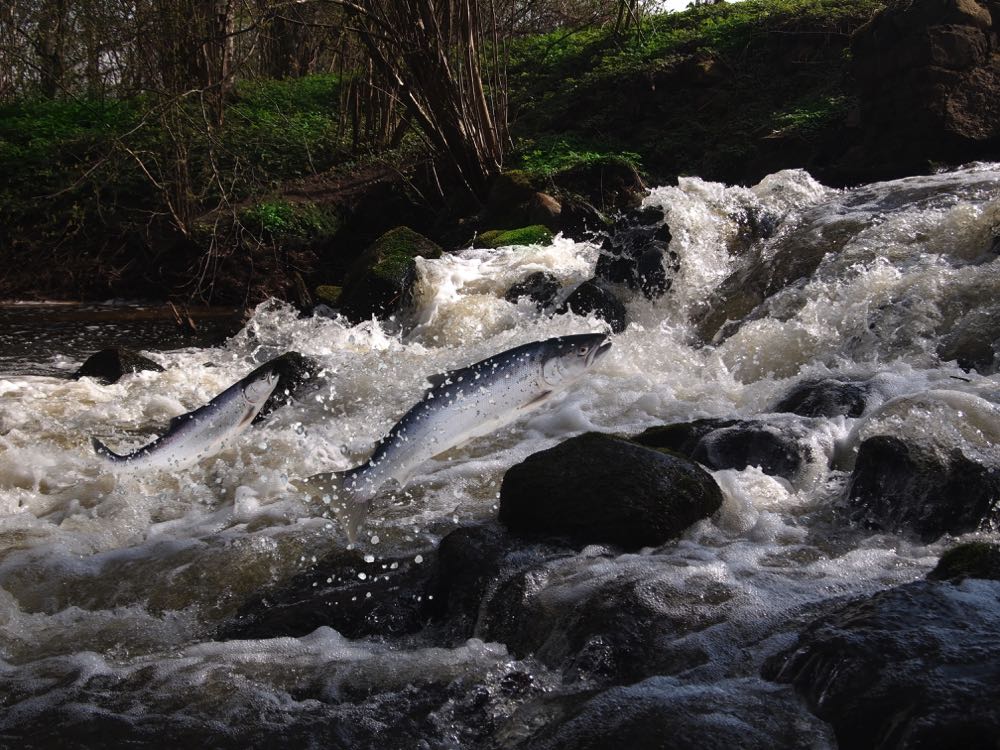 The official fishing season in Michigan is usually year-round, but some exceptions are made for specific species in different types of lakes and streams where fishing is limited during certain months.
Michigan Fly Fishing in April
April can be a tricky month to fly fish Michigan. Depending on the temperatures, you may be dealing with high amounts of snowmelt. If not, then the fishing should be solid.
Steelhead are in full run mode in April so be sure to not miss out on this opportunity. Remember your large nymphs and Woolly Buggers. Dead drift those nymphs and streamers and see what happens.
Michigan Fly Fishing in May
Snow runoff is in full swing by May and the steelhead run is coming to a close. This may be a better month to try and hit some of the lakes on the list. The ice will be off and they're great places to keep your casting skills sharp.
Use your sinking tip line with baitfish streamers. Fish these a bit slower. The fish are still warming up so they aren't as aggressive as they will be by the time June comes.
Michigan Fly Fishing in June
Michigan fly fishing in June is wonderful. The waters clear and the fish are ready to feast. Be sure to hit the rivers with higher populations of trout. The salmon don't begin running until July and the steelhead are pretty much gone.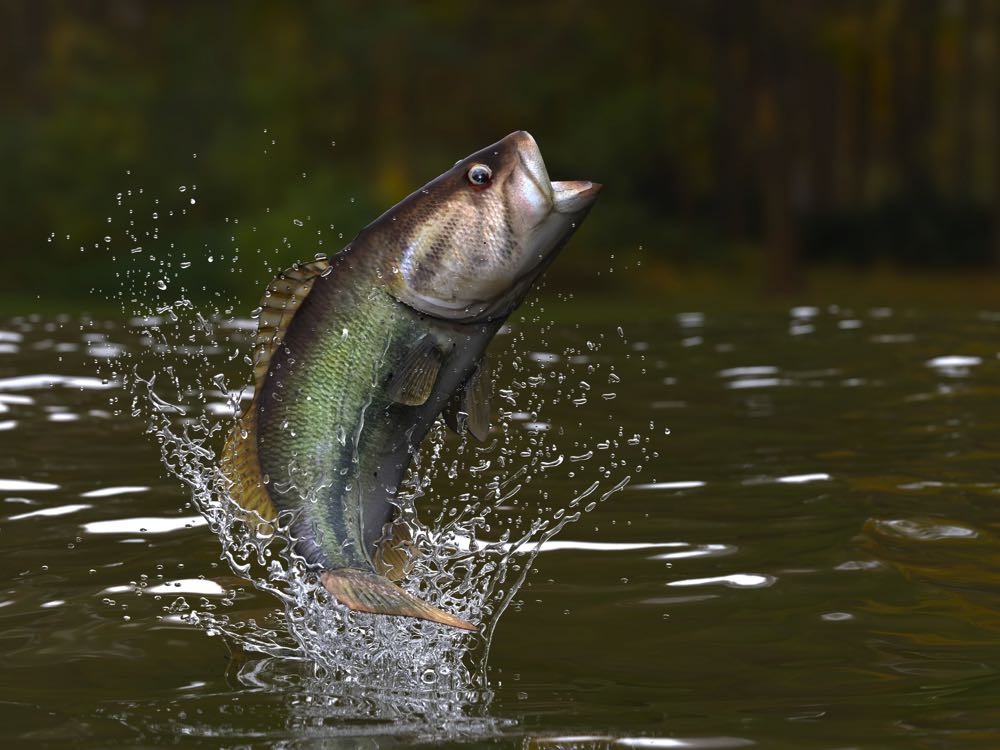 Little Mahoganys, BWOs, Little Black Caddis, and Caddis flies all work in June in Michigan. Take advantage of the dry fly bite! You've been waiting for months to start dry fly fishing again.
Michigan Fly Fishing in July
Salmon begin to run in July. Therefore, it's time to bring out your 8-weight and egg patterns. If you're struggling to find salmon, the trout are still biting. Caddis, sedge and sulphur flies will be in full hatch.
Terrestrial season will begin at the end of the month. Every angler waits for this season to start. Be ready to participate!
Michigan Fly Fishing in August
The salmon are still running in August, so keep working with the 8-weight and streamer patterns. The trout often are neglected during these months, so don't forget to target these every once in a while.
Trout will eat the eggs that the salmon drop, so egg patterns work very well! Also, Woolly Buggers and Cluster Minnows will catch fish. Fish the slower sections of the river with terrestrial flies. They're falling off the vegetation into the water.
Michigan Fly Fishing in September
Salmon are continuing to run in September. The leaves are changing, temperatures are dropping and the bite is heating up. Take advantage of one of the last warm months in Michigan.
Michigan Fly Fishing in October
The salmon will be finishing their run and the trout bite heats up once again. Midge flies are the best flies to use in October. The temperatures are dropping and the fish aren't as aggressive.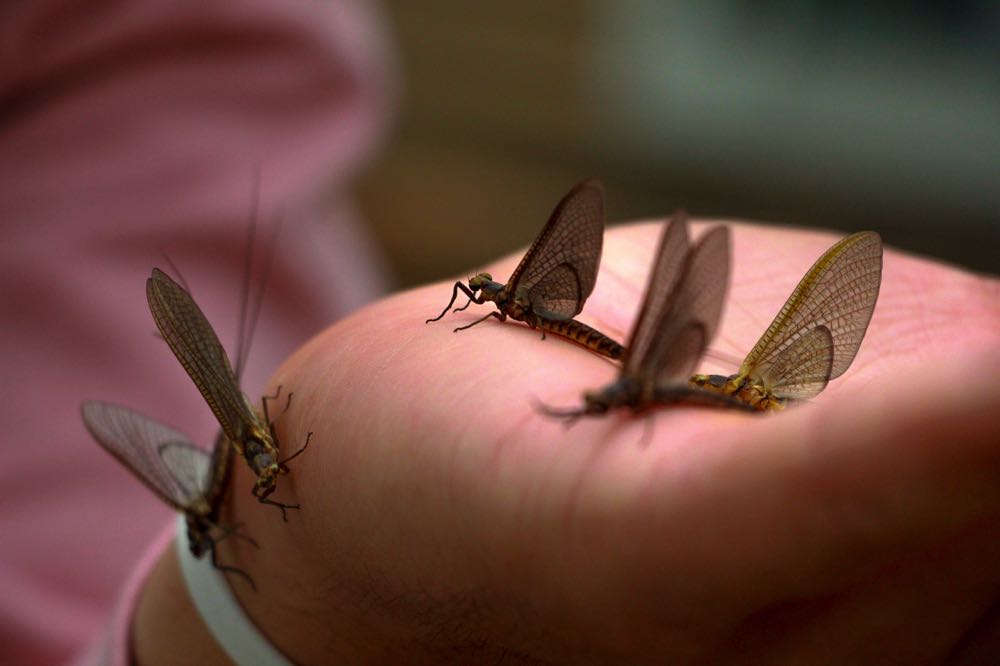 Fish midge nymph patterns and see what you can find.
Best Fly Fishing Lodges in Michigan
Michigan has a wide variety of fishing lodges for anglers. These are great to visit if it's your first time fishing Michigan. The guides will give you all the information you need to be successful.
Au Sable Riverview Resort
This lodge is located directly on the Au Sable. The guides provide insight into the quirks of the Au Sable and always put you on fish. Standard double rooms will cost you around $120 a night, and you can organize guided trips at Gates Au Sable (a different hotel) for around $425 per day for two people.
Pere Marquette River Lodge
The Perf Marquette River Lodge is a must for anyone looking to fish the Pere Marquette. You'll have access to 1,000 feet of private water plus all over the lakes and rivers surrounding the lodge. The Orvis endorsed lodge is a must-visit in Michigan!
Gray Drake Lodge
The Gray Drake Lodge is located on the Muskegon River and provides anglers with a chance to find steelhead and coho salmon. A day of fly fishing for two people will cost around $450 and lodging is around $80 per night.
Conclusion
Before you claim any other state as the best place to fly fish in the United States, be sure you visit Michigan. It'll rival any place you fish throughout the rest of the country.
It certainly surprised me. The fly fishing in Michigan is so good that a one-off visit with my family turned into a yearly tradition. And I know that there's still so much left for us to explore.
The massive fish along with unique waters make Michigan the ideal place to fly fish. Don't go another season without visiting "The Glove."
Some images in this post are courtesy of Shutterstock.
Like This Article? Pin It!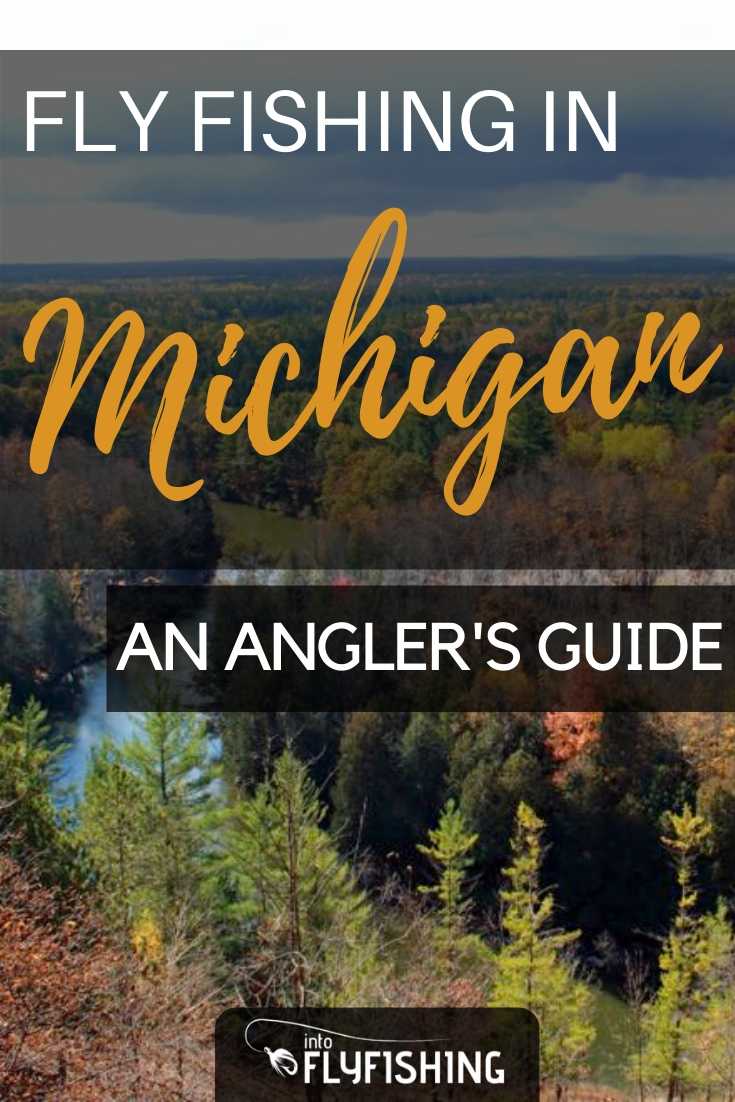 Amazon and the Amazon logo are trademarks of Amazon.com, Inc, or its affiliates.