The best fly fishing waders is a subjective term and the actual usefulness of good waders will vary depending on what you're looking for. There are many factors that you must take into account when making your selection.
So, before shopping online, picking some out and having them delivered to your door, take your time and think about exactly what kind of fishing you plan on doing.
Our Top 3 Best Fishing Waders
1. Snowbee Prestige STX (BEST VALUE): Use Coupon IFF10 For 10% off
2. Redington Sonic Pro HDZ (BEST)
3. Simms Freestone (BEST TOP END)
I know when I first started fly fishing I was looking for the best cheap fly fishing waders. The first pair I could afford I bought and got pretty lucky. These were exactly what I needed for chasing trout in spring-fed rivers.
The waders were light, breathable, and had enough pockets to carry what was needed. I can't say the same about all the other gear I bought when starting out, but that's a different article for a different day.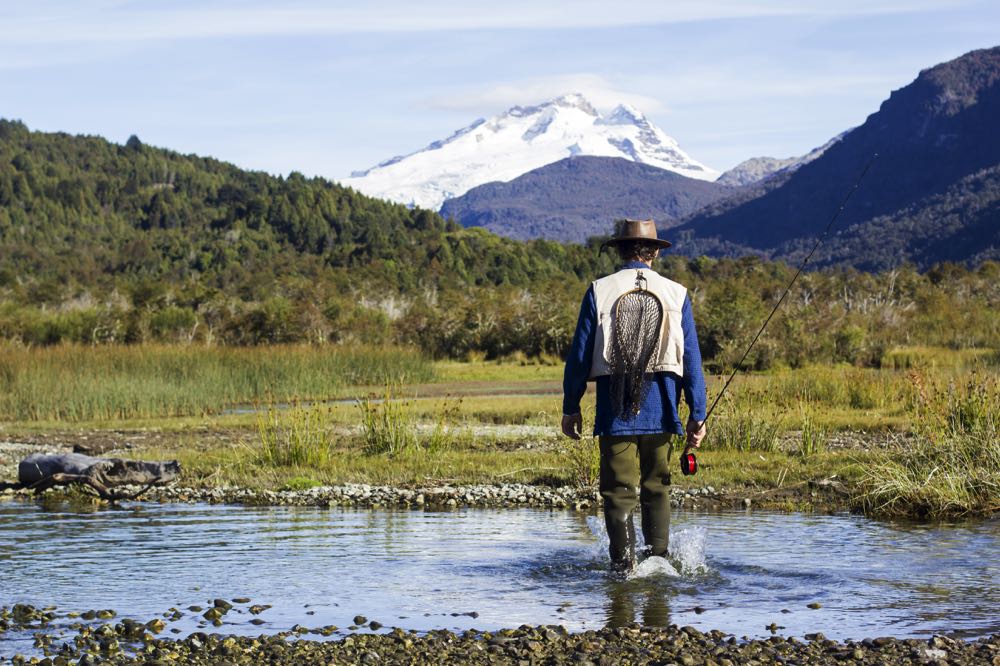 Since my first pair of fly fishing waders, I've gone through quite a few. Not always because they broke down (sometimes they did), but because I've been upgrading and always on the search for the best fly fishing waders.
In fact, my current waders, the Orvis Encounter Waders, are not the best fishing waders I could have for my applications and I'm due for an upgrade. I'll likely be going for a set of Redington Sonic Pro HDZ waders next.
As I'm always shopping for new gear, I've done plenty of research on fly fishing waders and as mentioned earlier, I've had plenty of great pairs in the past, so below I'm going to help you figure out exactly what kind of waders you should be looking for.
We've recently updated this post to include all of the best waders 2020 has to offer, with the latest fly fishing waders being added to the list in late-2020, the Redington Sonic Pro HDZ.
We're going to go over what type of fly fishing wader pockets you'll want, seam reinforcements, warranties as well as the best material and price. First, here's a quick look at our top picks as well as why waders are a worthy investment.
As an Amazon Associate I earn from qualifying purchases.
Why Are Waders a Worthy Investment?
Waders are going to get you out on the water more often. You're not always going to be able to wet wade. The rivers, streams, and lakes that feel great in July will be frigid come fall or early spring.
So spending some money on good fly fishing waders will result in more time fishing and less time thinking about fishing.
If a cheaper set is all you can afford then it's worth it. Find something in your price range and get out on the water. They may not feature the same amount of pockets or clips that a more expensive set has, but at least your fishing.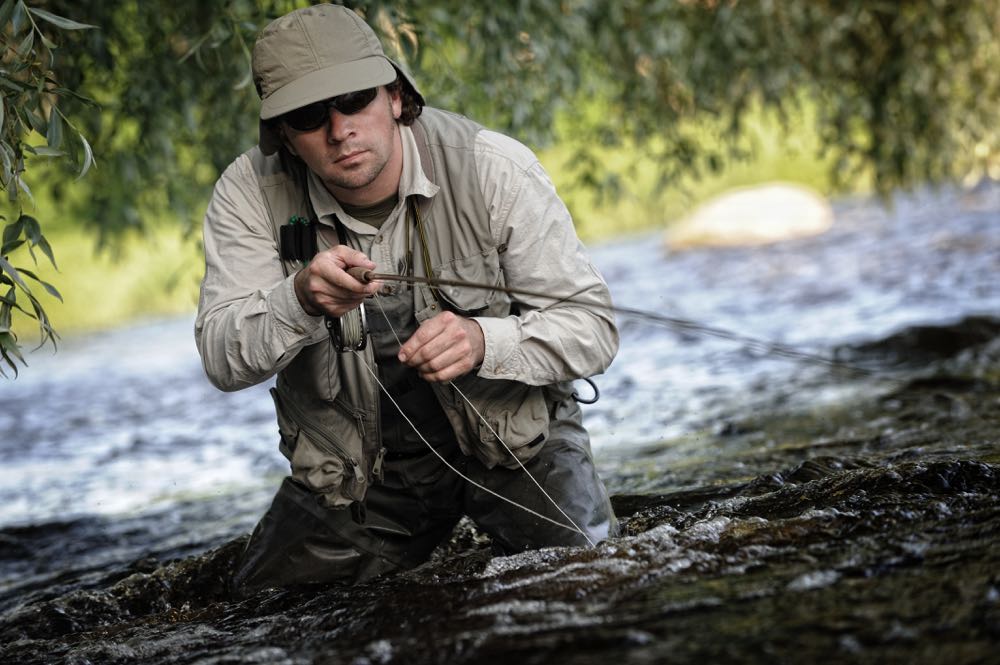 The durability of these cheaper items may be suspect. Make sure to take proper care of them once you've left the water, and possibly buy a few patch kits. Just in case.
Now, if you can afford a solid pair of waders from a top-end brand then you should treat those things like gold. Clean, and store those things properly because a nice pair of waders is going to be expensive.
Yes, they may be more durable, but there's nothing worse than getting a hole in a $300 pair. Check out below as we go a little more in-depth with why waders are so useful.
We will talk more about all of the features to look out for and materials to expect at what price range within the waders buying guide at the bottom of this post.
Better Accessibility To Fishing
You get to spend more time fishing. If this doesn't convince you to start shopping for the best fishing waders, then I'm not sure what else to say.
With waders, you could be in tailwaters and spring-fed rivers fishing 12 months out of the year. Sure, the fishing may be slow in mid-January, but as a wise man once said: "you can always throw a midge."
Gear Storage
Having some fly fishing wader pockets is going to drastically make your fishing life easier. Most waders come equipped with a waterproof pocket that you can use to store your important items such as your keys, wallet, and phone.
On top of this, you'll find rings for hooking on your fly rod, nets, tippet, nippers, your hemostat, and any other items you'd have in your fly fishing kit.
While you'll still likely want a good fly fishing vest and a good pack for ultimate storage, your waders should also have a zippered front pouch that you can put a small fly box as well as your best fly reel, fly fishing sunglasses and other gear.
Protection From The Elements
Waders are going to help keep you warm while you're fishing on those cool spring or fall days. If you're fly fishing in Minnesota in the winter, or even casting lines in South Dakota in the spring, you'll want to be sure you're protected from the elements.
An often overlooked aspect though is that it can help protect your skin from cuts or abrasions caused by submerged boulders, or pieces of wood.
They may puncture your waders causing a tear, but it's the first line of defense you have against mother nature.
You'll also want to make sure your wading boots are up to the task. So either consider shopping for the best bootfoot waders, or buy a great pair or wading boots.
Best Fly Fishing Waders of 2020
Now that we've gone over some reason as to why fly fishing waders are so great, let's go into depth on a few different products to give you a better idea of what you should be looking for.
Below, we've got ten different waders that are going to help you get out on the water in all conditions and will help you catch fish. In my opinion, after much research and testing, these are the best flyfishing waders you can get when it comes to value, storage, and overall quality.
Redington Sonic Pro HDZ
(Best Waders Overall)
Pro – Can convert to waist wader, very high-quality, very leak-resistant
Con – High price tag
The Redington Sonic Pro HDZ are the overall best fly waders on this list for a reason. Coming in at a bit higher of a price range, they are well worth the extra investment.
These are Redington's top-of-the-line fishing waders and they are built with the best materials and have one of the best warranties on the market as well.
Seeing as these are chest waders, they also won the spot as the best chest waders 2021 has on the market.
Note: These are stockingfoot waders, so make sure to check out our guide of The Best Wading Boots For Fly Fishing before purchasing a pair of boots to go along with them.
They're made of a 3 layer waterproof, and breathable fabric. They are slightly stiffer than some of the other waders I've tried on this list, but they feel like a better quality because of it.
They also feature a reinforced lower leg for increased durability. All-in-all, these are probably the most difficult waders on this list to damage or puncture.
The neoprene boots are high density and there is also a fleece-lined hand warmer pocket. Internally there is a flip-out zippered pocket in the chest that is waterproof and can be used to store breakables.
It also comes with a wading belt as well as gravel guards to help keep you safe out on the water.
If you don't feel like having your waders be chest high then you can use the opposing buckle to turn them into comfortable waist-high waders. Ideal for keeping you cool on those warmer days out on the water.
They also have handwarmer pockets and airflow technology to ensure they're breathable in warm weather, but still allow you to keep warm if you're fishing in cooler seasons.
The pocket in front is large enough that it can hold a small fly box as well as some leaders, floatant, and a few other smaller items you might need for a day out.
Snowbee Prestige STX Waders
(Best Value Waders)
Pros – Quiet material, high-quality seams, double-layered hip area, great warranty, super comfy
Cons – Could use more storage
The Snowbee STX Waders have recently become one of our favorite sets of waders. We love the slightly fuzzy material that keeps them quiet while you're out on the river.
Definitely, the biggest pro to these waders is the quality of materials used. Snowbee might not be as well known as some of the other brands on this list, but they've been in the waders-making game for many years and these waders show off some of the best features of any on the market.
Double seamed hips and ankle areas ensure that these waders aren't going to puncture or leak easily and they have an excellent warranty to back them up. All of the seams are made using the highest quality sealing tape on the market and the reverse suspender buckle means you can easily adjust them into hip waders if you want.
These are some of our favorite waders on the market. To see why, check out our full, hands-on Snowbee STX Waders Review.
Use Coupon Code IFF10 For 10% off
Frogg Toggs Canyon II
Pro – 4ply durable upper, super comfortable, great build quality, great price
Con – Could be more breathable
The Sonic Pro HDZs are the best waders 2020 and 2021 has to offer, but when it comes to pure value for money, you really can't beat Frog Toggs Canyon II fishing waders. Our team has put these fly fishing waders through the wringer for years and can vouch for their durability.
Looking for Fishing Waders Reviews? Full Hands-On Review Of Frog Togg Waders
These waders feature 4ply uppers that are durable and can stand up to just about anything you can throw at them. The 4mm double tapered neoprene booties, on the other hand, seem to have issues with leaking.
Most likely from the stitching around the top of them where they meet the waders can become faulty. These are not the most expensive waders so be careful when ordering them.
The Canyon II also features a waterproof zippered chest pocket that you can keep essential items in such as a small fly box, nippers, leaders or anything else you need.
There is also an adjustable wading belt that comes with it. With this, you can ensure a tight fit across your midsection while also being able to loosen it if you plan on wearing thermals beneath your waders.
The Y back suspenders give a snug and comfortable fit that also have some quick release buckles.
The bottom of the waders has gravel guards as well as lace hooks. giving your feet as much protection as possible.
A lot of people also love the Frogg Toggs Hellbender waders, but we're still on the Canyon train!
Ouzong Chest Waders
(Best Budget Waders)
Pro – Comfortable and adjustable H back suspenders
Con – Pants run long (again, not always a con)
If you've seen our post all about the best budget fly rods on the market, you'll know that we don't always think you need to spend a lot of money on fly gear, particularly if you're just starting out.
The Ouzone Chest Waders are what we consider to be the best budget fly fishing waders on this list.
The H back suspenders give you a nice snug fit that you can fully adjust based on your size as well as what you're wearing underneath. The waders are also made of polyester and are breathable, allowing you to wear in warmer weather.
There are two pockets on these waders. One zippered chest pocket that is used primarily for holding fly gear and then a zippered internal pocket.
Simms Freestone
(Best Top-End Waders)
Pro – Full warranty, top quality Toray fabric & unbeatable micro-porous waterproof coating, 1-year leak protection warranty
Con – More storage would be nice, price
Taking value for money out of the equation, these are undoubtedly the best waders 2020 brought… if you can afford them. The build quality and durability of the material used in making the Simms Freestone Waders is unparalleled, but it comes with such a hefty price tag that it was squeaked out on this list in favor of the Redington Sonic Pro HDZ waders.
We're really picking at negatives when "not enough storage" is the biggest con about these. The price could be seen as excessive, but these are extremely well made with a great warranty, so if you can front it then they're definitely worth it.
These are heavy-duty waders that are made to handle the outdoors.
The fit of these waders promotes natural mobility allowing you to easily crawl over rocks, and around sunken logs with ease. No longer do you have to worry about ripping the crotch of your pants by taking a big step.
Dark Lightning
(Best Bootfoot Waders)
Pro – Unisex (with waist belt)
Con – A bit less durable than the more expensive brands
One of the cheaper models on here, the Dark Lightning Waders are great value boot waders and in our opinion, these are the best bootfoot waders on this list. No need to purchase wading shoes with these as boots already come attached. Typically these types of waders are not going to be of the highest quality. These aren't too bad though.
These are rubber waders and will not breathe well. Not recommended to be used during very hot days.
However, they're 100% waterproof and the material itself is very durable. It's at the seams that these waders sometimes have issues with, but if you take care of them properly you won't likely have issues.
These are ideal for the casual fisherman who wants to go out a few times a season.
Some Other Great Waders
I promised you 10 of the best fly fishing waders 2020 has to offer, so I'm not stopping just yet. Sometimes hardcore anglers are attached to a certain brand or type of fly fishing wading pant style, so variety is always nice to have.
The flyfishing waders below are by no means substandard. They are excellent waders and a couple of them, particularly the Compass 360's and the Simms Tributary's could've easily made the list above.
Hisea Waders (Best Chest Waders)
Pro – Lightweight
Con – Run Long in the leg (Only con for some people)
The Hisea Fly Fishing Chest Waders are ultralight and are 100% breathable. If it's feeling a little nippy for you just put on some layers underneath these waders and you'll be good to go.
Thanks to them being so lightweight you won't feel weighed down with all of the extra layers you're wearing plus a pair of waders on top of it.
They also have a lightweight micro-denier upper that is 100% waterproof as well as breathable.
Meaning that the waders allow moisture to escape so you can also wear these in warm weather and not be a complete sweaty mess after walking out of the river.
It also has a 3D polyester construction which provides resistance against the usual wear and tear that an angler puts gear through.
The knees and seat are reinforced with 420D fabric so you can properly sit and kneel without having to worry about wearing a hole in the knees or seat of your pants.
The Hisea Chest Waders also feature a waterproof chest pocket. Perfect for storing a phone, camera, or car keys.
There is also an open fleece pocket directly behind the waterproof pocket that can be used for extra storage or to keep your hands warm on those chilly days.
8 Fans Men's Chest Waders
Pro – Large range of sizes
Con – Neoprene socks a bit thick and warm (great for cold weather though)
Ranging in sizes from small- XXXL, the 8 Fans Chest Waders have a size for just about anybody. On top of that, these are also 100% waterproof and breathable. Made of 3-ply material using the 8 Fans dying technology which allows sweat to leave but not allow water in.
The material is also abrasion-resistant and tear-resistant. These are durable waders for fishing at this price.
The H back of these waders is easily adjustable to make a more nice snug fit or can be loosened if you happen to wear layers.
They also feature a waterproof zippered internal pocket that is made to specifically hold a phone, keys, or anything you don't want to be exposed to the water.
The waders also come with a mesh storage bag. Perfect for the angler who goes immediately back to the truck after fishing but needs to be able to dry out their waders.
Simply slide them into the bag and they'll be dry and ready to go the next time you're ready to go out.
These are lightweight waders that are ideal for fishing in warmer or hot weather. Thanks to being fully adjustable though you can wear your thermals underneath and stay warm.
Compass 360 Deadfall Chest Wader
Pro – Fully Adjustable, premium material, warm booties
Con – Take slightly longer to dry
The Compass 360 Deadfall is made with a contoured fit and 4mm 100% neoprene booties. These will help provide warmth, as well as having the ability to keep your feet completely dry.
The chest of these waders features a zippered front pocket and behind that, on the inside of the waders, it features another zippered pocket.
There is also a fully adjustable chest drawcord to help you keep water out if you take any falls.
The only issue I had with these waders was them not holding up due to improper care on my part. Make sure to let your waders hang dry and then also rinse with cold soapy water. Never put them in the dryer.
Simms Tributary Stockingfoot Waders
Pro – 4 layer lowers, super high-quality material and build, rugged & durable seams
Con – No Inside waterproof pocket
The 3 layer upper and 4 layer lower on The Simms Tributary Stockingfoot Waders provide excellent durability for fishing in rough conditions. Ideal for fishing in the mountains or on rivers, the Tributary waders will hold up to whatever you and mother nature can throw at them.
They feature a fleece-lined hand warmer that can be used as extra storage and a zippered chest pocket that can be used to hold your fly fishing gear.
There is not much else in the way storage on these waders. If they had a waterproof inside pocket for some extra storage, then I think for sure they would have squeaked their way into our list of the best fly fishing waders 2020.
Due to having a bit less storage, you'll have to pack light or wear a fly fishing vest (which most anglers have in their kit anyways).
Bassdash Lightweight Waders
Pro – Chest to waist convertible
Con – Run small (not a con for everyone)
The Bassdash Lightweight Waders offer easy conversion from chest to waist waders, which can be great when fishing during those hot summer days.
Simply unclip the two locks on the suspenders over the chest, and then fold down the chest to the waist.
Now you've got a pair of waders that can give you a nice breeze on your torso. So if you're bonefishing in the Bahamas with your best saltwater fly rod and you're worried about sweating too much, these might be the best waders for you.
There is a large chest pocket used to store all of your fly gear, as well as fleece-lined hand warmer behind it. The inside is also equipped with a flip-out zippered pocket perfect for holding your phone.
Best Fly Waders For Women
While most waders are unisex fit (more on waders fit below), there are some of the best fishing waders built with women's body frame in mind. These contour better to women's bodies and will be slightly more comfortable on most women.
Orvis Women's Ultralight
(Best Waders For Women)
Pro – Best fit for women, super high-quality, stretch belt included, removable suspenders
Con – Price
Orvis doesn't just make men's fly fishing waders. The women's variation of the Orvis Ultralight waders are arguably better than the men's version.
They are comfortable, super durable and high quality. The stretch belt helps to keep them close to the body which is great for the overall fit, but also to stay warm in the water and you can clip things to the belt if you want.
The outer shell of these waders is 100% nylon with a Polyurethane Breathable Membrane and Microporous Coating. The liner is 100% nylon tricot which is a very high-quality material.
The only con is the price. These are one of the more expensive pairs of waders on this list, but they are worth it for women who want great quality and an excellent fit.
These waders are available on Amazon with Prime shipping for speedy delivery. Just make sure you choose the right size as each listing on Amazon is for a specific size.
Redington Women's Willow River Waders
(2nd Best Waders For Women)
Pro – Great fit for women, high-quality, good price
Con – Missing some features of the Orvis Ultralights
The Women's Willow River Waders are designed for women's comfort at a great price while keeping high-quality build material and durability.
They're constructed using triple-layer waterproof/breathable DWR coated fabric. There is added reinforcement in the knees for protection against rubs, holes, and leaks, while the booties are made with high-density neoprene material that keeps them warmer than many other waders.
The clips are made with opposing buckles which makes for easy conversion to waist waders and the pockets are fleece lined so you can keep your hands warm if you're standing on the riverbank in cold weather.
Redington Women's Sonic-Pro Waders
Pro – Great fit for women, high-quality, good price
Con – Missing some features of the Orvis Ultralights
Another great set of women's waders for the money, you really can't go wrong with the Redington Women's Sonic-Pro Waders.
These waders are designed with female waders in mind while keeping the price down, but they don't compromise in quality of build or durability.
They've been built with a 4-layer waterproof/breathable DWR coated outer shell as well as patented SonicWeld seams which hold up to a lot of wear and tear.
Bonus: Best Hip Waders
These are the best hip wading pants you can buy. If you're not going to be wading in water deeper than your thighs, then hip waders (also known as waiste waders) are a much better option. They're easier to pack, lighter, and much easier to maneuver in.
The main drawbacks with hip waders are that you sacrifice some storage space (that chest zipper pocket can be a godsend) and you can't get out into deeper waters. But if you have a good fly fishing vest and aren't planning on fishing deep spots, then hip waders are the way to go.
These are so comfortable and well-built that they could've won the spot for the best fishing waders 2020, but they lack versatility when compared to the top convertible chest waders.
Simms Freestone Breathable Stockingfoot Wading Pants
Pro – Simms have a good repair system on their waders, super lightweight
Con – Cost (that's about it)
The Simms Freestone Breathable Stockingfoot Wading Pants are the best hip waders currently on the market. They're super high quality and Simms offers repairs for damages at a great cost.
The Simms Freestone come equipped with their patented Multi-Layered Toray Quadralam Technology. Which is basically a long, really technical-sounding name for an ultra-lightweight and breathable material that Simms has created.
The waders come in at a total weight of just 33 oz / 936g and they have built-in, abrasion-resistant gravel guards to ensure you don't damage those more sensitive areas of the waders.
As far as hip waders go, these are the best of the best currently available and while they're expensive, they are worth the price thanks to the incredible build quality and comprehensive warranty. If you want the best waist waders, go for these.
Watch The Video
How To Choose The Best Fly Fishing Waders
Your waders are going to be your first line of defense against the outdoors. They're going to keep you warm as well as helping to keep your skin abrasion free from any cuts that might occur in the water or on the way down.
It's important to know what type of waders your buying so you know what will and won't protect you.
Types of Fly Fishing Waders
There are three types of fly fishing waders. Stocking foot, boot foot, and hip waders. Each of these has its own set of positives and negatives. So, below we're going to go over each and hopefully, you'll be able to tell which ones are the best for you.
Stocking Foot Waders
Stockingfoot waders are waders that come with neoprene booties on the bottom. Stockingfoot waders are not meant to be worn without boots. You'll find that breathable stockingfoot chest waders are usually the more expensive models in the market.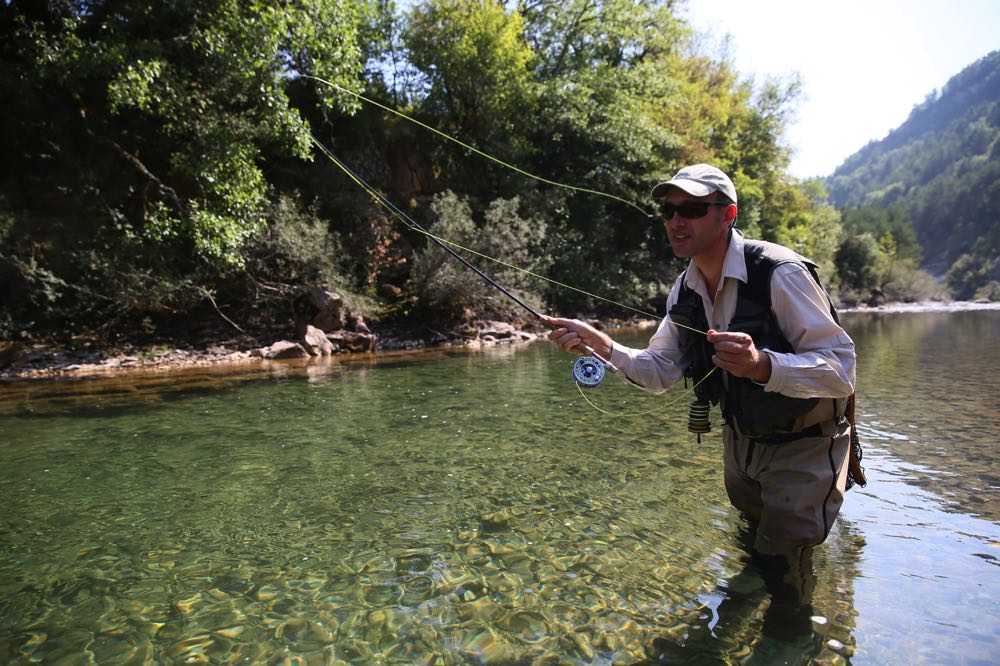 People like these because of how strong and dependable they are and the use of a wading boot increases stability on the water.
Best Stockingfoot Waders (Above)
Redington Sonic Pro HDZ
Frogg Togg's Canyon II
8 Fans Men's Chest Waders
Hisea Fly Fishing Chest Waders
Compass 360 Deadfall Chest Wader
Simms Tributary Stockingfoot Waders
Simms Men's Freestone Waterproof Stockingfoot Waders
Ouzong Chest Waders
Orvis Women's Ultralight
Redington Women's Willow River Waders
Redington Women's Sonic-Pro Waders
Bootfoot Waders
These are typically not your high-end wader. That being said, there is always the exception.
These are made with a boot already attached to the bottom. Typically made of rubber. Great for the angler who only goes out a few times a year and is not walking in very slippery conditions.
Best Bootfoot Waders (Above)
Bassdash Lightweight Waders
Dark Lightning
Hip Waders
There are two different types of hip waders. Either they look like pants with suspenders that come up to the waist. Or they're two very long boots that come up just below your waist. These usually come with a connected boot.
Typically, these are not the most comfortable or stable waders. Some people prefer them though because they're lightweight.
Best Hip Waders (Above)
Simms Freestone Breathable Wading Pants
What Makes A Good Pair of Fly Fishing Waders?
There are several different factors you must look at before purchasing your waders. First, though, you should think about what type of fishing you plan on doing. Are you hiking in the mountains for brook trout?
Then mobility and durability are key. Take a second to think about where you will be fishing and what you need. Then take a look at the list below to help narrow your list down.
Material
The material that your fly fishing waders are made out of can have a huge effect on their breathability, comfort, durability and maneuverability, which are a few of the main things that make great waders I'll be listing next.
So what is the material that waders are usually made from and which will be the best for you? Here's a quick look at these materials.
Neoprene Waders
Neoprene waders are a bit clunkier and a bit heavier than their more breathable counterparts, but they're great for cold water. Neoprene is well insulated, so if you plan to always be fishing in colder climates, then these may be a great option for you.
Breathable Waders
Typically breathable waders are made out of waterproof compounds such as Gore-Tex or Dri-Plus. These are always my waders of choice because they're easier to move around in, are more lightweight, and you can still add layers of clothes beneath them if you're fishing in colder weather.
Breathable waders do tend to cost a bit more because materials like Gore-Tex are typically a lot more expensive. But if you have the money to spend, they're worth it for the versatility and lighter weight.
Breathability
This is important if you plan on fishing during any type of warm weather. Walking around in waders regardless of temperature can trap heat and make you hot and sweaty quickly.
If you plan on walking a lot then look for something with increased breathability.
Most Breathable Waders (Above)
Redington Sonic Pro HDZ
Simms Freestone
Men's vs Women's Waders
Female fly anglers rejoice! Finally, wader manufacturers are starting to produce waders that are meant to fit women specifically. If you're shopping for women's waders, there are a few manufacturers that excel in a comfortable fit for women.
Having said that, most of the above waders listed are unisex and will fit women comfortably as well. Waders in general aren't usually very contoured to the body, so the unisex fit is almost universal.
Best Women's Waders (Above)
Orvis Women's Ultralight
Redington Women's Willow River Waders
Redington Women's Sonic-Pro Waders
Adjustability
Waders come in a size that is a general fit. Most also have straps and wading belts that can be adjusted to give a closer fit.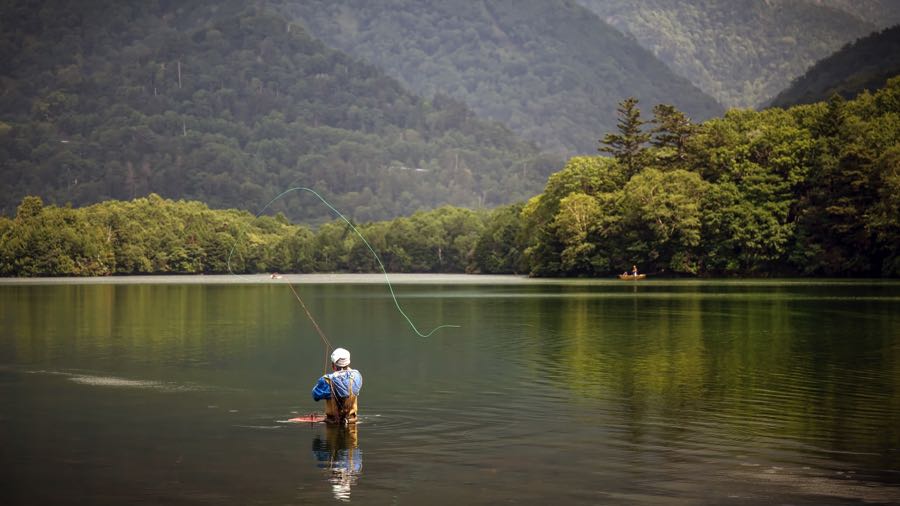 This can make you feel more comfortable. If they don't have adjustable straps then you could feel like you're wearing a potato sack more than waders.
I also consider convertibility an important part of adjustability when it comes to waders. What I mean by that is certain waders are designed to easily convert from chest waders to hip waders.
Simply unclip the suspenders and reclip around your waist and you have a cooler, more comfortable pair of hip waders while remaining on the river.
Most Adjustable Waders (Above)
Redington Sonic Pro HDZ
8 Fans Chest Waders
Compass 360 Deadfall Chest Wader
Bassdash Lightweight Waders
Ouzong Chest Waders
Orvis Women's Ultralight
Seam Reinforcement
This is an important one. Your seams are one of the spots that a leak is most likely to spring.
This is especially true on cheaper waders. Look for anything on your waders box that says seams reinforcement. Having this is only going to save you a headache in the future.
Waders With The Most Durable Seams (Above)
Redington Sonic Pro HDZ
Simms Freestone
Frogg Togg Canyon II
Orvis Women's Ultralight
Pockets
Most waders have just enough room to hold a few non-fishing items such as phone, keys, and wallet. Followed by the essentials of fishing.
Most likely your waders have two pockets in them. Some waders, however, come with a few extra. You should be purchasing whatever is going to work best for you.
Waders With The Best Storage (Above)
Redington Sonic Pro HDZ
Hisea Fly Fishing Chest Waders
8 Fans Men's Chest Waders
Orvis Women's Ultralight
Price
Keep in mind that there are some great waders out there for under $100. If your budget is closer to $50 then know that you're going to have to take extra special care of them to ensure that the seams don't rip and no holes appear in them.
If you want something expensive that doesn't mean you can write off taking care of them, but typically they will be more durable. Find something that works in your price range. If you're willing to spend a fortune on pro waders then go for it, but you can still get a great pair for under $100.
Note: You can click any of the buttons or links in this post to check current price on Amazon.
Best Waders Under $100 (Above)
Frogg Togg's Canyon II
Dark Lightning
Ouzong Chest Waders
Hisea Fly Fishing Chest Waders
8 Fans Men's Chest Waders
Durability
More expensive waders are going to be made better. That doesn't mean you do not need to take care of them though. Still make sure to air dry and rinse with cold soapy water. If you can't afford expensive waders then look for waders that are going to have 3-4 layer protection.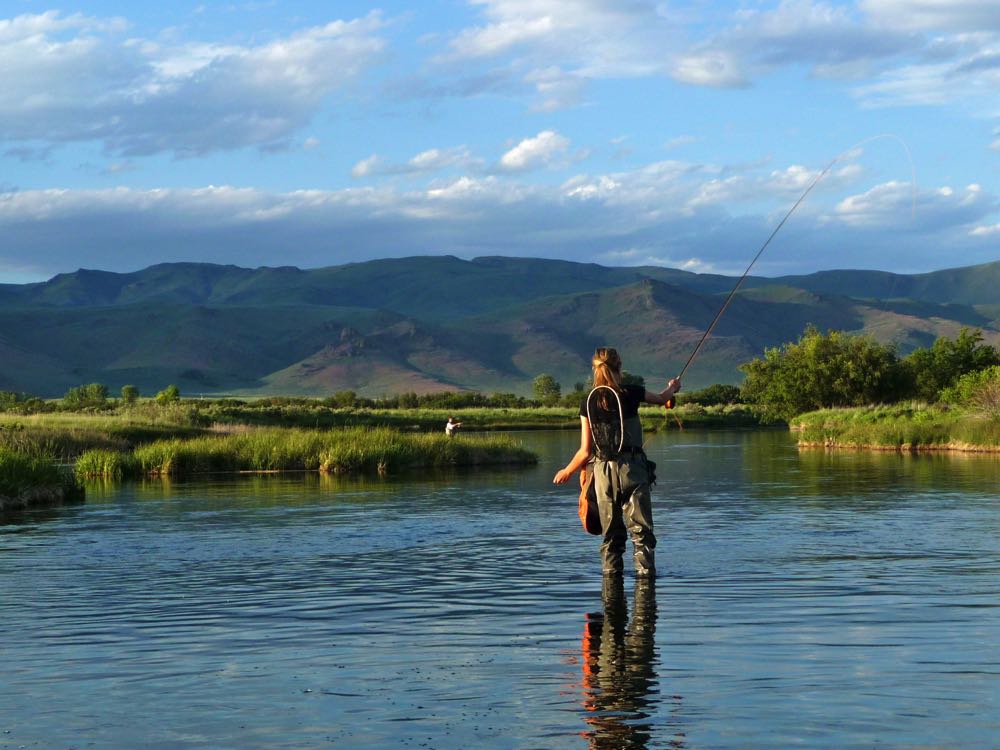 Most Durable Waders (Above)
Redington Sonic Pro HDZ
Frogg Togg's Canyon II
Simms Tributary Stockingfoot Waders
Simms Men's Freestone Stockingfoot Waders
Orvis Women's Ultralight
Warranty
With their 60-day replacement policy and 1-year leak repair warranty, Simms easily has the best waders warranty in the business. Very few waders come with a warranty that will cover leakage or user damage at all.
The best warranties on waders are reserved to just a few brands. These are Simms (60-day replacement plus 1-year Full Warranty), Orvis (1-year manufacturer warranty), and Redington (lifetime manufacturer faults).
Comfort
Comfort all depends on what you like. What's comfortable to me is not to you and vice versa. Ideally, though you want something lightweight, breathable, and fully adjustable. After all, you don't want to overheat on the river or feel too constricted.
Best Waders For Comfort (Above)
Redington Sonic Pro HDZ
Simms Tributary Stockingfoot Waders
Simms Freestone Chest Waders
Orvis Women's Ultralight
Maneuverability
This is very similar to comfort, but even more important to many anglers. Being able to easily move freely in your waders is vital for casting with tight loops and fishing for long days in difficult spots.
I've had my fair share of neoprene waders that just weren't pliable enough to allow a full range of movement. This is where Gore-Tex really shines.
With a good pair of thin, breathable waders, you'll generally have a lot more freedom of movement and you'll be able to fish more effectively without being weighed down by thick wader materials.
Best Waders For Maneuverability (Above)
Redington Sonic Pro HDZ
Simms Tributary Stockingfoot Waders
Simms Freestone Chest Waders
Simms Freestone Stockingfoot Wading Pants
Orvis Women's Ultralight
Best Waders Brands
There are more brands of waders than I've listed in this post. Here is a more exhaustive list of the best waders brands overall. You can click any of the brand names below to shop for their waders on Amazon where most brands are able to ship to your door within a day with free returns.
Best Waders FAQs
Here are some frequently asked questions about the best waders answered quickly and concisely to help you make a decision.
What Are The Best Bootfoot Waders?
After testing many, the Dark Lightning waders are the best bootfoot waders in our opinion.
What Are The Best Fishing Waders Overall?
Generally, you don't have to be too concerned if waders are specifically for fly fishing or for other types of fishing unless you're considering the best waders for surf fishing. This means that still, the best fishing waders are the Redington Sonic HDZ.
Why Do I Need Fishing Waders?
Fishing waders are the best way to get into those tough spots in deeper water. Most are chest waders, which means they'll keep you dry, even if you're above your waste in rushing river water.
How Did We Decide On The Best Waders 2020?
Between our team of 5 fly anglers, we have over 120 years of experience in fly fishing and we've tried and tested countless waders. This list is a culmination of hands-on testing and research to find the best waders 2020 (newly-released this year or previously).
What Are The Best Waders For Trout Fishing?
A lot of beginner fly anglers ask what are the best waders for trout fishing, but in reality, there's not much difference in waders for any particular species of fish. As long as you're keeping yourself dry, you're doing alright.
Because trout can be caught in warm and cooler weather, I'd still say that the Redington Sonic HDZ are the best waders for trout fishing as they'll keep you warm but are breathable enough.
What Are The Best Chest Waders?
A lot of people are specifically shopping for the best chest waders because they expect to fish deeper water and need extra protection. The best chest waders 2020 offers are the Redington Sonic HDZ. Noticing a trend? We love these waders.
We also have a post all about the best chest waders. Check it out.
What Are The Best Breathable Waders?
The best breathable waders are the Simms G3s. They are an excellent set of waders with a great warranty. We also have a post all about the best breathable waders so make sure you check it out.
What Are The Best Cheap Waders?
The Ouzong Waders are the best cheap waders 2020 has to offer. They're extremely high quality for the low price tag which puts them up there as the best value waders this year.
Review Waders For Fishing
Conclusion
Hopefully, you now know what your top fly fishing waders look like. Something durable, and breathable, that contain as many pockets as possible. Or something to keep you warm that is fully adjustable.
Either way, whatever you're looking for, make sure it fits you and is right for your type of fishing.
So, go ahead and order a new pair. You can head to your local fly shop, or take your measurements from home and order them online. If they don't fit, you can always return them. Your golden pair of waders is waiting out there somewhere.
Like This Article? Pin it!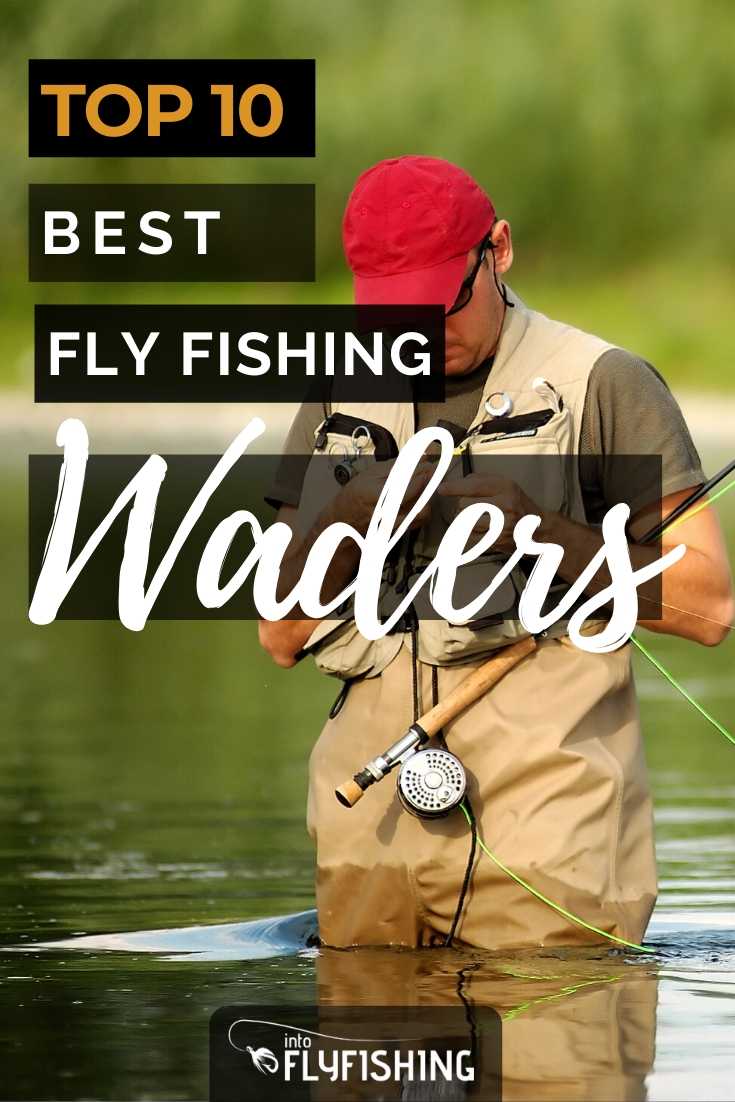 Some images in this post are courtesy of Shutterstock