Just about any gear you look at in the fly fishing realm will include a large range of products that vary in prices from budget friendly to absurdly expensive. With all of these choices, it can be difficult to decide when to spend big money and when to cut costs. Waders are no different.
The dilemma is always the same. Where's the balance of getting high quality gear but not needlessly spending money just to spend money? It's especially important to understand these trade offs for something like waders, which will have a direct impact on your fishing experience.
There are many factors to consider when choosing a pair of waders, and price and quality are definitely two of the most important.
Why Trust My 8Fans Waders Review?
Over the years, I've had multiple pairs of waders, and one thing has always been consistent…I'm hard on them. I expect a lot from waders. I want to be confident that they'll perform and that they'll last.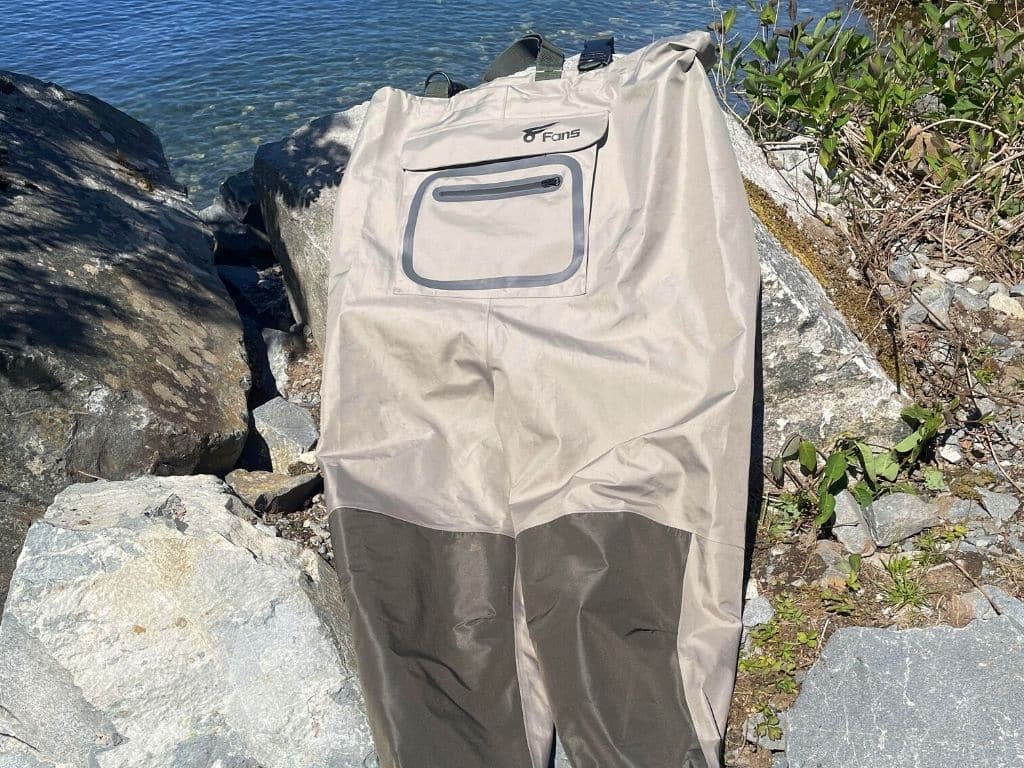 A lot of places I like to fish require a hike, and sometimes that hike involves bushwacking or climbing over large deadfalls in the old growth forests of southeast Alaska. I took these waders out to a local stream to give them a try and see how they compare.
I want to mention here that 8Fans did send me these waders to try and review for free. However, that doesn't mean that my thoughts are biased.
What's in the Box?
Before I get too in-depth with the review itself, let's go over what you'll receive when you order a pair of these waders. All of the below items come in a mesh carry bag with a drawstring top.
The bag is useful, so hang onto it. It's a nice easy way to store your waders in the future.
Waders
The primary item. You'll get a pair of 8Fans Breathable 3 Layers Chest Waders. These are what you need to get out fishing…but don't overlook a couple of smaller items that come along with them.
Wading Belt
The wading belt will be folded up and separate from the waders. Make sure you find this, as it's pretty small but very important. The wading belt will slide through the two loops on the waders and should always be worn while wading.
Repair Kit
This is a great thing that 8Fans has included with the waders. If you ever find a small hole or leak, you'll be able to fix it without buying more materials or getting new waders altogether.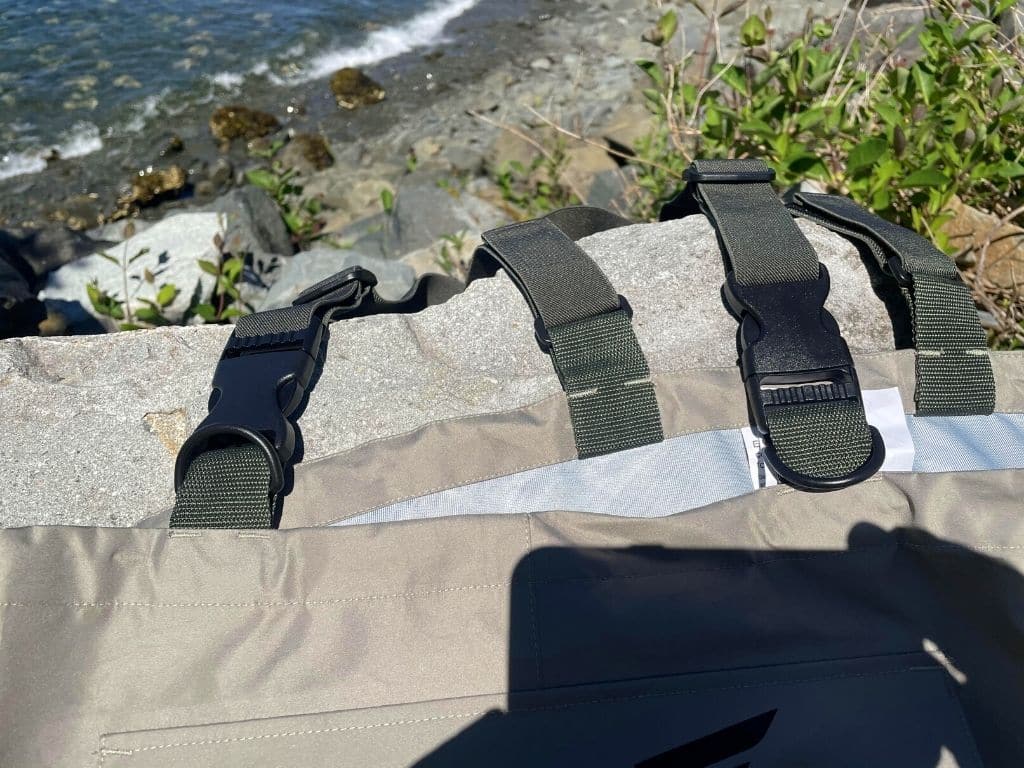 The kit comes in a small resealable plastic bag and contains a couple patches, the glue needed for placing the patch, and instructions. If you ever find a leak or puncture your waders, it's nice you have this option. The instructions are pretty straightforward, which makes it a simple at-home repair.
See also: Snowbee Prestige STX Waders Review
8Fans Breathable 3 Layers Chest Waders Review: Features and Specs
With this product, 8Fans has created an affordable pair of waders that still provides quality. The waders do a nice job of cutting costs to appeal to anglers on a budget, but still maintain many features that are great to have.
Build Quality
The first thing I noticed when I received these waders was how nice they felt. My first impression was that the materials were well put together, and they didn't feel cheap. They're a lightweight, breathable product, which was clear to me just by looking at them.
The waders are built using 3 layer waterproof breathable fabric, with a double reinforcement around the knee section. The doubling of the fabric around the knees is great for durability. The whole time I wore these waders I never got overheated, and they kept me perfectly dry.
The stocking feet are made from 4 mm neoprene and connect seamlessly to the rest of the leg. There's also a breathable gravel guard that begins just above the neoprene, which is always nice to have, especially at this price point.
Throughout the waders, including in the neoprene stocking feet, 8Fans uses a double layered reinforced wear and tear resistant taping. This helps the seams to last longer, an area that can be prone to failure and can also be very hard to repair. You definitely don't want seams to start leaking.
The waders come with H-style shoulder straps that are attached to the waders. They're adjustable and have quick release buckles. The buckles are large, which makes for easy access, even if your fingers are a little chilly from being out on the water all day.
Aesthetics
These waders have a very classic look to them, and don't have anything that's flashy or overbearing to the eye. They have a clean design, and most of the material is beige, with the double reinforced knee areas being a darker color.
The pockets fit nicely on the chest of the waders and have the 8Fans logo on the upper left section.
Price
This is the most attractive thing about these waders…they're extremely affordable. The starting price to buy a pair of these waders is $80 for a small, and it runs up to $110 for the XXX-large. Anything under the triple XL is under $100, which is incredible.
Considering many other brands don't have any waders for a comparable price, even with comparable features, these waders really stand out. 8Fans have been able to add extra pockets and similar quality while lowering prices.
Features
There are several features worth discussing of the 8Fans Breathable 3 Layers Chest Waders. 8Fans were able to provide a lot of storage, which can be extremely handy when you're heading out. There are always certain things that are nice to have in your waders and not in a pack or clothing pockets.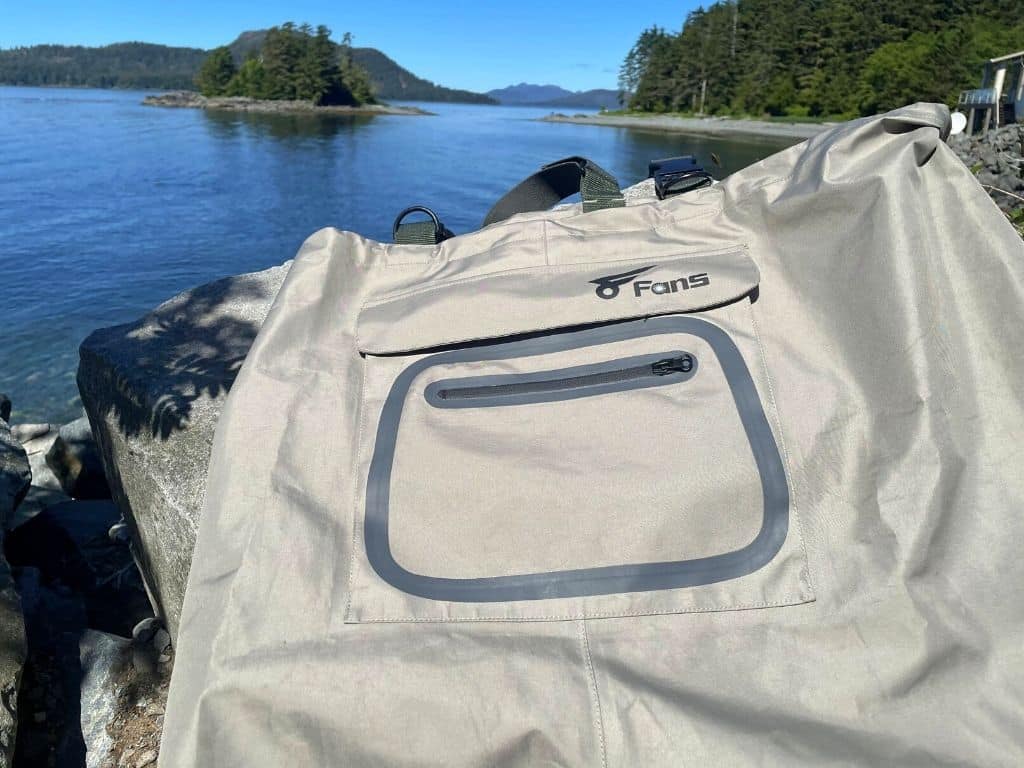 The first pocket is a flip out zipper pocket meant for a phone. Obviously this can be used for other things, but it's a good size for smartphones. Because it's inside, it offers a little more security and protection, and the zipper is a better option than velcro.
On the outside of the waders there are two more pockets. The first large pocket encompasses most of the chest area, and it has a lot of room to extend. It's secured by two velcro patches on either side of the pocket. The velcro is strong, but it did make me a little nervous to put anything too valuable in there.
The front of the main pocket has another zippered pocket. This one is smaller (still roomy though), but it has a waterproof zipper on it. These three separate pockets are a great addition and make it easy to stay organized on the water. If you're a minimalist, you should also be able to get everything you need into just the waders.
The shoulder straps have opposing buckles, which makes it easier to wear them as half waders on hot days. There are also D rings included just below the buckles, which provide another area for gear storage, say a tippet ring with clip, or nippers.
As mentioned above, there are integrated gravel guards with metal boot hooks to keep them secure. This is a great way to help protect the booties, and not having them as a separate item is key.
The waders also include a drawstring at the top of the chest area to tighten if desired.
Sizing
Choosing the correct size for waders can be tricky, because there are more variables than for just about any other type of clothing. You have to consider your shoe size, inseam, waist circumference, and overall height in order to get the best fit.
For this reason, many companies that make waders offer sizes that include variations within the standard size range. They do this to account for tall people with small feet, or people with extra wide feet, or just about any combination. Currently, 8Fans only offers standard small through XXX-large sizing.
They do offer a sizing chart, so make sure to consult that before ordering. I believe that the sizes (especially sole size) tend to run big. I am 6'1″ with a 34 inch waist and size 11 foot (size 12 with wool socks on). I ordered the XLs based on the measurements in the chart. My inseam and waist matched better with the L size, but the sole size for the L is only 8-10.
In order not to risk having the soles be too small, something that's not adjustable, I decided to risk the waders being slightly too large and the feet fitting comfortably. The waders are a little too big for me and even the feet seem big. I think that the L would have been the better choice.
Warranty
There's no warranty on these waders, but they do offer a 30 day money back guarantee. The guarantee isn't valid if the waders are dirty, damaged or worn. They'll replace any items that are received with a defect.
This is extremely helpful, especially in sizing situations when you're unable to try them on before buying. In my example, if the sizing was too off, I could exchange it for the size down.
8Fans Breathable 3 Layers Chest Waders Review: My Personal Thoughts
Overall, I was very impressed with these waders. I think that at the price point they offer more features than many other brands. I enjoyed wearing them and think they would be great for many people.
As always, it's important to understand your specific situation and goals when ordering any type of gear, and this is no exception.
Pros
I think the biggest pro of these waders is the price point. They're affordable and really lower the barrier of entry to getting a pair of waders. My first pair of waders was full neoprene because it was cheap, and there were many days I wished I had something more breathable.
These waders offer a lot of features. There's ample storage and you can carry just about everything you need in the waders. It's perfect for traveling light when you want to just bring your rod, fly box, and some extra tippet. Plus your phone for taking pictures of all your fish.
They're lightweight and breathable. This makes them very comfortable to wear and not a hassle to bring with you. They'll get the job done and keep you cool. I also don't think there would be any issues wearing them in colder weather, just layer up!
Cons
Sizing chart. This is an easily fixable issue, as you can exchange the waders if they don't fit well (and you should make sure they fit well). I'd guess the sole size for the largest would fit bigger than 8-10, but I can't say that definitively. I will say the XL sole size seems to go larger than a 13.
In the future, I'd also like to see 8Fans add more variations to their sizing. I think it's very beneficial to have multiple options when it comes to waders.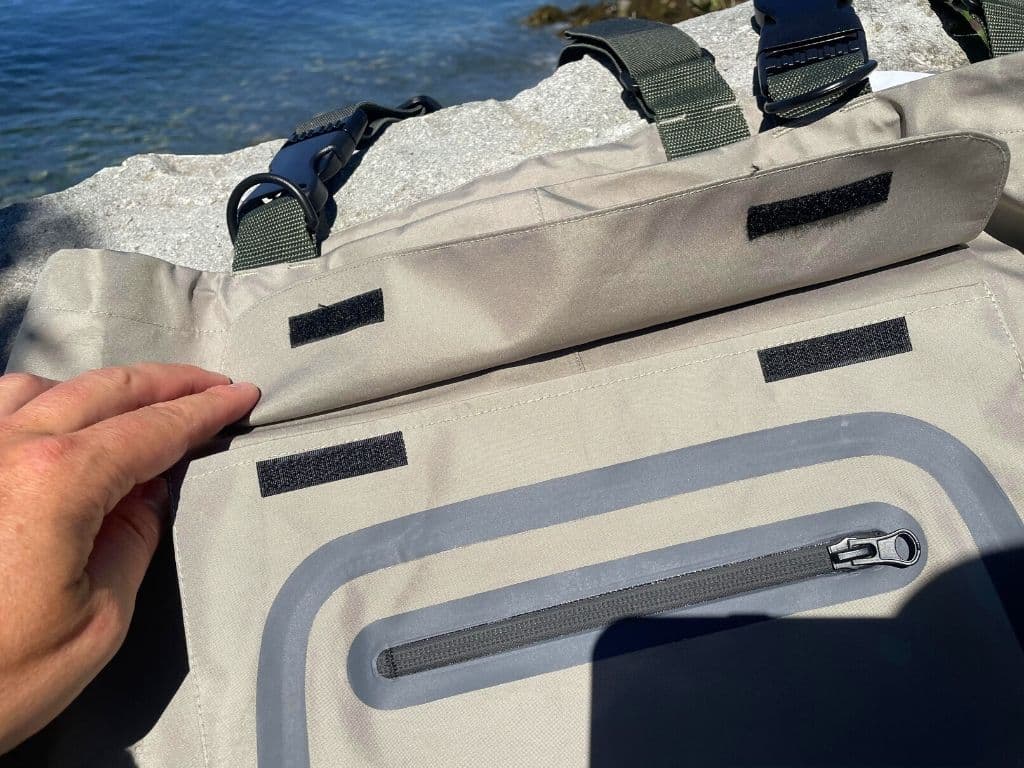 Another con is velcro on the large chest pocket. This one is more of a personal choice than anything, and although it seemed fine, it didn't offer as much security as I like. It would work well for glove or hat storage, but I wouldn't want to place anything valuable in there.
Conclusion
Overall, I really liked these waders. I think they did exactly what they were supposed to and even offered a little more than I expected. The only drawbacks I experienced were minor, and there wasn't anything that really stood out as a problem.
These waders would be perfect for someone getting started in fly fishing or someone on a budget. They'll keep you dry and comfortable. If you're looking for waders that can be beat up over and over again, these might not be for you. But, you also won't find any pair of waders at this price point that are made for extremely hard use.
I think 8Fans did a great job with these waders, and I'm excited to see what else they come out with!