As an Amazon Associate I earn from qualifying purchases.
This is my honest and unbiased Frogg Togg Waders Review. I've been wearing and testing these waders for two years, and I figured now was a good time to do a review of the excellent Frogg Togg Waders.
By the time spring rolls around, waders are a regular piece of a fly angler's fly fishing gear. They're worn for hours on end in every type of weather and body of water. Waders need to be comfortable and capable of withstanding months of abuse.
Frogg Togg is a company well known for its rain gear, fly fishing waders and great wading boots. They specialize in providing outdoorsmen and women with quality gear that can thrive in any environment where they choose to spend time.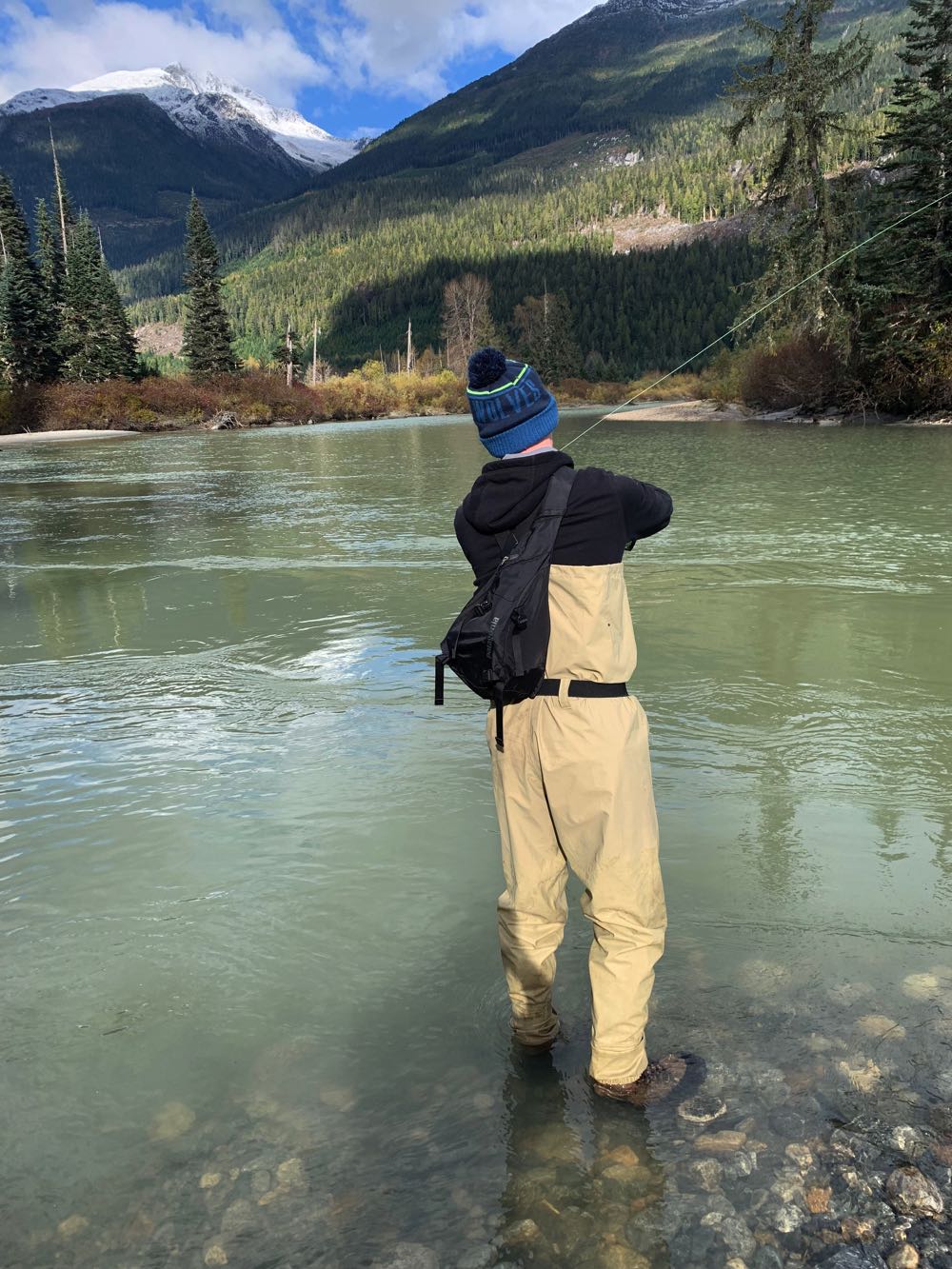 Based on the extensive use I've gotten out of them, I can say that Frogg Togg Waders are well worth the investment, and they're far less expensive than those by many other prolific fly angling brands.
As a part of the Amazon Associates Program and other affiliate programs, Into Fly Fishing® may receive a comission if you order products through links on this website.
Why Trust My Frogg Togg Waders Review?
I've owned a pair of Frogg Togg Canyon II Waders for two years and have taken them with me bushwhacking through Northern Canada, hiking throughout mountain streams in Colorado, and even on several hunting trips in the middle of winter.
I'm not sponsored by Frogg Togg, nor is this website at the time of writing, and while there are affiliate links in this post, I personally don't stand to earn anything from their commissions.
I have full creative freedom to write any positive and negative comments about the waders as I see fit and stand to gain nothing extra either way.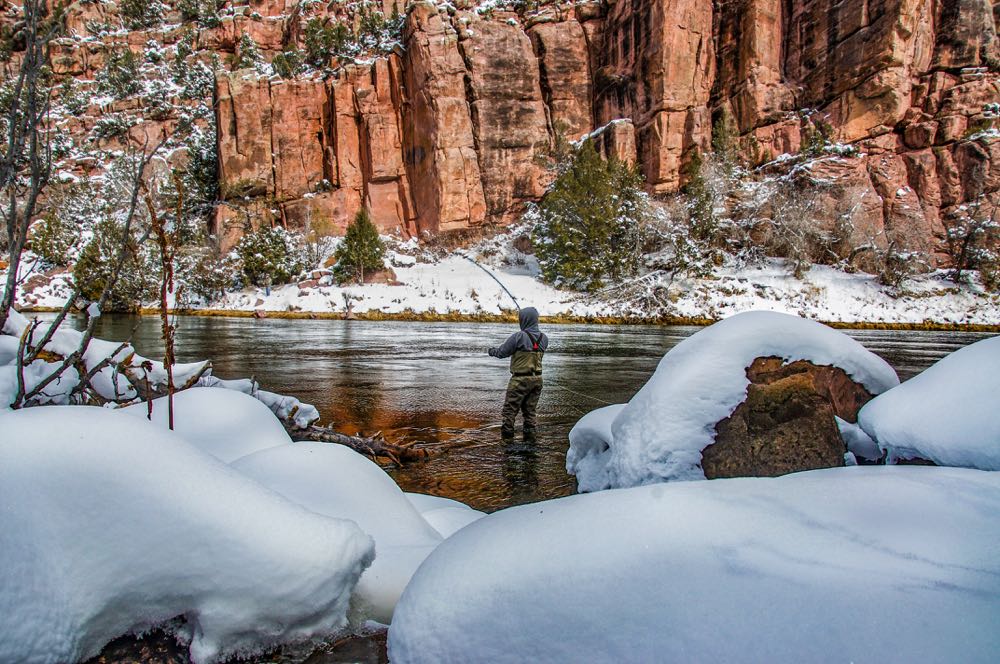 Now that that's out of the way, I can say that the Canyon II's have kept me warm when I needed it and were breathable in those warm summer days on the water.
They're great waders that can perform well in a variety of circumstances, in many different fly fishing destinations around the US and Canada. But they're not perfect. Which is why you'll see some cons later on in this post.
What's in the Box?
The waders come in what looks like a large shoebox, and inside you'll find the waders in a small carrying bag. There will also be a card with direction on how to register the waders for Frogg Togg's 1-year warranty.
Waders
The waders come in a carrying bag, which is an extremely useful accessory. You don't have to worry about consistently folding them and fitting them in certain areas of storage.
Frogg Togg Waders Review Features & Specs
Frogg Togg has waders that range from $80 all the way up to $350. The Canyon II's are on the lower end and will only cost you around $90. They have neoprene stockings built in, so it's up to you to purchase the proper wading boots.
Build Quality
The Frogg Togg Canyon II Stockingfoot Chest Waders are created with 4-ply nylon upper that's 100% waterproof. The 4-ply nylon provides me with some breathability on those warm days.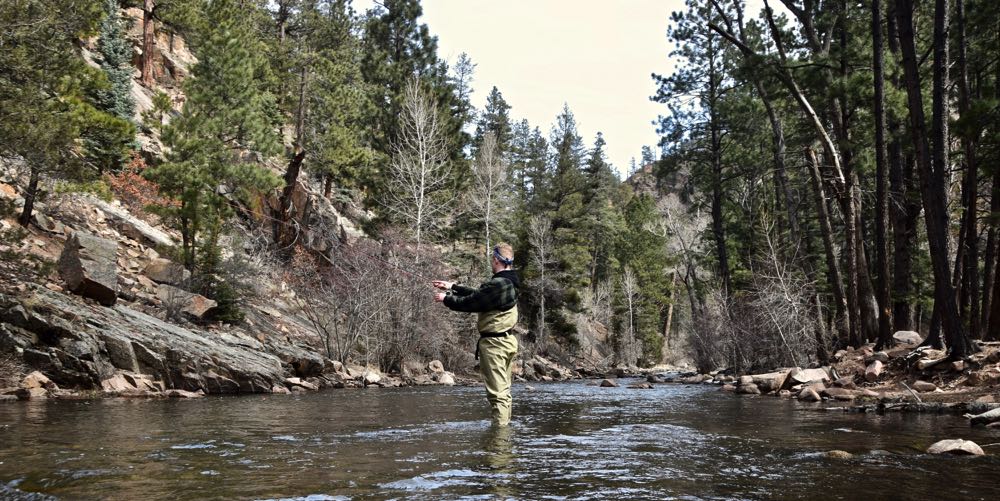 The neoprene socks are made of 4 mm neoprene, and they truly do keep my feet warm and dry. The booties are double-taped, and despite the abuse I've subjected them to, show no signs of wearing. In fact, I think that the neoprene booties are the most well-constructed aspect of the waders. I've never even needed to wear socks in them.
The bottom of the wader also comes with a built-in gravel guard as well as lace hooks. These ensure that no unwanted materials get into my boots. They cinch tightly around the wading boots, and the hook stays on the laces. Again, in all my time using them, I've never had to readjust them.
The seams are fully taped and sealed to ensure you stay dry. There are, however, more seams in the waders that some of the higher-end waders don't have. The more seams in the waders, the more opportunity there is for them to leak. However, after two solid years of use, mine still haven't sprung any leaks.
The Canyon II's also don't have any excess material or protection around the knees. This is the area that takes most of the beating. You're bending, stretching and walking through vegetation that could easily poke a hole in your waders.
So far, the 4-ply nylon has held up around the knees and all the other areas of the wader. I've spent time hiking through enough heavy vegetation that I can say I'm truly pleased with their durability. I've even taken a few spills due to some slippery conditions and haven't had any rips or tears.
Comfortability
There have been numerous occasions when I'm fishing in high 40s or low 50-degree water and need waders, but the outside temperature is over 90 degrees. The Canyon II have a nice amount of breathability compared to other waders in a similar price range.
They're not going to fully breathe like some higher-end waders, but they're comfortable enough to hike a ways to the water on these hot days. You may find yourself feeling a bit overheated, but it's a small price to pay for a comfortable day in cold water.
The shoulder straps are made of a comfortable material that keep the waders snug, but don't rub into your shoulders. You won't even notice anything is strapped over your shoulder when you're wearing these waders. Plus, they're easily adjustable. They've always fit me well regardless of how many layers I'm wearing underneath.
Weight and Packing Size
One of the best features of the Frogg Togg Canyon II's is the weight. These waders weigh close to nothing. Unlike with neoprene waders, I haven't had any trouble packing these in my backpack on the days I need to hike a ways to get to the water.
They pack down to around 10 inches wide and 4 inches tall. They can easily be shoved and manipulated to fit into almost any size pack. When I've needed to hike a few miles in the waders, I've felt no excess fatigue because of the weight.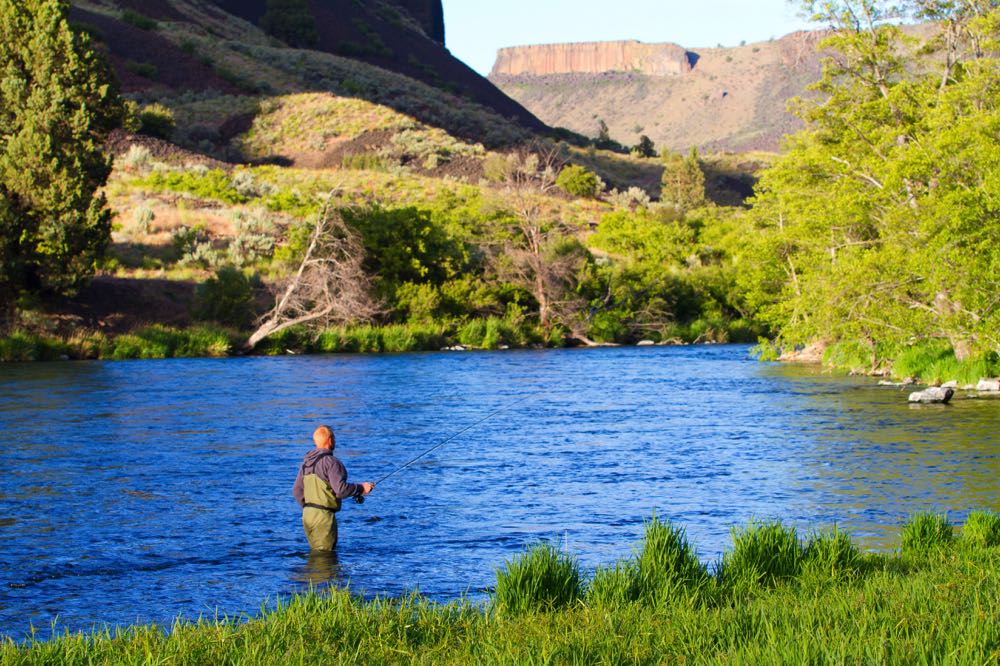 I have fit these waders in the outside portion of a small carry on suitcase with no problems. They're great for traveling and can withstand being shoved into small spaces.
Sizing
These waders have more of a slimmer fit, and that's one of the main reasons I purchased them. I have a tall and lanky build and many of the waders available to purchase make me look like I'm wearing a sumo wrestling costume.
You can find these waders from small to XXL. The small will fit a size 6-8 foot, has a 34-inch inseam, and a max chest size of 45.5 inches. The medium fits size 8-11 feet, has a 36-inch inseam, and fits a chest size of 48 inches.
The large Frogg Togg Canyon II will fit size 10-12 feet, a 38-inch inseam, and a 51-inch chest. The extra-large is size 11-13 feet, has a 38.5-inch inseam, and fits up to 54-inch chest. The double XL holds size 12-15 feet, has a 39-inch inseam, and room for a 58-inch chest.
These waders work well to layer underneath. I have size 10 feet and am 5'11". The mediums fit me perfectly. The inseam may be a little short, but I have long legs and it's a common problem I face with all of my pants.
Extra Features
Plus, the waders do come with a wading belt. Anglers run into problems for sizing when the waist is too large. The wading belt brings in the waist and obviously does well to keep the water from entering your legs if you do happen to fill your waders.
I personally haven't filled these waders, so I can't speak to their ability to be removed, but the clasps for the shoulder straps and wading belt are all easily accessible, large, and simple to operate.
There are also two waterproof pockets near the top of the waders that are large enough to hold valuables or a small fly box. The Frogg Togg Canyon I only had a waterproof pocket inside of the waders that was far too small. I couldn't even fit a cell phone in the pocket, let alone keys or a fly box.
Frogg Togg added a pocket on the outside on the Canyon II's and kept the pocket on the inside of the waders for added storage. This extra space goes a long way in helping you store your valuables. When I've been unable to carry a fishing pack, the pockets have held everything that was necessary for my trip.
Warranty
Frogg Togg does offer a one year warranty on their products, but they don't replace any waders with user damage. If you snag the waders on a tree or tear any part of the waders yourself, Frogg Togg won't replace them.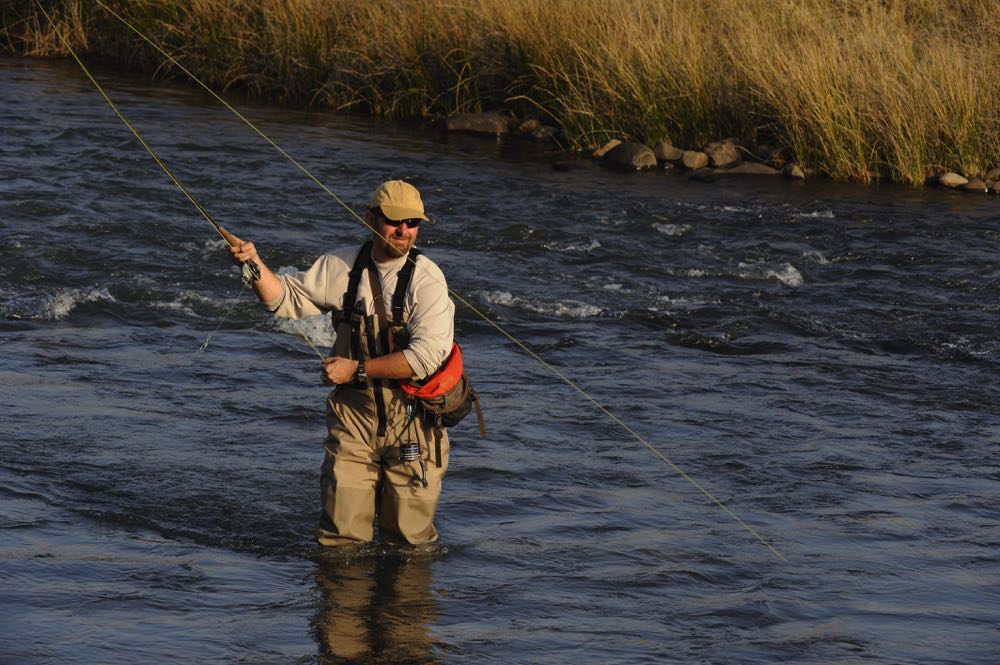 If there's a defect in the wader, they will repair or replace the wader at not cost. All you have to do is fill out an online form once you receive your waders to guarantee they will honor your 1-year warranty.
Other higher-end brands like Orvis or Simms offer much better warranty packages for their waders, but for the price, Frogg Togg doesn't deem it necessary to put all of their products under user error warranty.
Aesthetics
The Canyon II's are a nice slate grey color with black straps and a black wading belt. The chest pocket and logo have flashes of orange on them that add a nice effect.
They're not fancy with multiple patterns along the lower portion of the wader, but they look presentable. I've never felt like I was fishing in cheap-looking waders.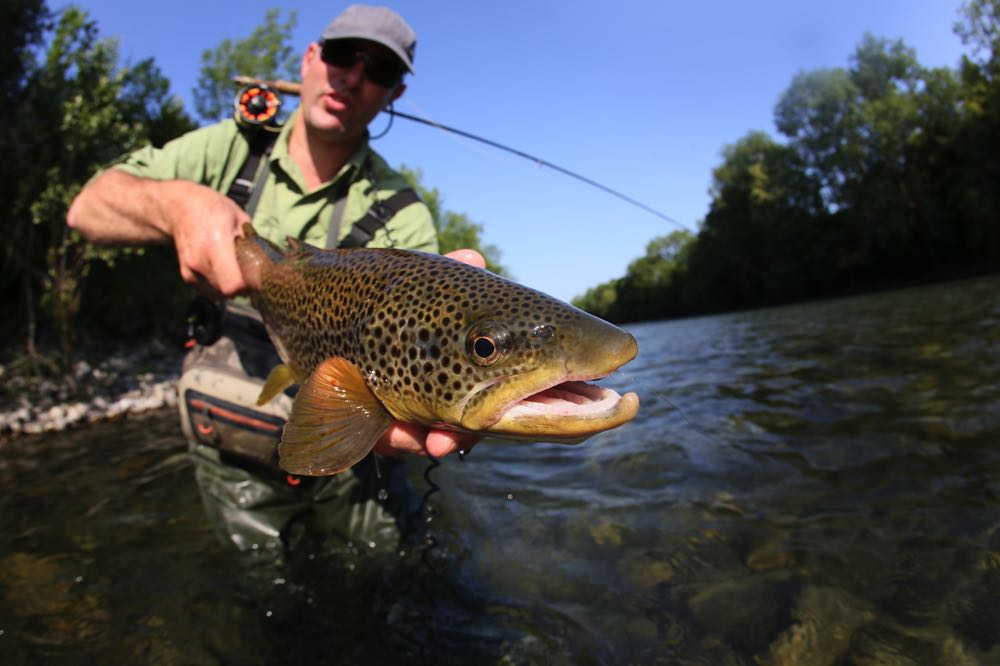 Plus, the slimmer fit makes the waders look great. I've had multiple anglers stop me in the midst of fishing and ask what kind of waders I'm wearing. Believe me, finding slim fit clothes for myself is nearly impossible, but Frogg Togg has done the job.
If you aren't on the slimmer side, the waders have room for more so you don't need to worry about things being too small. Remember, if you're close to a size cutoff, it's always best to move a size larger.
Frog Togg Waders Review: My Personal Thoughts
Pros:
For the price (around $90), you can't go wrong with the Frogg Togg Canyon II's. These waders perform like waders from highly reputable brands. They have all the necessary features and will work great in just about any circumstance.
I've used these waders on duck hunting trips in early December and walked around in fairly rough conditions with large rocks and trees that could have easily put a hole in these waders. They're warm, haven't torn, and show no signs of wear and tear.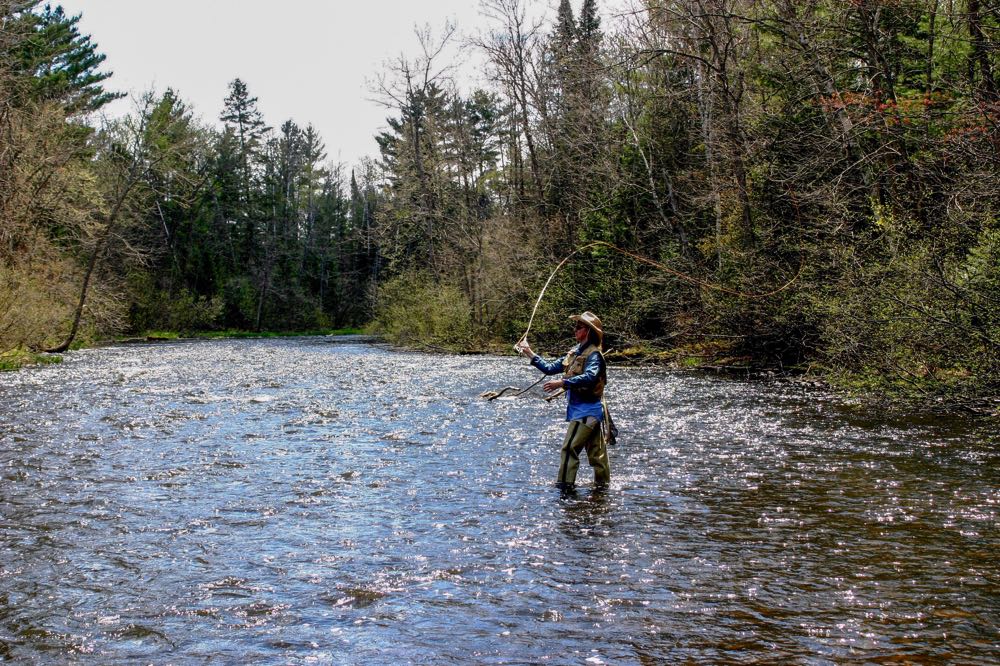 The waders are light and pack down well. I travel quite a bit and like to bring my fly fishing gear to as many places as possible. These pack down to about the size of a sweatshirt, so I never have to worry about fitting them into whatever bag I'm bringing on the plane.
I expect these waders to last me at least three or four more seasons. If so, I'll have had six full fishing seasons out of my waders and that's fairly uncommon. I use them around 50 to 60 times per season and multiple times throughout other parts of the year.
I can guarantee I'd pay $90 if I knew a pair of waders would last me six seasons. The only reason I expect them to tear is that I fish in areas that aren't friendly to waders.
Cons:
To have an honest Frogg Togg Waders review, there are obviously going to be some cons, so here it goes.
I wish these waders were a bit more breathable. While they're lightweight and comfortable, I've had to unstrap them and lower them in the mids of a few of my hikes on those warm days.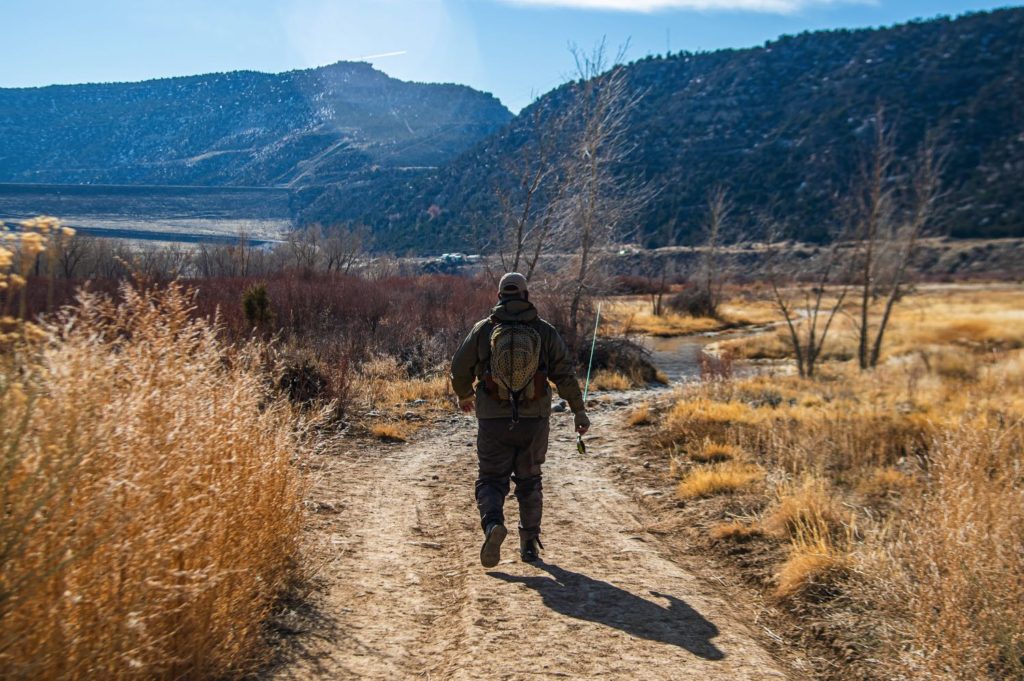 When the sun is shining and there isn't much movement in the air, I get hot and my legs become extremely sweaty. However, for $90 I can't expect these waders to breathe like some of the more expensive and higher performance waders.
I also wish there weren't as many seams on the Canyon II's. In the past, all of my leaks in my waders have come from a seam. So far, these seams have held up and I haven't seen any weakening. However, there's nothing worse than feeling your leg become extremely cold and wet in the middle of one of your fishing sessions.
Concluding This Frogg Togg Waders Review
Waders are a stressful item to purchase. All it takes is one tree branch or rock and you're out a few hundred dollars and can do nothing about it. Some companies are choosing to put better warranties on their waders, but many choose not to do so.
Frogg Togg offers extremely affordable options for anyone looking to upgrade their waders. Professional level anglers have several choices and entry level anglers do so as well.
The Frogg Togg Canyon II's are a great option for anglers of any skill level. I've put them through almost everything they can handle, and they still continue to work like a charm.
Some of the photos in this article are courtesy of Shutterstock.com.
Like This Article? Pin It!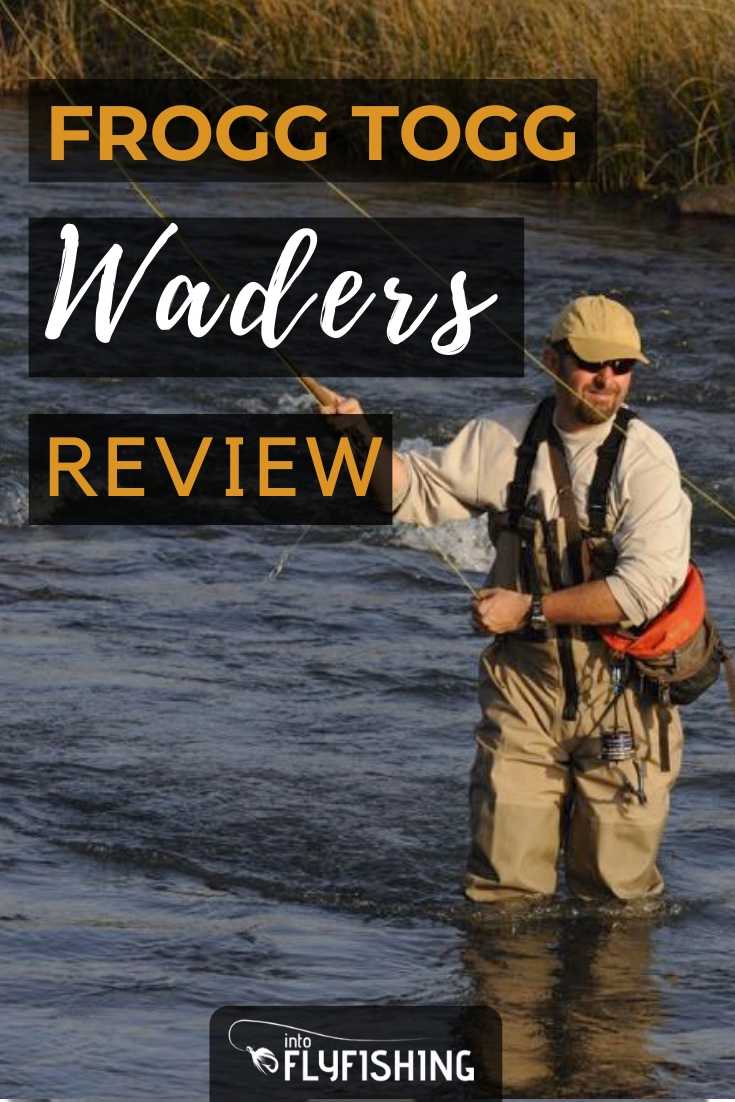 Amazon and the Amazon logo are trademarks of Amazon.com, Inc, or its affiliates.