Fly anglers have a love/hate relationship with waders. They're necessary for a successful day on the water, but can be absolutely infuriating when they rip or start to fall apart. Snowbee, a company that has specialized in waders for the past 40 years, understands these frustrations well.
Snowbee has created the Prestige STX Waders for anglers looking to fish in a vast array of weather conditions and circumstances. Whether you're hunting for fish in a tailwater on a warm summer day or chasing steelhead in the dead of winter, these Prestige STX Waders are a great option.
I've had my fair share of poor quality fly fishing waders in my life. Whether they develop holes in the offseason or they seem to fall apart with just a few uses, I've found trouble frequently. As an avid angler, I need a set of waders that will last, and my mission for the past couple years has been to find some.
In this Snowbee Prestige STX Waders review, I'll give you all of my thoughts about this quality fly fishing product. I've been taking these waders out for long days of fishing for quite a while now, and I have a pretty good idea of their pros and cons.
Why Trust My Snowbee Waders Review?
I've used the Snowbee Prestige STX waders in a variety of scenarios. I've worn them in a tailwater on a warm spring day in Iowa, on the fast moving Yellowstone River in Montana, and plenty of other places. I've given them a fair opportunity to show their strengths and weaknesses.
At Into Fly Fishing we only review gear that we've used personally. It's important that consumers have a clear understanding of what they're buying, and we believe that testing the equipment is the best way to provide a thorough and useful review.
I can tell you that I've used these waders enough to really know what they're all about. They aren't perfect, but as you'll see in this review, their strengths far outweigh their weaknesses.
See also: A Complete Buyer's Guide to Snowbee Fly Waders
Watch the Video
What's in the Box?
When you receive the Snowbee Prestige STX waders, you'll get a few things to ensure the longevity of the waders as well as information on how to best care for them and their primary uses.
Waders
When I first opened up the box containing the waders, the first thing I noticed was the peach skin material. This peach skin material ensures that the waders stay quiet as you walk through the water or up along the bank as you switch locations.
And it's true. I was impressed by how quiet they were the very first day I took them out. There was a bit of a hike to the stream I was fishing, and it wasn't long before I realized that the waders weren't making any noise at all.
If you're like me, then that squeaking sound produced by most wader legs rubbing against each other drives you nuts. It was nice not to hear it while I was walking around in them.
I also right away noticed the straps on the Prestige STX Waders. The straps have the Snowbee logo across them, and the dark brown and black contrast has a nice look to it. The waders feel solid and comfortable, but not too heavy.
Patching Material
Snowbee also sends along patching material for your waders. Anglers don't often think they need these, but they can become very useful if you find yourself in the midst of a fishing trip and you've broken a seam or poked a hole in your waders.
One of these patches along with the glue that is included can seal up the area that's giving you trouble. Take a look at the instructions to ensure you know exactly how to apply these patches. I haven't had to use mine yet, but I imagine it's not so difficult, especially considering there are instructions included.
Snowbee Prestige STX Waders Review Features & Specs
Snowbee has been in the wader business for the better part of 40 years. The company was started because a group of anglers found a niche in an area of the industry that needed some improvement. They saw an opportunity to make a difference and took advantage of it.
Build Quality
The STX Waders are made of a Vapour-Tec breathable membrane that ensure anglers will be comfortable despite the weather they may be experiencing. The outer layer of the waders is treated with a Soft-touch Durable Water Repellent as well as a peach skin finish.
The peach skin finish makes these waders quiet. A quiet set of waders is something that anglers don't know they need until they have them. You can wander around the water and not annoy yourself with the excess noise you're making.
The stocking feet are made of a 4 mm neoprene and have a high density sole panel. The seams are around the foot instead of running under and over the feet. By putting the seams around the feet, you don't have to worry about the wear and tear you'd usually find.
Durability
One of the most unique features of the Prestige STX is the six layers of material they use on the legs and seat. Most companies put four layers on the legs and seat. Snowbee wants to make sure anglers have peace of mind in their waders, and the extra two layers of material are a nice added touch.
It's easy to snag waders on sharp sticks or rocks and rip a seam or poke a hole. Snowbee wants anglers to be sure that their waders will perform year after year. Plus, the added layers of material don't cause anglers to sacrifice in comfort or breathability.
In all my time using them, not only have I not ripped or poked a hole in them, but they've always been comfortable. They're made of good quality material.
The sealing tape inside the Prestige STX waders is another small detail Snowbee prioritized. If you pay close attention to the tape, you'll find no creases. This is where many other company's waders fail, but Snowbee takes extra time to make sure this is done right.
Comfortability
As I mentioned, I find the Snowbee Prestige STX waders very comfortable. Since they can be useful in both warm and cold weather, Snowbee made sure that anglers will feel okay in a variety of conditions.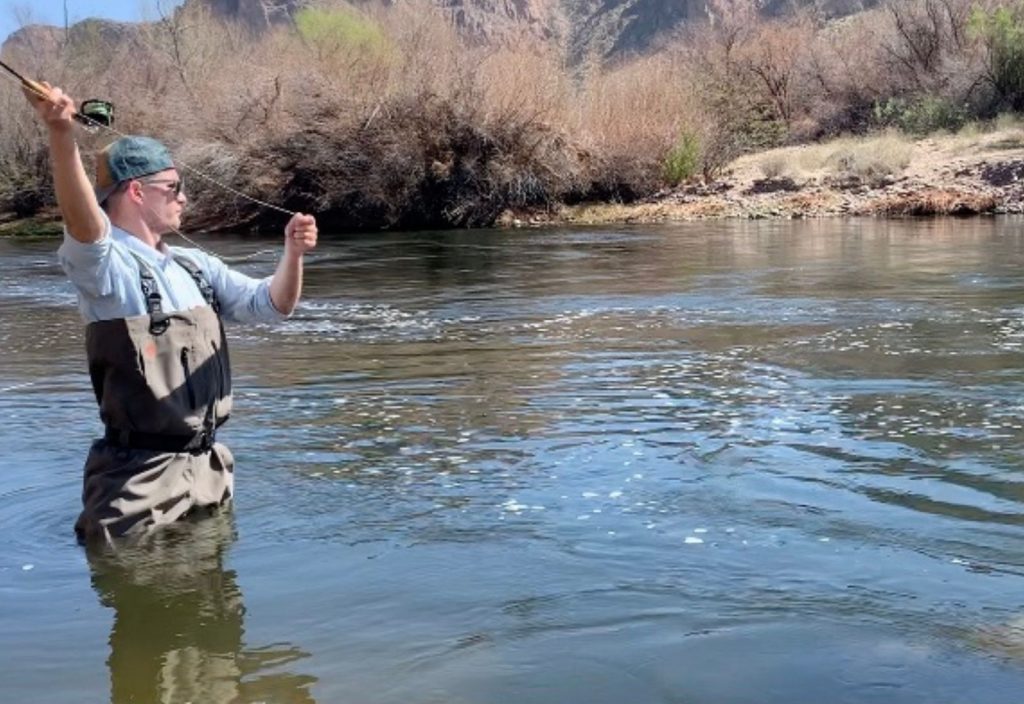 I never found myself sweating heavily on a warm summer day, and neither did I freeze on some of the frigid winter days when I used them. They provide you the best of both worlds. If the weather is too warm, you can roll the waders down and use them more as a set of hip waders.
If the weather is cold, that's no problem because these waders sit higher on your chest than a traditional set.
Warranty
The Snowbee Prestige STX Waders are covered under a 12-month warranty. If there's any sort of manufacturing or material issue, Snowbee will replace them. Be aware, though, that the warranty doesn't cover punctures, fair wear, tear or seam damage caused by the incorrect choice of size.
Other companies have lifetime warranties on their waders, so keep that in mind before you purchase these. You should be able to fish these hard with peace of mind that they'll last.
Aesthetics
The Snowbee Prestige STX Waders are a dark brown. It's a military brown color and there are a few orange accents with the Snowbee logo. Also, the straps are black and provide a nice accent to the darker brown.
There's no need to use flashy looking waders, and Snowbee ensures that anglers will blend in just fine with their surroundings.
Added Features
The D-Rings near the wading belt are a nice touch. You can attach a set up nippers or forceps if needed. There are D-Rings also near the suspender buckle. The suspender buckles are reversed so you can roll the waders down on those very warm days! They'll keep the legs warm, but your upper body won't be uncomfortable.
Price
The Snowbee Prestige STX Waders will cost anglers $299-319. This is nowhere near unreasonable for a set of high-performing waders. Many other companies charge upwards of $400 or $500!
Snowbee Prestige STX Waders Review: My Personal Thoughts
These waders were created for fly anglers. Many companies make a universal set of waders that will work for hunting, fishing and everything in between. While the Prestige STX Waders will work for those other activities, they were created to perform with a fly rod in hand.
You'll have plenty of storage for your gear as well as hand warmer pockets. These hand warmer pockets are a great feature that every set of waders should have! Place your hand in these after you've changed your fly or handled a fish. They'll keep you comfortable.
The peach fuzz finish is a game changer! They're quiet and great to walk around in outside of the water as well. I found this to be very unique and I didn't know how awesome that this feature would be until I used them.
The warranty on these waders is a bit disappointing. Since they're $300, anglers have to be a bit careful with how they use them. Other companies provide lifetime warranties on their waders, but Snowbee only has a 12-month warranty and that's only for manufacturing errors.
If you often find yourself fishing in thick brush and other areas not friendly to waders, consider the warranty before you purchase!
The waders aren't necessarily a slim fit. I'm a bit of a skinnier human, and while I don't feel as if I'm drowning in them, they aren't form fitting. Obviously, this is a style choice, but something to keep in mind.
Overall, the Snowbee Prestige STX Waders are a great option for fly anglers. They're $300, which isn't out of the ordinary for a set of high performance waders.
The added layers on the legs and seat ensure for more durability and don't sacrifice with comfort.
I wore these waders on an 80 degree day with the sun shining. These are obviously not great conditions to wear waders in, and I was curious to see how they'd feel. I put these waders on at around 10 am and wore them until 1 pm. It was during the heat of the day and I never felt overheated.
I was standing in a tailwater so the water temperature was cold, but the warm air temperature didn't cause me to sweat or feel overly uncomfortable. This was a great surprise! There's plenty of room for me to layer on those colder days and the fabric didn't stick to me as I started to get warm.
I'll definitely continue to use them in my regular rotation of waders! They'll be especially helpful on those warmer days.
Conclusion
It's not easy to purchase the right set of fly fishing waders. Dozens of factors go into what makes each set special and set apart from others in the industry. Snowbee has found a few special features that set their waders apart from others within the world of fly fishing.
After you've spent enough time on the water wearing waders, you'll find specific things that you absolutely have to have and things you could do without. Snowbee has created a pair of waders for anglers that have all the necessary features, but aren't anywhere close to excessive. You can't go wrong with the Prestige STX waders from Snowbee!