In this article I'll be reviewing the 8Fans Non-Slip Wading Boots.
Before we get started, I have to say that 8Fans sent me these wading boots to review and test, but in no way are we ever required to say anything positive about gear on this website, whether it was sent to us for free by the manufacturer, or we purchase it for ourselves or to rent out to clients.
8Fans Non-Slip Wading Boots
If you like what you see in this 8Fans non-slip wading boots review, you can order the boots on Amazon.
The reviews on this website are always honest and unbiased, no matter what. Now let's get into this 8Fans Non-Slip Wading Boots review.
Disclaimer: IntoFlyFishing.com is a participant in the Amazon Services LLC Associates Program, as an Amazon Associate I earn from qualifying purchases. Please see our Privacy Page for more information.
How I've Been Fishing the 8Fans Non-Slip Wading Boots?
I've been fishing the big rivers, small creeks, and small lakes up here in northwestern Montana for the past three weeks now. I've been wearing the 8Fans Non-Slip Wading Boots pretty much every single day.
One of the things I love the most about these boots is that the size is perfect. I ordered a size 10. They fit me perfectly, and I really like that they have a lot of cushioning all around the ankle support, the tongue, and especially in the sole.
I always seem to get blisters when I get a new pair of boots, and wading boots have been no different for me.
But the 8Fans Wading Boots are so well-padded that I wore them right away, every day, after not wearing wading boots for more than a month. I didn't get any blisters, and I felt totally comfortable on the river the entire time.
Another thing I really like is that the sole has a strong grip. When you're wading around the river, you don't slip around that much.
I was wading in some gravel, which is pretty easy, but also in some really slippery rocks that had some algae on them. The 8Fans Non-Slip Wading Boots did a really good job of keeping me stuck on the rocks and not slipping around too much. I still did slip a little bit, but they're still great soles.
Watch the 8Fans Non-Slip Wading Boots Review Video
8Fans Non-Slip Wading Boots Construction and Build
First of all, the 8Fans Non-Slip Wading Boots have a lightweight and breathable mesh material around the ankle and in the tongue. They also have a nonslip rubber outsole with EVA midsole.
The toe and heel are both reinforced with PVC. There's a nicely padded ankle collar inside of the boots that keeps them secure to your ankle. It feels really comfortable when you're in the water.
Lastly, the 8Fans Non-Slip Wading Boots have what they call "speed-lacing" lacing hoops made of polymer. This basically means that when you pull on the tops of the shoelaces, the entire boot tightens up nice and smug.
I can get them off very quickly because of it. It sounds a little like a gimmick, but it's really handy to grab the top parts of the laces, yank on them, and the entire boot tightens around your foot, fitting there really snugly.
8Fans Wading Boots Pricing
The price is another place where the 8Fans Non-Slip Wading Boots shine. As with all 8Fans products, they're priced to be at the more budget end.
They're perfect for someone getting into fly fishing or for using as your backup pair. Or, because they're so high quality, you can use them as your primary pair as well.
Order the 8Fans Non-Slip Wading Boots
If you like what you see in this 8Fans non-slip wading boots review, you can order the boots on Amazon.
But coming in between $76 and $87 USD, depending on what size you get, they're really low-priced wading boots. A lot of wading boots out there are $200 or $300, and even just normal walking-around-town boots can cost you a couple hundred bucks these days.
The 8Fans Non-Slip Wading Boots are priced around $80, and they're a really good deal.
I've always had more expensive wading boots, and when I ordered them, before they got here, I thought that maybe they wouldn't have the high quality that I was expecting. I didn't know how this review would turn out if the boots only cost $76. How could they possibly be high quality?
But as soon as I opened the box and gave them a good look, I was really impressed by the overall build quality, especially considering the price range.
All the stitches around the entire boot are double-stitched. Every single one of the lace rings is well-secured into the boot. They look and feel like much more expensive wading boots.
For the price, the value is really great with the 8Fans Non-Slip Wading Boots.
My Overall Thoughts on the 8Fans Wading Boots
I've already mentioned the comfort level and how impressed I was with how comfortable they are, along with the price. They're really affordable for wading boots.
Overall, I think they're perfect boots for the beginning angler, or the intermediate angler who doesn't want to go out and spend a ton of money on boots.
Order the 8Fans Non-Slip Wading Boots
If you like what you see in this 8Fans non-slip wading boots review, you can order the boots on Amazon.
I also reviewed the 8Fans Waders, and those waders and these boots are the perfect pairing. The waders are only $80 or $90, and the boots are less than $90. You get totally kitted out, and it only costs you $180.
I have waders down in my garage right now that cost $500, almost triple what 8Fans boots and waders cost together. So it's a really great value.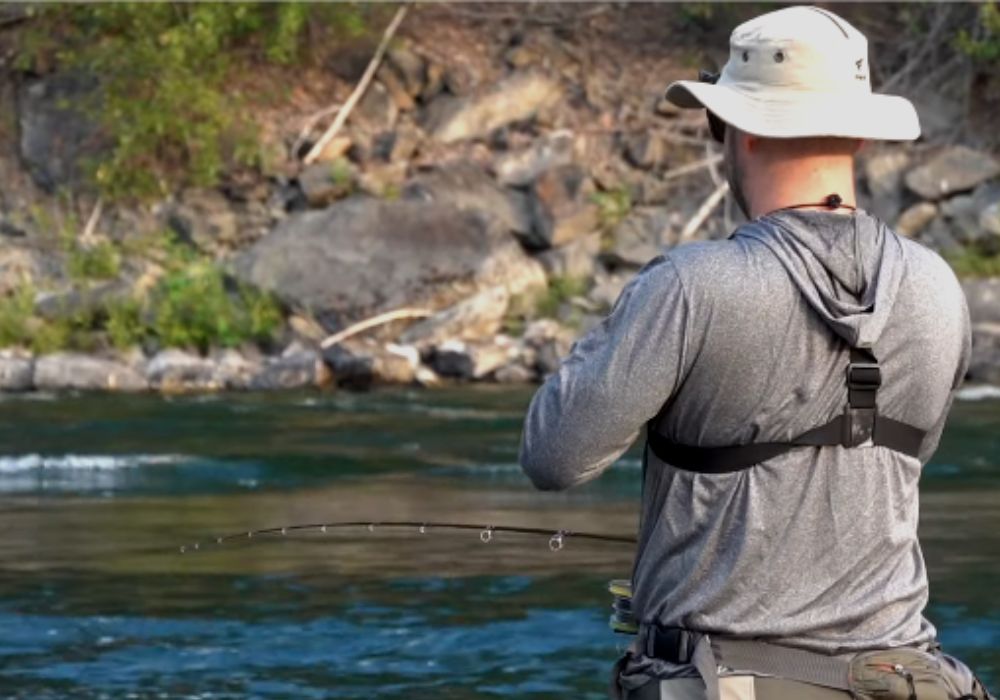 I don't think you're sacrificing too much on quality by spending a little less money in this case. They do a really good job of somehow cutting costs and making a durable product that has a low price.
Obviously I haven't beaten the crap out of them yet. I've only used them for a month, but in that time I've fished them nearly every day, three or four hours of slipping around the riverbed, and I haven't had any problem.
They still basically look like the day I got them, aside from a few scuffs and some dirt. They're holding up nicely. I'm sure that they'll last a couple years.
I think they're perfect for anyone looking for a new pair of wading boots, whether a beginner, intermediate, or pro.
They're especially a great idea for a backup pair of boots. You can bring them on your fishing trip in case the sole falls out of your main boot or something like that.
It won't break the bank to have an extra pair of boots for when you go out on a fishing trip.
Conclusion
I hope you enjoyed this 8Fans Wading Boots review. If you did, please give it a like, and leave a comment down below to tell me what your favorite brand of wading boot is. Also, don't forget to subscribe to our YouTube channel.
Right now I'm fly fishing in northwestern Montana, and you can check out our Montana Fly Fishing vlog series on YouTube. We're doing a video every week, taking you along fly fishing with me.
Until next time, tight lines.