Today I'm going to do a full review of the 8Fans Breathable Waist Waders.
Before I get started with this 8Fans waders review, I have to mention that 8Fans did send us these waders to test and review, but in no way did they say we have to be positive.
We told them straight up that every time we do reviews on this website, no matter what happens, we're 100% honest.
We use them, beat the crap out of them, and review them after about a month or so. That's what I'm doing here.
If you've checked out our Fly Fishing in Montana vlog series, you'll notice that I've been wearing 8Fans Breathable Waist Waders quite a bit, and I've been using them with 8Fans wading boots.
The boots are also super comfortable. The neoprene booties fit perfectly inside. I did a separate review of the boots as well, and you can check that out here.
The boots and the waders make a perfect set, and they don't cost a lot of money. You won't break the bank by hitting the river and keeping yourself dry.
How I've Been Fishing the 8Fans Breathable Waist Waders
I've been fishing them a lot for almost a month now in the small streams, creeks, and big rivers here in northwest Montana. I have to say that I'm really impressed with them, especially for the price, which I'll get into a little bit later. When it comes to price, these waders are pretty incredible.
They're not meant to compete with the big brands, like Simms, that cost $500, or the Orvis Pros, that go for about $400 or $500. The 8Fans Breathable Waist Waders are in a different class of their own.
If you're looking to get into fly fishing, if you want a backup pair of waders, or if you poked a hole in yours during your fishing trip and you need another pair, these ones are perfect.
Actually I've been using them on and off as my primary waders, and they're great for that too. There's absolutely nothing wrong with them.
They've been just warm enough. They're not too hot when it's hot outside, and they're not too cool when it's freezing cold in the mornings here in Montana.
I've been out casting away when it's been 37° Celsius (98.6° F), and they haven't been too hot for me. I felt pretty comfortable in them.
I've also been fishing them early in the mornings here. A few of the mornings it was down to maybe 12° or 13° Celsius (55.4° F), and they were still comfortable. They kept me warm enough.
For me, they've been a great set of waders, and I've really been enjoying fishing with them.
Watch the 8Fans Breathable Waist Waders Review Video
Features of the 8Fans Breathable Waist Waders
They're a waist wader, so they don't come all the way up to your chest, which keeps you a little bit cooler and makes them a little bit easier to get on and off.
They have a really handy pocket inside the buckle. It's right along your waistline, and you can put all the things you need to be waterproof in there, like your phone.
They also have a really nice and handy adjustable belt buckle that's quick-release, plastic, and super light. It's comfortable around your waist. You can get it tight, and you can loosen it up whenever you want.
You can also hang a couple things off the side. I've been hanging my bear spray, because here in Montana there are lots of bears we have to worry about.
Basically, for waist waders, they have all the features that you'd expect. It doesn't have the massive amount of pockets that you'd get with a chest wader, where you'd have pockets on your chest and maybe pockets along the sides of your legs.
Instead, the 8Fans Breathable Waist Waders have one main pocket inside, and that's perfectly fine because every time I've been fishing with them, I've been using a pack or vest.
Storage hasn't been an issue, and I typically don't rely on my waders for my storage needs anyway. That's why I have a vest, and that's why I have a pack or waist pack, whatever I'm using.
8Fans Waders Construction and Build
The 8Fans Breathable Waist Waders are made with three layers of breathable material, and every single one of their seams on the inside is taped with a water-resistant taping. This double-enforces every single seam that's stitched into the waders.
When you turn them inside out to look at the seams and how they've covered them up, you can tell that 8Fans put a lot of thought into it and made sure that they were making a product that wouldn't leak easily.
They also come with really handy removable knee pads. I love the knee pads in them, because so many times you're kneeling down in the river and it's rocky and might be sharp in some spots. You kneel down to get a photo with your fish, to change flies, or whatever, and it's not only hard on your knees, but it's hard on the waders.
So 8Fans has put an extra couple of layers around your knees as well as a removable knee pad that comes in and out really easily with a velcro release. I've been loving that, because all the times I've been kneeling down, I've appreciated that extra padding. Not all waders have it, particularly not in this price range.
The booties on the 8Fans Breathable Waist Waders are 4 mm and 100% neoprene. They're also double-taped along the seams, and they have a really handy gravel guard at the top. You can hook it onto your laces to make sure no debris gets inside the boots, like rocks and sticks that might puncture a hole in there.
They come in a handy mesh carrying bag, so you can throw the waders in it when they're dry. And because it's a mesh bag, you can even put them in a little wet. All the water will run off.
You can throw it in the back of your truck, although I'd say that should only be temporary. When you get home, it's definitely worth hanging these waders up. You don't want them to get mildewy or anything like that. But the mesh bag is a nice added touch.
The Sizing of the 8Fans Breathable Waist Waders
I got the large size, and it fits me really well. I think that 8Fans does a good job of making every size of their waders.
They're a little bit forgiving. If you get a size too big, it'll still fit and you'll still be comfortable. If you get a size too small, it'll probably be OK as well. The main thing that I wanted to make sure of was that the neoprene booties would fit me, so I ordered the large.
I'm about 6 feet tall, around 200 or 205 pounds, and I have size 10 or 10.5 boots. The neoprene booties fit me perfectly fine, and the waders are just about the right length.
In hindsight, I probably should have ordered one size down, which would be the medium, because I read the sole size on their sizing chart on the 8Fans website. You can check their sizing charts to get the exact pair for yourself.
I looked at the medium size soles, and they'd also fit a 10 or 10.5 size foot. I have shorter legs, so that would bring the knee pads up a little on my legs. They're a tiny bit long for me.
But I do have short legs for a 6-foot tall guy, so I think that if you're 6 feet tall, either the large or the medium will fit you well. Like I said, 8Fans does a good job of making them really forgiving in their sizes.
You can see all of the sizes on their website. The 8Fans Breathable Waist Waders come in small, medium, large, large stout, extra large stout, and extra extra large.
It seems that the extra large stout has a longer inseam, the hip circumference is quite a bit longer, and everything else is just a little bit bigger.
The extra extra large is obviously their largest size. If you're really tall and have really big feet, those are the ones you'll want to get. But for me the large were totally fine, and I also could have gone with the medium.
The Price of the 8Fans Breathable Waist Waders
In my opinion, this is where these waders really shine. You don't expect to get this quality of build from a cheap set of waders.
I have some waders in my garage right now that are up around the $500 mark, and in the past, I've had waders around the $200 mark.
The 8Fans Breathable Waist Waders come in at around $90, depending what size you get. It's a great deal. It's the perfect price for a set of entry-level waders that will keep you dry. They'll be comfortable and breathable, and they'll fit you well.
I've always said that you don't want to cheap out on waders, because the last thing you want is to be on the river and have a leak. That could ruin your entire fishing trip if you're relying on wading during the trip.
I really don't think you have to worry about the 8Fans Breathable Waist Waders. It's not like I've put them through the ringer for years and years yet, but just looking at the build quality, seeing the double-tape seams and how they've worked for me, I can see them lasting a really long time. And I've been beating them up here in Montana.
For the price, as of now, I have to say that they're a great value.
My Personal Thoughts and Opinions about the 8Fans Breathable Waist Waders
I think I've made it pretty clear that, for the price, they're some of the best waders I've ever had.
I haven't even had waders in the $80 to $100 category before, and I have to say that I was pleasantly surprised by the build quality, comfort, breathability, and overall functionality of the 8Fans Breathable Waist Waders.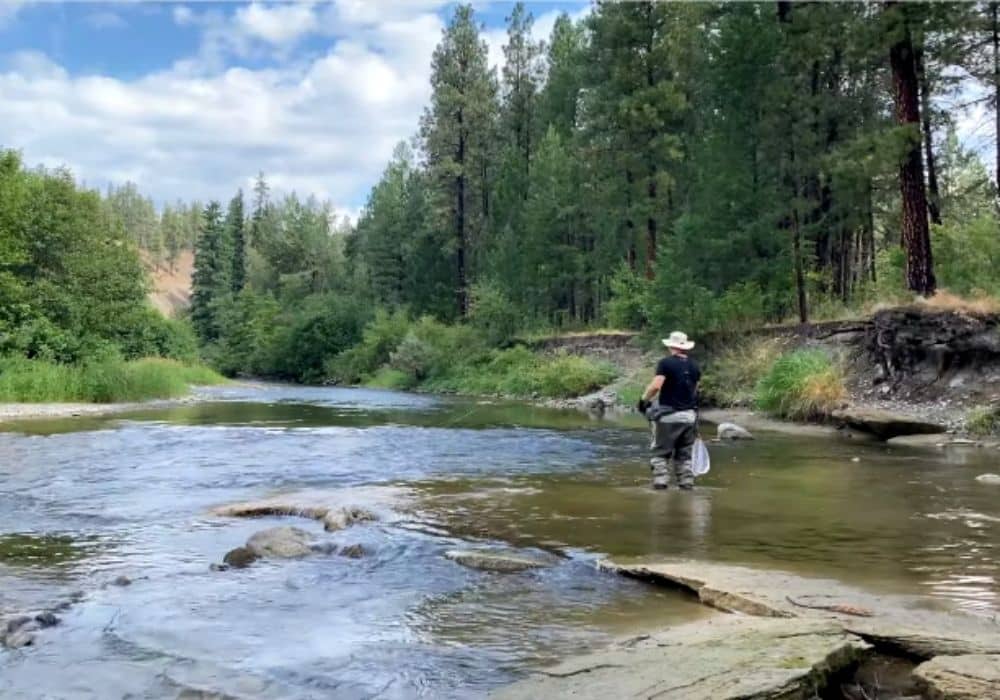 If you're in the market for a cheap set of waders that aren't going to break the bank — you won't have to go spend $400 or $500 on a pair of waders — I really do think that the 8Fans waders will be a good choice for you.
They're not meant to compete with those incredibly high-priced Orvis and Simms waders, which aren't even in the same category. The 8Fans Breathable Waist Waders are great for what you want them for — to keep you dry while you're on the river.
I hope you enjoyed this 8Fans Breathable Waist Waders review. If you did, make sure you give it a like. Also, don't forget to leave a comment down below and let me know which waders you use.
Until next time, tight lines.