As an Amazon Associate I earn from qualifying purchases.
I've been fly fishing down in Virginia for over a decade now and while it's warm down here, I don't always want to wet wade in leech-infested waters. I also don't want to spend a fortune on waders, so I've gone through quite a few pairs of cheap waders over the years.
Picking up a cheap pair of waders will allow you to get out into the water when you don't feel like wet wading, while also helping you to keep within your fly fishing budget.
A pair of waders is about as necessary to fly fishing as a fly rod and reel are. It's an added bonus if you can get a pair that not only keeps you dry but doesn't cost as much as a car payment.
Compare The Waders On This List
If you're looking for simply the best waders overall, check out our post of The Best Waders For Fly Fishing (2023 Buyer's Guide).
Quick Answer: 7 Best Cheap Waders
In this guide to cheap waders, I'll cover the features of different waders you'll need to know, and describe some different products we've personally used, tested, researched, and reviewed.
I probably spend more time in my local fly shop than most, and the team of anglers on this website have over 100 years of professional fly fishing experience between us, so I think we have a pretty unique perspective when putting together gear lists like this.
Enough about me, let's get into this.
The Best Cheap Waders For Fly Fishing
Below, I'll go over 7 different cheap fishing waders. Each has its own pros and cons, so think about what you need and then apply those needs to the list below when shopping for your own budget waders.
1. Frogg Toggs Canyon II (Best Cheap Fishing Waders Overall)
Pros: 4 ply durable upper
Cons: Leaky with neoprene boots
We've fished and tested these waders extensively over the past 2+ years in a lot of fishing scenarios and while they're not the cheapest waders on this list, we think that overall, they're the best cheap waders on the market in 2023.
The uppers on the Frogg Togg Canyon II are made of very strong material that will hold up to just about anything you can throw at them. The seams around the boots, though, aren't well-made and can become leaky after a while.
This is most likely a result of poor stitching. So, ensure you keep that feature in mind when purchasing these waders. If you plan on doing some serious wading or hiking, then it might be best to avoid these.
These waders also feature a waterproof zippered chest pocket that can hold your flies, phone, wallet, or car keys. Anything you don't want to get wet can be placed in here. A great pair of waders should have a waterproof pocket somewhere on it.
On top of this, you also get an adjustable waist belt and straps. These will help you custom fit your waders so that you're comfortable no matter where you're fishing.
Check out our hands-on review of the Frogg Toggs Canyon II Waders.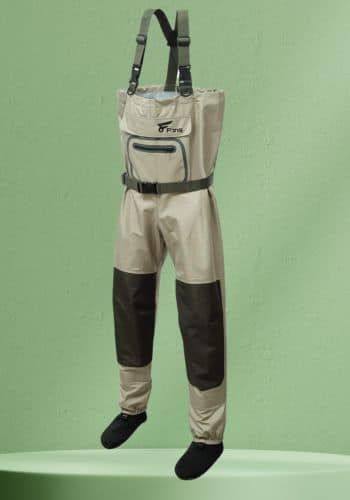 2. 8Fans X-Back Waders (Runner-Up Best Budget Waders)
Pros: Affordable, High Value for Money, Good Storage
Cons: Booties not snug, short inseam design
8Fans have 2 sets of chest waders currently on the market in 2023 and this is their newer iteration, the 8Fans X-Back Breathable Waders. It has some significant improvements, so if you're buying these chest waders from 8Fans, make sure you get the "X-Back version".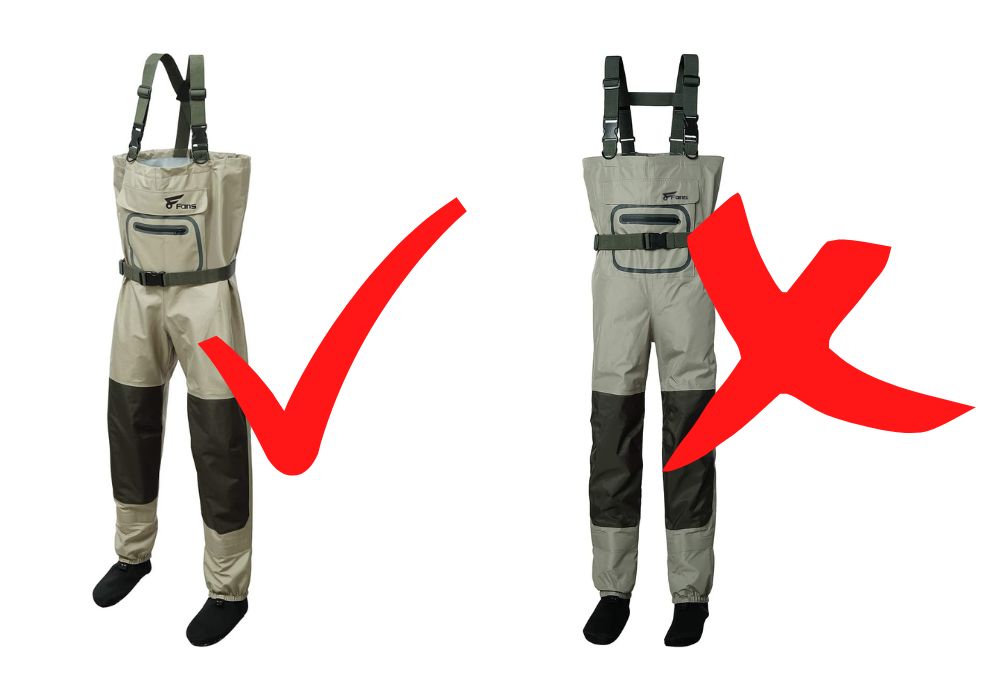 The main reason is that with the other chest waders (simply called 8Fans Breathable Chest Waders), the waist belt goes right across the zipper front pocket, making it almost impossible to access when the waist belt is fastened.
I wore the previous version extensively, and our team has tried both versions and the X-back is definitely a better way to go.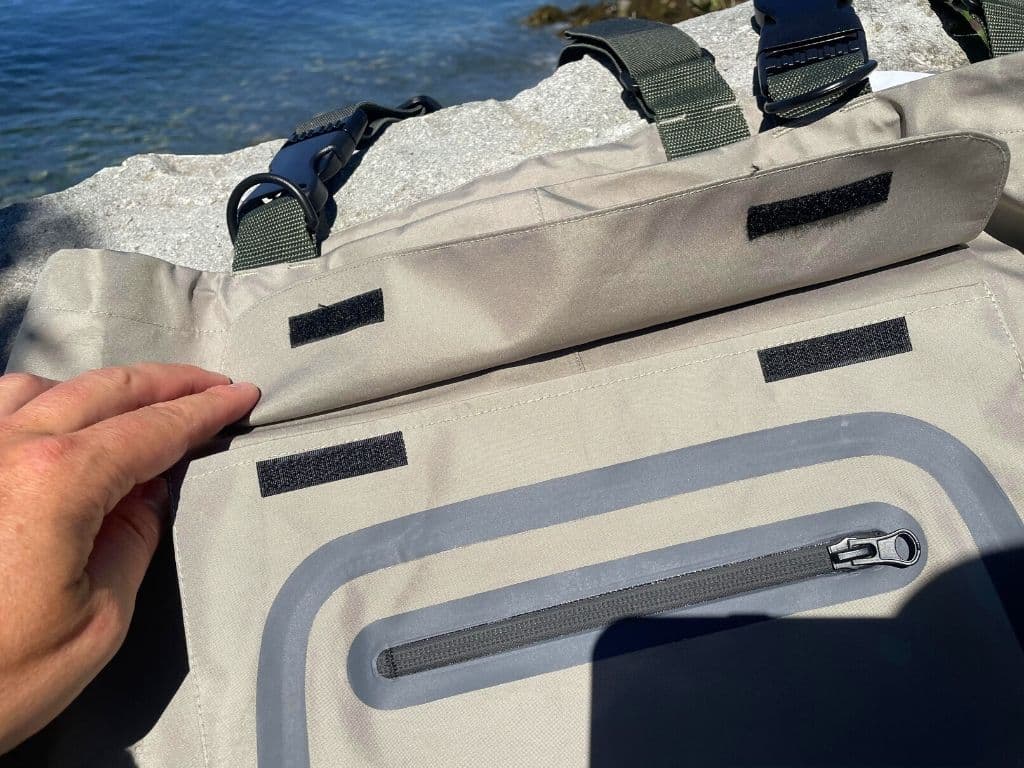 The new and improved chest waders don't have this problem. They still have loose-fitting booties and the inseam is a bit short, but for a sub-$100 price tag, who's complaining?
We've worn, fished and beat the crap out of these waders and they're surprisingly durable for the price. Highly recommended.
Check out our full, hands-on review of this product here.
3. 8Fans Breathable Waist Waders (Best Cheap Waist Waders)
Pros: Great Price, Comfortable, zipper pocket, knee pads, well-built
Cons: Booties not snug fit, kneepads fill up with water, no side zipper pockets
I have had the 8Fans Breathable Waist Waders for over a year now and I've been fishing them a lot. That's nearly 2 full seasons of fly fishing these waders and they are still going strong.
I did get a leak in them, sure. But I was bushwhacking through thorn bushed (I know, not wise) and got a tiny pinprick that would likely have still happened if I was wearing my $500 waders.
I'm amazed at how well-built these waders are for the price. They're breathable, and the knee pads are a super handy addition.
The fold-away waterproof zip pocket is pretty handy, although not very comfortable for men to hold too much bulk there so it's more just for a fishing license and maybe some small items.
The main cons I have with these waders are that the booties don't fit as snug as some better waders like Simms and Orvis who make anatomically correct bootfeet in their waders.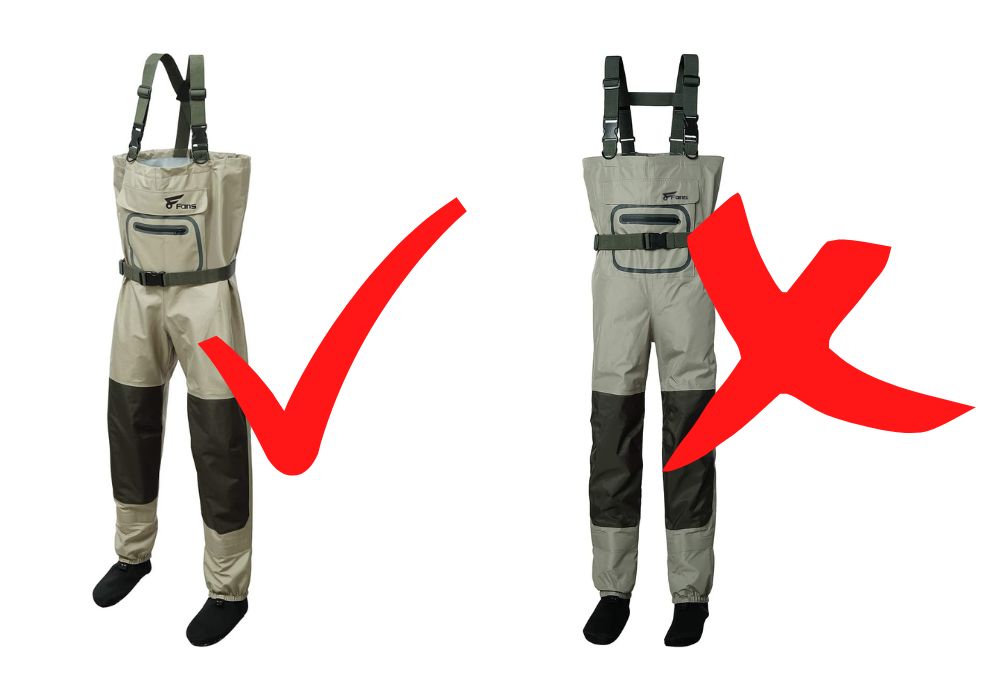 Also, if you take the knee pads out, the empty slot where they go tends to fill up with water. There's an extra layer there, so you're not getting wet, it just makes the waders a little heavy when you first get out of the water until they drain out.
For the price, I honestly think these are the best budget waist waders on the market in 2023.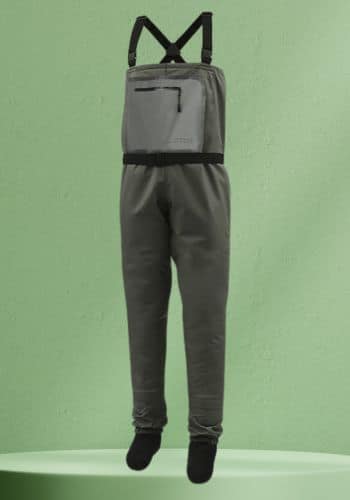 4. Dark Lightning (Best Cheap Waders For Beginners)
Pros: Unisex
Cons: Durability, waistband through chest pocket
There's no need to purchase wading boots with these. The Dark Lightning boot foot waders are great for both male and female anglers. They're ideal for someone who doesn't want to spend too much on boots and waders.
But the reason they top the list as the best budget waders for beginners is that they have a handy drying hook. Simply hang these up by their boots and let them dry upside down. Brilliant. I'm not sure why more wader companies don't offer this.
These aren't great if you're a hardcore angler. The material is rubber, so it's not very durable. Also, because it's rubber, they aren't breathable.
So they're terrible for hot days or long hikes to your favorite fishing spot. However, if you want some cheap waders for fishing to keep you dry, then these will work great for you.
These waders are ideal for the casual angler. They're inexpensive waders and can be used casually during the fishing season. If treated properly and not run through any briars, they should last the casual angler a couple of fishing seasons before holes need to be filled or a new pair needs to be purchased.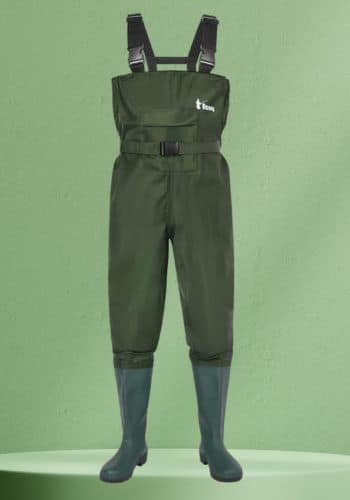 5. Ouzong Chest Waders (Cheapest Fishing Waders)
Pros: Comfortable and adjustable H-back suspenders
Cons: Pants run long
Of all the cheap waders out there, the Ouzong Chest Waders might be the best affordable waders you can get. Despite their price, they fit relatively well, are durable, and won't break the bank.
They aren't going to compare with the quality, breathability and fit of our favorite budget waders, the Frogg Toggs Canyon II, coming in at under $40 they are considerably cheaper.
If you're brand new to the sport, or just don't have a lot of money to spend on waders, these Ouzongs are a great option.
These are ideal for the angler looking for a solid pair of waders but who wants to spend their money on a rod and reel instead of waders. On top of that, these are also made of breathable polyester, making them ok for hot weather.
The H-back suspenders give a great fit and allow you to fully customize them. This allows you to walk and wade safely and comfortably around river banks and in the water itself. They're easily the best budget waders.
There are also two pockets strategically placed on these waders. There's a zippered pocket on the chest area that's ideal for holding fly boxes and all different types of fly fishing gear. The zippered internal pocket can be used to hold your valuables, such as a wallet, car keys or cell phone.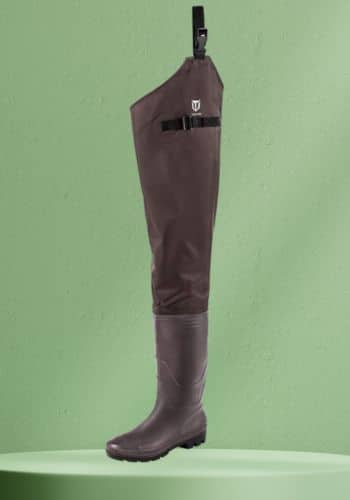 6. TideWe Hip Wader (Best Cheap Hip Waders)
Pros: Multipurpose
Cons: Sizes run small
For fly fishing, I actually don't recommend hip waders, but some people still like them so I wanted to make sure we had a pair on the list. For spin fishermen, hip waders can be great as they don't have to wade as deep to present their lures.
The TideWe Hip Waders are made of lightweight nylon and feature PVC uppers. They're lighter and more comfortable than a normal rubber hip wader.
The soles of the boots on these waders are also cleated. They give you ample traction over dirt, sand, mud, or anything else you might find yourself walking on while fishing.
There are also adjustable belt straps, so you can customize the fit and be comfortable all day. Feel free to use these even if you're not fishing. They can be used for hunting or any type of outside work.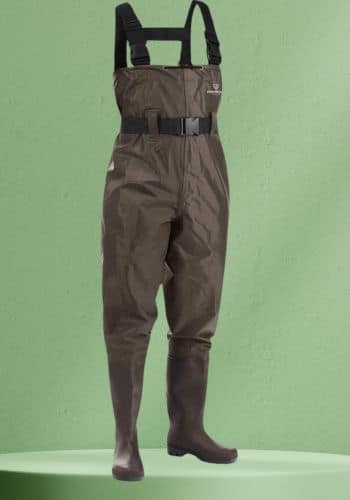 7. Fishingsir Chest Waders (Best Phone Storage Waders)
Pros: Lightweight and comfortable
Cons: Not much support or padding in boots
The Fishingsir Chest Waders are a surprisingly strong and durable pair of waders, considering the price. These waders are a little more pricey than the cheapest bootfoot waders on this list, but worth the splurge.
They also come with a handy boot drying rack, but they also come with a smartphone pocket to keep your phone dry. This is super handy on the river because everyone wants a photo of that fish of a lifetime!
They're great for someone looking for a solid pair of waders but who wants to spend more money on other pieces of gear.
The boots are soft and comfortable but have little to no arch support, making them uncomfortable when you're standing for long periods. Also, they're weak on the bottom, meaning you can feel every rock you step on.
If you're looking for a pair of waders that will hold up, then these are the ones for you. Coming in at under $35, they're a great starting point for a pair of waders.
Why Are Cheap Waders a Worthwhile Investment?
Waders are an extra layer of protection from the elements. They help keep you warm in cold weather and cold water while also protecting your ankles from cuts and abrasions from rocks and other sharp objects.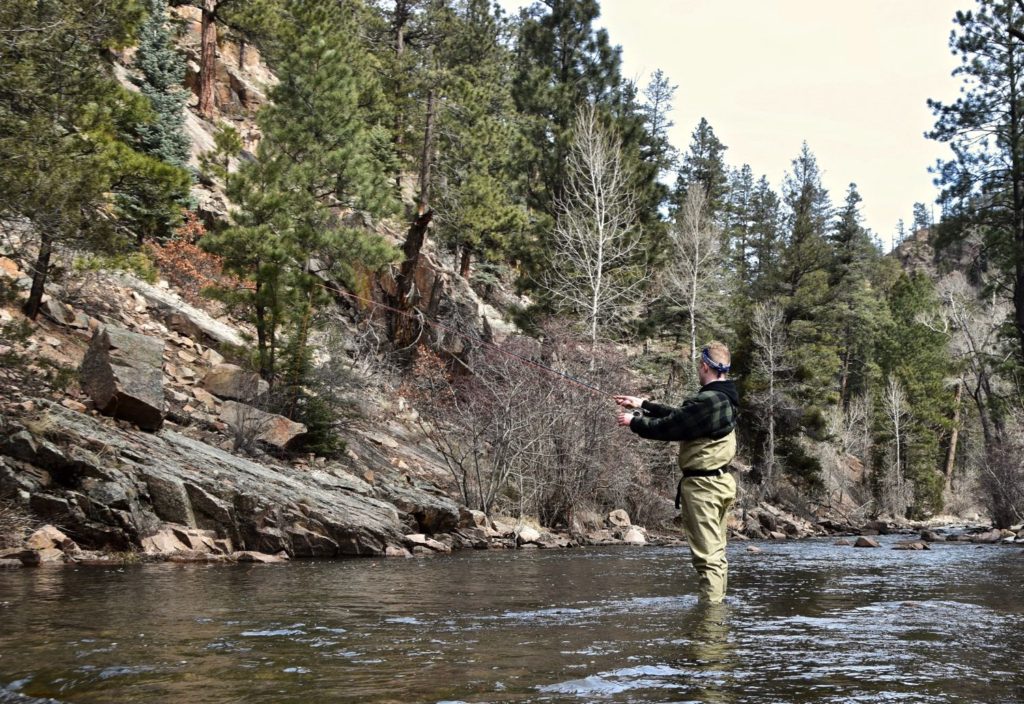 More importantly, they'll keep you dry and comfortable. Being uncomfortable will cause you to leave the river early and not get a full day of fishing in.
So, if you want to be comfortable as well as protected, then you should invest in a pair of waders. Even a cheaper model can cover the most important features.
Protection
There are many obstacles you can come across when wading in a river. Submerged boulders can wreak havoc on shins and knees. The same goes for submerged trees.
So, having an extra layer of material covering your legs will help prevent you from coming out of the water all scraped and bloodied.
Waterproof
The main reason people buy waders is to keep dry in the water. Having something that makes you waterproof from the waist down will make you more comfortable.
On top of being waterproof, waders have all different kinds of zippers, pockets, and other spots to store gear. Most of those pockets are waterproof as well.
Temperature Control
On top of keeping you comfortable and dry, waders are also a great way to keep you warm when fishing in cold water or cold weather.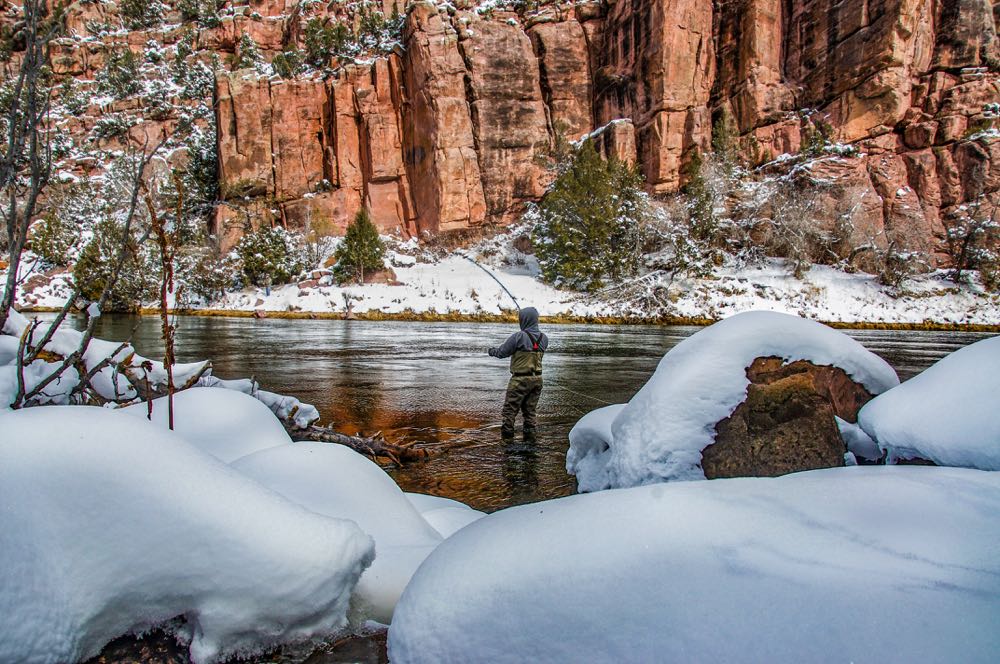 Underneath your waders, you can layer up to ensure you stay warm. Or, you can purchase neoprene waders that are made specifically for walking in very cold water.
Cheap Waders vs Expensive Waders
People ask me all the time if I think it's worthwhile buying expensive waders and to be honest, I'm on the fence.
I'm a guy who's had dozens of waders over the years and fished each of them until they leak like a sieve or disintegrate.
Leaks & Deterioration
Expensive waders will leak, and so will cheap waders. Leaking and deterioration is inevitable. The difference between cheap waders and expensive ones is how long this process takes.
With our favorite waders overall, the Orvis Pro Waders, it'll probably take a lot longer to spring a leak than if you're fishing some of these cheap waders, but those waders have a $700 price tag.
That's more than 10 times more expensive than a lot of the more affordable waders in this post! Will they last 10 times longer? Unlikely.
Breathability
Cheap waders are usually built using cheaper materials. Don't expect a $40 pair of waders to have the same breathability and moisture-wicking properties as a $400 pair. They are in a different ballpark.
Bootie Fit
I find with most of these cheap waders on this list, the booties don't fit my feet as ergonomically as some of my more expensive pairs. It's not a deal-breaker, but it's definitely worth noting.
Waders Buyer's Guide (Features Of A Good Wader)
Below, I'll go over a few features of different cheap fly fishing waders. Here I'll talk about what you should be looking for and which features will work best for you.
Types of Fly Fishing Waders
There are several different types of fly fishing waders, but I'm only going to cover three. Below, I'll go over boot, hip, and stocking foot waders. See which one you like the best!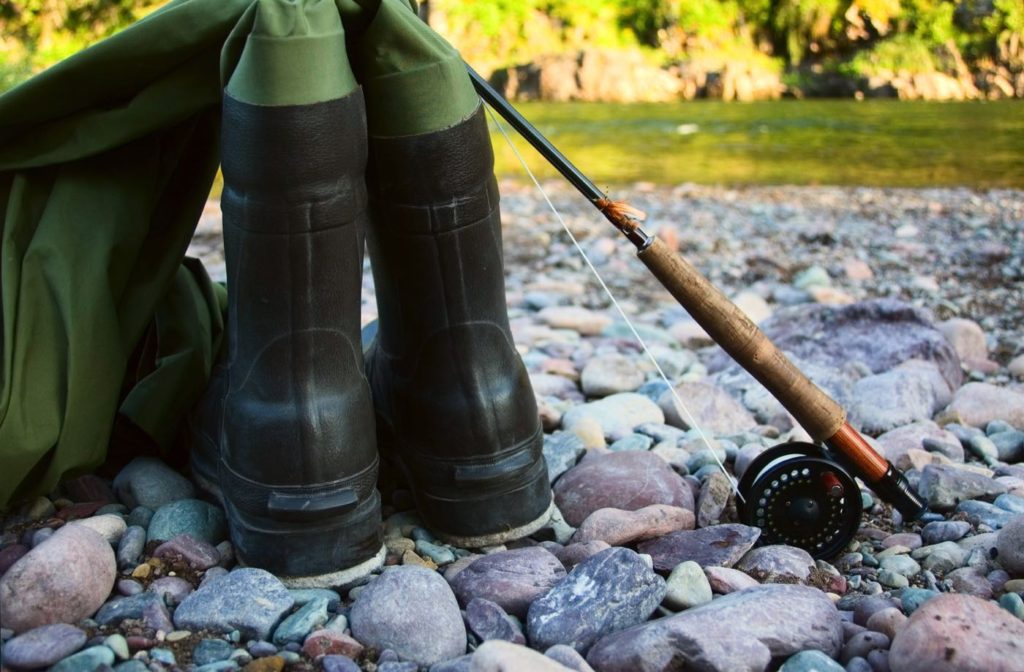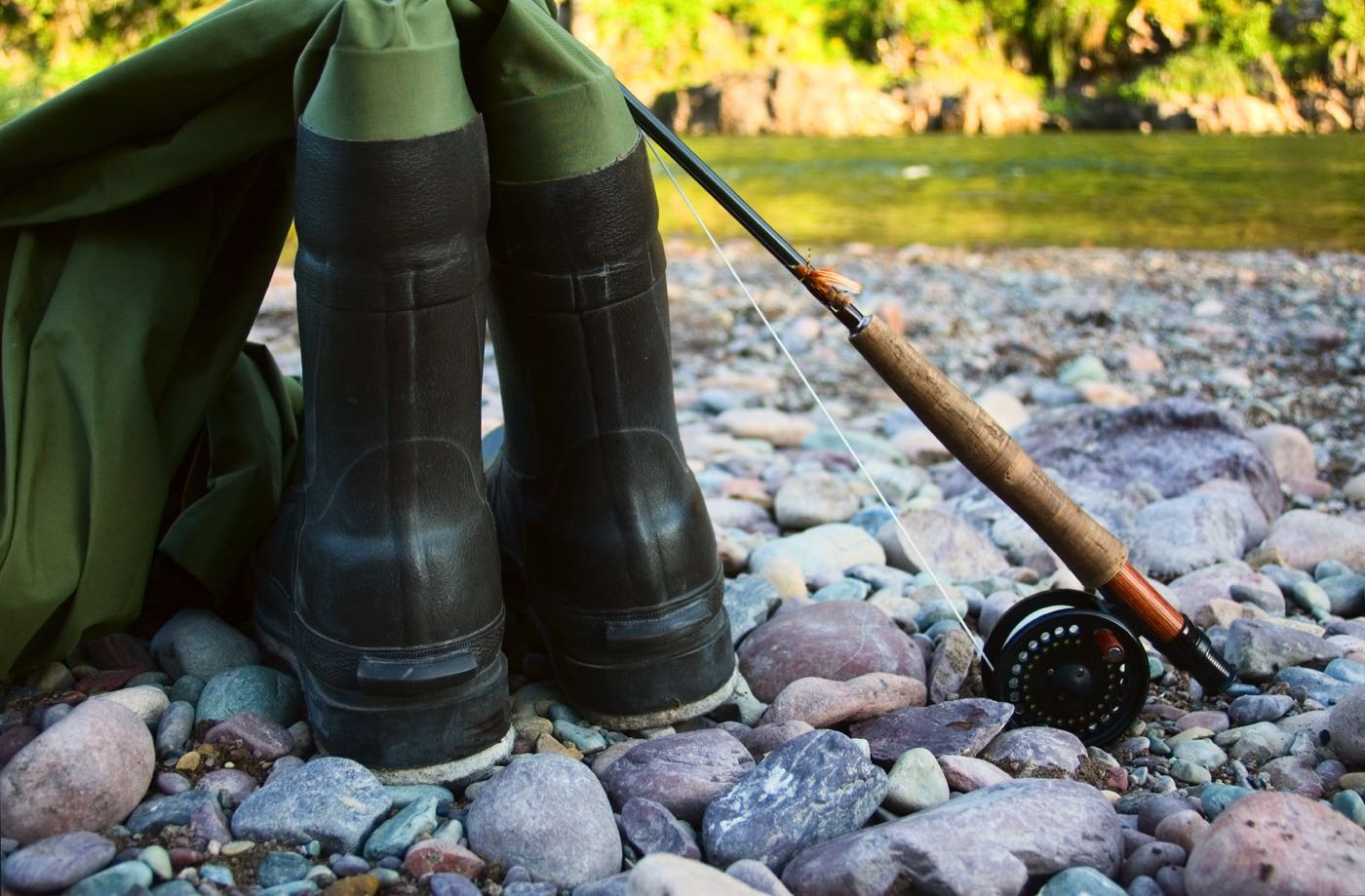 Stocking Foot Waders
Stocking foot waders are usually made of either neoprene or nylon. The feet or boots of these waders are normally made of neoprene and are designed to be worn with wading boots. These are great all-around waders.
Boot Foot Waders
These are waders that have boots attached to the bottom of the waders. This means you don't have to purchase any shoes to accompany your waders. Typically these are on the cheaper end of the spectrum, but not always.
Hip Wader
Hip waders are exactly what they sound like. They're waders that come up to your hip. They're usually made of rubber, but not always. Most of the time these waders also have boots attached, so you don't have to actually purchase wading boots with these either.
Waist Wader
Waist waders are basically wading pants. They have a waist belt and they come up slightly higher than hip waders, which are basically just extended boots.
Important Features Of Any Waders
Below, I'll go over some of the main features that cheap waders should have. Just because they're cheaper than a normal pair doesn't mean that they don't need to be comfortable and durable. Check out the list below!
Breathability
This comes into play when you're choosing waders that aren't made of rubber or neoprene. The two previously mentioned materials don't breathe well, and you'll be a hot, sweaty mess when fishing on those warm days. Look for nylon if you want breathability.
Adjustability
Luckily, most waders these days are fully adjustable. The more expensive models might have a few more straps, but even the cheapest waders come with straps and zippers that can make your wading experience more comfortable.
Seam Reinforcement
This is where cheap waders can begin to lose their luster. They don't always have great seam reinforcement, meaning they can begin to leak earlier than other waders. So, do your due diligence and check out waders that say seam reinforcement on the package.
Pockets
There has been a strong emergence of fly fishing packs over the last decade, but pockets on waders are still important. They can be waterproof and can give you easy access to different flies, tools, and anything else you may need.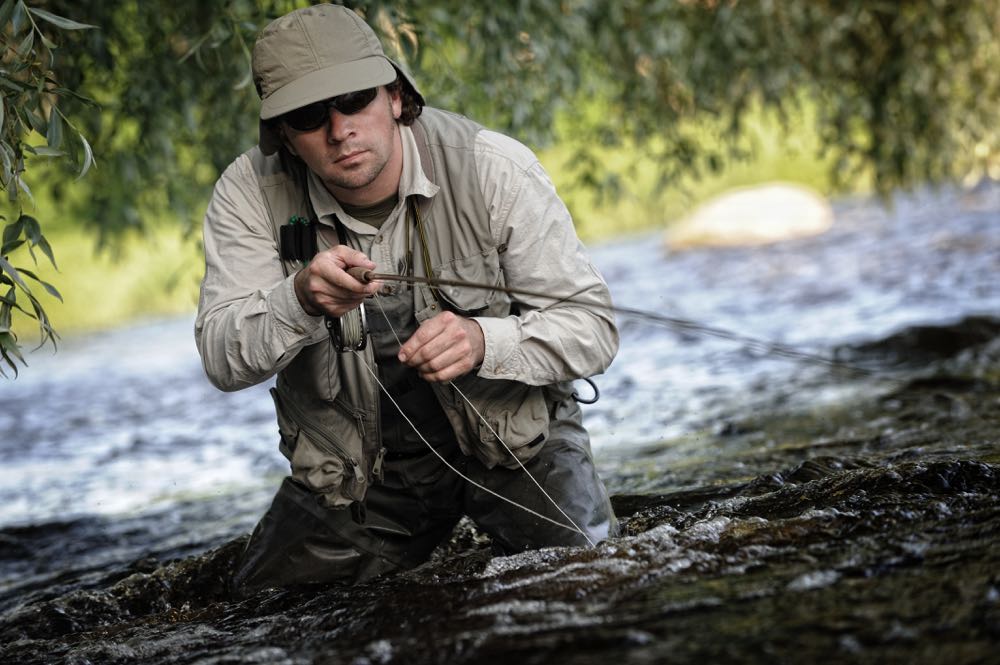 Price
The price of waders can vary. Some of the cheapest models can be as low as $20, while the more expensive ones can be close to $1,000. So, make a budget for what you can spend and stick to that. You don't need a $300 pair of waders to be a successful angler.
Durability
Durability is similar to seam reinforcement. Typically, cheaper waders aren't known for their durability and are usually best for people who only need them a few times a year. Cheap, durable waders are hard to come by, but they're out there.
Comfort
All modern waders are reasonably comfortable — some more than others, but all of them should fit you pretty well. On top of that, they also have different adjustable straps you can use to make your waders fit better.
Review The Guide
Conclusion
Waders are a great tool for any fly angler. They're not always needed, but if you plan on fishing cooler weather or cold water, then it's definitely recommended that you have some. Otherwise, you'll only be wet wading for a few months a year.
Cheap fishing waders are plentiful. They can be found just about anywhere on Amazon and can be used to help you get out on the water more often. Be careful, though, because not all cheap waders are created the same. Do your research and use this article to help you pick the best ones.
So, now that you know a little bit more about cheap waders, you should check out Amazon and see what they have to offer. I guarantee that you'll find a cheap pair that's perfect for you.
Some images in this post are courtesy of Shutterstock.
Amazon and the Amazon logo are trademarks of Amazon.com, Inc, or its affiliates.
As a part of the Amazon Associates Program and other affiliate programs, Into Fly Fishing® may receive a comission if you order products through links on this website.