Choosing the best fly rod is probably the most important task that any angler has when it comes to buying fly fishing gear.
When you're in the market for a new fly rod, it can be overwhelming. There are so many different manufacturers, weights, actions and balances that it can become a daunting task searching through the best fly rods to find one that's perfect for you.
OUR TOP 3 Fly Rods of 2021
G Loomis NRX+ (Best Overall Fly Rod 2021)
Orvis Clearwater (Best Value Fly Rod 2021)
Maxcatch Premier (Best Cheap Fly Rod 2021)
In this post, I'm going to help you choose the best fly rod for whatever situation you'll be fishing in. Whether you're on the river, on the lake or on the ocean, fishing bass, trout, salmon or bonefish, you'll find what you're looking for on this page.
Compare Fly Fishing Rods
Prices pulled from the Amazon Product Advertising API on:
I'll also cover the most important things to think about when shopping for fly fishing rods, and what brands produce the best rods for your style of fishing. I'll go over the best budget fly rods, the best beginner fly rods, the best fly rod combos, the best saltwater fly rods, and more.
First I'll list important things you should think about when shopping for fly rods, then I'll list the actual rods, and finally, we'll cover a bit about rod maintenance and what to expect from your rod once it arrives on your doorstep.
Also don't miss our Best Fly Reels of 2020 Buyer's Guide if you want to patch the perfect reel with your new rod.
If you're not sure what you're looking for, I recommend first reading the things to look out for.
If you know how to shop for fly rods, Click Here to jump on the page to the list of the top fly rods of 2020, or check out the comparison chart below.
Looking for fly fishing rods? Check these out:
Best Fly Rod Combos
Best Beginner Fly Rods
Best Budget Fly Rods
Best Fly Rods For The Money
Best Saltwater Fly Rods
Best Fly Rods For Bass
Best Fly Rods For Small Streams
As an Amazon Associate I earn from qualifying purchases.
Things To Consider When Shopping Fly Rods
If you're an expert angler, then you'll already know these things, but if this the first time you're buying a rod, or you're not quite an expert yet, then it's worth understanding some essential aspects of choosing a fly rod.
Line Weight
If you don't get the right fly line weight for your rod, you'll sacrifice casting accuracy and you could actually break your rod, but don't worry. It's really not that hard to pick the right weight for your rod because 9 times out of 10 the recommended line weight will be labeled on the blank of the rod near the grip.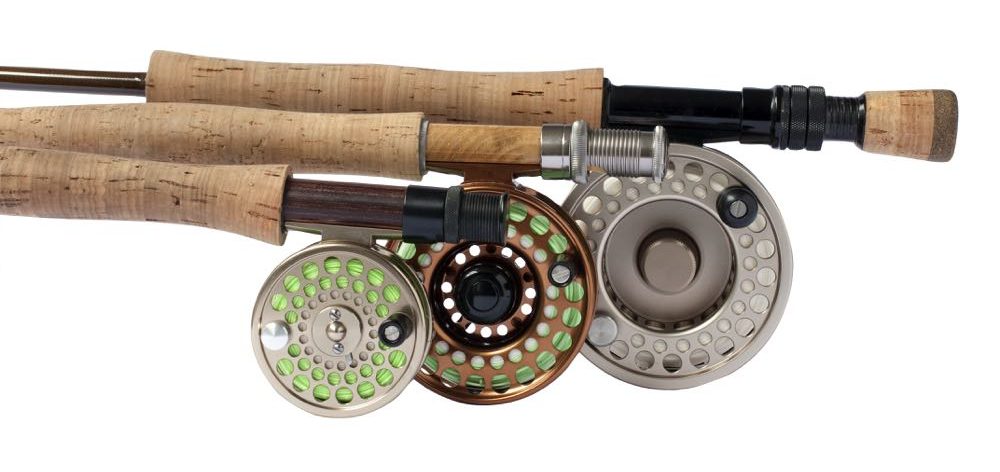 If you're purchasing a rod and reel combo that includes the line, then the manufacturer will ensure that you're getting the right line weight for the rod, which is part of the reason why we recommend these full-outfits for first-time anglers.
0-2 wt
While there are 0, 1 and 2 line weights, these are only really for casting tiny flies size 28 or smaller, so most likely you won't be using these, particularly when you're starting out.
3-4 wt
Next up are the 3 and 4 weight lines and rods. These are increasingly popular but still good for smaller fish.
5-7 wt
The 5-7 weight line and rods are the most common there is. In fact, the 5-weight fly rod is the most versatile weight rod there is because it's big enough to cast decent size flies and overpower the wind, while not being too small for larger trout.
8-10 wt
8 – 10 weights are getting into the saltwater fishing sizes which are great for some salmon, bonefish and mid-sized tarpon.
11 wt +
When you get past 10 weight and you're into the 12's and 13's, you're talking big game fish like Marlin and Giant Trevally.
Basically, your fly set-up should follow this simple rule:
Fly Line Weight = Fly Rod Weight = Fly Reel Weight
Rod Length
Rods come in many different lengths as well as weights. The sage pulse, for example, comes in 7.5 ft, 8.5 ft and 10 ft in the 3 weight size, 8.5 ft, 9 ft and 9.5 ft in the 5 weight and 9 ft, 9.5 ft, 11'4″ and 13.5 foot in the 8 weight category.
Confused yet?
Basically the shorter the rod, the better it is likely to be for shorter casts, while the longer rods are better for hitting greater distances with the fly.
Luckily, as you start to use different rod lengths and weights, you'll start to get a feel for which ones are best for you. In my experience, I love a 5 or 6 weight 9-foot fly rod, but that's just me and it depends on the rod.
In this post, I'll list which of the different lengths are best for each rod as well as which rods are best depending on the species you'll be fishing, in an attempt to demystify the weight and length paradigm.
Material
The material that a rod is made with can have a massive impact on its durability, flexibility, and accuracy on the water.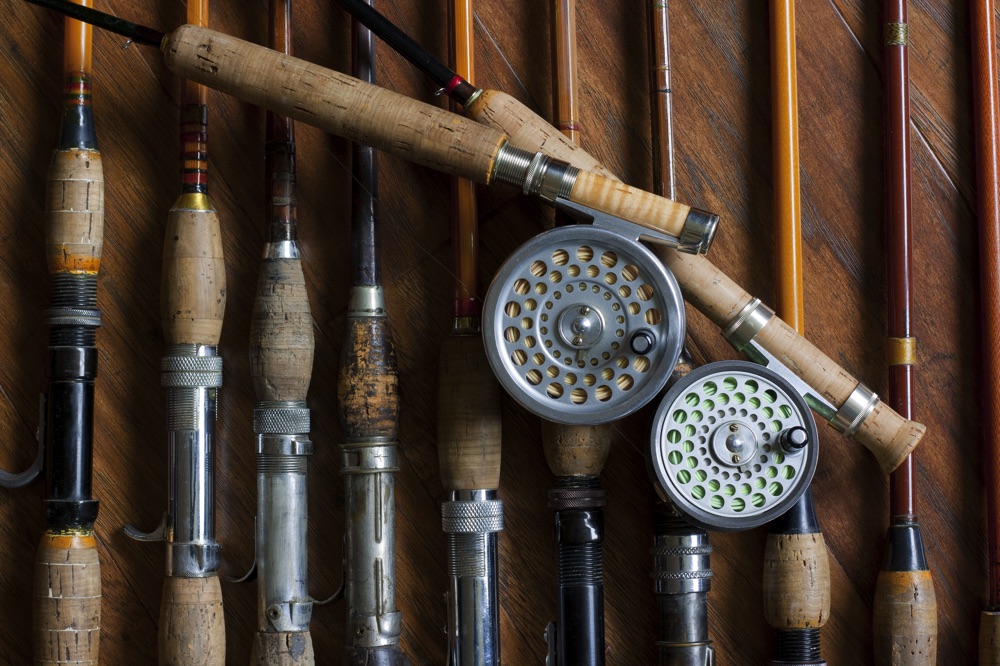 Most Common – Graphite
Extremely strong, light-weight and durable, graphite is the most common material thanks to its versatility in the manufacturing process. Rod makers can taper graphite to their heart's desire and the finished product is an easy to cast, wonderful feeling rod.
Most Expensive – Bamboo
Bamboo is the best natural material for bend, spring and pop and it's also incredibly durable. Before graphite took over the fly rod manufacturing world, the only rod that you'd be proud to carry would be made of bamboo. Today they're a novelty, but there's no denying their quick action, delicate cast-ability, perfect for close-range dry fly fishing that requires a delicate presentation.
Cheapest – Fiberglass
You won't find that many fiberglass rods these days, but before graphite, these were the affordable rods of choice. Today they're seeing a bit of a resurgence as some hipster anglers are enjoying the throwback feel of wrangling a fish on the stiffer, heavier and slower-action fiberglass rods.
Action
You'll see under each rod on this list I've included the action. This is a really hard thing to explain when writing about fly rods, but basically it's the way the rod feels in your hand, it's bend when loading energy on a cast and it's vibrations when reeling in a fish.
Fast Action
At one end of the spectrum, you have fast-action. This is a rod that is stiffer and builds a lot of kinetic energy with each stroke of a cast. While these types of rods are great for long casts and windy days, they aren't generally as forgiving for beginners and they may lose accuracy up close.
Slow Action
On the other end, you have slow action or "full-flex". This is a rod with a softer, looser tip that doesn't lend itself to longer casts. Slow action rods are better for small streams where a delicate presentation of the fly is paramount.
Medium Action
In the middle, you have mid-action rods which are the best all-around rods on the market. They perform better in a wider variety of conditions, they're easier to learn on and they are typically the go-to rod for anglers who don't have a collection. A 5-weight medium-action rod is the most versatile rod you can buy.
Anglers usually go for fast-action rods when they're looking to cast further or need increased accuracy, while the softer, slow-action rods are better for feeling the fish fight, and for sensing the current.
Balance
Some fly rods simply balance better in your hand. When you feel a rod in your hand with a normal amount of line through the guides, it should balance from but to tip.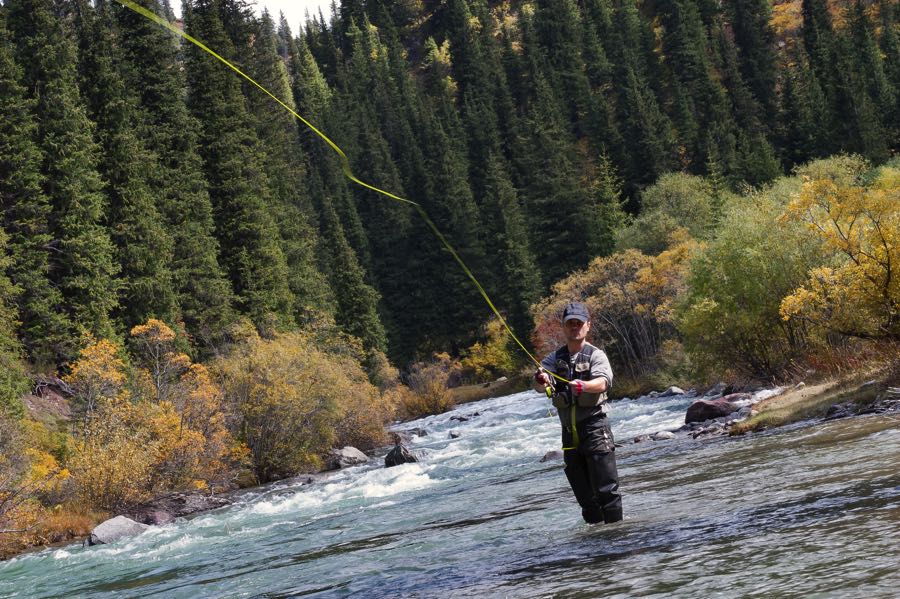 The issue is that there's a bunch of misinformation about rod balance online these days. It's not fully a balance issue, it's about what is known as "Swing Weight".
According to Yellowstone Angler, This is the weight you feel out ahead of your hand when you hold the rod in a horizontal position.
Rods with low swing weight are easier to cast, decrease inertia when using lighter tippets and make fishing dry flies a lot easier.
It's difficult to explain the proper balance or "swing weight" of a fly rod in writing, and it's even more difficult to measure it scientifically. But overall the balance of a rod will determine the performance, accuracy and overall feel of the rod in your hands.
Portability & Number of Pieces
Fly rods come in 2-piece, all the way up to 8-piece configurations (that's the highest I've ever seen anyways).
I've fished with large 2 piece rods, and I've traveled the world with ultra-portable 7-piece set-ups. While there are some drawbacks to having higher-piece rod sets, they can't be beaten for packing size.
The more pieces you have in a rod, the more chance you have of things going wrong. You can lose some accuracy and anything higher than a 4-piece rod can feel a bit stiff and creaky in the cast.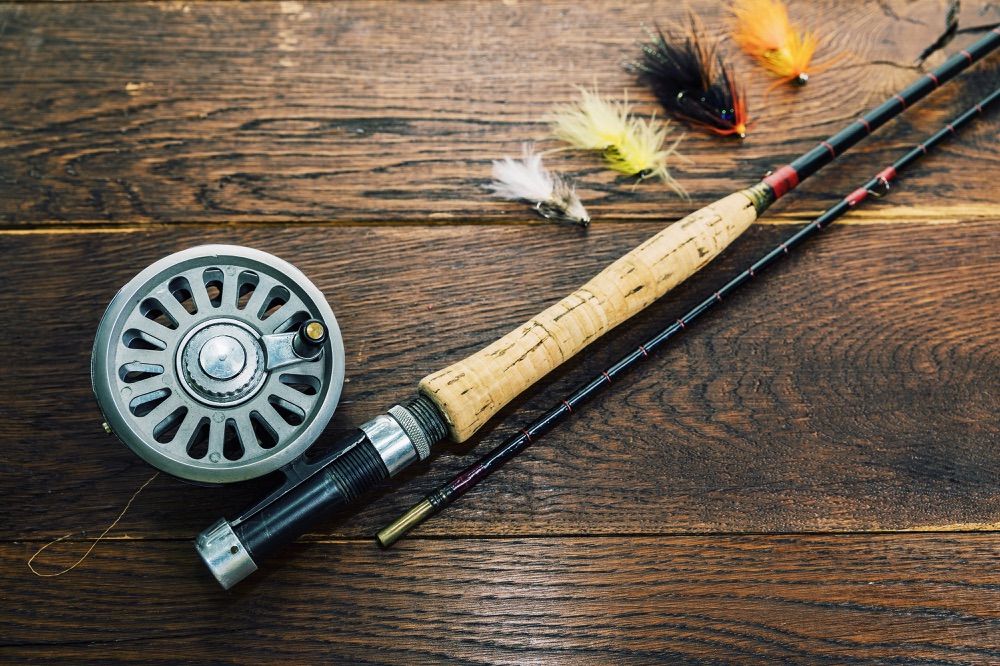 But that doesn't mean they're all bad. If you're taking your rod on the go, traveling the world or hiking into your location, then 6, 7 and even 8 piece rod kits are amazing.
These days, the 4 piece rods are the most common. They're a good middle ground, not sacrificing too much accuracy, while still being relatively portable.
Combo Sets
As I mentioned earlier, you can either buy your rod, reel, line, backing and leader separate, or you can buy it as part of a set. If you already have the best fly reel for you and you simply need a rod to finish off your kit, then by all means, buy the rod alone.
But in most cases, a fly rod and reel combo is the best way to go. The manufacturers and fly shops usually give a great discount on these full outfits and you don't have to worry about matching the right rod, line and reel weights.
Plus, many fly combos are sent out pre-spooled, so they arrive at your door ready to hit the river with.
If you're a beginner, then buying a full fly fishing combo kit is the way to go. Whenever available, I've listed combo kits and prices alongside the solo-rod price, plus we've listed our favorite fly fishing outfits in this post as well.
Let's get started! Here's our list of the best fly rods that you can buy in 2020.
The Best Fly Rod Overall
When shopping for fly fishing rods, sometimes you just need someone to cut to the chase. If you have a bit of budget to spend, and you want to get the best bang for your buck, there's really one clear winner on this list.
G. LOOMIS NRX+
Pros: Nice design, great accuracy, super smooth, good warranty
Cons: A bit stiff, a little overpowering for smaller flies
Available Weights: 4,5,6 & 7
Action: Fast
Pieces: 4
The G. Loomis NRX+ is the best 5-weight fly rod (as you'll see later in this list) but it's also the best rod overall. It easily beats out all other 5 weights on the market in 2020. 5 wt fly rods are notoriously the most versatile weight rod, making the NRX+ a great option for a first-time rod purchase as well.
It's not a cheap rod, but for the quality you get and the affordable added warranty cost, this rod simply can't be beaten.
G. Loomis is getting better and better at producing rods every year. With each subsequent release of the NRX, the rods get lighter, stronger, smoother and dampen better.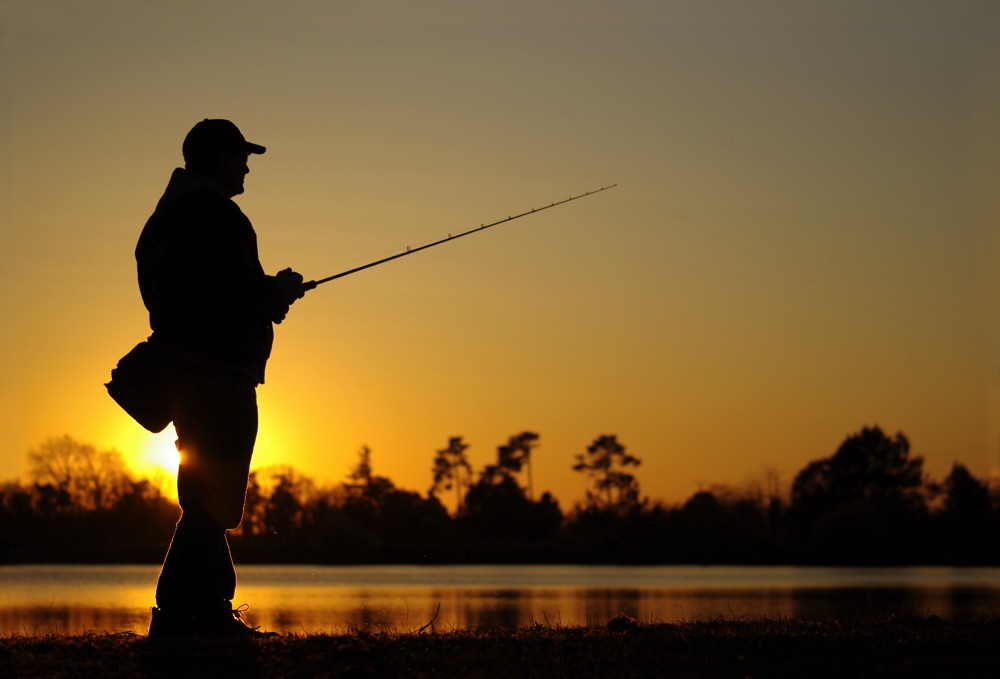 The manufacture uses a new resin for the new NRX+ series of rods which they call G8. This new blend of Mega Modulus+ Graphite, GL8 Resin, and Multi-Taper Design is able to reduce blank weight by 15% while simultaneously improving the overall durability of the setup.
On top of all of this, the new design is even more precise than its predecessor, the NRX. The plus series will allow you to delicately present a fish with pinpoint accuracy.
This rod is so good it could've beat out a lot of other rods in different weights on this list and could also win as the best trout fly fishing rod and the best saltwater rod as well.
If you're looking for quality and you don't mind spending nearly $800 on a rod, most professional angers agree that the G. Loomis NRX+ is the best rod currently on the market.
Best Fly Rod For The Money
While the NRX+ could probably win this category as well, sometimes you just don't want to spend $800 on a fly rod. When it comes to the overall value for a rod, you'll usually be looking for a good price for a graphite design and a decent warranty.
Orvis Clearwater
Pros: Great value, graphite design, Excellent 25-year warranty
Cons: A bit stiff, a little overpowering for smaller flies
Available Weights: 3, 4, 5, 6, 7, 8, 9, 10, 11 & 12
Action: Medium-Fast
Pieces: 4
I've long been a big fan of Orvis rods. Orvis is without question the largest fly fishing brand there is and they make all kinds of rods, from the budget Encounter series to their top-end bamboo rods, they are constantly innovating the industry with design, materials, and technology.
While I wasn't overly impressed with the stiffness of the Encounter rods, the Orvis Clearwater series is incredibly accurate and is without a doubt the best fly rod for the money right now.
If you're new to fishing and you want a good quality set up, but don't want to buy the cheapest gear possible, then I recommend the full Clearwater outfit which includes the rod, reel, case, line, leader, tippet and everything you need.
If you're considering this rod, check out our full hands-on Orvis Clearwater Review.
Top Budget Fly Fishing Rod
Sometimes you just want to give fly fishing a go and you want to spend as little as possible. Our top pick for the cheapest fly rod actually makes you wonder how they can produce it for so little. But, this Chinese brand is able to work manufacturing miracles and keeps the cost down on all of their products.
Maxcatch Premier
Pros: Unbelievable Price, graphite design, Lifetime Warranty
Cons: A bit stiff and heavy compared to more expensive rods
Available Weights: 3, 4, 5, 6, 7, 8, 9 & 10
Action: Fast
Pieces: 4
When it comes to ridiculously inexpensive rods, there's one manufacturer that always comes out on top and that's Maxcatch and the Maxcatch Premier Rod line is a great budget option for new anglers.
When I was living in China for a year, I was preparing for a long fly fishing trip in Mongolia and I needed an entire set-up on a tight budget. I purchased the Maxcatch Extreme 5-wt Outfit and while it was great value (it used to be rated as our top budget fly rod), I believe the Maxcatch Premier is well worth the extra spend.
It's still super inexpensive and still comes with everything you need for an almost unbelievable price, but the Premier is just a much better kit.
The rod is more accurate than some more expensive rods that I've had and it's still going strong after 2 years of intermittent use. I even fished it in saltwater and the reel and the rod somehow held up.
If you want to get into fly fishing for under $80, the Maxcatch Extreme Fly Fishing Combo Kit, but if you have the extra $100 to spend, it's well worth the money for the Maxcatch Premier.
This kit has literally everything you need to get started including the rod, reel, case, line, backing, leader and even line snippers, a fly box and some flies!
Check out my full hands-on review video of the Maxcatch Premier Fly Rod Combo Here.
Best Beginner Fly Fishing Rod
While many beginners will be looking for the cheapest rod to get started with, that's not necessarily the best choice. As a beginner, you should look for rods with better accuracy, more forgiveness and a decent warranty.
Redington Classic Trout
Pros: Great Price, Super Accurate, Easy-casting, Durable, Comes in travel-friendly 6 pc
Cons: Cheap feeling reel seat comes loose, tailing loop with longer casts
Available Weights: 3, 4, 5, 6, 7, 8, 9 & 10
Action: Fast
Pieces: 4
Learning how to cast is one of the biggest hurdles new fly fishermen have to overcome, so buy starting out with an easy-to-cast rod, you'll save yourself a ton of headache when you're getting started.
Not only is the Redington Classic Trout an excellent medium to fast action fly rod, but it also comes in at a very affordable price, making it the best fly rod for beginners.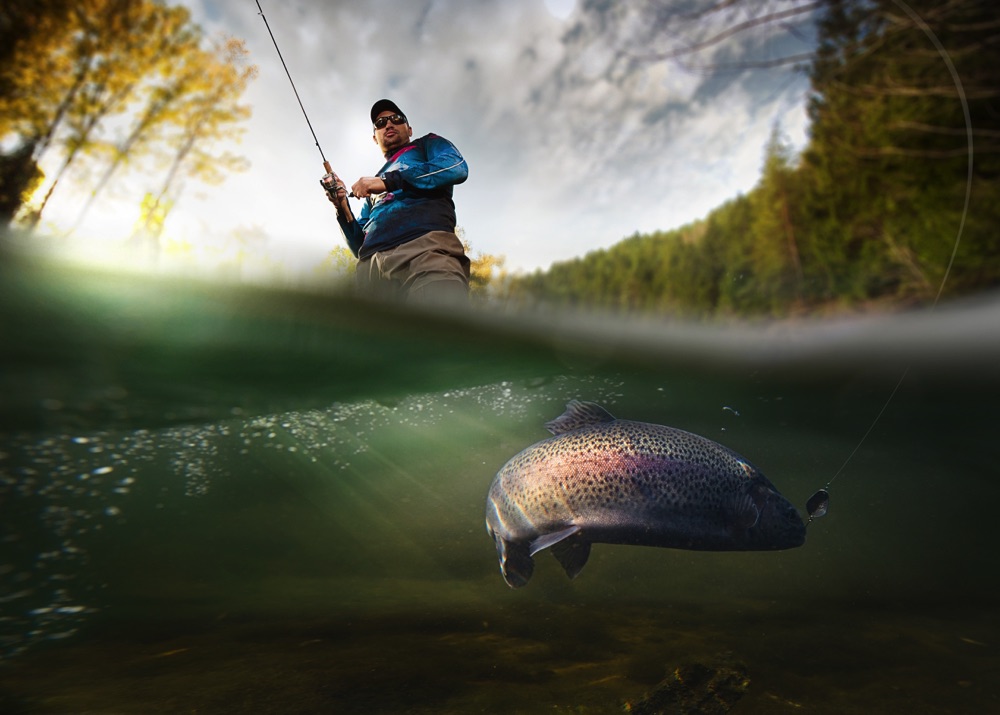 This was a close call between the Orvis Clearwater and the Redington Classic Trout, but overall the Redington won out because it's a bit more accurate and snappy than the Clearwater.
Landing the full outfit for $315 is an even better deal, or if you only want the rod it comes in at $130 which is still a steal for a rod of this quality.
Best Beginner Fly Fishing Starter Kit
If you're starting out, the best thing to do is to purchase a full fly fishing outfit that includes everything you need, while not spending too much money.
Maxcatch Extreme Combo
Pros: Great Price, Everything You Need, 4-piece great for traveling, nice rod & reel case
Cons: Not the highest quality rod but good for the money.
Available Weights: 3, 5, 6 & 8
Action: Medium-Fast
Pieces: 4
While the Maxcatch Premier is the best budget fly fishing starter kit overall if you're on a super tight budget then you can't go wrong with the Maxcatch Extreme Combo.
It's a great budget fly rod and the full outfit is decent, you get a lot more with the Maxcatch Premier Fly Fishing Outfit and you get considerably better quality as well, but if you want to get into fishing for under $80 the Extreme is the way to go.
The Extreme rod is carbon fiber, the reel is machined aluminum and there's literally everything you need to get started fly fishing including line straighteners, pliers, snippers, a fly box with flies, fly line, backing, leader, tippet, strike indicators all in a sleek set-up.
Learn More: Watch Our Maxcatch Premier Unboxing Video
Best Top-End Fly Rod & Reel Combo
When looking at full outfits, you need to look at exactly what's included. The best value for money outfits include at the very least, the rod, reel, and some line. While the Maxcatch Extreme is definitely the cheapest full outfit and includes the most gear, there are better ones on the market.
Sage Foundation Fly Rod Combo
Pros: Made in America, Excellent Value, High-Quality Rod, Lifetime Warranty
Cons: Die-cast Aluminum Cheaper Reel, 6 & 8 wt predictably inaccurate up-close casting
Available Weights: 5, 6 & 8
Action: Fast
Pieces: 4
This rod definitely doesn't compare with comfort, accuracy and feel to the more expensive Sage X (listed as our best pro-level rod later in this post), but when you get an entire Sage Fly Fishing Outfit Package including rod, reel, line, net, snips, flies, fly box and more for $600, you can't complain.
You could buy the Rod, Reel & Line setup for $550, but ReelFlyRod has put together an incredible full Fly Fishing Kit on Amazon, so for just $50 more you'll get the added extras listed above.
Sage has always been like the Bently of fly rods. They make some expensive, but incredibly high-quality rods. But the Foundation set comes somewhere in the mid-range category and you won't find a better rod combo for the money.
It's not cheap, but it's not insanely expensive either, especially considering it's a Sage combo kit, made in America with a lifetime warranty.
If you want to have more accurate casting up close, definitely go for the 5 weight set-up. It's a faster action rod with wicked precision.
Best Travel Rod
When shopping for a travel fly rod, the main thing you'll be looking for of course is portability and overall weight. The best travel fly rods are always at least 7 pieces, so they can pack up small enough to fit in a backpack.
Echo Trip 8 Piece Travel Fly Rod
Pros: Ultra-Portable 8-piece design, Medium-Fast Action, Lifetime Warranty
Cons: Slightly less accurate because of so many pieces, but barely noticeable
Available Weights: 5, 6 & 8
Action: Fast
Pieces: 8
Even though you always lose some accuracy and flex the more you segment a rod, the Eco Trip 8-Piece is incredibly well designed and it eliminates most (but not all) of the negative impact that you normally have from such a compact rod.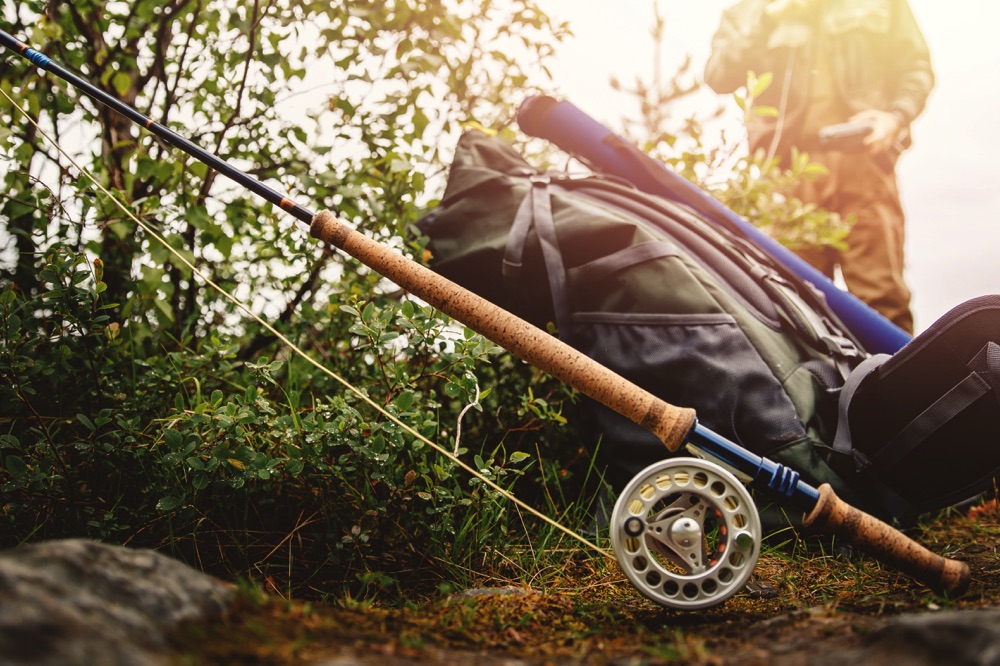 Sometimes, when a multi-piece rod is flexed, bent or shaken, you can feel creak or a bit of a break coming from one or more of the blanks, but that's not the case with this rod.
Weighing in at 4.8 ounces with just an 18-inch tube length when stored in the tube, this is the highest quality and the most compact travel fly rod you'll find on the market today.
Best Saltwater Fly Rod
While fly reels are a lot more susceptible to corrosion than fly rods and need to have completely sealed drag mechanisms, a good saltwater fly rod still has to be able to hold up to the damaging nature of the sea, while being strong enough to handle large game and cast into strong winds.
Sage X Series
Pros: Lifetime Warranty, Great accuracy casts for a larger rod from 20 – 80 feet (even in wind)
Cons: Slightly Stiff Tip (not as much as the Salt Series), A bit heavy
Available Weights: 5, 6 & 8
Action: Medium-Fast
Pieces: 4
This rod won pretty much all of the rewards at the ICAST Show in 2019 and for good reason. This is an excellent all-around rod.
Even though Sage classifies the X-series as "all-water fly rods", the higher 7-11 weight models of this line are purely saltwater rods. The same way that the Trout Series is geared towards freshwater river fishing, the X is made for the sea.
If you're fishing bonefish in the Caribbean, then the 8-weight version will be perfect, while for bigger deep-sea game I'd stick with the 10 or 11 weight rods.
We recently got our hands-on the 3wt 9′ variation of this rod and loved it! The stiffer blanks aren't ideal for the 3wt category, but this rod is an excellent choice in the 4wt+ weights. Check out our full Sage X Review for more information.
Best Bamboo Fly Rod
I've actually never had a bamboo fly rod. I remember my extreme jealousy when my grandpa gave my older brother a beautiful hand-crafted bamboo rod. These rods are expensive and are the cream-of-the-crop.
Even though I haven't had one myself, it's pretty easy to pick a winner for the best bamboo fly rod as most experts agree.
Orvis Penn's Creek Full-flex Bamboo Fly Rod
Pros: Luxury full-flex bamboo design
Cons: A Little Stiff For a 4 wt Bamboo Rod
Available Weights: 4
Action: Fast
Pieces: 2
Well, if you're willing to spend as much on a fly rod as you would on a used vehicle, then the Orvis Penn's Creek Full-Flex Bamboo Fly Rod will be your choice.
This rod is silky smooth, has great action and a very light tip and excellent accuracy.
Best 2 Handed Spey Fly Rod
To get that massive distance across the river, you're going to want to start practicing Spey casting. These are two-handed rods and the casting technique is completely different than casting a traditional rod, with no false casting and a difficult to master figure 8-technique.
Sage Trout Spey HD
Pros: The best double-handed cast accuracy on the market
Cons: A bit unforgiving for new anglers
Available Weights: 1,2,3 & 4
Action: Fast
Pieces: 4
For years the Sage One Trout Spey was the best Spey rod on the market, but with the recent release of the Sage Trout Spey HD this has all changed.
This rod is incredibly light, super-accurate has great power and distance capabilities and the finish and design is what you'd expect from a Sage… oh-so-sexy.
If there is one con for this otherwise perfect rod is that it's a bit unforgiving, so new anglers might have a bit more difficulty with it, but nothing more than a bit of practice can't help.
Best Fly Rods By Weight
Depending on where you're fishing, you'll want to choose the best rod for the job based on the weight of line you'll be casting.
If you're on a river shooting for small trout, you will likely benefit from the precision of a 3 wt fly rod, while if you're on the sea stalking that big bonefish or tarpon, you'll want something between the 8-13 wt range.
Below I've listed my personal favorite fly lines by line weight. But as you know, a fly rod is a very personal decision, so in the interest of diversity of opinion, I've also included a list of Pierre's favorite fly rods.
Pierre is our fly tying and fly fishing gear expert. He is a professional fly fishing guide and has more gear than anyone I know.
Below I've listed our favorite fly rods by weight and for each category, I've also added his post dedicated to that weight of fly rods, as well as hands-on reviews for particular rods.
Top 3 wt Fly Rod – Orvis Helios 3F
Pros: Soft tip but still great on long casts, accurate both long and short
Cons: A bit pricey
Available Weights: 3, 4, 5, 6, 7 & 8
Action: Medium-Fast
Pieces: 4
Fly rods in the 3-weight category are going to be perfect for nymphing, for casting on smaller rivers and for going after smaller trout species. Here's our favorite 3 weight fly rod of the year:
→ See Our List Of The Best 3-Weight Fly Rods
The Orvis Helios 3F is a great, super lightweight and super accurate rod. It's not cheap, but with all of the higher-quality Orvis rods, you get what you pay for.
2nd Best 3-Weight – Echo Shadow II
Length: 10 feet
Action: Fast
Pros: Great value for money, Dedicated nymphing design,
Cons: Isn't great on longer casts
As far as overall value goes, it's hard to beat the Echo Shadow II. This rod has a beautiful matt carbon finish and you can even purchase dedicated counterweights to ensure you have the perfect rod balance.
The tip of this rod is ridiculously sensitive, making it easy to detect even the faintest of takes, particularly when you're tight-line nymphing.
We love this rod. If you're considering purchasing it, make sure to check out our Echo Shadow II Review.
Top 4 wt Fly Rod – Hardy Zephrust
Pros: Great accuracy long and short, Cheaper than most top-end rods, excellent for nymphing
Cons: Nothing
Available Weights: 3, 4, 5 & 6
Action: Fast
Pieces: 4
A great 4 weight fly rod is one of the more versatile set-ups. Light enough that you can still tell when a small fish takes the line, but sturdy enough to hold up to mid-sized fish species, the 4 weight is an underutilized but effective light rod.
→ See Our List Of The Best 4-Weight Fly Rods
I know, a rod with no cons, that's a first on this list. Well for casting small flies with incredible accuracy and keeping those tight loops, the Hardy Zephrust is ahead of the 4 wt competition by a long shot.
The craftsmanship of this rod is incredible, using high-quality cork for the handle, a braided X-pattern graphite wrap on the butt, and REC nickel/titanium guides that are light and flexible but virtually indestructible.
For better accuracy but just as much power and distance, consider sticking to the 8'6″ rods in this series. They're lighter in the hand and easier to cast.
2nd Best 4-Weight – Orvis Clearwater
Action: Medium
Length: 7 foot 6 inches, 8 foot 6 inches, 9 foot and 10 foot
Pros: 4 different length options, 25-year warranty, good value for money
Cons: A little bit stiff
Our angler Danny has written a full hands-on review of his Orvis Clearwater 6wt, which he loves. But the 4-weight and the 5-weights really are great options as well and these are probably the best of the Clearwater lineup.
You can purchase the Clearwater rod alone or in a full outfit. The rod costs around $200 while the matching reels cost around $80 each.
Top 5 wt Fly Rod – G. Loomis NRX+
The most versatile and beloved of all fly rod weights, if you're only going to have one fly rod, then likely a 5-weight will be your best choice. When I'm travelling and I can only bring one rod, I'll be a 5wt (as long as I'm not going fly fishing for bonefish in Seychelles).
→ See Our List Of The Best 5-Weight Fly Rods
Pros: Beautiful blue design, great accuracy on longer casts, super smooth, affordable warranty
Cons: A bit stiff, a little overpowering for smaller flies
Available Weights: 4,5,6 & 7
Action: Fast
Pieces: 4
The G. Loomis NRX+ is the best 5 weight fly rod, as listed above under the best rod overall category. 5 weight is the most versatile rod weight for all anglers and this is easily the best of the bunch.
2nd Best 5-Weight – Orvis Clearwater
Action: Medium-Fast
Pros:25 year warranty
Cons: Not much you can fault with this rod
That's right, we've got the Clearwater again, but in the 5 weights, it's actually a bit quicker action and doesn't seem as stiff as the 3 weight for some reason in comparison on the weights of the rod.
With this beautiful rod you can deliver dry flies delicately right upstream from the fish's mouth, or even toss larger streamers their way, still with incredible accuracy.
Top 6-Weight – Sage X
Action: Fast
Lengths available: 9 foot, 9 foot 6 inches and 10 foot
Pros: Made in the US, Very light, lifetime warranty, quality build
Cons: Expensive
This is the perfect rod for going after trout, salmon, and bass. People even use 6 weights to catch small bonefish in Seychelles, so you're starting to get into the smaller rod sizes that are still capable of saltwater fishing.
→ See Our List Of The Best 6-Weight Fly Rods
The replacement rod for the old, but excellent "Sage One", the Sage X rod is the premium "all-water" rod from Sage. It had a very high-quality cork handle and those classic, strong Sage thread wraps that everyone expects from the brand.
The build is using Sage's Konnetic HD Technology which keeps the weight way down while giving it plenty of backbone. With a lifetime warranty and this good of quality, you can't go wrong with the X if you have $900 in your pocket.
Top 7 wt Fly Rod – Redington Predator
Pros: Strong, durable design,
Cons: A bit stiff, not as accurate as some others on the list
Available Weights: 5,6, 7, 8 & 9
Action: Fast
Pieces: 4
A 7 wt fly rod is getting into the spectrum of easily being able to handle smaller saltwater fish, as well as smallmouth bass, steelhead, large trout, carp, peacock bass, and even smaller golden dorado.
All-in-all this is another super-versatile rod. If you're planning on going after larger fish, or doing a lot of saltwater fishing, then this rod will do the trick. It is a bit overpowering for tiny trout, but other than that you can do well with smaller fish on this rod as well.
→ See Our List Of The Best 7-Weight Fly Rods
The Redington Predator is a great rod that's relatively affordable for the quality. The reel seat is anodized and the stripping guide is made of aluminum oxide with ceramic inserts, for nothing too fancy but it's strong and secure.
Overall the rod is good, if not a bit stiff and slightly less accurate than other rods on this list, particularly when casting less than 40′.
2nd Best 7-Weight – Sage Payload
Action: Fast
Lengths Available: 8 foot 9 inches
Pros: Not too expensive for a Sage
Cons: A tad heavy
The Payload isn't quite as light in the hand as the 6-weight Sage X, but it's a fast action rod that feels buttery smooth to cast.
It's recommended by Sage that you pair this with larger 230 to 270-grain lines as it's designed to use heavy lines and big flies going after large fish.
The rod tip is stiff on this rod, but it really helps to cast further and lift those heavy lines and flies off of the water's surface with ease. Of course, you also still get Sage's legendary lifetime warranty.
Top 8 wt Fly Rod – Sage Pulse
Pros: High-quality design, lifetime warranty, great for long casts
Cons: A bit stiff for shorter casts, slightly heavy
Available Weights: 3, 4, 5,6, 7 & 8
Action: Super-Fast
Pieces: 4
The 8-weight is your rugged, versatile rod for those big fish, big flies, high winds, and quick casts. An 8-weight should be able to handle pretty much anything you throw at it and you should expect nothing less from a top-notch 8wt.
→ See Our List Of The Best 8-Weight Fly Rods
8-weight fly rods are great for larger freshwater fish like bass and bigger trout.
While the Sage Pulse is a very high-quality rod, it lacks some of the high-tech parts that the more expensive rods have, keeping the Pulse under $500.
This price isn't the norm for Sage rods. This rod has better action than any other rod in the sage line and it's super forgiving, which is great for new anglers. While this is the best 8 wt fly rod on the list, it's also excellent in the 5 wt.
2nd Best 8 Weight – Temple Fork Outfitters BVK
Action: Fast
Pros: Light and responsive
Cons: Poor reel seat and small fighting butt
The TFO BVK is a great fly rod. Check out our In-depth Hands-On Review of The TFO BVK Fly Rod. It's an excellent rod and the 8-weight is the best of the BVK line-up.
This rod will likely continue to be one of the best rods on the market for years to come. It's a great price, it's relatively light and can toss lines at very high speeds with incredible accuracy.
Best 9+ Weight Fly Rods
At this level, you're firmly into the saltwater, bass and salmon fly rod sizes. You won't likely be going after many trout that would require a rod this big, but a lot of fly fishermen have at least one 10 weight in their kit for larger species.
In my opinion, if you're going above 8 weight, you might as well step up to a 10 weight rod. It's the in-between of the 9-15 weight range and is versatile enough to cover the gamut.
TFO Lefty Kreh Professional Series II – 10wt
Action: Medium-Fast
Pros: Smooth & Powerful
Cons: Cork Handle Isn't as good as some more expensive rods
Another offering from TFO, if you're going 10wt then the Temple Fork Outfitters Lefty Kreh Professional Series II is the way to go.
This is an excellent saltwater rod and it is very affordable, particularly when compared to similar quality rods in this weight class. It's super accurate and loads up really nicely for some fast line action.
The only con is that the cork tends to deteriorate a little bit quicker than you'd expect from a nearly $200 rod, especially if you're using it in saltwater. If you are getting a lot of use out of the handle, be sure to take care of it to avoid any damage.
Best Fly Rods By Species
If you're fishing specific species and you want to know which rods are the best for the job, I've listed them below, but each of these rods is already listed under another category in this post so there are no new rods below, but they're the best for the job.
Top Fly Rod For Trout
Redington Classic Trout: No big surprise here, the name pretty much gives it away. We listed it as our best beginner fly rod already on the list and while it's available all the way up to 10-weight, the lower weights like the 3 and 4-weight rods are especially good for smaller trout.
Top Fly Rod For Salmon
Sage Pulse: An 8-weight+ rod is what you'll need to cast into the wind and have the power and flex to retrieve massive salmon on the river. The Sage Pulse is the best at the job. While the 5 wt is slightly more accurate, the 8-weight 9.5 ft rods are the best for those hefty salmon.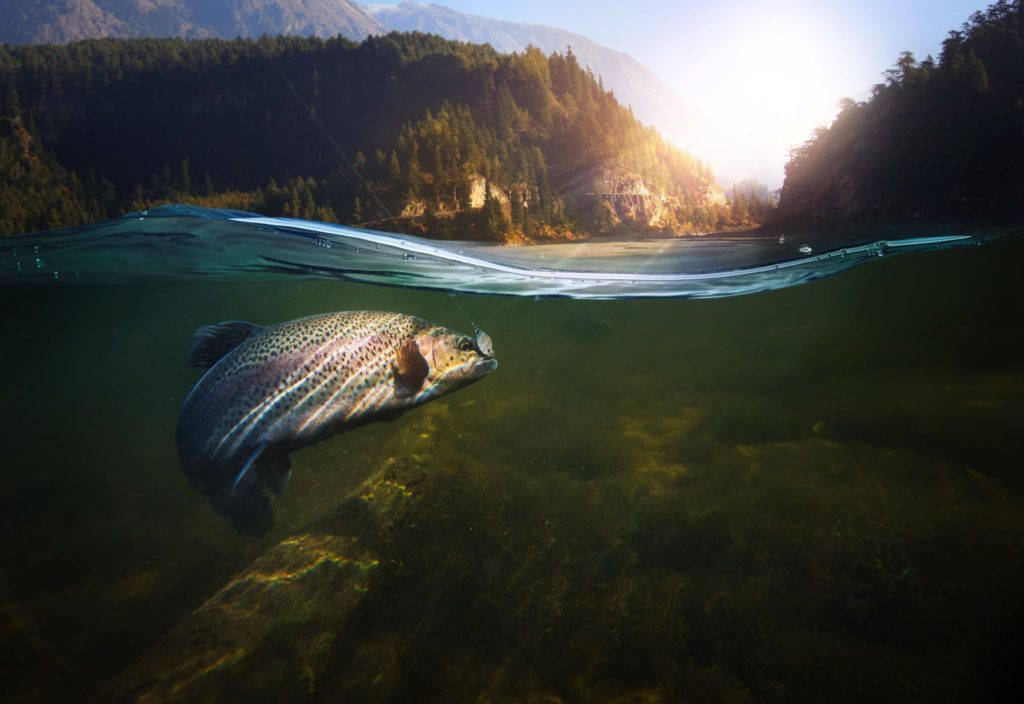 Top Fly Rod For Smallmouth Bass
G. Loomis NRX+ : For smallmouth bass, the 6-weight is the most versatile rod you can choose. If you remember our praise for the NRX+ series in the 5-weight category on this list, just know that the 6-weight is just as accurate and feels super light in the hand, making it perfect for smallmouth bass.
Top Fly Rod For Largemouth Bass
Redington Predator : You can fish largemouth easily with a 5, 6, 7 or 8 weight rod, and while the 5 is a bit light and the 8 is slightly overkill, the Redington Predator 7 weight comes in at Goldilocks perfection. It might not be super-accurate, but it's still a great rod for largemouth bass.
Read More: Our Guide To The Best Fly Rods For Bass
The Function of a Fly Rod
At the start of this post, we talked about things you need to watch out for when shopping for fly rods, but perhaps a better way to clarify this is to evaluate the function of a fly rod. What is it exactly that a fly rod is meant to help you do (besides the obvious answer of simply throwing a fly out on water).
The Cast
Like with a spin-casting rod, the fly rod's main job is to help the angler delicately place a fly in front of the fish's mouth with enough power to get it there and enough accuracy to get it close. A good fly rod, alongside decent casting skills, will allow the fly to be presented properly without spooking the fish.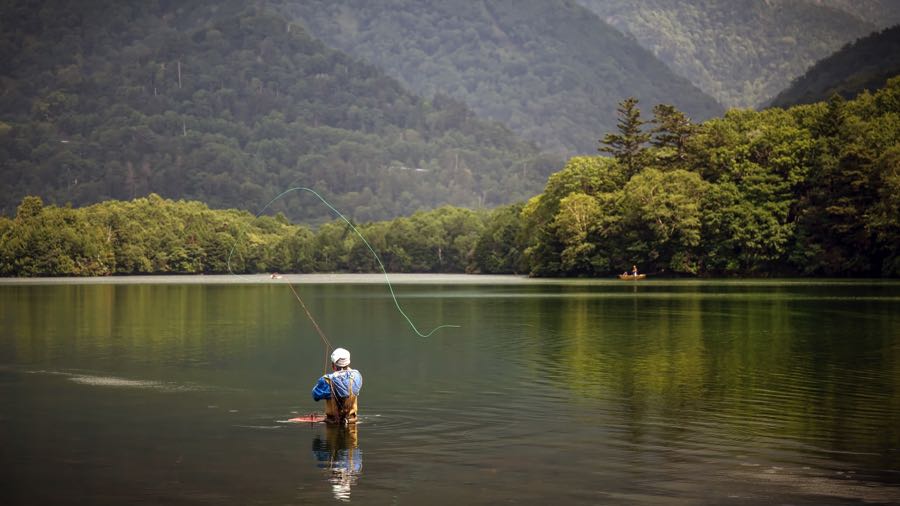 Line Control
Now that the fly has been dropped on the water, the next function of the fly rod is to control the line so that the fly looks natural as it drifts with the current. A fly rod that aids the angler in this natural approach and drift is a good rod. If it's difficult to mend and control the line, then the rod is failing.
Landing The Fish
The final function of the rod is to alert the angler of the initial strike of a fish on the fly, to aid in setting the hook and to help fight and land the fish. This is why fly rods are flexible and strong, while not breaking under pressure.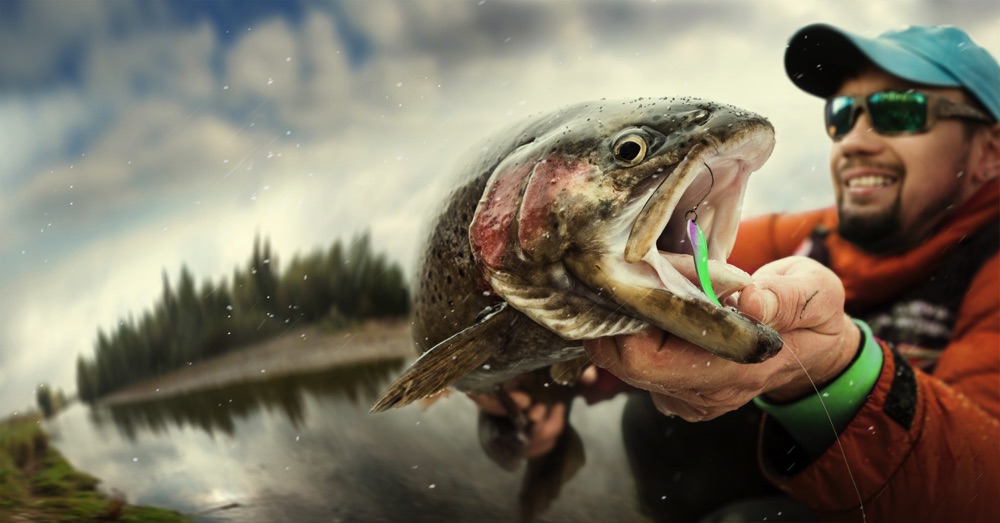 Rods Based On Experience
Just like there are different rods for different species of fish, there are also different rods for different levels of expertise on the fly.
For Beginners
Beginners should go for a medium-action, 5-weight, 8.5 – 9 foot fly rod that is affordable, light-weight and durable. The best inexpensive brands include Maxcatch, Orvis, and Redington.
Read More: Best Fly Rods For Beginners (2020 Buyer's Guide)
For Intermediate Fly Fishing
For those who have some experience with fly rods, stepping up to higher weights like 7 & 8 for larger game, or more delicate weights like 2 and 3 for small creek fishing is doable. Great brands for intermediate fly fishermen include Sage, G. Loomis and Hardy.
For Professional Fly Fishing
At this level, anything goes. When you've mastered casting all fly rod weights and lengths and you can do backcasts and two-handed Spey casts with perfect tight loops then there's no rod you can't shop for. Why not go for the most expensive rod in the world, the Oyster Bamboo at $4,600?
Who Makes The Best Fly Rods?
There are plenty of different brands of fly fishing equipment on the market today, with many of the big players consistently innovating the space with new, lightweight and ultra-durable technology. Here are a few of the top brands for fly rods.
Top-End Fly Rod Brands
Mid-Range Fly Rod Brands
Budget Fly Rod Brands
Fly Rod Warranties
Different rod manufacturers offer different warranties on their products. The best of them will be a full lifetime warranty with every purchase, while others will require a separate fee to be paid.
Sage, Winston, Echo, Ross, St. Croix, TFO, Moonshine, most Redington rods and G. Loomis (among other brands) off a full or limited lifetime warranty, while many other producers like Orvis and Cabales offer a 25-year guarantee.
It's worth checking the individual websites for the warranty regulations as sometimes different lines of fly rods will have different coverage.
Saltwater vs Freshwater Rods
Aside from weight, the next way that fly rods are categorized is between freshwater and saltwater. While you can definitely use a saltwater rod on freshwater, you don't want to go the other way around.
Saltwater fly rods use corrosion-resistant materials, primarily in the eyes, guides and reel seats. They're also typically heavier so that they can handle the larger game found in the oceans and seas.
Read More: Best Saltwater Fly Rods
Caring For Your Fly Rod
Let's say we've helped you pick the perfect rod from this list. You've ordered it to your house and you're excited to open up the box and start fishing with your new toy.
Remember that feeling! Caring for your fly rod is extremely important and if you want to still have it five or ten years from now, you'll need to properly care for it.
Corrosion
If you're fishing in saltwater, then corrosion will be your main enemy. Before you put your rod back in its sleeve and into its case, it's important that you rinse it off and dry it well so that rust doesn't start forming on the eyes, guides and reel seat (even if it's a saltwater rod!).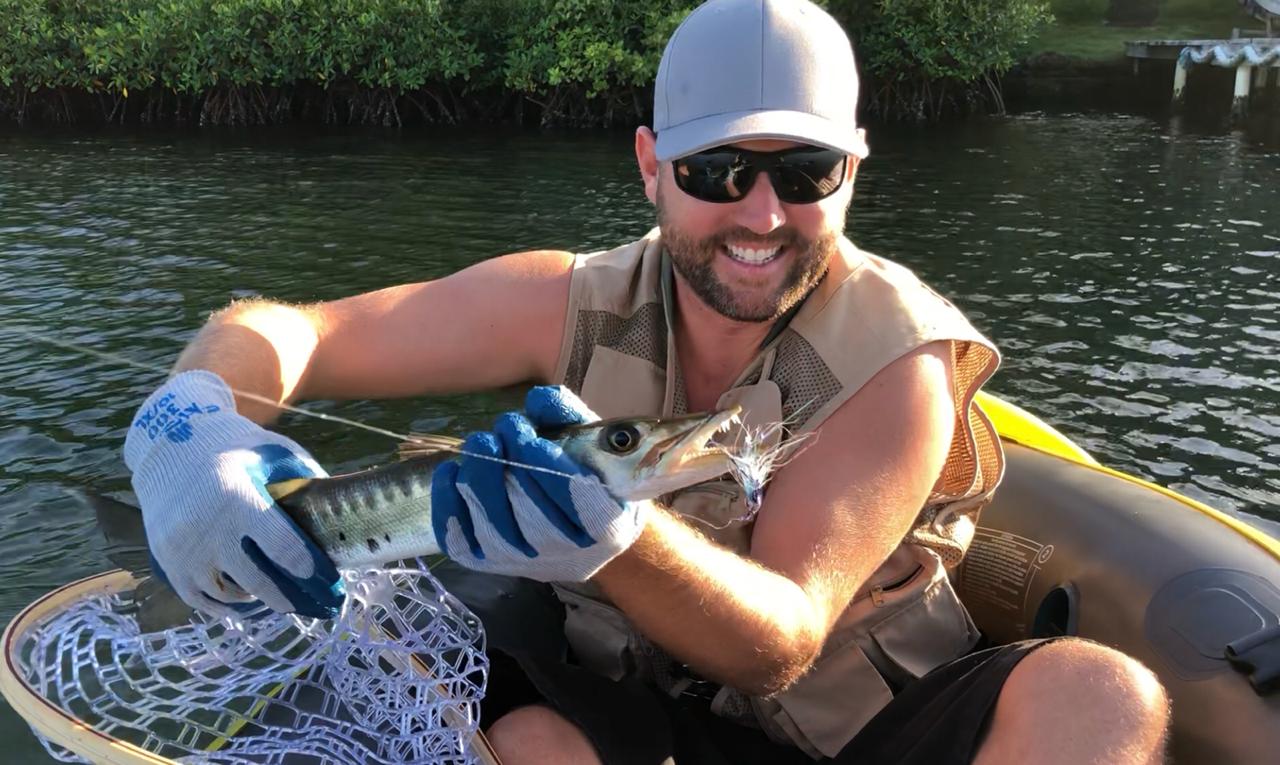 At the very least, you should wash down your rod after every use with a damp cloth and then make sure it's fully dry before you put it away in its case and sleeve. Every 3-4 months it's a good idea to wipe it down with warm, soapy water and then rinse and dry it to stop any potential harmful buildup.
Check The Connection
I'm not talking about the cellular bars on your mobile device. The joints where a rod connects are the most vulnerable parts of your rod. After every 20 or 30 casts, it's worth checking your blanks to make sure they're still properly seated. If they're loose, they can easily snap.
Each section of the rod should be aligned properly when setting up the rod. Most fly rods have small alignment dots on the ferals. Make sure these are exactly aligned and the sections are well-seated before your first cast.
Leave The Cork
Never add any oils or sealants to the cork handle. Cork is used for the handles on fly rods because it typically lasts the test of time. Just make sure that your cork handle is dry and salt-free when you're putting the rod away.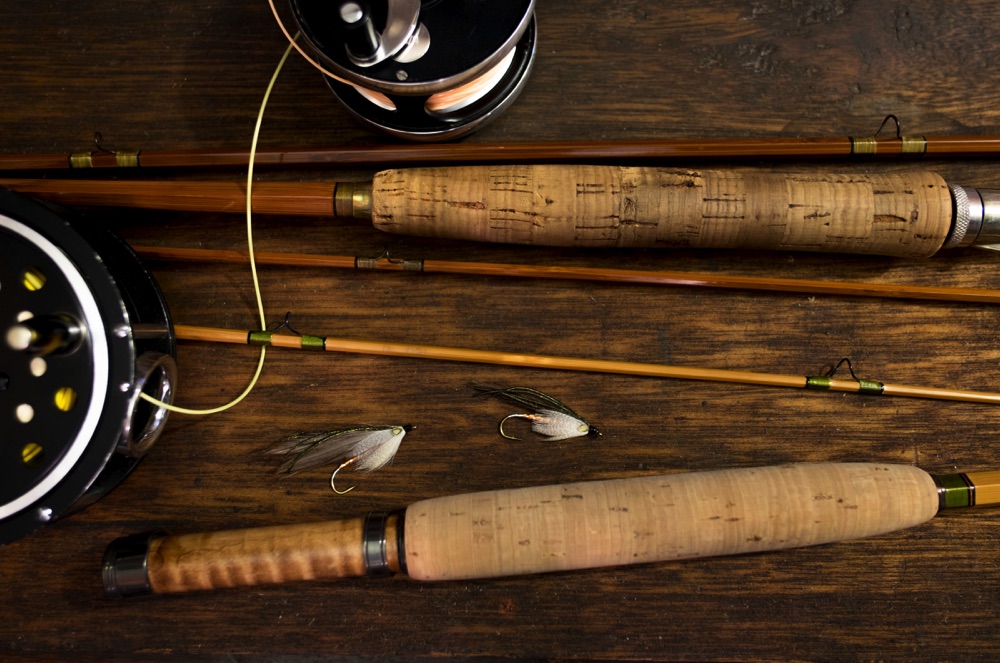 If you get a little bit of wear and tear on the cork, it's no big deal. This is a good indication that you're a seasoned angler!
Be Careful When Boating
Whenever you're in a boat, be mindful of the tips of the rods. Every boat angler has broken off a couple of tips in the past. Once the tip is gone, the rod is shot and it can completely ruin a fishing trip.
Treat the rod tip like a fragile piece of expensive China to ensure that none of your fishing trips are canceled without notice!
Review
If you've made it this far and you still haven't made your decision, use the table of contents below to jump back up on the page and see the different rods we listed.
Watch The Video
In Conclusion
Now you know what to look for when purchasing a rod, how to care for a rod and what your rods' primary functions are, as well as 13 of the best fly rods currently on the market.
I hope you found this post useful and if you have any questions, feel free to drop a line in the comments below (pun intended).
Happy Casting!
Like This Article? Pin it!