Fly rods for bass fishing will let you throw larger flies than you normally would for trout, while also having the backbone to tire out some of those bigger smallmouth and largemouth.
You'll also be using heavier line, so you'll need a heavier rod that will allow you to consistently and accurately cast different bass flies to hidden spots around lakes and rivers. Have a quick look below at the best fly fishing rods for bass.
If you're looking to get into fly fishing for bass, check out the information below. I'll go over a few different products as well as some different features of the best rods for bass fishing.
Disclaimer: IntoFlyFishing.com is a participant in the Amazon Services LLC Associates Program, as an Amazon Associate I earn from qualifying purchases. Please see our Privacy Page for more information.
How to Target Bass with a Fly Rod
There are many different ways to catch bass with a fly rod. You can either go subsurface with minnow imitations or crawfish flies, or you can throw something that floats on top like a frog or popper.
Topwater
Poppers and other topwater flies are great for summertime, especially during the early morning and late afternoon. It's great being able to watch a bass blow up on a fly on top.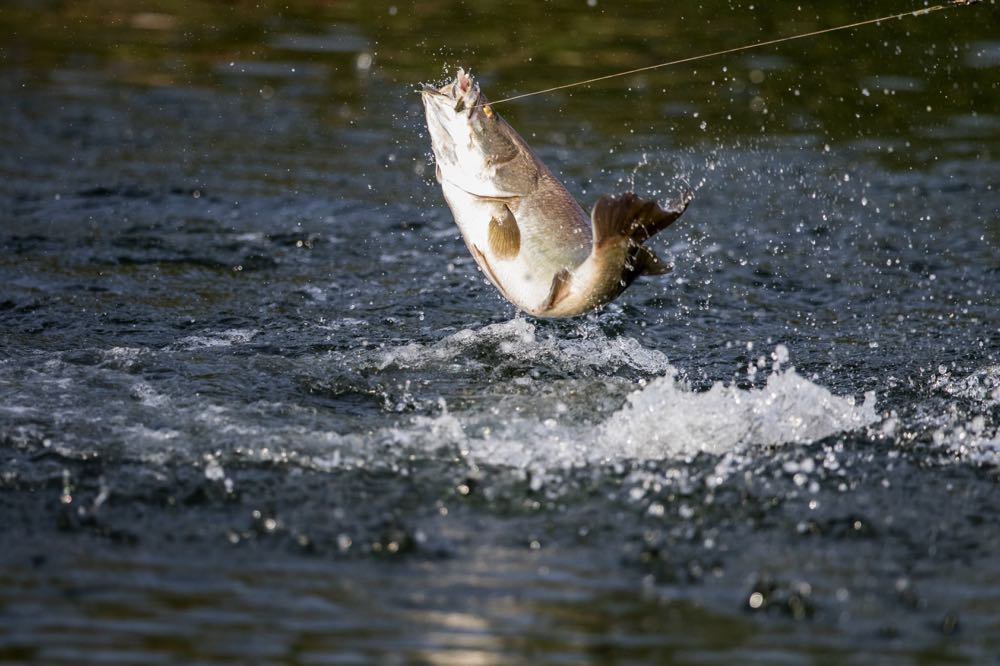 Also, if you have a lot of cicadas in your area, then a cicada fly will be your top choice for the dog days of summer. Cast it underneath trees and bushes where cicadas would likely fall into the water.
Bottom Feeding
Crawfish are one of the biggest food sources for both largemouth and smallmouth bass. If you find that throwing topwater or streamers isn't working out, then try a crawfish.
They can be fished just about anywhere you're able to throw it. You can cast it into the current of a river and let it free drift with the occasional twitch to give it some action, which bass will love.
Streamers
Streamers can be great during the fall and also during pre and post-spawn. Fish are hungry and willing to really chase after a meal. Ensure you're matching the color of your fly to the color of the local forage.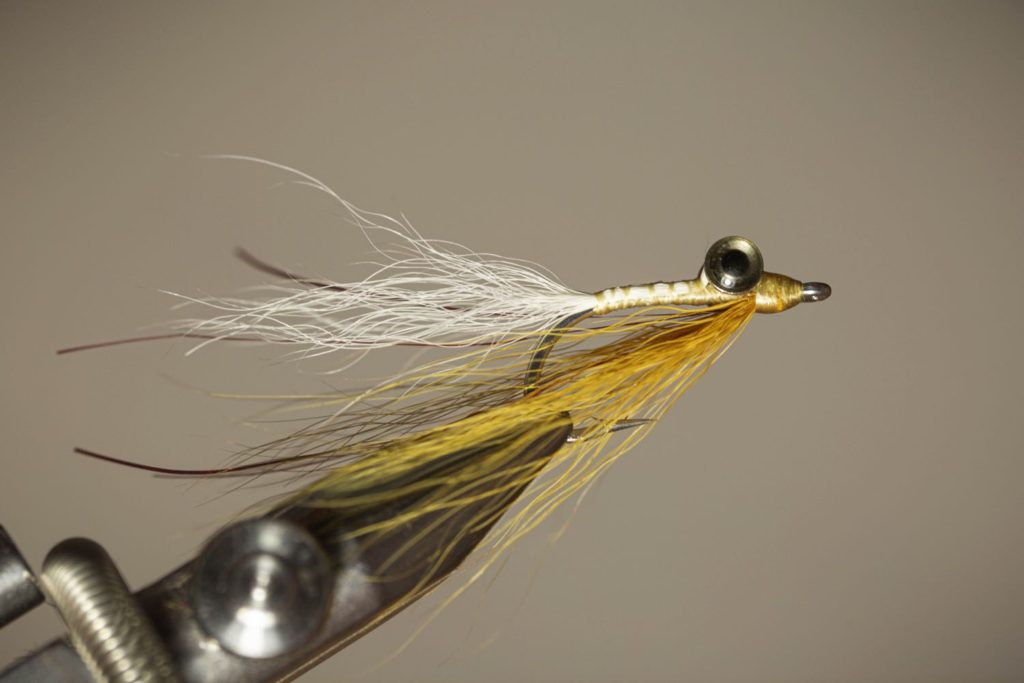 Feeling the sudden pull of a bass on the end of a streamer can really get the heart racing. It's also a very effective way to target bass and can lead to some great days out on the water.
Don't miss our guide that lists all of The Best Bass Flies for you to better your chances of hooking into a beautiful peacock or largemouth on your next trip out!
Best Weights for Bass Fly Rods
Below, I'll go over the best weights for bass fishing. Each of these has its own pros and cons, so think about what you need and apply that to the information below.
6 Weight
The 6 weight is a good all-around freshwater rod. You can easily take it from a trout stream to a bass lake and you won't miss a beat. It can throw both small and medium-sized flies without issue.
The 6 weight has enough backbone behind it to wrangle in larger bass, while also having the ability to throw large poppers and Clousers with distance and accuracy.
Check out our post of all of the best 6 weight fly rods on the market this year to learn about which features to look out for, when to use a 6 weight, and much more.
7 Weight
The 7 weight might be the best weight fly rod for bass fishing. It has the perfect combination of being strong enough to haul in big bass, while also having the ability to throw big flies.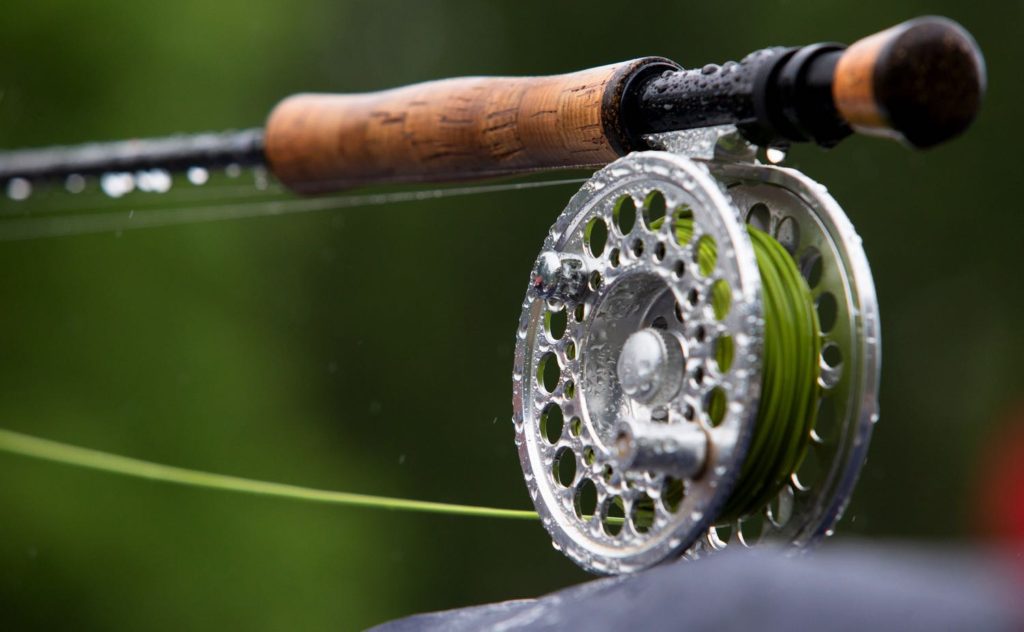 Along with being able to throw big flies, it also can throw medium-sized ones as well. So, you can utilize smaller flies in case you're pond fishing or fishing in skinny water.
Check out our post about all of the best 7 weight fly rods on the market this year to learn about which features to look out for, when to use a 7 weight, and much more.
8 Weight
If you want to target big bass with big flies, then this is the way to go. Throw big streamers and poppers without hesitation, and know that you also have the backbone to land those monster fish.
If your goal is to catch some of the biggest fish in the river or lake, then don't bother with a 6 or a 7 weight. Get the 8 and use that muscle to haul in those big bass.
Check out our post about all of the best 8 weight fly rods on the market this year to learn about features to look out for, when to use an 8 weight, and much more.
Features of the Best Fly Rods for Bass
Below, I'll go over five different features that you should be looking for when purchasing a bass fly rod.
Each of them will work better in different situations. So, take into account what you need for your own fishing and then use the information below to guide you along.
Length
The most popular size is nine feet. That's because it's the most prevalent, and also it's versatile and works well for just about any type of fishing you want to do.
You can go shorter if you want. This would be beneficial on skinny water where there's not much room to backcast. Larger would do well if you want to cast farther or get good drifts with your subsurface flies.
Material
Most fly rods are made of either nano-silica or graphite resin. Both of these materials have their own strengths and limitations, and it's important to know what they are.
Graphite is light, durable, and sensitive to the touch. Nano-silica is basically a better version of traditional graphite. It's essentially a graphite rod that has been improved. It's stronger and more powerful.
Pieces
I always recommend getting a four-piece rod because of how convenient it is to travel with. You can easily break it down, store it in its carrying case, and go anywhere with it.
However, if you prefer a one-piece, then I recommend looking into a rod vault for your car. One-piece rods are also great, but can be a pain to travel with.
Action
There are three different actions that a fly rod can have: fast, medium, and slow. The action of the rod determines how it bends.
Fast actions only bend at the top and are great for big fish. Mediums bend in the middle and are great for beginners, as they're a fantastic all-around rod. Slow actions bend at the handle and are great for small water.
Balance
The balance of your fly rod is a debated topic within the fly fishing world. Some people swear by it and won't fish anything that isn't perfectly balanced. The other side thinks that it's not too important.
If you attach a reel onto your rod, you should be able to balance the setup on your index finger exactly an inch below the grip of the rod. What we can all agree on is that fly reels and lines should be somewhat balanced on your rod.
Best Fly Rods for Bass
Below, I'll go over a few different products for bass fishing. Check them out and see which one will work best for you.
Orvis Helios
Action: Fast
Pros: Strong and accurate
Cons: Price point
If you're looking for a premier fly rod and have some money to drop on it, then the Orvis Helios 3D is a great option. It's supremely strong, allowing you to haul in whatever you catch and cast whatever you need.
On top of being strong and durable, it's also one of the most accurate rods out there. If you need to place a cicada fly right next to a submerged tree, this is the rod that can do it.
Compare At:
AvidMax
Trouts Fly Fishing
2019 Clearwater Fly Rod Outfit
Action: Medium
Pros: Great beginner setup. Comes with a 25-year guarantee
Cons: Not as accurate as other rods and the tip may lack durability
The 2019 Clearwater Fly Rod Outfit is a great setup for someone who's looking to get started in fly fishing but doesn't want to worry about pairing line, rod and reel together.
All three work well together and also balance well. Along with this setup, you also get a couple of different flies.
Compare At:
AvidMax
Trouts Fly Fishing
Trident Fly Fishing
Orvis Clearwater Rod
Action: Medium
Pros: Great setup for someone looking for a more expensive rod. The 6 weights and higher have a fighting butt on them.
Cons: It's not as strong or as accurate. It's a good middle rod.
If you previously had a cheaper rod but want to move up, the Orvis Clearwater is the way to go. It's not super expensive and is good enough that it fishes well.
This is a great rod for the price and could be worked by an angler at any skill level.
Compare At:
AvidMax
Trouts Fly Fishing
Redington Predator Rod
Action: Fast
Pros: Strong rod that can haul big fish and cast large flies
Cons: No loop near the handle to hold fly
The Redington Predator is an outstanding rod for the price. Coming in at under $300, it's something that you'll be able to take fishing with you wherever you go.
You can easily throw large streamers to largemouth or drift medium-sized crawdads in the current of the river for smallmouth bass.
Compare At:
AvidMax
Trident Fly Fishing
Redington Hydrogen
Action: Medium-fast
Pros: Accurate and very light for its size
Cons: No hook holder, and it has a delicate front tip
I'm not sure why companies can't put a hook holder on a rod. Anyway, the Redington Hydrogen is a very good rod that would suit any angler.
It's very accurate while also being lightweight, so your arm won't get too tired. It's a great rod to move up to from a cheap beginner setup.
Maximumcatch MaxCatch
Action: Fast
Pros: Fast action gives it surprising power for its price point
Cons: Heavier and not as refined as some of the nicer rods
For the price, the Maximumcatch MaxCatch Extreme is probably the best fly fishing rod for bass on this list. Coming in at under $50, it's a rod that gets the job done.
It's a no-frills, blue-collar type of rod, but it works and is a great rod for someone just starting out or as a backup rod.
Review This Post
Conclusion
When looking for a fly rod for bass fishing, you should be looking at something bigger than your trout setup — not because you're going to be catching giant fish, but because you'll be throwing larger flies.
So, if you're looking to start bass fishing with a fly rod, check out the info above and use it to guide you in your purchase of a new rod!
Some images in this post are courtesy of Shutterstock.
Like This Article? Pin It!