Fly rod storage is something that anglers too often overlook. We'll spend hundreds of dollars on a new rod, but fail to protect it well. Yes, many companies offer a lifetime warranty on their higher-end rods, but the effort it takes to go through those steps to replace it is beyond annoying.
Do yourself a favor and invest a bit more in a high quality rod tube so you can sleep easy knowing your rod is going to last.
Throughout my travels, I've had a few rods damaged because of poorly constructed rod tubes. Obviously, this can ruin a trip and cause all sorts of headaches in the process. As a result, I'm fairly quick to purchase my own rod storage tube as soon as I purchase a rod. Maybe it's my bad luck, but I've more than learned my lesson.
What Is a Rod Tube?
A rod tube is what many anglers keep their rods in as they travel or what they use to store them in during the off season. These tubes will ensure your equipment is kept safe. Anglers are often on the move, so a quality piece of storage equipment will help you use your rods for years to come.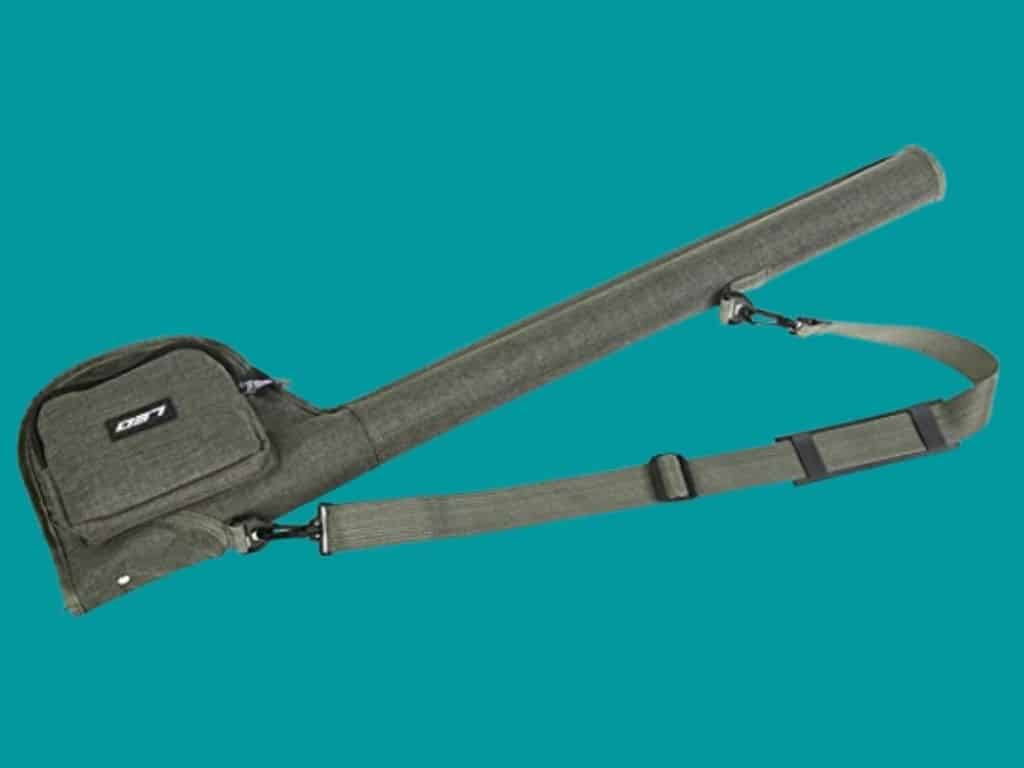 Many rods break down into four pieces. Therefore, rod tubes are made specifically for a certain length of rod. Since most fly rods are less than 9 feet long, there are fairly standard lengths that will keep a variety of rods safe. If you need anything longer, be sure to do some checking before you make your purchase.
Features of the Best Rod Tubes
A high quality rod tube has a few features that often go overlooked. Most companies send just the tube without anything more than that.
Reel Storage
One of the best features that a rod tube can have is storage for your reel. If you're breaking down your rod but know you want to keep the reel on it, it's inconvenient to remove it.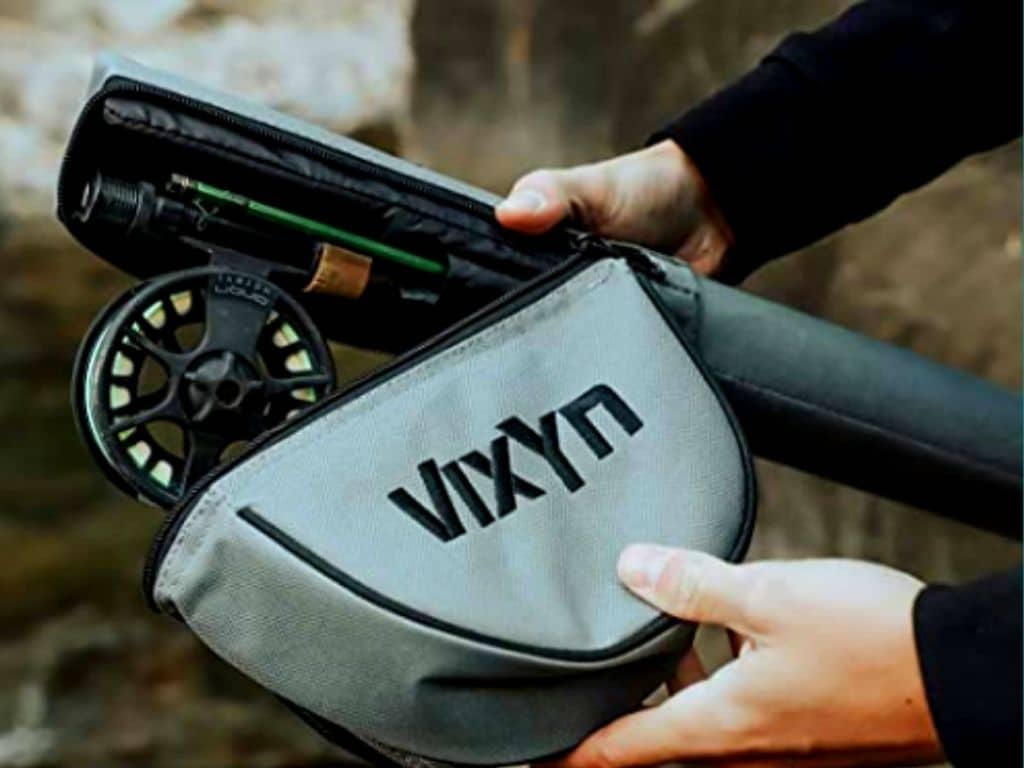 Rod tubes with a zipper storage that allows you to keep the reel attached both saves you time and helps you keep better track of your equipment.
Dividers
Dividers in your rod tube are also an underrated feature. The dividers allow you to prevent the four pieces of your rod from bumping against each other. If you're driving on a bumpy road or aren't afraid to toss your rod tube around, these dividers will give you more freedom to be more aggressive.
Fly Box Storage
External zipper pockets on rod tubes are also a nice feature. You can store a tippet or leader for the specific reel, a fly box, or other accessories in the rod tube. Most fly anglers have dozens of pieces of small gear that are difficult to track down at times. The more pockets available, the more chances there are for storing items.
Material
A high quality fly rod tube has nylon attached around a PVC pipe. These PVC pipes are extremely durable and difficult to crack. Plus, the area around your reel should be padded.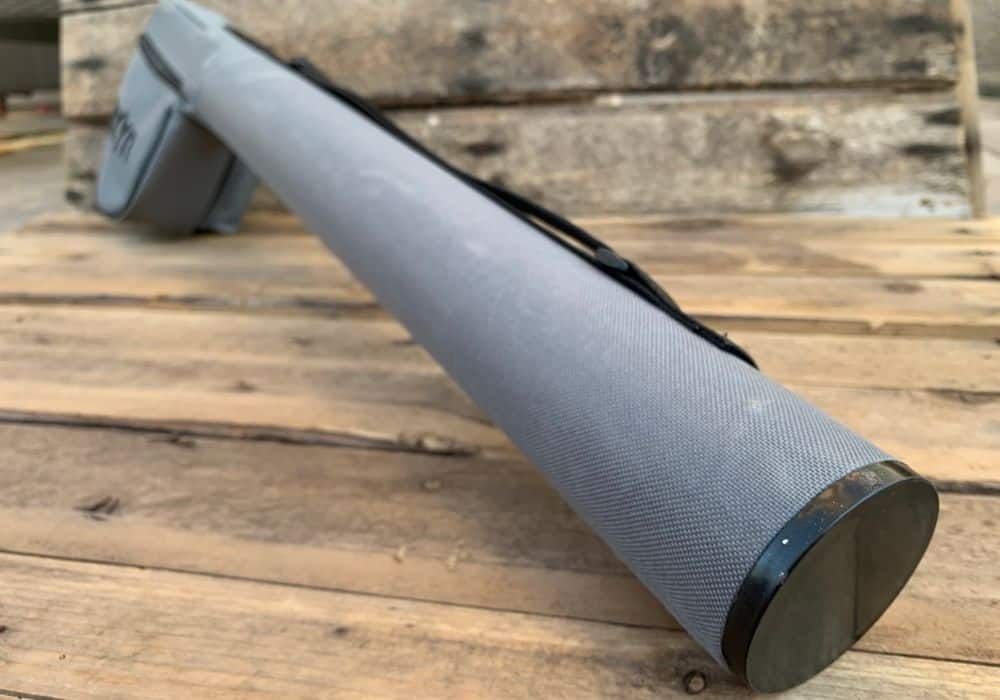 Some lower quality rod storage cases fail to protect the reel and only take care of the rod. An unpadded reel portion of a case can lead to a broken handle.
See more: VIXYN Rod & Reel Case Review
5 Best Rod Tubes
There are dozens of options for rod tubes. However, there are a few that stand out far above the others. Do yourself a favor and give one of the following options a close look. These cases have the necessary padding as well as the space to contain most fly rods available.
Vixyn Rod Tube
Vixyn has been getting more and more well-known in the fly fishing storage world. They recently released a fly fishing pack that's quite durable and cleverly designed. The Vixyn Rod Tube is able to fit up to a 4-piece 9-foot rod. There are dividers within this case that will keep your rod safe and nicely separated.
One great feature of this rod tube is that Vixyn sends along a double sided fly box with any purchase of the rod tube. The fly box fits nicely in the zippered pocket on the outside of the reel case.
There's a storage bag that you can keep the rod tube in as well if you need to. There's plenty of room within the reel case for your reel, so don't worry about having to force it in place.
Another nice feature of this rod tube is that it has an adjustable shoulder strap instead of just a hand strap. Many companies only offer hand straps on their rod tubes, but Vixyn wanted the transportation process to be as smooth as possible.
The zippers on this rod tube are solid, and you don't have to worry about them getting caught or losing their stability. They're waterproof, and this case does a wonderful job keeping your rod safe.
The case itself is just over 30 inches long, and the reel case is 7 inches from top to bottom. It doesn't feel as if you're lugging around anything too heavy.
BW Sports Fly Rod Case
The BW Sports Fly Rod is a great option for anglers. They even sell dual options that allow you to carry around two fly rods at all times. Depending on how much storage you need, BW Sports has an option for you. The case is designed to fit up to a 4-piece 10-foot rod. This is a nice added feature for anglers. It's not always easy to find a rod case that can store a 10-foot rod.
The extra storage on the BW Sports case is much appreciated. There are two pockets on each side of the reel storage portion of the tube. These pockets can hold small fly boxes as well as any extra accessories that you may need, and the zippers are saltwater proof! Again, the more things you can keep in one place, the better. This tube lets you put everything you may need on the water all in one place.
The shoulder strap is also adjustable on the BW Sports tube. The pipe is PVC and the nylon surrounding it has proven to be durable over the years. Again, you can purchase the dual fly rod holder for just a few dollars more. If you know you're going on a trip where you may need a couple of rods, keep this option in mind. These aren't overly common designs, and BW Sports has solved quite a few issues for anglers with this choice.
The case is 33 inches long, so you can even use it as a carry-on if you're traveling. It isn't overly cumbersome by any means.
MAXIMUM CATCH Fly Fishing Rod Case
The Maxcatch Rod Tube is one of the most padded rod tube options on the market. As far as reel storage is concerned, MAXIMUM CATCH did their part. You don't have to worry about your reel getting damaged if you choose to purchase this case. The soft inner lining automatically gives you peace of mind.
Similar to the other options on the list, there's a small pocket on the outside of the reel case for you to store an extra spool or a small fly box. It doesn't have as much storage as the BW Sports rod tube, but depending on your needs, you may not need too much storage. The dividers within this case are obvious and won't bounce around in a damaging way.
The shoulder strap on the Maxcatch is the most comfortable and durable on the list. The padding and ease of adjustment is definitely an underrated feature of the rod tube. Overall, this tube is nearly 31 inches long and is perfect for a 4-piece 9-foot rod. Obviously, if you have a bit shorter rod, that's no trouble. Keep the reel attached, break down, and you'll be quickly on your way.
Lixada Premium Fly Fishing Tube
Lixada has created a sleek looking storage option for fly anglers. The dark grey looks great and the design follows suit. The zipper right down the middle allows the reel storage portion to open exactly like a book. The Lixada Premium fly fishing tube makes it easy to slide your rod in and out without it getting trapped in the process. These zippers are waterproof.
The canvas around the PVC pipe is waterproof and quite durable. You can drop it or let it roll around the back of the truck and not worry about how it'll withstand the potential abuse. The large pocket on the outside of the reel storage portion will fit a fly box or an extra reel. You can even store smaller accessories if needed.
The shoulder strap on the rod tube is adjustable as well as removable. If you're looking for a sleeker presentation, go ahead and remove the strap. This case is 33 inches long, and you can definitely store that 9-foot fly rod with a bit of room to spare. Obviously, if you want to store anything smaller, that's a possibility. You can't go wrong with the Lixada.
Clear Creek Portable Fly Fishing Rod Case
Clear Creek has numerous options for fly rod storage tubes. The Clear Creek Portable fly fishing rod case is a 32 inch storage tube that's perfect for those 4 piece 9 foot rods. Clear Creek has been around for years and has a reputation for quality in the world of fly rod storage.
The one knock against this rod is the minimal padding around the reel. Although it will secure properly, you won't have an excess amount of storage that'll give you full peace of mind.
You won't find a storage pocket on the outside of the tube, but there's a clear storage area for you to put a card with your information in case it's lost. There aren't an excessive amount of features on this tube, but you'll get a product that will protect your rod for years.
Conclusion
Fly rods are delicate pieces of equipment. They're created to be sensitive and have features on them that can easily break if they aren't properly protected. Don't ever overestimate the importance of a nice rod tube. Do your research and make sure you don't ever run into a situation where you have an unknown broken rod.