As an Amazon Associate I earn from qualifying purchases.
Choosing the proper fly rod for your skill level, budget and experience is never an easy task. There are hundreds of options for anglers to choose from, and it can feel overwhelming when it comes time to make a decision. Despite hours and hours of research, you may find that you've made a mistake and aren't happy with your purchase.
Snowbee, a company based in the United Kingdom that's well-known for high quality waders, has started making its name known in the fly rod sphere. These rods are made by anglers with all different skill levels in mind.
I spent the better part of my college years trying out different rods in hopes of finding what would best suit my abilities and budget. As my experience has grown in this search, I've narrowed down a few key details that I can't do without. Snowbee fly rods check several of these boxes.
In this introduction to Snowbee fly rods, I'll tell you about my experience using these products in a variety of conditions and fishing scenarios. From cold mountain streams in Montana to big rivers on the East Coast, I've fished these rods often and hard. I know firsthand what they're capable of, what they excel at, and where they may fall short.
Who Is Snowbee?
Snowbee is a fly fishing company that's best known for their waders. They do, however, offer everything from fly rods to apparel. They have equipment made by fly anglers for fly anglers. Their decades of experience within the industry allow customers to trust the products they have to offer.
They're credited with several breakthroughs within the world of waders that have led to more comfort and longer lasting products. I've used their waders many times, and indeed they're high quality and some of my favorites in my arsenal. Of course this made me wonder if their fly rods were built to such a high standard as their waders.
Don't miss our Snowbee Prestige G-XS review.
Snowbee Fly Rod Warranty
Fly rods sold by Snowbee are under a lifetime warranty. If there are any malfunctions or mishaps with the products, you'll receive a new rod free of charge. If you need a rod replaced that's no longer sold by Snowbee, they'll replace it with a rod of equal value.
Snowbee wants anglers to fish their rods hard and not have to worry about what's going to happen as a result. When you purchase a Snowbee rod, rest assured that you can give it all you've got. I know I have.
Types of Snowbee Fly Rods
Snowbee makes a variety of fly rods designed to fit different types of anglers and budgets. There's something for everybody within their inventory. You shouldn't have any trouble finding a rod to fit your needs.
Prestige G-XS Fly Rods
The newly designed Prestige G-XS is one of the pride and joys of Snowbee. This rod incorporates brand new technology and is one of the most efficient rods on the market. It's definitely worth testing if you consider yourself a passionate angler.
I've used my Prestige G-XS a lot, and it's one of my favorite rods I've ever owned. This is a high quality, high performance rod built for serious fly anglers. I can't think of another rod I own that can cast so far and be so accurate at the same time.
See more: Prestige G-XS Fly Rods Review
Spectre RMX Fly Rods
Spectre RMX fly rods were made to pair with Snowbee Spectre reels. These high performance rods are versatile. Depending on the size you purchase, you can use it in a variety of circumstances without thinking twice.
I've used this rod on fast moving mountain streams and table-flat lakes. It performs well in both situations and everything in between. It's not quite as top-of-the-line as the Prestige G-XS, but it's also more affordable. Besides, it's such a good rod that only the most experienced fly anglers would know the difference.
Diamond Fly Rods
Versatility is also a great feature of the Diamond Series rods. They're great for both moving and still water. If you're a jack of all trades with the fly rod, the Diamond series is a great option for you.
This is a rod for the intermediate or casual angler. Now, as a die-hard I'm neither of those things, but I have enjoyed my time fishing with my Diamond fly rod. This is a moderate-fast action rod, so I couldn't cast as far as with Snowbee's more expensive options. Despite this, the line practically flew out of the rod, thanks to the smooth guides. It's an excellent rod, especially considering the affordable price.
Classic Fly Rods
The Classic Series pairs well with the Classic reel. It's the perfect choice for anyone looking to get into fly fishing or wanting a more affordable rig. You can't go wrong with the affordability as well as the quality.
These would make outstanding beginner or backup rods. I used this rod in both windy and clear days. In both scenarios, I was able to cast long distances with ease, and I found that the rod has a great deal of response and sensitivity. I can't help wishing this had been the rod I'd learned to cast with.
Features of Snowbee Fly Rods
Snowbee fly rods have a variety of features that are vital for their specific models. They take pride in their high quality guides and the overall build of these rods.
Length
Anglers have a choice of rods ranging anywhere from seven feet to almost 11 feet. Whether you're fishing tight water or nymphs, Snowbee has a wonderful option for you.
Material
Carbon fiber, graphite and the brand new graphene material can be found throughout the Snowbee arsenal. Again, there are several options for each level of angler.
Pieces
Most Snowbee fly rods come in four pieces. This makes them ideal for travel. You don't have to worry about fitting these rods anywhere. I've been able to take them onto airplanes as carry-on baggage and also stick them above my seat on buses.
Action
You can find Snowbee rods everywhere from medium fast to fast action. Be specific with your rod choice! Snowbee has a few options for you.
History of Snowbee
Snowbee was founded in 1984 in the UK as a company specifically selling waders. The company quickly grew due to the high demand for waders and eventually decided to branch out and make other fly fishing equipment. They've been in the fly fishing industry for nearly 30 years and their gear proves it.
Snowbee Fly Rods
Snowbee has four primary models for anglers to choose from. Each of these models are created for a specific type of angler. Within each model are a variety of sizes and lengths to fit almost every situation.
Snowbee G-XS Fly Rod
Best for: Anglers who are confident in their abilities and looking for a rod that's truly high performance. This rod is the most expensive in the Snowbee lineup, but it's worth the price. I found it to be extremely sensitive and it responds exactly how I needed it to in almost every situation.
Action: G-XS fly rods have fast actions. They're wonderful rods that allow anglers to cast long distances and feel every nibble that might happen. It was actually chosen by Maxine McCormick, the reigning women's fly casting world champion. I've been able to gain some serious distance with this rod.
The Snowbee G-XS contains brand new graphene technology. It's a mix of graphite and carbon fiber. It's extremely strong and also quite light. It's the reason they're able to make such a high quality 1-weight rod. It doesn't feel as if it's going to break apart, but it's so light that you don't need much to get it moving.
If you need accuracy and pride yourself on your ability to cast, this is an ideal option. You'll be shocked at how smooth it feels and the power that you find. Many anglers claim that rods don't make that much of a difference when casting, but it's nearly impossible to not notice the difference using the G-XS.
The overall design of the G-XS is great. It's a 4-piece rod with an aluminum reel seat and strong guides. You'll appreciate the time spent on the details of this rod. It has both the look and feel of a high performance rod.
On top of it all, you have 15 sizes that you can choose from when purchasing this rod. The weights range from 1-weight to 7-weight and there are several length options. Whether you're Czech nymphing or targeting some large freshwater fish, you can purchase a G-XS rod that will fit your needs.
Available Sizes & Weights
7'6″ 1-weight
7′ 2-weight
10′ 2-weight
9'6″ 3-weight
10′ 3-weight
11′ 3-weight
8′ 4-weight
9′ 4-weight
10′ 4-weight
9′ 5-weight
10′ 5-weight
9′ 6-weight
10′ 6-weight
9'6″ 7-weight
10′ 7-weight
Spectre RMX Fly Rods
Best for: Spectre RMX rods are great for anglers who consider themselves experienced and are looking to upgrade their arsenal. These are the next tier down from the G-XS rods, but are still considered high performance. I've used them on both moving and still water and they're great for both.
Action: Spectre RMX fly rods have a moderate-fast action. That's a bit less than the G-XS and as a result it's a bit more forgiving. If you aren't fully confident with your casting, you can become nearly perfect when you use the RMX.
The Spectre RMX was launched in 2017 and recently had an update in 2019. This rod uses American Tackle Microwave Stripper Guides that are smooth and allow for the best possible line performance. Line is able to move at 50-60 mph through these guides.
The rod is made of carbon fiber and the power it can load is great. You feel the power from the lower end and through the middle of the rod. If you want a design that's fully authentic and made for a consistent angler, the Spectre RMX is an ideal option.
The rod has alignment dots that make it easy to line up the four different sections as well as marks on the reel seat that show where to place your reel. There are perfect weights and lengths for anglers looking to fish different waters. While the smallest weight is a 5-weight, you'll find those to be sensitive enough to take on tighter waters.
You can even purchase a 9′ 8-weight spey rod in the Spectre RMX. If you're searching for steelhead, salmon or even saltwater fish, the spey rod is a smart choice.
When you receive this rod, it'll come in a rod bag as well as a rod tube. You'll notice how light it is and how solid it feels in your hand. Once you start casting, you'll barely notice it.
Available Lengths & Weights
8'6″ 5-weight
9′ 5-weight
10′ 5-weight
9′ 6-weight
10′ 6-weight
10′ 7-weight
9′ 8-weight SP
Diamond Fly Rods
Best for: The intermediate fly angler who is skilled, but doesn't fly fish all the time. Also, it's a great option for an experienced angler looking for a backup rod. The Diamond has a positive reputation, so you don't have to worry about performance.
Action: The Diamond Series has a moderate-fast action that's quite forgiving. Getting back into fly fishing after some time off takes time, and the Diamond Series doesn't require anglers to be perfect.
There aren't many mid to low priced fly rods on the market that are better options for anglers. The Diamond Series has been around since 1994 and anglers have grown to love it. In my experience using it, I found that not only is the design great, but the performance is impressive as well.
It's made of carbon fiber, is four pieces and has burl wood reel seats. I immediately noticed how comfortable the handle was. I never felt tired by it after a long day on the water. If you want to fish moving water with this rod, that's totally fine. If you're more of a stillwater angler, that's no problem either. The rod will respond and perform exactly how you need it to on these types of water.
The casting power is impressive and quite smooth. I've been able to achieve quite a bit of power with this rod even when I was fishing on a windy day. The sizes for this rod hover between 3 and 7-weight, so it's a great midsize rod that's both sensitive and powerful.
This is one of the best designs that Snowbee has. You'll find that it looks great and is one of the more unique options for anglers on the market.
Available Weights & Sizes
10′ 3-weight
8′ 4-weight
9′ 4-weight
10′ 4-weight
9′ 5-weight
9′ 6-weight
9'6″ 7-weight
10′ 7-weight
Classic Fly Rod
Best for: The Classic Series is the perfect beginner rod. Or, if you're searching for an affordable backup rod, this is a great choice. There's nothing complicated about this rig and it'll do exactly what you ask.
Action: The Classic Series actually has moderate-fast action. This allows for beginner anglers to learn to cast long distances without feeling like they're throwing out their shoulder in the process.
There are dozens options for beginner fly rods on the market. Companies that don't even specialize in fly angling have created beginner fly fishing packages, and with many of these it's easy to tell. They're bulky or have little to no sensitivity.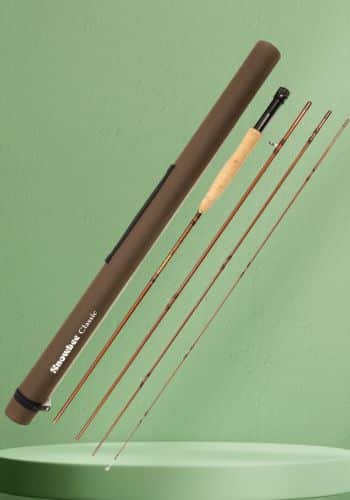 As soon as I first cast it, I knew that the Snowbee Classic fly rod could easily pass as an intermediate rod. I could tell that it was designed and developed by people who often fly fish. It's made of graphite and there's nothing to worry about when it comes to durability. It's covered under the lifetime warranty.
The rod can be broken down into four pieces and has an aluminum reel seat and lined stripper rings. You'll be pleased with this reel as soon as you take it out of the tube. It's one of those rods that makes you feel like you're getting a steal knowing it's a beginner rod.
Their weight options range from 2/3-weight all the way up to 7/8-weight. It's not uncommon for anglers to have several versions of this rod since they're so affordable and perform at such a high level.
Available Sizes & Weights
6′ 2/3-weight
7′ 3/4-weight
8'6″ 4/5-weight
9′ 4/5-weight
10′ 4/5-weight
7′ 5/6-weight
9′ 5/6-weight
9'6″ 6/7-weight
10′ 6/7-weight
10′ 7/8-weight
Conclusion
Snowbee isn't too well-known for their fly rods, but it's time for that to change. No matter the price, they perform better than many others with similar values. It's not easy to find companies with such impressive warranties on all types of their rods.
A mainstream fly fishing brand isn't always the best option. Do yourself a favor and check out Snowbee. It won't take long for you to be glad you made that decision.
Amazon and the Amazon logo are trademarks of Amazon.com, Inc, or its affiliates.
As a part of the Amazon Associates Program and other affiliate programs, Into Fly Fishing® may receive a comission if you order products through links on this website.