As an Amazon Associate I earn from qualifying purchases.
The best small stream fly rod will allow you to make quick, accurate casts with little to no backcast. You'll most likely be fishing in tight quarters, so you'll need to make a lot of roll casts or bow and arrow casts.
Some of the best fly rods on the market today are great small stream rods that can be used to target smaller trout.
On top of this, you'll need something that has a lighter weight to it. You'll be casting smaller flies and will require a lighter line. So, using your 6 weight while throwing a size 22 midge won't cut it.
If you're looking to get into small stream fly fishing and need a rod, then check out the information below. I'm going to cover products as well as some features of those products.
Best Small Stream Fishing Techniques
Below, I'll go over a few different small stream techniques that will help you catch more fish. Check out the list below and use some of these tactics the next time you're chasing brookies or cutthroat.
Keep It Small
I don't want to discourage you from casting large flies because those can sometimes work. However, you'll need to downsize your fly selection on these smaller waters.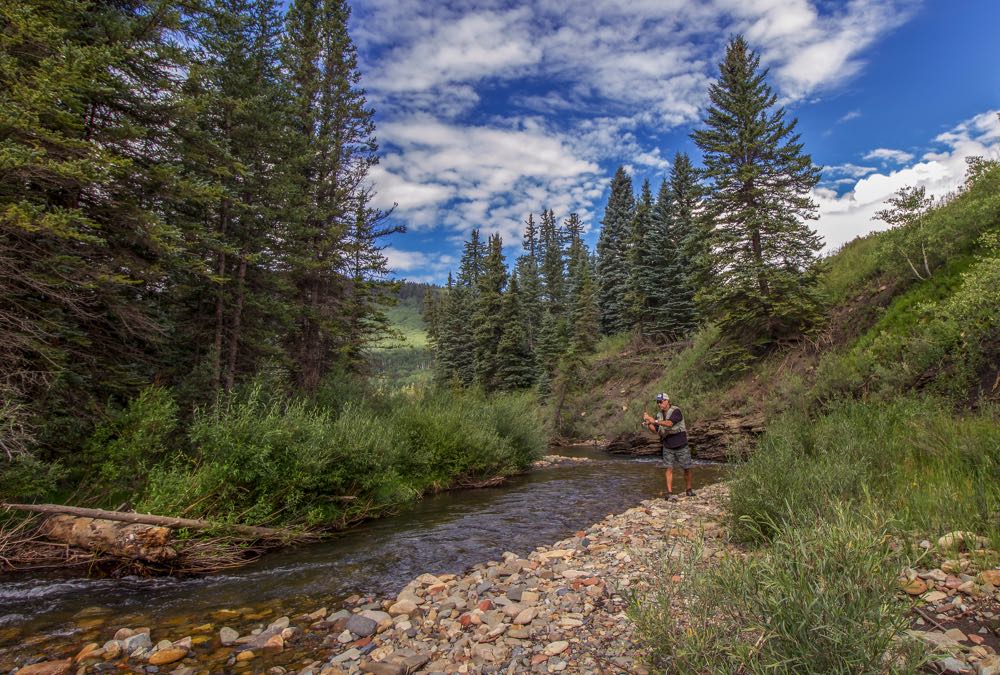 Large prey is unusual for smaller streams, so you'll need to keep it small in order to properly match the hatch. Get used to throwing small nymphs, as well as Adams.
Terrestrials
The summertime can be slow for hatches. So, if you still want to throw dries and have some success then look to different beetles, grasshoppers, or anything else that is noticeable in your area.
Also, black and red ants are great if you want to go subsurface. You can also drop an ant off of your beetle or hopper imitation.
Stealth
This one is not so much a technique, but more of a way to approach small stream fishing. Walking or crawling up to a spot could be what makes the difference between a fish caught and a spooked pool.
Also, dressing in muted colors works well too. I'm not saying you need to go out and buy a whole camo wardrobe for hot weather, but darker shirts and pants will help keep you concealed.
Species
Depending on what species you're going after, you may want to have a specific small stream rod for the job. Some great rods out there are specialist small trout rods, while others have a lighter touch for small panfish.
What Is the Best Weight for Small Stream Fly Rods?
Below, I'll cover the best weight fly rod for small stream fishing. Check them out and see which weight works best for you.
2 Weight
If you're blue lining for brook trout and you know you'll be in some seriously skinny water, then a 2 weight is ideal.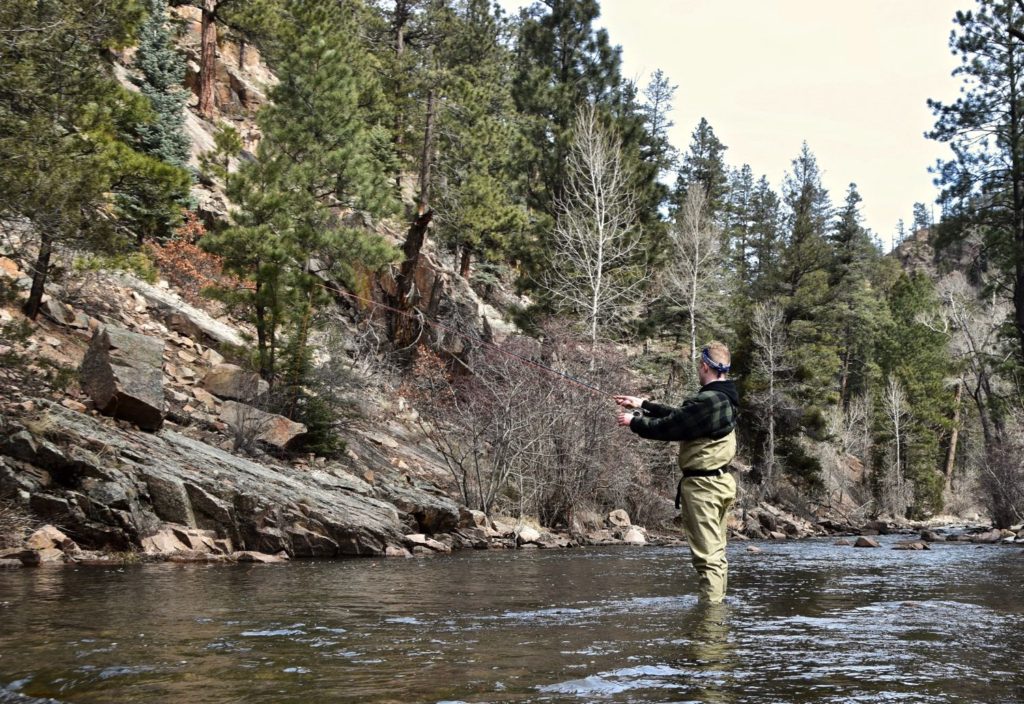 You'll be able to get a shorter size and you'll have the ability to load the rod on short quick casts and land tiny flies exactly where you want.
3 Weight
This might be the most popular small stream rod. It's large enough to throw some smaller streamers as well as some terrestrials that might overpower a 2 weight.
However, it's also small enough to land those tiny dries and nymphs in shallow runs. This is a great all-around size for small stream fishing. It might be the best fly fishing rod for small streams.
→ Check Out Our Guide To The Best 3-Weight Fly Rods
4 Weight
Four weights are good for small streams that might have a little more depth to them. The extra weight will help you pull out bigger fish that might hide in cut out banks or in deeper parts of the river.
The larger weight will allow you to throw some larger flies too. This could help you entice some of the big fish that lurk in small streams.
→ Check Out Our Guide To The Best 4-Weight Fly Rods
Other Features of the Best Small Stream Rods
Below, I'll go over some different features of small stream rods. Check out the information below and see which one will work best for you.
Length
Normally, you'll use a shorter rod when fishing small streams. This is because of the tight quarters that you'll be fishing in.
However, sometimes small streams run through fields and pastures, so a shorter rod isn't needed. A 9′ could work just as well as a 7′ 6″ in this scenario.
Material
Most fly rods are made of either graphite or a nano-silica resin. Both of these have their own pros and cons, and knowing them is important for your choice.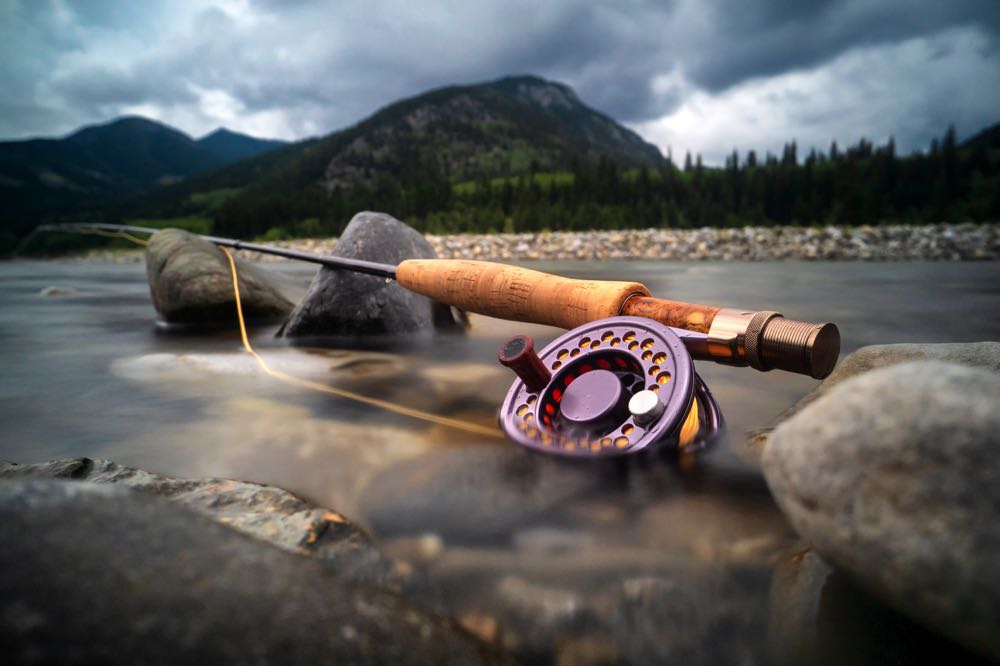 Graphite is light, sensitive, and durable, while nano-silica is new and improved graphite, meaning that nano is the best material you can buy for a rod.
Pieces
A four-piece rod is what I recommend for most fly rods. However, if you have a smaller model that is 6′-7′ 6″, then you could get away without having to break it down.
That being said, it's also nice to have a rod that breaks down into pieces. It makes it easier to travel with and will help prevent the car door from eating it.
Action
Fly rods have three different types of action: slow, medium, and fast. The action of the rod determines where it begins to bend.
Fast actions bend at the top and are great for big fish. Medium actions bend in the middle and are a great all-around rod. Slow actions bend at the handle and are ideal for small water.
Balance
Some fly anglers swear that having a perfectly balanced rod is the most important thing you can have, while others seem to think it makes little to no difference.
What we can all agree on, though, is that the reel needs to be balanced on your rod. You can test this by setting your index finger an inch below the grip of the rod and letting it balance just on the tip of your finger.
The Best Fly Rods for Small Streams
Now that I've gone over the features and tactics of a small stream fly rod, let's go over a few products. Check out the gear below and see which one will work best for you.
Moonshine Rod Co. The Drifter
Action: Slow/medium
Pros: A good all-around action and very accurate
Cons: Heavy for its size
The Moonshine Rod Co. The Drifter is my personal favorite fly rod for its price for fishing small streams. You'll get an accurate rod with an action that will allow you to make tight casts in narrow streams.
With this rod, you can easily drift a nymph through a run and pluck out a cutthroat. Or, you can throw an Adams into a plunge pool for a brookie.
Temple Fork Outfitters Lefty Kreh
Action: Slow/medium
Pros: Accurate cast and is fast and responsive
Cons: Durability can be suspect
The Temple Fork Outfitters Lefty Kreh is a surprisingly good rod for the price. Similar to the Moonshine rod above, the Lefty Kreh comes in at a solid price point that would make any fly angler happy.
It loads quickly so you can cast easily when fishing in tight spaces, making it ideal for mountain brook trout fishing. It's diverse enough to use just about anywhere, though.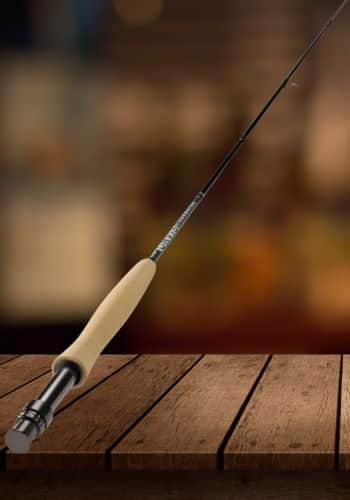 Orvis Clearwater
Action: Medium
Pros: Made for shorter casts and great for mending on small water
Cons: Heavy, no hook holder
Orvis Clearwater might be the best-known name in terms of rods and reels in fly fishing. Most anglers have an Orvis product, and for good reason.
The Clearwater is great for just about any type of fishing. It was made specifically to cast short distances while also providing an improved ability to mend when fishing in skinny water.
I've tested this rod for years and absolutely love it. Check out our full Orvis Clearwater Review if you're considering picking up this rod.
Compare At:
AvidMax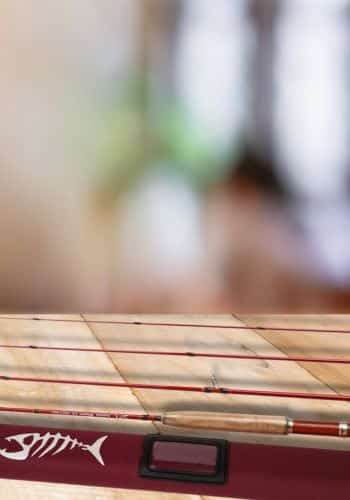 Aventik Z Series
Action: Fast
Pros: Great price point for beginners, solid fast action
Cons: Flimsy and not very durable
The Aventik Lightweight Z-Series Fly Rod is a great rod for someone who's looking to get into fly fishing. The price point is low, so you don't have to commit to purchasing an expensive first rod.
It would also make a great backup rod. Despite the price, it has a surprisingly durable wrap as well as a cork on the rod. That's where the durability stops, though.
Sage X
Action: Fast
Pros: Incredible casting for all different styles. Allows for better presentations
Cons: Price
Other than being wildly expensive, there's not much to dislike about the Sage X rod. Sage says to "command the water," and with this rod that's exactly what you'll be doing.
It allows for tighter loops in your line, so you can cast more efficiently as well as more effectively. You can easily roll cast or bow and arrow cast a hopper back into an eddy to snag a waiting trout.
I recently got my hands on the 3wt 9′ variation of this rod and have to say that it's an extremely high-quality rod. Check out our full Sage X Review.
Compare At:
Trident Fly Fishing
Best Fly Rod Combo for Small Streams
Oftentimes, the best way to purchase a fly rod is part of a kit, particularly for those who are just starting out in the sport. The Wildwater Outfit is decent quality and comes with everything you need.
Wildwater Fly Rod Combo
Action: Slow
Pros: Great price. Comes with everything you need
Cons: Casting is average at best and the drag leaves something to be desired
If you want to get started in fly fishing but don't know where to begin, then the Wildwater Fly Rod Combo is the rod and reel combo for you. It comes equipped with everything you need.
The Fly line, flies, reel, and rod all come in this kit. You can take it straight from the store and hit the water immediately.
Review This Post
Conclusion
If you're looking to get into throwing a fly rod on small streams, then you should check out the info above. It has everything you need to get started.
There you have it, folks. Now that you know a little bit more about small stream fly fishing, you should head on down to your local fly shop and pick up a rod!
Some images in this post are courtesy of Shutterstock.
Like This Article? Pin It!
Amazon and the Amazon logo are trademarks of Amazon.com, Inc, or its affiliates.
As a part of the Amazon Associates Program and other affiliate programs, Into Fly Fishing® may receive a comission if you order products through links on this website.