As an Amazon Associate I earn from qualifying purchases.
It seems as if every province in Canada holds some of the best fly fishing water in the world, and the fly fishing in BC is some of the best.
British Columbia is perhaps the best province to visit when you're fly fishing in Canada. The amount of coastal water, mountain streams, and crystal clear lakes would take multiple lifetimes to fish.
I've been fortunate enough to go fly fishing in BC many times. Not only is the fishing great, but the scenery is some of the best in the world. Whether it's high-elevation mountain streams, shimmering lakes and reservoirs, or bubbling creeks in the rainforest, I've frequently been overwhelmed by the beauty of my surroundings.
It's truly one of the most awe-inspiring places in the world, and British Columbia is also unmatched when it comes to fly fishing destinations. You'll never go wrong with whatever portion of it you choose to fish.
As a part of the Amazon Associates Program and other affiliate programs, Into Fly Fishing® may receive a comission if you order products through links on this website.
Why Fly Fish in BC?
If you're after seclusion, you'll find it in British Columbia. Due to the large amount of public land, you can gain access in a variety of places and not have to worry about fishing around anyone else.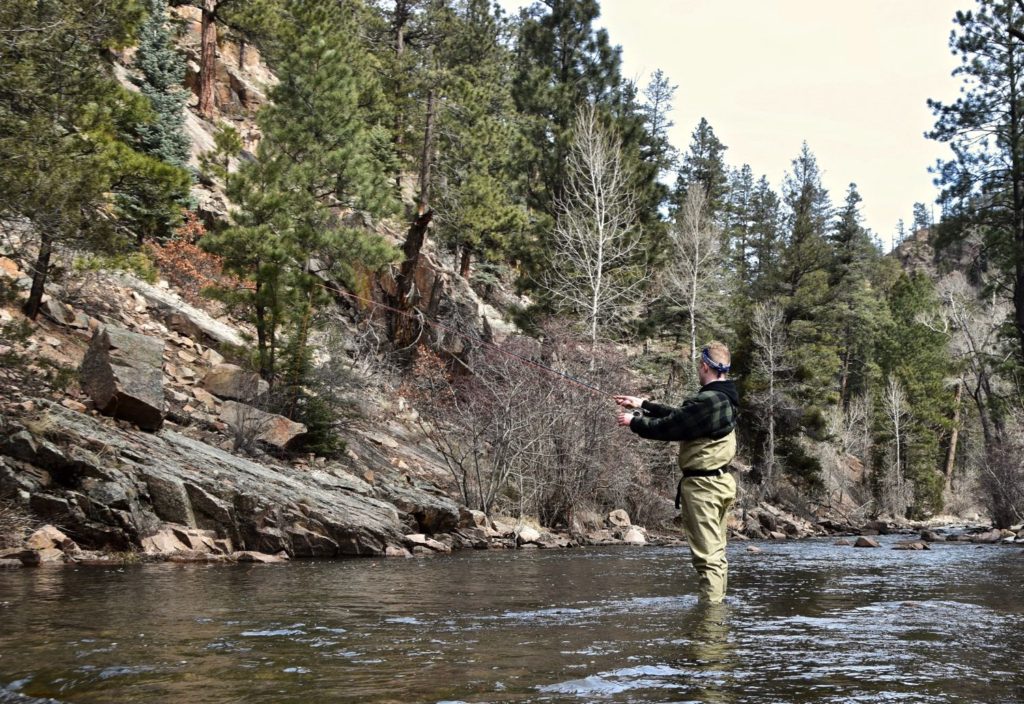 Plus, the sea-run fish will give you wonderful fights, and they taste great as well. British Columbia fly fishing opportunities are unmatched. It takes quite a bit of traveling to reach the spots, but it'll be well worth your time when you see the size of fish you can catch.
What to Bring for Fly Fishing in British Columbia
If you're heading out on a fly fishing trip in BC, then there are a few things you'll likely want to bring with you. Much of this fly fishing gear includes things you'll want to bring on any fly fishing trip, but certain items like the rod weights and flies are specific to BC.
BC Fly Fishing: Fish Species
British Columbia offers anglers access to sea-run fish as well as quite a few traditional inland fly fishing targets. Anything you'd like to catch is available for you in BC.
Salmon
Salmon are one of the most commonly targeted fish in British Columbia. These fish bring in anglers from all over the world. You'll find six different species of salmon including chinook, chum, coho, pink, and sockeye.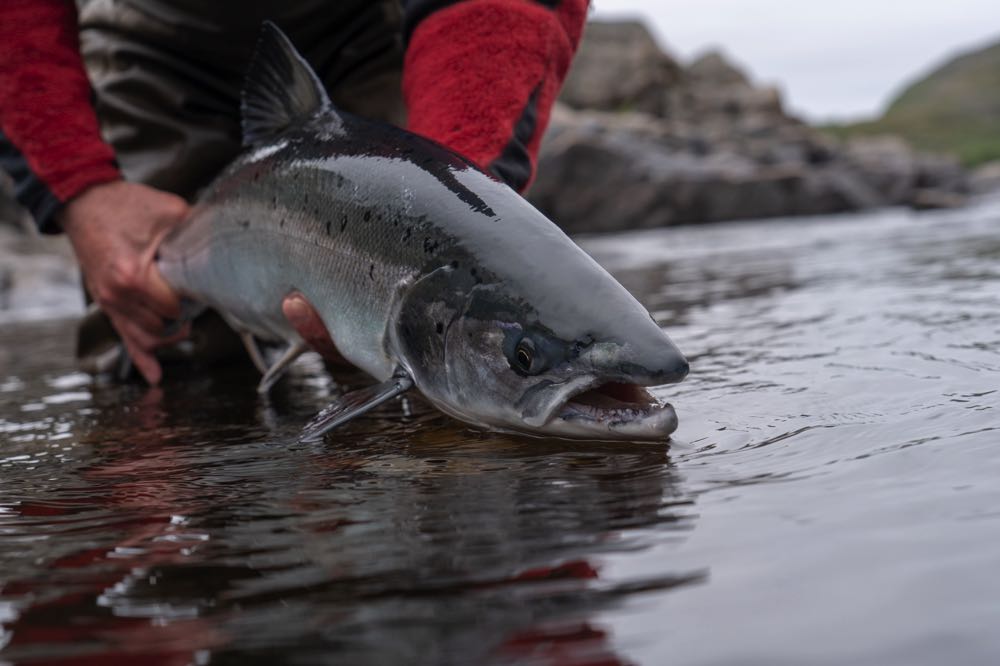 All of these fish run out of the Pacific Ocean in mid-summer through the late fall. I've hooked into salmon in the Skeena, Kalum and Fraser rivers. When targeting them, I use at least an 8-weight rod.
I've always had success using Deceiver flies and Egg Sucking Leeches for BC salmon. I've found that they're most productive if you choose to swing or dead drift them. Also, be sure you have sinking line and 0x leader!
Steelhead
Steelhead are another common target for anglers in British Columbia. These sea-run rainbow trout can grow upwards of 10 pounds throughout the waters of BC. You'll find them in the Dean, Vedder, and Squamish rivers.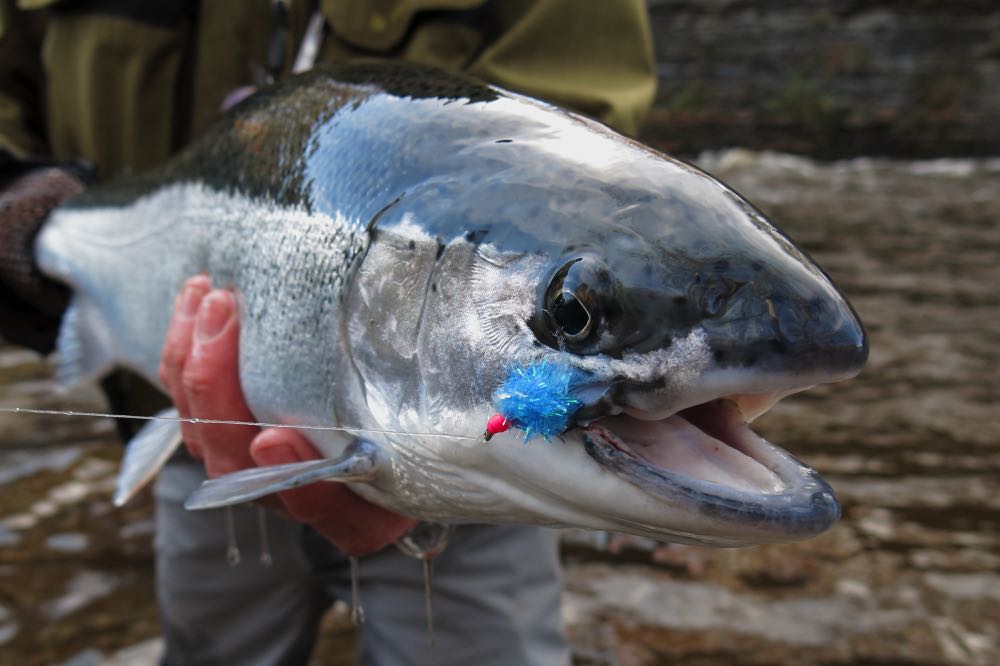 When targeting steelhead, be aware of how you're presenting the flies. Steelhead don't need much action so a dead drift or swing through some of the deeper pools will work well.
Take along your 8-weight with sinking line. You need to get the fly low in the water column to truly meet the steelhead where they congregate. Sinking line and 0x leader will do the trick!
Use leech patterns, the Raging Prawn, and the Squamish Poacher when fly fishing for steelhead in BC.
Rainbow Trout
Rainbow trout are the most popular species of trout in British Columbia. There are wild and native populations spread throughout the province that are able to be caught.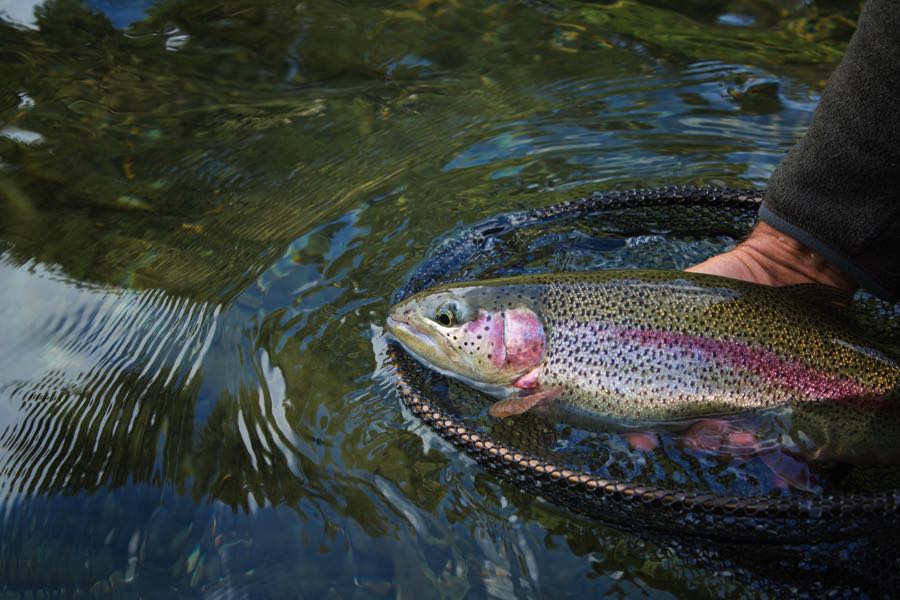 You'll find rainbows in the Upper Pitt River, the Squamish and almost any other river across British Columbia. These fish can grow up to 10 pounds throughout some of the lakes and rivers in the province.
These fish love to eat the eggs of the salmon, so egg patterns always work. Also, Caddis flies and Woolly Bugger patterns will catch fish. The rainbow trout in British Columbia are beautiful.
Brook Trout
Brook trout aren't as common of a trout found in British Columbia. Most anglers target them in the winter, but they do inhibit some of the cold water lakes and streams spread across BC.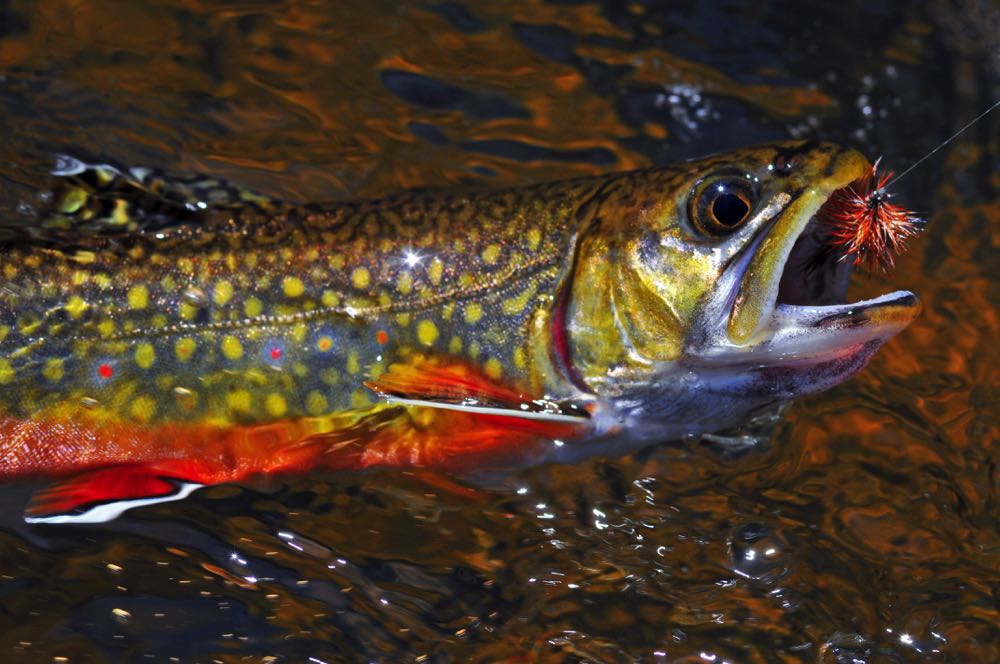 It's not uncommon to find these fish upwards of 5 pounds, so be sure you have your 5-weight when targeting them. The brook trout will eat smaller caddis flies, Prince Nymphs and Pheasant Tail Nymphs.
Look for these in the East Kootenay watershed. Also, have your camera ready when fishing for brookies. These fish are extremely unique and are some of the prettiest fish in the world.
Brown Trout
Brown trout are quite rare in British Columbia, but they're extremely rewarding to catch. They can grow upwards of 10 pounds in Cowichan and Cameron lakes on Vancouver Island.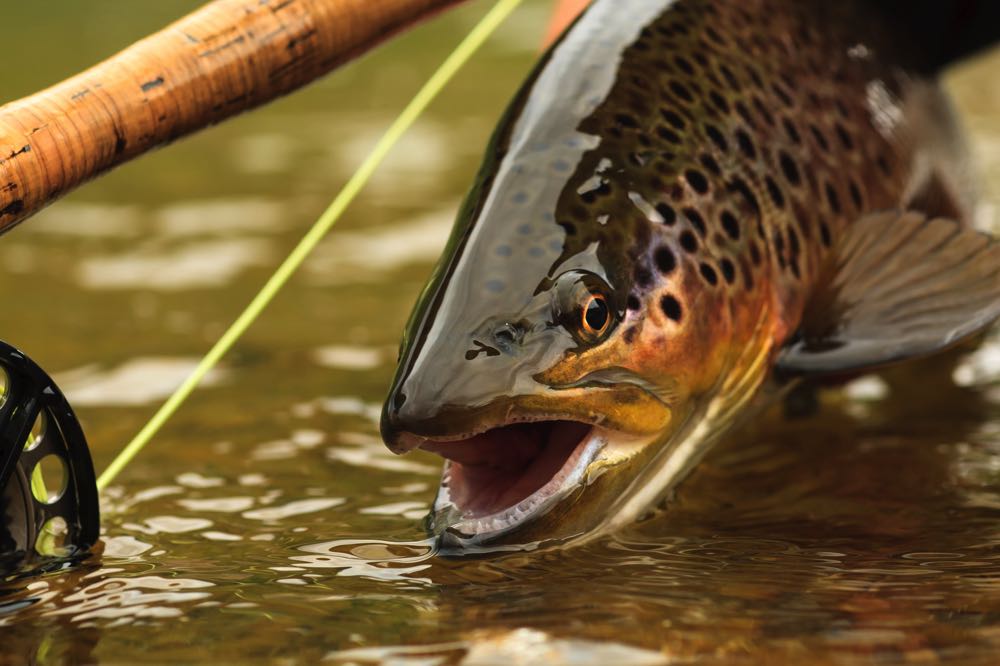 You'll also find them in the Cowichan River. To catch these, be sure you're equipped with a nice amount of baitfish flies. Deceivers, Clouser Minnows, Woolly Buggers, and Sex Dungeons are your best bet.
If you're fly fishing the lakes, be sure you have sinking line. The larger fish will sit deeper in the water column. Don't hesitate to vary your technique and fly choice if the browns don't hit right away.
Best Fly Fishing Spots in BC
Choosing the best fly fishing spots in British Columbia is extremely difficult. The vast amount of fishable water is overwhelming, and it can be challenging to choose the proper location to start.
It doesn't matter if you prefer lakes or rivers, British Columbia has trophy trout waiting for you around almost every corner. Wherever I've chosen to fly fish in BC, whether close to Vancouver, on Vancouver Island, or deep inland in either the Canadian Rockies or the far north, I've landed some beautiful, hard-fighting fish.
Fly Fishing Rivers in BC
The rivers in British Columbia are filled with fish. The coastal rivers receive solids runs of steelhead and salmon, and they continue to return in impressive numbers each year.
Skeena River
📍Directions: Skeena River, BC
The Skeena River is located in the upper portion of British Columbia. This river runs through the town of Terrace and receives great salmon and steelhead runs.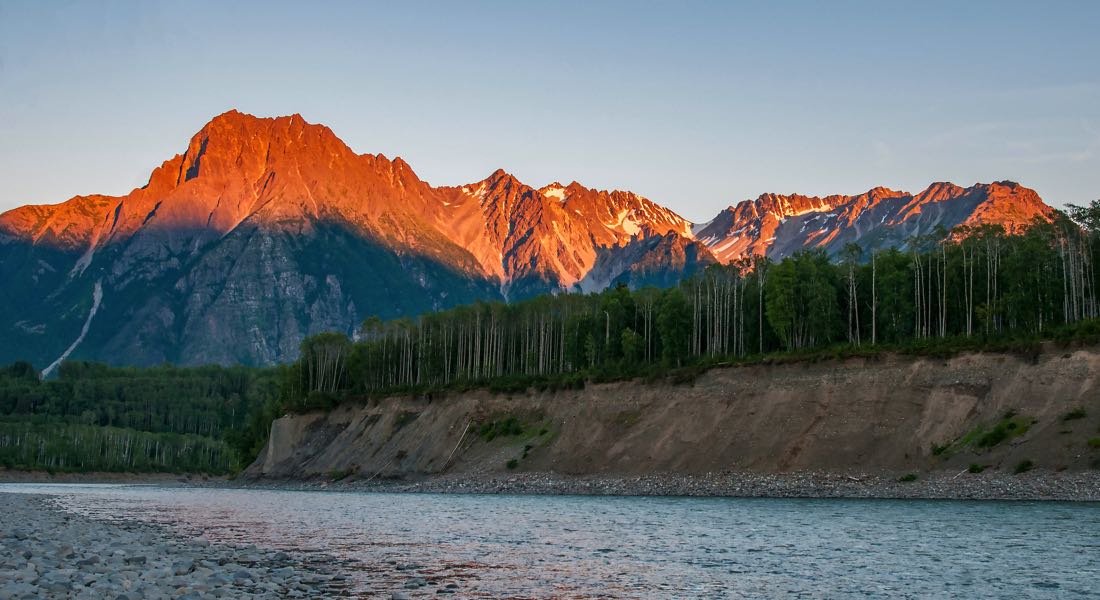 If possible, visit the Skeena anywhere between March and May for the steelhead and August to October for the salmon. During any of these months, you'll have the opportunity to land a double-digit fish!
When I'm fishing for steelhead and salmon in BC, I bring an 8 or 9-weight switch rod. Many anglers also tackle the Skeena with their spey rod. You need the extra casting distance and the power to fight these fish.
When I'm fishing on the Skeena, I use the Hoh Bo Spey, the Undertaker, and the Wake and Bake flies. These will attract some of the larger fish living in the river.
Be sure you have the proper line and reel to handle these fish. Sinking line is necessary to get to the level that these fish like to sit.
Upper Pitt River
📍 Directions: Upper Pitt River, BC
The Pitt River is one of the more famous rivers in British Columbia, and it receives quite a bit of pressure. The upper portion, however, is relatively untouched and holds some wonderful trout fishing opportunities!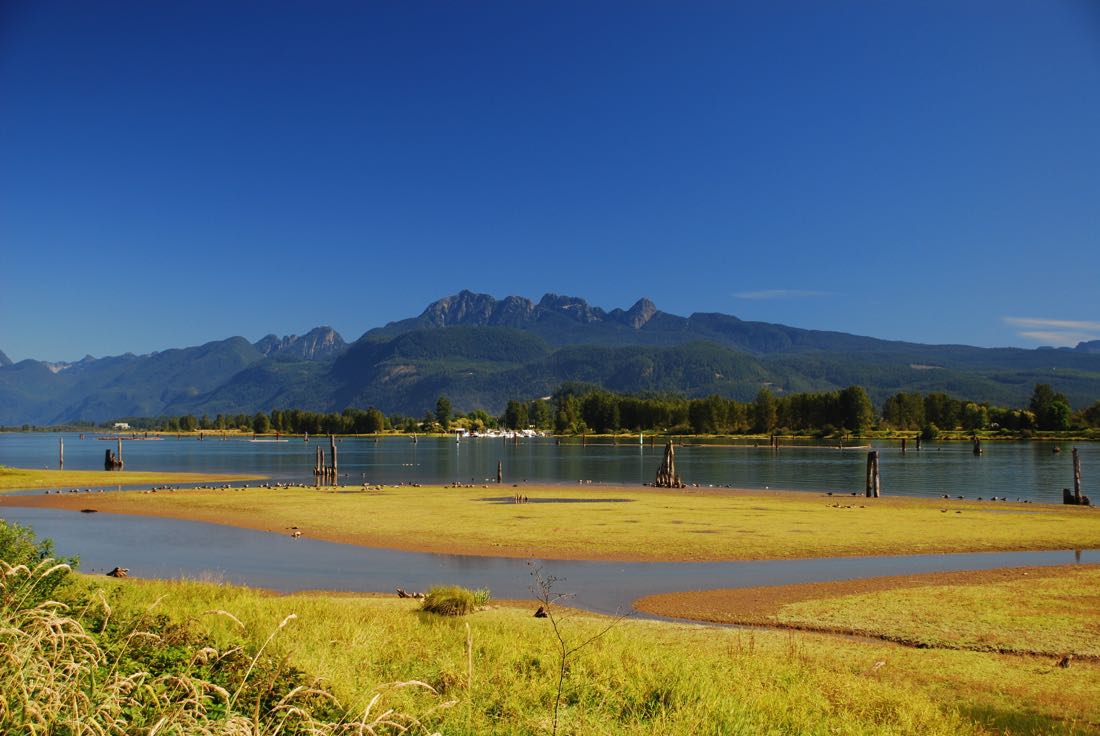 You'll have to take a jet boat ride up through Pitt Lake to reach the Upper Pitt. Once you're there, be prepared for quite a bit of action. You'll stare at beautiful mountains in the midst of the rainforest.
You'll find sea-run Dolly Varden and bull trout. They enter the river in May and you can catch them all the way through July. These fish grow to upwards of 10 pounds.
When fishing on the Upper Pitt, you're going to need a 6 of 7-weight fly rod. While you'll rarely catch double-digit fish, you'll have fights that will test the limits of your equipment.
Also, be sure to bring weight forward and floating line. Depending on the hatches, the fish will be a bit pickier. Bring baitfish patterns to the Upper Pitt including minnows, buggers and shrimp.
Squamish River
Directions: Squamish River, BC
The Squamish River is located only an hour from Vancouver, and to get there you'll have the pleasure of driving the Sea to Sky highway. You'll experience beautiful views and massive fish.
The Squamish River receives a nice run of pink salmon, a rarity in British Columbia. While these fish only range from 4 to 10 pounds, they're a blast to catch. If possible, bring your 7 or 8-weight to handle the power of these fish. They run on odd years.
You can also find a nice population of coho and chum salmon in the Squamish as well. These fish run every year from October until November.
It's best to swing flies or strip streamers depending on the size of pools you find. You can swing these on floating or weight forward line. There are quite a few snags in the Squamish, so it's best to have your fly be the only thing lower in the water column.
Bring your Deceivers and Intruders, including the Introducer Fly and Egg Sucking Leeches. They'll always help you land salmon!
Thompson River
Directions: Thompson River, BC
The Thompson is a tributary of the Mid Fraser River. I've had a great time catching both trout and salmon in the Thompson. It's a beautiful river located a few hours west of Banff National Park.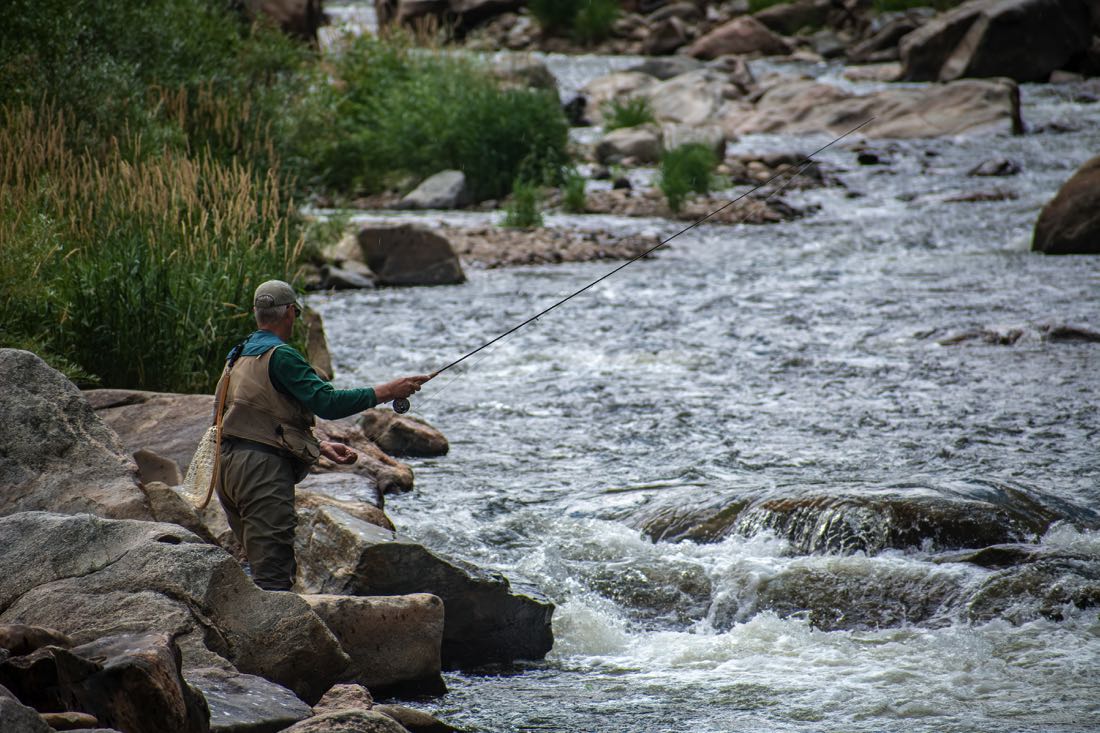 To catch trout, you'll want to fish the Thompson in the summer. They'll eat large terrestrial flies as well as Prince Nymphs and Pheasant Tail Nymphs. The warmer water temperatures give the trout a chance to fully feed.
Bring your 5 or 6-weight to catch the trout. Most range between 1 and 2 pounds, but it's not uncommon to find one above 5 pounds.
The salmon run from September until November. If you're targeting the salmon, bring your 7 or 8-weight rod to handle their power! Also, be prepared to deal with quite a bit of wind.
The California Blonde is another common fly pattern that I've found success with on the Thompson.
Campbell River
Directions: Campbell River, BC
The Campbell River is located on Vancouver Island, and from July until November salmon can be found all throughout it. You can both wade and float the Campbell depending on the water levels.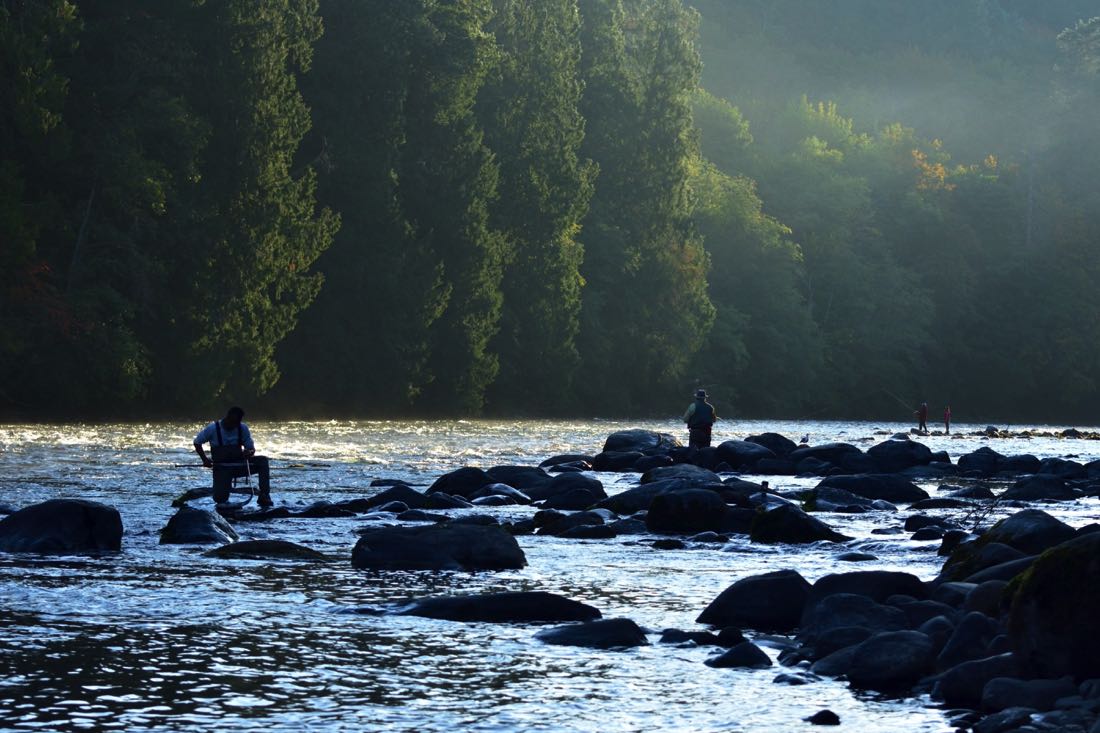 Vancouver Island receives quite a bit of rain, so pay attention to the water levels before you make your decision to wade. If you're targeting the salmon, bring your 7 or 8-weight to ensure that you can handle the fish you catch.
The Campbell also holds a population of sea-run cutthroat trout. To handle these, you'll only need your 6-weight single-handed rod.
The best flies to use on the Campbell include Woolly Buggers, Deceivers and Egg Sucking Leeches. Vancouver Island is one of the most beautiful places on Earth, so even if the fish aren't biting, you won't have much trouble staying entertained.
Fly Fishing Lakes
Due to the large fish count in the rivers across British Columbia, anglers can have a blast targeting the stillwater across BC. These fish rarely see flies, and seclusion is more common on these lakes than they are on the rivers.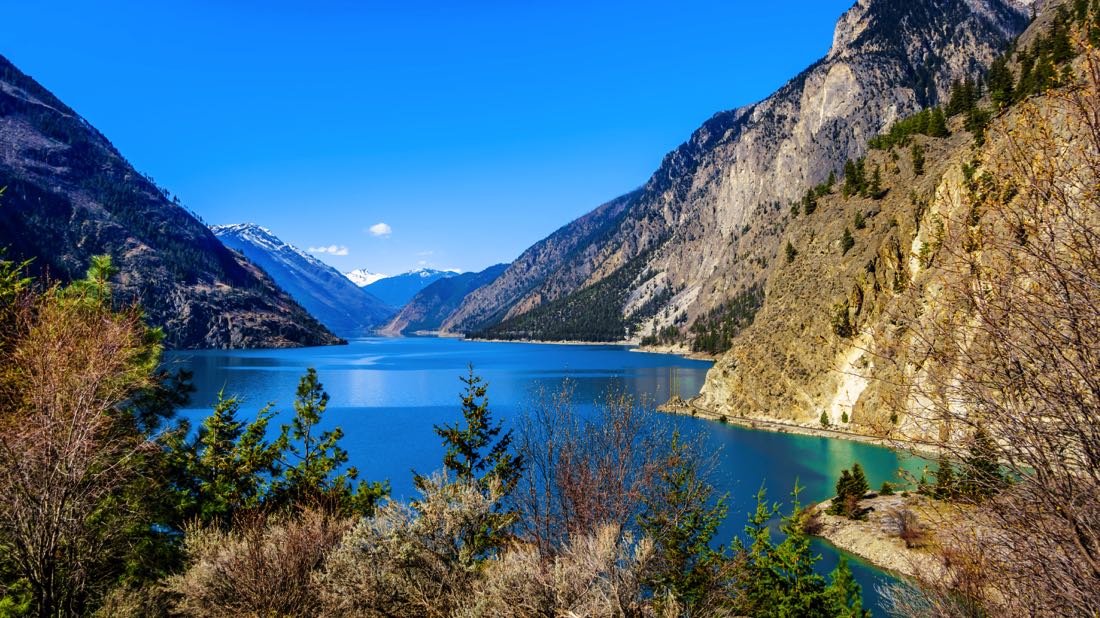 Pass Lake
Directions: Pass Lake, BC
Pass Lake is a fly fishing only lake that's home to quite a few large rainbow trout. These fish are often caught around 6 pounds. While it's only 80 acres, this lake is a must for anyone looking to try their hand at stillwater fly fishing.
Stillwater fly fishing isn't easy and requires quite a bit of experimenting to perfect. Bring along your 6-weight and a smaller, non-motorized boat to see what you can find.
Some smart flies to bring are Woolly Buggers, Clouser Minnows, Sex Dungeons and leech patterns. These streamers are great to use right before and after the hatch. If the flies are rising, throw on mosquito and gnat patterns.
You can also fish Pass Lake from the shore, but it's best if you can be on the water to avoid the heavy vegetation along the shoreline.
Kamloops Lake
Directions: Kamloops Lake, BC
Located in the Thompson Nicola region, Kamloops Lake sits in the high arid terrain a few hours north of Vancouver. It's one of the most unique areas in BC. The lakes hold a nice population of bull and rainbow trout.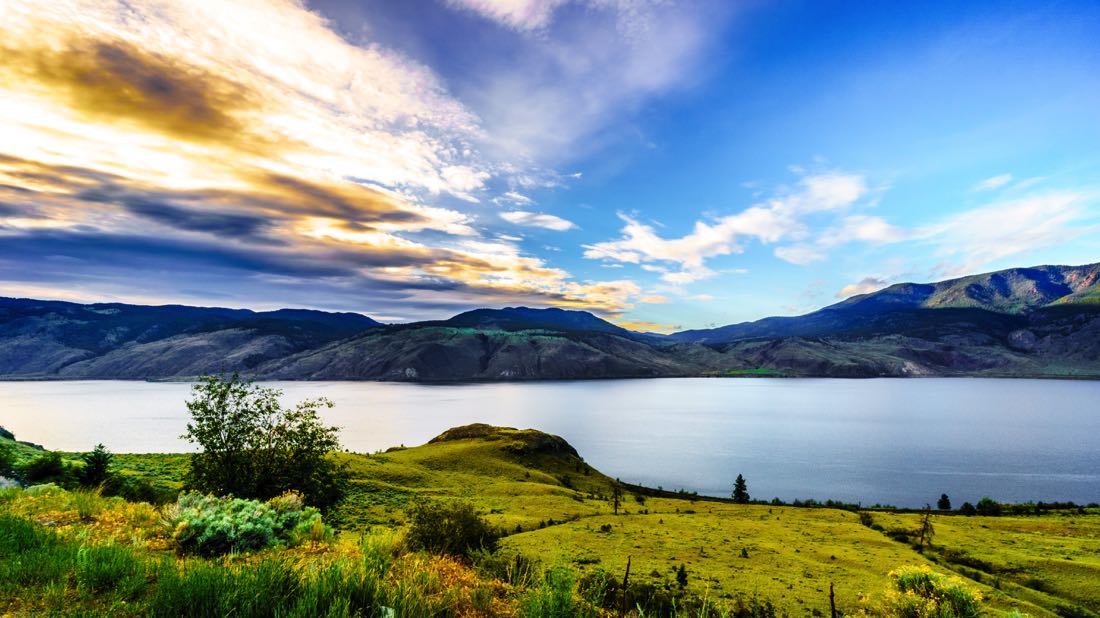 This lake is great to fish as soon as the ice is out. The fish are willing and waiting to eat, so be prepared to throw some larger baitfish streamers. For such a large lake, you'll have plenty of success fishing from shore.
You may have to wade in a few feet to steer clear of the vegetation, but it won't take long for you to start catching fish. Use your 6 or 7-weight to cover the vast amount of water. You'll also experience quite a bit of wind, so don't get too frustrated with the difficult casting conditions.
Use baitfish, leech, and large bug patterns. Also, terrestrials will work well in the later summer months as the temperatures warm. If you're struggling with the streamers and you're using sinking line, switch to weight forward or floating line.
Hatheume Lake
Directions: Hatheume Lake, BC
Hatheume Lake is a high elevation lake that's regularly stocked with rainbow trout. These trout are often caught around 5 or 6 pounds. These fish receive a solid amount of food and are eager to eat many of the flies you throw their way.
Bring your 5 or 6-weight to Hatheume Lake. Also, be equipped with weight forward and floating line. In the mornings and evenings there are chironomid hatches that the trout regularly eat.
You can also catch fish on leech, bugger, shrimp, and minnow patterns. If possible, bring a boat to Hatheume Lake. The middle of the lake holds a nice amount of structure that the larger trout like congregate at.
Hatheume Lake is home to the Hatheume Lake Resort, so if you're interested in bringing your family out for a few days, it's a wonderful place to visit.
Quesnel Lake
Directions: Quesnel Lake, BC
Quesnel Lake holds massive rainbow trout upwards of 20 pounds. Plus, it's located amongst high mountain peaks that are wonderful for heliskiing. Access is somewhat limited, so it may be best to stay at one of the lodges on the lake.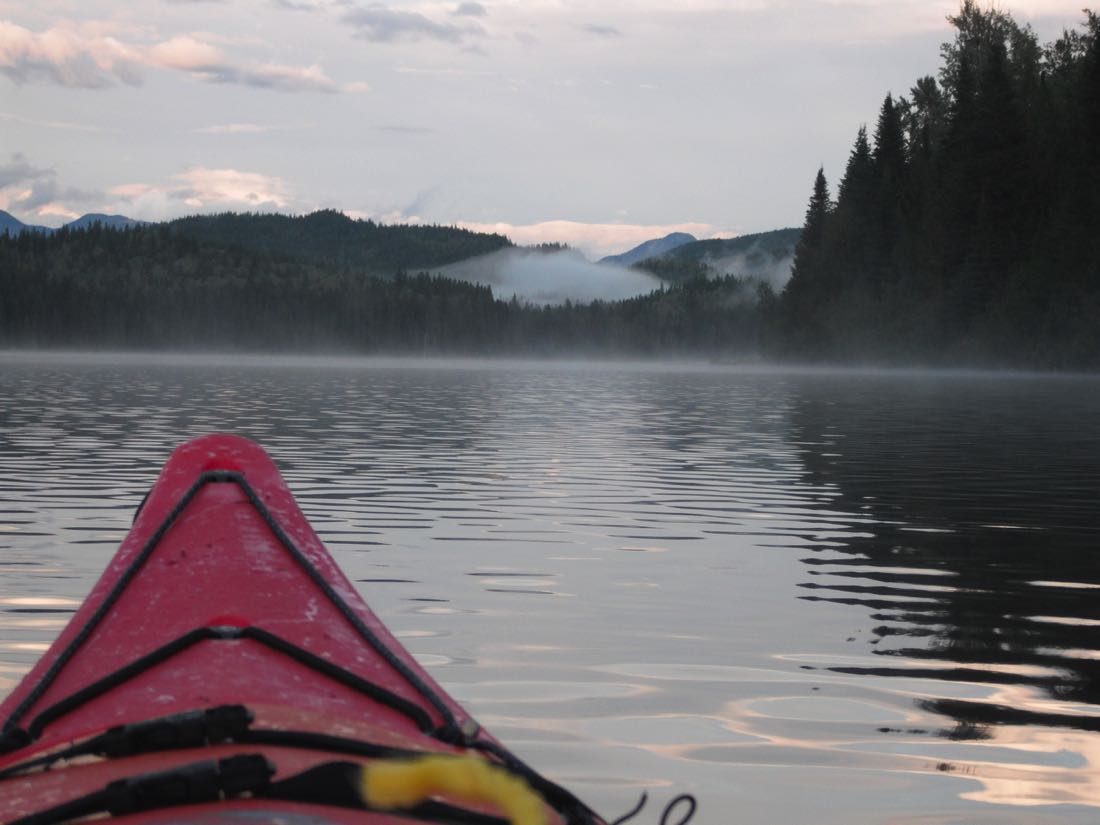 While it's extremely large, you can fish this lake from the shores. Target these fish near the tributaries and streams that enter the lake. The trout will hang out in these areas and feast on some of the smaller baitfish.
Bring your 7 or 8-weight when fishing on Quesnel Lake. The fish are aggressive and massive! Also, be sure you're equipped with 0 or 1x leader because these fish have the tendency to break you off regardless of how strong your line is.
Leeches, minnows, and leech patterns are the best flies to use on Quesnel. You can either fish this lake from shore or on a boat. Either way, you're going to have success.
Williston Lake
Directions: Williston Lake, BC
Williston Lake holds some nice size bull, lake and rainbow trout. You can also catch Kokanee salmon if you're lucky. It's the largest lake in British Columbia, so you have a variety of options of locations to fish on it.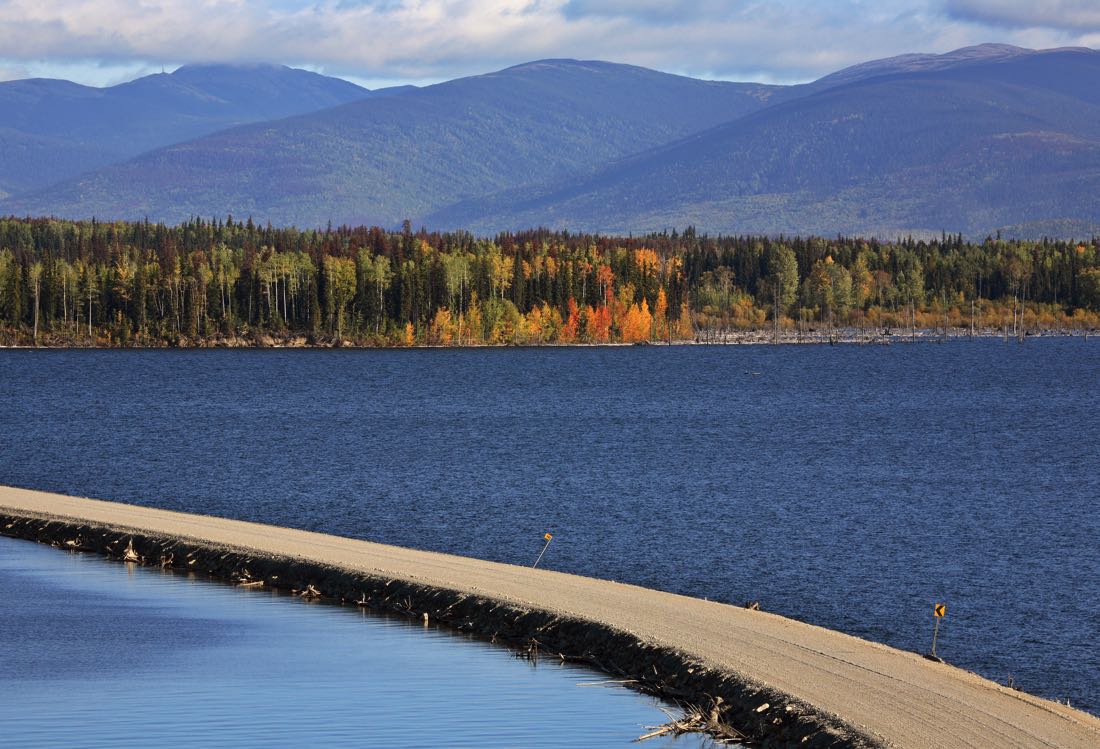 When fishing Williston, you can fish from shore or from a boat. Either way, you'll have plenty of opportunities to catch fish. This lake is best fished with a 7 or 8-weight and 0 or 1x leader.
Baitfish patterns are the smartest choice when it comes to flies! You can't go wrong fishing any area of Williston Lake.
BC Fishing Season
The fly fishing season in BC is heavily dependent on runoff and the amount of precipitation you're able to endure. Regardless of the time of year, you're going to get rained or snowed on. If you're up for the challenge, you can fish all year round.
BC Fly Fishing in April
It's smart to fly fish BC in April. The steelhead are fully running and ready to be caught. I always make sure I'm equipped with heavy waders and a waterproof rain jacket. You'll likely be fishing cloudy waters, but don't get too overwhelmed by the conditions.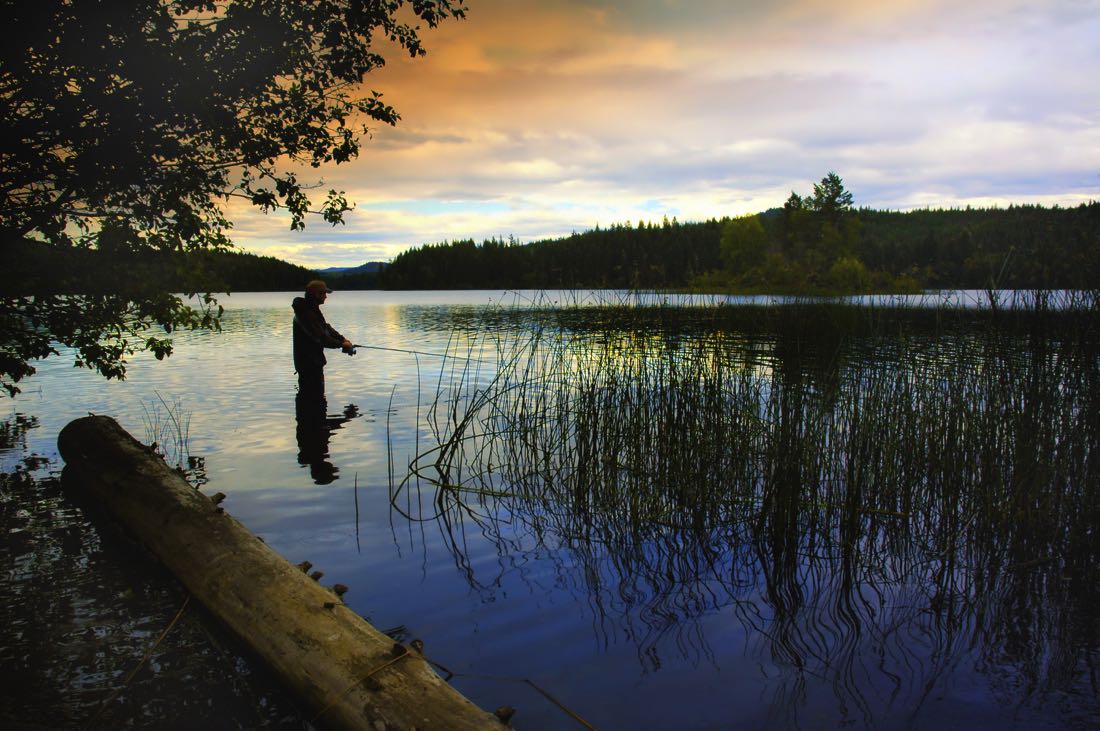 Bring your Deceiver and Intruder flies as well as your 8-weight and see what you can catch!
BC Fly Fishing in May
Fly fishing in BC in May is a bit challenging. The runoff has begun and the rivers fill to levels that can be difficult to fish. If the ice is off the water, stick to some of the stillwater. The lakes will be productive since the ice has made it off and the fish are hungry.
The rivers are receiving the final fish for the steelhead run, so don't give up on them just yet!
BC Fly Fishing in June
By the end of June, the runoff has subsided, and fly fishing all throughout BC improves. In some of the northern regions, you'll see the early runs of salmon, but this is rare. Stick to trout fishing during June!
BC Fly Fishing in July
In July, more salmon enter the rivers and the water clarity improves. You'll have plenty of access to trophy fish, so don't shy away from varying your fly choice and making the most of the nicer weather.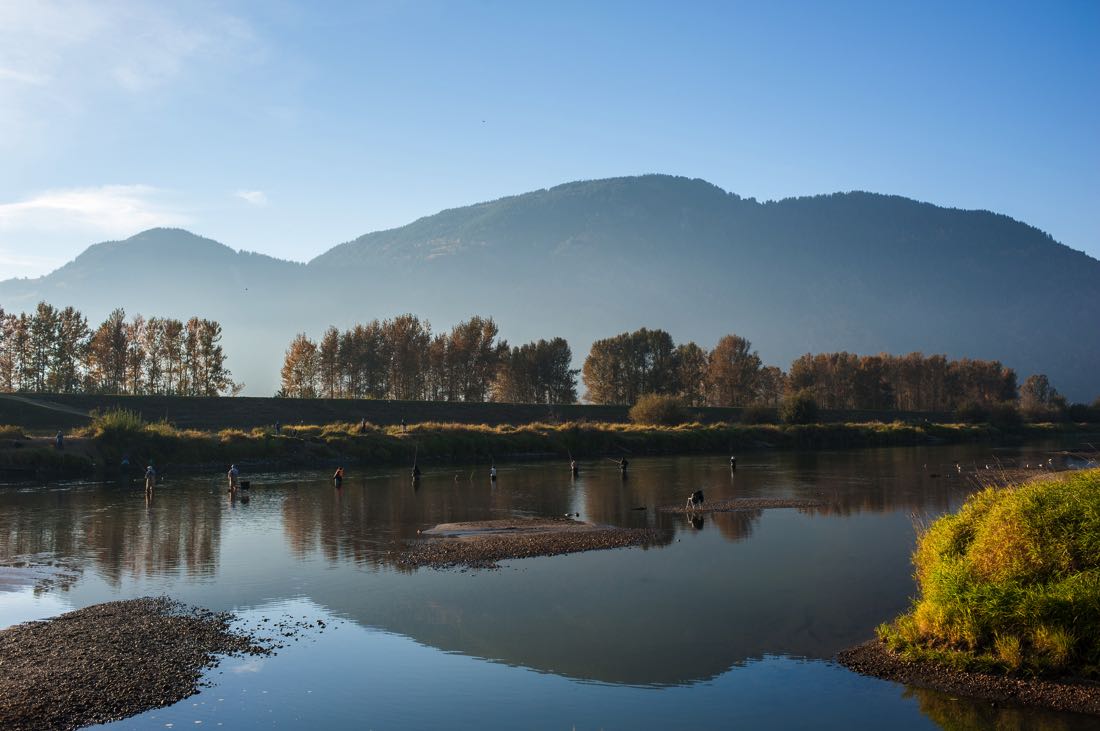 Trout fishing is still phenomenal in July and they're beginning to feed on the salmon eggs.
BC Fly Fishing in August
In August, the weather is still manageable and the rivers fill up more and more with salmon. The trout bite is still hot as well! Plus, August is one of the drier months in British Columbia, so you don't have to worry as much about the fluctuating water levels.
BC Fly Fishing in September
In September, the salmon are running in full force! It's definitely my favorite month for fly fishing in BC. I've caught salmon in all of the rivers mentioned above as well as some of the lakes. It doesn't take much to catch salmon in September. They're hungry and willing to eat.
Best Fly Fishing Lodges in BC
British Columbia has dozens of fishing lodges spread throughout the province. There are ample opportunities to catch a variety of fish, so take your pick. There's a lodge out there for you!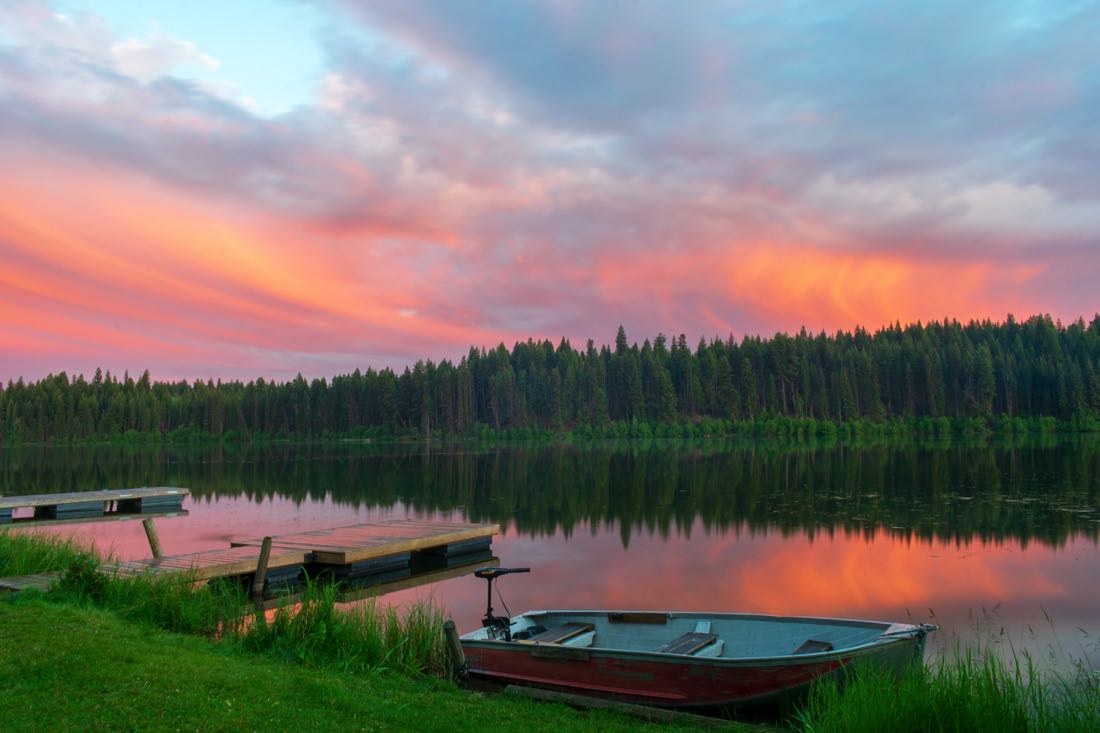 Bear Claw Lodge
It's located in northwest BC, and you'll have access to the Kispoix River and thousands of acres of undeveloped land. The Bear Claw Lodge has three-night, two-day packages which cost around $2,500 per person. It's secluded and a beautiful place to visit.
Skeena Spey Lodge
Located on the Skeena River, the Skeena Spey Lodge guides provide anglers with valuable insight into fishing the Skeena River. It's a difficult river to fish, so the use of a guide is vital for your first visit.
A three-night, two-day fishing adventure will cost around $2500 per person.
BC West Lodge
The BC West Lodge is located on the Dean River and provides ample opportunities to catch steelhead and salmon. It's located in the southern portion of the province and access is fairly simple.
A seven-night, six-day package costs around $7,000 per person.
Conclusion
Fully experiencing British Columbia fly fishing can't be done in one trip. There are thousands of lakes and rivers filled with trophy fish waiting to be caught.
It's absolutely one of my favorite places on Earth for a fly fishing trip, and although I've been there often, sometimes I fell like I've barely scratched the surface of what fly fishing in BC has to offer.
Take advantage of the seclusion and beautiful scenery. There are few places like British Columbia in the rest of the world.
Some images in this post are courtesy of Shutterstock.
Like This Article? Pin It!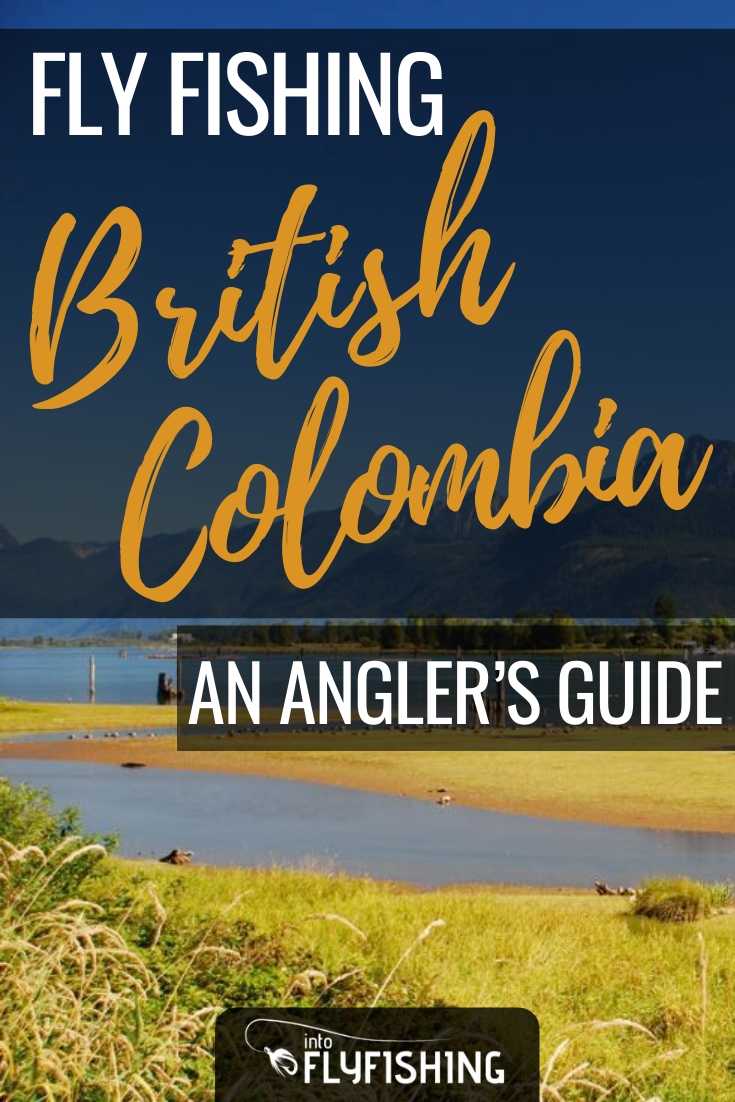 Amazon and the Amazon logo are trademarks of Amazon.com, Inc, or its affiliates.