If you are interested in catching bonefish on the fly, then you need to know about Christmas Island. Fly fishing Christmas Island is a very unique and special experience that offers some of the best year round flats fishing in the world.
Getting to Christmas Island feels like an adventure in itself. This atoll is located almost exactly in the middle of the Pacific Ocean (not to be confused with the Christmas Island located near Australia), and only has one flight per week from the United States.
I was lucky enough to spend several weeks fishing the different flats around this Pacific atoll, and I can't wait to go back.
Disclaimer: IntoFlyFishing.com is a participant in the Amazon Services LLC Associates Program, as an Amazon Associate I earn from qualifying purchases. Please see our Privacy Page for more information.
Why Fly Fish Christmas Island?
Christmas Island has an abundance of marine life, and getting your chance to catch fish is all but guaranteed. There are multiple fish species to be chased, and they're usually eager to take a fly. This, coupled with the spectacular scenery and location, makes it a bucket list destination.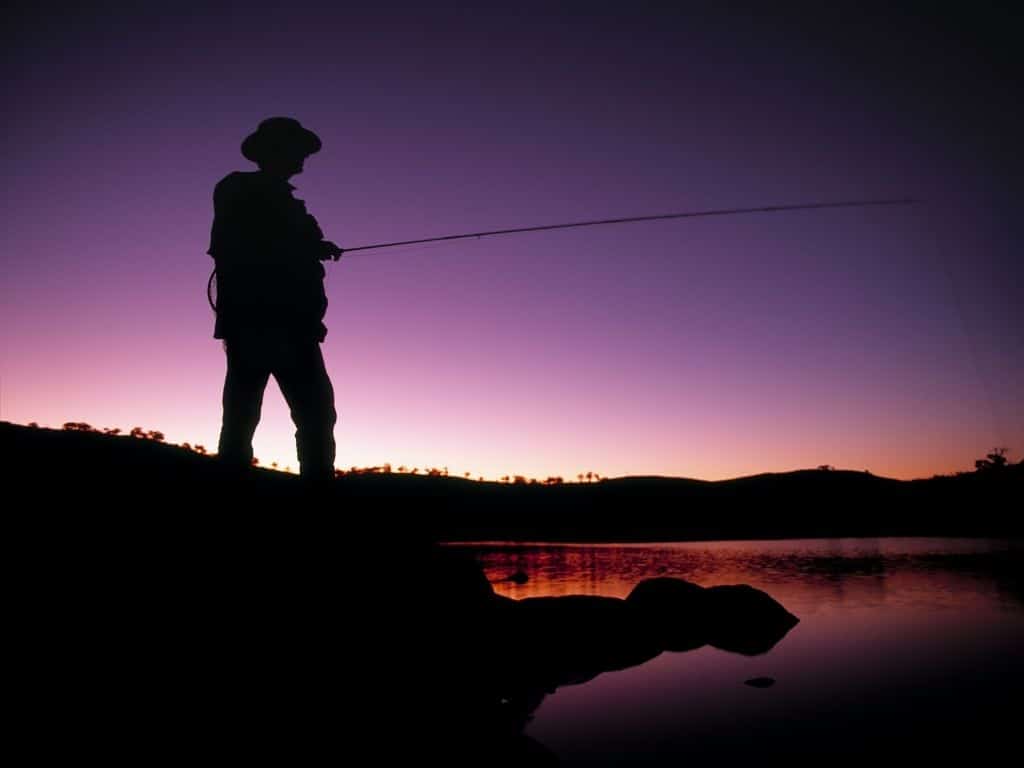 It's also worth noting that there's only one flight per week. This gives it a very special feeling, that once you are there, you're there for a while. This presents the amazing chance to truly get to know your fellow anglers, as you will all be there for the same duration.
Christmas Island also presents the rare opportunity to have a successful DIY saltwater trip. Many productive flats are accessible from the shore, which means a short walk or quick scooter ride can get you where you need to be.
Christmas Island Fish Species
Bonefish
The most common target for a fly fishing trip to Christmas Island is bonefish. Bonefish, and the high numbers of them for that matter, are why Christmas Island is such a popular destination for anglers around the world.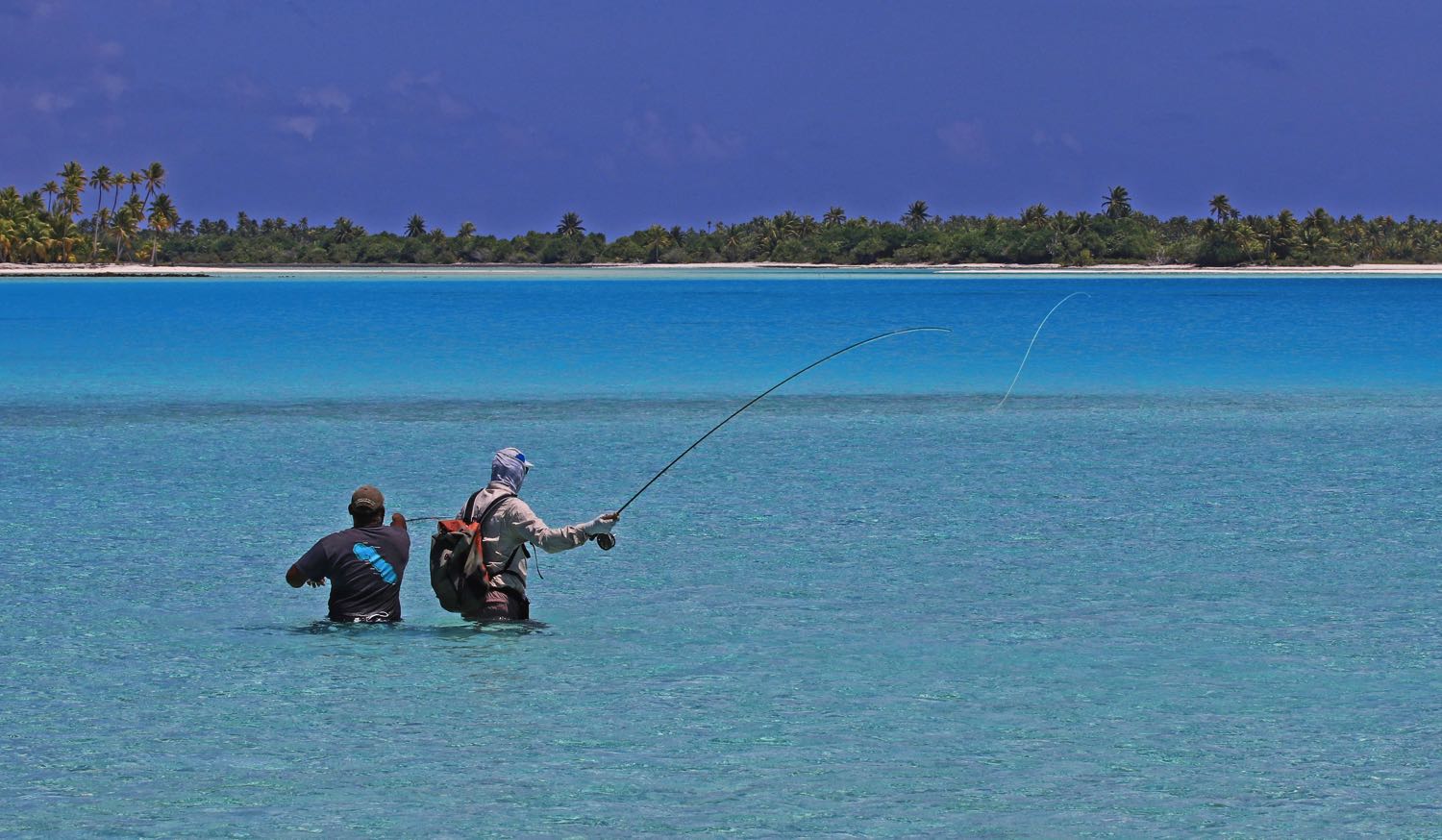 Although the bonefish of Christmas Island are not as big on average as those in some other destinations, this is made up for by the amount of bonefish and their relative willingness to eat a fly. It's likely that you will have multiple shots a day and probably hook multiple fish, so you don't have to feel bad if you blow a cast!
An 8 or 9 wt rod is perfect for bonefish on Christmas Island, coupled with a saltwater reel that has a strong drag. Leader material should be between 12 and 16 lbs.
Many standard bonefish flies work on Christmas Island, such as the Gotcha, Crazy Charlie, and also smaller crab patterns. Guides on Christmas Island also prefer sparser tied flies to ones having a lot of material.
Giant Trevally
"The Gangsters of the Flats," these fish are big, strong, and mean. If you aren't prepared to hook into one of these fish, they'll make you pay. On Christmas Island, these are the fish you're always ready for, keeping an extra rod handy just in case.
These fish can be found outside of the lagoon in the reefs, but will also make trips up onto the flats during incoming tides. I've seen giant trevally swim with half of their backs out of the water to get closer to shore.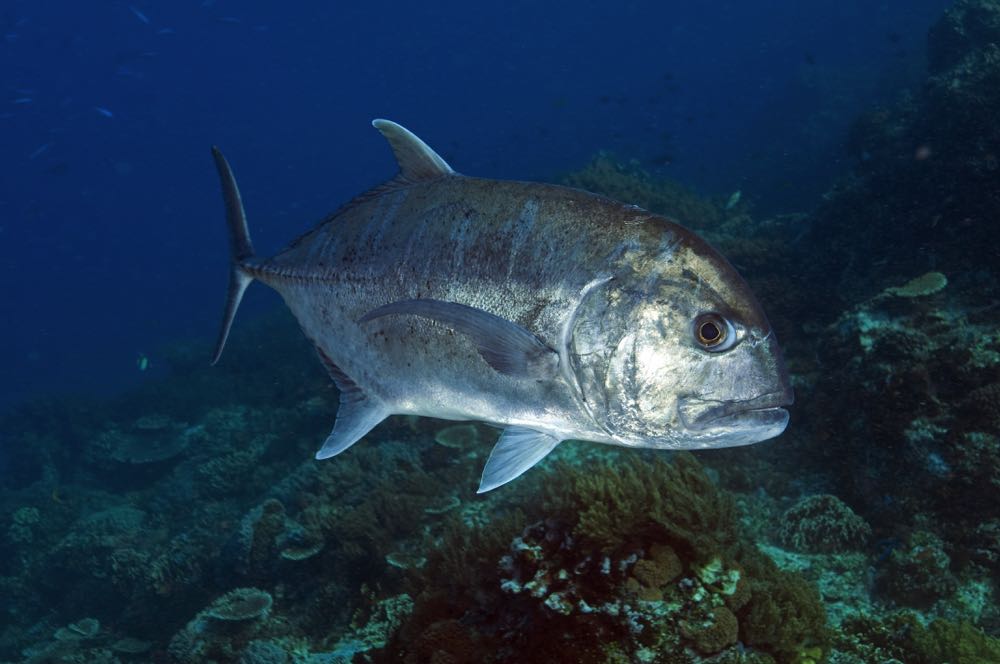 Because of their sheer power and ability to take 300 yards of backing almost instantly, a 12 wt rod with a strong backbone and a reel with increased stopping power are required. You'll also want to have leader material of 80-100 lbs. Make sure to continuously check your leader, as a small knick can be the difference between landing the fish of a lifetime and breaking off.
Giant trevally are predators, so they're looking for anything smaller than them to try and eat. Baitfish patterns are the best bet, and be ready to make a quick cast. Once GTs show up to a bait school, chaos ensues quickly, and they can be gone just as quickly.
Triggerfish
Trigger fish have a very unique look, and if you land one, try to get a look at its teeth — but be careful, they can bite! Trigger fish can have brilliant colors and are very strong. Be ready for them to try to dive into coral, which will likely cut your leader or even line.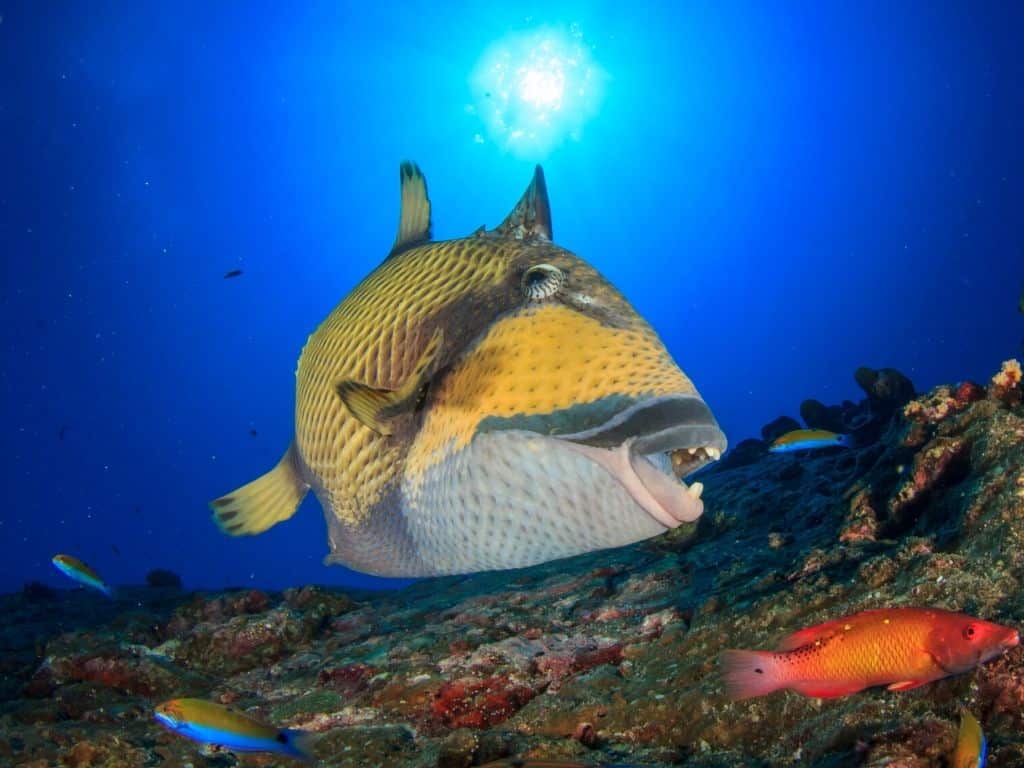 Your bonefish rod will be perfect for triggerfish, making the 8 or 9 wt rod you choose to bring the real workhouse of the trip. You'll want to really tighten down the drag on your reel for these fish to prevent them from diving into the coral and cutting your leader.
Triggerfish will eat any fly that can be used for bonefish, so if you're planning to focus and cast to the occasional trigger, the same setup will be fine. If you plan to focus on triggers, I recommend using a leader that's on the stronger side, 16-20, as these fish are known for chewing. (Again…look at their teeth!)
Milkfish
Milkfish are becoming more and more popular as a target species in salt water. They can get big and are notoriously hard fighters, but getting them to take a fly can be difficult.
Milkfish primarily feed on algae, which makes them very different from what most fish anglers are after. Milkfish can be found just outside the lagoon on Christmas Island, and locating them is the easy part. Making a long cast and being patient enough to get an eat are the hard parts.
An 8 or 9 wt rod with a durable reel that has a good drag is your best bet for milkfish. Also a strong leader — 20 or 30 lb is recommended. As stated earlier, milkfish prefer algae, so flies that work are the Milk Magic and the Milky Dream.
Golden and Bluefin Trevally
These smaller cousins of the giant trevally are also found on Christmas Island, and they can be a lot of fun to catch. These fish are beautiful, each with bright colors that are incredible to see in person, especially under the bright sun of the South Pacific.
These fish will be found in the same areas as bonefish and giant trevally. You can find them just over the dropoffs on the flats, but they will also come in and cruise the flats, especially on incoming tides.
A 10 wt rod is ideal for these fish, although your bonefish rod (8 or 9 wt) will work just fine, and it will keep you from carrying another rod on the flats, which is a good thing. Golden and bluefin trevally will eat smaller baitfish patterns and also occasionally eat a crab or shrimp pattern as well.
Christmas Island Fishing Season
Another feature that sets Christmas Island apart when it comes to flats fishing is the year round consistency of ability. Due to its proximity to the equator, Christmas Island is remarkably stable when it comes to temperature and weather patterns, so there's not a large variance to the fishing.
Many saltwater fisheries have long rainy seasons or times when the wind is unbearable, so it makes them seasonal rather than year round destinations. But at Christmas Island, it's possible to have great fishing all months of the year.
While the fishing doesn't change much during the different months, the tides and moon phases do make a difference.
Tides
Depending on the species you're after, you may want to plan for certain tides, which can have an effect on fish behavior. By doing some research and figuring out the tides during your trip, you can help maximize your chances of catching more fish.
Spring Tide
Tides are affected by the phase of the moon, and the time around full and new moons tend to have the largest effect. These phases cause higher high tides and lower low tides, and this phenomenon is referred to as a spring tide.
Spring tides mean that more water is coming in and out of an area, which is great for species like giant trevally. It's more likely that you can find these fish coming up to hunt on a spring tide, as the increase in water is helpful to their cause.
Bonefish, on the other hand, don't like the spring tides as much, so they may be on the move a little less. This can be offset by the fact that bonefish have a tendency to school up during these times, which can offer great fishing.
Neap Tide
The opposite end of the spectrum is a neap tide. These occur when the moon is between the phases of full and new, and there is less gravitational pull from the moon. This means that the difference between the low and high tide is narrowed, and the water level is more consistent.
This is great for bonefish, as they like to spend more time on the flats hunting while the water is not changing as much. It can mean that the bonefishing can stay better for longer throughout the day, with more fish on the move.
The giant trevally are less likely to make their way onto the flats during these times (although it's not impossible). They can still be found in deeper water just off the flats and in the reefs on the outer coast.
Gear for Christmas Island
Christmas Island is an extremely remote place, and therefore it's difficult to find things if you happen to forget them. It's important to bring everything you need with you and not depend on the location to have backups.
Best Places to Stay on Christmas Island
Many fly shops around the country offer trips to Christmas Island. It's possible to book through a local fly shop and travel that way, or book a lodge yourself.
Another thing I love about Christmas Island is the ability to fish it on your own. There are many flats that are either walking distance or a short car/scooter ride from the accommodations.
All of the lodging options are on a weekly rate, as there is only one flight in and out of the island per week. The rates typically include all meals, transportation to and from the airport, and lodging. In most cases drinks (especially alcohol) and guide gratuities are extra.
Ikari House
Ikari House is a very popular lodging option for fly fishers. Many fly shops host trips with Ikari House serving as the home base and local guides.
Ikari House has several boats, and some of their newer fiberglass boats are faster than the traditional pangas. Their guides are excellent and will always know where the best places to go are depending on current conditions.
For a week-long stay including accommodations, food, and six days of guided fishing, you're looking at $3,100 for a double occupancy room and $3,800 for single occupancy. If you are looking to do other activities or fish on your own, the rate is $1,295.
The Villages
The Villages is another option focused primarily on anglers. It's unique in that instead of the typical two anglers for each guide scenario, The Villages offers a one-to-one ratio of angler to guide.
The Villages has a great location, and the boats leave from directly behind the cottages. The accommodations are basic, but have everything you'll need during your stay.
The rates for The Villages start at $2,990 per person for double occupancy. Single occupancy is also available upon request.
Lagoon View Resort
Lagoon View Resort is located 15 minutes from the airport and is on the way into the main town of London. This is an excellent choice for both an angler looking for a guided trip and someone on a DIY trip.
Because Lagoon View caters towards DIY anglers as well, they have car rentals available. For $60 a day you can rent a car, which can help you access some of the other locations besides what is available next to the lodge. They also offer boat rentals and a guide for $310 a day, with extra guides being $100 if you decide to hire a guide for a day or two.
The DIY rate starts at $900 for double occupancy and $1,100 for single. If you are looking for a fully guided experience, rates start at $2,300.
Conclusion
If you're looking for world-class fishing without world-class prices, this is the place for you. Christmas Island offers the perfect setting for casting at bonefish after bonefish with the chance at a giant trevally.
The people are friendly, and you will feel at home while you take in the amazing Pacific Ocean sunsets and dream about your next day of fishing. There's also something special about knowing you are truly in the middle of nowhere!
Every time I think about Christmas Island, I get excited to go back. So many good memories, and some of my most exciting fishing stories took place here, so I hope to add some more soon!