As an Amazon Associate I earn from qualifying purchases.
Often overlooked in favor of the more fly fish forward countries to the north and east, tiny Portugal is an underrated fly fishing destination. Here, beautiful brown and rainbow trout live healthy in the northern rivers and lakes, while dams and reservoirs often produce consistant and exciting fishing patterns.
I had no idea that Portugal had such great fly fishing, but when I arrived here after a bit of research, I quickly realized that this might be one of the undiscovered angler gems of Western Europe.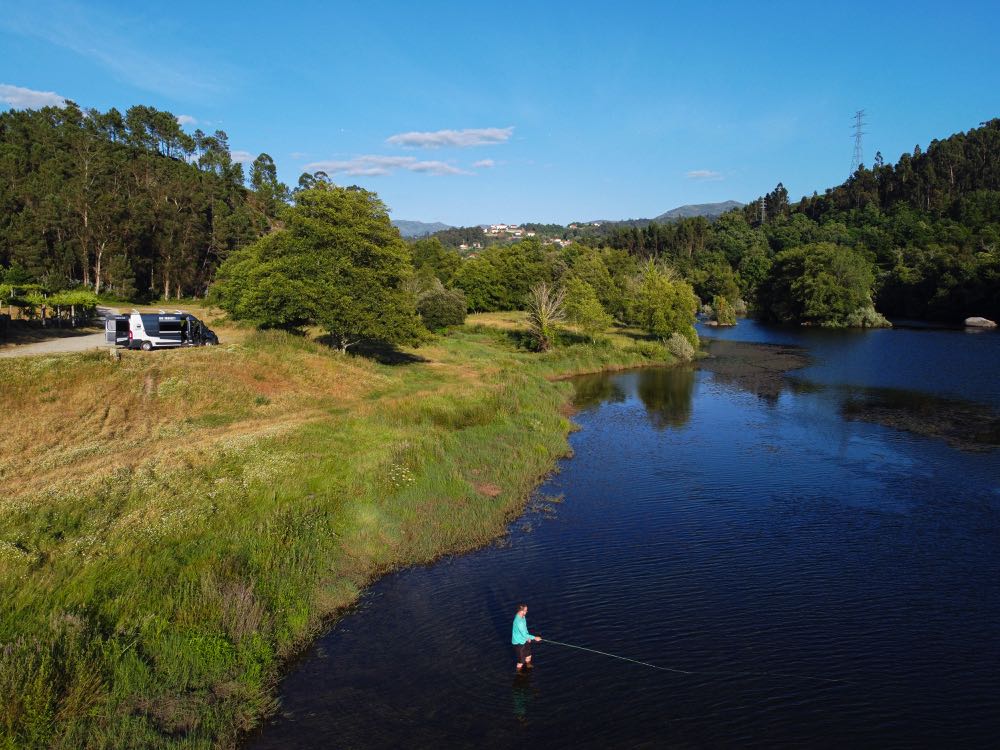 After spending over 6 months in the country, fly fishing on my own, as well as with an experienced guide, I found that there really are some great rivers, lakes and streams throughout Portugal.
In this article, I'll attempt to shed a little bit of light on the fly fishing scene here in Portugal and hopefully help both Portuguese and visiting anglers to find that perfect spot.
As a part of the Amazon Associates Program and other affiliate programs, Into Fly Fishing® may receive a comission if you order products through links on this website.
Why Go Fly Fishing in Portugal?
For anglers who love to find a little piece of water all to themselves, Portugal might just be the perfect place. The rivers here aren't crowded like you'll find in some more popular nearby destinations like Spain and The UK.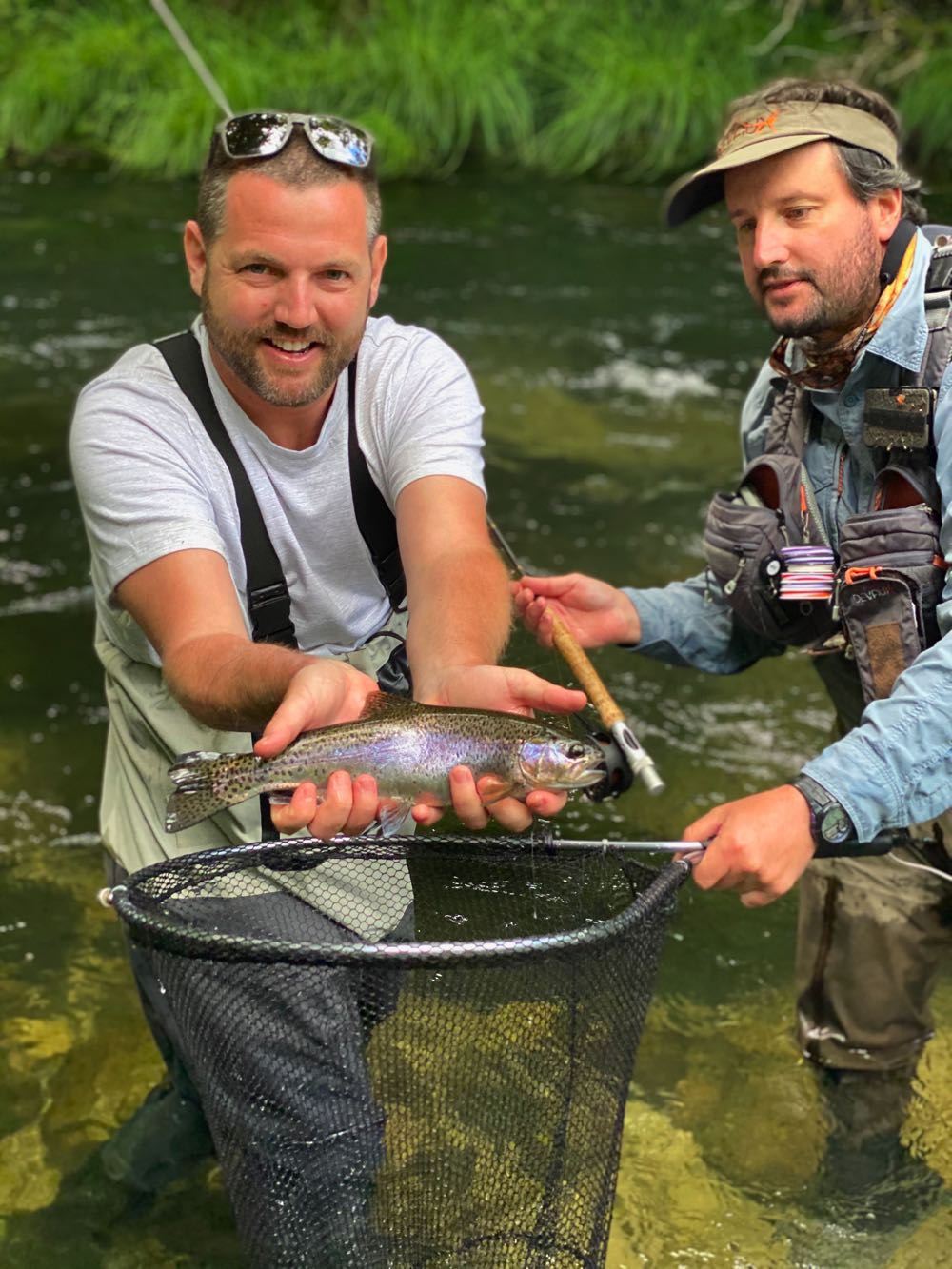 Instead, you have crystal clear waters with large (4-6 lb) trout swimming in swirling pools and nye an angler in sight. As far as fly fishing destinations go, Portugal is definitely an uncrowded place to be.
The thick forests and cool breezes of the north provide shade and relief during those hot summer months, and there are plenty of places to try your hand at many fly fishing techniques including nymphing, dry fly fishing, streamer fishing, and more.
What To Pack For Fly Fishing in Portugal
When fly fishing in Portugal, you'll want to bring all your fishing gear because there's enough variety of spots here to fish many different techniques. Here's a check-list to help you remember:
Fish Species
The main species that most anglers in Portugal target are trout species. The brown and rainbows in particular are a favorite catch. But there are plenty more fish types in these waters. Here are some of the fish species you'll find in Portugal.
Brown Trout
A favorite amongst many fishermen and women alike, the brown trout in Portugal are typically strong, fat and healthy as they feast on caddis in the summer and bulk up on a variety of hatches throughout the year.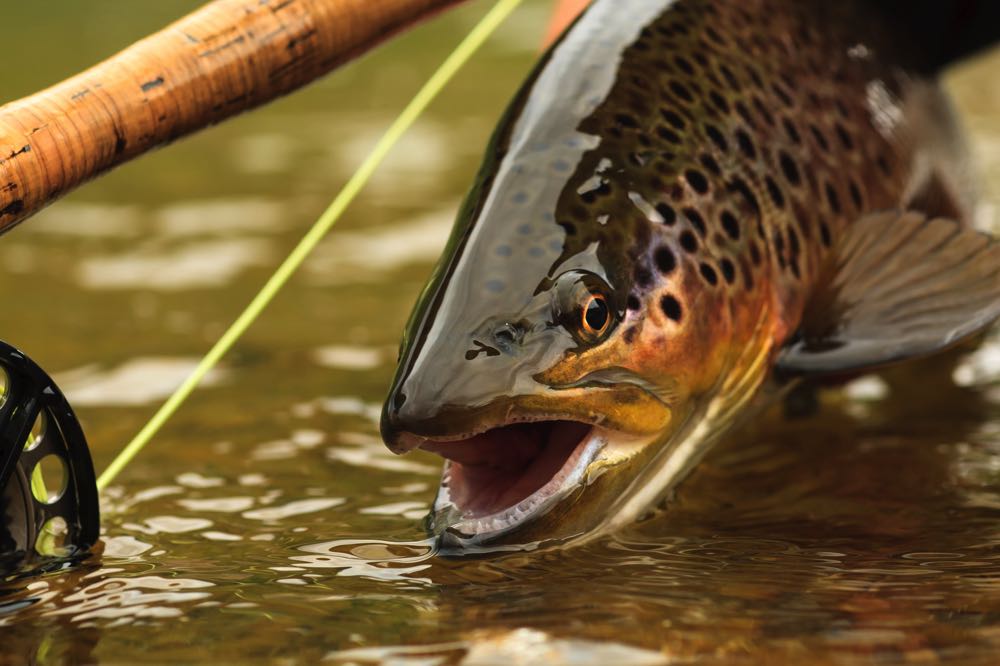 I primarily caught browns on my recent fishing trip in northern Portugal and I was amazed at how strong they were. Even the smaller ones have a pull and when they first strike, they like to sit in one spot so it feels like you've caught on a rock rather than on a fish!
The best time to go trout fishing in Portugal will be from March to July, particularly in the Minho, Lima, and Alge rivers, as well as those in the Serra da Estrela Mountains.
Rainbow Trout
My favorite of all trout species, the rainbow in Portugal are beautiful and fight similar to the browns. I only caught a small rainbow in the Coura River, but it fought well and had incredible colors.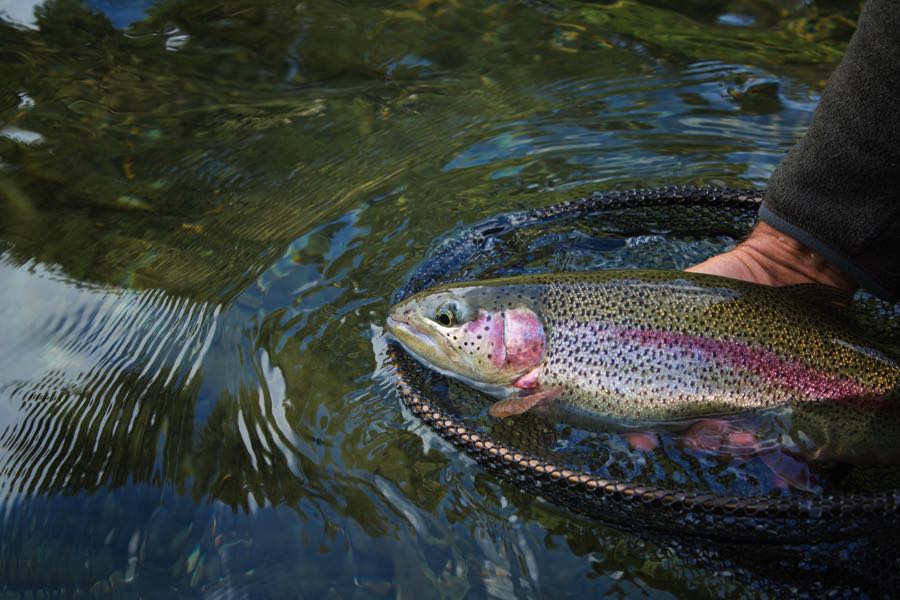 Rainbow trout are found in many rivers throughout the country, but you'll likely catch brown before you land a rainbow.
Sea Trout
Sea trout are another favorite game fish amongst anglers and are primarily found in the rivers and coastal waters in Portugal and Spain and all the way north to France, UK, Ireland, the Scandinavian nations, and Iceland.
In Portugal, one of the best places to fish for Sea Trout is along the 30-mile-long international Minho tailwater that separates the north of the country from Spain. Minho flyfishing is a must if you're looking for sea trout.
Atlantic Salmon
Atlantic salmon are found on pretty much every menu in Portugal, from the Algarve to Lisbon to the far north, so it's no surprise that these are one of the main species targeted with the fly.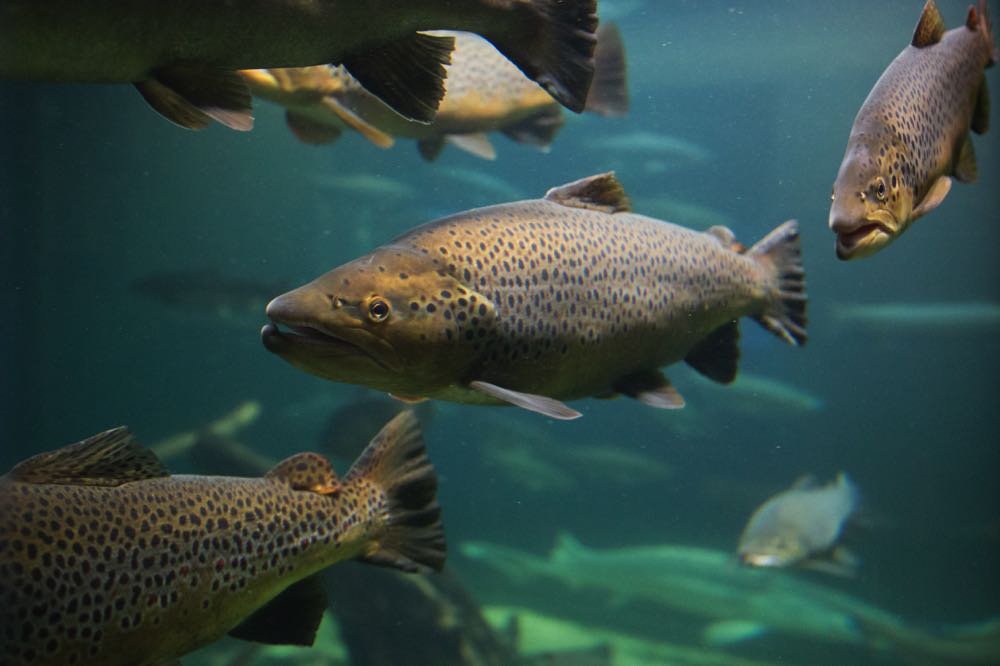 The Minho River is also a prime spot for fishing Atlantic Salmon. Another great spot is the Lima River. If you're coming for salmon fishing, you'll want to come between March and July.
Barbel
While there are also Barbel found in the UK and other parts of Europe, the Barbel that you find in Portugal are much different. Mainly because they are typically much larger, getting up to 25+ pounds.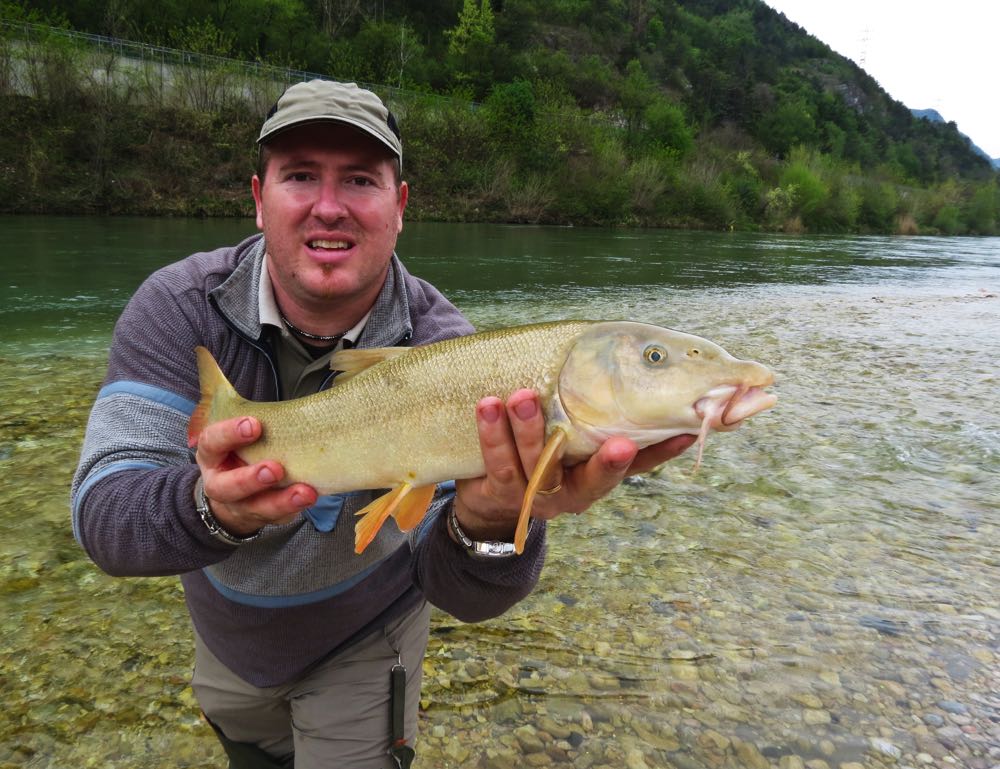 In total there are 5 species of Barbel in Portugal including Iberian Barbel, Small-Headed Barbel, Steindachner Barbel, Southern Barbel, and Snouted Iberian Barbel. If you want to go fly fishing for Barbel, head to River Tejo and the Guadiana River.
Carp
Many purists still scoff at fly fishing for carp, but it's becoming increasingly popular around the world and Portugal actually has some decent carp fishing.
The best places to catch these sluggish bottom-feeders are in Lake Alqueva, Lake Alfarofia and the Pera, Zezere, and Ceira rivers. Carp fly fishing in Portugal is best between July 1st and March 14th.
Best Fly Fishing Spots in Portugal
Portugal is crossed by a few main rivers, the Lima, Minho, Tagus, the Douro, and the Guadiana. Each of these and their tributaries offer great places to practice many different fly fishing techniques including Dry fly, Nymph, wet fly and streamer.
Best Fly Fishing Rivers in Portugal
The freshwater fishing in Portugal is great. Here are a few of the best rivers and small streams for fly fishing in Portugal. You'll have to have your national license plus a local license to fish in many rivers and streams in Portugal. More on licenses at the bottom of this post.
Minho River
The Minho River forms the natural border between northern Portugal and Spain and is famous in the region for having a plethora of migratory fish populations including Atlantic Salmon, Shad, and Sea Trout.
The tributaries that split from the Minho and capillarize the north of Portugal offer great fishing for brown trout.
If you're in the north, you can pretty much zoom in on Google maps and many of the intersecting rivers from the Minho will likely have great trout fishing.
River Alva & Mondego Tailwaters
These are two sets of tailwaters that are very close to each other. The waters are fed by large dams and thus are quite cold, but the stable flow creates special conditions for insects to mature and fish to feed.
Lima River
If you're going for trout or Atlantic Salmon, the Lima River will likely be one of your top choices along with the Minho River above. But salmon isn't the only large fish found in these waters.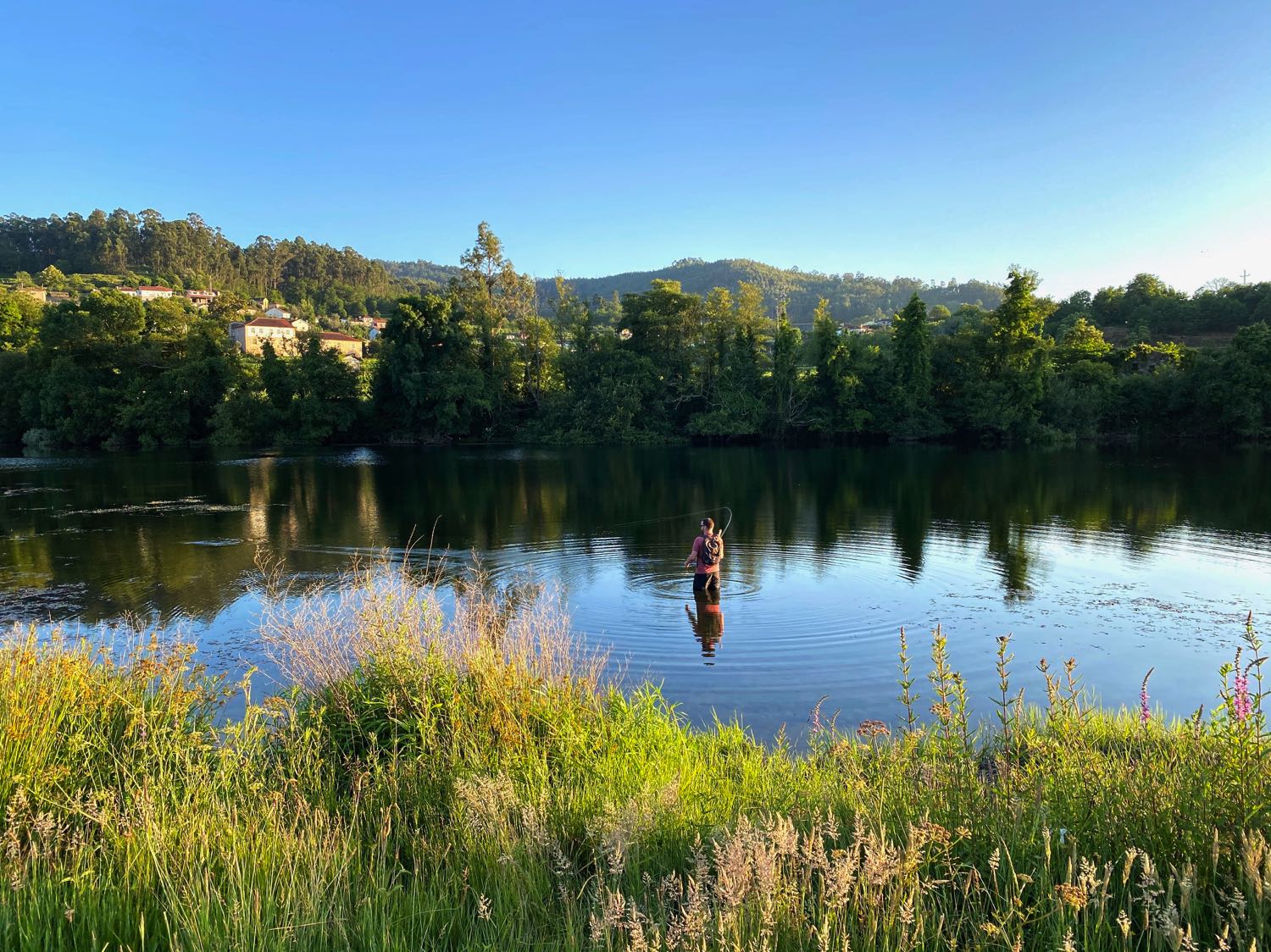 This beautiful river cuts the country in two. In recent years, many stretches of this river have been reserved for "professionally licensed fishermen" which eliminates the possibility of casual recreational angling.
If you want to legally fish the Lima River, you can do so at the Lima Escape Campsite, where they offer a €1 / day fishing license for the stretches of river near their property.
Coura River
This was my favorite place for fly fishing in Portugal. I came here as part of a guided tour with Antonio Rodriguez from Minho Fly Fishing and I have to say that the river was beautiful.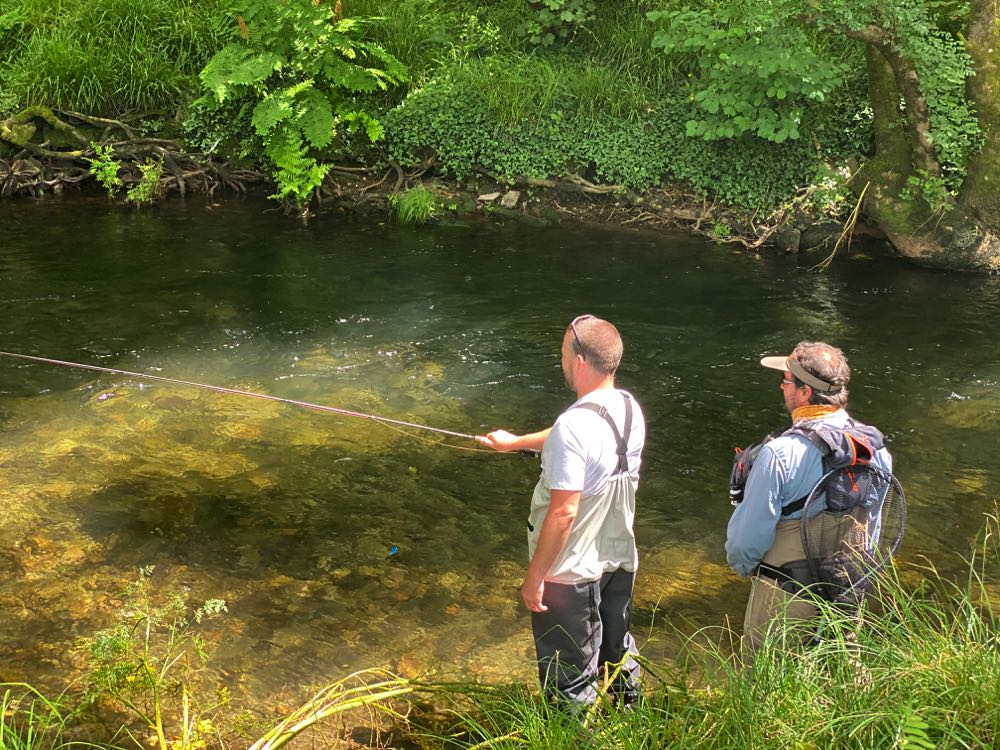 There are plenty of deep pools and rushing eddies where large trout love to sit and wait for nymphs to come within striking range.
In fact, nymphing is pretty much the only technique that works on this river, so if like me, you've never tried Euro Nymphing, consider meeting up with Antonio. He's an expert and can show you the ropes.
If you're planning on euro nymphing in Portugal's beautiful rivers, make sure you bring a decent pair of waders or make sure your guide has them as they're imperative for getting into the pools where the fish are holding.
Best Fly Fishing Lakes in Portugal
While there are plenty of small lakes and reservoirs where you can fish throughout the country, here are a couple of the best lakes for fly fishing in Portugal.
The lakes in Portugal should be fished with a variety of lines, from floating to sinking lines of varying densities, allowing you to fish at various depths. Streamers and wet flies are required to fish lakes but dry fly fishing can be great too when all else fails.
Serra da Estrela
This is a state reserve, which means you'll have to deal with a bit more bureaucracy when trying to get the appropriate licensing. It's best to go through a fly fishing guiding service to navigate the paperwork for you, but once you're licensed, this is a great lake for fly fishing.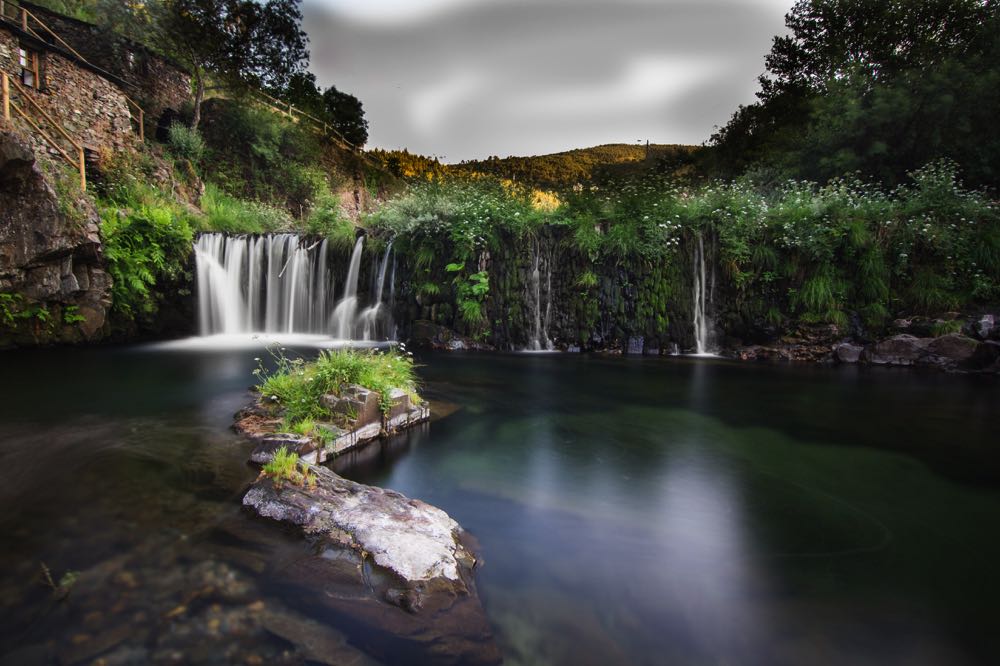 These lakes and the nearby rivers in Serra da Estrela are one of the few places to target the strange-looking Zebra Trout. These are basically brown trout that have taken on the characteristic of having three vertical bands on their sides.
Lagoa Comprida
Home to the World Masters Fly Fishing Championships, Lagoa Comprida is a manmade dammed lake that is the principal water reserve of Serra de Estrela.
If dry flies aren't working here, definitely try switching to an intermediate line to see if it does any better.
Alqueva
This is the largest artificial lake in Europe and is located in the south of Portugal. Here you'll find a variety of fish including largemouth bass and a variety of carp species.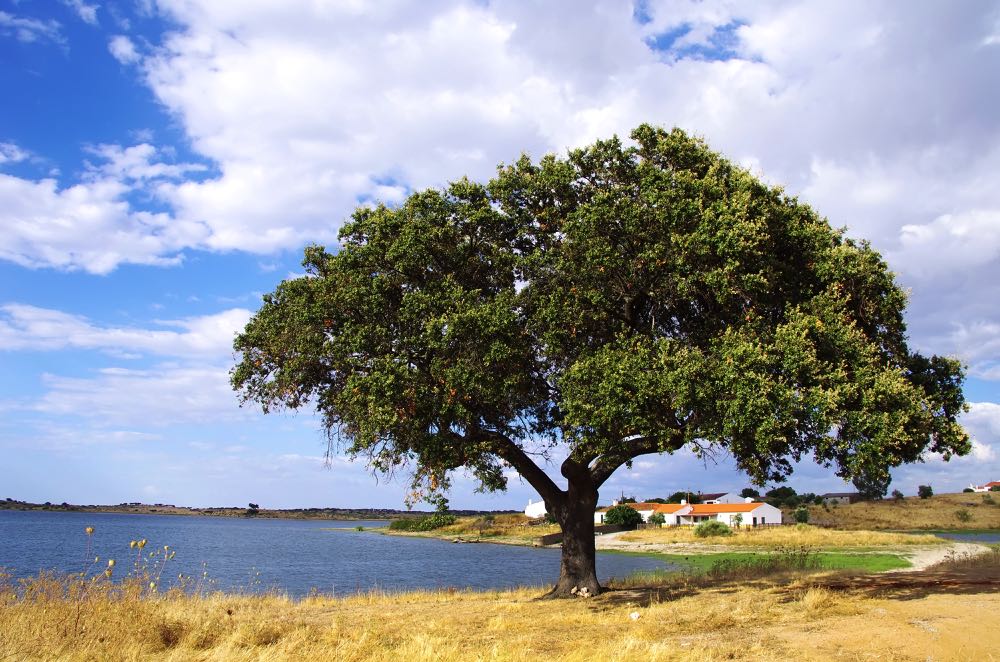 Alqueva is more popular amongst bait fishermen, but there are still some decent fly fishing opportunities here.
Portugal Fly Fishing Season
The general fishing season in rivers in Portugal is from March 1st to July 31st with some exceptions which close on the 31st of August. In rivers classified as non-salmonid, you can fish all year, as long as you respect the closed period for each species.
The best season for fly fishing in Portugal will depend largely on the species you're targeting.
Salmon Fishing Season in Portugal
If you're going after salmon then you'll want to head to the Minho and Lima Rivers between the beginning of March to the end of July.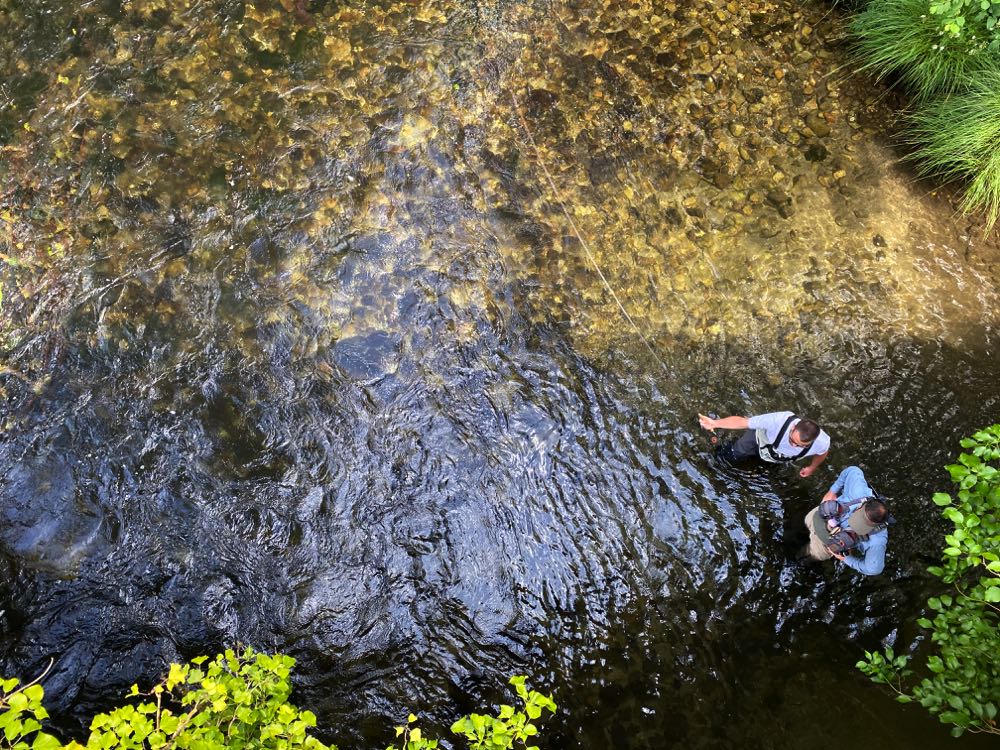 Shad Fishing Season in Portugal
For Shad, you'll want to come to fish in February to July, otherwise, these fish will all be out to sea and not in the inland rivers.
Barbel Fishing Season in Portugal
If it's Barbel you're after, you will want to visit between July and March. These fish are found in pretty much all of the streams and rivers in Portugal.
Bass Fishing Season in Portugal
Bass fishing in Portugal is an option as well. Largemouth bass are best fished in the Salvaterra de Magios, Bonavente, Agueda River and Meranhão Reservoirs between July and March.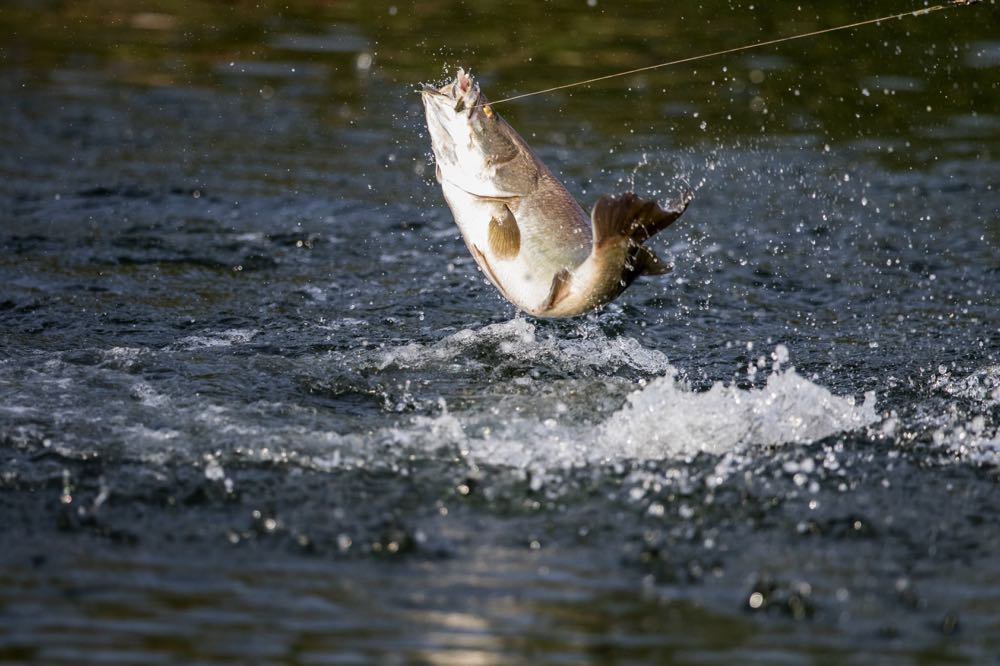 Carp Fishing Season in Portugal
I much prefer trout, but carp fishing in Portugal is quite popular. For carp, head to the rivers and streams in the south and central parts of the country between July and March.
Trout Fishing Season in Portugal
And of course, the main reason why people love fishing in this part of the world is the incredible trout populations here, including the unique zebra trout.
Trout fishing in Portugal is only available in the lakes and streams, as well as in the Serra da Estrela mountains and the Alge from July to March.
Fly Fishing Guide Service in Portugal
As I mentioned earlier, I went out with Antonio from Minho Fly Fishing and I highly recommend him as a guide for fly fishing in Portugal.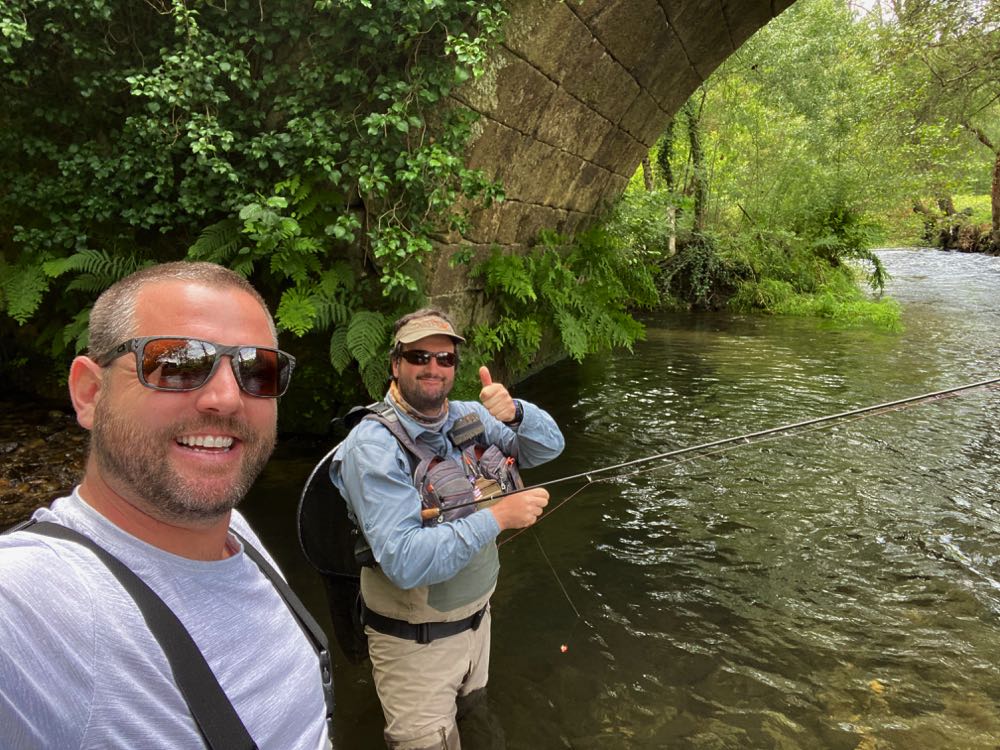 Antonio lives and breaths fly fishing. He's done competition nymphing all around the world and has extensive knowledge of the sport and of the fish behavior in Portugal.
My day was so great with Antonio that I plan to go with him again next time we head up to the Northern parts of Portugal. The great thing about his service is that you don't have to meet him on the Minho River and only fish there.
If you're staying in popular northern towns like Porto, then Antonio can come and meet you there and take you to the nearby rivers and streams.
That's my plan next time. I'll stay in Porto for a couple of weeks and hopefully have the chance to go fishing with Antonio again around the area. I still feel like I have much fly fishing to do in Portugal!
Fishing License in Portugal
Like with many things in the country, there's a bit of bureaucracy involved with obtaining a fishing license for Portugal. Contact the Ministry of Agriculture and Fisheries (Ministério da Agricultura, do Desenvolvimento Rural e das Pescas – MADRP) for more information.
→ Click Here for a direct email contact that helped answer all of my questions about a fishing license for foreigners in Portugal.
The types of license include:
A Sports Fishing Licence (Licença de Pesca Desportiva): This license is required for any sea fishing.
License for Fishing in Inland Waters (Licença de Pesca Desportiva em Águas Interiores): Needed for fishing any of the inland rivers and lakes
National Licence (Licença Nacional): Allows you to fish all around Portugal where fishing is permitted including on the offshore islands.
Regional Licence (Licença Regional): Here you can fish in regional areas either in the South, North or Center of the country.
Local Licence (Licença de Conselho): These are local licenses that permit anglers to fish in the lakes, rivers of streams in a given local authority district. You will generally need a License for Fishing in Inland Waters as well as a local license to fish in many rivers and lakes around Portugal.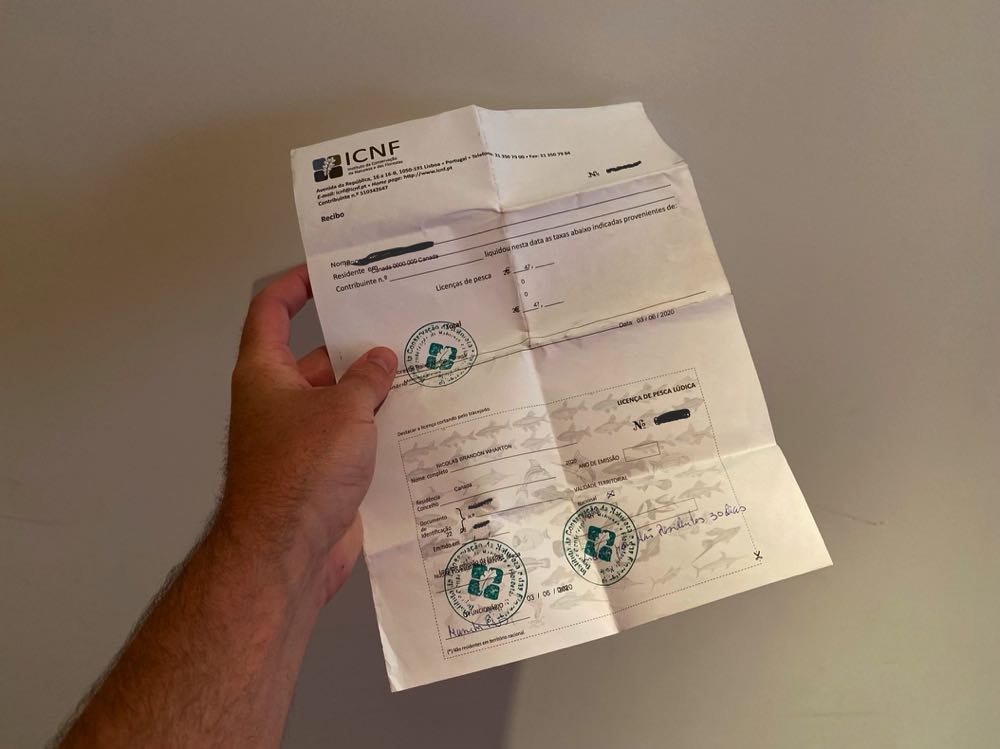 To obtain your fishing license, you have a few options. These options include:
Going into one the local Ministério da Agricultura (do Desenvolvimento Rural e das Pescas – MADRP) office and purchasing a license there.
You can also purchase a license from a "Multibanco" machine (ATM). But this is only possible with a Portuguese debit card, so you'll need a local friend to help you purchase it. If they do help you, you'll have to give them your passport number, but the machine will only allow you to enter 8 numerical digits (the same as a Portuguese passport). If your passport has letters in the passport number, you'll have to leave them out when entering your identification number into the Multibanco machine, and if you end up with fewer than 9 digits when removing the letters, you'll have to add zeros before the passport number to make the total be 8 digits.
Cost of fishing license for foreigners:
Non-residents 7 days – 15,35 €
Non-residents 30 days – 20,47€
Conclusion
Fly fishing in Portugal is underrated for sure, but if you're looking to head to trout-filled rivers in Europe with beautiful surroundings and hardly another angler in sight, then this is probably the place for you.
I really enjoyed my time fishing in Portugal and I plan to go again. There are some more great rivers around Porto that I'm really excited to try my hand at.
Most of the best trout fishing is up North, but there are plenty of decent rivers and lakes in the south as well and many anglers opt for the saltwater fly fishing in Portugal, around the Algarve.
However you plan to fish in Portugal, I'm sure you'll be amazed by the beauty of the country, as well as the abundance of fish that live here.
Tight lines!
Check Out Our Fly Fishing in Portugal Video
Some images in this post are courtesy of Shutterstock. Special thanks to Antonio for hosting us on a half-day fishing trip in Northern Portugal and making this article possible. As always, all thoughts and opinions remain our own despite any services offered.
Like This Article? Pin it!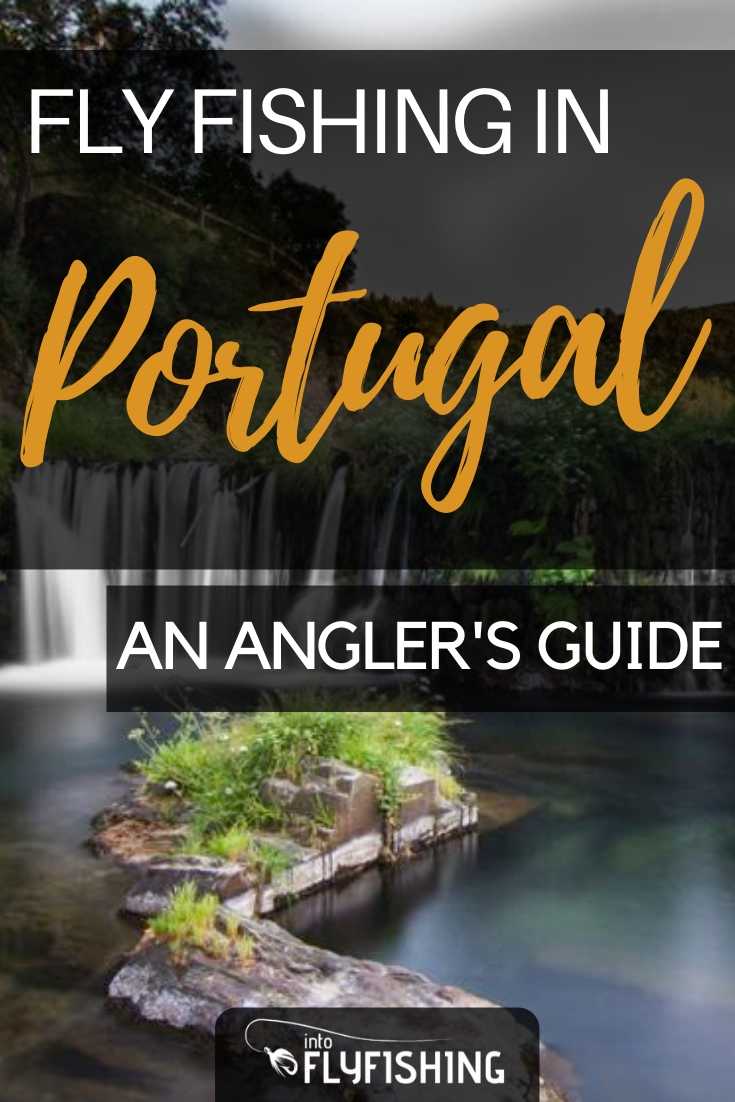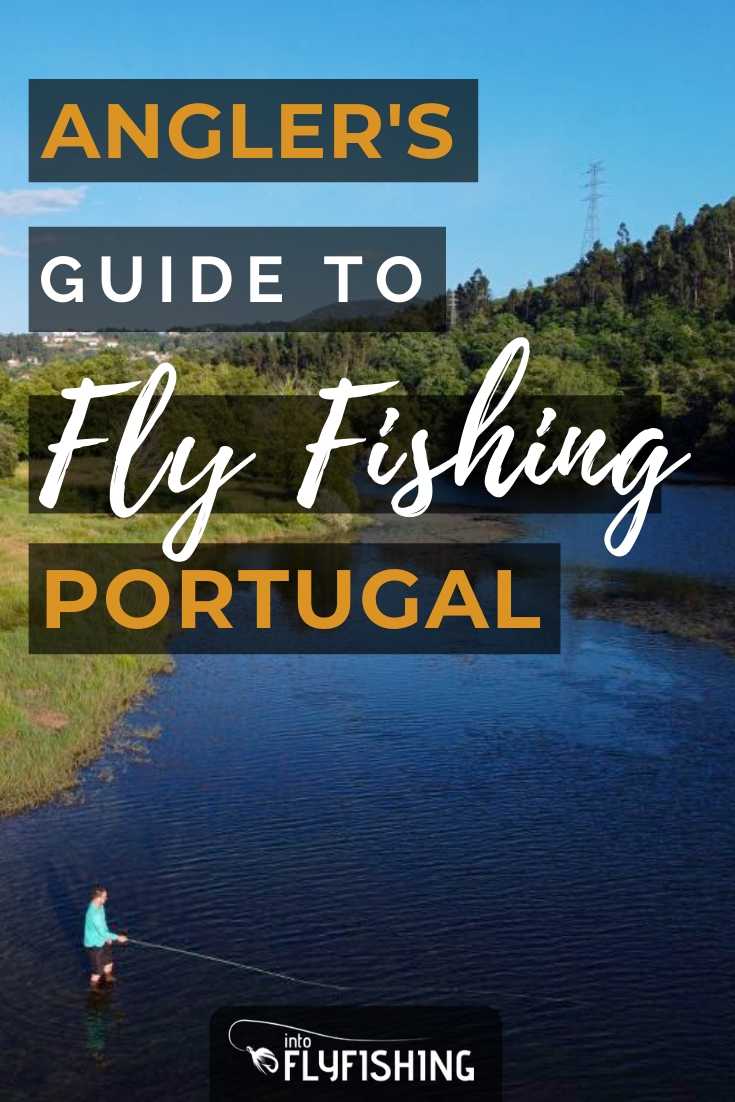 Amazon and the Amazon logo are trademarks of Amazon.com, Inc, or its affiliates.