When you're shopping for the best wading boots you should think about when and where you plan on using them. Many different boots are designed to be worn with neoprene booties.
So, if you don't plan on wearing booties then you should keep in mind that you may need to go down a size or 2 depending on the brand. It's useful information and more that we're going to go over below.
Choosing wading boots may not be as important as other fly fishing gear like your best fly rod or your best fly reel, or even the waders themselves, but it's still an important investment if you value comfort and versatility on the river.
Compare Wading Boots
| Image | Title | Best For | Price | Buy |
| --- | --- | --- | --- | --- |
| Top | Korkers Wading Boot | Best Overall | | Buy Now |
| | 8 Fans Wading Shoes | Best Budget | | Buy Now |
| | Simms Freestone Wading Boots | Best Top-End | | Buy Now |
| | Orvis Men's Ultralight Wading Boot | Best Lightweight | | Buy Now |
| | Compass 360 Tailwater II Boot | Best Cleated | | Buy Now |
| | Korkers Mary Women's Wading Boots | Best For Women | | Buy Now |
Prices pulled from the Amazon Product Advertising API on:
If you're looking for a new pair of wading boots then you've come to the right place because we're going to go in-depth on different features and types, as well as digging into 10 different types of boots on the market.
Here's a quick look at some of the boots that we're going to cover.
As an Amazon Associate I earn from qualifying purchases.
Are The Best Wading Boots a Worthy Investment?
Absolutely. Safety, comfort, and mobility. You'll need all three in something that would be considered the best wading boot. Something that is going to fit your foot while providing you with a stable base and allowing you to walk in and out of the water.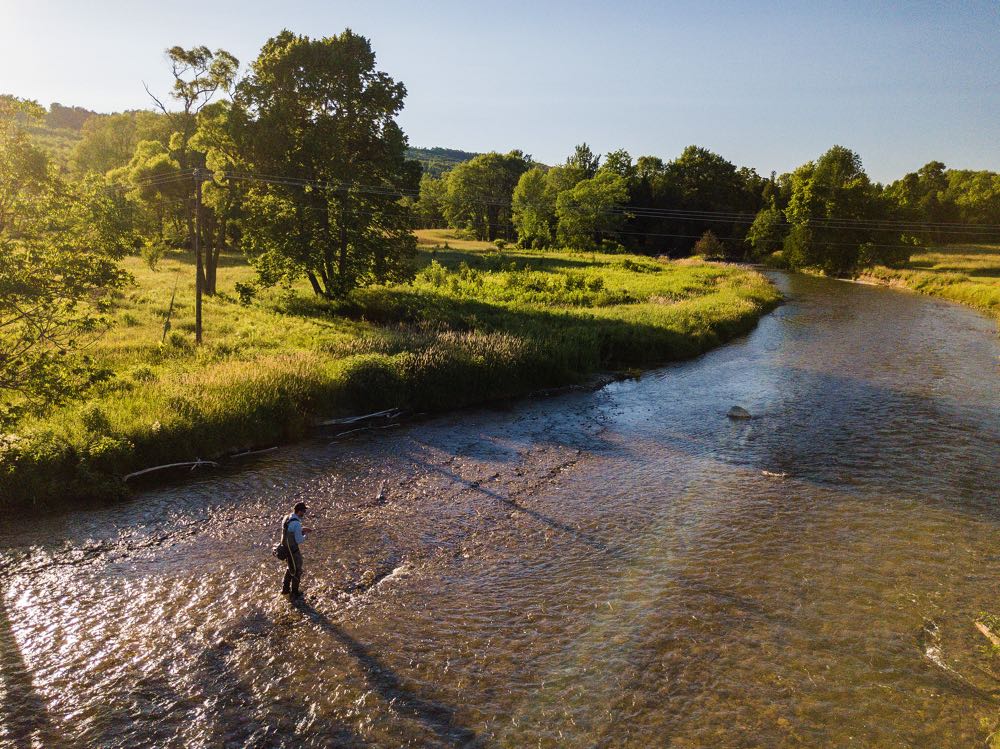 If these three measures are not met then you could potentially be in for a bad day out on the water. Nothing can ruin a fishing trip quicker than sore, painful feet.
So weather you're fishing the popular rivers and lakes of Montana and Wyoming, or the quieter backwater streams of Minnesota, South Dakota and Iowa, you'll want a good pair of waders to be able to get into those productive pools and away from other anglers.
Read over the three useful reasons for getting a good wading boot below. Use them to help you make your decision on what type of boots to get.
Don't have fly waders yet? Check out our Buyer's Guide To The Best Fly Fishing Waders.
Safety
The most important thing to consider when fishing is safety. It's the most important aspect of fishing. If you're not being safe, you're going to get hurt, and if you get hurt you cant fish. It's that simple.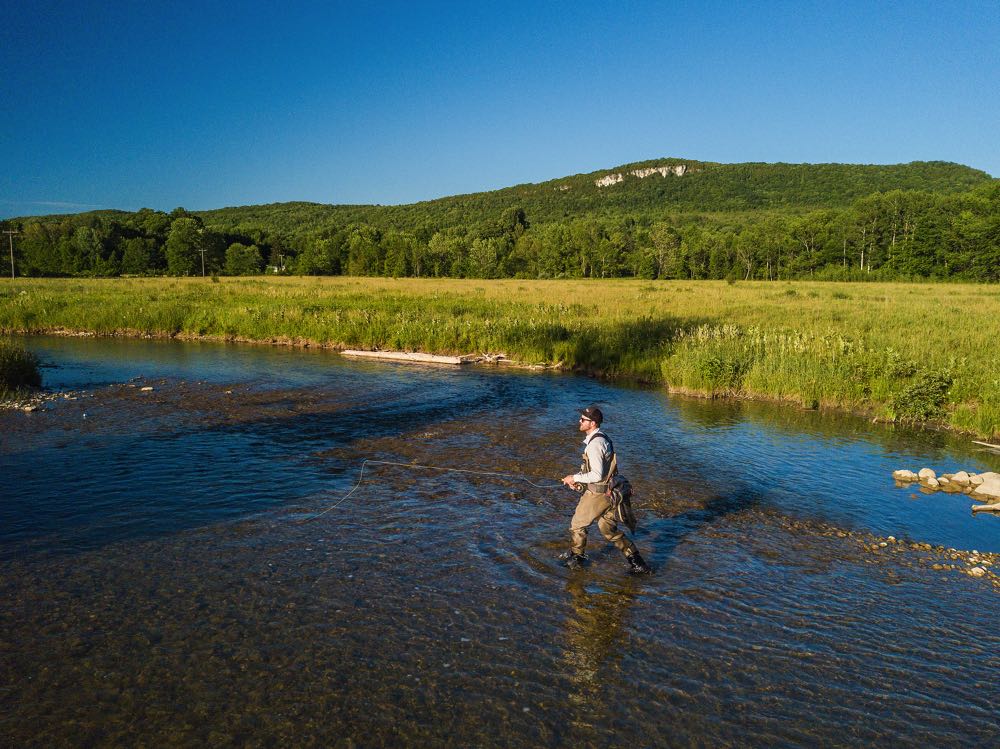 Safety starts with making the right choices. The first choice should be what kind of footwear am I going to need. This is because if you have improper shoes you're going to be slipping and sliding all over the river.
So, find something that is going to give you adequate traction. Find a boot that is going to let you stick to the bottom of the river like peanut butter does to the roof of your mouth.
Comfort
On top of being safe, you'll also want something comfortable. You don't want to be feeling blisters an hour into a trip. This is going to quickly ruin a day or an afternoon of fishing.
You'll also want something that fits your foot shape. If you have a flat arch or a high then search for something that is going to accommodate that. Fly anglers are much more active than people give us credit for.
A lot of our days fishing can see miles of terrain crossed. Including elevation changes, climbing over rocks and fallen trees, and maintaining balance in a slippery, current filled river.
Mobility
You're not always going to be walking in the water while fishing. Depending on what type of fishing you do that could be the smallest part of your day. Brook trout anglers who get back on mountain streams know about this.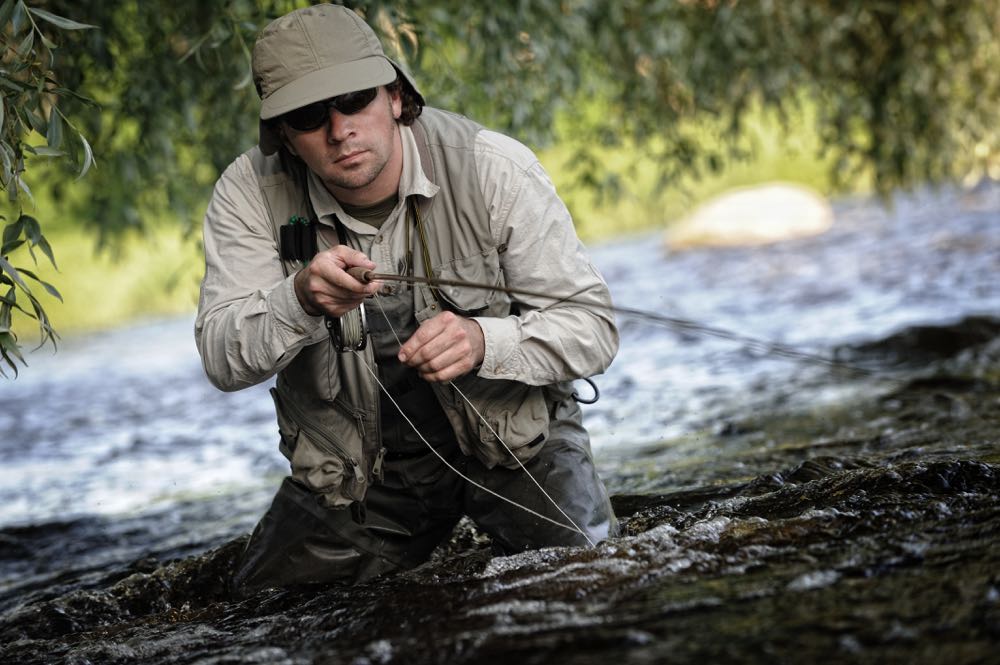 So, you'll need something that can handle dry land just as well creek or river bottom. Rubber bottom shoes with cleats are usually the best option for this type of fishing.
Felt bottom does well in the water but getting out on dry land can cause the fabric to break down quicker. You also lose much of your mobility when the wet felt meets a dry rock on land.
The Best Wading Boots of 2021
Below, we're going to go over 10 wading boots for fly fishing for 2021. Each of them is going to help you out in different fishing scenarios. So, check them out and see which ones are going to work the best for you.
1. Simms Freestone Wading Boot
Pro – Great traction, as well as durability.
Con – They are a little on the heavy side. Waterproof boots can hold water while walking
Simms is known to produce some great fishing gear. It doesn't matter if its packs, waders, or boots. So you know when you purchase something from this brand then you're going to be getting something good.
The Simms Freestone Boots are strong and rugged. Able to stand up to the being rubbed up against submerged rocks, stumps, and other underwater abrasive surfaces. The bottoms of the boot also prevent snow and ice build-up.
Made of synthetic waterproof leather, as well as scratch-resistant uppers. These boots will last you season after season.
Simms also has a right angle footbed technology they used on these boots. This is a fancy way of saying it helps prevent foot and ankle fatigue. Keeping you out on the water for longer periods and catching fish.
2. Orvis Encounter Wading Boot
Pro – Great for the price. Reinforced tox box helps prevent abrasions
Con – Can be bulky, and are a large fit.
The Orvis Encounter is a great wading boot for the novice. Cheap enough that it won't break the bank while being strong and sturdy enough to last you several seasons of hard fishing.
Just because they're the best beginner boots for wading doesn't mean you have to compromise. These are great and would be good for anyone. There is a scratch rubber toe cap that helps prevent abrasions from forced impact.
The upper is made of all synthetic and is story enough to hold up to repeated use and will also dry quickly once leaving the water. This helps prevents the spread of invasive species.
A padded collar is a feature for extra ankle support and also cushion. This will help prevent blisters and soreness on your ankle and lower shin. Making you more comfortable out on the water.
3. 8 Fans Wading Boots
Pro – lightweight, with a reinforced toe and heel
Con – The lace eyelets not are rust-proof, and not the best for heavy use
The 8 Fans Boots are a lightweight and cushioned boot that will very comfortable for the wearer. The thick soles and the quick draining boots will have you walking in and out of the water comfortably and safely.
The oxford uppers and quick lace system make a durable boot for the price. The reinforced toe and heel will help keep your feet scratch free when banging off of river bottoms.
The bottom of the boots is made with non-slip rubber soles. These help with traction as well as keep you slip-resistant while in the water, or on wet and slippery surfaces.
These boots are made to size. So if you normally wear a size 11 shoes then go a size up to ensure that your neoprene bootie will fit in these. If you plan on wearing a sock underneath then order your normal size.
4. Simms Tributary Felt Wading Boot
Pro – Felt sole grips the bottom of the river or lake superbly. Strong toe and heel cap
Con – Studs not included. Run large and can be heavy
The Simms Tributaries help provides you with excellent traction and grip. Allowing you to easily navigate the slick and rocky river bottoms. The upper is made of a strong synthetic material that will keep you fishing season after season.
The inside of the shoes is also equipped with a neoprene lining. Making it easier to take off your boots after a long day. You'll find that the felt soles are also stud-compatible. Giving you, even more, grip and traction.
You'll also find that the rubber toe cap is re-enforced. This allows you to walk across slippery rocks smoothly and without issue.
These boots are also saltwater compatible. Just remember to rinse with fresh water when finished. This ensures that the pieces of the boot do not corrode or become brittle.
5. Compass 360 Wading Shoes (Cleated)
Pro – Durable internal heel for taking the boot on and off. Padded collar for extra comfort
Con – Oversized fit. Heavy when walking long distances
The Compass 360 Cleated creates is a solid hiking boot as well as a great wading boot. The weight is a little heavier than desired but it is just fine for day fishing without any super long hikes.
It's made with nonshrinking nylon. So you don't have to worry about your boots shrinking after continuously drying them after being wet all day.
6. Compass 360 Tailwater II (Felt)
Pro – Has LSG (locking stud grip). Can be worn with or without studs
Con – Cleats don't always come with the boot. Unreliable seams
The Compass 360 Felt is a solid budget-mid range boot. It's going to allow you to get out on the water, but once you become a more serious angler you may want to upgrade to something nicer or more lightweight.
They can be a little bulky but they're not all that bad. The LSG ensures your cleats stay in pace when walking in the river, and help prevent slips and falls.
Overall, it's a solid boot than can be worn either without studs. Feel free to use either. It just depends on what you prefer and what you feel is going to give you the most grip and stability.
7. Korkers Buckskin Wading Boots
Pro – BOA Lacing system. Interchangeable soles
Con – Interchangeable soles are great but not durable. Sole is not as flexible
For the price, the Korkers Buckskin Boots are the best boots on this list. You get a great brand in Korkers who is known for making great boots. They did not disappoint with these.
The interchangeable soles are great for flipping out felt vs rubber soles. The idea is great but the execution is not quite there yet. They usually wear down after a few times out and can lead to breaks.
The BOA lacing system is great and allows for a snug fit that will shake around as you all over uneven river bottoms.
8. Orvis Men's Ultralight Wading Boot
Pro – Very lightweight. Great for long days of hiking and wading
Con – Laces are a bit short
An ideal boot for any angler. The Orvis Ultralight will work well on just about any river and because of the rubber sole you don't have to worry about breaking wading requirements.
The boot is so lightweight is great for traveling as you store in your bag. Then in terms of fishing, you can hike and wade all day in these things and not be fatigued as quickly as some others.
Considering they're a lightweight boot they are surprisingly durable. Usually, this is not that case but these buck that trend.
9. Hodgman H3 Wading Boot
Pro – Mesh drainage ports on the side panel. Great for the price
Con – Not great for saltwater
The Hodgman H3 wading boot is felt-soled and comes with a superior grip. The mesh side ports allow for quick water drainage when leaving the river and keep you walking light on your feet.
The botos themself are also quick drying and are abrasion-resistant. The reinforced toe and heel will help keep your feet safe and secure when out fishing.
It does not seem as a great boot for someone who is out every weekend. The causal angler would be well with these.
10. Frogg Togg Rana Wading Boots
Pro – Strong and durable material. Padded upper
Con – Soles need extra care (rinse off after use)
While the material of the Frogg Togg Rana boot is strong, you'll find that the sole is mediocre at best. Wearing for extended periods or by a hardcore angler could result in the sole breaking.
You can also purchase this boot in two different types of the sole. Either felt or cleated. So you have the ability to fish anywhere with the rubber or just home waters with your felt.
BONUS: Best Wading Sandal
The lightest and often most affordable option for wading is by picking up a good pair of wading sandals. These are easier to transport, faster to take on and off and often more comfortable.
The downside, of course, is the lack of support and insulation against the cold, but if you have a good pair of insulated waders, or are fishing in the summer, this may not be an issue.
KEEN Men's Newport H2 Sandal
Pro – Strong and durable material. Supportive contoured arch
Con – Seem stitching can be damaged after extended use
KEEN is a footwear brand that builds high-quality shoes and wading sandals that are made in the USA. The KEEN Men's Newport H2 Sandal and the KEEN Women's Newport H2 Sandal are both great options for anglers.
They have a comfortable, sterdy sole and are very quick to put on and take off. They are also machine washable and dry relatively quickly, ensuring you won't have that musky smell for long if you've left them in a cupboard after using them!
Best Wading Boots Buyers Guide
Below we're going to go over a couple of different types of features for your boots as well as different types of wading. Along with which boots work well for those. They should give you a better idea of what to look for.
Felt vs Rubber vs Cleated Soles
Felt is going to have the most grip of all the different boots for wading on rivers and lakes. The material used is going to grip the bottom of the river will cause fewer falls and trips. When compatible, felt with cleats is even better.
Felt is not ideal for walking outside of the water though. For this, you would want a rubber or cleated. Wet felt walking on a dry rock or log is going to be much more slippery.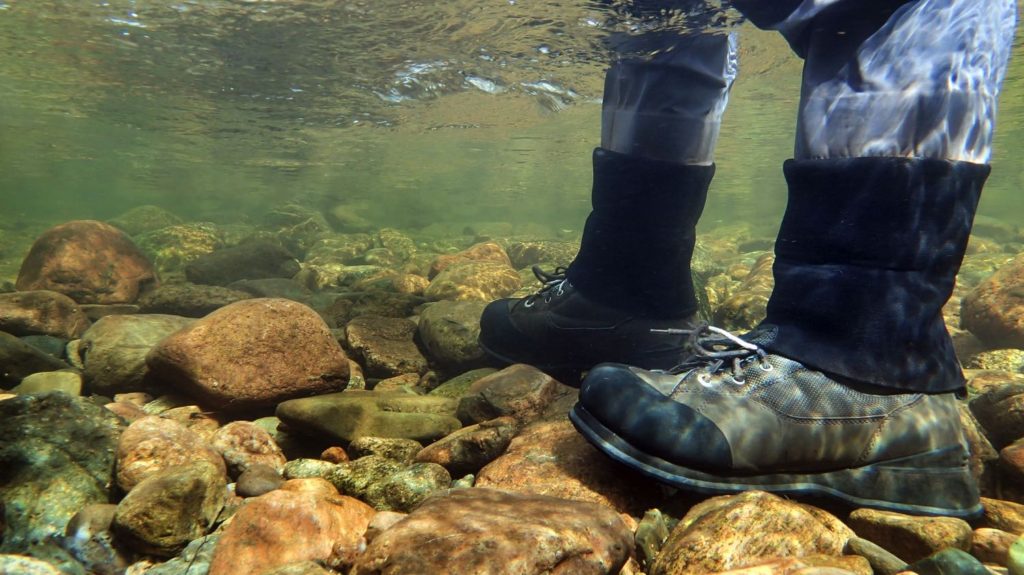 Rubber soles are great for walking both in and out of the water. They provide a good grip on dry land and will keep you upright in strong currents. Great for anglers who hike back to their spots.
Cleats can be put on both rubber and felt. It adds an extra grip and if your soles are compatible then it's recommended you use them.
Low-Top vs Hi-top
Hi-top's are going to give you better ankle support. Meaning you'll have less chance of rolled or sprained ankles on the river, which is a great thing.
Hi-tops are typically heavier though because of the extra material. That's where a low top comes into play. These are great for travel and for walking long distances. It reduces leg fatigue
Boot Foot Waders vs Stocking Foot Waders
Stockingfoot waders are made to be worn with wading boots. These provide extra stability and protection to your feet. These are recommended for just about all anglers who plan on walking in the water.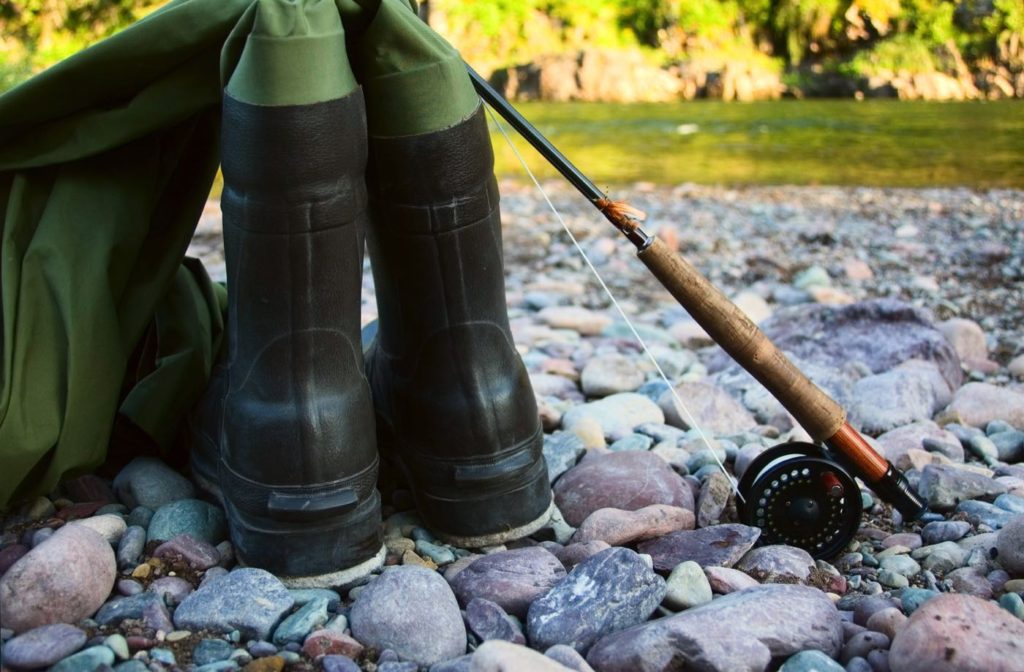 Bootfoot is usually the cheaper option and is fine for anglers who don't walk around much. They're not as stable and are typically just a rubber boot. They get the job done but are not as safe as a wading boot.
Wet Wading vs Dry Wading
Wet wading is where you are not wearing any waders. So you are getting wet. Typically it is done is shorts or quick-drying long pants. Paired with a set of wading boots. This is typically done in the summer or warmer months.
Dry wading is done with your waders. This can be done year-round and is the most popular form of wading. Here you can use stocking foot waders, or boot foot waders.
Wet wading can be fun and enjoyable but most don't wear there wading boots with them. Find a good pair of neoprene booties or wading socks and use your wading boots though. They'll keep you safer.
Wading Sandals vs Wading Shoes vs Wading Boots
Wading sandals are great to use with wet wading. They provide excellent grip and can be nice to wear during the warmer months. Your feet will not be as protected though. So a stubbed toe or scratched heel is possible.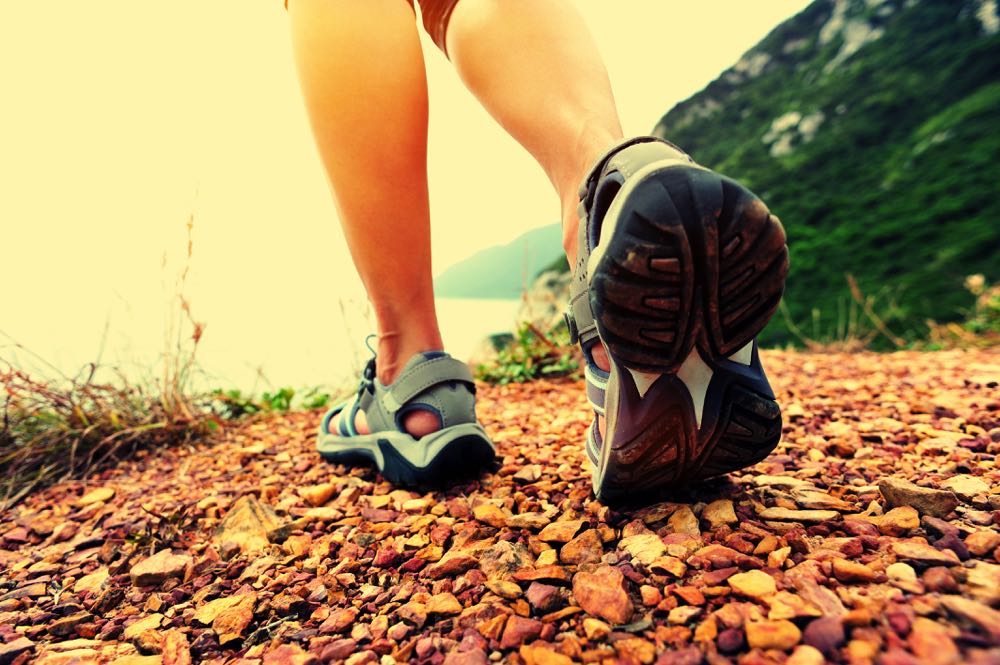 Wading shoes are a lightweight version of boots. They don't have as much support but they do have great grip and traction when walking. These are another great wet wading shoe, but with more protection.
Wading boots are great for all types of wading. They provide protection and keep you upright in the river. They can be a little bulky but they're great wading in the water and keep you safe.
The Best Wading Boots Features
This all depends on the wearer. What are you looking for? Do you want something lightweight and strong? Or doy you want a hitop boot that is going to support you? Below we're going to go over this and more.
Breathability
Breathability is a big deal in the summer and your wet wading. When you're in the water it won't be that big of a deal, but if you're hiking to your spot then your feet could get too hot and sweaty which could cause blisters.
In the winter it won't be that big if a deal. If anything you want it to be as warm in there as possible. Nothing like fishing in 45-degree water to start hiking in the 35-degree air.
Seam Reinforcement
This is very important if you want your boots to hold up. Someone who may only fish a handful of times a year might not need something like this.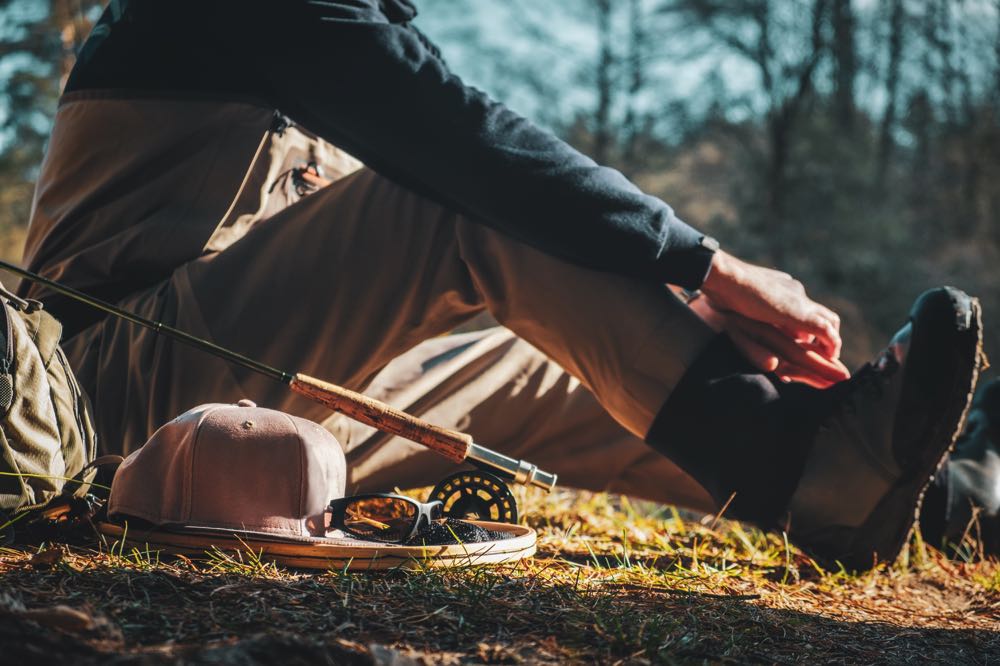 However, a hardcore angler who goes out every weekend is going to be a strong boot. This is where seam reinforcement is going to come in. It will help keep you out fishing more and less time shopping for boots.
Price
Wading boots can be crazy expensive. We had some pricy ones on this list but there are some out there pushing several hundred dollars. These are usually great boots but not practical for the everyday angler.
As long as your using a brand you trust and a boot that fits your needs then you'll be good to go. No need to spend a crazy amount.
Durability
This is the same as seam reinforcement. Someone who fishes a handful of times does not need a very durable boot. Just something to get them through a few seasons before it needs replacing.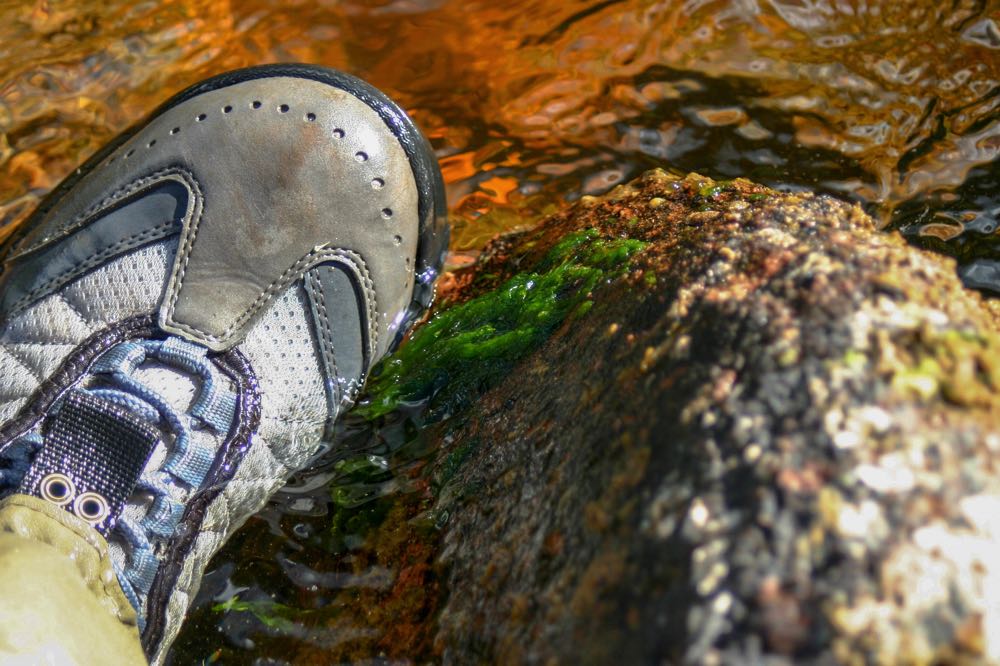 A guide, on the other hand, needs something strong and sturdy. otherwise, they'll be spending too much time shopping and not enough time fishing.
Comfort
You need your boots to be comfortable. This part is not up for discussion. A pair of boots that are too tight, snug, slips, or wobbles is going to cause you to leave the river early. Which results in fewer fish caught.
Review This Post
Conclusion
Hopefully you now a better understanding of what to look for in a great wading boot. You need something strong, comfortable as well as supportive and enough grip.
The last thing you want is for your boots to give out on you and to go sliding off into a current. So, take the information above and put it to use in your own boot search.
It's going to not only get you out on the water more often, but it's going to lead you to be on the water for longer. Resulting in more fish caught and memories made.
Some images in this post are courtesy of Shutterstock.
Like This Article? Pin it!