This is my unbiased and honest Orvis Encounter Review, written after using the setup for many years. I've used it in a variety of waters and landed many fish on it, from beefy salmon to feisty brook trout.
My many days fly fishing with this setup has convinced me that, despite its low price, the Orvis Encounter is a quality product with the durability to withstand many years of hard use. After numerous fishing trips to narrow streams with tons of underbrush, my Orvis Encounter setup still has barely a scratch.
When it comes to beginner fly fishing setups, you'll have a challenge finding one better than the Orvis Encounter. There are dozens of beginning fly fishing packages available for anglers at a variety of prices, but the overall quality of the Encounter is hard to beat.
With beginner fly fishing gear, particularly with fly fishing rod and reel combos, you need your rig to do a little bit of everything. Orvis discovered the secret, and the Encounter gives new fly anglers enough to be successful in almost any type of fishing.
If you're uncertain about all of the types of fishing you may do, the Encounter has proven to be up to the test for just about anything. Its versatility gives you the freedom to identify what features are the most important to you in a fly fishing setup.
Disclaimer: IntoFlyFishing.com is a participant in the Amazon Services LLC Associates Program, as an Amazon Associate I earn from qualifying purchases. Please see our Privacy Page for more information.
Why Trust My Orvis Encounter Review?
I'm not sponsored by Orvis, nor is this website at the time of writing, and while there are affiliate links in this post, I personally don't stand to earn anything from their commissions.
I have full creative freedom to write any positive and negative comments in this Orvis Encounter review and stand to gain nothing extra either way.
I recently took a trip to northern British Columbia in Canada and needed to update my 8-weight setup. I didn't want to break the bank and needed something versatile, so I went with the Encounter.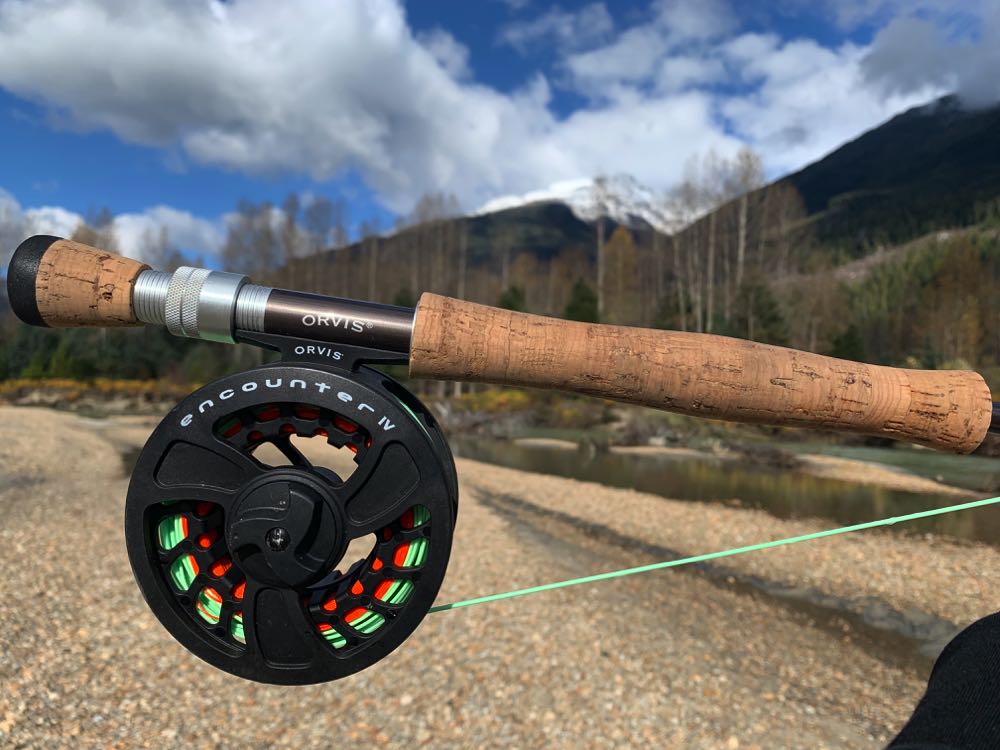 The 8-weight Encounter easily handled salmon upwards of 15 pounds. I've used Orvis products for several years, and the Encounter gave me even more reassurance that the company knows what they are doing.
Orvis Encounter
If you like what you see in this Orvis Encounter review, you can order the rod on Amazon.
While many would be skeptical of a beginner setup only costing $170, I was pleased. I received a quality setup and was confident in its quality.
I consider myself an experienced angler. I've since fished this setup in many different fly fishing destinations besides British Columbia, and I have confidence this rod will continue to be a consistent part of my arsenal.
What's in the Box?
When you purchase the Encounter, you'll receive the 4-piece rod in a sturdy travel tube as well as a fully equipped reel. All of it is shipped in a well-packaged box with plenty of packing material to keep things safe.
Travel Tube
When it comes to packaging for a four-piece rod, it's difficult to find rod holders that are short enough to take on airplanes. I had no trouble taking the Encounter rod tube on an international flight as a part of my carry on.
The only downside of the tube is that it doesn't come with extra space for you to keep your reel attached. Whenever you tear down your setup, you have to remove the reel and place it in the cloth carrying case.
Rod
You'll receive the rod broken down into four pieces. This rod is easy to assemble, and I had no apprehensions when I held it for the first time. It has a high-quality feel and the dark color is sharp.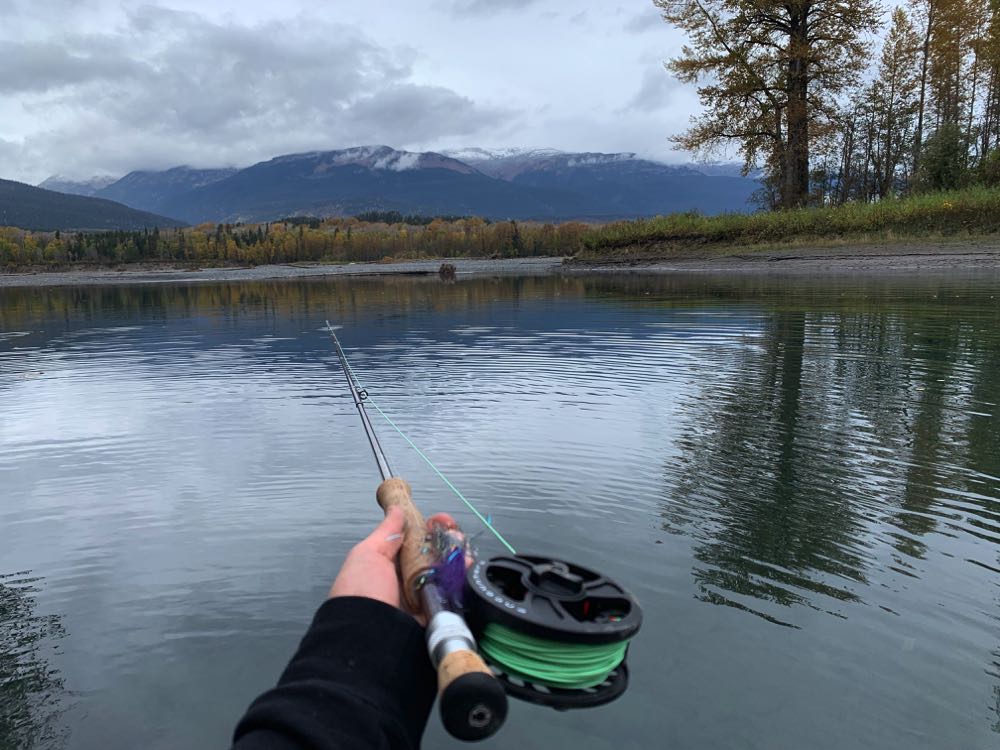 I don't like to use flashy reel or rod colors, so the subtle black and silver is a nice look.
Reel
The reel came fully equipped with backing, weight-forward line, and a few options for leaders. The drag was loose enough that it hadn't worn down the ball bearings in the time that it was sitting in the warehouse.
It's a large arbor reel, and that's one of the main reasons I chose it. I knew the salmon were going to take quite a bit of my line, but I was never in danger of being spooled while fighting them.
The reel comes with a bright green or yellow fly line depending on which weight you choose.
Order the Orvis Encounter
If you like what you see in this Orvis Encounter review, you can order the rod on Amazon.
Orvis Encounter Review Features & Specs
The Orvis Encounter is a quality rod from a reputable brand. While Orvis places the majority of their gear under warranty, the Encounter doesn't receive such a luxury.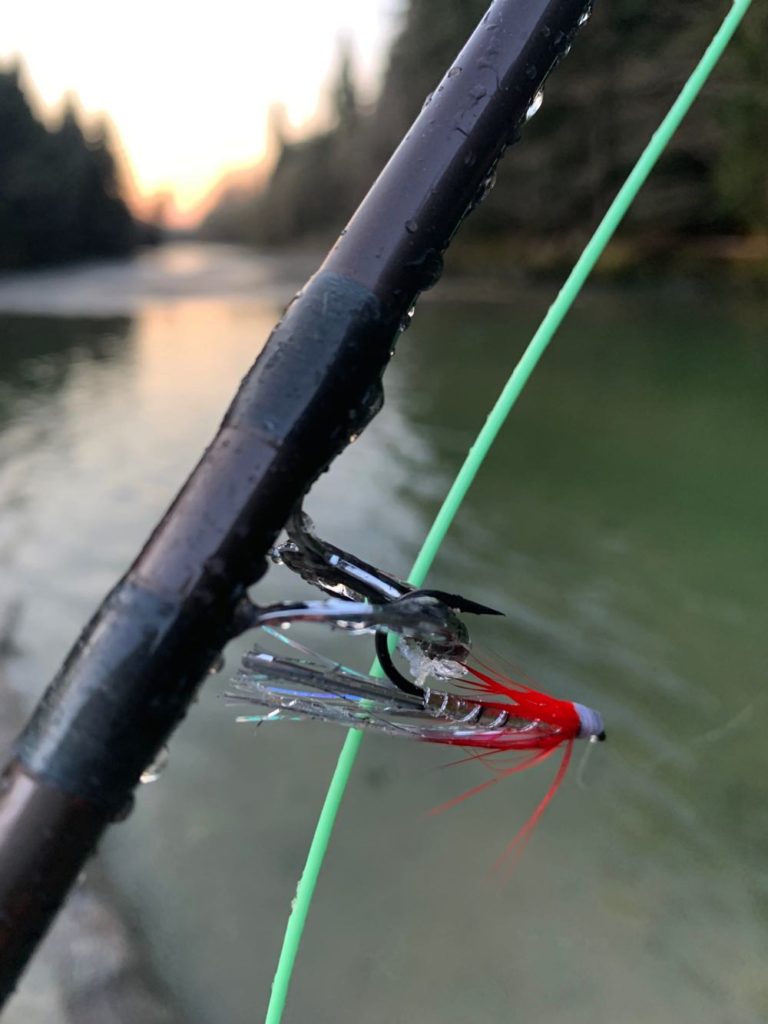 With that being said, I've used the Encounter regularly over the past year and have had no issues with it at all. If you do happen to break something, you can purchase replacements for any broken segments of the rod.
Rod Build Quality
When it comes to choosing a fly rod, anglers are picky. They want a specific length, material, and even color. The Encounter is meant to be versatile. This means that it isn't spectacular at anything, but it does well in almost every situation.
The rod itself is made from graphite. It has a medium action so it's equipped to throw both larger and smaller flies. I've felt the subtle tugs from trout in the dead of winter and was able to power my way through a fight with a large double-digit fish.
Rod Weight
Overall, the 8-weight rod weighs around 120 grams. Most anglers would likely say that the 8-weight feels more like a true 7-weight due to its light weight. The rest goes for the other available weight options. They all feel one weight less.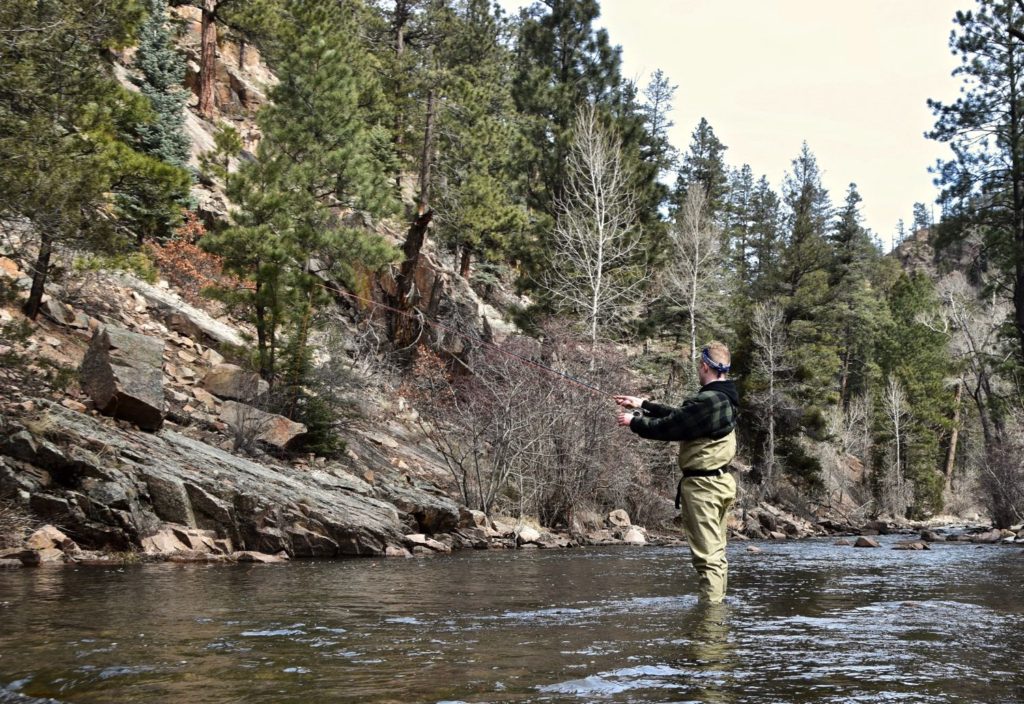 The less weight is why Orvis places a weight-forward line on the reel. The heavier tip of the line makes casting a bit easier. I've never had any problem getting plenty of line out of the rod as I cast.
The Encounter is available to be purchased in 5 through 8-weight setups. You can also buy 8'6″ versions all the way up to 10′ rods depending on what type of fishing you'll be doing.
Long Distance Accuracy
Long-distance casting is where the Encounter runs into problems. Due to its light weight and medium action, the Encounter and windy days don't get along. Anglers have to be confident in their casting abilities to hit all of the spots on days with rougher conditions.
The rod will allow you to cast 50 or so feet accurately, but after that, it all depends on your skill level. You'll need to manipulate the rod and complete quite a few false casts to get your fly exactly where you'd like it. Your timing needs to be precise when casting the Encounter long distances.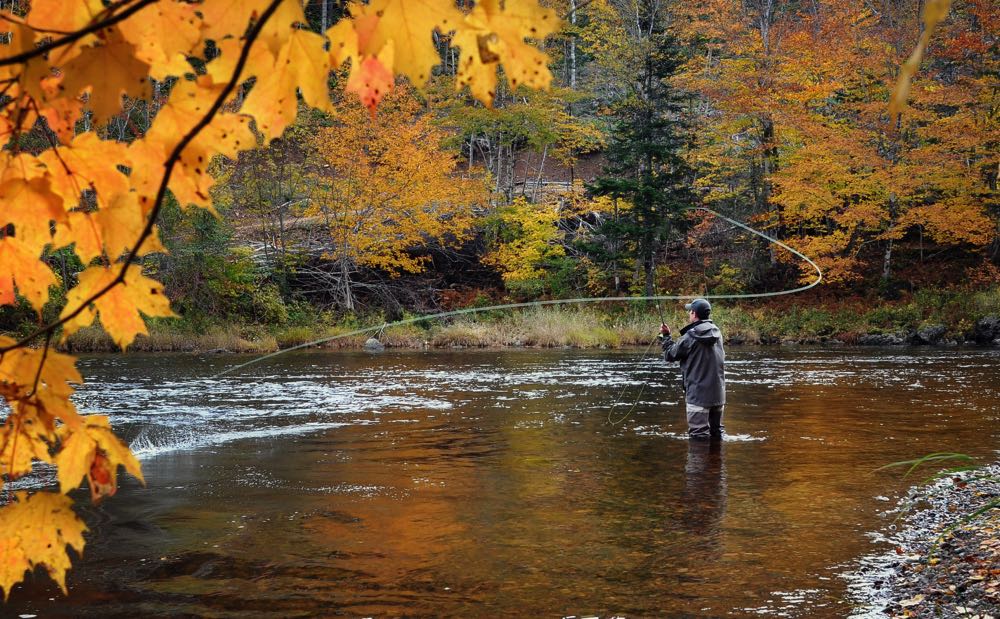 The lighter weight also makes it a bit heavier to cast streamers. It took me a while to get used to casting bead head streamers with the Encounter. I had a bit of a harder time finding my rhythm, but once it got going, the rod was able to handle them.
For lakes and wide rivers, the Encounter won't let you cover a vast array of water, but it performs well enough that you'll still be able to find a nice amount of fish with your fly.
Short Distance Accuracy
When it comes to 10-40 foot casts, the Encounter is great. The sensitivity of the rod allows you to pick your spots. You can take the 8-weight into tight casting lanes and perform well.
It works well to river load as well as roll cast. The Encounter excels in pocket water and tighter seams. What you lose in overall power, you can make up for in your finesse casts for larger fish.
The Encounter allows you to lay down your fly softly and feel some of those tiny nibbles.
Species
The Encounter can handle everything from salmon all the way down to small trout. You won't have as much power when fighting the salmon that some of the higher-end 8-weight rods will give you, but it provides an extremely entertaining fight.
I had a blast fighting 15-pound salmon on this rod and wasn't worried that the rod would break.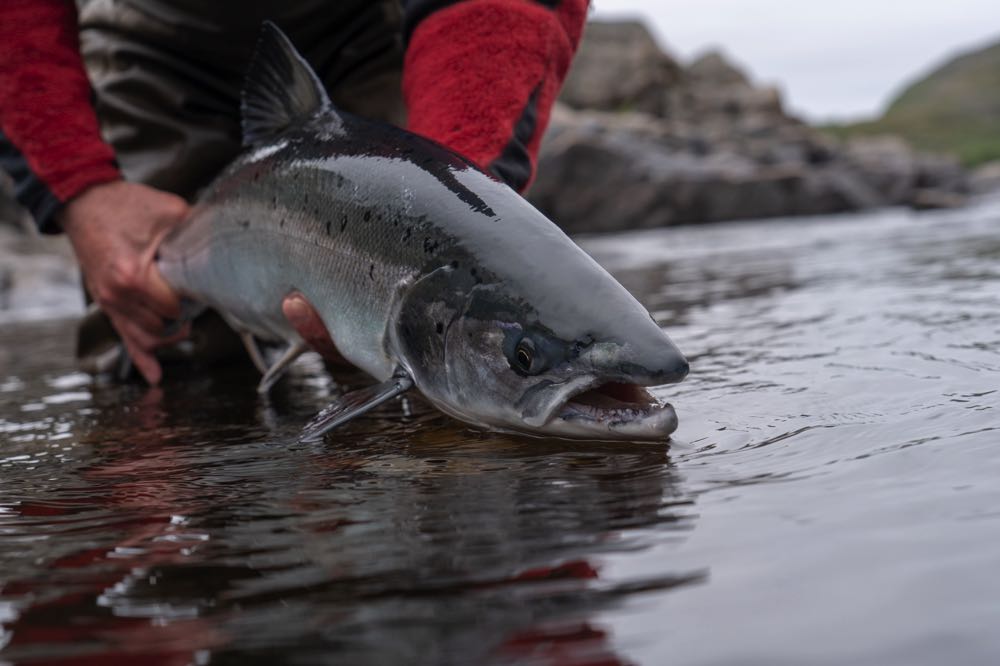 However, I knew that the rod wasn't powerful enough to force them to shore. I had to rely on my abilities to fight fish. This rod will test your angling abilities all while helping you improve them.
This fish can handle pike, bass, and carp as well. You'll feel every head shake and movement of the fish, but you have no need to worry about it surviving. Take your time, give the fish a fair fight and you'll land some impressive fish.
Smaller trout and gamefish are also a blast to catch on the 8-weight. You won't feel like you're completely overpowering them and you can still experience a solid fight. The rod's ability to finesse fish is quite impressive.
Reel Quality
For beginning anglers, setting up a fly reel can be overwhelming. The proper backing, fly line, and leaders all seem to be a bit confusing. On top of it all, you have to ensure you have the proper size arbor. Orvis takes away all of these concerns with the reel on the Encounter.
Order the Orvis Encounter
If you like what you see in this Orvis Encounter review, you can order the rod on Amazon.
Materials
Orvis Encounter reels are made out of composite plastic. For some anglers, this is an immediate "no-no." However, the Encounter is able to withstand saltwater use as a result of its makeup.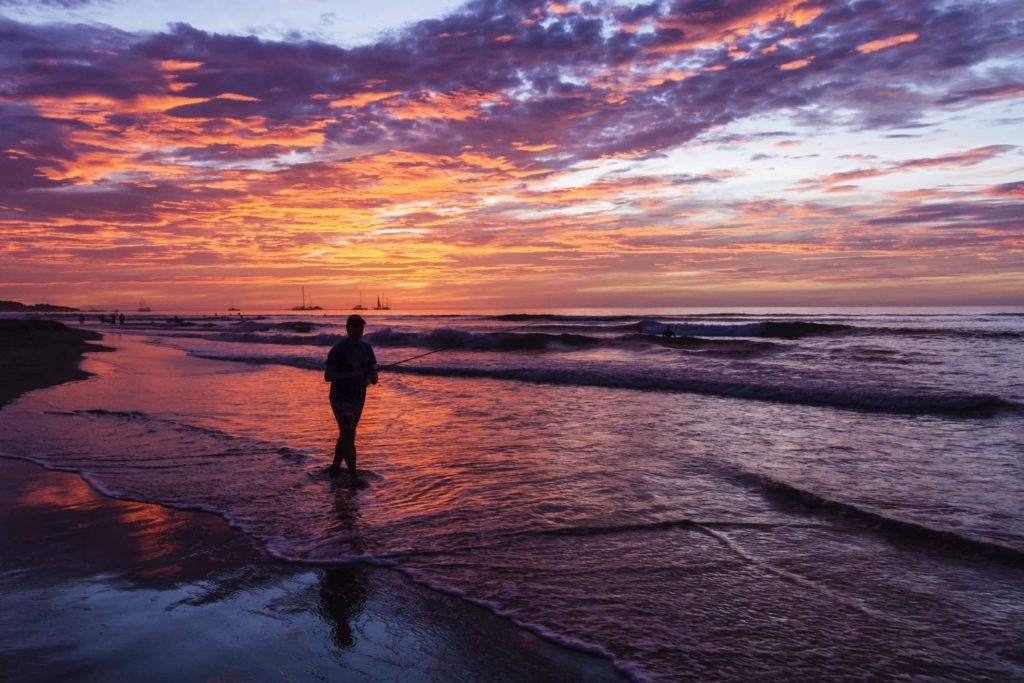 The reel is anodized, and that's fairly rare to find on an entry-level fly setup. However, the reel isn't sealed so you'll need to be sure to clean it if you ever use it in salt water.
Most high-end freshwater reels are made out of aluminum. You can tell that the Encounter reel isn't the highest quality, but by no means does it feel cheap.
Drag System
The Encounter reel comes with a disc drag system as well as a solid drag knob. You can easily set the drag to whatever resistance you need. Plus, you can adjust the drag to a necessary level in the middle of the fight.
Size
The Encounter reel is a large arbor reel and can hold up to 150 or so yards of line. This is enough line for you to fight any sort of larger fish you hook into.
You won't ever have to worry about getting spooled so feel free to let your fish run and tire themselves out. The fight to bring them back is almost worth them taking the extra line.
Line
As mentioned above, the Encounter comes fully equipped with plenty of backing.
It also has weight-forward line attached. For beginners, weight forward is the perfect option. It allows you to fish with everything from dry flies to streamers.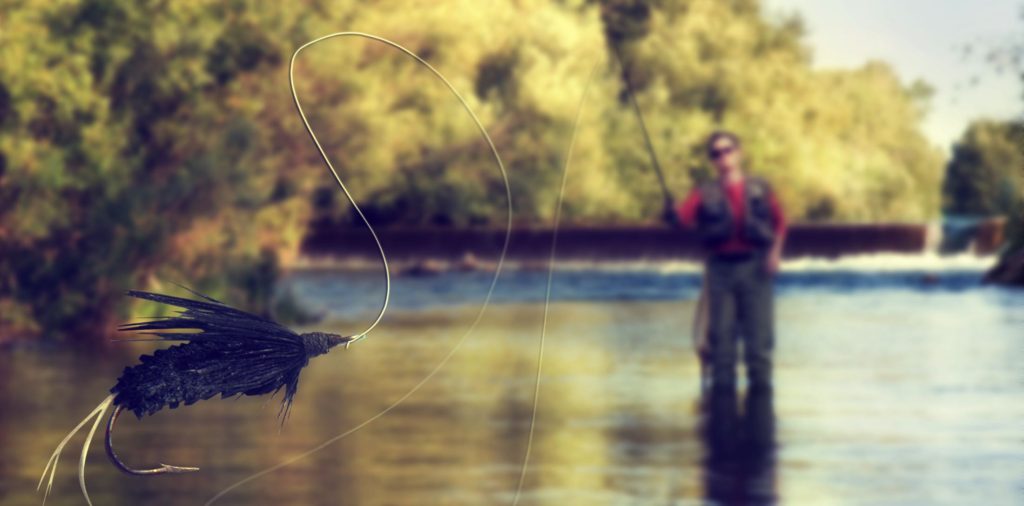 Your dry flies will either need to be a bit heavier or equipped with floatant to keep them on the surface. Eventually, the heaviness of the weight forward tip will drag smaller dries underwater.
For nymphs and streamers, the weight forward line will help them reach the necessary levels, but you may have to wait a bit before they're fully at the bottom.
Plus, you'll receive a few leaders when you purchase the reel. The fly line has a loop at the end and all of the leaders have loop connectors as well.
Orvis Encounter Rod Review
Overall, based on my experience using this rod in a variety of conditions, the Orvis Encounter is a great choice for anglers of all skill levels, but it would work best for those fairly new to fly fishing. It's not in its element on large water with difficult conditions, but it will handle just about everything else.
However, on clear days and medium-size bodies of water, the Encounter will feel right at home. You'll be able to cast 50-60 feet and pick your spots. It can handle larger fish, but not without a long fight.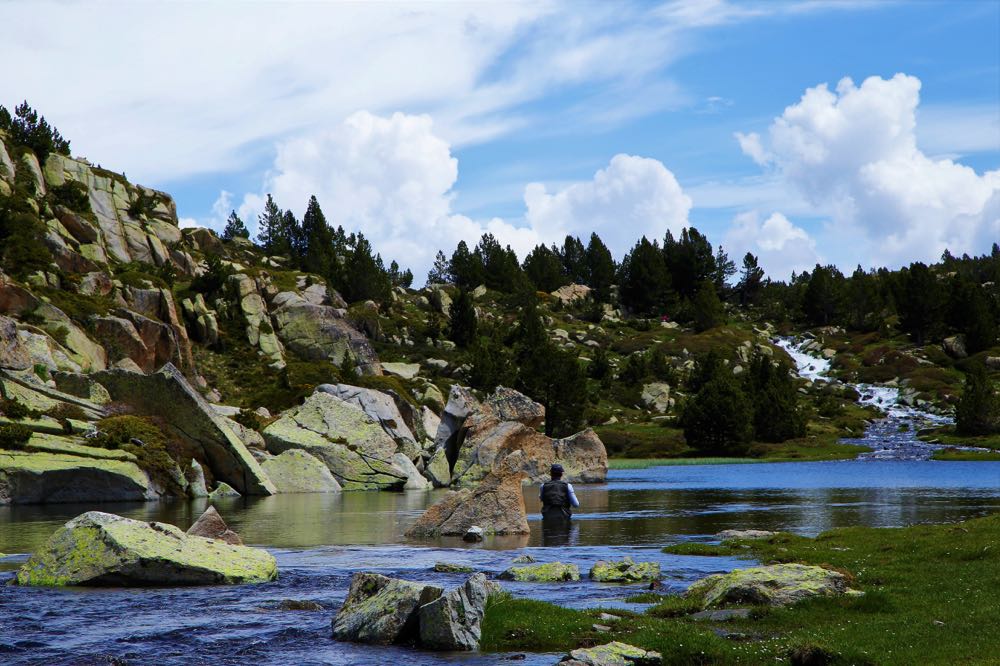 You're going to leave the water tired after using the Encounter. You'll use quite a bit of strength and pressure to get the most out of this rod, but for a newer angler, it doesn't get much better.
Orvis Encounter Reel Review
The Orvis Encounter reel is the best aspect of the setup. On top of the fact that it comes fully equipped with everything you need to begin fishing, it will fight whatever you throw at it.
It's made of a hard plastic and can take a beating. In all my time using it, I haven't had to worry too much about any intricate aspects of the reel breaking. It's a fairly simple setup that has gone above and beyond anything I've asked of it and worked when I needed it most.
Orvis Encounter Review: My Personal Thoughts
To finish off this Orvis Encounter review, I just want to give a few of my own opinions after using the rod and reel combo for such a long time.
Pros:
For a beginner, this rod is great. You'll be able to use it in almost any scenario you'd like. Plus, this setup will only going to cost you around $180 with shipping.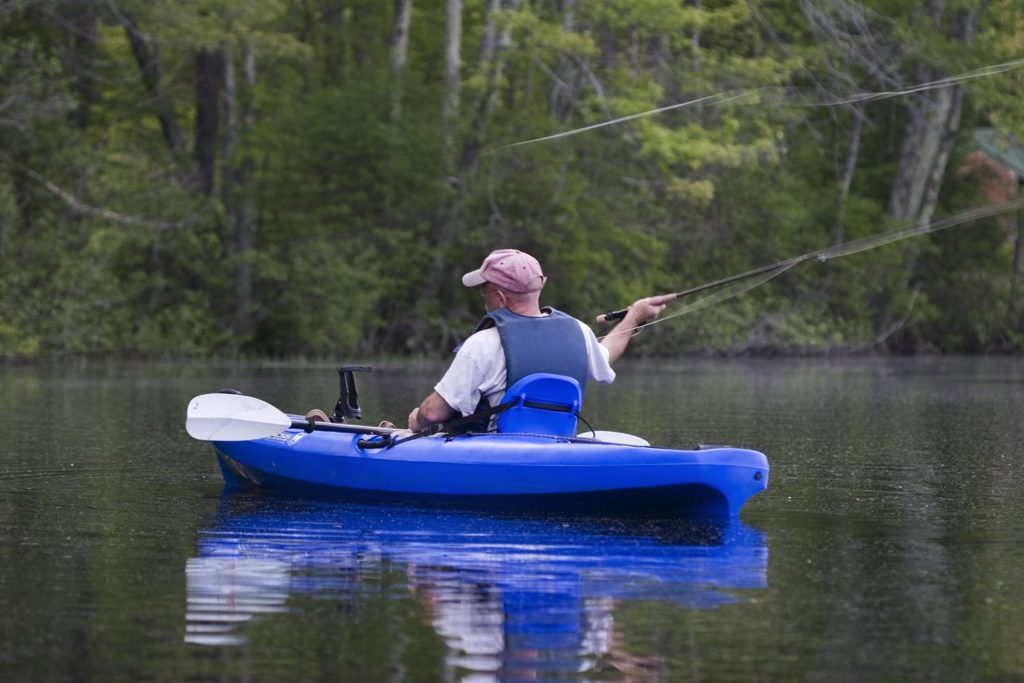 You'll receive everything you need to begin fly fishing, besides the flies. Keep an eye open, because at times Orvis has sales when they include flies in the purchase of an Encounter setup.
Cons:
This rod isn't meant to be the main rod of choice for experienced anglers. It'll do the trick in certain situations, but it shouldn't be the only 8-weight in your arsenal.
I had some trouble on days with difficult conditions. It won't fight against the wind, and I wished the rig had more power. I knew that I'd been casting when I was finished using the Encounter.
Order the Orvis Encounter
If you like what you see in this Orvis Encounter review, you can order the rod on Amazon.
Concluding My Orvis Encounter Review
The Orvis Encounter is a wise purchase for anyone new to fly angling. You'll get a taste of some features of top-notch rod combos, but still yearn for more. It's equipped with enough quality features that you'll gain a strong idea of what you'd like for your upgraded rig.
The Encounter will give you everything it has, and you can have peace of mind that it's going to last.
Some images in this post are courtesy of Shutterstock.com.
Like This Article? Pin It!