Euro nymphing is a growing craze and more and more anglers are searching for the best euro nymphing rod to add to their kit. The best fly rod for euro nymphing is going to be light enough that you can easily control smaller nymphs but is going to be strong enough to haul in the occasional large trout that eats them.
Our Top 3 Euro Nymphing Rods
Sage ESN (Best Overall)
Moonshine Epiphany (Best Value)
TFO Drift (Best Mid-Range)
So, these have to be very versatile rods capable of doing multiple things when in the water. On top of that euro nymphing is also regarded as one of the most successful forms of catching fish.
Compare The Best Euro Nymphing Rods
Prices pulled from the Amazon Product Advertising API on:
If this intrigues you then check out the information below. We're going to cover some information on euro nymphing and we'll also cover the best euro nymphing rod 2021 has overall.
Quick-Look: Best Euro Nymphing Rod 2021
★ #1 Best Euro Nymphing Rod 2021: Sage ESN ★
As an Amazon Associate I earn from qualifying purchases.
What is Euro Nymphing?
Euro nymphing is a technique where the angler holds a sighter off of the water. The sighter is used to detect whether or not a trout has taken their fly.
The sighter is essentially the leader that has been replaced with a euro nymph leader. It is a multi-colored line and allows you to see the line twitch.
It is extremely effective for nymphing and is considered one of the best ways to catch trout when they are holding to the bottom of the river.
Read More: A member or our team, Nick, recently did a Euro Nymphing trip in Portugal. Check out his guide to fly fishing in Portugal here.
Euro Nymphing Rules
The rules of euro nymphing came to be because of the strict rules set in place by fly fishing tournaments. Below, we're going to cover some of these rules to give you a deeper understanding.
No Split Shot
You cannot euro nymph with a split shot on your line. So how are you going to get our flies down quick enough to where the fish are?
Instead, you'll be using a lot of nymphs that feature a tungsten bead head. This allows the fly to sink quickly without having to tie a split shot to your line.
No Strike Indicator
Since you cannot tie anything on your line that would tell you if a strike has bit your fly you'll instead use the multi-colored leader we spoke about earlier.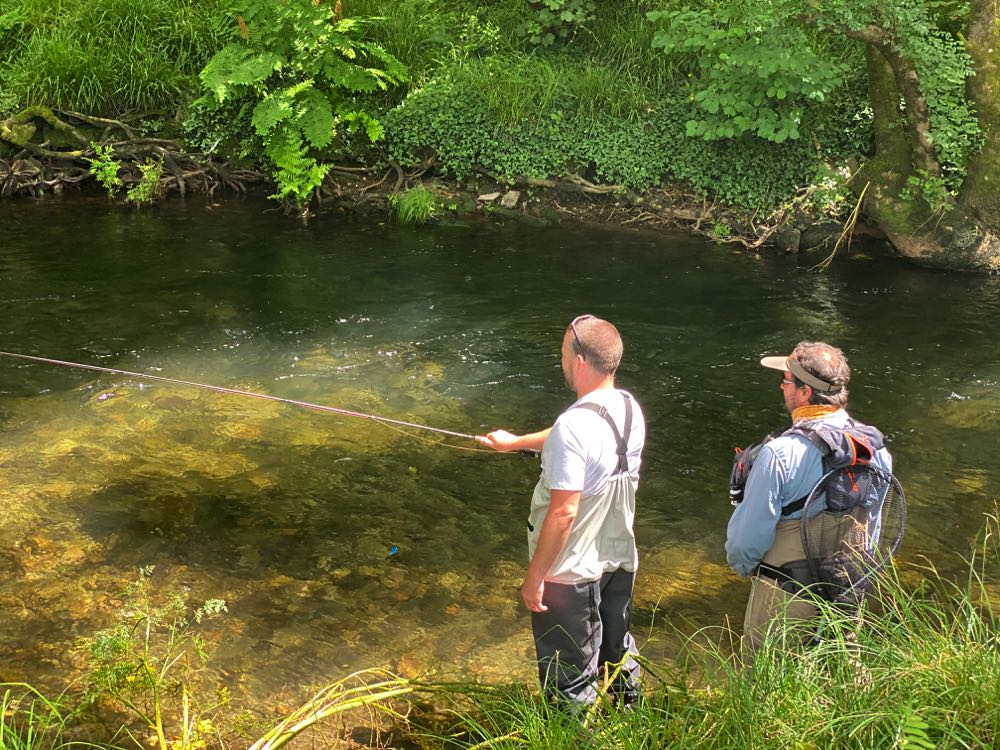 The multi-colored line will sit straight up in the water. The colored lines give you a better line of sight so you can easily detect strikes on your fly.
Nothing can be attached to the leader
Your leader must be completely free of anything. You can only have your fly attached and that's it. So that's why all euro nymphers just use a multi-colored leader.
It allows them to stay within the rules, but they're still able to fish with nymphs. Which all fly anglers know that a trout's main source of food comes subsurface. This way anglers are still able to catch large amounts of many different species of fish.
What Is The Best Weight Fly Rod For Euro Nymphing?
Below, we're going to go over several different weights that can be used for euro nymphing. Take a look and see which one is going to work best fly fishing rod for euro nymphing for you.
2 Weight
The 2 weight euro nymph rod is the lightest that is recommended for the technique. This is ideal if you know that you're going to be throwing extremely small nymphs.
The smaller size is going to help you flick those nymphs out easier. The same applies for landing fish. A 2 weight is not ideal for fishing a river is known for big fish. So this is great for a river with finicky averaged size trout.
3 Weight
The 3 weight is the most common and the best weight fly rod for euro nymphing. You may think that the 3 weight or anything smaller is too light for trout. Especially Browns and Bows.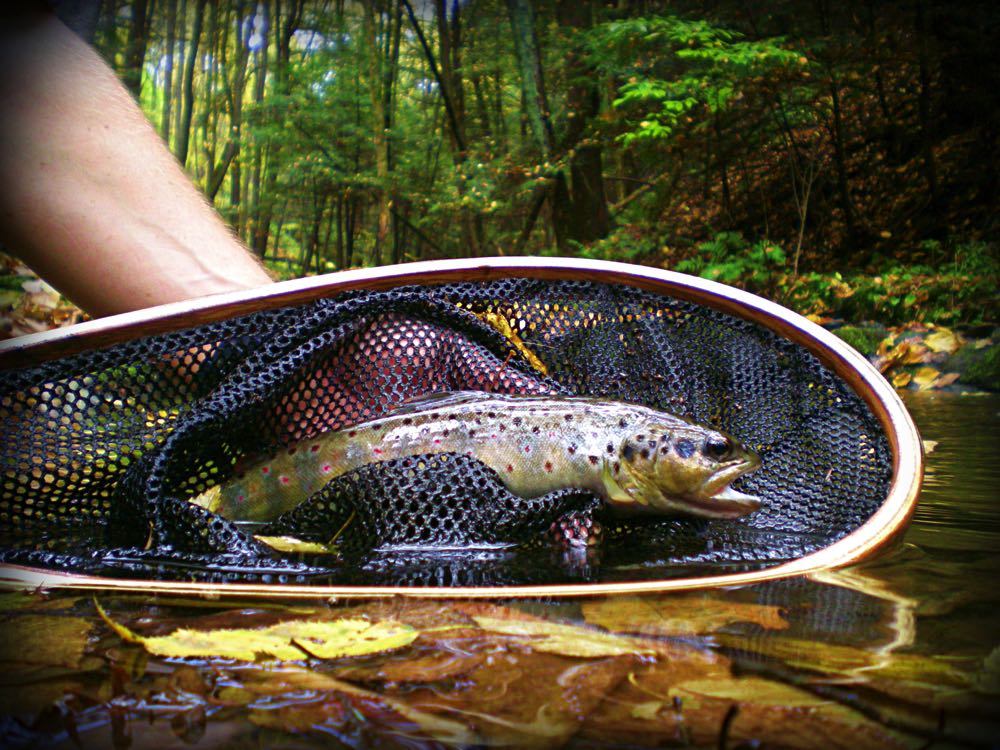 However, a euro nymph rod is not a normal 3 weight. It has extra flex at the tip to help protect the light tippet and lighter rod. Allowing you to fight a larger fish for longer periods of time and come away successful.
4 Weight
The weight of your rod is all relative to the size of the leader you plan on using. If the water clarity is low and you can get away with a heavier leader then moving up to a 4 weight could be the ticket.
The same goes if you know that there are big fish in the river. A 4 weight is going to allow you to throw heavier line and to also put the wood to some big fish that may come out and swipe at your nymph.
Features of The Best Euro Nymphing Rods
Below, we're going to cover some of the different features that make the best fly fishing rods for euro nymphing. Check them out and see which one is going to work best for you!
Length
Euro rods are a little different than normal fly rods. The main difference is that all of them are going to be 10′ or longer. Very rarely do you see a euro rod that is shorter than this.
The reason for this is that the angler needs to get some extra reach when they're fishing. You won't be making long casts. Instead, you'll be flicking your fly the distance of the rod and allowing it to drift in the current.
Tip
You need a rod that has a very sensitive and light tip. This is going to help you detect very light strikes on your fly. While allowing your fly to move as drift-free as possible.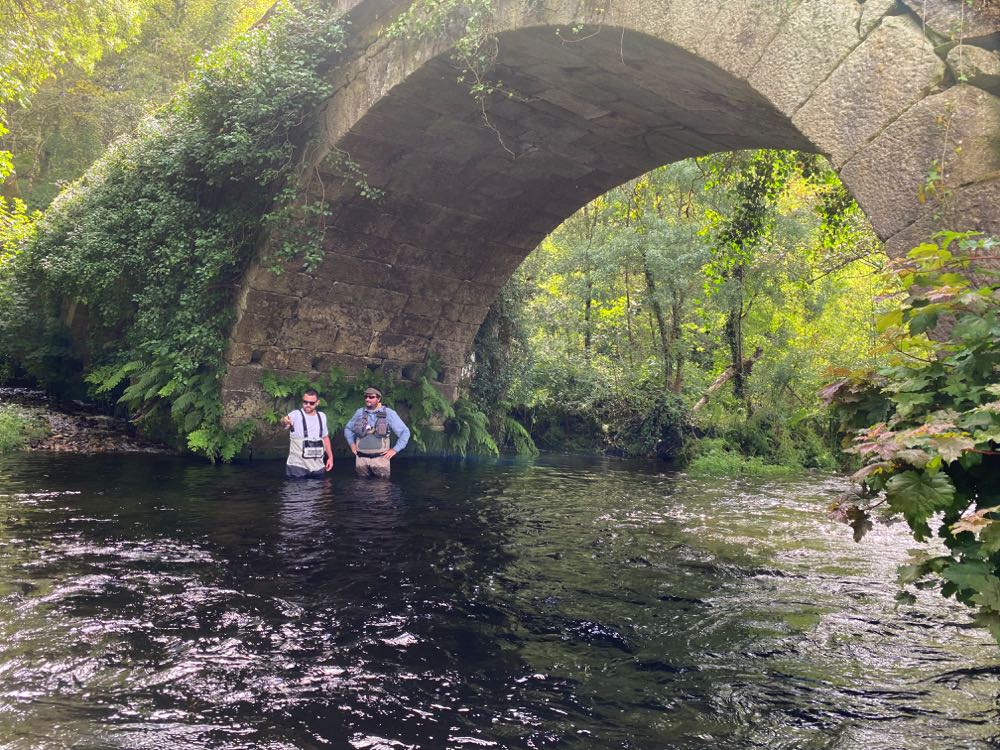 The light tip is going to help you with fighting too. Since your leader will be so small you'll need something that can absorb the shock of a fish running on a 6X tippet.
Action
While the tip of the rod needs to be light and sensitive, you'll find the other 2/3's needs to have a strong backbone. This helps to turn over light flies quickly and in potentially windy conditions. This also helps with fighting fish.
Also, the extra backbone will allow you to fight fish more efficiently. This is what separates a 3 weight euro rod from a normal 3 weight fast action rod.
Best Euro Nymphing Fly Fishing Rods
Below, we're going to go over several different euro nymphing rods. Each of these has their own pros and cons so check out with one will work the best for you. Here are the best euro nymphing rods 2021 has to offer.
Sage ESN
Action – Medium
Pros: Excellent Blank Recovery Rate, High Build Quality, Best on the market
Cons: The price tag.
The Sage ESN (European Style Nymphing) fly rod isn't just the best Euro Nymphing Rod 2021 has to offer, it's likely the best of all-time. This is a top-of-the-line euro nymphing rod built by one of the world's most prestigious rod builders.
Sage has been building beautiful rods since 1980 and the ESN is their first foray into the world of Euro Nymphing-specific rods. The rod makes use of their most advanced blanks with KonneticHD Technology and has a sexy matte black finish.
This KonneticHD Technology may some kind of gimmick, but these rods really do have a wonderfully sensitive feel to them and they are incredibly accurate at a wide range of distances. The blank recovery on the Sage ESN is perfect for Euro Nymphing.
Whether you go for the 10′ 2wt or the larger 10′ 4wt, you'll love the Sage ESN for your euro nymphing needs. It's too bad it also comes with a Sage-sized price tag, but if you can afford it, it's well worth it.
Available Weights:
– 10′ 2wt
– 10′ 3wt
– 10'6 3wt
– 10′ 4wt
Moonshine The Epiphany
Action – Moderate Fast
Pros: High-quality materials, great feel, excellent accuracy
Cons: A bit pricey
The Moonshine Epiphany Fly Rod is a great new addition to our lineup of the best euro nymphing rods of 2021. We just got our hands on this rod late last year and we're currently in the testing phase, but all things are looking great so far.
The cork handle is extremely high quality and the rod uses premium titanium stripper guides. The feel in hand is incredibly light. You can fish 6-8 hours a day with this rod and have no arm fatigue, particularly in the 2 weight version.
There will be a Moonshine Epiphany Fly Rod Review published very soon on the site and we'll also be doing a hands-on review of the rod on our YouTube Channel so make sure you subscribe and stay tuned to the blog!
Available Nymphing Weights:
– 2wt 10'4″
– 3wt 10'6″
– 4wt 10′
Echo Carbon XL
Action – Medium Fast
Pros: Well balanced, affordable price, fishes true-to-weight
Cons: Less quality in the finish than some more expensive rods
The Echo Carbon XL is the standard medium-fast action euro nymphing rod. The rod gives you a great balance of power, action as well as keeping the price in a range that most can afford.
While it is mainly used for euro nymphing it is also versatile enough to throw dries or nymphs with an indicator. Allowing you to switch it up and fish different styles.
Available Nymphing Weights:
– 7'3″ 2wt
– 7'6″ 3wt
– 8'4″ 4wt
– 9′ 4wt
Maxcatch Nymph Rod
Action – Medium Fast
Pros: Amazing value, 3-year warranty
Cons: Hard to think of any.
The Maxcatch Nano Nymph is a great rod for someone who is looking to start out euro nymphing. The price is under $100 meaning you don't have to invest too much money into it in order to start.
The rod itself is pretty good considering the price point. It is easy to cast and has a tip that will allow you to feel the most subtle bites from trout. While having a strong enough back end to haul in any big fish.
Available Weights:
– 10′ 3wt
– 10′ 4wt
Orvis Clearwater
Action – Medium Fast
Pros: Good value, High-quality build
Cons: A bit pricier
The Orvis Clearwater is one of the most recognized names in trout fishing. The Clearwater brand is known for producing great rods without having the angler break bank in order to purchase one.
The newer clearwater also has increased strength. Giving you the ability to easily cast your euro nymph set up while also being able to consistently fish in the current.
Available Weights:
– 10′ 2wt
– 7'6″ 3wt
– 10′ 3wt
– 7'6″ 4wt
– 8'6″ 4wt
– 9′ 4wt
– 10′ 4wt
TFO Drift
Action – Medium Fast
Pros: Great value, versatile for nymphing & tenkara
Cons: Guide wraps could be cleaner.
The TFO Three Weight is TFO's most versatile and innovative fly rod they've ever designed. It is made specifically for euro nymphing but can also handle throwing dries or nymphing under an indicator.
The tip is extremely sensitive allowing the angler to differentiate between a subtle take or the tick of the bottom of the river. The light tip allows you to easily cast light tippets and lighter flies.
Available Weights:
– 9′ 4pc 3wt
– 10′ 5pc 3wt
– 11'3″ 5pc 3wt
– 12′ 6pc 3wt
Best Euro Nymphing Rod Combo
Below, we're going to go over a great fly rod combo. This will help you get out onto the water quickly without having to worry about buying everything separately.
Cortland Competition Nymph Rod
The Cortland Competition Complete Nymph Rod Set is a great nymphing fly rod for any angler. A beginner could easily take this straight out of the box and take it straight to the river. It's equipped with a balanced fly reel as well as fly line.
It's also a good enough rod that a seasoned euro nympher could use this without missing a beat. There may be better setups out there, but there are few better combos.
Read More: Best Fly Rod Combos (Buyer's Guide)
Review This Post
Conclusion
Euro nymphing is a great way to go out and catch a lot of fish. It is extremely effective and every fly angler should have it in their repertoire.
Now that we know a little bit more about it you should be able to confidently order your fly rod and have it in the mail within a couple of days. Like Christmas for anglers! 2021 Euro Nymphing rods are the perfect gift for any angler!
Some images in this post are courtesy of Shutterstock.
Like This Article? Pin it!