Fly tying wire has become more popular amongst the tying community. More and more people are beginning to see all the benefits of weighted flies as well as the improvement tying wire has made.
Many different companies are now coating their wire with coats of varnish. This helps prevent tarnish and will also allow the wire to retain their color for longer periods of time.
So, if you're interested in learning more about fly tying wire then check out the info below. We're going to go over some features you should look for as well as a few different products.
As an Amazon Associate I earn from qualifying purchases.
What is Fly Tying Wire?
Most of the wires you'll find out there are going to be made of copper. However, some flies that you want to be really heavy will be tied with lead. These are usually Czech nymphs.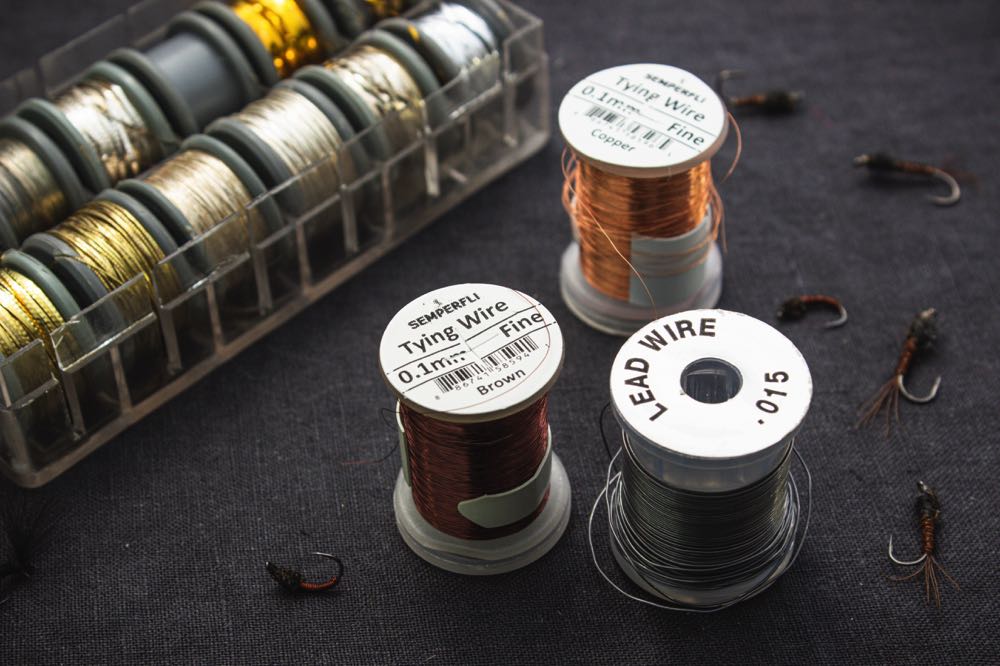 The copper and lead wire will be wrapped around the shank of the hook and will be used to help weight the fly down. This gets it deeper in the water column and can help with casting further.
After it's been wrapped around the shank, it can be used as-is, or thread, hackle, or anything else you need on your fly can be tied around it.
When To Use Wire
Most flies that require some sort of weight to them will require a wire be tied around the shank of the hook. The Copper John is probably the most well-known wire fly, but Wooly Buggers receive wire too.
For the wooly bugger, this is used to help the fly sink and get down to the strike zone in the water column. This allows you to stop a fly in and not have it come shooting out the water if you're using a floating line.
The wire can also be used as ribbing on both dry flies and nymphs. They make a light wire so that your dry fly won't sink and heavier wire will be applied to flies that need to get down deep quickly.
Types of Wire
Below, we're going to go over several different types of wire. Each of them will affect your fly differently. So, take a look and see which one will work the best for the flies you prefer. Better yet, make sure you have a variety of wire on your tying bench.
Fly Tying Wire Diameter
Typically when you purchase fly tying wire you'll be looking at the thickness of the wire. A larger diameter wire will help you to tie ribbing for larger flies or if you want more segmented bodies in your smaller flies. Here are some common sizes for fly tying wire:
.1 mm Wire
If you're going to be tying very small nymphs or dry flies, then this is the best wire for you. Ideal for use on flies that you plan on taking out to target fish on streams with smaller insects.
.2mm Wire
This is the best wire for fly tying when tying most nymphs as well as streamer patterns. The size works well because it's not too bulky, but is heavy enough to give those flies some weight.
.3mm Wire
Ideal for trying flies such as large streamers, as well as predator fly patterns. If you want something big and is going to sink quickly then this is the wire that you should be using.
.5mm Wire
This is a great wire to use for ribbing or for adding extra weight to a fly. It can be used on just about any type of fly including those meant for saltwater.
Wire Materials
Basically you'll have two main materials that your fly tying wire is made of. In some cases, these will have coatings and different densities to help the fly look more natural in the water, but generally, your wire will be made of either lead or copper.
Lead
Using a lead wire is going to allow you to throw heavy flies for distance as well as get them deep in a hurry. You don't have to worry about attaching a split shot with this.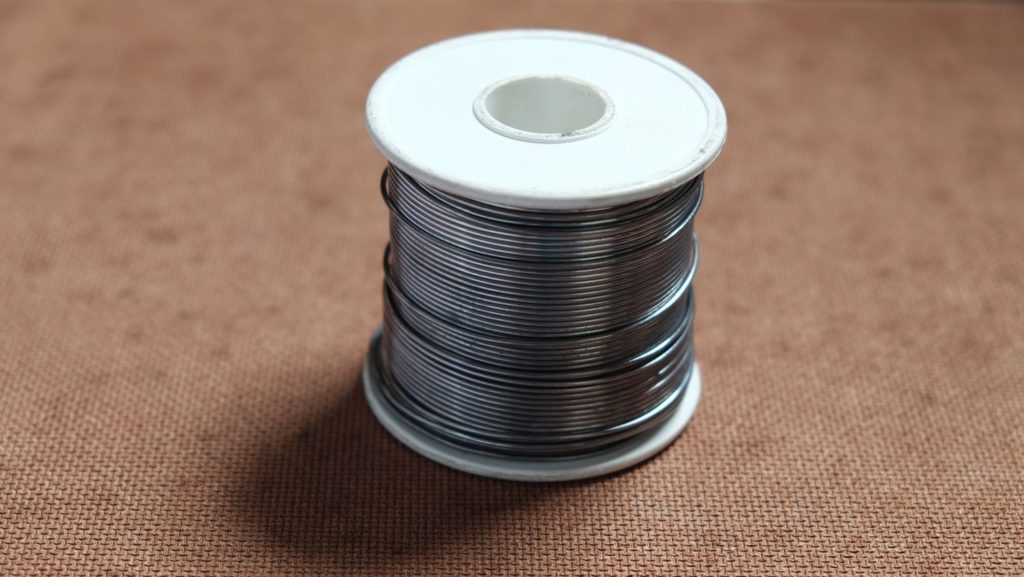 Lead has also gotten a bad reputation in terms of harming animals and the ecosystem. This is the reason that lead shot is no longer used in shotgun shells. So, keep that in mind when using this on your flies.
Lead-Free
Some places won't allow lead flies in the water for obvious reasons, in those cases it may be worth having a few synthetic lead-free wire flies in your fly box. If it's weight you're after, lead-free wire can be as much as 60% denser than lead.
Copper
Easily the most popular wire and arguably the best wire material used for fly tying and for good reason. It is easily found in just about any store that carries fly tying gear and is easily manipulated for tying.
It can also be found in many different sizes. So you can adjust the size based on the fly you wish to tie without having to search all around.
What Makes a good Fly Tying Wire?
Below, we're going to go over a few different features of fly tying wire. Each of them should be something you consider when purchasing your own wire.
Color
You should be thinking about what color of fly you would prefer. Sometimes that can make all the difference between a good day and a bad day out on the water.
The good news is that if you want to tie a fly with some color to it then they will almost certainly have a wire that matches it.
Here are some of the colors you may find in good fly tying wire:
Black
Gold
Pinks
Brown
Silver
Red
Green
Chartreuse
Blue
Size
If you want to throw flies that get down deep quickly without the use of a split shot, then a nice heavy wire is going to do the trick. The opposite applies for small dries and nymphs.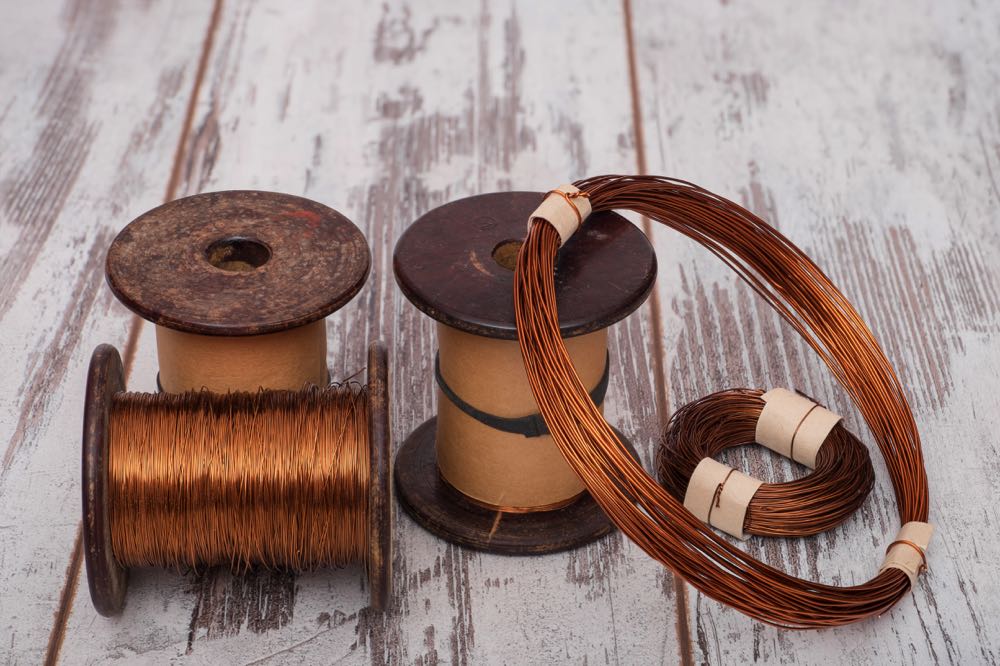 Make sure to take into careful consideration when picking out the size of your wire. The wrong size and you could wind up with a completely different fly than you intended on tying.
Best Fly Tying Wires
Below we're going to go over three different types of wire used in fly tying. Each of them will have their benefits and drawbacks to make sure you know what kind of fly you plan on tying before purchase.
Hareline Lead-Free Wire
Size: 0.02-0.035
Length: 4 yards
Material: Lead-Free
If you enjoy using lead but maybe your local laws don't allow you to use it then lead-free wire could be the way to go. The Hareline Lead-Free Wire also comes in five sizes and is 60% more dense than lead.
Temorah 10-Color Copper Wire Set
Size: 0.3
Length: 10.5 yards
Material: Copper
The Temorah Copper Wire comes in ten different colors so you'll be able to tie a fly whatever color you need. This also features a large diameter spool which will help keep the spool from unraveling.
Riverruns 6-Color Copper Wire Set
Size: 0.1-0.2
Length: 20-33 yards
Material: Copper
Riverruns Copper Wire comes in twelve different colors and two different sizes. This set of copper wire is ideal for any fly tyer out there. These are great for beginners, but can also be utilized by seasoned anglers and tyers too.
Conclusion
It can be a little overwhelming when first starting to tie flies. Hopefully with the information above you feel like you have enough info gathered you can pick some out for yourself.
Now, head on out to your local fly shop and pick some up some of the best wire material for fly tying!
Some images in this post are courtesy of Shutterstock.</em
Like This Article? Pin it!