The best fly boxes are generally slim, waterproof, and large enough to hold everything you need.
The size is important because not all flies are the same. You need larger fly boxes for streamers and smaller fly boxes for dries and nymphs.
Compare Fly Boxes
This blog is reader-supported. As an Amazon Associate, I earn from qualifying purchases.

Image
Title
Best For
Price
Buy

Top

Top

Outdoor Planet 72 Fill
Best Overall
Buy Now

Top

Tacky Original
Runner Up
Buy Now

Top

Aventik Streamer
Best Large
Buy Now

Top

Maxcatch Waterproof
Best Waterproof
Buy Now

Top

SF Slim
Best Slim
Buy Now
Product prices and availability are accurate as of the date/time indicated and are subject to change. Any price and availability information displayed on [relevant Amazon Site(s), as applicable] at the time of purchase will apply to the purchase of this product.
Prices pulled from the Amazon Product Advertising API on:
A good fly box may not be the most important piece of an angler's fly fishing gear, but it's still vital that you get the right fly fishing box and the right flies for the type of fishing you'll be doing.
Having a fly box that fits your needs with the correct dimensions to fit in the pocket of your fly vest or fly pack is crucial for a day out on the water. Having a streamer box full of nymphs is overkill, and a small fly box full of streamers just doesn't make sense.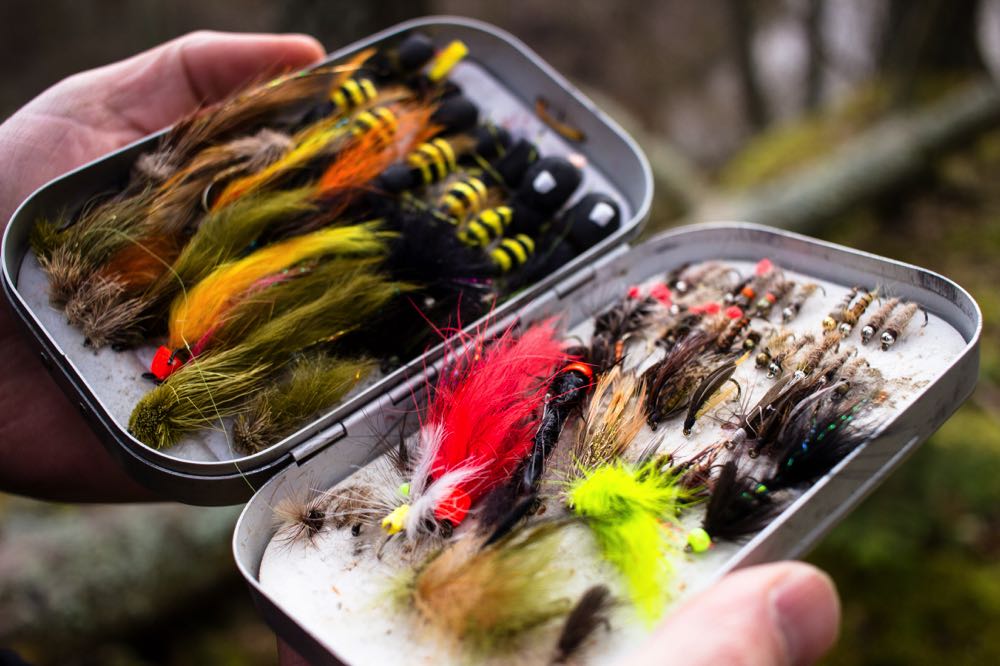 You'll also want a box that makes it easy to organize your flies and keep them at the ready for a quick switch and a cast when the fish are rising but not biting on your current fly.
So, below I've listed five of the best fly boxes that you can use to carry your flies and help improve your success out on the water.
I've also included three of the best fly boxes on the market that come pre-filled with the essential flies you'll need for fly fishing.
The Best Fly Boxes 2022
Whether you're fishing nymphs or streamers, salt water or fresh water, size 2 or size 20, you'll find the best fly boxes for you on the list below. Every angler has multiple fly boxes for different occasions, so I've included a variety below.
1. Aventik Streamer Fly Box
Pros: Made of tough and durable materials. The foam has a rust inhibitor.
Cons: While the box may be strong, the hinges are not durable. Can lead to breaks
The Aventik Streamer might be the best streamer fly box. It can be used to hold salmon flies, large Wooly Buggers, saltwater flies, and streamers. It's also very deep, 3.35″, so it can handle some of the larger flies that you plan on throwing.
The cover is made of tough and durable polypropylene, which is great for anglers who are tough on gear. The measurements of the box are 14″ x 11″ x 3.35″, giving it a decent size without it being too big and bulky.
You'll also find that the box contains three different foam slits you can use to insert and then store your flies. The foam inserts have an adhesive on the back so that they be easily placed inside and will stay there.
The foam on the inserts also has a rust inhibitor. This helps protect your hooks and flies from rust and corrosion. The box also comes in three different colors: grey, yellow, and olive.
This also might be the best saltwater fly box and one of the best all around large fly fishing boxes on the market in 2022.
2. Outdoor Planet Fly Box
Pros: Great price, small enough to keep in your pocket
Cons: Not ideal for larger flies, and the foam doesn't have a rust inhibitor
The Outdoor Planet Fly Box is sealed with a silicone ring, giving you an airtight box that won't let water in. On top of keeping your flies dry, the box also floats, so you can grab it before it makes its way to the bottom of a lake or river.
The box is large enough that it can hold up to 100 flies. Granted, those flies are mostly nymphs and smaller dries, but the option is there to hold that many if needed.
Its measurements are 5″ x 3.3″ x 1.6″. It's large enough to hold some streamers, but not ideal for larger streamers that could be used on saltwater fish, pike, muskie, or other large game fish.
The plastic is durable enough that it should last you for several seasons before it needs to be replaced. It's ideal for either the weekend warrior or just the causal angler who doesn't want to break the bank.
Because the slots are nice and small in this box, it may also be the best midge fly box or the best nymph fly box on this list.
3. Maximum Catch Two-Sided Waterproof Fly Box
Pros: Comes in various sizes so you fit multiple flies. Completely waterproof
Cons: Latches can be loose, and the slits aren't deep enough for larger flies
The Maximum Catch Two-Sided Waterproof Box is one of the best waterproof fly boxes. It's sealed with silicone gaskets to ensure that water stays out. It might be the best dry fly box. It's ideal for the angler who fishes from a boat where water can splash or the fly fisher who enjoys wet wading.
The box is made of shock absorption plastic. The ABS plastic is strong and tough, so it can take a beating when out on the water, allowing you to use it season after season without issue.
A double clear lid lets you easily see which files are where. This way you don't have to open a box and go through each row to find what you need. It's easily distinguishable.
The high-density foam holds flies in place, giving you enough space to store as many as you need. The issue is that slits are not very deep, so larger nymphs, dries, and streamers won't be held in place very well.
4. Tacky Original Fly Fishing Box
Pros: Double-sided box can hold 330+ flies. Strong and tough
Cons: No closing latch. Can be too long
The Orvis Tacky Original was a tough box to find something negative on. While there's no closing latch, that doesn't mean it doesn't have a strong hold. It utilizes magnets instead, making it easier for you to open as well as close.
The silicone pads allow you to organize your files however you want. It holds your flies extra tight, doesn't absorb water, can withstand vast temperature swings, and is super durable. So, it won't get torn up by your hook points.
The shatter-resistant construction is ideal for every angler. It doesn't matter if you're a guide, a hardcore weekend angler, or just the novice who enjoys getting out a few times when the weather is nice.
This double-sided box can hold up 336 flies, which gives the angler no excuse that they don't have the right fly for the day. With the double-sided box, you'll have enough room to bring what you need.
5. SF Super Slim Fly Fishing Box
Pros: Slim and lightweight
Cons: Not ideal for larger nymphs, dries, or streamers. Not waterproof
The SF Super Slim box is intended for midges and other small flies. Larger dries or streamers can be held in this box but would be matted down, and the foam isn't able to hold the flies in place, causing them to be thrown around.
That being said, this box wasn't made to hold those types of flies. It was made small and holds small flies. So, its purpose is perfectly fulfilled. It would be ideal for the nymph or small fly angler.
It's very lightweight and effective in holding the flies it's meant to hold. It's perfect for the angler who enjoys minimalist fishing or wants to keep their gear as light as possible. It might be one of the best fly boxes for nymphs on this list.
In terms of price, it might be one of the best fly boxes for 2022. It's a barebones fly box. It won't break the bank, and you'll be able to carry out some great nymph patterns to the water. It's great for all levels of fly fishers.
Best Pre-Filled Fly Boxes
Oftentimes, the best way to buy a fly box is to purchase one that's already filled with the proper types of flies for the box. Usually, you don't have to pay much more for a pre-filled fly box, so it's also a better deal to buy them this way.
Barnsley Fly Box + 100 Assorted Fly Fishing Fly Kit
Pros: Slim, great fly selection, high-quality flies
Cons: Not ideal for people with larger hands
The Barnsley Fly Box + 100 Assorted Flies includes a Barnsley Aluminum Slotted Foam Fly Box in a gunmetal color. You'll also get 50 dry and Parachute flies, as well as an assortment of 50 nymphs, Beadhead Nymph, wet, scud, streamer, and worm flies.
The box material is good and sturdy, but the foam lines are a bit tight together, which makes it harder to retrieve your flies from the box, particularly if you have larger hands.
Piscifun 40pcs Wet Flies Fly Fishing Flies Kit
Pros: Very small and compact, bright color to avoid being lost
Cons: Some of the smaller flies are lower quality, but great for the price
The Piscifun 40pc Wet Fly Set is a great pre-filled fly box for beginners. There's an assortment of sinking flies with five flies in each color pattern. The vivid colors make these attractive to fish in murkier waters.
The flies are all on #10 hooks and are hand-tied by the Piscifun professionals. These will be great flies to use on a river when fishing for brooks, rainbows and browns, and while there have been complaints that some of the flies fall apart after considerable use, that's to be expected for the price.
Fishing on the Fly Essential Flies for Trout
Pros: Great value, high quality flies and fly box
Cons: Slightly heavy
The Fishing on the Fly Essential Flies For Trout is a great, compact, waterproof fly box that comes with 32 tried, tested and proven trout flies. These are the most popular flies on the market for trout, and they're very effective.
The fly sizes in this box range from size 10 to size 16. The kit includes some dry flies, terrestrials, nymphs and streamers, meaning that you can use this same box for pretty much every fishing season.
Each fly is hand tied to match the hatches of different insects, and they all use high-grade materials. The box itself is also a great value. This is the best pre-filled fly box on this list.
What Makes the Best Fly Fishing Boxes?
There are several different factors that come into play when you're selecting your fly fishing box. You need to know how durable the outer box is, how many flies the box can hold, what types of flies it's meant to store, and if it's waterproof.
Below, I'll go over each of these in detail to help you figure out which features will make for the best fly fishing tackle box for you.
Durability
There are two different aspects you should look at when thinking of fly box durability. First off, is the case itself strong, durable, and shatterproof? Many ABS plastics are this way and should be the first thing you look for.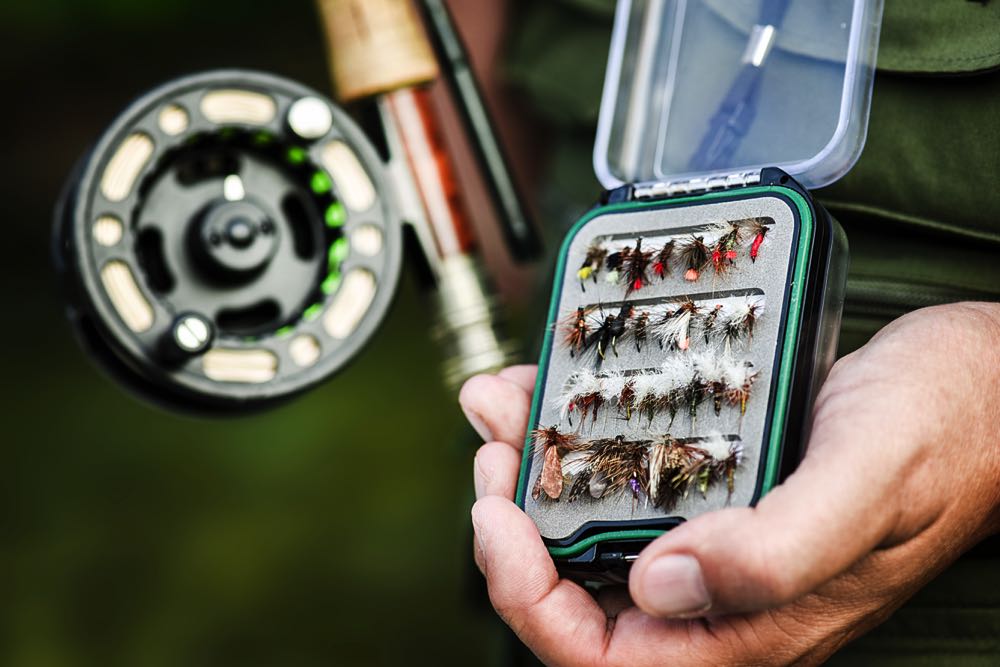 The inside of the box has foam that will hold your flies in place. If this foam isn't strong, then the hooks of your flies will eventually tear it up. Look on the label of the box for enhanced foam.
Capacity
This correlates to the size of the box, but not all the time. Many streamers boxes are very big, but can't hold hundreds of flies. Know what type of flies you like to throw, and then figure out how many you need for fishing.
Knowing this will allow you to have the perfectly sized box for fishing. Also, ensure it's not anything too big. This way it can fit comfortably in your waders, pocket, or fly vest.
Waterproofing
Having a box that's waterproof is great but not needed. Accidents can happen, but if you're mindful then your box shouldn't fall overboard.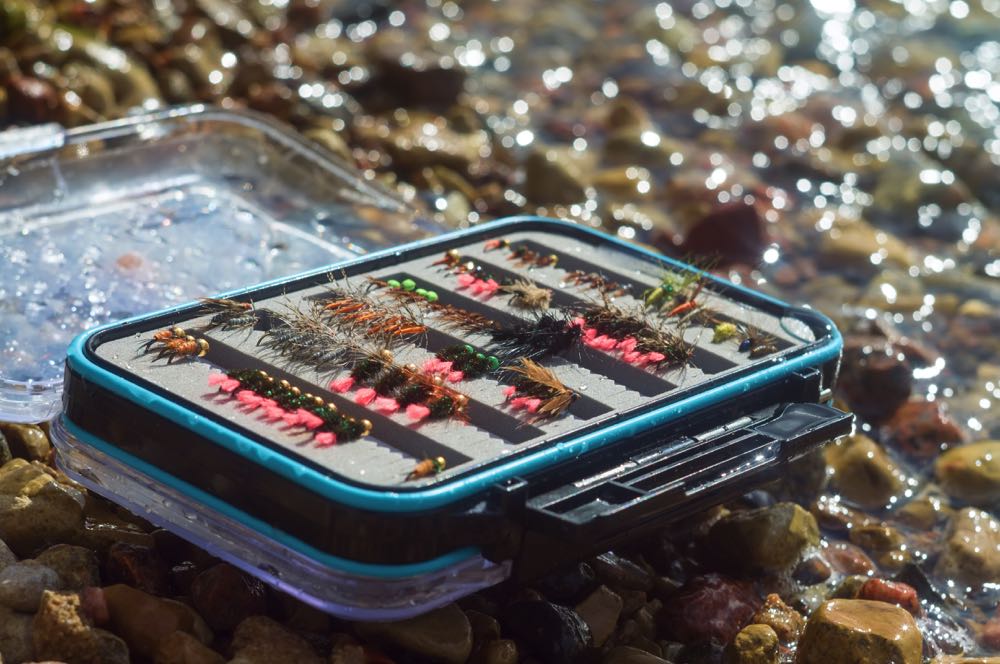 If this is something that happens to you a lot or you just want to be safe, then you're in for good news. Most boxes are already waterproof. This helps protect your flies from rust and corrosion so that they don't break as quickly.
Types of Flies It Can Hold
What kind of fishing are you doing? Throwing saltwater streamers? Or drifting midges? Or do you need something in between? Figuring out what type of flies you'll be throwing and correlating the box size is key.
A bunch of midges in a streamer box is silly, a waste of space. Same with jamming a bunch of streamers inside a box made for nymphs and small dries. Look for something to match your fly sizes to.
Review This Post
Conclusion
Having a good fly box can make all the difference out on the water. The right size, paired with durability, will keep you from wasting money on more and more boxes.
So, head on down to your local outfitter, or order one online. Having a great fly box that meets your needs will only make your time out on the water more enjoyable.
Some images in this post are courtesy of Shutterstock.com.
Like This Article? Pin It!