The best fishing kayaks for under $100 will allow you to get out and fish wherever you want. They can be used in choppy ocean water or can let you navigate a tiny river that snakes through the countryside.
QuickcLook: Best Fishing Kayaks Under $1000
★ #1 Best Fishing Kayak Under $1000: Vanhunks Boarding ★
It can hold all of your gear and give you the ability to cast with ease. This is especially important if you plan on fly fishing from a kayak.
So, if you're looking for a kayak for under $1000, check out the article below. I'm going to talk about some different products as well as some different features of kayaks for under $1000.
Disclaimer: IntoFlyFishing.com is a participant in the Amazon Services LLC Associates Program, as an Amazon Associate I earn from qualifying purchases. Please see our Privacy Page for more information.
Best Fishing Kayaks Under $1000
Below, I'll go over ten different kayaks that can all be utilized for fishing. Check out the list below to see which one is the best for you and all of your fishing trips.
Lifetime Tamarack Angler
Dimensions: 10′ L 31″ W
Pros: Adjustable footrests and back
Cons: Not as stable, making it difficult to stand and cast
The Lifetime Tamarack Angler is a great kayak for a beginner to start off with. The price is great and most people will be able to afford it. It also has enough space for all of your gear as well as some extra items that you might want to bring.
The sit-on-top style lets you have as much space as you need for moving around gear or getting comfortable. It also makes it easier to access your gear, too.
The adjustable padded seat back and footrests ensure that people of any size can fit comfortably in this kayak. You can also adjust it if you want to just sit farther back without having to worry about the footrests.
You'll also find front and rear T handles. These make it easy to transport from your car to the lake or river. There is also a paddle keeper, which ensures you won't lose one of the most important parts of a kayak.
Intex Excursion Pro Kayak Inflatable
Dimensions: 12′ 7″ X 3′ 1″ X 1′ 6″
Pros: Easy to transport and is a two-person kayak
Cons: Not the most durable and it's difficult to put in the pack when deflated
I've never had a good experience with a blow-up kayak. I understand their purpose and know that they have a very important use in the world of fishing and kayaking.
That being said, this seems like one of the better ones out there. It's easy to blow up and can have you going from the car to the river in no time at all.
It's great for people who may not have enough room to store a normal-sized kayak. They need something that can break down and be smaller. It's ideal for someone living in an apartment or a small house.
The Intex Excursion Pro Kayak Inflatable has two seats, so two people can fit in it. If going solo, you can use the back of the kayak as an area for gear storage.
Pelican Sit on Top Kayak
Dimensions: 114″ X 30″ X 13.5″
Pros: Stability, and small so it's great for smaller waters
Cons: The maximum weight capacity is low, coming in at 275 pounds.
The max capacity of Pelican Sit-on Top Kayak is low, but that's to be expected for such a small kayak. An angler who weighs 250 might want to find something different if they plan on bringing a lot of gear.
The flat bottom of the hull allows for easy casting and great stability. I'd still be careful if you plan on standing and casting, but an angler with great balance may be able to pull it off.
It's also very lightweight, coming at 44 pounds. It's great for someone who may not be able to haul an 80-pound kayak to and from their car to the bank of the river. It's also great for storing back home.
For the price, this kayak is very durable. A quick rinse off and the occasional scrub down with soapy water will keep this kayak looking new and performing better in the water.
Vanhunks Boarding Black Bass Kayak
Dimensions: 13′ X 32″ X 13″
Pros: Comes with a rod holder and has great stability
Cons: Heavy and difficult to move on land
The Vanhunks Boarding Black Bass Kayak is the best kayak under $1000 on this list. It can handle mild saltwater conditions as well as lakes and rivers. It has great stability, so if you have the balance then you'll be able to stand up while casting.
It's long, so you'll have plenty of room for both yourself and for all of the gear you plan on bringing. There's also a nice little dry storage area right behind the seat where you can place a phone, wallet, or keys.
The weight and size of the kayak make it difficult to move on dry land. If you're not strong enough to handle a kayak of this size, then you can purchase a rack with wheels that you can use to take the kayak from the lake to your car.
It has great hull quality, allowing you to stay dry even in some mildly choppy conditions. For the price, this is the best kayak for fishing under $1000.
Perception Pescador Pro 12
Dimensions: 10′ X 32″
Pros: Good max capacity for the size and a mesh chair will help keep you cool
Cons: Poor straps and buckles. Heavy use will ensure they need to be changed out frequently.
If the Vanhunks is the best kayak on this list, then this is the second best. It's also a little bit cheaper than the Vanhunks, so if you have a razor-thin budget then this is a great option.
The mesh seat is great when fishing out on those hot summer days. No more sweaty back from sitting in a seat that has no ventilation. The mesh allows your back to breathe, so you can be more comfortable.
The Perception Pescador Pro 12 is great for fishing fresh water, but I wouldn't recommend taking it out into salt water or choppy conditions on big lakes. It simply won't be able to handle the rough water, and you could wind up drenched.
There are tons of storage spots on this kayak. You can easily bring all of the gear that you need because this kayak will be able to haul all of it.
Perception Rambler 13.5′
Dimensions: 13.6′ X 3′
Pros: Great capacity, allowing you to bring along everything you need
Cons: Heavy and can be tough to bring back and forth
This kayak has an additional molded seat that allows you to fit in either a dog companion or a human friend. At 13.5 feet, it's a pretty spacious kayak, especially for under $1,000. (This one is well under that price.) As far as fishing kayaks under $1000 go, this is easily one of the best for 2023.
The Perception Rambler 13.5′ kayak is also large and heavy. So, it could be difficult to transport either to your car or from the car to the water. Luckily, there are plenty of tools out there to help you transport your kayak.
I wish there were a few dry storage compartments in this kayak, but there aren't. So, if you need to bring something that must be kept dry, then a waterproof bag is your best bet.
The adjustable straps are great on the seat and will ensure you're comfortable. Actually, the molded seats are pretty comfortable as well.
Wilderness Systems Atak 120
Dimensions: 12′ 3″ X 31″
Pros: Great stability and storage
Cons: Price
The Wilderness Systems Atak 120 is a very fast and efficient kayak that has great tracking. It's also extremely comfortable, allowing you to sit in your kayak and fish all day without a sore back or legs.
There's a large rear storage area that you can fit either a tackle box or crates. Or, you could put your hiking and camping gear back there if you plan on making a weekend trip out of your excursion.
The front hatch has a dry storage area, making it ideal to put in a camera, phone, map, or anything that you want to keep dry while you spend time out on the water.
Considering the size, it's pretty light. Coming in at 63 pounds, it has a max capacity of 350 pounds, allowing just about anyone who wants to kayak to get out and spend some time on the water.
Lifetime Hydros
Dimensions: 101″ X 29.5″ X 10.5″
Pros: Great starter kayak and the price
Cons: Very light max capacity, and poor tracking
The Lifetime Hydros is a great starter kayak. The price is very cheap. That way you don't have to spend a bunch of money on a kayak you won't even use again if you find out you enjoy shore fishing better.
The tracking is not great due to the hull shape. However, if you plan on just puttering around a small pond or moseying down a river, then it shouldn't be too much of an issue.
There's not a lot of room for gear storage, and the max capacity won't allow for it. However, there's enough space to bring the essentials. So, if you're a gear head, then another kayak might be best.
It has a rod holder right in the middle, allowing for hands-free fishing or having two different rods in the water at the same time.
Perception Flash 9.5 Sit-in
Dimensions: 9′ 6″ X 28.5″
Pros: Stable and easy to paddle
Cons: Not the greatest for gear storage
This was the first kayak I ever bought, and I've used it for fishing countless times. A sit-in is not ideal for fishing and it's not the best fly fishing kayak for under $1000. However, in a pinch, it can make do.
The covered hull protects you from the elements. The sun will stay off your legs, or if you're fishing in windy conditions, the hull will help keep the wind off of you.
Gear storage is limited. However, there's enough to bring everything you need for the day. On top of that, there's a dry area right behind the seat that's perfect for phones and cameras.
The Perception Flash 9.5 Sit-in is a stable kayak, but I don't recommend standing and casting. It's stable, but it's not that stable. This is especially true if you plan on using a fly rod.
Vanhunks Black Bass
Dimensions: 13′ X 32″
Pros: Great kayak for the price
Cons: Seat blocks cup holders
So, I'm grasping at straws with the cons on the Vanhunks Black Bass, but the seat renders the cupholders useless. Yes, there's nothing better than a cold drink while fishing, but this problem can be easily solved.
There's a lot of space for you to stretch out or put gear in. So, if you have a lot of tackle, this is a great kayak for you. It's a very smooth kayak with great tracking, allowing for an easy ride.
It can handle some choppy conditions, but I wouldn't take it out on anything too rough. Keep it to calm lakes and rivers and calm ocean days, and you'll be fine.
The Vanhunks Black Bass is a great kayak not only for fishing, but also for going out and just enjoying the day with friends and family. There's plenty of room for food, drinks, and supplies.
What Makes a Good Kayak for Under $1000?
Below, I'll go over a few things that will make for a great kayak for under $1000. Check them out and see what you like best!
Weight
The weight all depends on the user. Some may be able to handle a 90 pounder, while some may only be able to handle a 45 pounder. You know how much you can lift, so don't overexert.
Material
Plastic is the most popular material for kayaks. Glass, wood, or other materials are usually used in niche products that can be tough to find.
Storage
It's important to have good storage in a kayak. That way you can haul all of the stuff you need with you for a day out fishing. It also ensures that you have enough food and water.
Quality
The quality of the kayak is hard to judge. The price can usually tell you, but not always. You want something durable, stable, and with good tracking.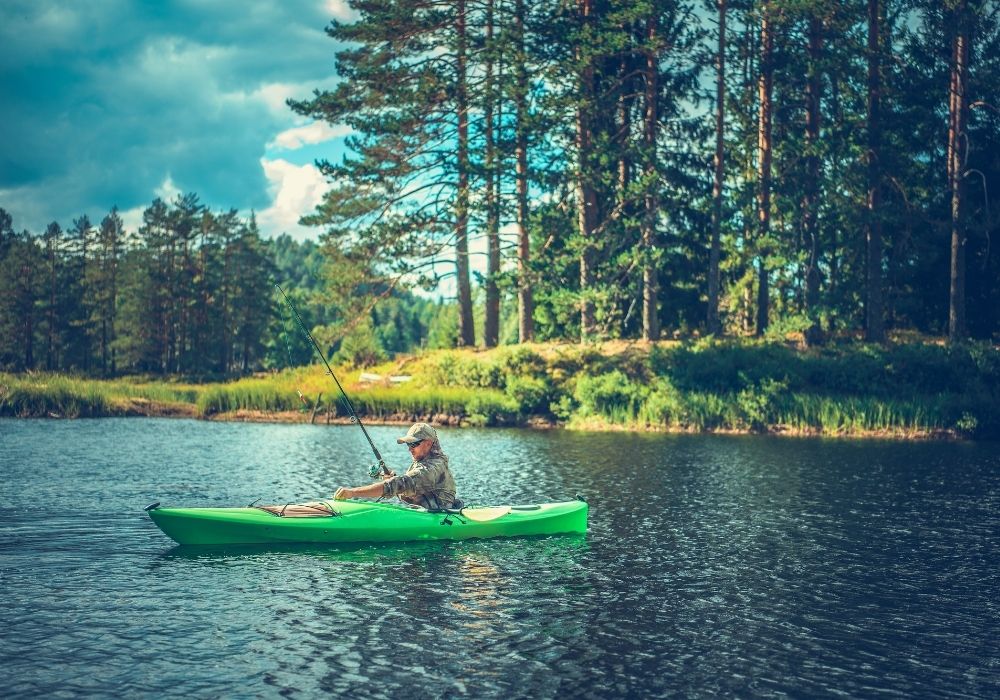 Staying upright all day and not sinking is important.
Paddles
Not all kayaks come with paddles. Most of the time, you'll have to purchase one separately. Get whatever you can afford, but know that the more expensive ones are lighter and stronger.
Stability
This might the most important factor of a kayak after buoyancy. You don't want something that will be shaking all over the water. That's a sure-fire way to wind up in the water.
Comfort
This is one of the most overlooked aspects of fishing from a kayak. You need to be comfortable, or your time spent fishing will be cut short from a sore back and cramping muscles.
Color
Darker colors absorb more heat, so if you plan on fishing in hot conditions, a black kayak may not be the best option. Other than that, it's all based on your own personal preference.
Price
The price can vary. You need something that's not out of your budget, but fits as many needs as possible for fishing. So, do your research and figure out how much you can afford before spending the money.
Types of Kayak
Below, I'll go over a few different types of kayaks. Check them out and see which one works best for you!
Float Tubes
Float tubes are great for moseying down a slow river or fishing in small ponds. They allow you to sit in the water and can be great if you're fishing for really spooky fish.
Blow up
Like I said earlier, I'm not a fan of blow-up kayaks. They have their place, though, and can be a great asset to many anglers. They usually aren't as comfortable but they allow you to get out and fish, and that's what matters.
Pontoon
These are great for floating on really calm water. Don't take these out in choppy lakes or oceans, or you may wind up either in the water or soaking wet by the end of the day.
Rubber Raft
These can be great for the same reasons blow-up kayaks are great. They can be easily stored and carried when you're traveling for long distances in a car or by boat. But they're not comfortable and may not be very durable.
Drift Boat/Dory
These are the quintessential fly fishing vessels. They have tons of space and you can walk and move with ease. They're ideal for floating a river or fast stream. Paddling small and calm lakes can be fun in these as well.
White Water Kayak
These aren't great for fishing. There are spots to put gear, but it's really tight in these and would be tough to get to. Also, it's a sit-in kayak, so it's tough to cast from those positions.
Sit-in vs. Sit-on Top
The sit-in kayak is great if you want to keep some water off of you or keep the elements off of you. It's great for chilly and windy days or protecting yourself from the sun. It's not that great for fishing because casting can be difficult. This is especially true for fly fishing.
Sit on tops are great for fishing. They allow you to sit higher so you can have a better view of the water. This lets you see fish, prey, beds, or structure with ease. They're also more stable and will allow you to stand and fish if need be.
Review This Post
Conclusion
Fishing kayaks for under $1000 are easy to find. What's hard to find, though, is a kayak under that price that meets all of your needs as an angler. That's where research and taking your time in looking play a role.
So, with the article above, take the information you see and apply to what you want to accomplish with your time out on the water. Each of the kayaks above will help you get to fish you couldn't see before.
Hopefully, you now have a better understanding of what a fishing kayak for under $1000 looks like. So, take the information above and run with it. Figure out what you need and then check out Amazon to see if they have the fishing kayak for you.