Today, I'll be doing a comprehensive review of the Snowbee Float Tube.
I'll start this review out by saying that Snowbee sent us this float tube for review and testing, but in no way are we required to say anything positive about any products we review on this website.
We're very clear with the manufacturers. It doesn't matter if they sent it to us for free or if we buy it for ourselves. We'll be 100% honest and also list the cons, as you'll see later in this review.
Snowbee Float Tube Kit
If you like what you see in this Snowbee Float Tube kit review, you can order the float tube kit at Snowbee.
No product is perfect, and neither is the Snowbee Float Tube, but it's the best float tube I've ever had. I've owned one other float tube, and I've rented plenty of them in the past. I love this thing.
Disclaimer: IntoFlyFishing.com is a participant in the Amazon Services LLC Associates Program, as an Amazon Associate I earn from qualifying purchases. Please see our Privacy Page for more information.
How I Fished the Snowbee Float Tube?
I took the Snowbee Float Tube to a couple of small lakes up in northwestern Montana. I floated around in the deeper parts of the lake, and I also coasted along the shore.
I got quite a bit of use out of it. I was out fishing for a few days with it, and I have to say that it's great. And what I love most about the Snowbee Float Tube is that you sit higher in the water.
In the previous float tube that I owned when I was younger, and also in every float tube that I've rented before, you usually sit just above waist-deep. Your navel is barely in the water, and you're wearing waders of course. You're deeper down in the water than with the Snowbee Float Tube.
This means that with a normal float tube, when you're casting on your back cast, sometimes you're too deep. The line hits the water behind you, or it's a little more difficult to get a perfect presentation.
I love that with the Snowbee Float Tube, you sit a little bit higher up, probably 10 inches to a foot higher, and that really gives you the extra space for your back cast. It makes you feel like you're up and out of the water, almost like in a pontoon boat. But you still don't have oars, and you're still kicking. It's really comfortable.
While I was fishing it on lakes, I had no problem with wind. There was a bit of a breeze, although a storm didn't roll in or anything like that.
The Snowbee Float Tube is aerodynamic and water-dynamic enough that you can get some good speed going when you're paddling. Even if there's a bit of wind, you'll be able to get back to shore or get to safety.
It's definitely not recommended to head out in a float tube of any brand or type when there's a storm coming or happening. But with the Snowbee Float Tube, at least if the breeze starts picking up and you see some clouds, you'll be able to paddle to shore.
When I did have to paddle through some wind, I had no problem with my fishing experience.
Watch the Snowbee Float Tube Kit Review Video
Snowbee Float Tube Storage Capacity
This is another thing I really love about the Snowbee Float Tube. It has all the storage you'd expect from a float tube.
There's a pocket on each pontoon on either side, right where your arms rest when you're fishing. There's plenty of room in them to store lots of different fly boxes, extra flies, extra spools, and extra reels.
There's also a nice rod holder in front of you. If you're just trolling and kicking, you can unvelcro those straps, hold down your rod, and troll around the lake. Or you can keep your rod there comfortably while you're tying on a fly.
There's also a handy storage pocket behind the seat back. You can put things in there that you don't immediately need while you're on the river, maybe an extra warm jacket or something. It's big enough to fit a down jacket, an extra fly box, or something you'll need while you're out there.
What Comes with the Snowbee Float Tube Kit?
Snowbee prides itself on creating an all-in-one float tube kit, and it really is that. Inside the box there's the pump, which can pump up the float tube in 5 minutes easily.
It also comes with flippers. They're not the best flippers in the world, but I'll talk about that a little later in this Snowbee Float Tube Kit review.
Order the Snowbee Float Tube Kit
If you like what you see in this Snowbee Float Tube kit review, you can order the float tube kit at Snowbee.
It has a nice carrying case, and it has the float tube of course. It also has some patch kits, so if you have any leaks while you're on a fishing trip, you can use the patch kit to immediately patch up any leaks that you might find in the bladder.
Basically the Snowbee Float Tube Kit has every single thing you need, and that's what's really handy about it. You don't have to worry about purchasing fins separately or getting yourself a pump, although I did order a $20 electric pump on Amazon that you can plug into your car.
I was using an electric pump at home, and I would fill it up most of the way so it could still fit in my Jeep, which is practically all the way full of other stuff. And then when I got to the lake, to get it completely filled, I did a few pumps with the hand pump that came in the kit.
The electric pump saves a lot of time. As I said, it was only about $20, and I think it fills up the float tube in about a minute and a half. It's very cool and useful to have, but even without it, Snowbee provides the hand pump, and besides that, the kit has everything you need.
Setting Up the Snowbee Float Tube
Of course, for anyone who gets a new float tube, there's going to be a bit of a learning curve about how to set it up, but Snowbee does a good job of providing useful, easy-to-follow instructions.
The first time I set it up was at the lake. It took me a little bit longer than it would normally, but it really is easy to follow the instructions that Snowbee provides. Your first time, you can set it up in probably 15 minutes.
Then thereafter when you know what you're doing, you can set it up a lot faster than that.
Snowbee Float Tube Construction and Build
Just like any Snowbee product that we've reviewed on this webpage and that they sell on their website, you can expect a high level of quality and build from whatever products they make. The Snowbee Float Tube is no different.
The outside of the tube is made with 600D nylon, which is a really strong type of nylon. It's got this nice olive green color. The bottom panels of the tube are black, and that's meant to not spook the fish. When they're looking up, they just see nothing.
The two main bladders are durable welded PVC bladders. They have really great one-way valves to pump them up really fast. They have a wide gape, and when you plug into the valve with the pump, you can pump them up really quick because they have high-quality valves.
Both the seat bottom and the seat back are separate inflatable cushions. They're made with the same strong PVC.
I'd have loved to have seen them double-tape all of the seams on the PVC bladders, the seat bottom, the seat back, and the two main pontoons, but I'll get into that a little later. Either way, they're made with really nice, thick PVC, and they're high quality.
In the very front of the float tube there's a mesh bow storage area for wet storage, and there's also a line tray with measuring tape that's painted onto it. When you're casting, you can strip your line onto that line tray, and it really works well.
Then when you bring in a fish, you can lay the fish on that mesh, measure it quickly, and put it back. That's another cool feature to have on the float tube.
As I mentioned earlier, there are handy velcro rod storage straps on the front of the float tube. You can put your rod there to hold it while you're trolling or changing flies. It's a pretty handy feature to have.
There's also quite a few useful handles around the float tube. If you're pulling it in or out of your truck or SUV, there are plenty of places to grab onto it. It makes it much easier to transport.
The Price of the Snowbee Float Tube
The cost of the Snowbee Float Tube is $359 USD on their website. Having bought my own float tube in the past from a different maker, and having rented many of them, I know that's a great price for a tube.
Order the Snowbee Float Tube Kit
If you like what you see in this Snowbee Float Tube kit review, you can order the float tube kit at Snowbee.
It comes with everything that you need, and they really did price it at a point where even beginner fly anglers can purchase this float tube and not break the bank.
For the quality that you're getting with this tube and the amount of things you're getting with it — the pump, the carrying bag, the fins, the tube, all the bladders — just like with all Snowbee products, you're getting a lot more for your money than you might with a bigger name brand fly fishing company.
Areas with Room for Improvement for the Snowbee Float Tube
I've already talked a lot about the things I love about the Snowbee Float Tube. I've already said it's my favorite float tube I've ever owned or rented. But of course, no product is perfect.
As with all of our reviews, we try to list some cons or things we didn't like so much about the products, and there are a couple for the Snowbee Float Tube.
First of all, I'm so happy that they ship the float tube with fins, because when it arrives in the mail, you're ready to go fishing. It's great that they do that.
But I have to say that the fins are a little bit basic. They're made well, and they're not going to fall apart on you. They're high quality, but they're just a little bit too basic.
I think that if you're going to buy the Snowbee Float Tube and use it all the time, you're probably going to want to upgrade the fins. I wish the fins had a better rubber sole, something that holds onto the boot a little better.
But they did the trick, and like I said, I had no problem fighting wind or paddling around with these fins. There's nothing really wrong with them. They're just a little basic for what you'd expect from a float tube that you'll be using all the time.
The other thing that I'd have loved to have seen, and I mentioned this above, is for every single bladder in this float tube to be double-taped along the seams. They do provide you with a patch kit, but you don't want to have to use it.
I think it would have been really easy and not too costly for Snowbee to have double-taped the seams, and they could have made sure that it was double sealed and wouldn't have any leaks no matter what.
I'm sure it won't leak, but it's just something that you like to see on a product that relies on all of those seams in every bladder. Having them double-taped would be really handy.
Lastly on the cons list, I wish there was a lot more glue in the patch kit. Both of the patches, one for the rubber bladder and one for the nylon, come with a really small glue container.
For sure I'd have liked to have seen maybe three or four times as much glue, just in case you have a couple holes. Maybe you dropped it on a thorny bush and you have three holes side by side. It'd be nice to have a little extra glue to be able to patch that.
But none of these things are major. They don't take away from the performance of the float tube. You have to expect that a Snowbee product will be high quality. You won't have to worry about the double-taped seams or about the glue in the patch kit.
I just like to make sure to mention a few of the negatives in every review whenever possible.
My Personal Thoughts and Opinions on the Snowbee Float Tube Kit
Like I said, $359 is a fantastic price for this float tube. They give you everything you need, and I love that about it.
The fishability of the Snowbee Float Tube is second to none. I love that you sit about a foot higher in the water. It gives you much better action with your casting stroke, and it gives you a better view of the surface of the water as well. You can see fish rising more easily.
It's the perfect tube. It's somewhere between a pontoon rowboat, which would probably cost you about $1,000, and a nice belly boat. It's super compact and portable. You can fit it all in this beautiful carrying bag.
So I think it's phenomenal that they've been able to sell it for this price, because I'd have expected it to be somewhere around $500 or $600.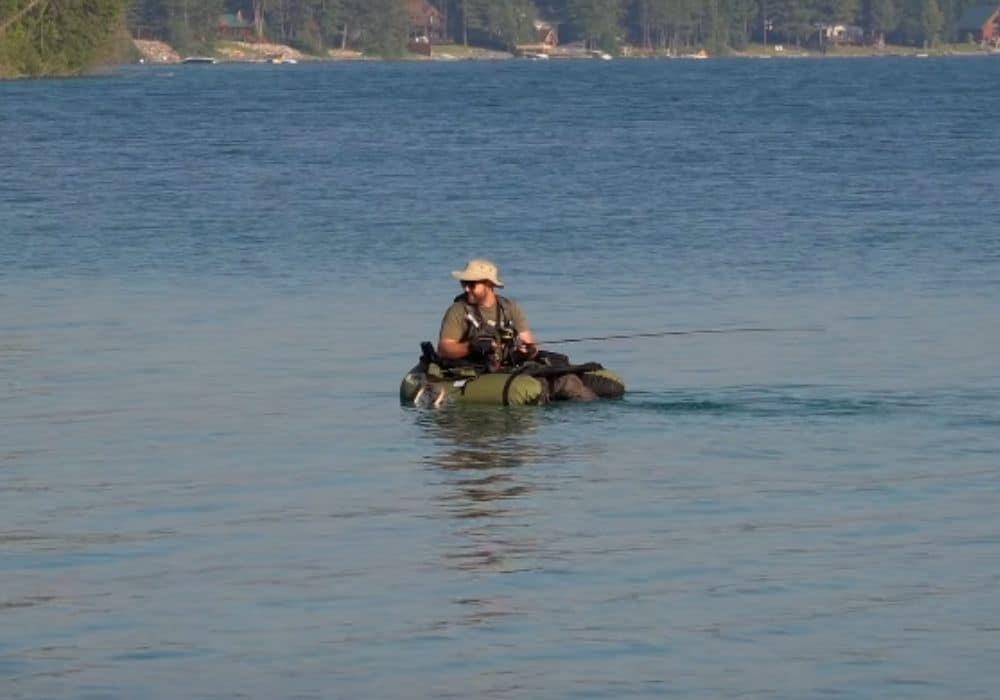 But it's not, so my overall opinion is that it's a fantastic product. If you're looking for a float tube, the Snowbee Float Tube is available on their website. And if you use our special coupon code IFF10, you'll save 10% and you'll also help us out by supporting this website through our affiliate links.
I hope you enjoyed this Snowbee Float Tube Kit review. If you did, please give it a like, leave a comment down below, and don't forget to subscribe to our YouTube channel.
We've been reviewing a lot of different Snowbee products, and you can find reviews on this website and our YouTube channel. Check out our reviews, videos, and Montana Fly Fishing vlog series.
Until next time, tight lines.