Anyone who considers themselves a passionate fly angler hasn't solidified that title until they try the fly fishing in Oregon. The entire Pacific Northwest is filled with wonderful fly fishing, but Oregon is a step above the rest.
Oregon has every single fish that fly anglers want to check off of their bucket list. Plus, unlike many states, Oregon presents real opportunities to catch these fish, making it one of the best fly fishing destinations in the country.
A little studying and some practice leads to impressive fish at any point in the year.
If you have any other sort of outdoor activity that you love, Oregon can fill that need. Make sure Oregon is the destination on your next road trip. You'll need the extra vehicle space to hold your adventure equipment.
As an Amazon Associate I earn from qualifying purchases.
Why Go Fly Fishing in Oregon?
Many states across the country are becoming more and more regulated when it comes to fishing. It's difficult to find access and fish numbers seem to be dropping. In Oregon, there are still healthy populations and still is angler friendly.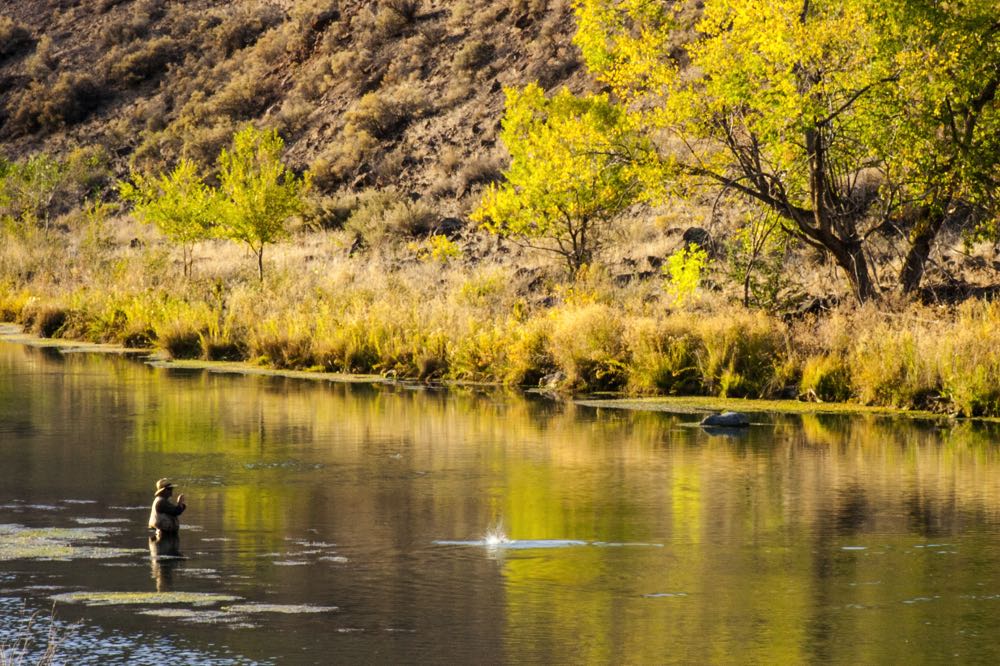 The fly fishing community is passionate about caring for the fish and water. It's best to follow suit when you make a visit. The future of Oregon fly fishing depends on it.
What To Pack For Fly Fishing in Oregon
Here are a few of the essential items for any fly fishing trip, but these will all come in handy in Oregon as there are so many different styles of fishing in the state.
Fish Species To Expect Fly Fishing in Oregon
Oregon is home to numerous native fish species that fly anglers love to catch. Plus, you can try your hand at other game fish that you might never spend time trying to land. It's a wonderful state filled with loads of opportunities for trophies.
Rainbow Trout
Rainbows are the most widely stocked trout across the state. While many of the rivers support natural reproduction, the Game and Fish Department continues to fill lakes and rivers with them.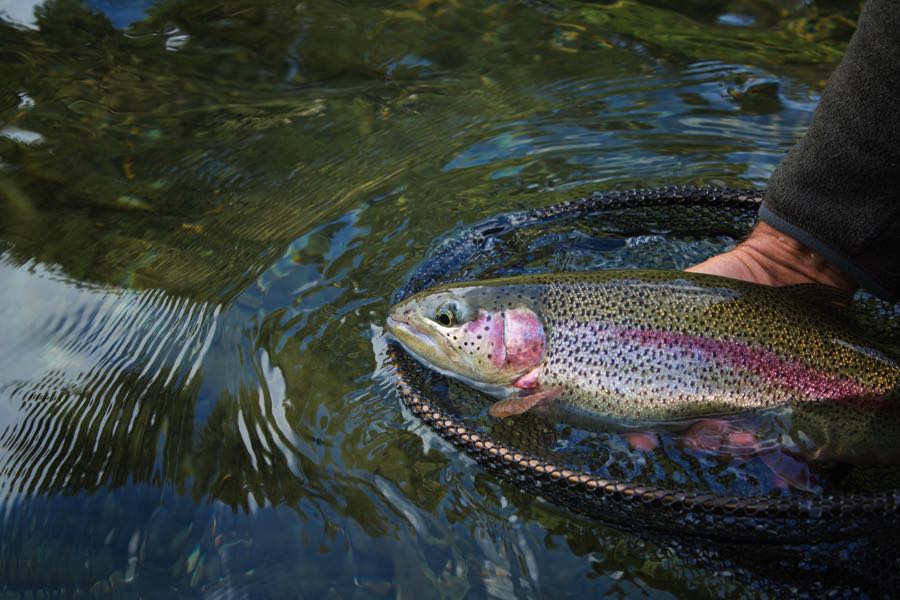 You can find them upwards of 30 inches long in lakes and rivers across the state including the McKenzie and Crooked Rivers. They're best targeted with your 6-weight and 5x tippet. Use San Juan worms, Psycho Princes, BWOs, and Baetis Nymphs.
Redband Trout
While these are still in the rainbow trout family, Redband trout are unique. They live in the deserts of Eastern Oregon. They're native rainbows and have a bright red stripe along their sides. They're a unique fish that are best fished with barbless hooks.
You can find Redbands in the Crooked River, Lower Deschutes River, and the Metolius River. To target these, use Prince Nymphs, Elk Hair Caddis, and Zebra Midge flies. They're a spooky fish so be sure to tie on 5x fluorocarbon tippet.
Cutthroat Trout
You'll find three types of cutthroat trout in Oregon. The most unique are the sea-run cutthroat that run in July and August. You'll also find Lohontan Cutthroat as well as Coastal Cutthroat Trout.
Some of these sea-run fish are found upwards of 20 inches. The others are most commonly caught around 12-14 inches. You can find native populations in the Whitehorse and Willow Creek basins in Southern Oregon.
They'll eat crayfish and baitfish streamers so be sure to bring Clouser Minnows and Wooly Buggers to help land the cutthroat.
Brown Trout
Brown trout are a non-native species that were stocked in Oregon in the late 1800s. They can tolerate warmer waters and are found all across the state of Oregon. You can find them in East Lake, Miller Lake, and almost any cold water stream in the state.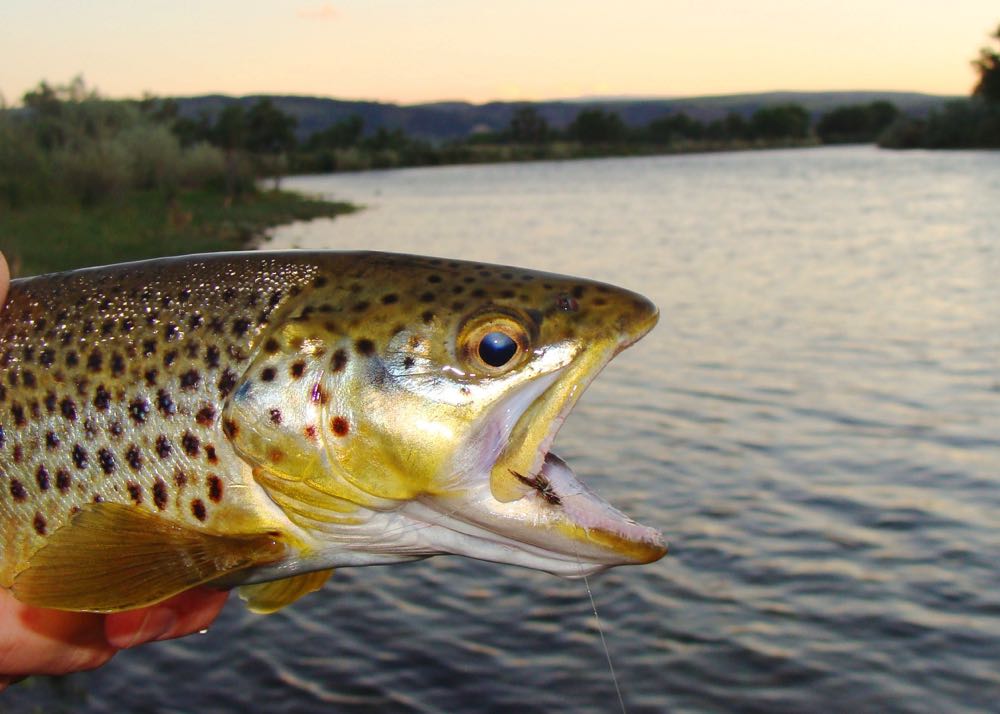 These fish are caught upwards of 10 pounds in some of the lakes and rivers. They're best caught on Wooly Buggers, Pheasant Tail Nymphs as well as Baetis Nymphs. They're a bit wary so be sure your casts are accurate when you target them.
Brook Trout
Brook trout dominate many of the high elevation lakes and headwaters in the state. They were introduced to Oregon in the early 1900s and anglers have enjoyed targeting them ever since.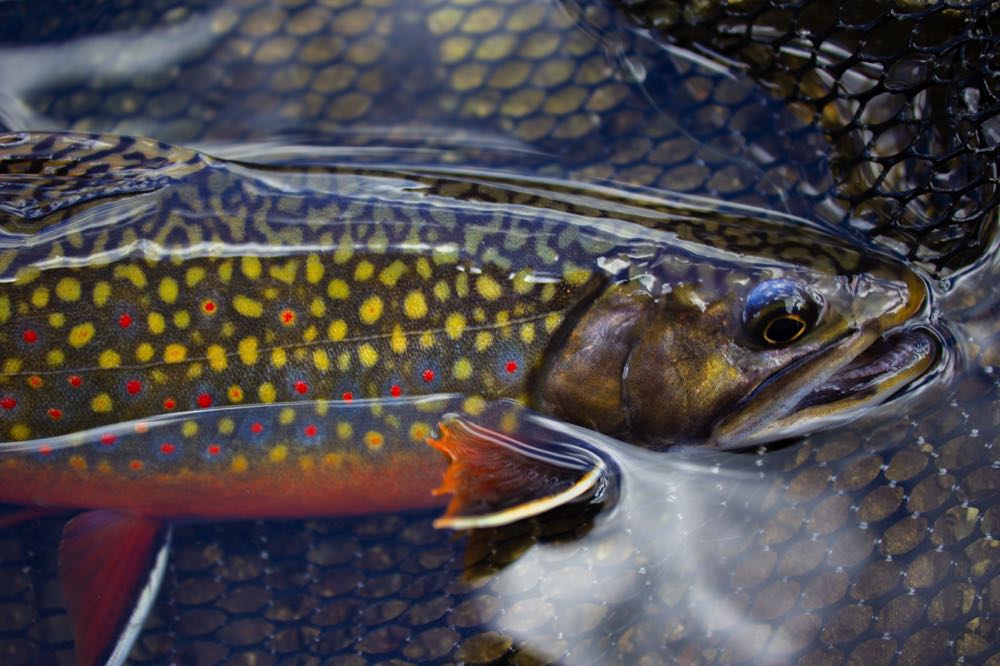 You can usually find Oregon brookies to be around 8 inches, but some will be caught upwards of 25 inches in the lakes. You can find them on the Upper Deschutes, Lostine River, and Gold Lake. They'll eat small nymphs and dry flies like Adams and Elk Hair Caddis.
Bull Trout
Bull trout are a rare fish to find in Oregon. They're on the threatened species list and anglers have to be extremely careful when targeting them. Be sure you have barbless hooks and a net. You don't want to harm these fish if you catch one.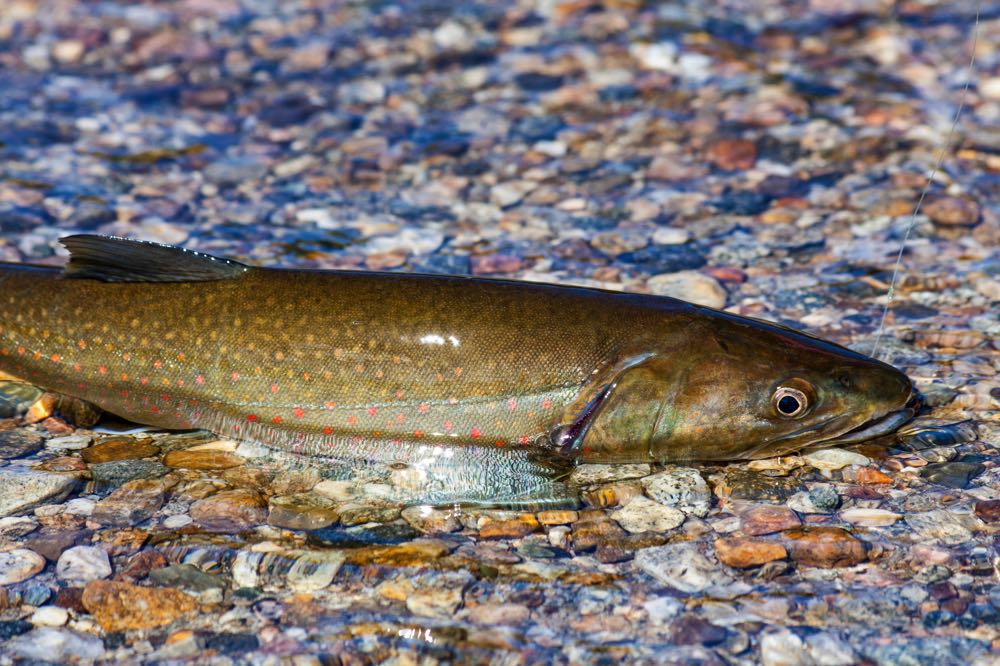 They're mainly found in the Metolius River as well as Lake Billy Chinook. They're a beautiful fish that are known for aggressive strikes. Some of the Bull's found in the lakes are upwards of 10 pounds. Throw large streamers their way to entice them.
Wooly Buggers, Deceivers, and crayfish patterns are all going to work. Be ready for an entertaining fight.
Salmon
You'll find King, Coho, and Chum salmon in Oregon. These are commonly caught upwards of 15 pounds in many of the rivers across the state. The Mckenzie, Rogue and Klamath Rivers are all known for their salmon runs.
These fish are best targeted with an 8-weight and 0 or 1x tippet. They're hard fighters and an addiction for many fly anglers across the world. Egg Sucking Leeches, Spey Flies, Hex Nymphs, and Allys Shrimp are smart choices to use when targeting these beasts.
Steelhead
Steelhead are another common fish found in Oregon. Anglers from all over the world flock to Oregon to target Steelhead. If you do, bring your 7 or 8-weight along with 0 or 1x tippet.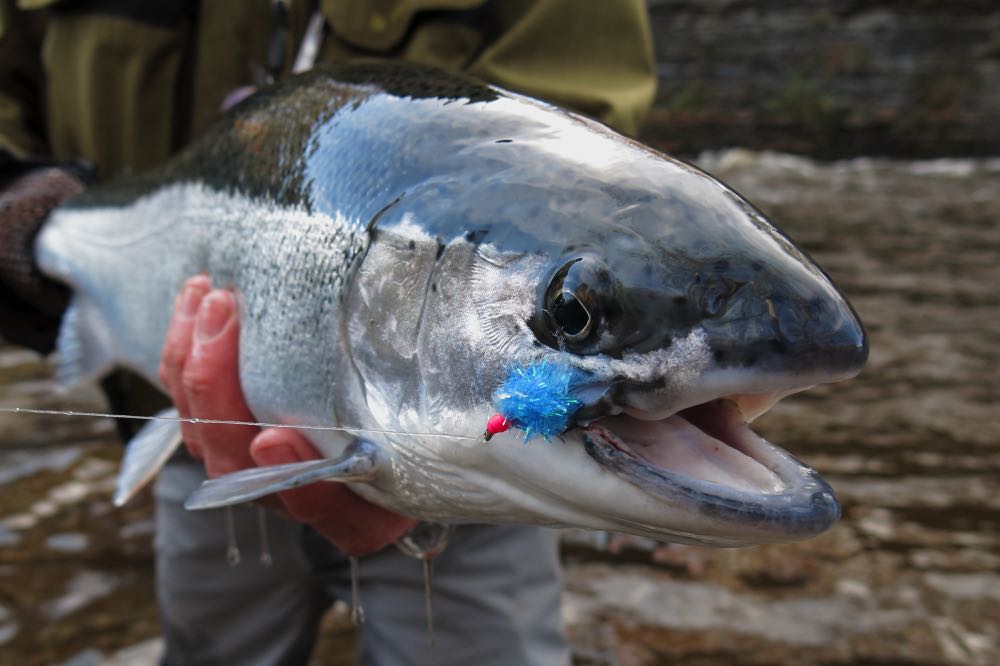 You can find them in the Rogue and North Umpqua Rivers.
Bass
Bass are always going to be amazing to target on the fly. Many anglers choose not to do so and as a result, they lose out on some of the best fights in the world. If you're targeting bass, bring poppers, Clouser Minnows, Wooly Buggers, and Gutless Frogs.
You'll find them in the Fern Ridge Reservoir and Crane Prairie Reservoir.
Best Fly Fishing Spots in Oregon
Oregon is filled with beautiful lakes and rivers perfectly equipped for fly fishing. As a result, many anglers struggle to choose where to start. This is a wonderful problem to have.
If you like high mountain streams and lakes or wide flowing rivers you can have a trip of a lifetime in Oregon.
Fly Fishing Rivers in Oregon
Oregon is known for its amazing rivers. Do yourself a favor and visit as many rivers in Oregon as you can on your next trip. You'll find fish in almost all of them and learn something new at each river you fish.
Lower Deschutes River
Directions: Lower Deschutes, Oregon
The Deschutes River is pegged to be one of the best fly fishing rivers in all of the west. It's often broken into two sections: the Upper and Lower Deschutes. The Lower Deschutes is more well-known for Redband Trout and Steelhead.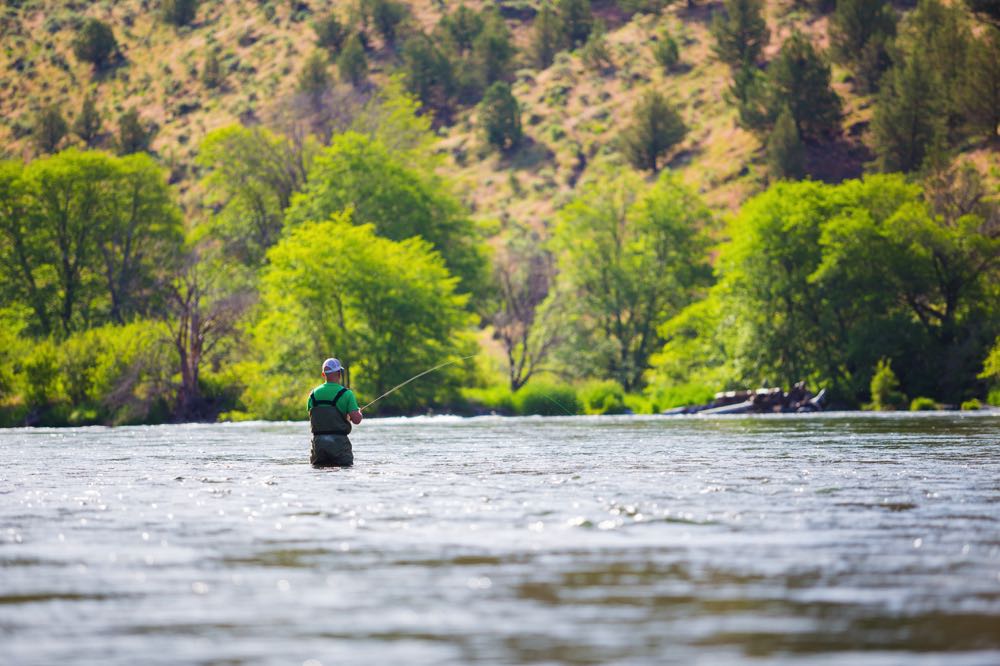 It's a great river to both wade and float. However, wading the river gives you a chance to really work certain spots that look like they hold fish. Bring waders because you'll want as much access and comfortability as you can during a long day on the water.
If you're targeting Redbands, bring Pheasant Tails, Copper Johns, Chubby Chernobyls, and PMDs. Also, use your 5 or 6-weight with 4 or 5x tippet. These fish are definitely spooky and see their fair share of flies.
If it's Steelhead you're after, bring your 8-weight with 0 or 1x leader. Also, Wooly Buggers, Egg Patterns and Hex Nymphs are the right fly choices.
McKenzie River
Directions: McKenzie River, Oregon
The Mckenzie River begins in the Cascade Mountains and flows its way all the way through central Oregon. The beautiful vegetation that surrounds it makes for a wonderful sightseeing adventure while you're fishing.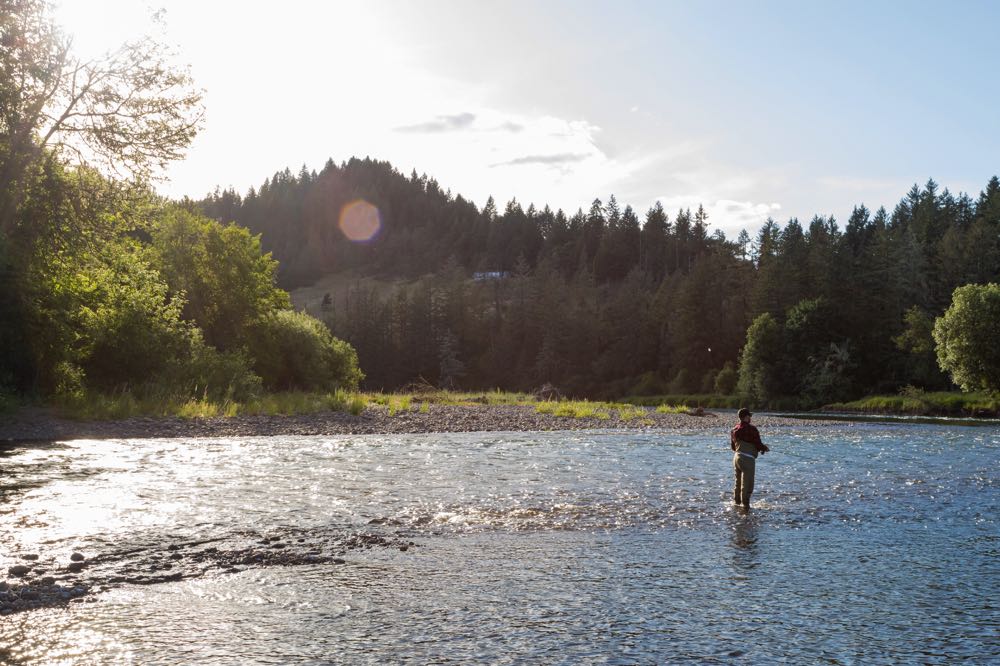 You'll find King Salmon, rainbow, cutthroat and bull trout in the McKenzie. Quite a bit of the river flows through public land so access is plentiful. The majority of the river is artificial baits only so fly anglers feel right at home.
You can both wade and drift this river, but drifting allows for different types of fishing. It's especially helpful during the salmon run. You can hit multiple spots during the day and have great success.
Use your 5 or 6-weight for the trout along with 4 or 5x tippet. Pheasant Tails, Copper Johns, Wooly Buggers, and BWOs are all smart flies to use. Bring both sinking and Weight Forward line.
Be sure to have your 8-weight for the salmon. These fish will test your endurance. Egg Sucking Leeches, Wooly Buggers, and Intruder flies will all work to entice these fish.
Clackamas River
Directions: Clackamas River, Oregon
The Clackamas is located near Portland and is perfect for a short getaway. The winter Steelhead run is world famous and well worth your time. They run from November all the way through May. You can find these fish weighing up to 15 pounds.
You'll need your 8 or 9-weight rod with sinking tip lines. These fish like to sit near the bottom. Also, dead drift or swing streamers at the beginning of pools. You have the best chance of landing one in these sections.
For flies, Intruder Flies, Stonefly Nymphs as well as large Wooly Buggers will all work. They're a difficult fish to catch, but well worth the effort!
Rogue River
Directions: Rogue River, Oregon
The Rogue River was one of the original Wild and Scenic Rivers in the United States. This beautiful river is located in Southwestern Oregon and is home to steelhead, trout, and salmon. You can fill your car with equipment only for these three fish!
The trout like to eat Salmon Flies during their hatches in the early summer. Plus, they'll eat Elk Hair Caddis and BWOs as well. You'll only need your 5 or 6-weight for the trout in the Rogue.
The Steelhead and salmon will need your 8 or 9-weight. These fish also require 0 or 1x tippet with dark patterns. The river receives quite a bit of precipitation so you'll often be fishing cloudy water.
Dark intruder flies, as well as Stone Fly nymphs, are going to do the trick. The bites are difficult to predict due to the lack of sight fishing opportunities.
Metolius River
Directions: Metolius River, Oregon
The Metolius River is a fly anglers paradise. No guided trips are allowed and the majority of it is fly fishing only. There are Redband Trout and bull trout that fill this spring-fed river. The water always hovers right around 50 degrees throughout the year.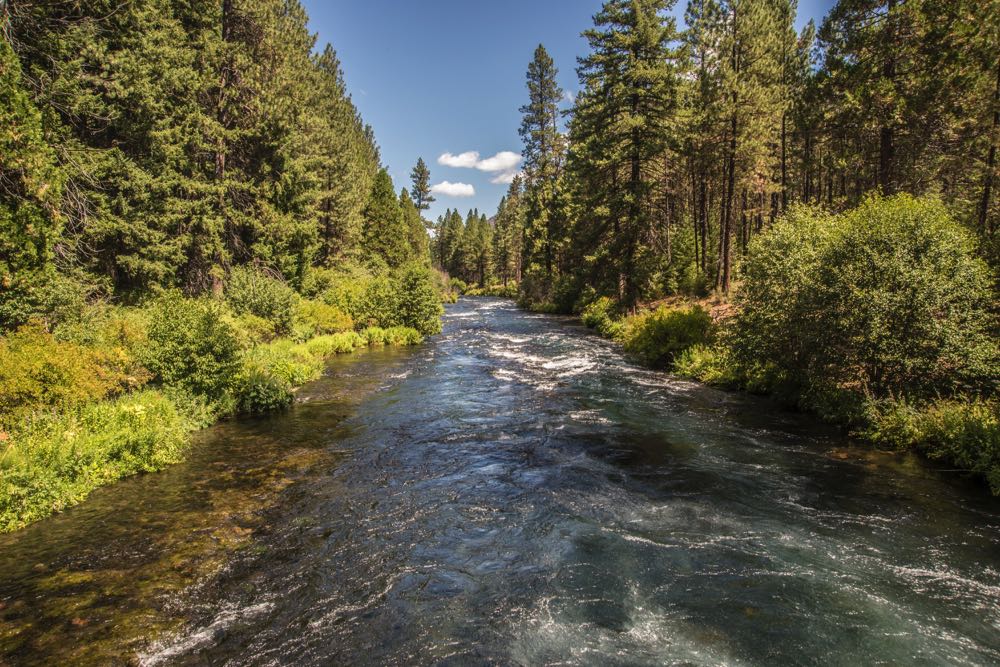 You can camp at Billy Chinook Lake and spend a few days tackling the Metolius. This river is great for wade fishing. You can easily cover a few miles of water each day. Bring your 5 or 6-weight because the bull trout that run out of Lake Billy Chinook are sometimes over 10 pounds.
Use your large Wooly Buggers, Clouser Minnows, and leech patterns for these fish. Get ready for a wonderful day of fly fishing. The Metolius truly shows off what Oregon has to offer.
Fly Fishing Lakes in Oregon
Lake fishing in Oregon has a little something for everybody. There are the traditional bass and pike lakes as well as lakes ideal for trout and salmon. Depending on your preference that day, you'll easily be able to find a lake that fits your needs.
Diamond Lake
Directions: Diamond Lake, Oregon
Diamond Lake is a wonderful spot if you want to try fishing still water for trout. There are massive amounts of rainbow trout throughout the lake that always seem to be willing to eat. You'll also catch tiger and brown trout in Diamond Lake.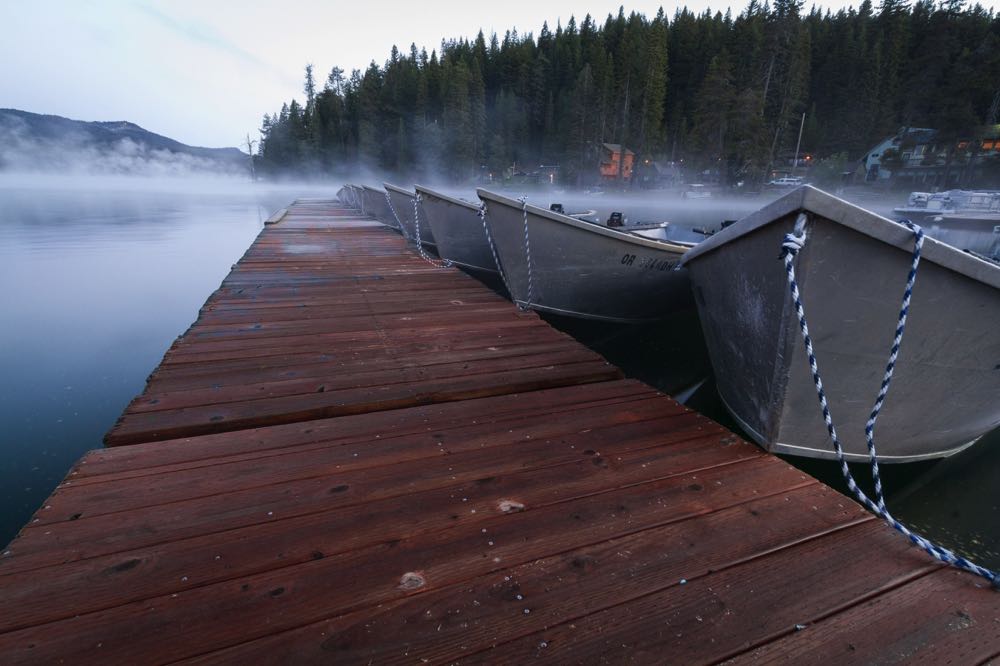 This lake is over 3,000 acres and is best fished from a boat. You can wade fish it as well, but bank casting can be tough due to the heavy foliage. Bring your 6 or 7-weight when fishing the Diamond.
You can fish this lake in a variety of ways. Baitfish streamers are always going to work paired with sinking tip line and 3x leader. You can also fish this flies in a tandem rig if you aren't having much success. Keep a few of the rainbows and cook them for dinner!
Wickiup Reservoir
Directions: Wickiup Reservoir, Oregon
The Wickiup is the second largest lake in Oregon. It's filled with Kokanee Salmon, brown and rainbow trout. These fish can all easily reach over 10 pounds. The Wickiup is formed by the damming of the Deschutes and it's a great place to fly fish.
You'll want to pack your 8-weight with both sinking and floating fly line. These fish will attack the surface during the hatches, but stay far in the depths during the warmer parts of the day. You'll want your boat when fishing the Wickiup. It's too large of a lake to fish from shore.
Depending on the water levels, you may change your fly choice. However, baitfish and intruder pattern streamers always seem to find success. Switch up your retrieve speed if nothing is hitting. Once you find the right pattern, these fish are a blast to catch.
East Lake
Directions: East Lake, Oregon
East Lake is another great fly fishing lake in Oregon. It's much smaller than the Wickiup Reservoir and easily fishable from shore. It's helpful to bring waders so you can escape some of the trees right along the banks. You'll catch rainbow and brown trout in all parts of the lake.
Bring your 6-weight with both sinking and floating line. The late afternoon hatches during the warm parts of the year cause all sorts of fish to rise to the surface. It's smart to bring BWOs, Elk Hair Caddis as well as leech patterns when fishing East Lake.
If possible, fish near structure. These fish like some safety when they're feeding. If they can dart away from structure as a fly is stripped past, they will. Start with short 6 or so inch strips when you begin. You may need to increase the pace at which you fish depending on how aggressive the fish are.
Crane Prairie Reservoir
Directions: Crane Prairie, Oregon
The Crane Prairie Reservoir is another lake near the Deschutes River. It holds impressive brook and rainbow trout as well as Kokanee Salmon and bass. This lake is great to fish from a boat due to the heavy structure spread throughout it.
You'll have all sorts of success if you use Damselflies. These hatch all summer long and lead to impressive fish.
Hosmer Lake
Directions: Hosmer Lake, Oregon
Hosmer Lake is a fly-fishing-only body of water in Oregon. Few states in the country have these types of water available for fly anglers. It's an extremely shallow lake, but brook trout and Atlantic Salmon thrive in its waters.
To catch these trout, you'll want to use Caddis, PMDs, and Baetis flies. Due to the clear waters, these fish are skeptical and need an accurate presentation. Bring 4 or 5x fluorocarbon tippet.
It's also not a bad idea to have both floating and sinking line to match where the fish are feeding.
Oregon Fishing Season
Oregon offers great fly fishing year-round. Due to the runoff as well as heavy precipitation throughout the year, the water levels often fluctuate. However, the fish are still able to be caught, but you have to be willing to be patient.
Oregon Fly Fishing in April
The runoff begins later in the month and the rain across the state can create some high waters. Be sure to match your fly to the color of water for the most success. You can use Midges, BWOs, Caddis and March Browns in April.
Hit the higher mountain streams before the runoff truly begins.
Oregon Fly Fishing in May
May in Oregon is a challenging month. It almost always seems like it's raining and the snow runoff is difficult to handle. If you are wade fishing, be careful of the water levels and don't wade in anything that's too swift.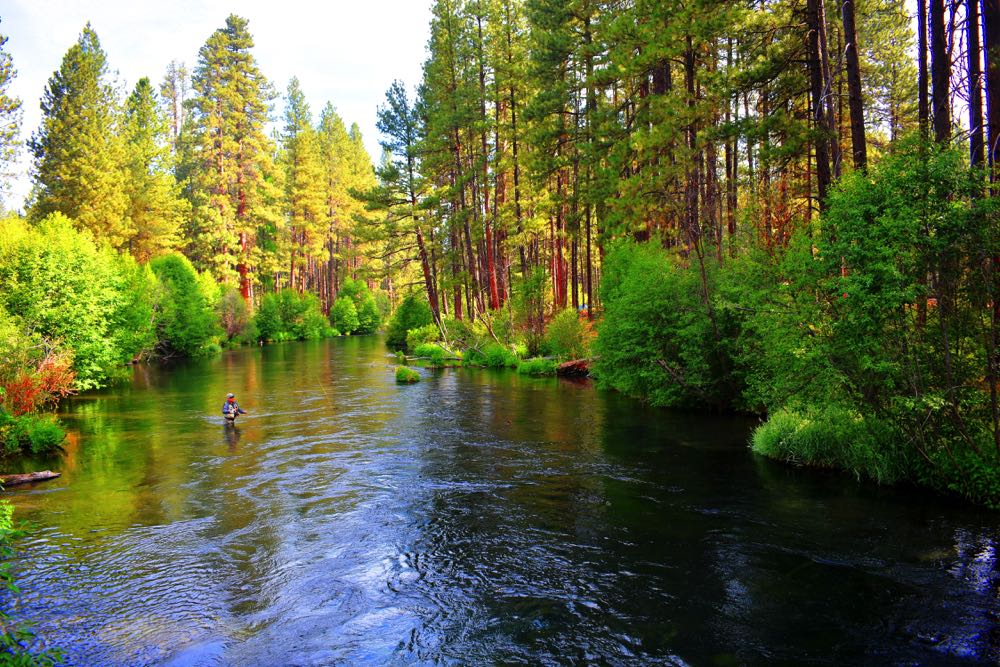 Use Caddis, March Browns, Stoneflies as well as Midge patterns.
Fly Fishing Oregon in June
By June, the precipitation levels have dropped and fishing goes back to normal. You'll have plenty of access at the sea-run fish and can do so in great weather. Egg sucking leeches, Wooly Buggers, and Deceiver flies are all great choices in June.
Fly Fishing Oregon in July
Fly Fishing Oregon in July is wonderful. Across the state, the temperatures start to rise and the fish are willing to eat in all levels of the water column. Pay attention to the summer Steelhead runs.
Use PMDs, Yellow Sallys and Caddis flies in July.
Fly Fishing in Oregon in August
Similar to July, Oregon fly fishing in August is wonderful. The fish are hungry and the weather in the mountains is great. Take advantage of the wonderful dry fly bites in August. Use Caddis, Midge, and BWO patterns to catch fish.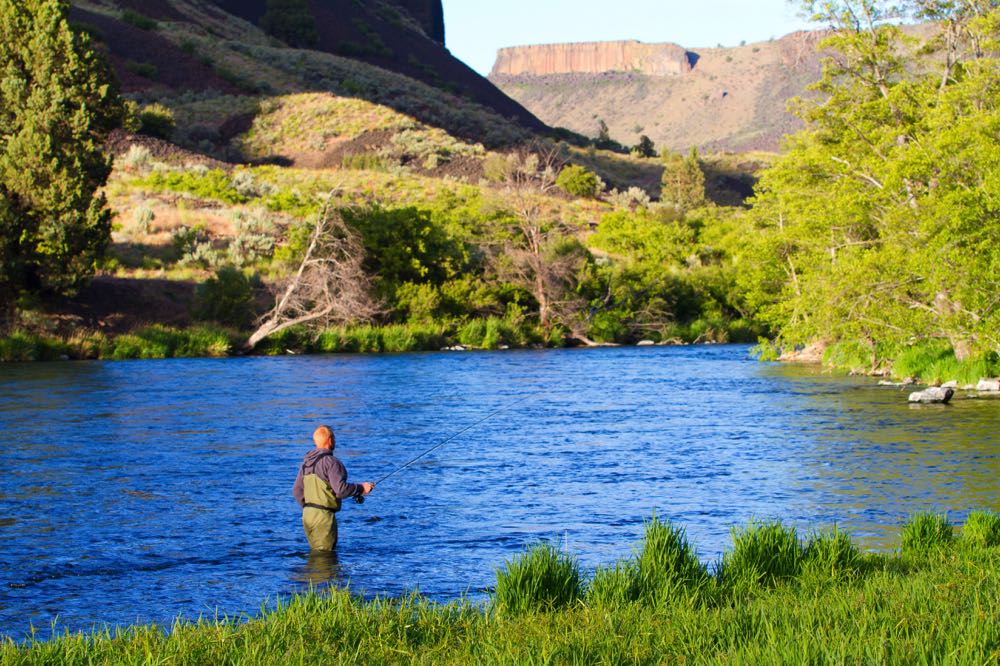 Fly Fishing in Oregon in September
Fly fishing in Oregon in September is beautiful. The weather hasn't fully turned rainy and the fall colors are in full swing. Stay in the mountains and take advantage of the final weeks of wonderful dry fly bites. The salmon and steelhead begin running later in the month.
October Caddis start to catch in September and so do BWOs.
Fly Fishing Oregon in October-March
The sea-run fish begin entering the rivers and stay in the waters until May. Be prepared for some cold and wet weather. Your 8 or 9-weights should stay in your hand along with large streamers and nymphs. Good luck during these months! They're always a blast.
Best Fly Fishing Lodges in Oregon
Oregon has a wide variety of lodges for anglers to choose from when traveling. Each offers their own expertise and almost always put you on fish. If it's your first time fishing Oregon, be sure to stay at a lodge.
Marrisons Rogue River Lodge
This Orvis Endorsed Lodge is a great choice for anyone looking to explore the Rogue River. A room will cost you around $200 per night and fly fishing guided trips are around $500 per day. A two day, three-night all-inclusive fly fishing package is around $2000 per person.
Big K Guest Ranch
Located on the Umpqua River, this 2500 acre ranch is filled with activities for the whole family. A three-night, two-day all-inclusive fishing trip will cost around $1500 per person.
Minam River Lodge
The Minam River Lodge requires a bit of a hike to reach, but it's well worth it. There are no guide services offered here, but the seclusion and access to the Minam River is well worth the trip. You can book rooms for around $200 per night.
Conclusion
Oregon is a state that will always be known for wonderful fishing. The fish are always going to be well-fed and the constant replenishing from the ocean makes every year a wonderful experience.
Make the effort to fish Oregon on your next visit to the Pacific Northwest. It's unlike any fishing you can find in the United States!
Some images in this post are courtesy of Shutterstock.com.
Like This Article? Pin it!