The Copper State is a hotbed for outdoor activities, but to me, fly fishing Arizona is the reason I make the trip. You can keep your climbing, mountain biking, and hiking opportunities. I'm there to fish.
As far a fly fishing destinations go, however, it's the neglected little brother that rarely receives the attention that it deserves.
While there aren't massive amounts of water to fish, the available water is spectacular. Beautiful scenery combined with crystal clear water makes Arizona fly fishing a rewarding experience.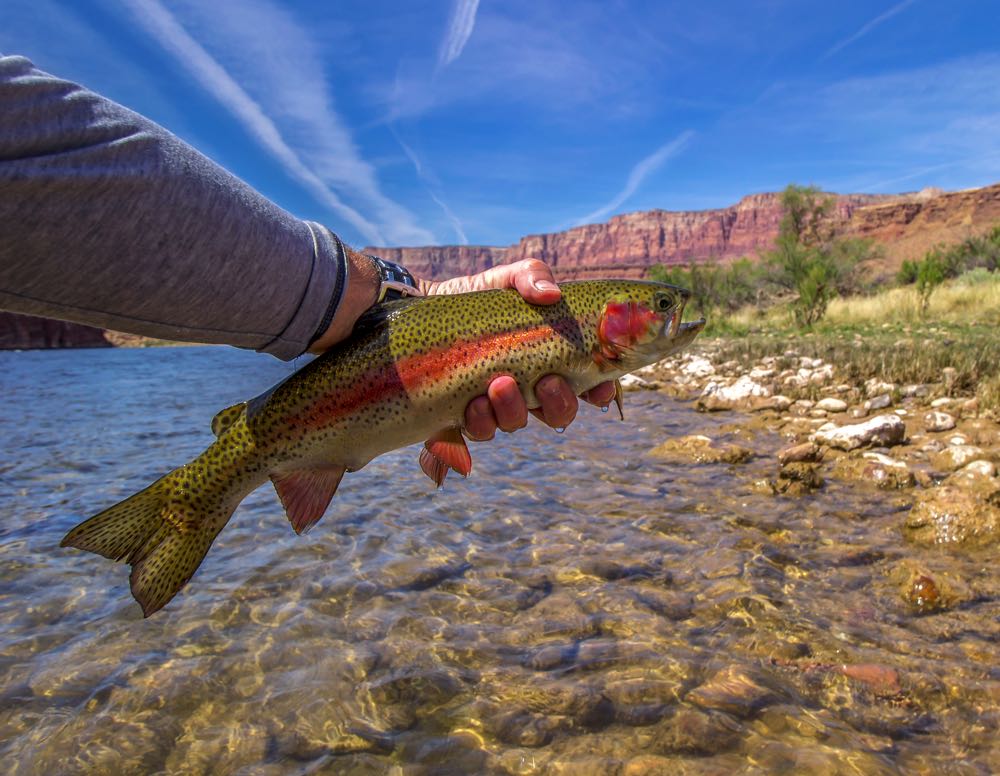 Take a break from your other outdoor activities and cast a fly rod. Or better yet, bring your fly rod along on a hiking or camping trip and make the best of both worlds.
Check Out Our Fly Fishing Arizona Video
I recently moved to Arizona and have witnessed the quality of fishing firsthand. I've packed up the family and taken the camper van to fly fishing locations all over the state. These trips have convinced me that fly fishing Arizona shouldn't be overlooked.
Large fish are found in remote locations that no one ever thinks to visit. Many of these waters are only a few hours from Phoenix.
Disclaimer: IntoFlyFishing.com is a participant in the Amazon Services LLC Associates Program, as an Amazon Associate I earn from qualifying purchases. Please see our Privacy Page for more information.
What to Pack for Fly Fishing Arizona
Here are a few of the essential items for any fly fishing trip. All of these have come in handy during my many fishing trips in Arizona, as there are so many different styles of fishing in the state.
Why Fly Fish in Arizona?
Folks from the northern part of the United States often visit Arizona in the dead of winter. You'll receive plenty of warmth on your trip, and taking your fly rod up into the mountains for some quality fishing is too good to pass up.
You'll be secluded and have the opportunity to catch some impressive fish. Throw the fly rod in the suitcase and give Arizona fly fishing a try.
Arizona Fly Fishing: Fish Species
In Arizona, you have the opportunity to catch eight different species of trout along with carp, bass, and pike. Most anglers want to try their hand at catching trout, but don't forget how much fun it is to land other freshwater fish.
Apache Trout
Apache trout are one of two native trout in the state of Arizona. They're considered a threatened species and can only be caught in Arizona. While I've usually only found these fish between 8 and 15 inches, they're still a thrill to catch.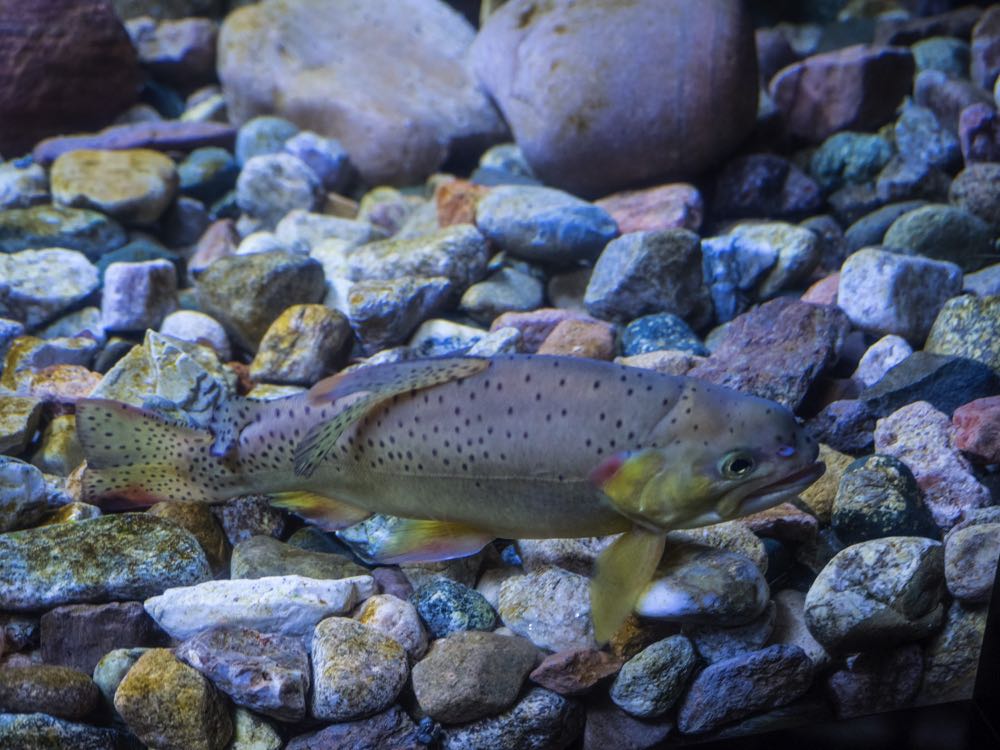 I've hooked into Apache trout in the Lee Valley Reservoir, the East Fork of the Black River and the Little Colorado River. I typically target them with Pheasant Tails, Royal Coachman and any stone fly imitation. I've never needed anything more than a 4-weight to handle them.
Rainbow Trout
Rainbow trout are the most commonly stocked species in Arizona. They were introduced in the late 19th century and the Game and Fish Department stocks over 1 million of them in Arizona per year.
I've had success catching rainbow trout in Hawley Lake, Pacheta Lake and Oak Creek. Any cold water stream in Arizona will hold these fish. You can land them with Woolly Buggers and minnow patterns along with Parachute Adams and Zug Bugs. The state record is 15 pounds, so be equipped with your 6-weight!
Brown Trout
Brown trout are another common species found in Arizona. They're regularly stocked and are the heartiest of all trout species. You'll find these mixed in the warmer portions of rivers. They range from 1 to 20 pounds in Arizona.
The most common places to find brown trout is Canyon Creek, Oak Creek and Chevron Creek. You'll also find them in the Little Colorado River. I've done well catching browns on Arizona Peacock Ladies, Woolly Buggers and Simi Seal Leech Patterns. Bring your 5 or 6-weight to catch these fish.
Cutthroat Trout
Cutthroat trout were also introduced to Arizona in the late 19th century. These aren't a common fish to catch in Arizona, but they're possible to find. I've usually caught them ranging from 8-15 inches in northern lakes.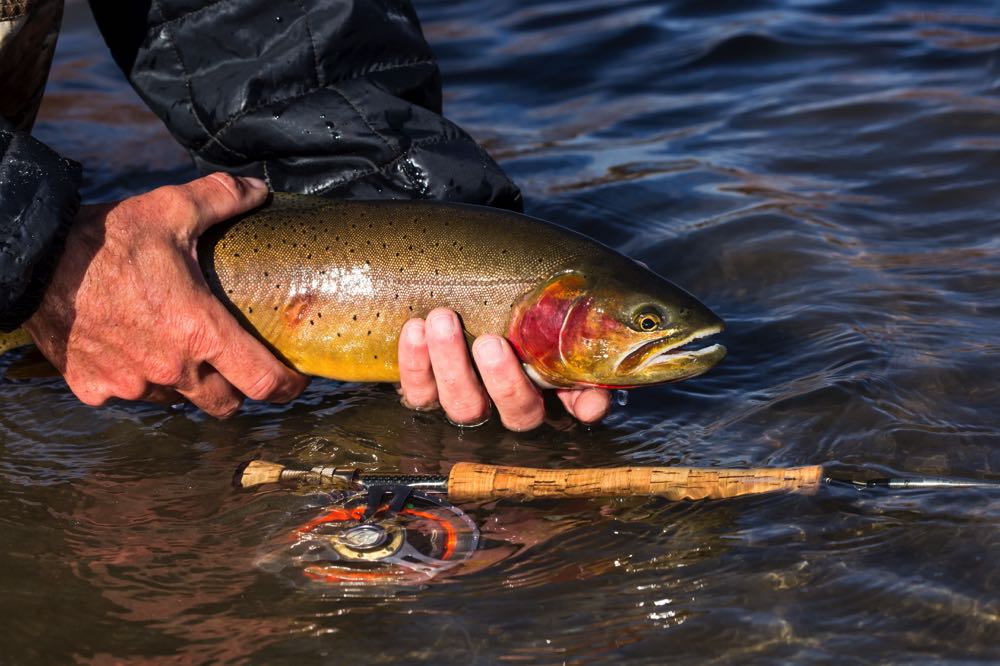 Look for these in Big Lake and Luna Lake in the White Mountains. They'll also swim through the creeks that flow in and out of these lakes. To catch these, use Pheasant Tail Nymphs, Scuds, Muddler Minnows, and Parachute Adams.
If possible, use 4x leader with a bit lighter tippet. They can be skittish! Bring along your 4-weight and see what you can catch.
Gila Trout
Gila trout are the other native trout species in Arizona. These can only be found in Arizona as well as New Mexico. Similar to the Apache trout, Gila trout are on the endangered species list. They're an extremely rare fish and a blast to catch.
You'll find Gila trout in the San Fransisco Drainage, Mogollon Creek, and Willow Creek. You can catch these on Peacock Ladies, Prince Hair Nymphs and Elk Hair Caddis. Bring your 4 or 5-weight to one of the above-mentioned rivers and see what you can find.
Brook Trout
Brook trout are the final common trout species you can find in Arizona. While they're smaller than rainbow and brown trout, their beauty makes up for the lack of size. The state record is nearly 5 pounds, so don't scoff at Arizona's brookies.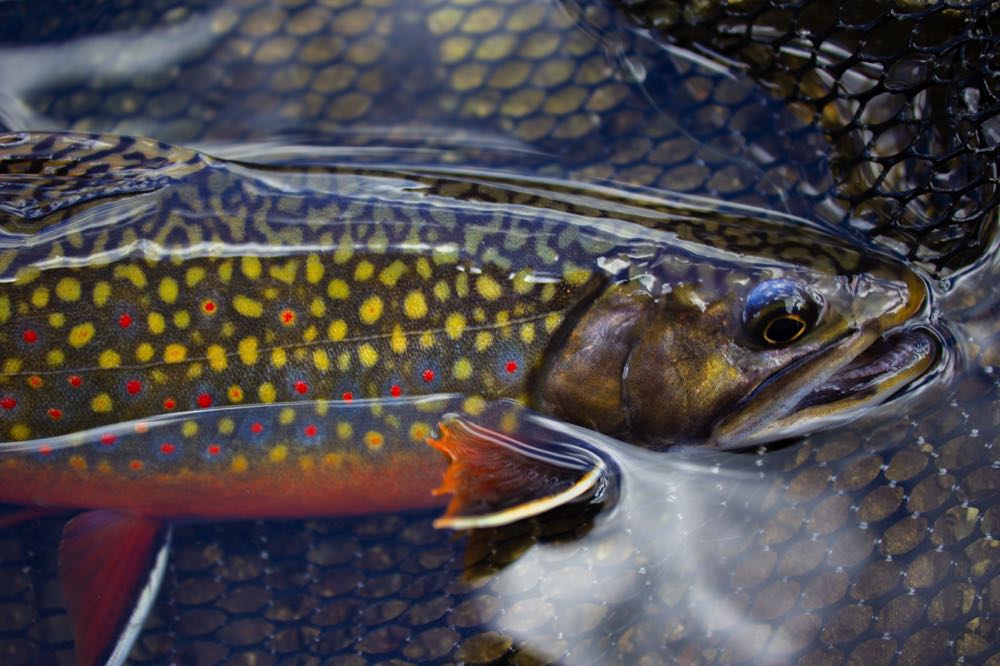 I've hooked into brook trout in Hurricane Lake, Luna Lake as well as Tempe Town Lake. To catch these, I use lighter leader and tippet. For flies, I use Parachute Adams, Cluster Minnows and Prince Hair Nymphs.
Bass
You can also find bass in almost any body of water in Arizona. These are extremely hearty fish and can survive in a variety of water conditions. Target these in Lake Havasu, Patagonia Lake, and Roosevelt Lake.
Be sure to use a 7 or 8-weight rod with gutless frogs or poppers.
Pike
Pike are another common species to target on the fly in Arizona. You'll find them in lakes all over the state including Lake Mary, Mormon, and Stoneman Lake. Large baitfish streamers on your 8-weight rod will do the trick.
Heading to the Sunshine State for fly fishing?
Don't miss our full guide to the best fly fishing spots around Florida.
Best Fly Fishing Spots in Arizona
Arizona has a variety of unique water for anglers to try. In a matter of two hours, I've gotten out of Phoenix and hiked through pine forests at 7,000 feet in search of trout. I've also fished in the heart of the city for larger bass and pike.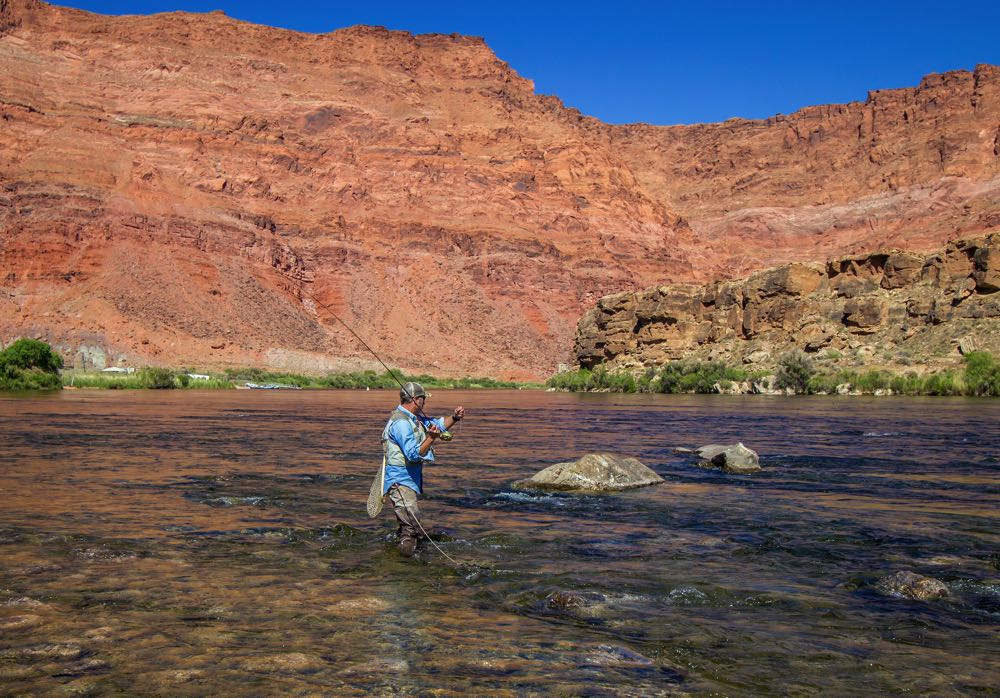 Don't let the heat and desert fool you! The entire state offers wonderful fishing.
Fly Fishing Rivers in Arizona
In Arizona, you have the option of large rivers like the Colorado or smaller streams filled with wild trout. Take your pick because either option will produce fish. Enjoy the opportunity to escape the heat and catch trophy trout.
Black River
Directions: Black River, AZ
Located near Show Low, the Black River is a beautiful body of water hidden in the White Mountains. While it's about three hours away from Phoenix, the fishing is worth the drive. You can catch Apache, brown and rainbow trout in the Black River.
I've had the most success fishing it in the spring, summer, and fall. The White Mountains receive quite a bit of snow and the best spots are accessed via forest roads. Casting lanes can be difficult to find, so a good pair of waders will make a big difference.
Use your 5-weight with 3 or 4x leader along with Woolly Buggers, Prince Nymphs, Hare's Ear Nymphs, and Peacock Ladies. The Black River is a beautiful place to visit regardless if the fish are biting or not.
Colorado River
Directions: Colorado River, AZ
Lee's Ferry Landing on the Colorado River is a great place for fly fishing Arizona. Every time I'm there, I feel like I'm fishing a wide, Western river in the middle of the desert. Being that it's a tailwater, the fishing is quality and the water is always cool.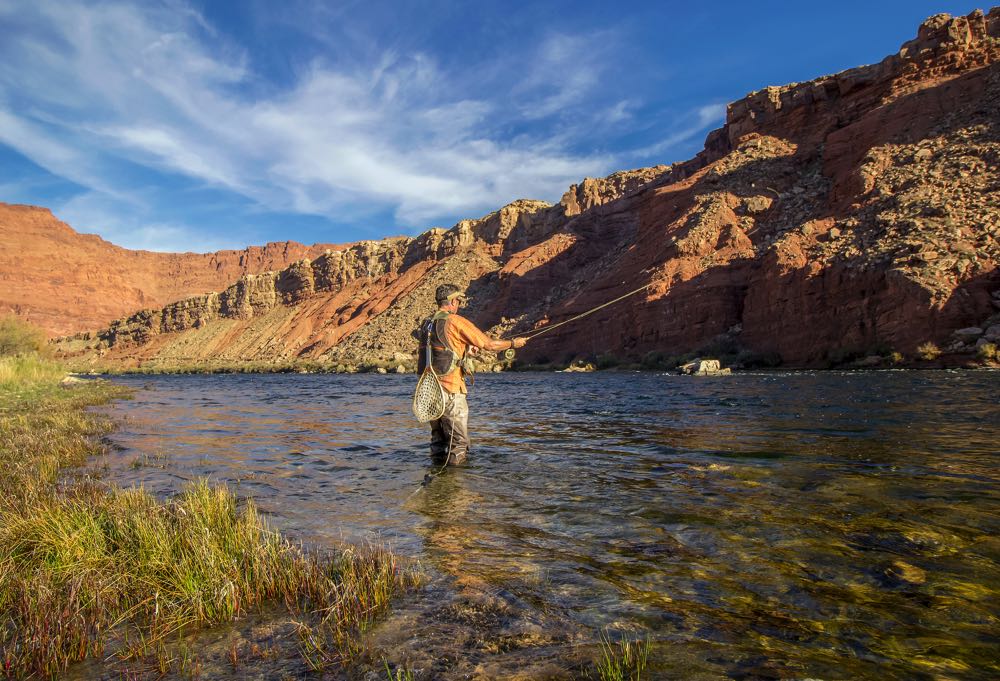 You can catch both rainbow and brown trout in the Colorado. Nymphs will be the most successful, with midge patterns working the best. Zebra Midges, Dawkin's DD Midge, and Little Black Stoneflies are great flies to use.
Also, a 5 or 6-weight rod will be necessary due to the size of the water. Tie on a 9-foot 4x leader and get to nymphing. The casting lanes are fairly open because the majority of your surroundings are sandstone cliffs.
Oak Creek
Directions: Oak Creek, AZ
Oak Creek is another must-visit in Arizona. Located in beautiful Sedona, it's the perfect place to bring the family as well as your fly rod. The soaring red cliffs are full of wonderful hikes and photography opportunities.
Oak Creek is stocked from the Page Springs Fish Hatchery. The creek holds rainbow, brown and brook trout. The brook trout are most often found in the North Fork of the canyon due to the higher elevation and colder temperatures of the water.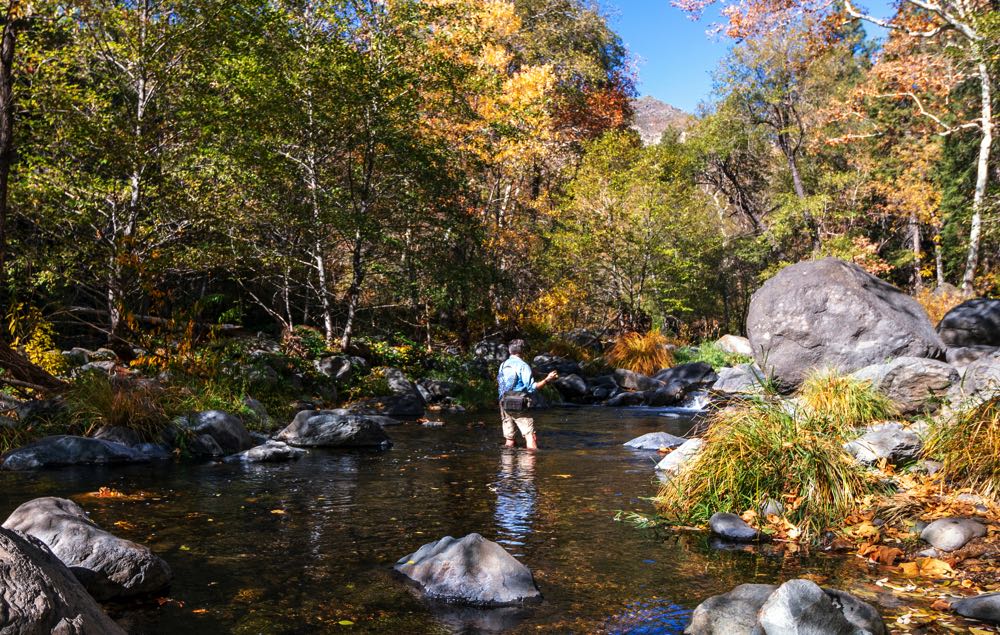 The Oak Creek Canyon hiking trail is about a 6-mile hike that directly follows the creek. I've had a great time sight fishing from it. You'll be able to spot the trout in the clear water.
Bring your 3 or 4-weight with a variety of nymph and dry flies. Zebra Midges, Pheasant Tails and Prince Hare's Ear will work for nymphs. Elk Hair Caddis, gnat patterns, and Parachute Adams are smart to use for dries. Do your best to hop around on the rocks and see what you can find.
Canyon Creek
Directions: Canyon Creek, AZ
Canyon Creek is a beautiful 50-mile tributary of the Salt River. You have the chance to explore the Tonto National Forest as well as the White Mountain Apache Indian Reservation. To fish on the reservation, you'll need a special permit.
In Canyon Creek, I've hooked into Apache, brown and rainbow trout. They range anywhere from 10-20 inches. Trout Unlimited and the Arizona Game and Fish Department have done their part in restoring the water over the years.
To catch fish in Canyon Creek, use a 4 or 5-weight with lighter leader. The clear water can make trout more apprehensive to bite anything that doesn't look natural. Woolly Buggers, Blood Midge Nymphs and Black Stone Flies all work on Canyon Creek.
Lower Salt River
Directions: Lower Salt River, AZ
The Lower Salt River is another unique Arizona fishery that most anglers never think of visiting. It's located in the Superstition Wilderness, and you can find brown and rainbow trout. It's the only cold-water desert trout fishery in the United States.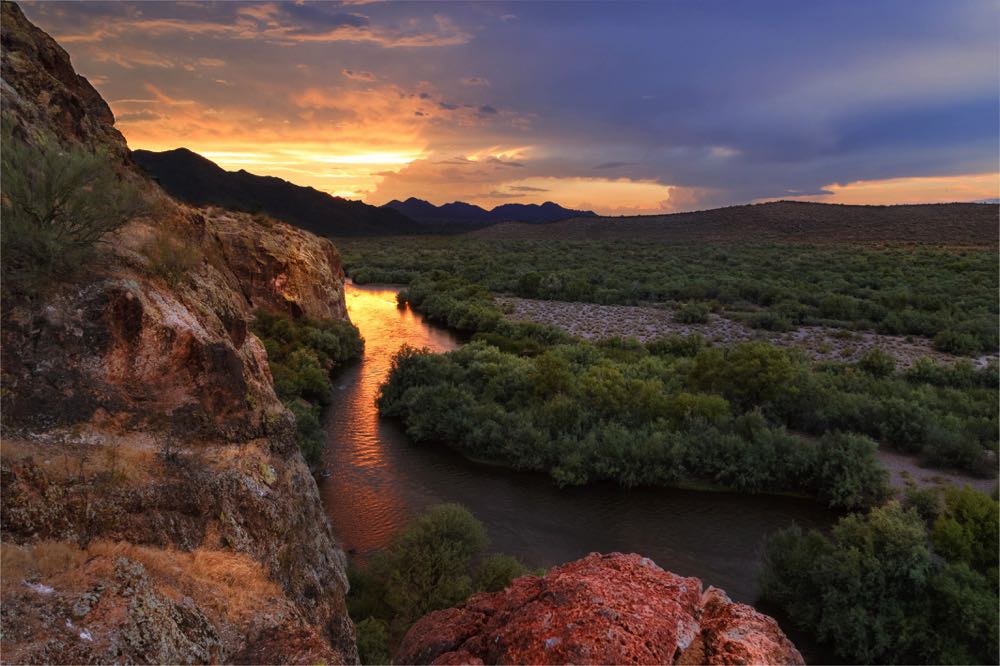 The casting lanes in the Salt River are sometimes difficult to find. The river is quite rocky, so you'll have to position yourself on boulders to locate the best casting angles. Enjoy the beautiful desert scenery while you catch fish.
You'll only need your 4 or 5-weight rod on the Lower Salt. Also, be sure to bring streamer patterns. The baitfish are plentiful in the Lower Salt, so stripping streamers like Cluster Minnows or Woolly Buggers works very well.
Fly Fishing Lakes in Arizona
Arizona also offers anglers a chance to fly fishing mountain lakes. These fisheries hold cutthroat, brook, Apache, brown, and rainbow trout. You also can fish lakes filled with bass and pike near the heart of Phoenix.
Chevlon Canyon Lake
Directions: Chevlon Canyon Lake, AZ
Chevlon Canyon Lake is located around 7,000 feet elevation in Payson. There are numerous family activities in the area that are perfect to distract those you came with, allowing you to do some fishing.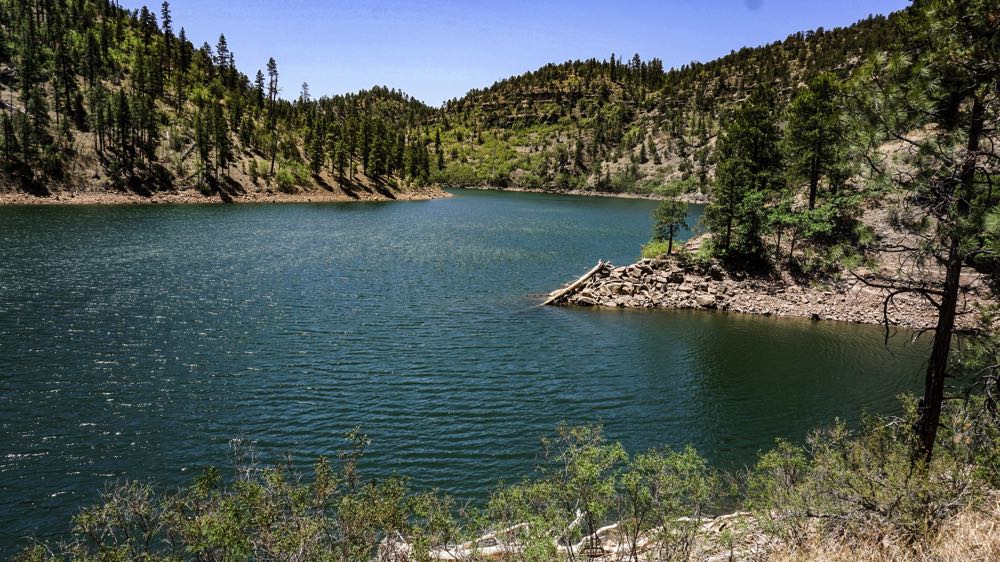 You'll find rainbow, brown and brook trout in the lake. There are quite a few pine trees surrounding the lake, so be sure to wade in the water a bit while casting. You'll want as much casting room as you can find, so don't forget to wear wading shoes.
Use a 5 or 6-weight rod on the lake because the fish grow up to a few pounds. Elk Hair Caddis, Prince Hair Nymphs and Woolly Buggers are the name of the game in Chevlon Canyon. It's a wonderful lake to fish if you're in search of seclusion.
Woods Canyon Lake
Directions: Woods Canyon Lake, AZ
Woods Canyon Lake is another option for anglers looking to fish near Payson, AZ. The most popular fish in the area are rainbow trout. Tiger trout were introduced into the lake in 2016 and are thriving. This lake will freeze over and the access gates close in the winter.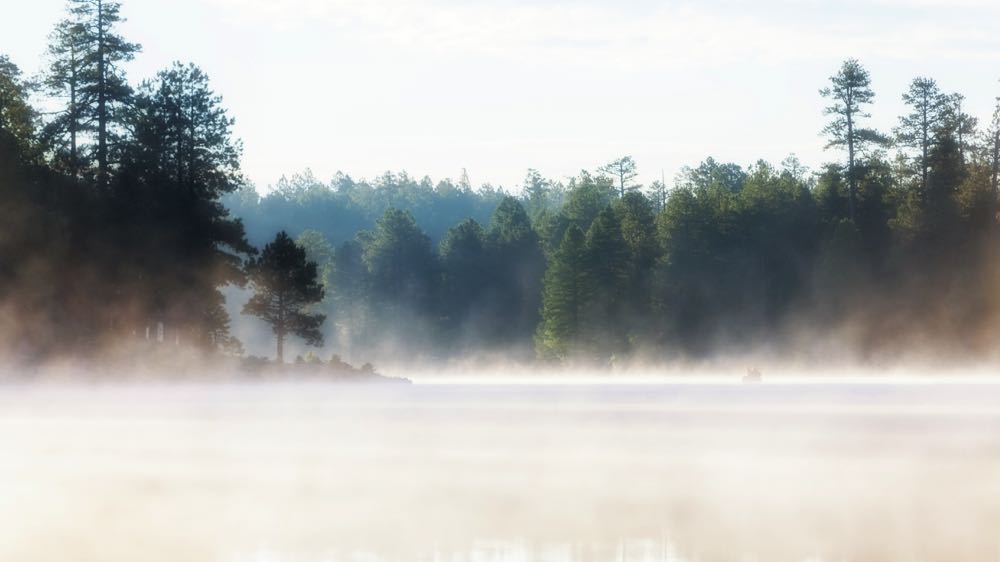 On this lake, a 5-weight rod will work perfectly. Be sure to use weight forward line with 5x tippet. The water is very clear and you need to stay as hidden as possible. I've had success fishing this lake from the shore or a small float tube.
Bring your baitfish and nymph patterns. Also, Peacock Ladies work well on Woods Canyon Lake. It's a unique fishery that many don't expect to find in Arizona. Enjoy the town of Payson and all of the beautiful features it has to offer. There are campgrounds and plenty of lodging options for a weekend getaway.
Imperial Reservoir
Directions: Imperial Reservoir, AZ
The Imperial Reservoir is a great place to find double-digit bass. It's a manmade reservoir located along the California and Arizona border. This reservoir is best fished by boat. Its massive surface area is difficult to cover and the best fishing locations are spread throughout the lake.
To fish for bass, you'll need your 7 or 8-weight rod. These fish will give you everything they have and then some. Be sure you have both sinking and floating lines readily available. The topwater bite can begin at any moment, and you should be ready.
For flies, use poppers, Gutless Frogs, Cluster Minnows, and any sort of baitfish pattern. Fishing for bass on the fly rod is extremely entertaining. Any fight you have will keep you coming back for more.
Saguaro Lake
Directions: Saguaro Lake, AZ
Saguaro Lake is another Phoenix-area lake located right off of the Bush Highway. Saguaro has impressive largemouth bass, plus the Game and Fish Department stocks it with rainbow trout during the winter.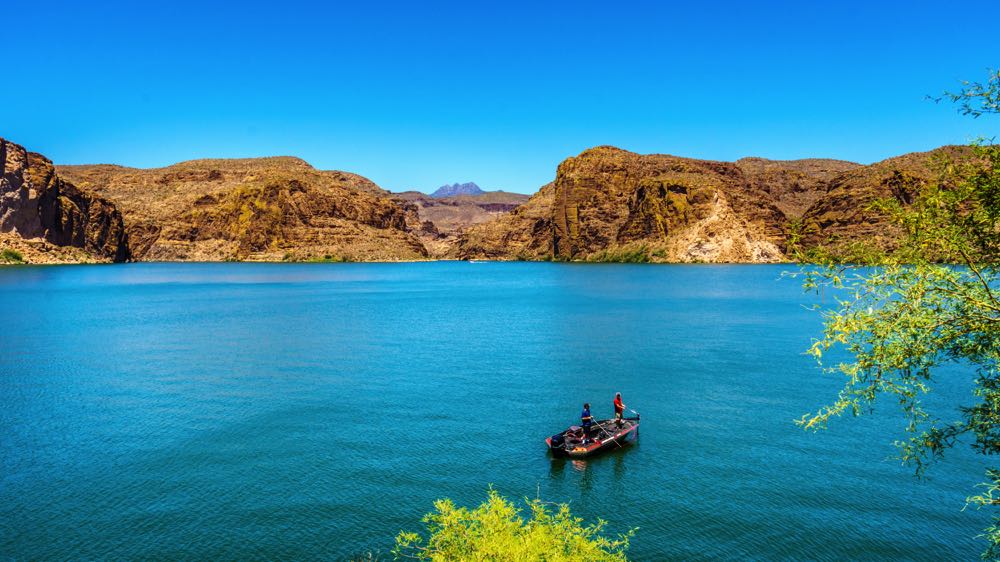 I've fish this lake from a kayak, boat, and even from shore. In my experience, casting lanes are easy to find and there's plenty of room all over the lake. The water clarity is impressive for a lake so close to a large city, so be sure to bring your polarized glasses to sight fish.
Use your 7-weight and weight forward line. You'll want 3x tippet to handle the fish you catch. Use crayfish, baitfish, and leech patterns in Saguaro.
Lakes close to Phoenix can fill quickly, so be sure to claim your spot before prime time hits. It requires a bit of planning ahead, but you'll be grateful that you earned your spot once the fish start biting.
Big Lake
Directions: Big Lake, AZ
Big Lake is located in the White Mountains. It's one of the few places in the state that anglers can find cutthroat as well as rainbow trout. If possible, make this your base camp as you explore all of the water in the White Mountains.
This lake can be fished from a small float tube or by wading. The water will be a bit colder, but a set of waders will keep you comfortable throughout the entire day. The variety of campgrounds and opportunities for other outdoor activities is appealing.
Bring your 5-weight, a dry dropper rig, and weight forward line. Anglers also fish leech patterns with a sinking line. When fishing lakes, it's smart to have different options. These fish can be picky but are always great to catch.
Arizona Fishing Season
Arizona is one of the most interesting places to fish in the United States, and it has become an unlikely favorite of mine. The greater Phoenix area stays warm all year round, and the trout waters are found in the mountains a few hours north.
These mountains receive a large amount of snow and fishing access is very difficult to find in the winter. As a result, the locals don't spend as much time up north in the winter and have to fish the more urban lakes.
As soon as roads become accessible, anglers flock north, and you should follow.
The official fishing season varies based on where in the state you intend to go. Check this document for more info on regional and state regulations.
Fly Fishing Arizona in April-May
Depending on where you're trying to fish, April and May are wonderful times to wet a line. Up north, the runoff season is just beginning and fishing can be difficult.
The fishing in the lakes and rivers in the southern portion of the state are well worth your time in May. The temperatures aren't too high and fish are still biting. Remember to always pay attention to the northern flow charts because as soon as they're fishable, you'll want to go.
Fly Fishing Arizona in June-July-August
Go north. No Arizona native has to be reminded of this. The temperatures away from the mountains become almost unbearable. Head up to the White Mountains and make camp for a few weeks.
Try all of the waters spread throughout the mountains and see what you find. These fish will bite all throughout the summer in the mountains. They'll hit everything from streamers to nymphs, so bring your full fly box. Use Peacock Ladies, Woolly Buggers, and Black Stoneflies.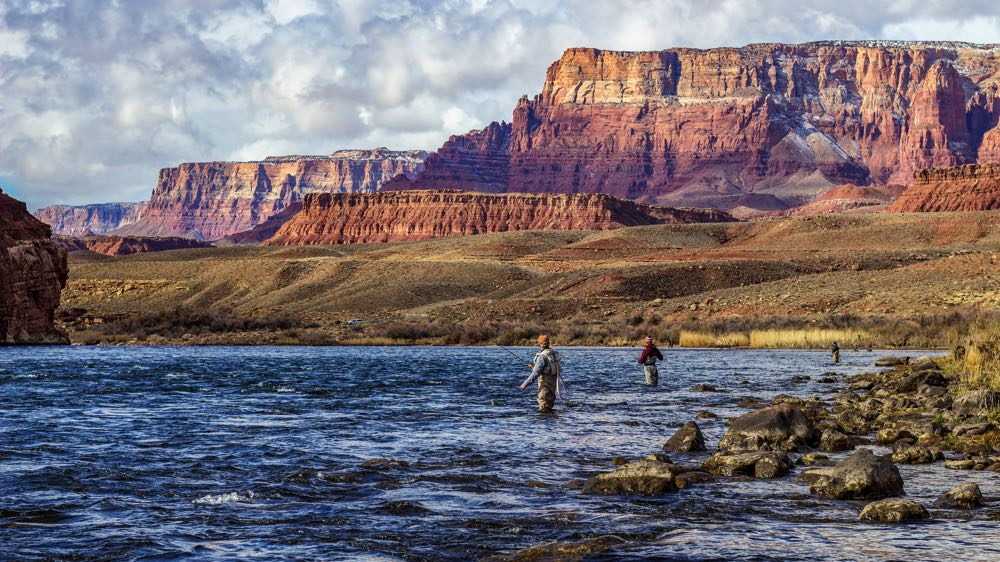 Terrestrials also bite up north during these months. There's nothing more fun than seeing your ant or hopper fly be taken by a trophy trout!
Fishing in the more southern waters is possible, but it's best to do it very early in the morning or late in the evening. Spend as little time in the sun as possible. The fish aren't interested in eating and you shouldn't be miserable outside!
Fly Fishing Arizona in September
The Arizona fly fishing opens up a bit more in September. You're able to fish waters all across the state as the temperatures decrease. The mountains are still beautiful in September, so spend as much time there as possible.
The terrestrial season continues into September and anglers should do their best to throw these.
Fly Fishing Arizona in October
The entire state is fishable during October. The temperatures in the mountains will begin to drop around freezing and snow could be in the forecast. The southern waters cool down and the fish become more aggressive.
Increase your bass fishing in October. They shrug off their sluggish lifestyle and begin to get hungry. It's a great time to throw topwater poppers and frogs.
Best Fly Fishing Lodges in Arizona
While Arizona doesn't have any lodges dedicated to fly fishing, there are a few options in northern Arizona that offer information on local waters and have phenomenal access.
You'll have the chance to explore the waters for yourself and learn the tendencies of the fish.
Orchard Canyon on Oak Creek
Located on Oak Creek in Sedona, the Orchard Canyon Lodge provides wonderful access to the creek as well as Oak Creek Canyon. You'll be able to escape the Phoenix heat and enjoy all that Sedona has to offer. You'll generally pay around $300 per night for a cabin.
Greer Lodge
Greer Lodge is located in the White Mountains and extremely close to a variety of Arizona's best fly fishing locations. There are ample family activities available at the lodge, making it the perfect spot for a family vacation.
You'll find cabins for around $100 per night throughout the summer.
Greer Peaks Lodge
The Greer Peaks Lodge is another great place to stay if you're interested in fishing in the White Mountains. The lodge is located near fishable lakes and rivers. You'll find a basic hotel room to be around $160 per night on average.
Conclusion
Fly fishing in Arizona presents opportunities for seclusion and trophy fish. Most visitors don't even think to bring their fly equipment, so you always have an advantage when you do.
Even though I live here, and I try to get out fly fishing as much as possible, I still feel like there's so much more of this massive state to explore. There's truly no limit to what you can experience fly fishing Arizona.
Visit Arizona and see if you can catch the rare Apache and Gila trout. You'll be thankful you spared the room and packed your fly equipment. It's a unique environment that will intrigue you enough to keep coming back.
Some images in this post are courtesy of Shutterstock.
Like This Article? Pin It!