Penns Creek fly fishing often draws to mind the image of a heavy green drake hatch and big rising trout. This famous limestoner has drawn anglers for years. I first fished Penns Creek a few years ago and fell in love.
Quieter and more demanding than nearby Spring Creek, Penns has fewer trout but more bugs. It's a different animal entirely. Both are great trout streams, but Penns is a bit tougher, a bit harder to get around, and has more of a wild feeling.
Disclaimer: IntoFlyFishing.com is a participant in the Amazon Services LLC Associates Program, as an Amazon Associate I earn from qualifying purchases. Please see our Privacy Page for more information.
Where Is Penns Creek?
Penns Creek flows through central Pennsylvania from its source at Penns Cave to the Susquehanna River south of Selinsgrove. It flows through mountainous terrain and farmland.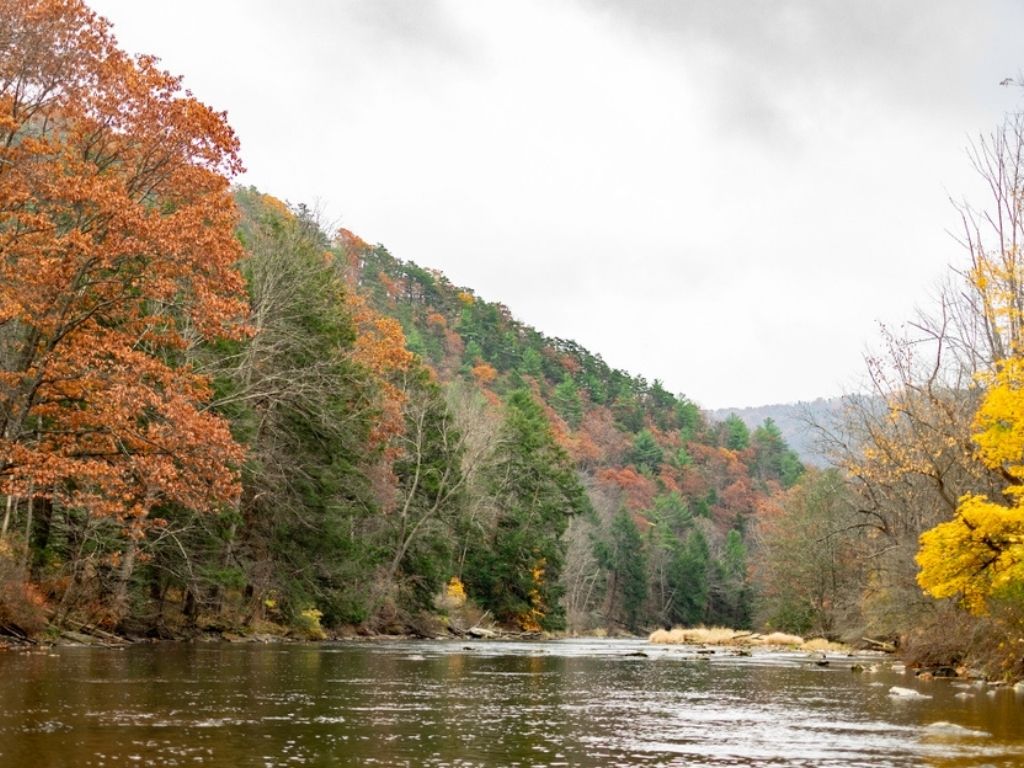 Small towns exist along its length, but nowhere are the river's surroundings heavily developed. It's a beautiful stream and often requires a hike to access.
Penns Creek Fly Fishing: Why Go?
Penns Creek is worth the visit for a variety of reasons. If you don't like urban water, Penns is a great stream to get away from road noise and pollution. It can get crowded, though.
The spring green drake hatch is famed both for its prolific nature and the huge crowd of fly fishers it draws! Most of the rest of the year, Penns sees a normal amount of fishing pressure.
Don't miss our full guide to fly fishing around Pennsylvania.
Types of Fishing at Penns Creek
Check the regulations before you pick a section of Penns Creek to fish, as some of it is catch and release, artificial lures and flies only. On much of the river, including outside of viable trout water, all tackle is legal.
Fly Fishing Penns Creek
Fly fishing Penns Creek is famed because of the river's wild brown trout and prolific hatches. Outside of the chaotic green drake hatch, the river also offers relative seclusion, if you don't mind walking a lot.
Spin Fishing Penns Creek
Spin fishing Penns Creek isn't as popular as fly fishing, but it's good for a variety of fish there. Trout, smallmouth bass, and giant fallfish are all fun to target no matter what gear you choose to fish with.
Penns Creek Fish Species
Penns Creek hosts a typical assortment of Pennsylvania limestoner species. Trout draw the most attention, but there are some other species worth targeting too.
Brown Trout
Penns Creek has both stocked and wild brown trout, and the wild brown trout fishery is considered high quality.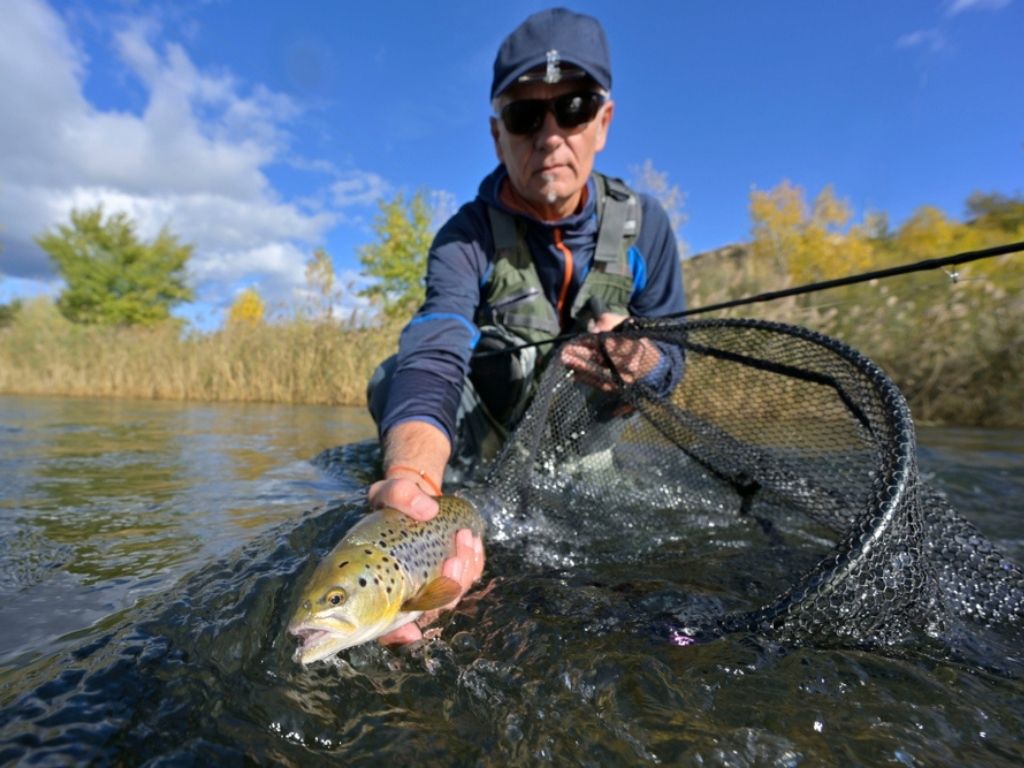 Fish in the low to mid teens in size are abundant, and some reach 20 inches.
Rainbow Trout
Rainbow trout in Penns Creek are almost exclusively stocked fish. Some large specimens can be found, though, and my largest Pennsylvania rainbow trout came from Penns Creek.
Brook Trout
Though rare in Penns Creek itself, brook trout can be found in some of the cold, clean tributaries that flow into it.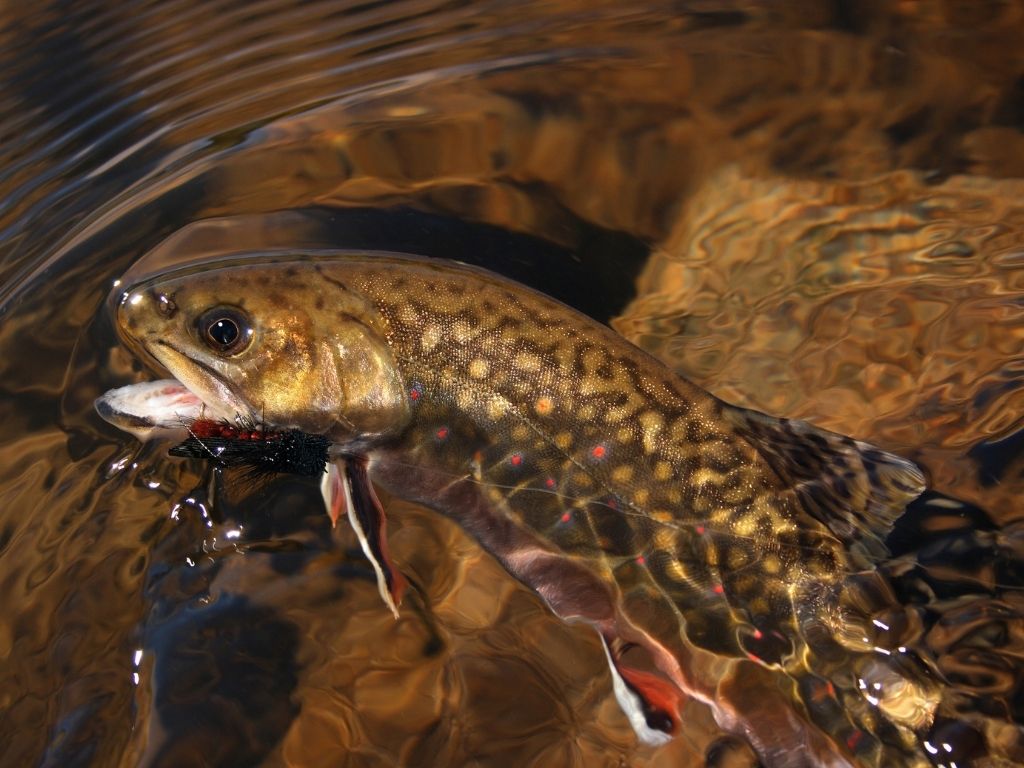 Brook trout are the only salmonid native to the watershed.
Fallfish
Fallfish are usually ignored by anglers, and some even dislike them. However, these silvery hard-fighting fish are great fun on light tackle. In Penns Creek, they get gigantic. Catching one up to 18 inches is possible.
Smallmouth Bass
Penns Creek holds smallmouth bass well below the trout water. It isn't as well known for bass fishing as other rivers in the area, but it produces large smallmouth.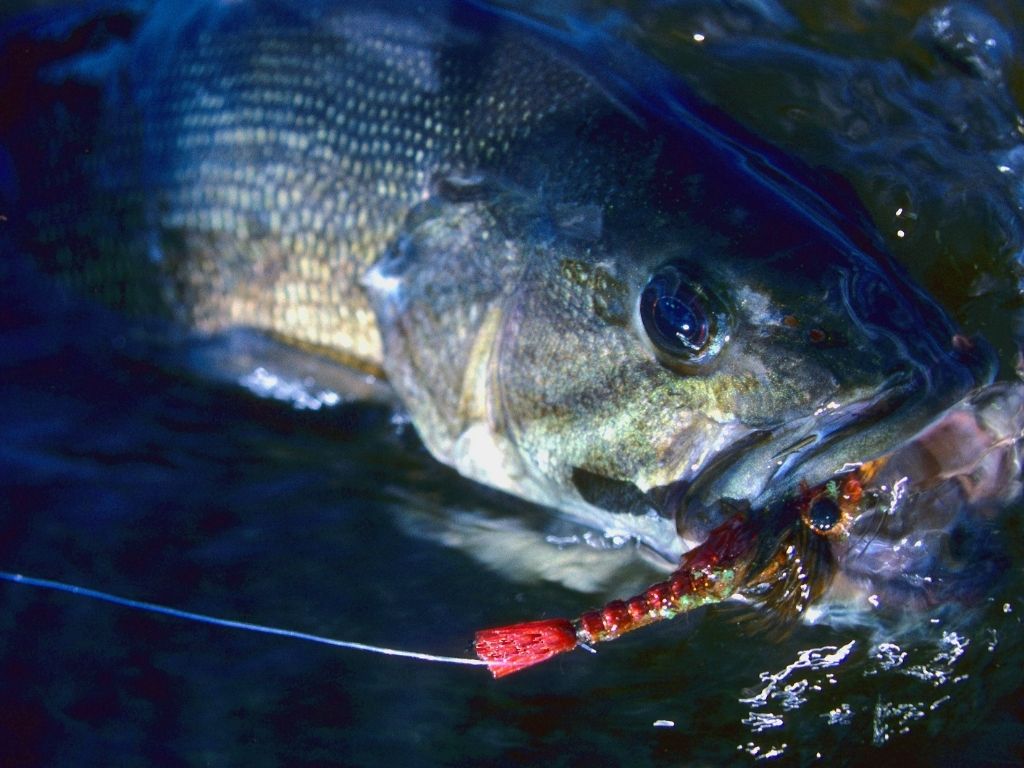 Chances are there won't be many other people fishing it when you're out wading or floating for bass.
Best Spots for Fishing Penns Creek
Most sections of Penns Creek require some hiking to access good water. Regardless of access, wading is usually tricky even in moderate flows. These are important things to keep in mind before you decide to go.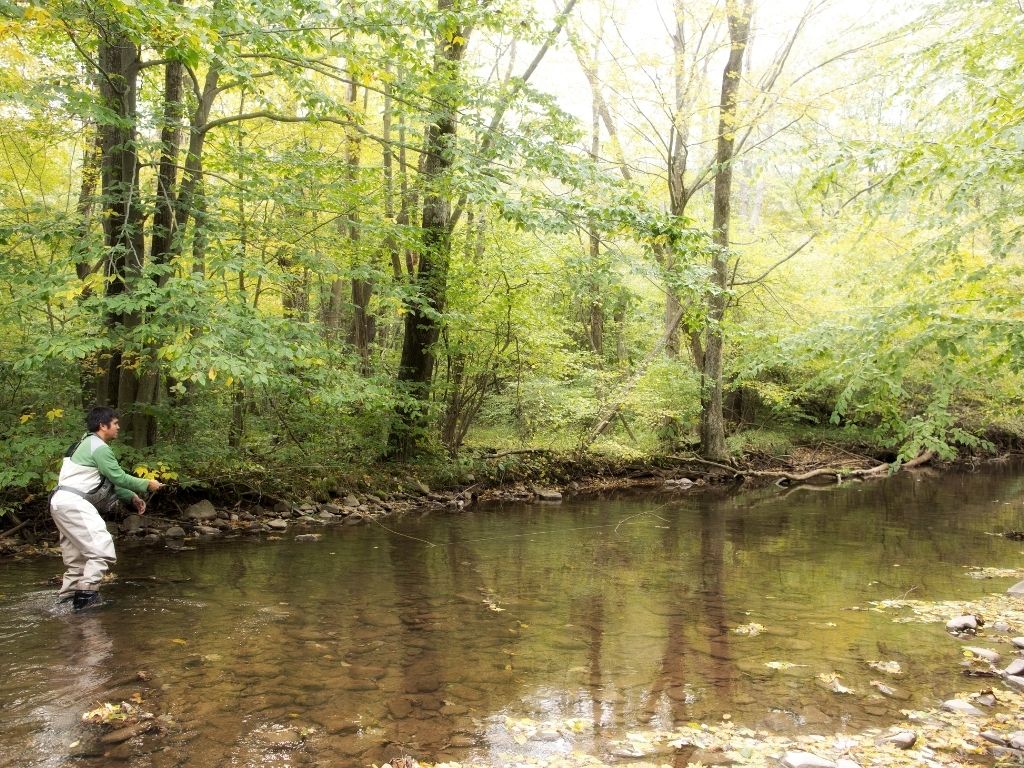 Here are some places to try fishing Penns Creek.
Coburn
The town of Coburn is one of the easiest points to access Penns Creek, with just a short walk from pull-offs to the river. The river is small here. Be sure not to trespass, as public access is interspersed with private land in town.
Ingleby
Secluded and tiny, the village of Ingleby sits near some of the best trout water on Penns Creek. Walking along the river both upstream and downstream of town can get an angler to some quiet pools and bubbling pocket water. Wade carefully, especially if you're fishing alone.
Cherry Run
Hiking up from the Mid State Trail Parking upstream from Cherry Run is another good way to get into Penns Creek. Long pools are interspersed with deep runs, riffles, and places where the river splits. Cell service is poor here, so be mindful of that.
Best Flies for Fishing Penns Creek
A variety of flies will work well on Penns Creek. Here are some of my favorites.
Pat's Rubber Legs
The simple and ugly Pat's Rubber Legs is a great buggy stonefly imitation to nymph with when you're fishing Penns Creek. It's a great choice especially when the water is high and murky. Don't be afraid to use split shots to get the fly down deep.

Walt's Worm
The Walt's Worm is a very simple nymph that could imitate a variety of larvae trout eat. I tie mine with a tungsten bead and a hot orange color.
Try them on their own or in tandem with another nymph when you're fishing Penns Creek.
Half Pint
Designed by local guide Domenick Swentosky, the Half Pint streamer is a great pattern to imitate many of the baitfish in Penns Creek. It'll catch both trout and smallmouth bass.

Green Drake
If you don't mind the number of other anglers, the Penns Creek green drake hatch is worth experiencing.
Get to the water early, before the evening hatch, and bring a green drake parachute and dun pattern, as well as coffin fly patterns.

CDC Caddis
The CDC Caddis is an important fly on just about any trout stream. Caddis are one of the most common insects fish feed on, and the CDC Caddis is a very realistic imitation of the actual bug.
Penns Creek Fishing Season
The fishing season on Penns Creek is year round in the C&R only section. Since wading there is already treacherous, it's even more important to be cautious in the winter.
Spring is primetime for big hatches and dry fly fishing, but heavy rains wash lots of mud into the creek and it sometimes takes days to clear back up. Come summer, though, and a lack of water is more of a problem. Don't fish if the water temperatures exceed 67 degrees, at least not for trout.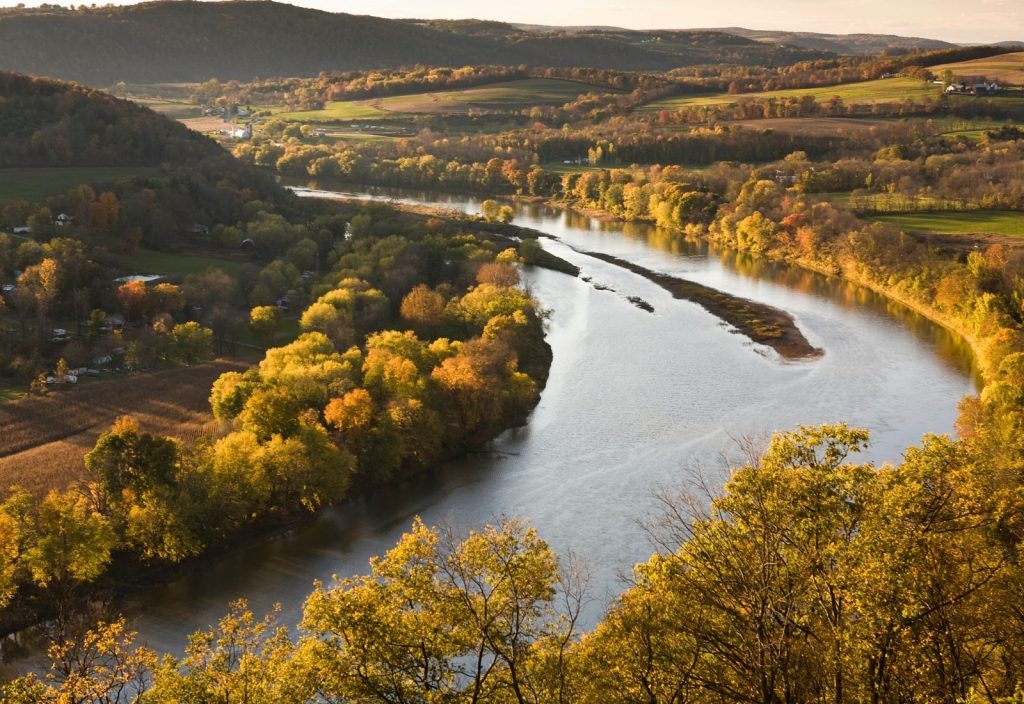 If the river is too warm to trout fish, it's a good time to go down the watershed and try for smallmouth bass. Once fall rolls around and the water cools, the trout are safe to target again. Try big streamers and egg patterns, but avoid fishing the riffles where browns spawn.
Penns Creek Fishing Report
Last time I fished Penns Creek, the flow was moderate and the water was stained. Big stonefly nymphs were working well, especially in deep pockets and runs with faster current.
Trout were the primary catch, but I got some huge fallfish as well. I was very impressed by the quality of both the wild brown trout and the native fallfish. I'd never caught fallfish the size of those I found in Penns Creek.
Penns Creek Fishing Guides
Penns Creek can be a tricky river, especially for a novice. Here are some guides and outfitters that can help shorten the learning curve.
Domenick Swentosky
Domenick, writer of the popular blog "Troutbitten," guides Penns Creek and other local waters. He has special expertise in fishing the mono rig, so if you're interested in learning that methodology he's a good guide to hire.
Sky Blue Outfitters
Sky Blue Outfitters offers a variety of guided fly fishing trips, including on Penns Creek and surrounding waters. They even offer overnight package trips with lodging, food, and guided fishing.
TCO Fly Shop
The most prominent fly shop in the region books trips with a bunch of guides. Some of their guides can do trips on Penns Creek.
Conclusion
Penns Creek is a fantastic though sometimes fickle and difficult trout stream. That's part of why I liked fishing there so much. It was challenging and there was so much water to cover. If you like going to a river and walking a long way to seek out a sneaky place where trout may be hiding, Penns Creek is a great river to visit.
Penns Creek fly fishing isn't only great for trout, though. If you like catching something unusual, the giant fallfish might pique your interest. Or, perhaps, go outside the trout water altogether and fish for smallmouth bass.
Penns Creek is a famous river for a reason. This limestoner is definitely worth a visit, and if you're willing to put in the time and effort, you can reap the rewards.