As an Amazon Associate I earn from qualifying purchases.
Every fly angler has certain rivers that stick with them forever. Whether it's the home of their personal best fish or the site of a world-class hatch, these bodies of water lodge themselves into our memories and always seem to be calling us back.
For me, it's the Flathead River. Beginning in the mountains of Glacier National Park and flowing south through Flathead Lake, the Flathead River isn't just one of the most beautiful trout streams in Montana, but in the entire world.
I first visited this river five years ago, and any opportunity I get to fly fish the Flathead River, I take it. No matter the time of year or weather conditions, I make an extra effort to make the most of my experience on this gorgeous body of water.
I've been fortunate enough to fish all over the United States and Canada and always find myself coming back to the Flathead.
Don't miss our full guide to Fly Fishing in Montana.
Fly Fishing Flathead River: Why Go?
I've fished the Flathead six or seven times. Each time I go, I experience something different and land even more fish. Yes, I'm learning the water more and more, but it's a healthy river that produces a nice amount of fish.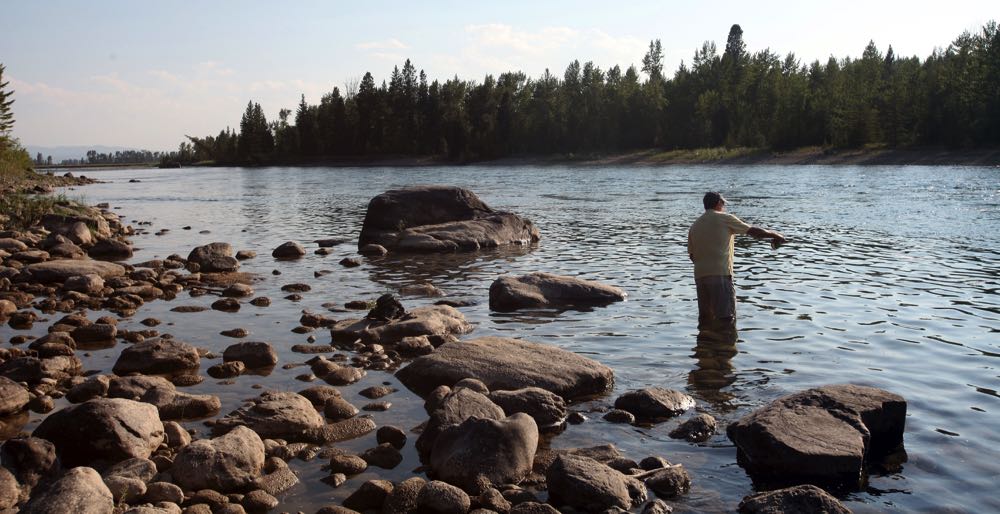 On top of the great fishing, you'll struggle to find more beautiful water. It's a deep, clear blue and is surrounded by some of the most awe-inspiring scenery in the lower 48. It doesn't matter if you're not landing fish, the scenery alone is worth the effort.
You can land some unique fish, take stunning pictures, and create memories that you'll definitely want to relive.
Going on a fly fishing trip in Montana? Check these places out:
Species for Flathead River Fly Fishing
The ample number of species you can find in the Flathead River is impressive. It's a delicate ecosystem that has seen its fair share of troubles, but the fish continue to reproduce and you'll be pleased with the variety of fish you catch.
Westslope Cutthroat Trout
The Westslope cutthroat is the primary draw to the Flathead River. It's one of the few areas left in the world where you can find a native population of these fish. They're beautiful and must be cared for when caught.
You can find these fish in both the Middle and North Forks of the river. These environments are perfect for the Westslope cutthroat. Be sure you attack these with 4 or 5x tippet. They're sensitive and hesitant to strike anything that doesn't look natural.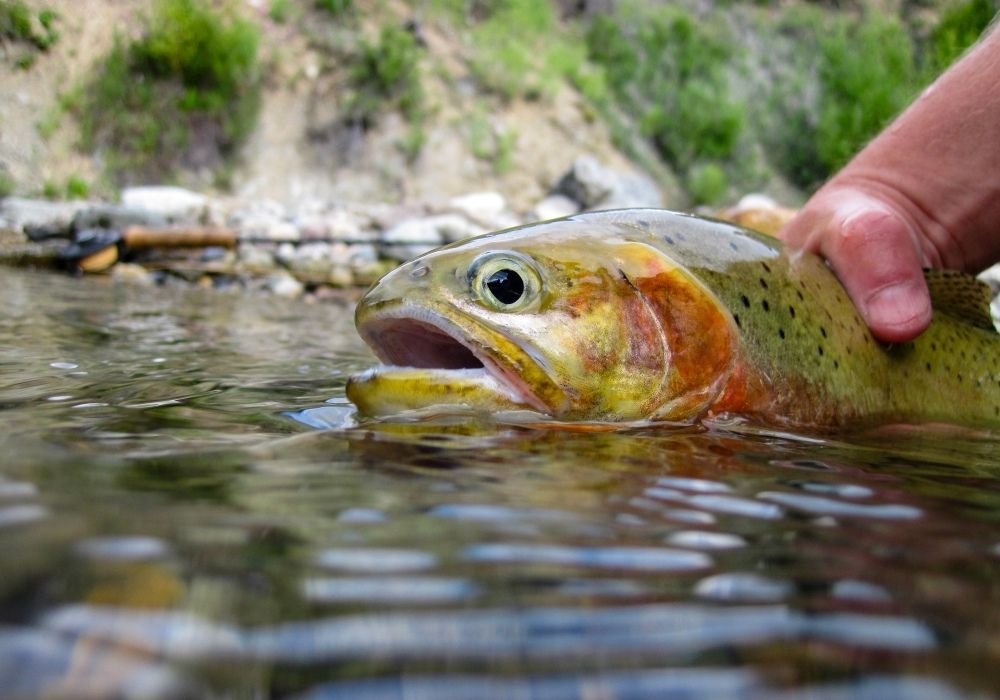 Use caddis or salmonfly patterns. Also, as the season progresses, they're quite fond of terrestrial flies.
Rainbow Trout
You can also find a healthy population of rainbow trout in the Flathead River. These fish are also delicate and need to be handled with care. They need extremely cold water to thrive and survive. Look for these in the Middle and North Forks. They sit in pockets and some of the deeper pools.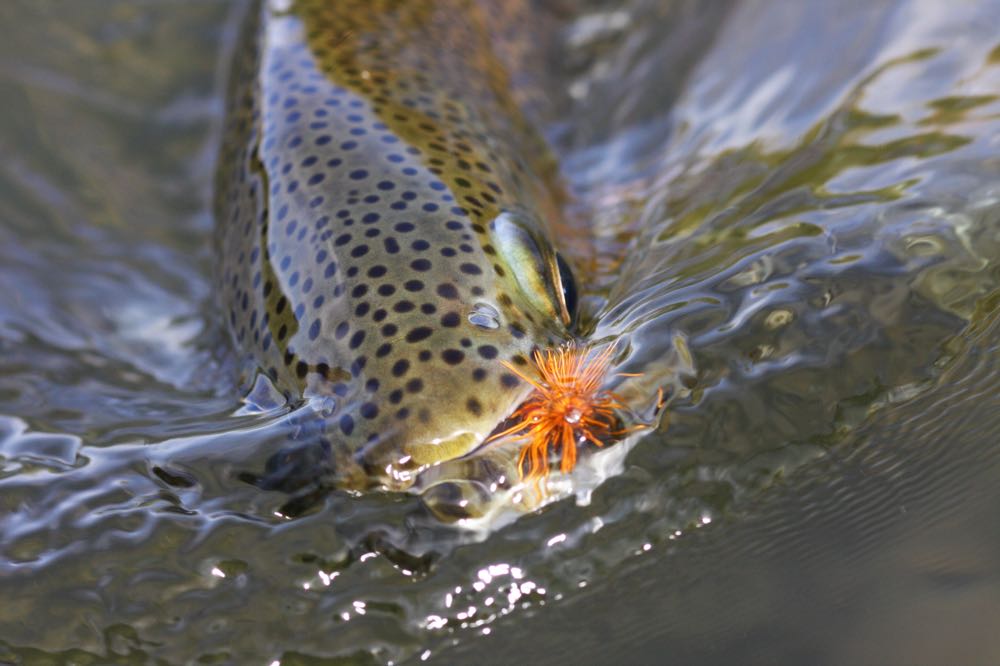 Be sure to bring your Prince Nymphs, Buggers and caddis patterns when you're targeting these fish. As soon as they start looking up, you'll be in for a treat. Don't miss out on a Flathead River dry fly bite!
Whitefish
Mountain whitefish also finds a home in the Flathead River. These fish are prevalent and aren't too difficult to catch. You can find them in every section of this river. They're solid fighters, but don't always strike your fly too hard.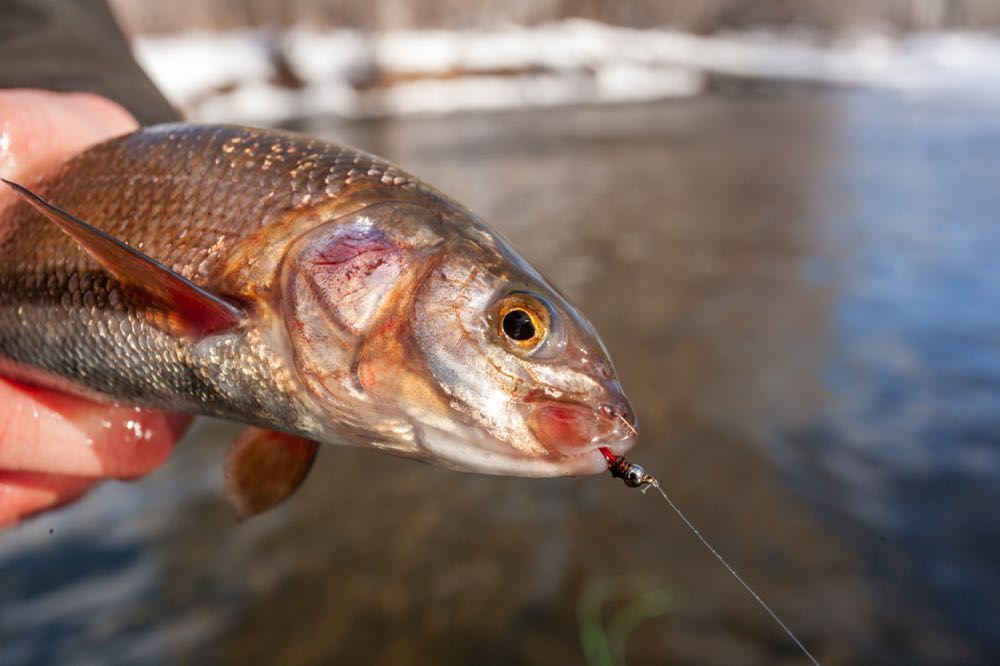 If you want to land one of these fish, go ahead and throw nymphs and streamers. They aren't too picky and you may catch more than you'd like! They're great fish to warm up with. Practice your strip setting and timing when you target these fish.
Best Spots for Fly Fishing Flathead River
In 1976, the 219 miles of the Flathead River was designated as Wild and Scenic. As a result, this water is heavily protected and many of the areas are great to fish. However, the water can flow at impressive speeds, so make sure you pick your areas carefully.
Bob Marshall Wilderness
Nearly 50 miles of the Flathead River is located in the Bob Marshall Wilderness. This is some of the most remote landscape in the United States. If you're after seclusion, focus on this portion of the river. You'll find yourself in the midst of beautiful valleys and lush forests.
You can access this portion of the river by foot, horse or airplane. If you're willing to put in quite a bit of work, you'll be rewarded. It's a beautiful part of the world that any diehard outdoorsman or woman needs to visit. Be sure to bring your bear spray when you visit! The bear population is high.
You'll want to pack in supplies to survive for a few days and bring a packable rod too. Also, waders are important! The water is extremely cold, so it's not really possible to wet wade. Go ahead and access this area at the Spotted Bear trailhead.
This is one of the most beautiful places in the world! You can't go wrong fishing here.
Kerr Dam
Fishing above the Kerr Dam is often very solid. You can find a majority of the cutthroat and rainbow trout population in this area. This also happens to be a fairly easy portion of the river to access. There are numerous park and fish opportunities above the Kerr Dam.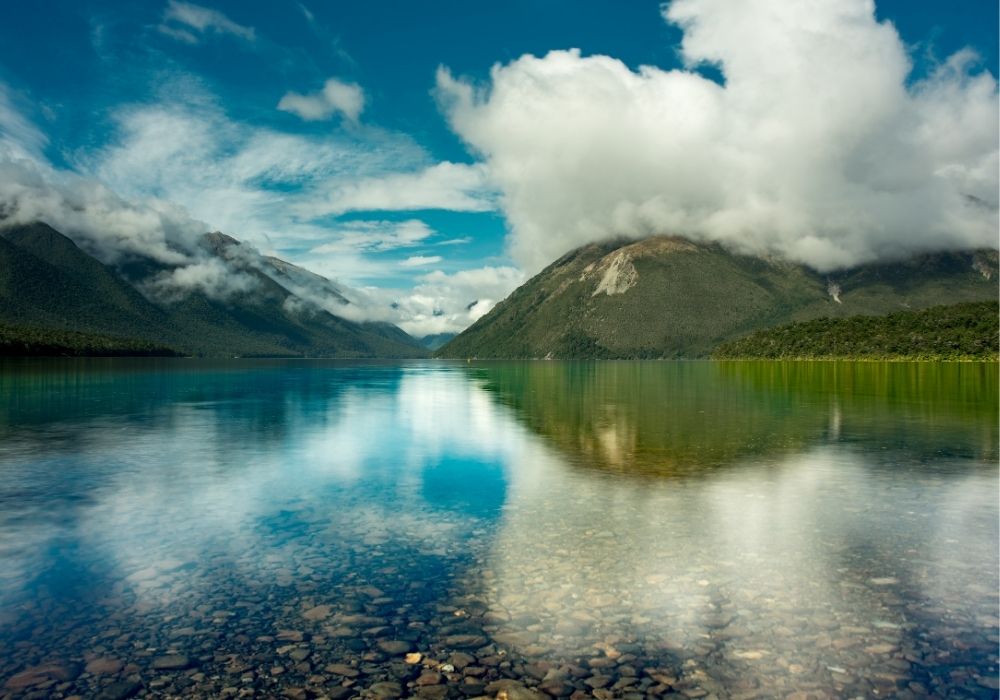 Remember, however, that landowners own property up to the high water line. This often requires anglers to stay in the water when they're fishing. As a result, you need to bring waders so you can spend a comfortable amount of time in the water.
You don't have to worry about casting lanes above the dam. You can cover a wide portion of the river above the dam. Bring your 5 or 6-weight so you can handle the strong flows.
Above Flathead Lake
Be sure to also spend time fishing above Flathead Lake. You'll be pleased with the results. If you're interested in warming up at the lake, you can have some fun targeting lake trout or some of the surface feeding fish.
This portion of the river is best fished late in the season. The flows are often strong due to the heavy snowmelt. Take a visit late July through September and you'll have plenty of success. Be careful before you enter the water! Make sure the flows are manageable.
This portion of the river has some of the best access! Keep that in mind as you're planning your trip.
Best Flies for Flathead River Fly Fishing
The Flathead River is similar to many of the other rivers in Montana in that there are an ample amount of flies that will work to land fish. The biggest thing to remember is that an accurate presentation is key. You can throw the perfect fly, but if it doesn't look natural, don't expect fish!
Chernobyl Ant
Terrestrial patterns work extremely well late-July through mid-September. You can find a variety of patterns that will work, but the Chernobyl Ant is going to be one of the most successful. Tie this on some 3x leader and 4x tippet. This size of line won't frighten the fish and will give you a great chance to land some large cutthroat.
Sally Stone
The Sally Stone fly pattern is smart to use June through August. As soon as you start seeing the "shed" of stoneflies, go ahead and throw some Sally patterns. These are candy to the fish in the Flathead River.
These are some of my favorite flies to throw in general, so the opportunity to use them on one of the most beautiful rivers in the world is a dream come true. Make sure you use 2 or 3x leader! You'll get some angry fish that strike these.
Elk Hair Caddis
Elk Hair Caddis patterns are a must-have in your box. Bring them in sizes 12 to 18. You never know what the fish are going to want, so it's smart to have a variety of options for your next excursion.
Tie these on 3x leader and 4x tippet. Look for any sort of surface action and throw it that way. Don't make dry fly fishing too complicated! If you see action, go ahead and see if you can tempt the fish once again.
Cast upstream at the rise, let it drift for a few feet and try again.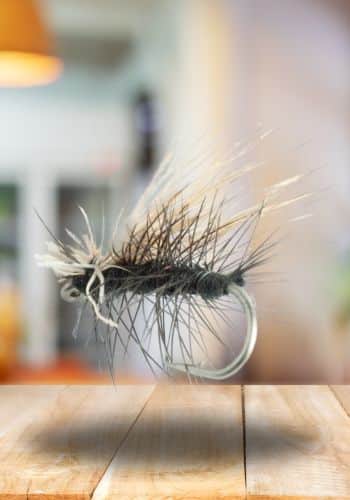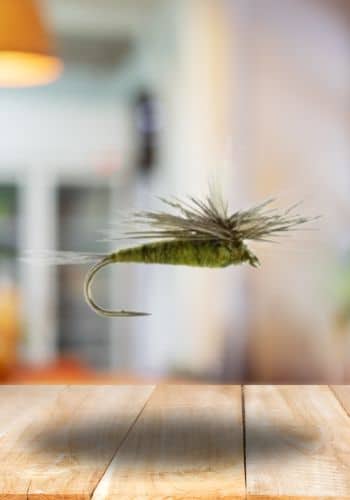 Blue Winged Olive
The Blue Winged Olive is great to throw early and late in the season. If you're fishing in April or October, go ahead and throw one of these. The hatches for BWOs are most prominent during these months.
Wait for the warmer part of the day and you'll likely see these hatches occurring. The fish don't want to work too hard during the cooler parts of the year, so make sure the fly has quite a bit of floatant to make it look especially appealing.
Hecuba Drake
Drakes are another common hatch on the Flathead later in the summer. The trout love to eat these patterns on the surface! Try them anywhere between sizes 12 and 18.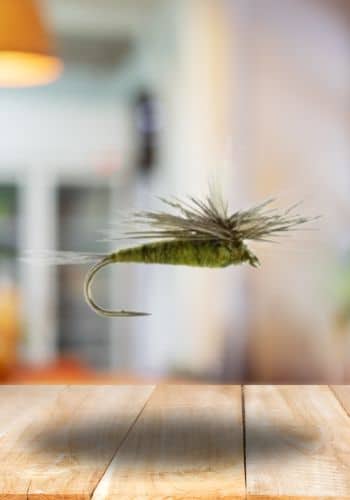 Flathead River Fly Fishing Season
To truly experience Flathead River fly fishing, you'll want to make sure you visit later in the summer. Mid-July through September are the best months. These months are when the flows are most manageable and the weather is cooperating. Fish the morning and evening hatches.
Flathead River Fly Fishing Report
The Flathead River takes work to learn. Since the water is so cold and clear, you have to be a skilled angler to land fish. Focus on the riffles, seams and pools.
I fish the portion within the Bob Marshall Wilderness area every time I go. Smaller caddis patterns as well as terrestrials are my go-to! They always seem to work.
Conclusion
Flathead River fly fishing will challenge you. You'll see fish, but maybe not catch them. These fish are smart and have learned to adapt to survive. Stay patient and diligent and you'll eventually learn the habits of these fish.
These techniques have worked for me on my many trips to the Flathead. And on the rare days when I couldn't land even one fish, I still had a fine time admiring the stunning mountain scenery. There's no doubt that Flathead River fly fishing is some of the best in the world.
It's beautiful, rugged and unique. These features aren't always possible to find, so make sure to take advantage of them!
Amazon and the Amazon logo are trademarks of Amazon.com, Inc, or its affiliates.
As a part of the Amazon Associates Program and other affiliate programs, Into Fly Fishing® may receive a comission if you order products through links on this website.