Farmington River fishing is one of the most popular outdoor activities in Connecticut. I've been fishing in Farmington for almost 10 years and have a lot of good memories of it.
This river, miles of which are a cold, rich, tailwater trout fishery, holds many fishing opportunities. From trout to shad to bass, numerous species thrive there. Many reach trophy sizes.
Disclaimer: IntoFlyFishing.com is a participant in the Amazon Services LLC Associates Program, as an Amazon Associate I earn from qualifying purchases. Please see our Privacy Page for more information.
Where Is the Farmington River?
The Farmington River flows mostly through Northern CT. It starts in Massachusetts as a small freestone. Colebrook Lake and Hogback Reservoir create a tailwater, and there is a strong trout fishery down as far as the town of Unionville.
From Farmington, CT to the Rainbow Reservoir, the river has seasonal trout fishing and smallmouth bass. Below the Reservoir to the end of the river, many migratory species are present.
Don't miss our complete guide to fly fishing around Connecticut.
Farmington River Fishing: Why Go?
Simply put, the Farmington is one of the best tailwater trout fisheries in the Northeast. It also has some great fishing for warmwater and migratory species.
Large numbers of fish and big fish are both possible when fishing the Farmington.
Types of Fishing in the Farmington River
Although fly fishing for trout is the most popular, spin casting and baitcasting for a variety of species gives plenty of variety.
Fly Fishing Farmington River
In the tailwater, 3-6wt fly rods are most popular. Fly fishers use dries, wets, nymphs, and even large streamers to tempt the river's finicky trout.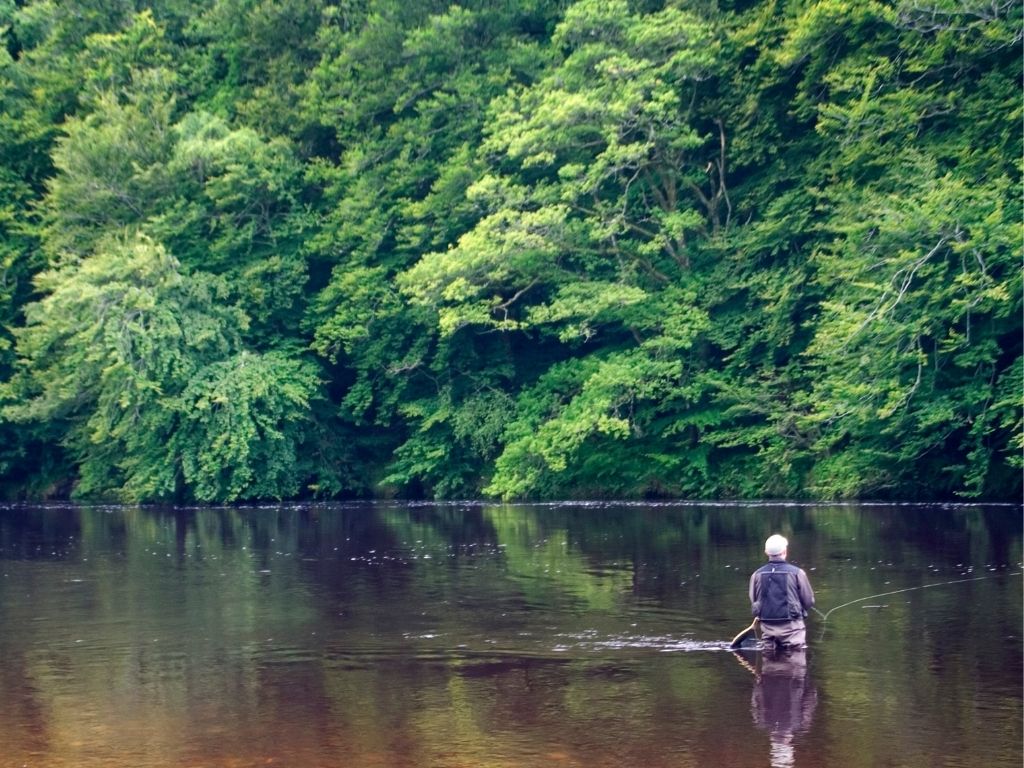 On the lower end, a 10wt and giant baitfish flies work well for pike and striped bass. Though not as popular as the trout, this is some of the best Farmington River fishing.
Spin Fishing the Farmington River
There are no restrictions on using spinning gear in the Farmington, although single barbless hooks are mandatory in the catch and release area.
A spinning rod is also a great tool for shad fishing near the mouth of the river. Bait fishing for catfish and carp can also be fun when spin fishing the Farmington River.
Farmington River Fish Species
Farmington is rich in both coldwater and warmwater species. It has pike, carp, catfish, and panfish.
Trout
Brown, brook, and rainbow trout are abundant in the tailwater stretch and both above and below it wherever stocked. The river has wild brown and brook trout.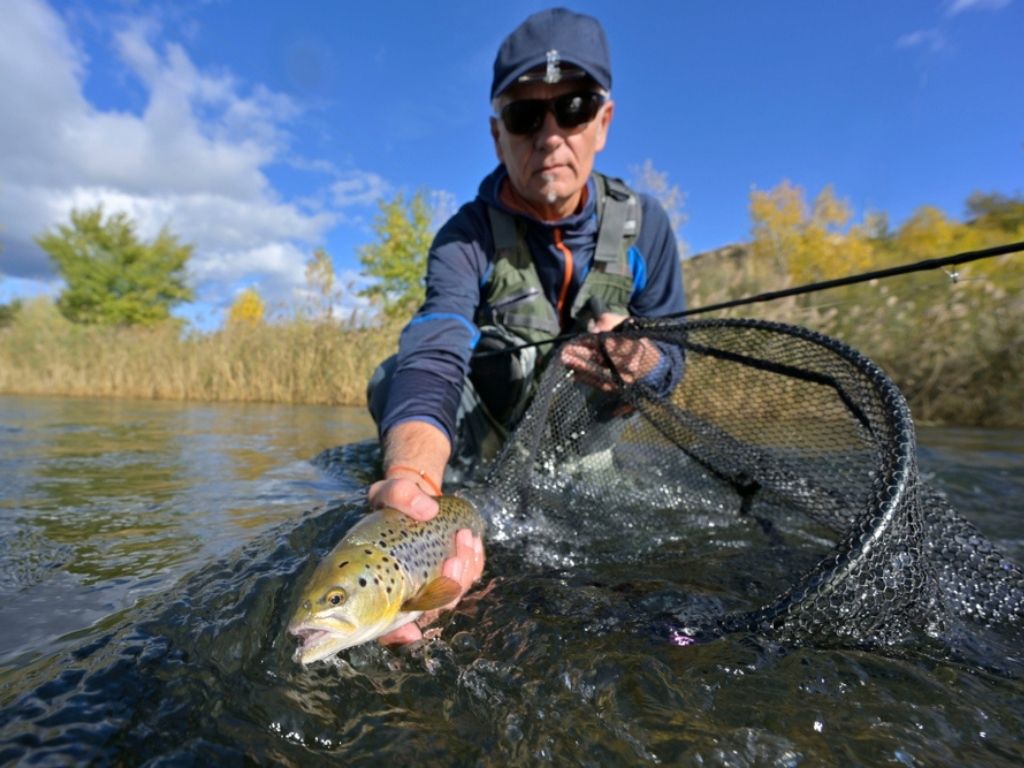 Some brown trout are between 20 and 30 inches in length — true trophy fish.
Shad
The lower Farmington River gets a spring shade run that draws crowds every year. Fish small flashy streamers on a fly rod or shad darts on spinning gear to catch these hard fighters.
Bass
Smallmouth and largemouth bass can be caught in many of the warmer parts of the river. Fly fishing, bait casting, and spinning are all good ways to catch these fish. Smallmouth are most abundant in the rocky areas.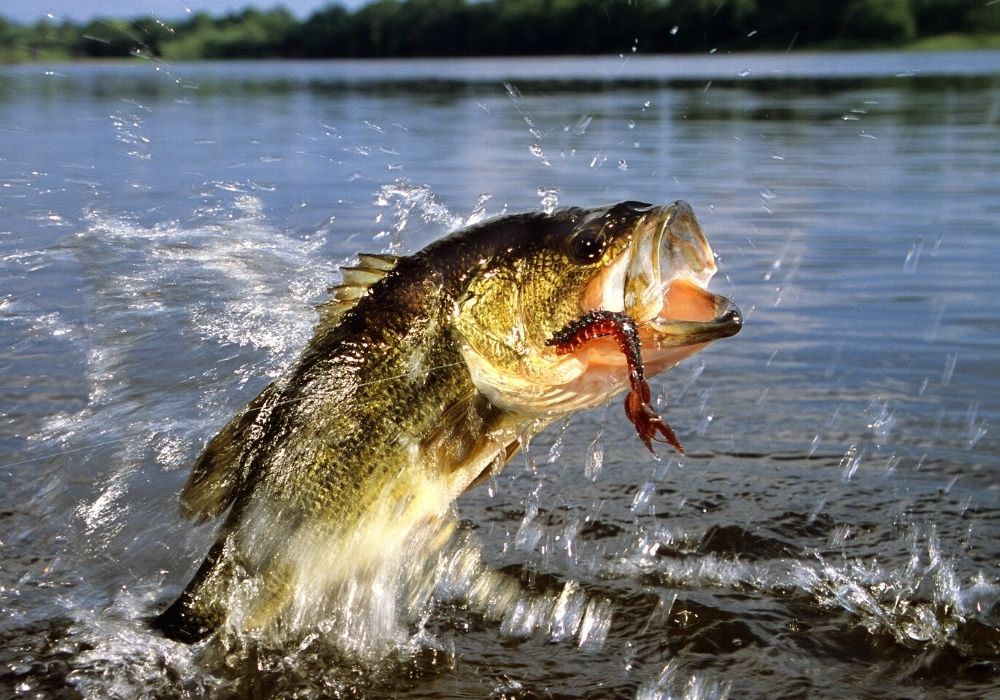 Largemouth can be found in the slowest stretches, holding around weeds and submerged logs.
Best Spots for Fishing the Farmington River
The Farmington is loaded with great fishing spots. These are just a few of them.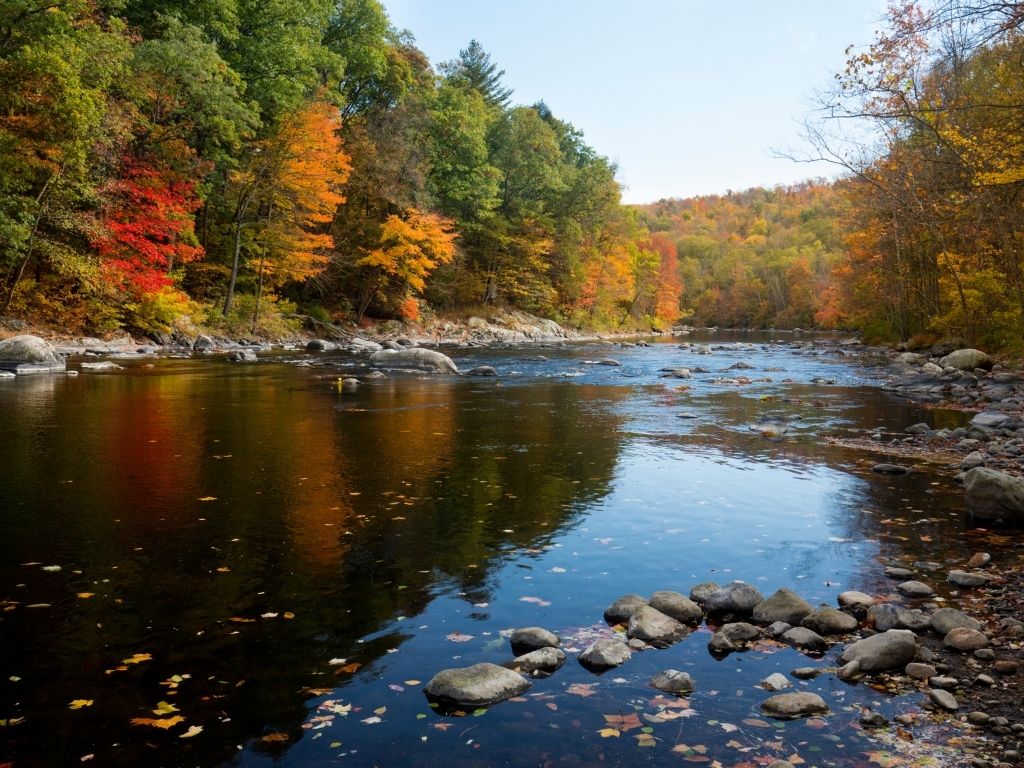 Church Pool
The Church Pool in Pleasant Valley is one of the most famous spots for fly fishing the Farmington River. Its finicky trout can test the skill of even the most experienced fly fisher. And the place really lights up when there's a hatch on!
Windsor Boat Ramp
The Boat Ramp in Windsor is the gateway to the lower river. You can launch a small boat there and fish up or downstream for bass, pike, or catfish. It's also the most popular spot to shade fish on the Farmington River.
People's State Forest
This state forest offers camping and tons of access to one of the best stretches for Farmington River trout fishing. There's a lot of pocket water and some big pools. It's a great place for nymph fishing or fishing a big attractor dry fly.
Best Flies for Fishing the Farmington River
Many flies work well and you have to carry a good selection, but I wouldn't fish the river without these.
CDC Caddis
Winter or summer, fall or spring, a CDC Caddis in a variety of sizes is a great choice to cast at rising Farmington River trout. Caddis are one of the most abundant insects on this river.
On summer and winter mornings when tiny grey caddis are emerging, size 18 and 20 CDC Caddis are the best fly to have.
Beadhead Pheasant Tail
Year round, a Pheasant Tail with a tungsten bead is one of the best flies for the Farmington River tailwater. In the depths of winter a very tiny, plain Pheasant Tail in size 20 can be a saving grace.
Caddis Pupa
When the fish aren't looking up and a CDC caddis won't work, tie on a green or tan caddis pupa and fish it deep. Sizes 18 to 12 work well. In the winter, smaller sizes are preferable.
Clouser Minnow
In the warmwater areas, a small Clouser Minnow is a good catch-all for bass, panfish, pike, and even big rogue trout.
It's also effective in the tailwater for big trout.
Sparkle Bugger
Whether you fish it in olive for big brown trout in the fall or pink for shad in the spring, a Sparkle Bugger is a good fly to carry when fly fishing the Farmington River.
Olive, brown, orange, and black are the best colors to carry for trout and bass, in sizes 8-2. Yellow, red, pink, and chartreuse work great for shad, in sizes 10-6.
Farmington River Fishing Season
The Farmington River fishes well all year round. Some stretches aren't open to fishing from February 8th until the 2nd Saturday in April. Other than that, there's no end to the Farmington River fishing season.
In the depths of winter, trout can be slow and finicky. Fishing smaller streamers very deep can work. Sometimes the fish rise to midge or caddis hatches.
In the spring, everything happens at once. The lower river lights up with migratory fish like shad and striped bass. Smallmouth bass and pike start to get active. Hatches start and the trout feed heavily.
In the summer, there's excellent dry fly fishing in the tailwater. Summer can also be a fun time to bait fish the Farmington River for catfish and carp.
In the fall, big brown trout get aggressive as they prepare to spawn. It's a good time to fish streamers and eggs, but be careful to stay off the trout redds.
Farmington River Fishing Report
The last time I fished the Farmington river was just a week before writing this. It was a very cold, crisp, bright winter day. Such days can be difficult, and I skunked out.
However, if you're patient and slow in your approach, you can still catch on days like this. Fishing tiny nymphs under an indicator or on a tight-line rig can catch fish, even some really big ones, in the winter.
Soon the warmer weather will increase the trouts' metabolism, the bass will start to move, the spring run will start, and the fishing will improve dramatically.
Farmington River Fishing Guides
Since the Farmington is such a popular river to fish, there's no shortage of good guides to hire. Here are a few trustworthy, knowledgeable guides that fish the river regularly.
CT Fish Guides
Derrick Kirkpatrick of CT Fish Guides has been on the Farmington River for years and has been putting clients on big trout for much of that time. He's well equipped to teach nymphing, streamer, and dry fly tactics and how to read water.
Eastern CT Fly Fishing
Mike Carl of Eastern CT Fly Fishing is an excellent and knowledgeable fly fishing instructor and guide. He's a good guide to learn some of the more traditional nymphing and wet fly tactics from. He's also very good at finding rising fish and is versed in fishing the other streams, ponds, and lakes near the Farmington River.
Fishing With Zach
Zach St. Amand has spent more time fishing the Farmington River than perhaps anyone else. He's particularly prolific with the mono rig and big fish. If you'd like to learn Euro or tight-line nymphing tactics, he's one of the best guides to book with. His immense amount of time spent on the river means he's particularly skilled at putting clients on trout.
Conclusion
Farmington River fishing is varied and exciting. Although trophy trout often steal the show, it has even more than that to offer. From stripers and shad to bass and pike, the lower river is a productive place as well.
Farmington River fly fishing involves a lot of dry flies or nymphs and picky trout, sometimes as big as 22 inches. Farmington River spin fishing means bass, shad, and aggressive trout on jigs and jerkbaits.
The crowds of anglers show just how popular this river is, but there's always somewhere with some solitude and hungry fish. There's a lot of fishing to explore on the Farmington River.