Despite being the least populated state in the entire country, Wyoming has arguably the best fly fishing in the continental United States. Combine the blue ribbon fisheries with two National Parks and outdoorsmen and women consider themselves in heaven.
Sizable native trout, sprawling lakes, and high mountain peaks all give fly anglers a chance to test their abilities.
I spent the summer of 2017 working at a youth camp high in the mountains in Northern Wyoming and learned how special mountain trout fishing can be.
Those three months forever hooked me and I credit Wyoming for my lifelong love of fly fishing.
Why Fly Fish in Wyoming?
Seclusion is almost a guarantee in Wyoming. Depending on how hard you would like to work, you may not see a single person for days in your attempt to harvest trout.
These fish don't receive as much pressure and you'll be accompanied by trophy Moose, Black Bear, and Elk.
There are few places left on earth like Wyoming. If you visit, be sure to make sure it stays that way.
Anglers need to care for the waters and landscapes. Go out of your way to contribute to saving the beauty of the state. The future of fly angling depends on it.
So pack up your best fly rod, fly reel, fly fishing vest, fly fishing net, backpack, and polarized sunglasses and head out into the outdoors. Or better yet, just bring along your best fly fishing combo to hit the rivers and lakes of Wyoming.
As an Amazon Associate I earn from qualifying purchases.
What To Pack for Fly Fishing in Wyoming
Here are a few of the essential items for any fly fishing trip, but these will all come in handy in Wyoming as there are so many different styles of fishing in the state.
Wyoming Fly Fishing- Fish Species
Anglers are able to find all types of landlocked freshwater fish in Wyoming. You won't ever struggle to find fish to target as long as you're willing to put in a little extra work. Below is a list of some of the best fish to target on the fly in Wyoming.
Cutthroat Trout
Few states in America have trout as their state fish. Wyoming is one of them and their cutthroat trout are world-renowned. They are the only native trout to Wyoming and every angler visiting Wyoming must catch one.
You can find them upwards of four or five pounds in rivers like the Yellowstone, Snake, and Big Horn.
To catch these, use PMD's, the Chubby Chernobyl, Clouser Minnows, and the Sex Dungeon.
Use them in sizes 4-12 to best land fish. Three or 4x leader combined with 5x tippet will land you the fish you need. Wyoming trout are spooky so do your best to stay concealed.
Rainbow Trout
Rainbow Trout are the most heavily stocked fish in Wyoming. They were placed in Wyoming lakes and streams in the late 1800s. It's not uncommon to find these around 10 pounds throughout the state.
You'll find them in rivers like the Gros Ventre, Hoback, and the North Platte.
Trico's, minnow patterns, Wooly Bugger's and PMDs are the flies to use when you target Wyoming's rainbows.
Golden Trout
Golden Trout are a unique fish to catch in Wyoming. They were brought over from California and they have beautiful coloring. They'll spawn in late spring and early summer and this is the best time to catch them.
You'll find them in Cook Lake, Jim Harrower Lake, and Flying Monkey Lake.
To catch them, use Black Caddisflies and midges. If you see terrestrial flies nearby, use one of those.
The Golden Trout is a beloved fish in Wyoming so be sure to respect them in the landing and handling process.
Brown Trout
Brown Trout are another heavily stocked fish in Wyoming. You can find these around 4 or 5 pounds on a regular basis throughout rivers like the Big Laramie, Bighorn and North Platte.
Using a dry-dropper pattern for these fish is your best bet. Tie a big terrestrial as your indicator and drop a blood midge off of the bottom and you'll be in business.
The Brown Trout is an extremely hearty fish. You're always in for a strong fight when you're able to hook a brown.
Almost any cold water stream or river in Wyoming will hold them.
Bass
Bass are another common fish fly anglers target in Wyoming. Their acrobatic fights along with impressive size are enticing to all anglers.
Traditional spin anglers are those who most often target them so you'll have success when you try to catch one on the fly.
You can find bass in the Flaming Gorge Reservoir, Bighorn Lake, and the Keyhole Reservoir.
Use minnow patterns along with poppers and Gutless Frogs. Be sure to use a 7 or 8-weight rod because these fish are known to test your gears' limits.
Best Fly Fishing Spots in Wyoming
Wyoming will provide you with any type of fly fishing you would like. Want to catch fish in the heart of a town?
Want to hike 10 miles one way to land a fish from an alpine lake? Both of these are possible all across the state.
There is limited research on the remote locations in Wyoming so do your best to thoroughly research before you head out on your next adventure.
Fly Fishing Rivers in Wyoming
The rivers in Wyoming range from tiny creeks to wide rivers only fishable via boat. The majority of rivers have exceptional water clarity, so be careful when you approach.
It's best to study the water and pick your spot before any fish can see you.
Snake River
📍Location: Snake River, Wyoming
The Snake River is one of the most aesthetically pleasing rivers in the world. The wide river is surrounded by limestone cliffs and the peaks of the Teton Mountain Range are always visible in the distance.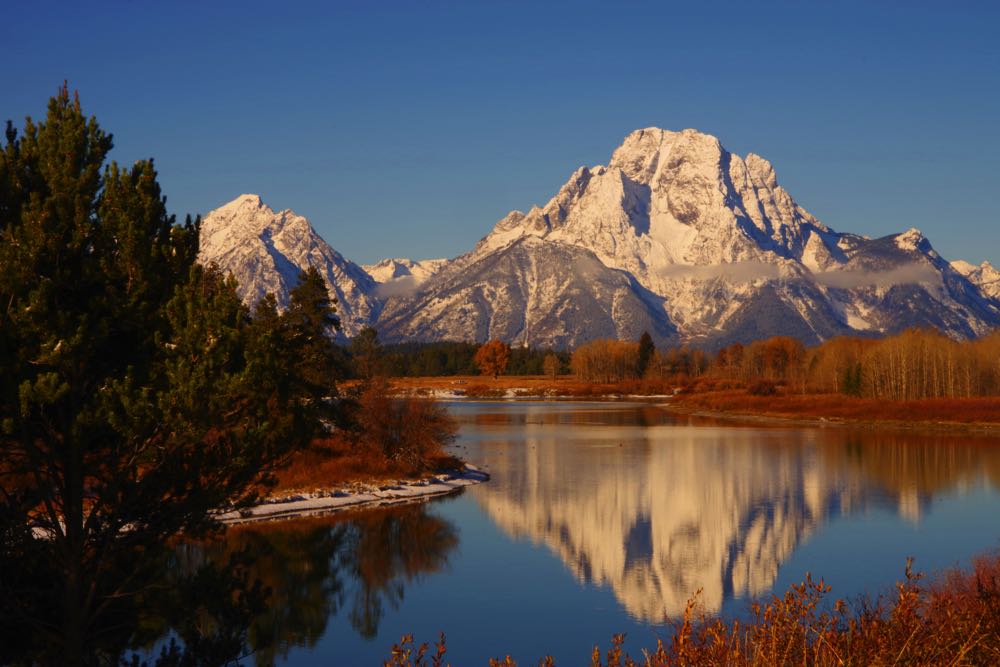 The water is clear and the fish are massive. Do your best to visit it on your next trip to Wyoming.
The river holds brown, rainbow and cutthroat trout. This river is often fished via boat due to the opportunities it presents within the canyons and wider portions. However, it is easily wadable if you're willing to walk.
Access is plentiful due to the wide amounts of public land and casting lanes are not difficult to find.
Bring a pair of wading boots, your 5 or 6-weight and plenty of larger flies. Chernobyl's, Minnows and Sex Dungeons are all going to catch you fish.
Also, the BWO and PMD hatches are plentiful on the river. Use 3 or 4x leader with 5x tippet.
Gros Ventre River
📍Location: Gros Ventre River, Wyoming
The Gros Ventre River is located outside of Jackson Hole and also hosts the Finespotted Cutthroat Trout; one of the fish in the Wyoming "Cutt-Slam".
This river is heavily affected by runoff so be sure to hit this mid-July and August when the water levels have a chance to diminish.
Also, if you are able, bring a 4×4 vehicle and drive to the upper portions near the Goosewing Ranger Station.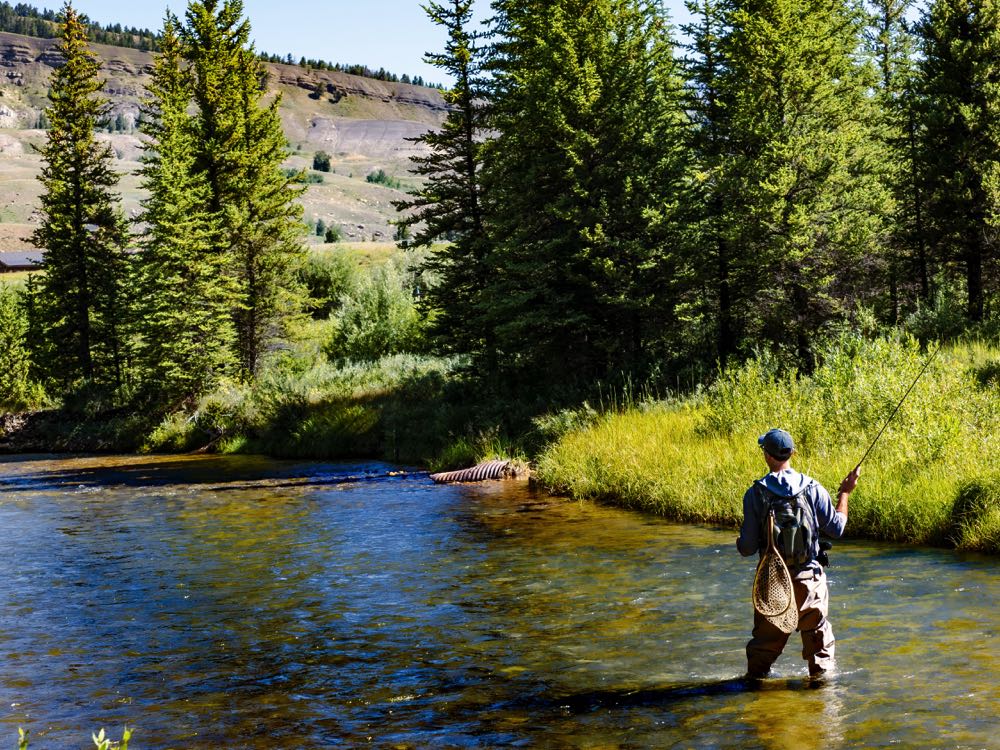 You'll also find brown and rainbow trout in the Gros Ventre. Don't shy away from the shallow portions of the river. You'll notice seams throughout that always are holding fish.
Do your best to cast to the foam because this is where the fish are going to feed.
When fishing the Gros Ventre, the water clarity is a challenge. These fish can easily spook so bring along Weight Forward or floating line with 4x leader and 5x tippet.
Also, Purple Chubbies, Rubber Leg Stimulators, and Wooly Buggers are going to help you catch fish.
Bighorn River
📍Location: Bighorn River, Wyoming
The Bighorn River is much more famous in Montana compared to Wyoming. The Wyoming portion of the river does not receive as much pressure and fish are easier to catch as a result.
There are over 2,000 fish per mile in this river. You'll most commonly find rainbow, brown and cutthroat trout.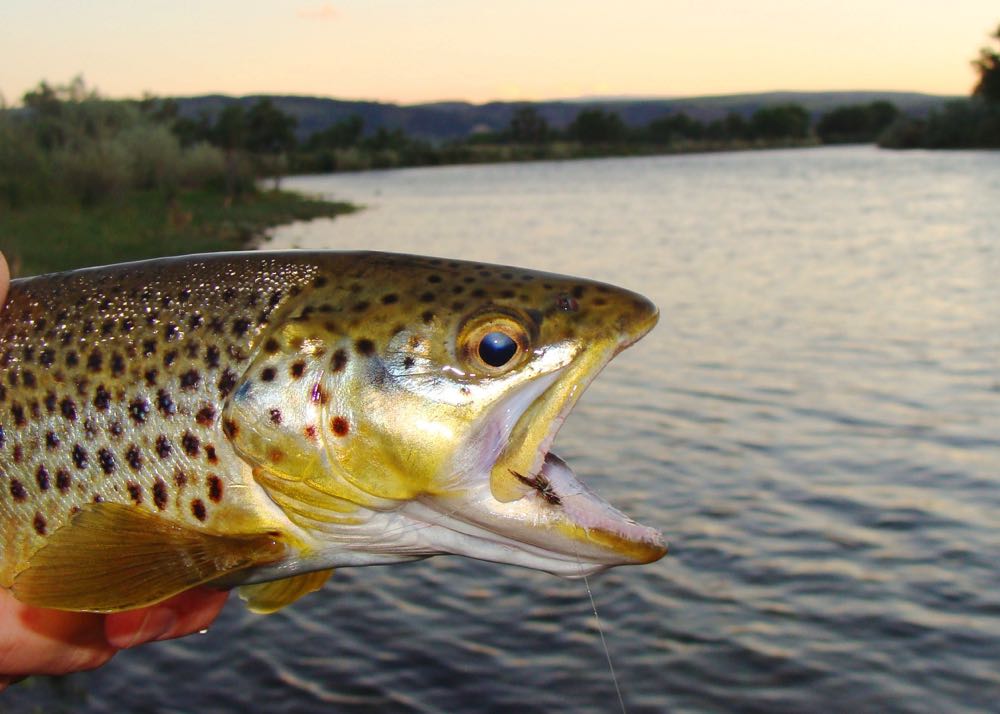 The most productive stem of the river is going to be from Thermopolis and down for the next 20 miles or so.
Runoff isn't as difficult to manage in this river so fishing is productive starting around June. This river is fairly easy to access with over 10 boat launches along it and plenty of public access.
When fishing the Bighorn, bring your 6-weight along with 4x leader. You'll catch fish using Sow Bugs, Prince Nymph's and Pheasant Tails. Later in the season, you can use PMD's, Trico's and smaller Caddisflies.
The Bighorn River is an amazing location that holds some sizable trout. Let the Montana folks have their portion, Wyoming's is nothing to laugh at.
Yellowstone River
📍Location: Yellowstone River, Wyoming
The Yellowstone River flows 700 miles throughout Montana and the northern portion of Wyoming. The upper portion within Yellowstone National Park is where Yellowstone Cutthroat up to 20 inches can be found.
Throughout the rest of the river, you can catch rainbow and brown trout.
The Yellowstone is the longest free-flowing river in the United States. The portion within Yellowstone National Park is some of the most remote country in the entire United States.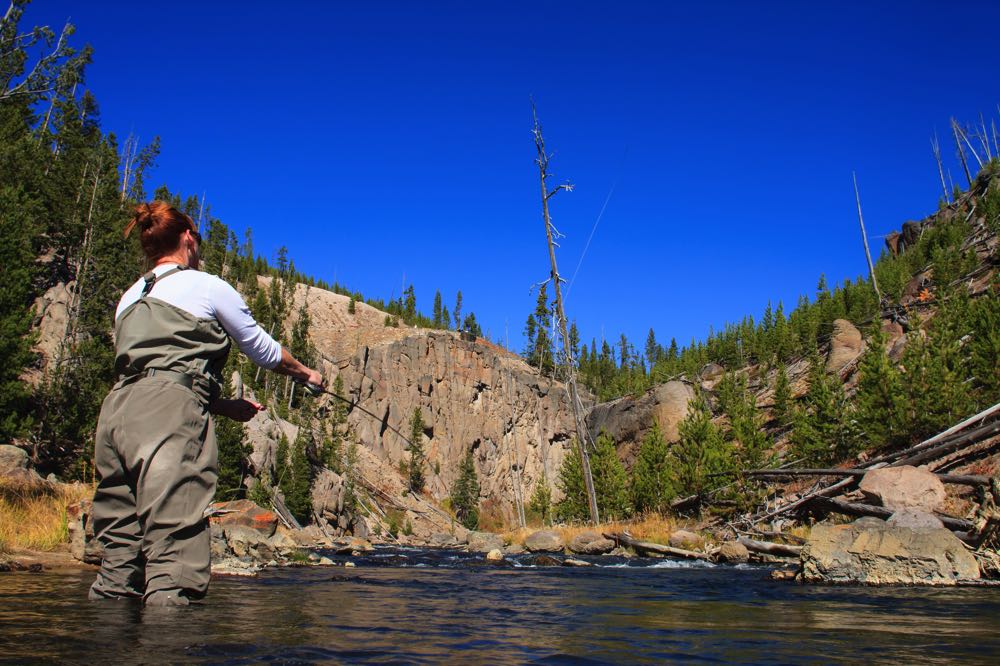 You'll have to hike 30 or 40 miles to reach the edges of the river. If you choose this route, be sure you're properly equipped with survival gear.
You can fish the Yellowstone with a 6-weight rod and leader from size 3 to 5x. Pat's Rubberleg's, Purple Haze, Silver Lightning Bug, and the CFO Ant are the best choices for flies on the Yellowstone.
Landing a cutthroat trout in these waters is an amazing accomplishment. Good luck!
Wind River
📍Location: Wind River, Wyoming
The Wind River is predominantly unknown due to the high alpine lakes within the Wind River Mountain Range. However, this river is a fly fishing haven with beautiful populations of cutthroat, rainbow, and brown trout.
You'll find these fish ranging from 12-20 inches.
The Wind River is broken up into two different sections that both hold impressive populations of fish. Above the Boysen Reservoir is the more highly populated portion of the river and has the appearance of a traditional western river.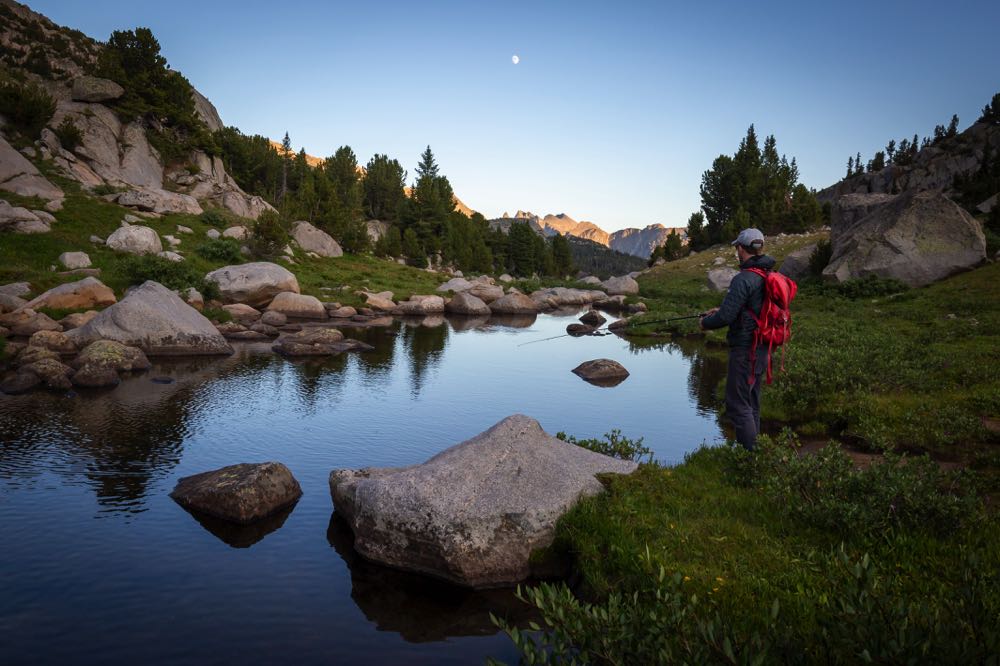 The river below the reservoir is almost all in steep canyons with intense pocket water. This section is where the larger fish can hide, but you'll have to work for access.
You'll need to use your 5-weight rod with a 3 or 4x leader. You can find fish using a wide variety of dry flies including the Chernobyl Ant and the Elk Hair Caddis. Be sure to bring along a few Wooly Buggers for those deeper pools.
The Wind River is a hidden gem amongst some beautiful country.
Fly Fishing Lakes in Wyoming
While there are numerous massive reservoirs across Wyoming full of bass, trout, and a variety of other fish, the alpine lakes are what makes Wyoming special. These crystal clear lakes filled with lightly pressured trout are a fly anglers dream.
If you plan on lake fishing in Wyoming, be prepared to work for a trout of a lifetime.
Island Lake
📍Location: Island Lake, Wyoming
This will be the most strenuous body of water to reach on this list, but it is well worth your time. Island Lake is found in the Wind River Range near the Bridger Wilderness. It is home to cutthroat and stocked brook trout.
There is also rumored to be Golden Trout within the waters of Island lake.
It requires a 10-mile hike to reach Island Lake and it is best accessed from the Elkhart Park Trailhead near Pinedale, Wyoming. The hike can easily be done in a day so be sure to bring enough supplies to spend two or three days near the water.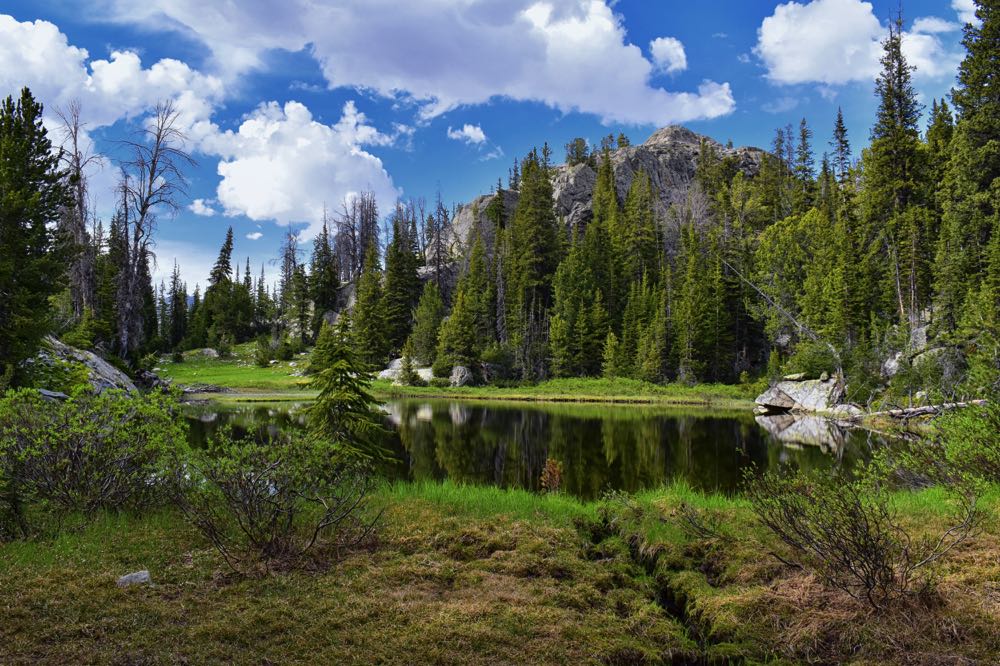 You'll find a nice amount of solitude and beautiful peaks surrounding you. Also, be sure to bring bear spray and clothes to handle an alpine storm.
Fishing Island lake is best done with a packable rod. If you can pack down a 5-weight, do so. Bring 4x leader with 5x tippet and Weight Forward line. For flies, you can use Black Caddis and stoneflies.
Also, you may have success with Wooly Buggers in the structured portions of the lake. It's well worth the trip!
Flaming Gorge Reservoir
📍Location: Flaming Gorge Reservoir, Wyoming
The Flaming Gorge Reservoir is spread throughout 65 miles in southwestern Wyoming. It was created as a result of the building of the Green River Dam. It has plenty of access points and is a wonderful place to learn the ropes of fly angling.
In the reservoir, you can find brown, lake and rainbow trout. It's also home to landlocked Kokanee salmon as well as carp and smallmouth bass.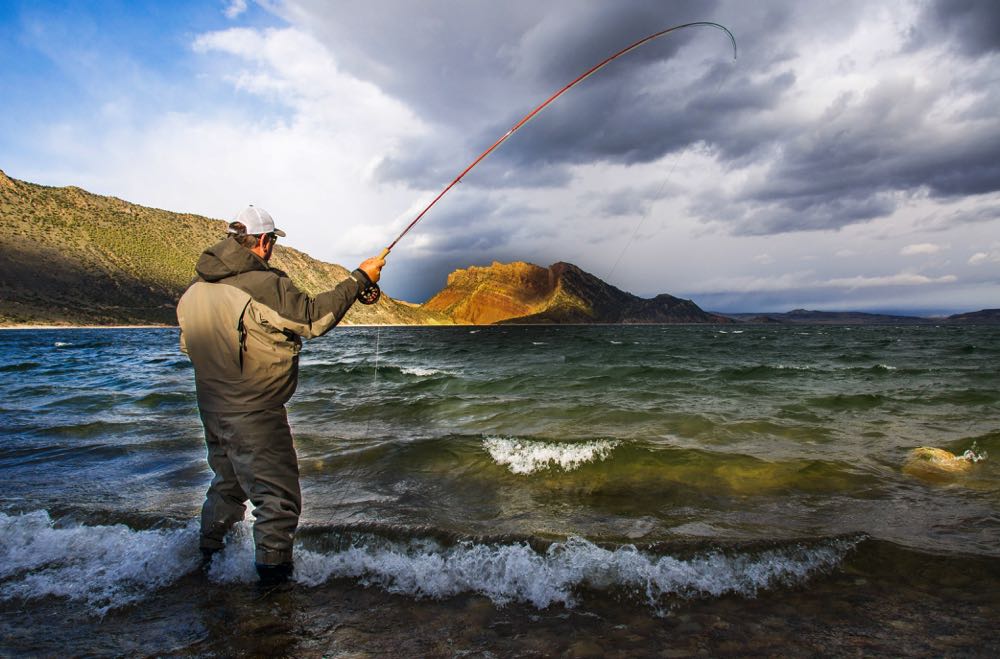 Believe it or not, carp may be the most fun fish to catch on this list. Bring along your 6-weight and some extremely light and long fluorocarbon leaders. Don't ever cast your fly on top of the carp. Cast it near and slowly strip it past the fish.
Use Leech patterns as well as Wooly Bugger's to catch them.
For the Kokanee salmon and trout, target them in the spring with a 7 or 8-weight. You can use Egg patterns as well as baitfish streamers to catch these fish. Bring your family along for the day and sneak away with the fly rod.
Jackson Lake
📍Location: Jackson Lake, Wyoming
Jackson Lake is inside Grand Teton National Park and is home to cutthroat, brown and rainbow trout. There are also Mountain Whitefish available to be caught in this 15-mile long lake.
Due to the expanse of this lake, it's best fished by boat. However, if you can get to the lake as soon as the ice is out, the fish will be in the shallower water in search of the baitfish.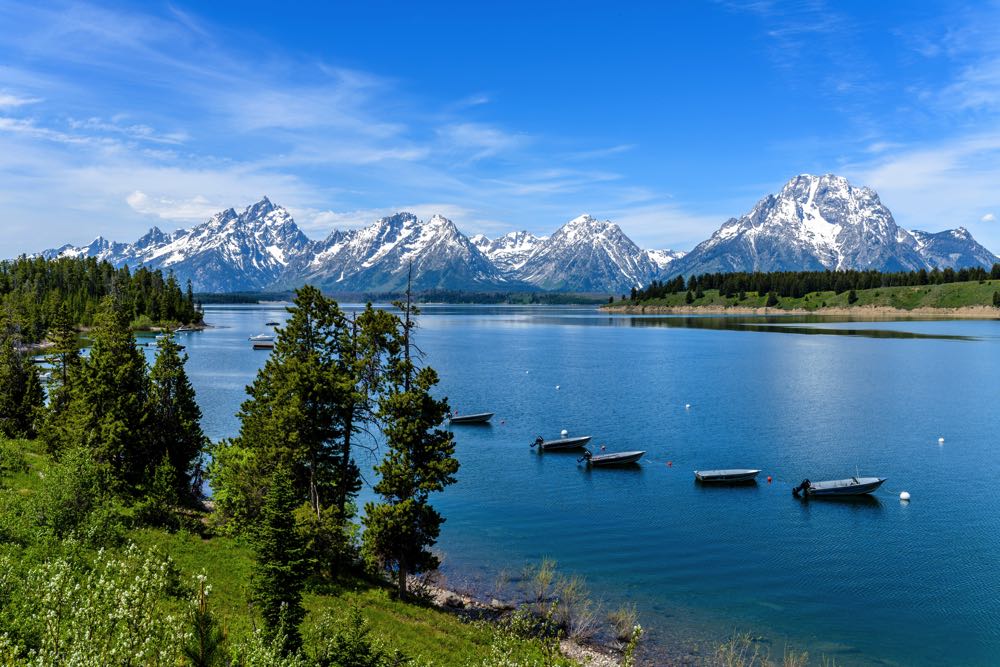 Bring your 6 or 7-weight rod with sinking and shooting line. Also, 3x leader will do the trick.
Wet patterns are going to be the most successful flies to use on the lake. Kreelex, Mojo, Clouser Minnow and Wooly Buggers are your best bet.
This is a perfect lake to fish with your family. Ample beaches and beautiful views are enough to distract everyone while you're out trying to catch a trophy fish.
There are trout upwards up 10 pounds in the lake ready to be caught.
Bighorn Lake
📍Location: Bighorn Lake, Wyoming
Located in Kane, Wyoming, this 5,500-acre lake is filled with bass, trout and panfish. It was made in 1960s when the Yellowtail Dam was built. This lake is best fished via boat, but the casting lanes from shore are plentiful.
You'll have quite a bit of seclusion on the Bighorn Lake due to the distance it is from any major towns.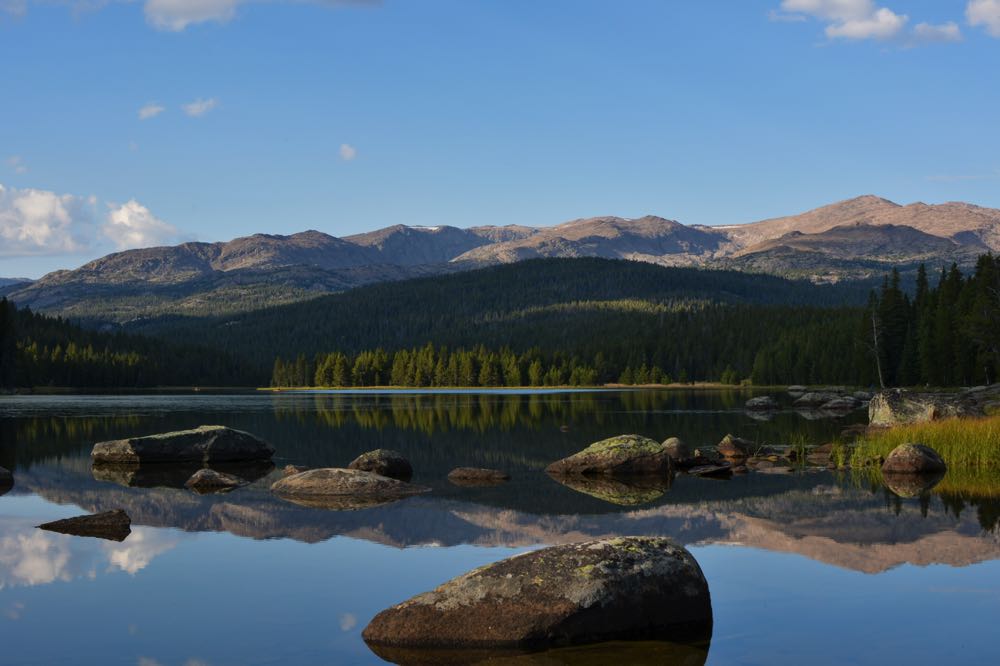 On the Bighorn, use a 6 or 7-weight rod to handle all of the fish you may catch.
You should use 2 or 3x leader to handle the bass and other larger freshwater fish. Poppers, Gutless Frogs and Wooly Buggers are great wet fly options for anglers on the Bighorn.
For the evening trout bite, use a mosquito or gnat pattern to help you land fish.
Guernsey Reservoir
📍Location: Guernsey Reservoir, Wyoming
The Guernsey Reservoir is a 2,400-acre lake in Guernsey State Park. In it, you can find bass, crappie, and other panfish. This lake can be tackled both from shore and from a boat.
The large amount of structure spread throughout it, however, is best tackled from a boat.
Bring an 8-weight rod with some larger tippet to handle the bigger bass. Also, Weight Forward and Sinking Tip line will give you the best opportunity at catching fish.
The water clarity can be a bit of an issue so be sure to use large and dark flies. Minnow patterns, Wooly Buggers and Dumbbell eye streamers will be able to reach the proper depths throughout the Guernsey.
Wyoming Fishing Season
Fishing in Wyoming is largely dependent on the snow runoff. The numerous mountain ranges spread across the state have large snowpacks and the majority flow into the different lakes and rivers on the list.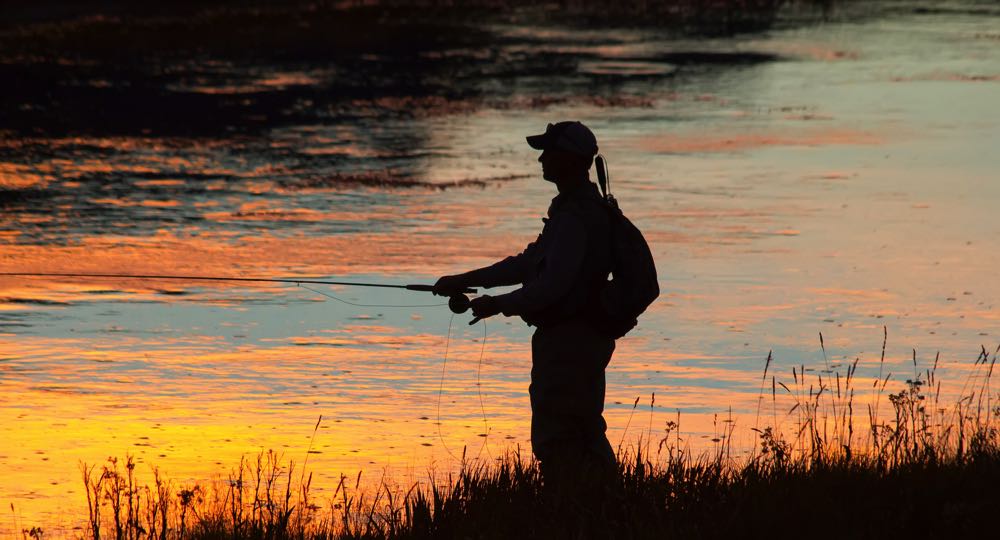 However, pre and post-runoff are extremely productive and are always guaranteed to be successful.
Wyoming Fly Fishing in April
April is a wonderful time to fish in Wyoming. You're likely tired of being cooped up all winter and by April, temperatures are warm enough to fish.
It's also pre-runoff so you won't be inhibited by full rivers with no clarity.
Baetis and midge flies will work in April. Also, minnow patterns and Wooly Bugger's are always going to work. Swing these through the slower pools and see what strikes.
Enjoy this month because May is when runoff really begins.
Wyoming Fly Fishing in May
May is perhaps the most difficult month to fish in Wyoming. The runoff starts and water can be challenging to maneuver. Use dark and large patterns to gain the attention of the fish.
Be careful that you don't wade too far into any of the rivers mentioned above because the currents are strong. Do your research on flow levels before you fish in May.
Wyoming Fly Fishing in June
June is a great time to get back on the water in Wyoming. The runoff is beginning to subside and fishing heats up. Scuds, Dragonflies and Trico's are great dry flies to throw.
If you're looking to use wet flies, minnow patterns and Wooly Buggers are always going to work.
Wyoming Fly Fishing in July
Fly fishing Wyoming in July is always successful. If you can, make your way up into the mountains to escape the heat. The mountain streams are going to be cool, refreshing and full of hungry fish.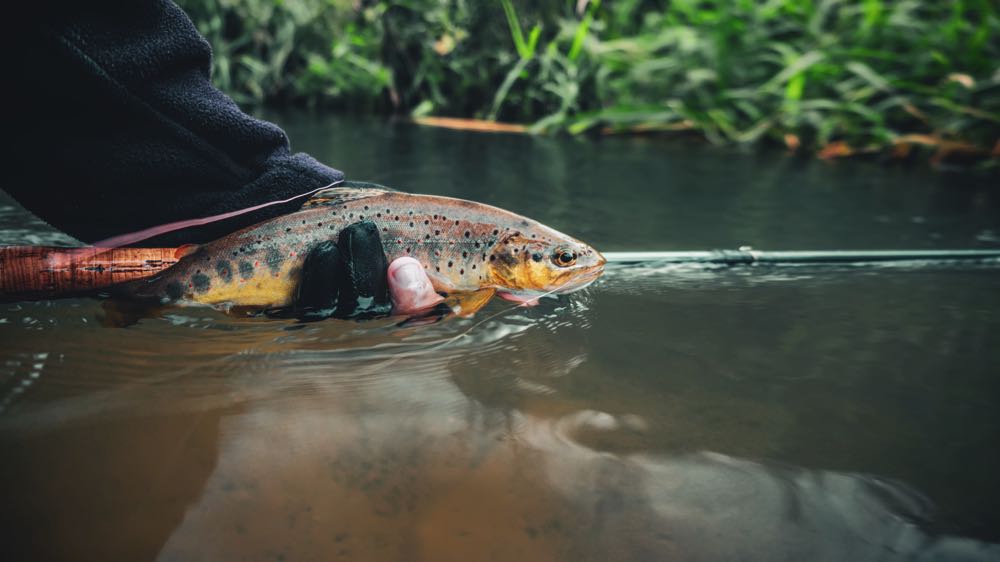 Caddisflies, Tricos, and terrestrials are going to be hatching. Toss the larger terrestrials along the banks of the rivers and wait for a strike.
Wyoming Fly Fishing in August
August in Wyoming is a great time to head to the mountains. Temperatures can be upwards of 90 degrees when you're at lower elevation. The runoff is complete and water clarity ideal.
Be sure to warily approach the water and pick your spot before you're at the edge. Tricos, Dragonflies and Scuds are all hatching and working well.
Wyoming Fly Fishing in September
September is one of the best months to visit Wyoming. The trees are beginning to change colors and temperatures are beautiful all over the state. The fish are feeding more in preparation for winter.
Terrestrials are the best flies to use in September. The dry fly bite is exceptional and fly fishing is at its peak.
Best Fly Fishing Lodges in Wyoming
Wyoming has a host of fly fishing lodges for anglers to choose. They can be found all over the state, but the primary location is Jackson Hole. These beautiful lodges offer access to private water and trophy fish.
Brush Creek Ranch
Brush Creek Ranch is an Orvis endorsed fly fishing lodge in southern Wyoming. It's located near the headwaters of the North Platte River. You'll have access to 20 miles of private water full of large fish.

This experience will cost quite a bit with nightly rates ranging from around $800 per person.
Spotted Horse Ranch
The Spotted Horse Ranch is a fly fishing lodge located in Jackson, Wyoming. You'll have access to Hoback and Willow Creek which both flow through the ranch. Also, the ranch offers guided trips to the Salt, Snake and Green rivers.
For a three-night stay, it will cost about $1500 per person.
Box Y Lodge
The Box Y Lodge is located on the Grey's River in the Salt River Mountain Range. It offers horseback riding as well as wonderful fly fishing. A one-bedroom cabin will cost $130 per night per person.
The access to numerous fisheries and beautiful scenery make the Box Y a wonderful choice.
Conclusion
Wyoming has everything that an angler could ever want. You won't ever have a shortage of fishing opportunities all across the state. Do your best to challenge yourself and reach some of the untouched waters. You'll be rewarded with gorgeous views and trophy fish.
Many say Wyoming is fly fishing's best-kept secret. While it is becoming more popular, anglers are doing their best to keep excellent water conditions. Be a part of this movement and let's keep Wyoming as one of the best places to fly fish in the world.
Some images in this post are courtesy of Shutterstock.
Like This Article? Pin it!