As an Amazon Associate I earn from qualifying purchases.
Fly fishing towns are few and far between across the United States. There are outdoor focused communities, but an entire city focused on the sport of fly fishing is rare. Bend, Oregon, is one of the gems in the United States that offers citizens and visitors a rare opportunity to land trophy fish year-round.
I've always had a great time fishing around Bend, mostly heading out to mountain streams that seem to be overflowing with trout. The scenery is spectacular, with thick forests and towering peaks all around. And if you're in the mood for something different, you can venture out to even more fishable waters.
The West Coast is extremely accessible, so you're not only limited to areas within central Oregon. You can travel south to California or up to Washington if you're interested in finding more diverse fisheries or different types of water. Indeed, on practically all of my visits to Bend, I've gone on to hit up other fly fishing hotspots nearby, either in Oregon or in one of those neighboring states.
Fly Fishing Bend, Oregon: Why Go?
Central Oregon is known in the fishing community as one of the towns anglers must visit before they retire from the sport. Towns across Montana and Wyoming are special in their own right, but they don't offer all the diversity that Oregon does.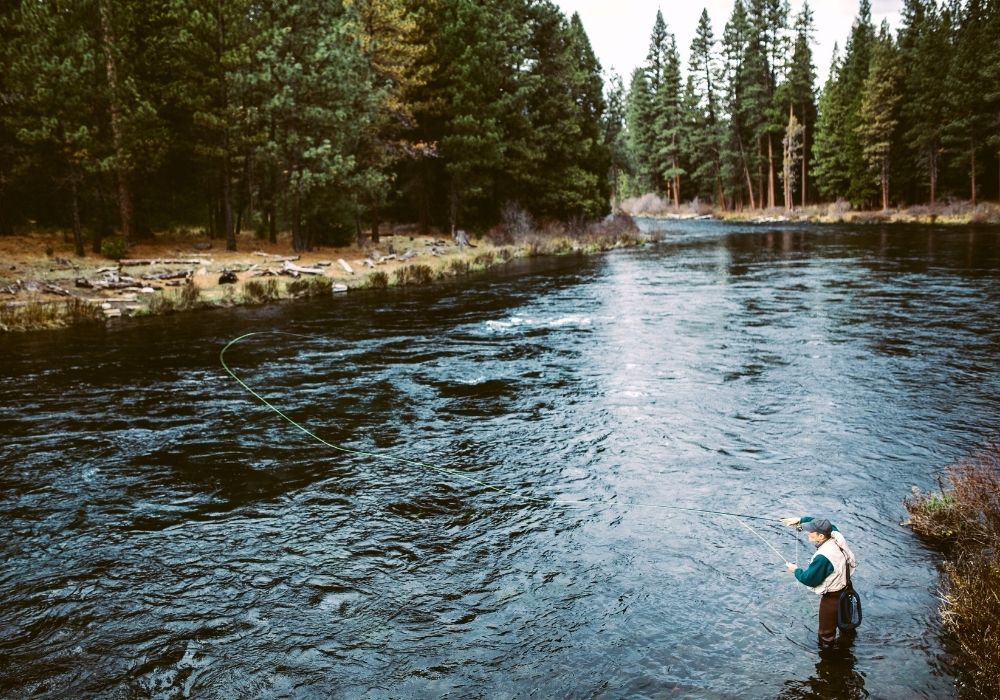 You have the opportunity to land saltwater and freshwater fish in the midst of some beautiful mountainous country. The scenery is unlike any other you'd find across the country. Even if the fish aren't biting, you'll be staring at crystal clear water, abundant wildlife, and gorgeous terrain.
Don't miss our full guide to Fly Fishing around Oregon.
Species for Bend, Oregon Fly Fishing:
Bend has all the primary fish fly anglers love to target. It's a fly fishing haven with all sorts of phenomenal places to wet a line. Whatever type of fish you're hoping to land, you likely have a shot at it near Bend.
Rainbow Trout
Most of the bodies of water near Bend hold rainbow trout. Whether it's a pond or large river, you're going to find rainbow trout. You can find these fish up to 25 or 30 inches. These fish are native to the area, so be sure you handle them with care!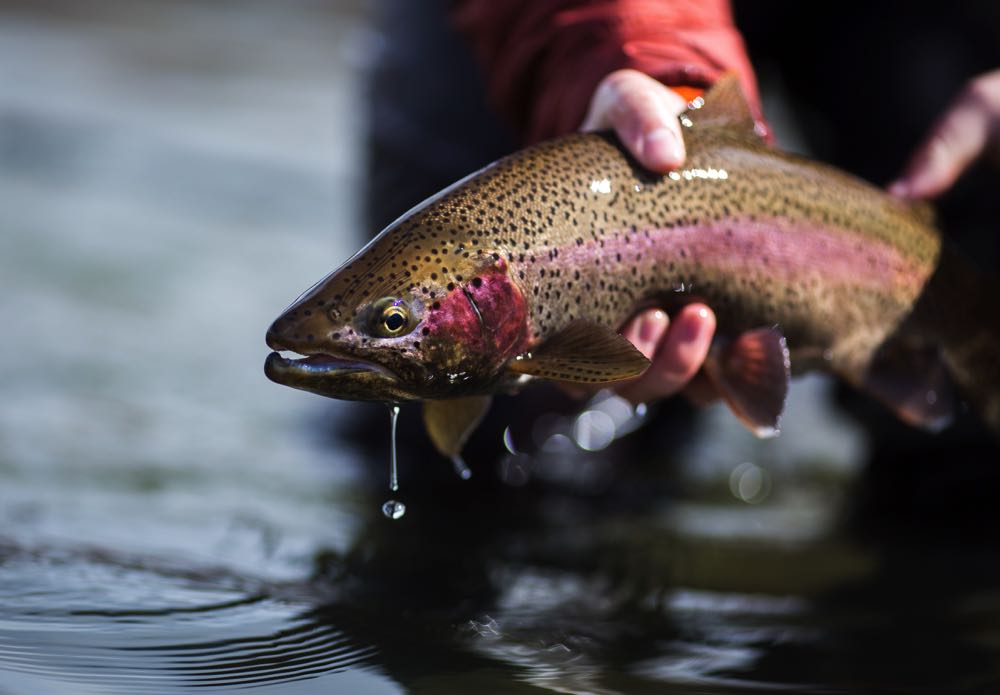 You can find them in the Deschutes River, the Crooked River, and a variety of other bodies of water. In these and other waters around Bend, I've always had success using Pheasant Tail Nymphs, Prince Nymphs and my fair share of Woolly Buggers to land these fish.
Steelhead
Steelhead are ocean-run rainbow trout. These are some of the most targeted species near Bend, Oregon. Anglers call steelhead the fish of 1000 casts. They can grow up to be near 10 pounds, and they fight like crazy!
I always make sure to spend time near the Deschutes River if I'm hoping to land a few of these fish. I always bring my egg flies as well as a few Deceiver patterns when I know I'll be going after some steelhead. I come equipped with a 7 or 8-weight, and I recommend you do to. You'll need the power.
Bull Trout
Many anglers don't realize that there are also bull trout in the waters surrounding Bend. These are some extremely unique looking fish and are some of the hardest fighting fish in the trout family.
You can find these in the Deschutes as well as the Crooked River. Do your best to treat these fish gently. Their population is dwindling, so anglers need to be especially careful when they're handling them. It's important that their population continues to rise.
Brook Trout
One of my favorite fish to target in Bend are the brook trout. Many anglers argue that these are the prettiest of the trout species, and I tend to agree with them. Brook trout have a beautiful dark green color with some bright orange spots. However, they can vary in color depending on where you fish.
If you want some moving water to find them in, go ahead and fish the Fall River. Otherwise, almost any lake or pond near Bend will hold these fish. They like exceptionally cold water and smaller flies like a Pheasant Tail or Midge Nymph.
Best Spots for Fly Fishing Bend, Oregon
Bend has hundreds of spots for anglers to fish. It has water that will fill the needs of every type of angler in the world. Take your pick and you'll likely find yourself on some pretty impressive fish in no time.
Fall River
The Fall River is a tributary of the Deschutes, and it's one of the prettiest bodies of water you'll find anywhere on Earth. While it's only 10 miles long, it's spring fed, and there's a nice large fish hatchery that provides anglers with some great access to fish.
The majority of water on the Fall River is accessible to the public, so make sure you take advantage of it when you can. There are great BWO, drake and caddis hatches on the Fall River. However, you'd be doing yourself a disservice if you didn't spend time throwing terrestrial flies. You'll be amazed at the action!
I always focus my time on fishing during the hatches in the mornings and evenings. Also, don't be afraid to throw some Woolly Buggers or minnow patterns throughout the slower moving pools. The large fish will chase after these.
Crooked River
The Crooked River is a tailwater. This is all that many anglers need to know. It's fishable year round and has one of the highest fish populations anywhere in Oregon. You'll be able to land fish at all times of the day, no matter what time of year it is.
Fish this river from the Bowman Dam downstream towards Prineville. It's about 8 miles long, so you can cover plenty of water if you have the patience. Bring your caddis patterns in the middle of the summer because you're going to find yourself quite busy!
Also, dun patterns in the fall are spectacular. There aren't always great dun hatches, so it's a rare treat to fish with these flies if you get the chance.
Deschutes River
No list about Bend fly fishing is complete without mentioning the Deschutes River. The Deschutes is the primary steelhead fishery in central Oregon. It also holds a nice population of brown and rainbow trout.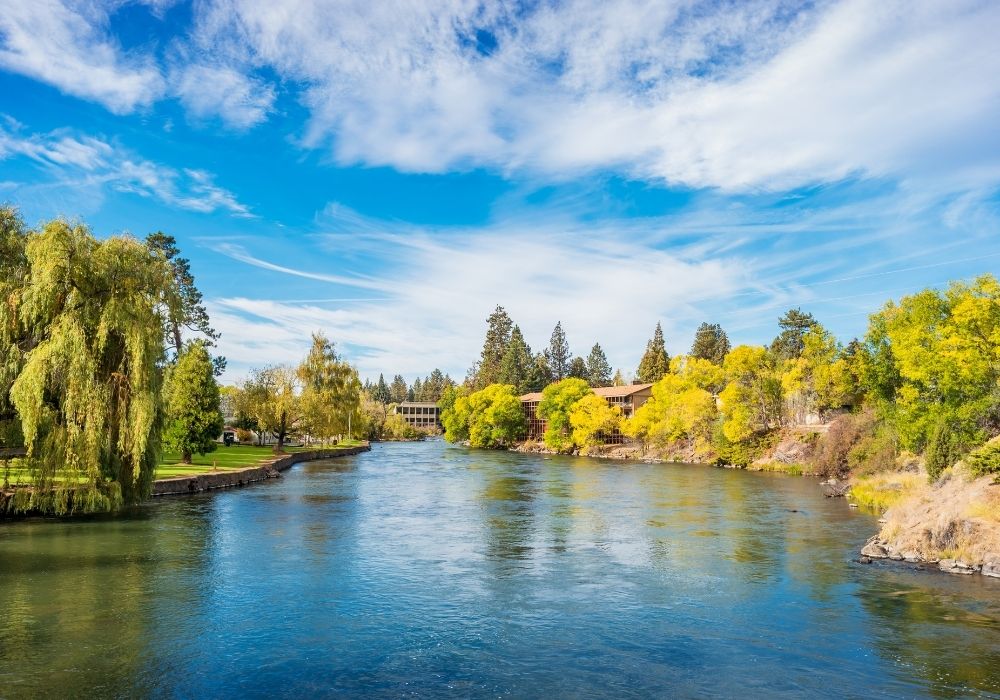 The Deschutes is fairly easy to access. Make sure you spend time here during the summer and winter steelhead runs. You'll need your egg patterns if you want to land these fish! They're picky and will sometimes make you work all day to find them.
Want to try angling in a different state?
Check out our complete guide to fly fishing in Connecticut.
Best Flies for Bend, Oregon
Fly patterns in central Oregon can vary from river to river, but I know of a few patterns that have proven to be successful no matter where I'm fishing. Be sure to have a few of these in your boxes.
San Juan Worm
This pattern is a classic and has proven its worth over and over again. These flies are dynamite no matter where or when you're fishing. Too often anglers forget about some of the classics in the fishing world. Don't ever write off your San Juan Worm patterns!
Hare's Ear Nymph
If you need a fly to use in some dirty, fast water, the Hare's Ear Nymph is a great option. While it isn't massive, it does act as a productive pattern and has enough flash that the fish will notice. This is a great option for the spring!
Rusty Spinner
The Rusty Spinner is a great dry fly pattern throughout the spring and summer. Use this fly from size 16 to 18 if possible. While it's a bit smaller than a fly, the fish enjoy it because it appears natural and isn't too overwhelming for them.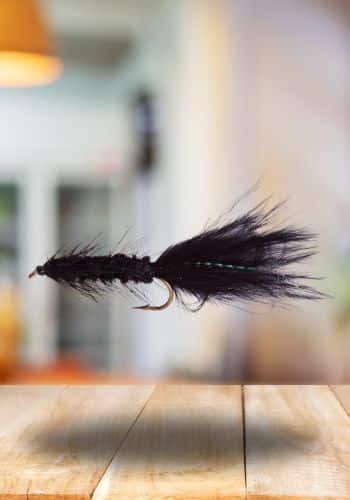 Woolly Bugger
The Bugger will land you fish in all bodies of water at all times of the year. While the fish might need some coaxing in the colder months, the Woolly Bugger will still work wonders. Use it anywhere between sizes 4 and 8. It's going to work!
Jimmy Legs Stone
Stonefly patterns can also work quite well in central Oregon. You won't need to wait long for a strike as soon as you start throwing these patterns. It's impressive how fast fish will flock towards these flies!
Bend, Oregon Fishing Season
The Bend fishing season really does last all year long. Since many of the rivers are spring fed, you won't find them freezing over. Plus, the steelhead run throughout the winter, so you'll want a chance to land some of those!
Bend, Oregon Fishing Report
The Crooked River and Deschutes are always a blast to fish. Of all the places I've fished in Bend, I think that below the dam on the Crooked River is a great place to start no matter when you visit.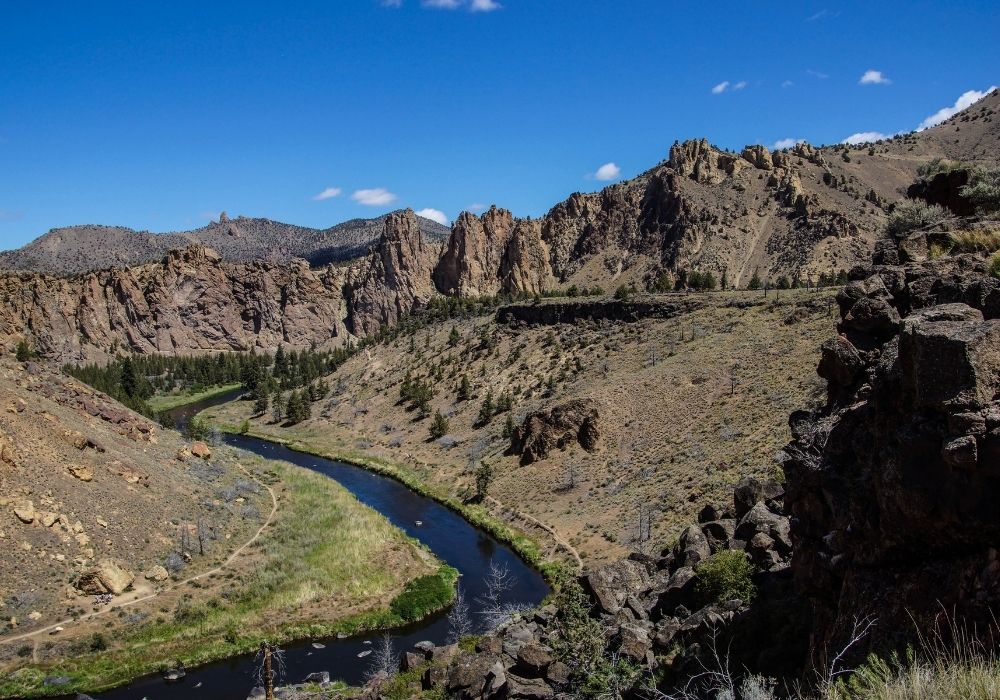 Throw some streamers through the deeper pools and you'll find yourself hooking into fish after fish.
Bend, Oregon Fly Shops
You'll find fly shops all over Bend, Oregon. You won't ever lack knowledge about any body of water within driving distance of the town. There are over 10 fly shops in the town that you can visit.
Bend Fly Shop
This is a great shop for anglers of all skill levels! If you're looking for gear or a guided trip, make sure you give these guys a visit. They'll take great care of you!
Confluence Fly Shop
The Confluence Fly Shop is a must-visit for anyone in Bend. It's fairly unique and you'll have a great time exploring and looking around. Feel free to ask for some tips and tricks, but be sure you buy something in return!
The Patient Angler Fly Shop
While this might look like a hole in the wall, it isn't! The fly selection is massive and they're some of the prettiest flies you'll ever see. Stop in for a visit and see what sort of information you gather. It's well worth your time.
Conclusion
Bend, Oregon has something for everybody interested in the outdoors. You can hike, camp, mountain bike…the list goes on and on.
If you're like me, you enjoy all kinds of outdoor activities, but fly fishing is your top priority. That's what brought me to Bend the first time, and that's what keeps me coming back.
There's no doubt that the fly angling is what sets Bend apart from many other towns out West. You'll find yourself in the midst of a wonderful community, and you'll have the opportunity to land some amazing fish!
Amazon and the Amazon logo are trademarks of Amazon.com, Inc, or its affiliates.
As a part of the Amazon Associates Program and other affiliate programs, Into Fly Fishing® may receive a comission if you order products through links on this website.