Oregon offers outdoor enthusiasts of all skill levels an opportunity to explore and experience all that the west coast has to offer. Fly fishing, however, is perhaps the best and most entertaining option on the list of everything to do.
The waters around Bend, Oregon aren't always easy to maneuver so it's important for anglers to gain some local knowledge before they tackle the streams, lakes and rivers. The fly shops in Bend are phenomenal and the employees are more than willing to share some tips and tricks.
Be sure to support these small businesses! They're the heartbeat of the fly fishing community.
Disclaimer: IntoFlyFishing.com is a participant in the Amazon Services LLC Associates Program, as an Amazon Associate I earn from qualifying purchases. Please see our Privacy Page for more information.
Bend Fly Shops
Bend has numerous fly shops as well as outdoor stores that sell fly fishing equipment. Be sure to visit the fly shops if you want the most up to date and detailed information.
These shops are great options and have information on all things fly fishing!
Bend Fly Shop
The Bend Fly Shop is located right in the heart of downtown Bend. This shop has been around for years and the staff have a phenomenal understanding of what it takes to land fish in Central Oregon. On top of the knowledge, you'll have access to every piece of gear you might need.
Whether it's flies, rods or even wading gear, Bend Fly Shop will take care of you. Also, if you're interested in a guided trip, they have several guides on staff that will provide you with a great experience! It doesn't matter your skill level, they'll work with you to make it enjoyable.
Confluence Fly Shop
? http://confluenceflyshop.com/
The Confluence Fly Shop is located in the Old Mill District in Bend. Fly shops can often give off an attitude of arrogance and intimidation, but you'll appreciate how friendly everyone is as soon as you enter. They make you feel at home and have an awesome amount of knowledge on the water.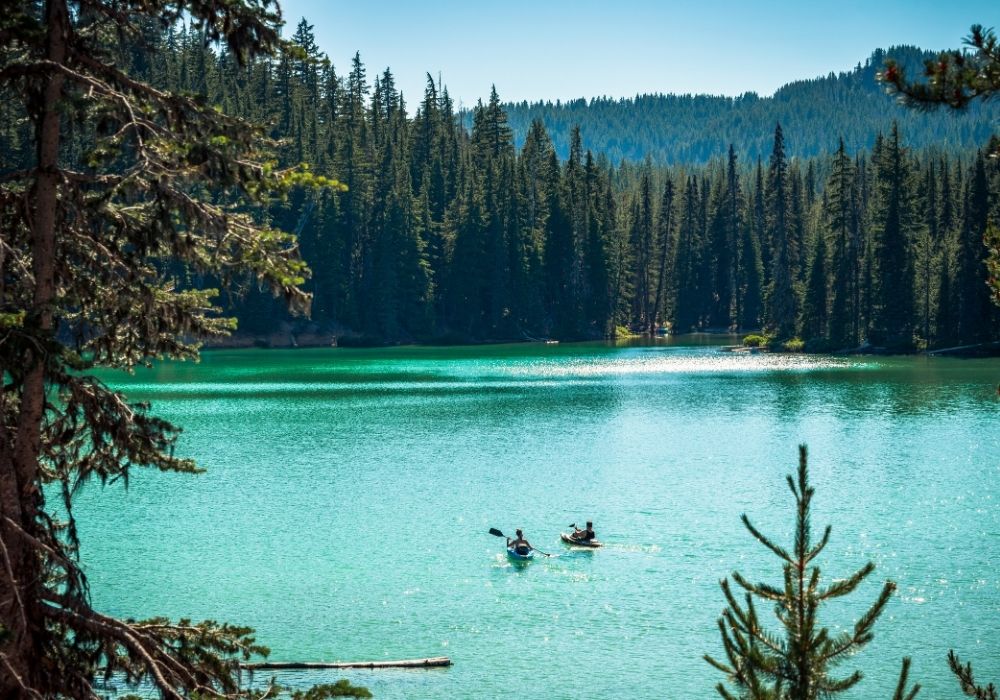 Guided trips, gear and friendly conversation are just a few things you'll get if you visit the Confluence Fly Shop. If you do go in to ask for advice, make sure that you purchase something to show your appreciation.
The Patient Angler Fly Shop
? http://www.patientangler.com/
This is a great hole in the wall fly shop. This isn't to say that it doesn't have the options or amenities you would find elsewhere in town. The gear options are tried and true and the owner has a love for fly fishing that is evident!
The fly selection is awesome at The Patient Angler. The flies are hand tied by the owner and several of the other employees. They're beautiful patterns that give you confidence in your fishing abilities. Don't pass up a chance to snag a few of these flies and head out to the river. You'll likely be coming back for more.
Fly & Field Outfitters
Versatility is what Fly & Field Outfitters offers. You can take guided trips to rivers, lakes or small backcountry streams. You also have the option of identifying what type of fish you'd like to land and they'll tailor the trip around your preferences.
Located right downtown in Bend, you don't have to travel far to learn all you might need for a successful day on the water. They also sell quite a bit of gear that is highly recommended by the local guides. Central Oregon fishing isn't always easy on your gear so make sure you're well prepared before you hit the water.
River Runner Outfitters
River Runner Outfitters specializes on the Deschutes River. The Deschutes is one of the most famous rivers on the west coast and for good reason. The fish in these waters are massive! However, the water can be challenging to learn and you'll need a guide especially if it's your first time.
The guides at River Runners will make sure to put you on fish. You might have to put in some extra work to find them, but it's going to be well worth it. Spending time off the beaten path is never a bad thing; especially if you leave with trophy fish and phenomenal stories.
Deep Canyon Outfitters
? http://www.deepcanyonoutfitters.com/
Deep Canyon Outfitters is another guide service and shop that spends the majority of their time on the Deschutes. You have the option of booking multi-day float trips in search of the trophy Steelhead and brown trout that inhibit these waters.
If you're looking to fish the Steelhead run, make sure you book far in advance. The Deep Canyon Outfitters book up fast. Steelheads are a difficult fish to land no matter how talented you are at fly fishing. These guides are going to simplify the process to the best of their abilities and reward you with some great fish.
River's Bend Fly Fishing Guides
? http://www.riversbendflyfishing.com/
River's Bend Fly Fishing Guides is one of the final outfits you should check out when you visit Bend! The backcountry trips with this group are excellent. They're prepared, offer great insight into the surrounding areas and make you feel home in the midst of what can be a fairly uncomfortable situation!
Conclusion
Fly shops are what make the sport of fly fishing great. They bring together a community of people who share a love for the outdoors and a desire to land some trophy fish. The shops all around Bend offer different insight and expertise.
If you make Bend your home base, make sure you visit all of the different shops listed! By the time you'll leave, you'll have a great understanding of what it takes to be successful in Central Oregon.