As an Amazon Associate I earn from qualifying purchases.
Lake Winnipesaukee fishing has been famed for a long time, and for good reason. New Hampshire's largest lake holds a lot to offer. It's rich with cold and warmwater fish species.
The lake is a famed tourist destination, popular with boaters and swimmers. There are plenty of accommodations and restaurants as well as a lot of fishing charters.
In my time fishing New England, I've often heard of the great smallmouth bass fishing on Lake Winnipesaukee. The very unique big white perch ice fishing there is perhaps what makes me most interested in taking a trip.
Where is Lake Winnipesaukee?
Lake Winnipesaukee sits in the middle of New Hampshire, south of the White Mountains. Major towns on its shores include Meredith, Wolfeboro, and Alton.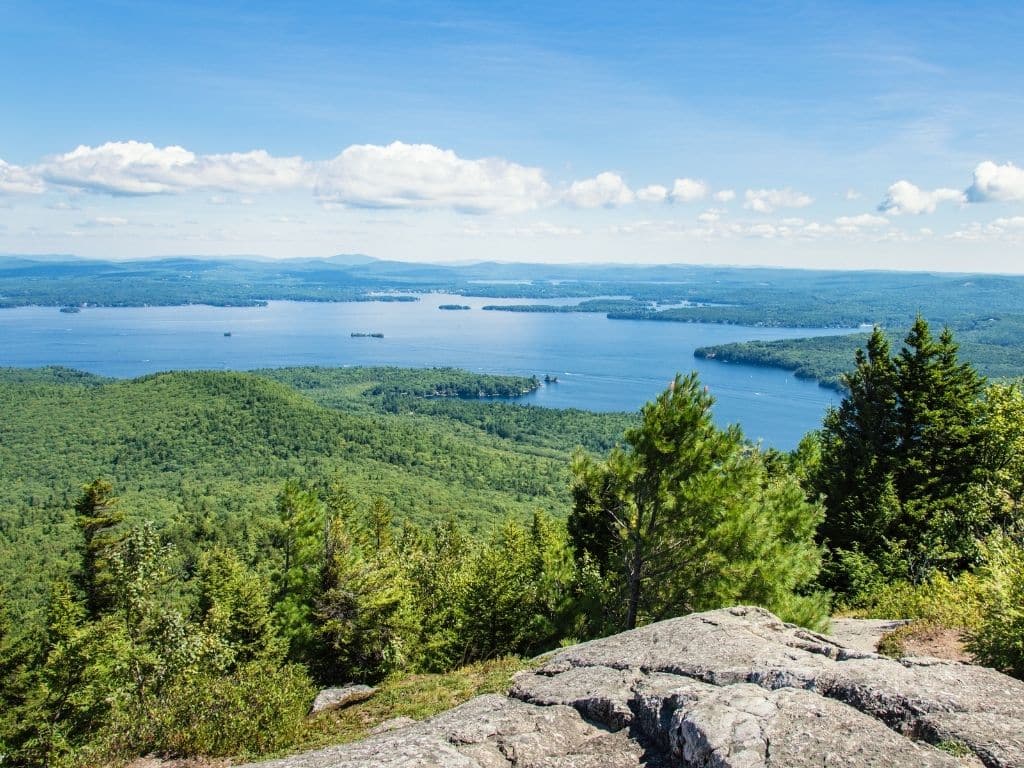 The lake is very large, covering 71 square miles.
Lake Winnipesaukee Fishing: Why Go?
Lake Winnipesaukee fishing provides opportunities to catch a number of big, hard fighting species. The lake is well known for trophy fish.
Whether your interests are bass or salmonids, Winnipesaukee is a good destination. Fly fishing for smallmouth bass there is excellent. The ice fishing for giant perch there is surprisingly popular.
Types of Fishing in Lake Winnipesaukee
There are a few important styles of fishing to catch the different species in this large body of water.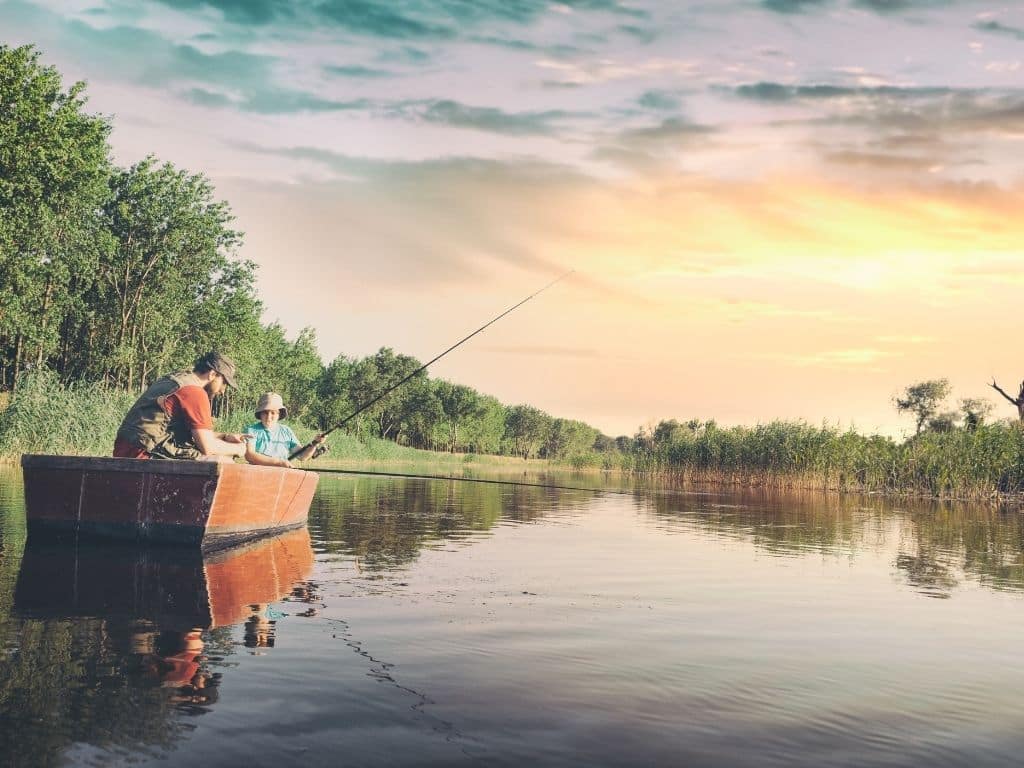 Fly Fishing
Fly fishing Lake Winnipesaukee is mostly done for its warmwater species. The salmon and trout spend much of their time in water too deep to fly fish effectively. Smallmouth bass is the most notable species to fly fish here.
Spin Fishing
Spin fishing is very productive on Lake Winnipesaukee. Jigging very deep water produces lake trout. Casting spinnerbaits, jerk baits, hair jigs, and topwater lures are fun tactics for bass.
Trolling
Trolling for lake trout and landlocked salmon is popular here. Streamers on lead core lines, flashy spoons, and small plugs are the best ways to get the salmon in this lake.
Ice Fishing
Ice fishing is one of the greatest ways to get on fish at Lake Winnipesaukee. Lake trout, white perch, and smallmouth bass are all targetable on the hard water. A snowmobile is often the ideal way to get around.
Lake Winnipesaukee Fish Species
This large New England lake holds numerous game species. Below are some of the best known to fish for.
Smallmouth Bass
These bronze colored, hard fighting fish are abundant in the lake. They can reach trophy sizes of 18 inches or more. Fly fishing, spin casting, and bait casting are all viable ways to catch the big smallmouth of Winnipesaukee.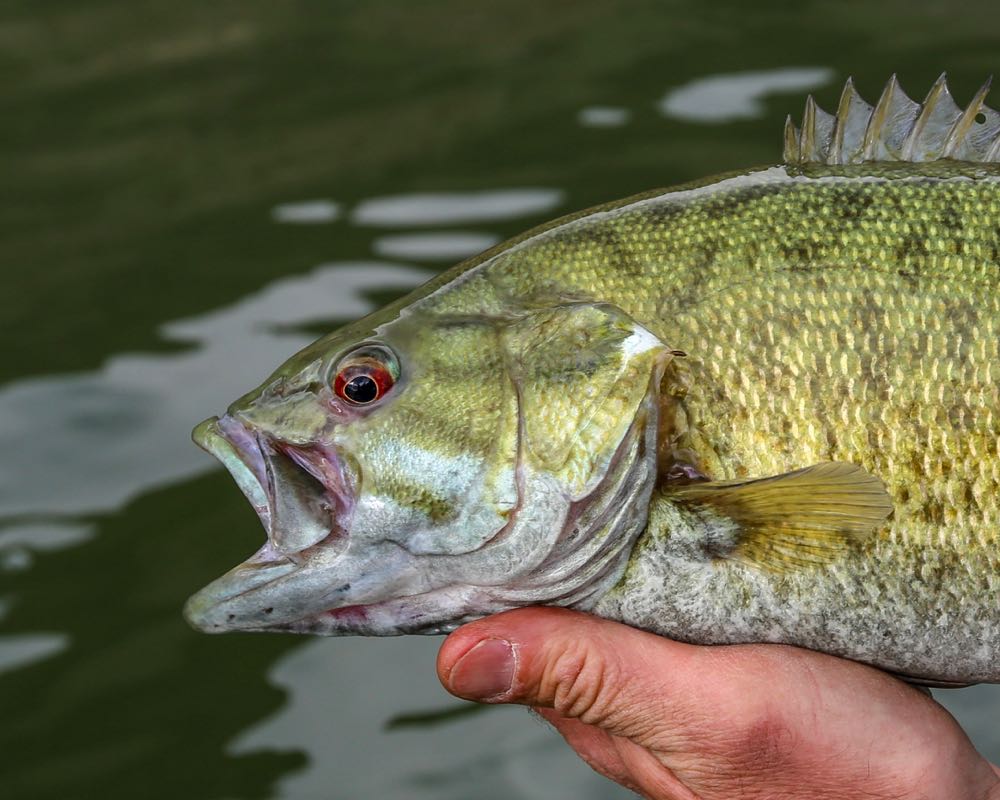 Landlocked Salmon
Lake Winnipesaukee has a substantial population of landlocked salmon. They're mostly targeted by trolling. With the right timing, they can be caught on the fly when they run into tributaries in early fall. The window is short, though, before the season closes.
White Perch
White perch aren't often talked about as a popular gamefish. However, Lake Winnipesaukee's abundant smelt feed giant white perch! They can be caught through the ice and are fabulous table fare.
Lake Trout
Lake trout are another salmonid to catch at Winnipesaukee. These fish inhabit deep, cold waters. Jigging with spinning gear or ice fishing are good ways to catch lakers.
Largemouth Bass
Besides smallmouth bass, Lake Winnipesaukee also holds some good largemouth. These fish can be found in the shallows in the spring.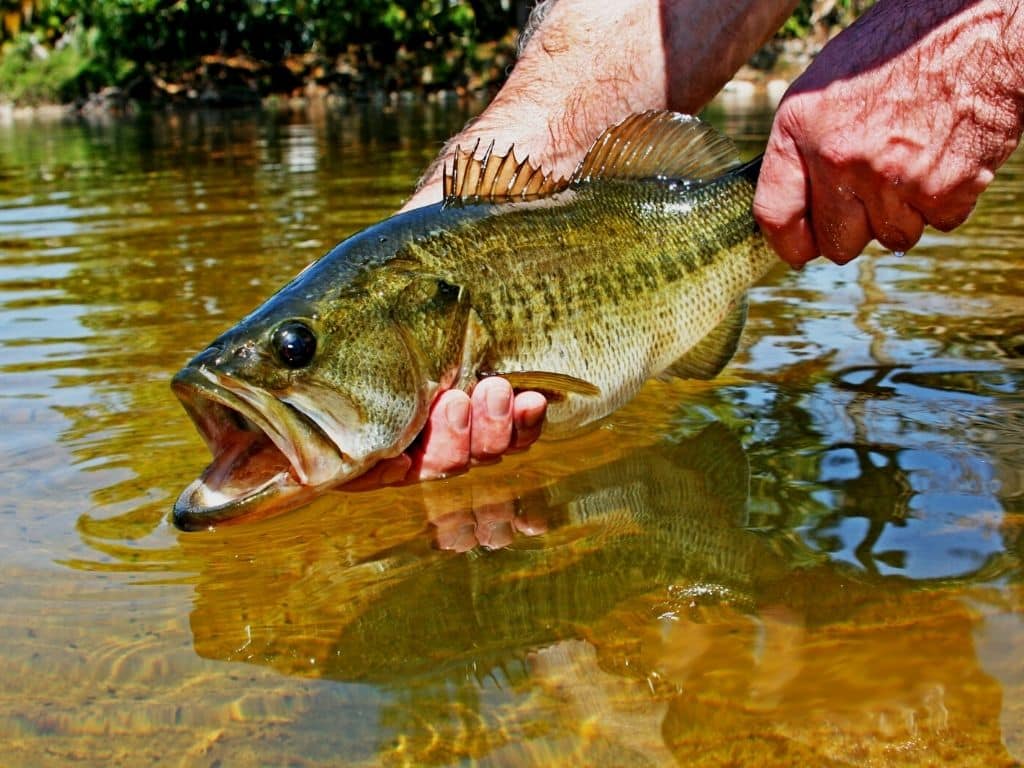 Fish poppers, flies, or jigs around docks, weed beds, or flats.
Best Spots for Fishing Lake Winnipesaukee
Having a boat, or at least a kayak, is important for open water fishing on this lake. On such a big body of water with limited shore access, it's important to have a good idea of where to go.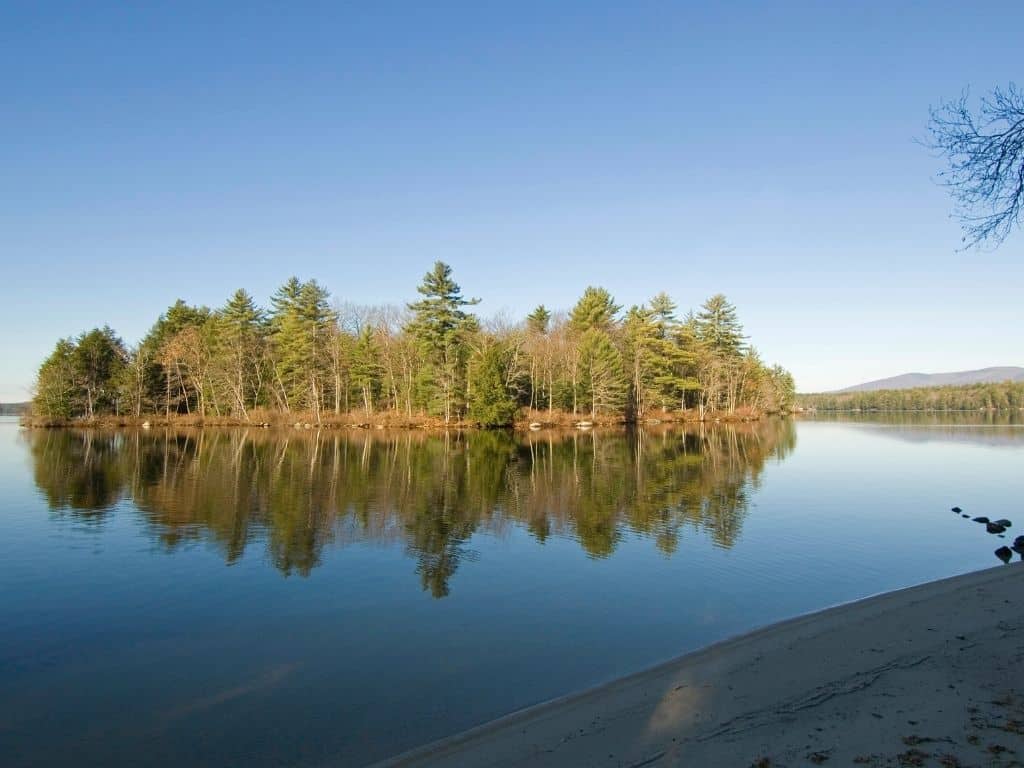 Paugus Bay
? Location: Paugus Bay, NH
Paugus Bay is one of the good spots for big bass on Winnipesaukee. Boat traffic can be high at times, so going early or late and on weekdays is a good idea. Look for any rocky structure smallmouth can hold on.
Varney Islands
? Location: Varney Islands, NH
The Varney Islands and surrounding area have a lot of excellent structure for bass and panfish. It can be a long run from a boat launch, but the shallow shoals provide good habitat for a variety of fish.
Lovejoy Sands Rd. Boat Ramp
? Location: Lovejoy Sands Rd. Boat Ramp, NH
One of the available launches for boats and kayaks is at the end of Lovejoy Sands Rd. There's good bass and salmon or trout holding water accessible when you're launching here. Look for depths over 100 ft and lots of marks on your fish finder to catch lake trout at the end of summer.
Best Flies for Fishing Lake Winnipesaukee
Though fly fishing can be an underdog when you're fishing Lake Winnipesaukee, here are some flies to try if that's your method of choice.
Woolly Bugger
Where isn't a Woolly Bugger effective? They're certainly a good fly to cast when you're fly fishing Lake Winnipesaukee.
Weighted conehead Woolly Buggers are best. Try yellow, brown, olive, and black in sizes 10 to 2.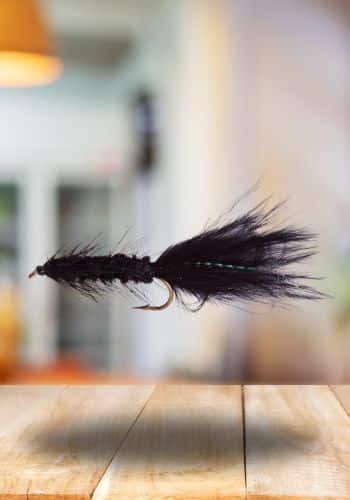 Gartside Gurgler
The Gartside Gurgler is a well known topwater saltwater fly, and it has freshwater applications too. Try fishing a Gurgler when bass shy away from a louder popper fly.
Fish them around docks, ledges, and weed beds.
Magog Smelt
It's important to have something to imitate smelt in a lake like Winnipesaukee. Not only can you fish this pattern with a sinking fly line while casting, it's also productive when you're trolling for landlocked salmon.
Lefty's Popping Bug
Sometimes the subtlety of the Gurgler is beat out by a louder fly. Lefty's Popping Bug in black or green is a great pattern for big smallmouth bass.

Slump Buster
Whether bass think it's a crayfish, sculpin, or something else I don't know… but anywhere smallmouth swim, the slump buster is a productive fly.
Olive, black, and brown are good color choices. White can be an excellent choice when you're sight fishing, for extra visibility.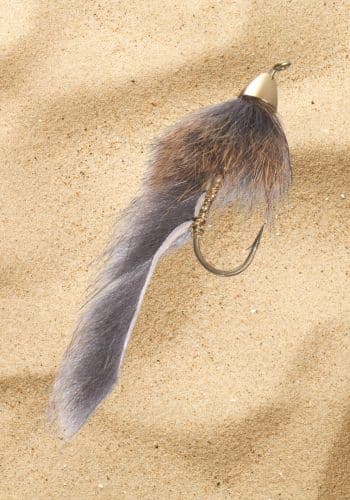 Lake Winnipesaukee Fishing Season
With a long period of safe ice and good bass fishing all summer, there's no end to the Lake Winnipesaukee fishing season. Salmon and lake trout fishing does close to allow them to spawn in the fall.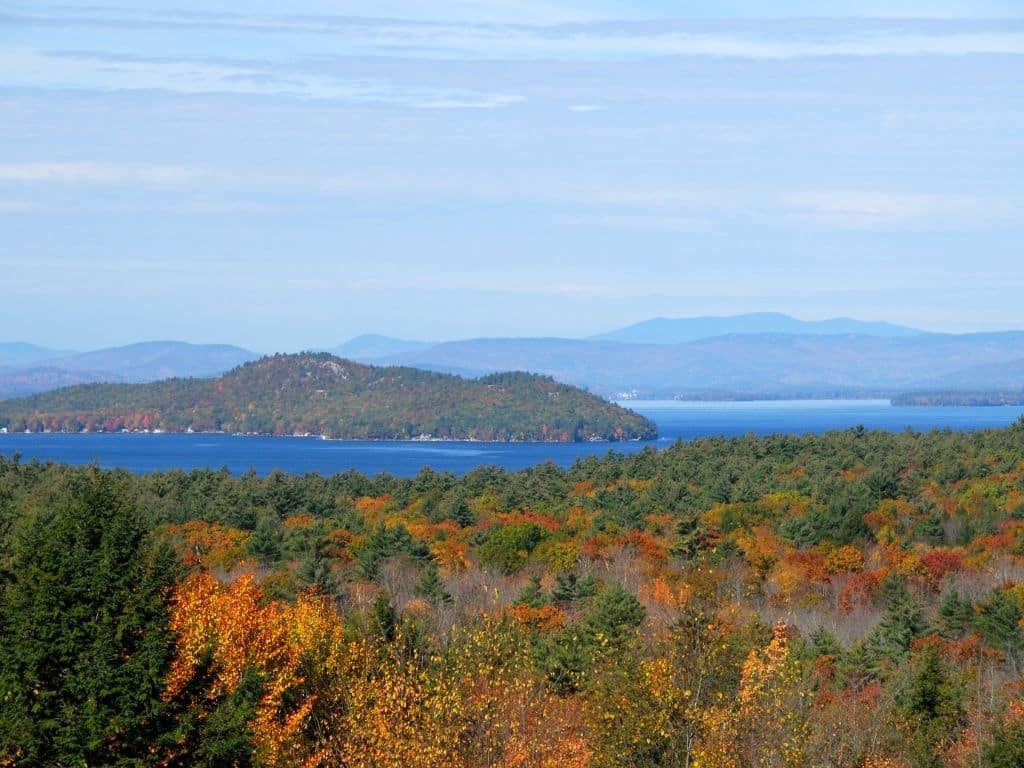 Winter fishing is all about ice fishing here. What little open water fishing is available won't be all that good. Snowmobiles allow for the most mobility to get to different spots. The giant white perch fishing can be dropped and reel.
In the spring, the bass get active and the landlocked salmon fishing can be excellent. On such a big lake, the thermocline can change a lot, meaning fish will often be in a different part of the water column because of the temperature. A fish finder can be an important tool to find fish suspended in a specific temperature gradient, especially at times of year when the water is warming or cooling quickly.
Summer is an excellent time to fish for bass on top or jig deep water for lake trout. By the early fall, the lakers start to spawn. On October 15, the season closes for lake trout and landlocked salmon.
Lake Winnipesaukee Fishing Guides
There are some good Lake Winnipesaukee fishing guides for salmon trolling, ice fishing, and bass fishing.
Tim Moore Outdoors
? Location: Tim Moore Outdoors
One of the best known guides on Winnipesaukee, Tim Moore guides anglers throughout the year, both ice fishing and open water. The ice fishing white perch bite and late fall huge crappies are specialties, but Tim Moore can put clients on just about any species that swims in the lake.
AJ's Great Spirit Charters
? Location: AJ's Great Spirit Charters
AJ Nute runs salmon and trout trolling and jigging trips on Winnipesaukee. Landlocked salmon, lake trout, and rainbow trout are the main targets. Children under 12 ride for free as long as they're accompanied by an adult!
Shoals Fly Fishing
? Location: Shoals Fly Fishing
For those staying in the area and looking for good fishing near Lake Winnipesaukee but not necessarily on the lake, this is a great option. Shoals Fly Fishing and Light Tackle Captain Peter Whalen guides for striped bass along the New Hampshire coastline.
This is a great option for fly fishers that may find the trolling and jigging guides on the lake less interesting.
Conclusion
Lake Winnipesaukee is a big intimidating lake, but if you're willing to fish hard, it can give up a true trophy. You can cut the learning curve and fish with one of the excellent local guides, or go at it on your own and still stand a good chance of catching some fish.
Smallmouth and panfish fly fishing is great. Ice fishing for the giant white perch of Lake Winnipesaukee is like nowhere else. Of course the landlocked salmon fishery is exciting as well.
If you successfully avoid the busy boating area and look for good rocky structure, fly fishing Lake Winnipesaukee is a lot of fun. I also highly recommend it to those looking to learn how to troll for salmon or how to ice fish. If that sounds interesting to you, Lake Winnipesaukee should be on your list of places to visit!
Amazon and the Amazon logo are trademarks of Amazon.com, Inc, or its affiliates.
As a part of the Amazon Associates Program and other affiliate programs, Into Fly Fishing® may receive a comission if you order products through links on this website.