Merrimack River fishing is an exciting warmwater option in southern New Hampshire and northeastern Massachusetts. It's a mostly urban fishery that's very accessible and very underutilized.
I've fished the Merrimack and its surrounding waters sporadically over the years and have had some fun times, especially around Lowell, Massachusetts. The carp and smallmouth are the biggest draw for me, but other species are present too.
Though not strikingly scenic and natural, the Merrimack flows through historic mill towns and is a fun urban fishery. Its biggest draws are minimal fly fishing pressure and big warm water species.
Disclaimer: IntoFlyFishing.com is a participant in the Amazon Services LLC Associates Program, as an Amazon Associate I earn from qualifying purchases. Please see our Privacy Page for more information.
Where Is the Merrimack River?
The Merrimack begins at the confluence of the Pemigewasset and Winnipesaukee rivers in Franklin, New Hampshire. From there it flows through Concord, Manchester, and Nashua in New Hampshire and Lowell, Lawrence, and Haverhill in Massachusetts before entering the Atlantic Ocean at Newburyport.
The land the Merrimack River flows through varies from bucolic to industrial and urban, but it's never notably wild or remote. It can still be very pleasant, though.
Merrimack River Fishing: Why Go?
The warmwater fishery in the Merrimack River is excellent. There are large carp, bass, and pike in the system. There are even trophy panfish, including large black crappie and beautiful big redbreast sunfish.
The lower portions of the Merrimack River also provide options for striped bass and American shad fishing. These fish migrate in during the spring run.
Types of Fishing in the Merrimack River
There are plenty of types of fishing to be done in this river, as it holds everything from catfish to trout in different stretches.
Fly Fishing the Merrimack River
A fly rod is a great gear choice for the Merrimack, whether you're fishing for stocked trout in the upper reaches, smallmouth bass, carp in the canals at Lowell, or stripers near the mouth.
Each situation demands different tackle and tactics, but 5 to 8 weight rods are best for the freshwater species and 8 to 10 weight rods will work for the stripers. Sometimes, if pike fishing, a 10 weight might still be appropriate in the fresh water. Fly fishing the Merrimack River can be a lot of fun.
Spin Fishing the Merrimack River
Spin fishing the Merrimack River is a good way to catch virtually all of its species. It can be an excellent way to get a load of smallmouth. Spin fishing with big swimbaits can also be an excellent tactic for the biggest stripers.
Bait Fishing the Merrimack River
Bait fishing the Merrimack River can be an enjoyable way to catch the river's large carp and catfish. Pre-baiting and fishing with European carp methods is a good strategy.
Merrimack River Fish Species
The Merrimack River holds just about every fish species that can be found in eastern Massachusetts and southern New Hampshire.
Smallmouth Bass
Smallmouth are found throughout the freshwater portions of the Merrimack, often reaching trophy sizes. They can be caught on fly, spinning, and baitcasting gear.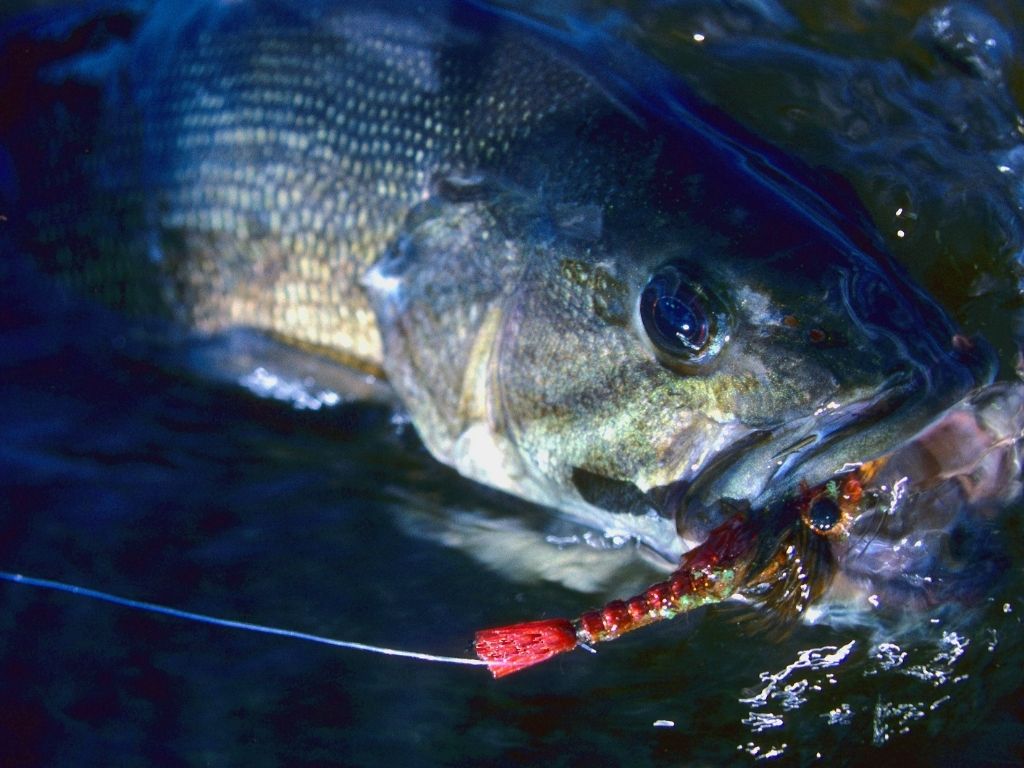 Common Carp
Common carp are abundant in the river, especially around Lowell. They often exceed 20 pounds. The main river is a great spot for bait fishing, while the backwaters and canal are exceptional for fly fishing for carp.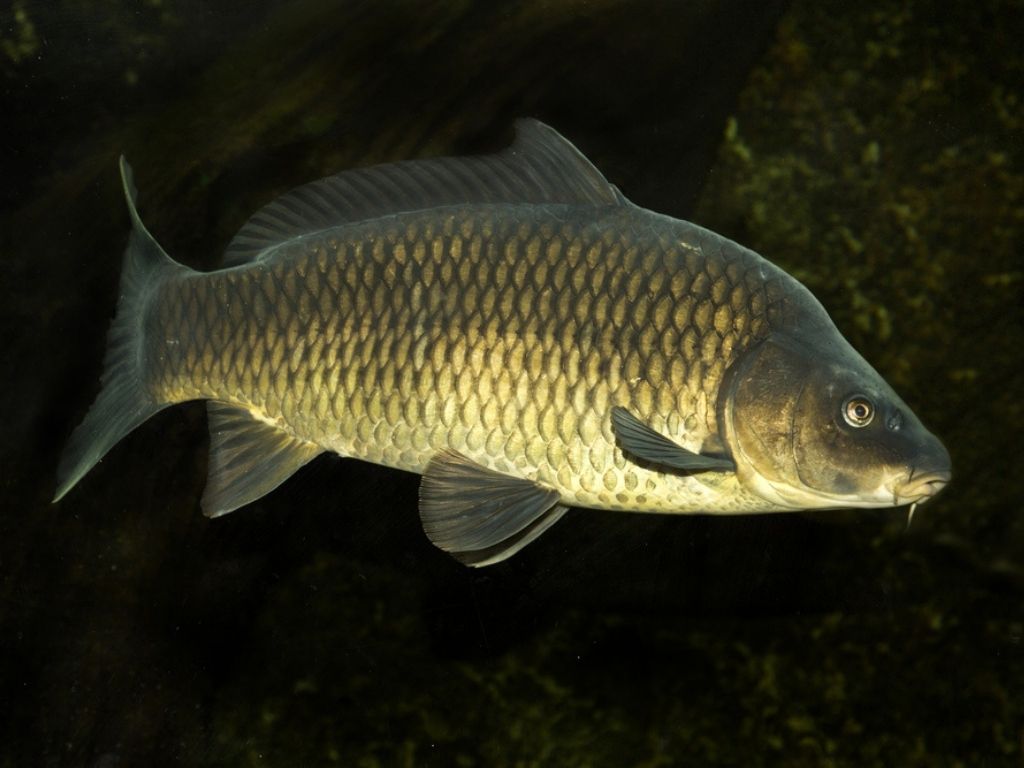 Northern Pike
Though they're not abundant, the Merrimack River has produced some large pike.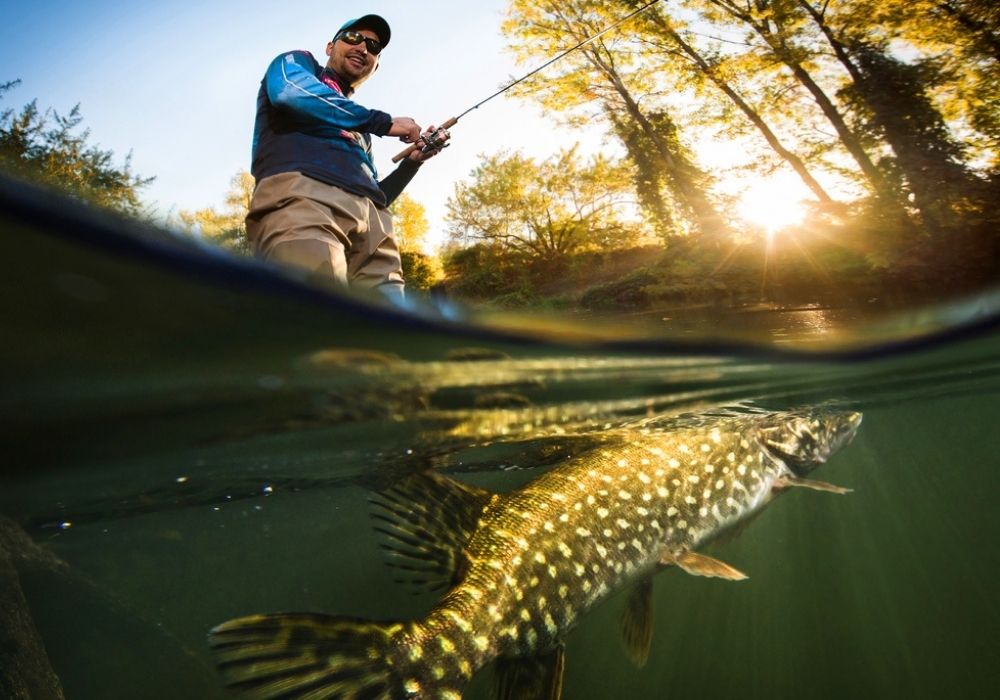 Striped Bass
Striped bass run up the Merrimack River in the spring and can be found in the estuary throughout the year. Bucktails, plugs, and large flies are all good options.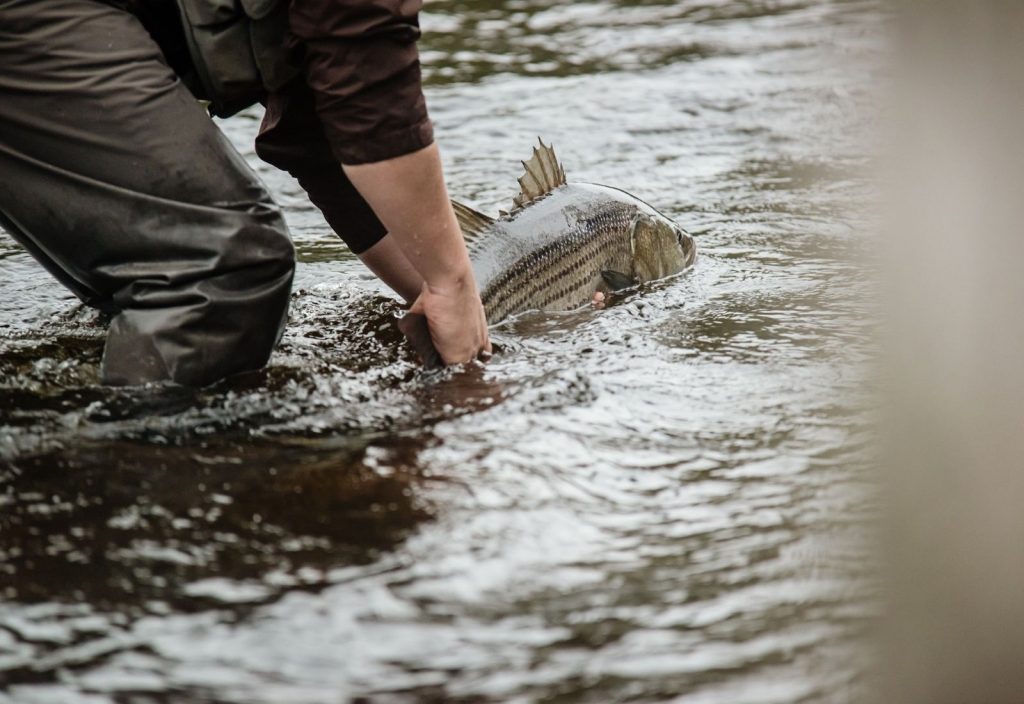 Panfish
Excellent pan fishing can be found in many portions of the river. I've caught large crappie and sunfish in Lowell. There are also perch.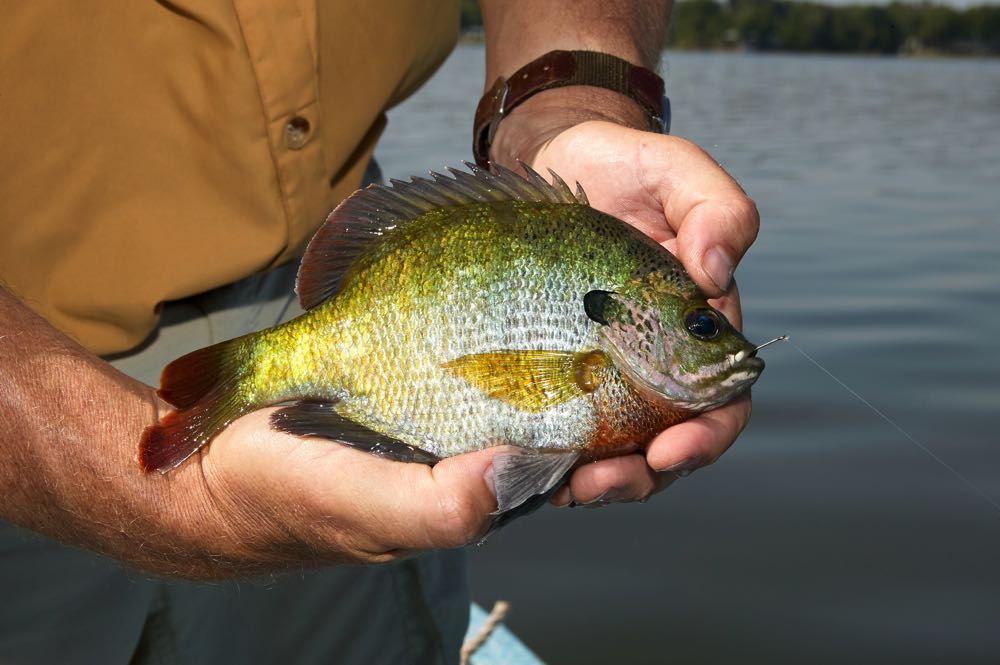 Fishing small jigs on spinning gear or little streamers on a fly rod are both good tactics.
Trout
Only the upper river from Franklin to Concord New Hampshire has trout, and they're stocked fish. Spring is the only good time to go trout fishing on the Merrimack River.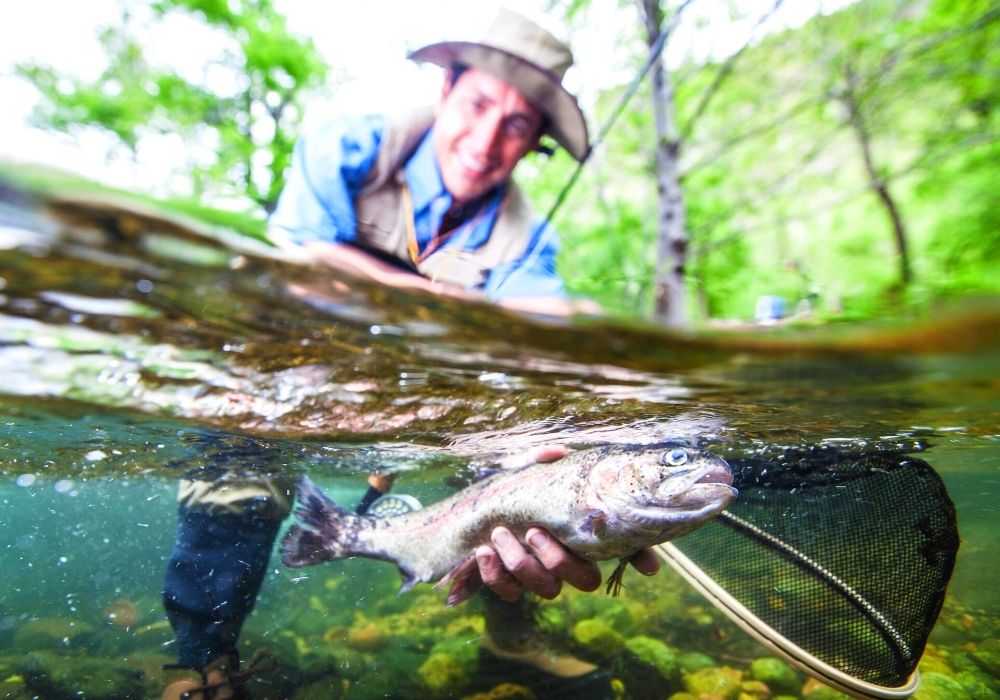 Shad
American shad run the Merrimack in the spring, and though the run is modest compared to other rivers, the fishing can be good for a short time.
May and June are the best months, and small jigs, shad darts, and brightly colored flies will irritate these fish into biting.
Best Spots for Fishing the Merrimack River
Some parts of the Merrimack, like in Lawrence, are unsafe and best to avoid. But below are a couple safe and productive Merrimack River fishing spots.
Franklin, New Hampshire
From Franklin to Concord, the river is almost like a big trout stream and fairly wadeable. The smallmouth bass and trout fishing can be good at times.
Lowell, Massachusetts
The river in Lowell, as well as the canals and Concord River, have excellent bass, carp, and panfish fishing. In daylight it's perfectly safe and mostly clean, but it's still an urban fishery, so caution is recommended. However, this is some of the best Merrimack River fishing.
Newburyport, Massachusetts
Newburyport is the gateway to some of the best striped bass fishing in Massachusetts. The waters around Plum Island, just south of the mouth of the Merrimack, are famous for abundant stripers. This is small boat territory but wading is possible in the estuary.
Best Flies for Fishing the Merrimack River
These are just a handful of the flies that work well on the Merrimack River.
Mop Fly
The Mop Fly is great for panfish, carp, bass, and even bullheads. I always have a few on me when fishing a river like this.
Woolly Bugger
Carrying Woolly Buggers in a variety of sizes and colors is always a must. They are great for Merrimack River smallmouth fishing and work on the carp as well.
Flashtail Whistler
The Flashtail Whistler is a great fly for pike anywhere, and the Merrimack is no exception.

Clouser Minnow
A Clouser Minnow is one of the best patterns for Merrimack River fly fishing because it's so versatile.
In a variety of sizes and colors, it can be used for big crappie, smallmouth, carp, and striped bass.

Hollow Fleye
Bob Popovics' Hollow Fleye is a fine choice for striped bass in the Merrimack River and at Plum Island.
Merrimack River Fishing Season
The Merrimack River fishing season is primarily from April until November, though locals often still know how to find fish in the winter too.
April can be slow at times but is a good time to fish for big pike. By late May, the carp and smallmouth fishing is excellent, the shad have started running, and the migratory stripers are around. The trout fishing in the upper river really only extends until mid June.
Midsummer is an excellent time for carp and smallmouth around and above Lowell, and it remains good into the fall. Plum Island stripers are usually hot throughout this time of year as well.
The biggest hindrance throughout a season on the Merrimack can be water level. Sometimes the Lowell canals are drained for an extended period, and this really makes for slow fishing, even a year later. High water can also make wade fishing any part of the river tricky.
Merrimack River Fishing Report
The last time I fished the Merrimack River was in late spring, and the smallmouth bass and crappie fishing was on fire. The biggest crappie my group got was 14 inches.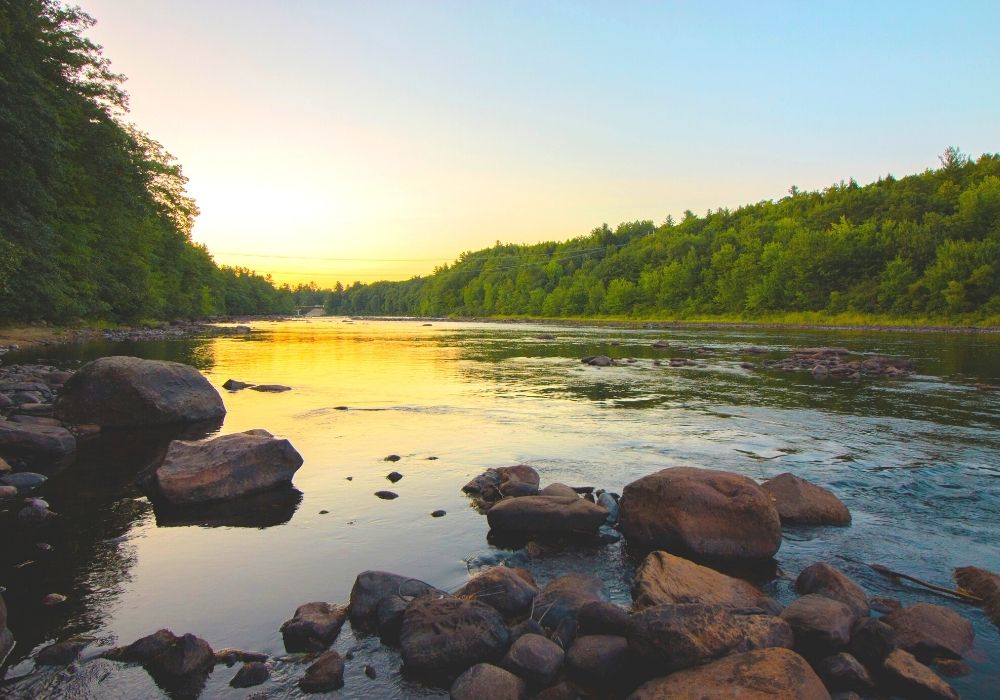 The carp fishing, which is what we went for, was poor because the canals we fished had been drained the year before.
Merrimack River Fishing Guides
There are a number of good Merrimack River fishing guides.
Brackish Flies
Geoff Klane of Brackish Flies guides for carp, bass, and other species on the fly in and around Lowell, on foot. Geoff is a good friend of mine and an excellent fly and light tackle guide.
Manolin Charters
Captains Chris Valaskatgis and Mike Fallon run fishing trips in and near the Merrimack River, mostly for striped bass. Regardless of what your preferred fishing style is, one of the two captains will likely be able to put you on the striper bite you're looking for.
New Hampshire Rivers Guide Service
New Hampshire Rivers Guide Service offers float trips for smallmouth bass on the Merrimack River. This is a unique experience and relatively un-pressured water. It's certainly worth making the trip for.
Conclusion
Merrimack River fishing may not be as wild or scenic as many parts of the Northeast, but that doesn't mean it should be ignored. As long as you avoid some of the more dangerous areas, like downtown Lawrence, it can be a fun experience. And the areas at either end, in Franklin and at the mouth of the river, are still fairly natural.
The Merrimack River holds big carp, bass and stripers. It's a great place for plug casting, fly fishing, and even bait fishing. It's certainly a very productive fishery and worth a visit!