As an Amazon Associate I earn from qualifying purchases.
Fishing Acadia National Park isn't often considered the top priority when visiting Downeast Maine. However, Mt. Desert Island can be an exciting place to cast a lure or fly.
I fished Acadia for the first time a couple years ago and was enthralled both by the scenery and the fishing. Though the fish I caught were small, they were abundant and unusual. I had a blast!
If you're planning a trip to Acadia, it's certainly a good idea to bring your rods along. Hopefully this guide will help you plan your trip.
Where Is Acadia National Park?
Acadia National Park is in Downeast Maine. It takes up a large portion of Mt. Desert Island. The most notable town in the area is Bar Harbor, a popular and scenic tourist destination.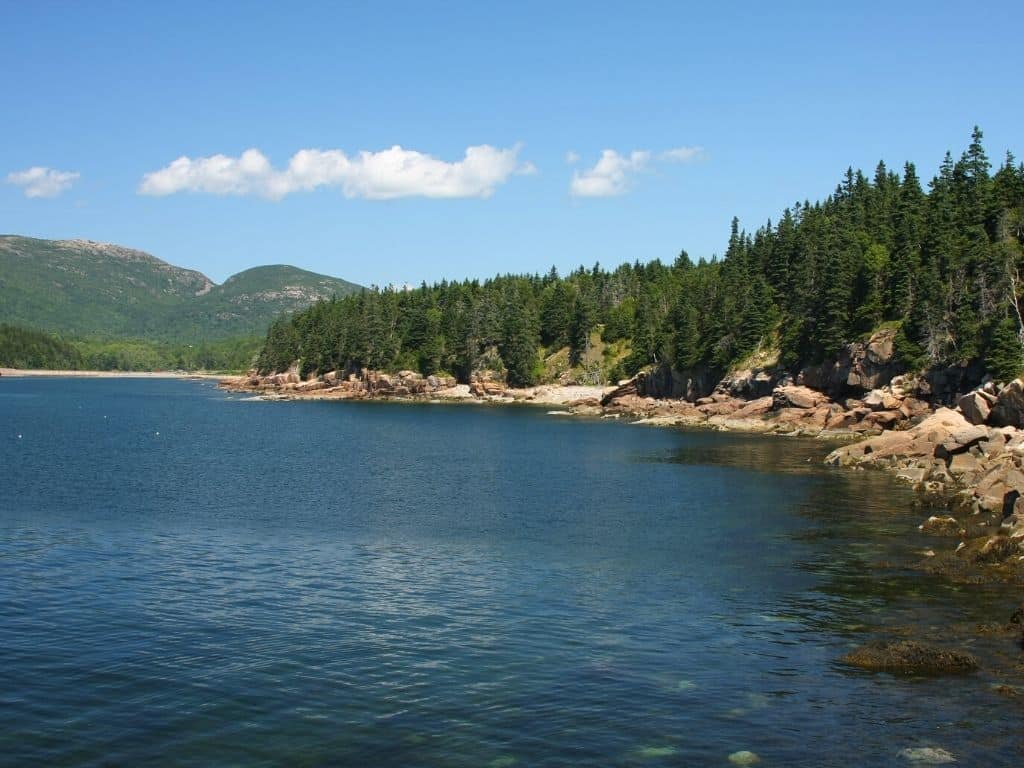 Acadia National Park is characterized by jagged rocky shoreline, bald-top mountains, and clear ponds and streams. It's a stunningly beautiful place.
Don't miss our complete guide to fly fishing around Maine.
Acadia National Park Fishing: Why Go?
Fishing Acadia National Park is all about pretty wild fish in beautiful surroundings. A five weight and a simple box of flies will be all you need for a good time.
If you're looking for big fish, it may not be your first choice of destinations. But, if you're looking for a unique experience, there's certainly no place else like Acadia in the Northeast.
Types of Fishing in Acadia National Park
There's a variety of opportunities for Acadia National Park fishing.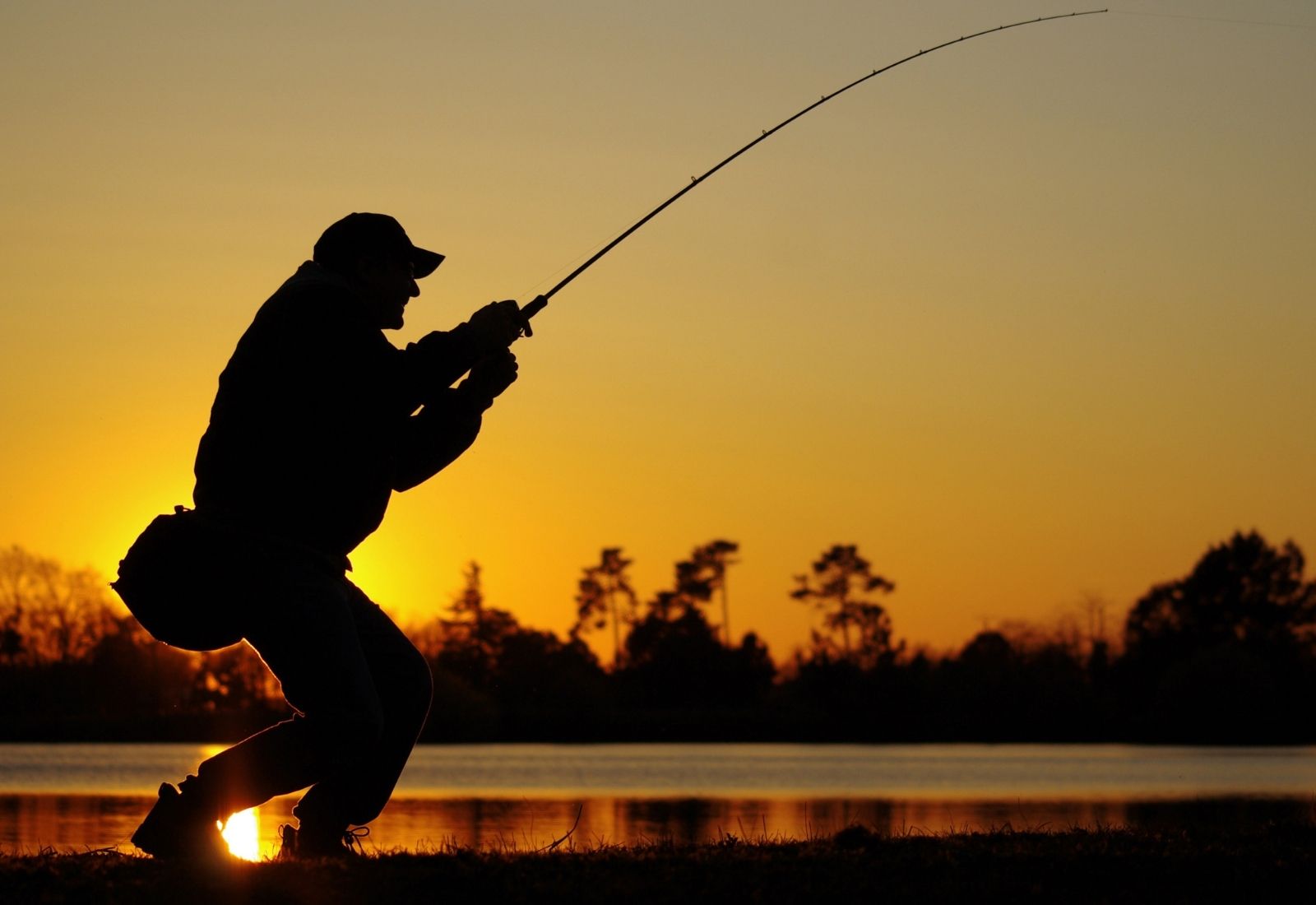 Fly Fishing
Fly fishing is a great way to experience the park's waters. It's an excellent way to catch brook trout in ponds and small streams. Also, casting a five weight from the rocky shoreline in the summer produces pollock and mackerel.
Spin Fishing
Spin fishing with bait and lures can be very productive. It can be a great way to catch brookies in the ponds. Fishing bait on the bottom is the best way to get cod in the ocean. There's some deep sea fishing near Acadia National Park too.
Acadia National Park Fish Species
Though there aren't as many species as some destinations, Acadia still provides an interesting assortment of fish.
Brook Trout
Brook trout are native to Mt. Desert Island. They can be found in the ponds, streams, and even in salt water! Acadia has "salter" brook trout that travel between salt and fresh water.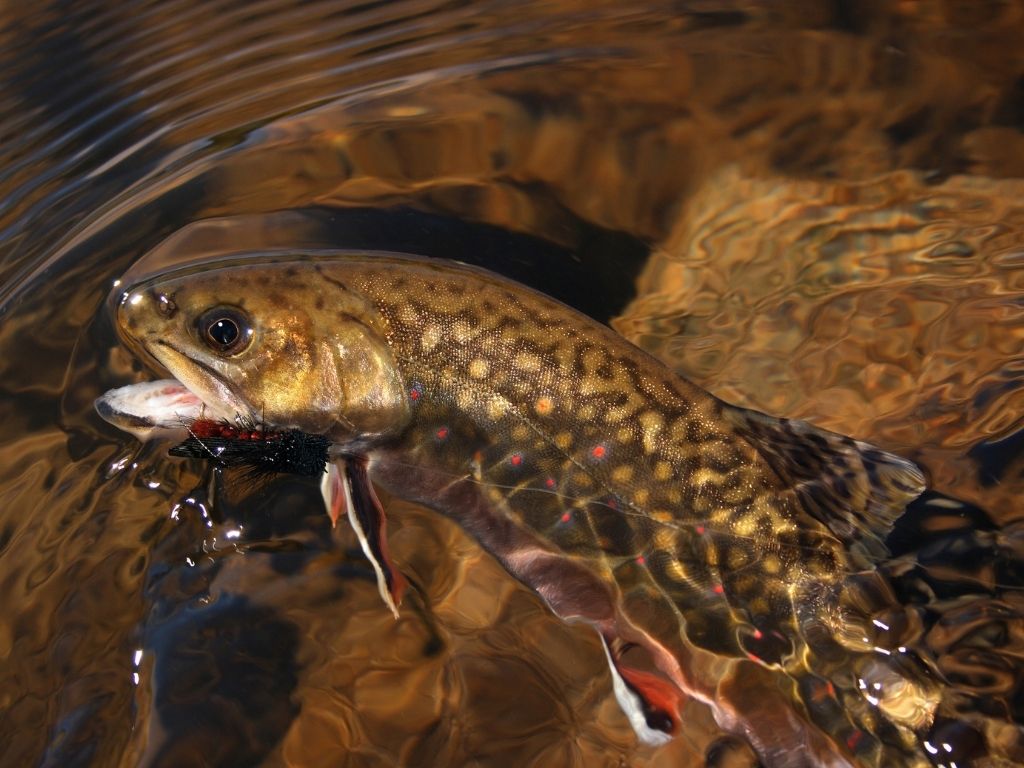 These fish are very special and should be handled with care. Barbless hooks are a must!
Pollock
"Harbor pollock" are abundant in the inshore waters through much of the season. These aren't big, but it's a lot of fun catching them on the fly or light spinning tackle. Bigger pollock can sometimes be caught with bait.
Atlantic Mackerel
As with the pollock, Atlantic mackerel are small but numerous. They're beautiful little fish with iridescent green colors and black marbling. Casting a Sabiki rig is an especially popular way to catch a bunch of mackerel.
Cod
Though mostly available to those fishing from boats in deeper water, cod can sometimes be caught on bait from shore in Acadia. Most of the inshore fish are small. Booking a deep-sea fishing trip is the best way to get on bigger cod offshore.
Chain Pickerel
Some of the ponds in Acadia National Park hold chain pickerel, the main native apex predator fish in fresh water in the area. They can be caught on topwater flies and streamers in shallow, weedy areas. Smallmouth and largemouth bass, which aren't native, also get caught in the same waters.
Best Spots for Fishing Acadia National Park
Finding a fishing spot in Acadia can be intimidating among all the tourists and sightseers. These are some good spots to try.
Bubble Pond
Bubble Pond can be accessed from the park loop road and the trail along the west side. The species of interest in this body of water is brook trout. It can be tricky to fly fish to the pond, as casting room is limited from shore.
However, fish do move tight to shore, especially early in the morning in the spring and early fall.
Great Head
This rocky shoreline on the east side of the island is a place to try for pollock and mackerel. Be very cautious as the rocks are sharp and drop right into deep water. But, if you take your time and pick your way along the ledges, it's possible to get a lot of fish on the fly or light spinning gear.
Otter Cove
Like Great Head, the rocks around Otter Cove are very good for small pollock. The stream feeding the cove also holds salter brook trout.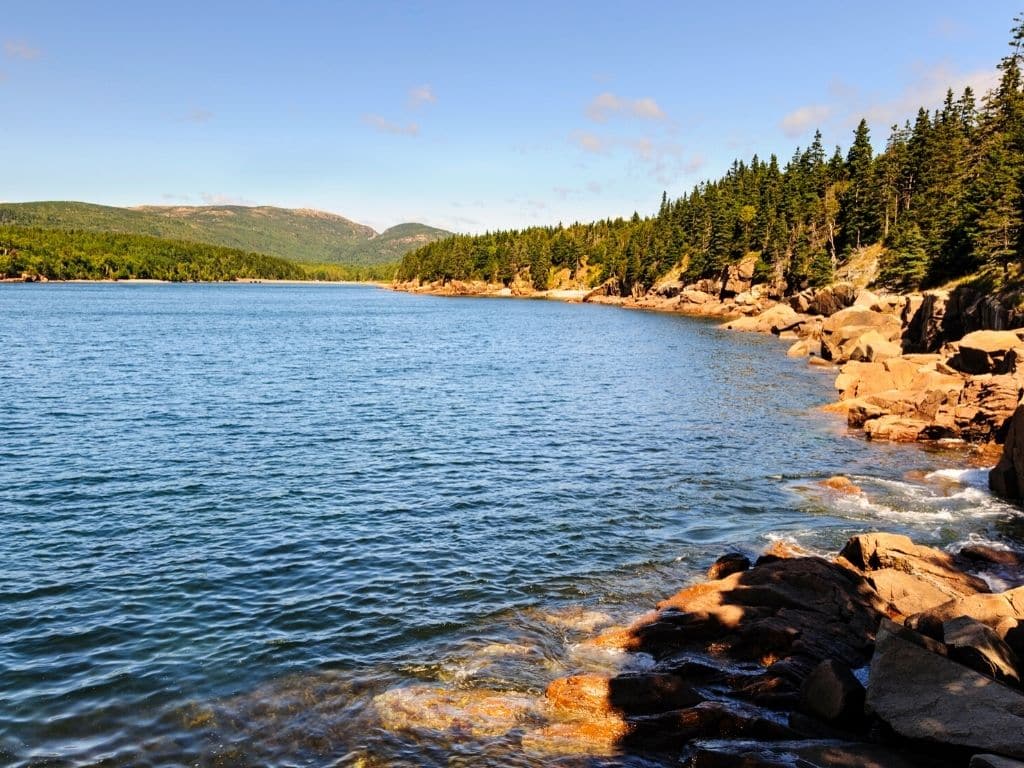 It's best to go early in the morning to avoid the crowds.
Best Flies for Fishing Acadia National Park
These are the patterns I wouldn't go fly fishing in Acadia National Park without.
Blacknose Dace
The Blacknose Dace is a traditional small trout streamer that's excellent for both salter and landlocked brook trout in Acadia.
In some cases, it may also catch the landlocked salmon that inhabit a few of the island's ponds. Sizes 12, 10, and 8 are best.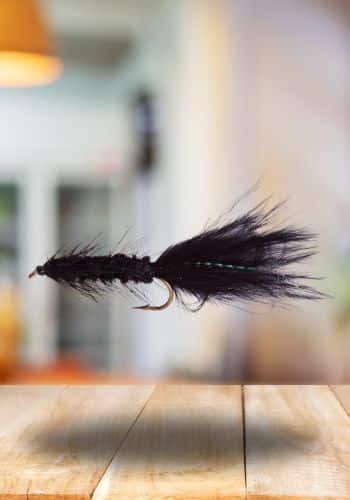 Woolly Bugger
The Woolly Bugger is a catch-all fly for Acadia National Park fishing. It works in both fresh and salt water for just about every species discussed here.
I caught many pollock on a white Woolly Bugger while fly fishing in Acadia.
Clouser Minnow
Small Clouser Minnows in size 4, 6, and 8 are ideal flies to cast for pollock around the rocks. White, chartreuse, and red are good colors. Striped bass also occasionally visit these waters, and the Clouser is a good fly to tempt them with.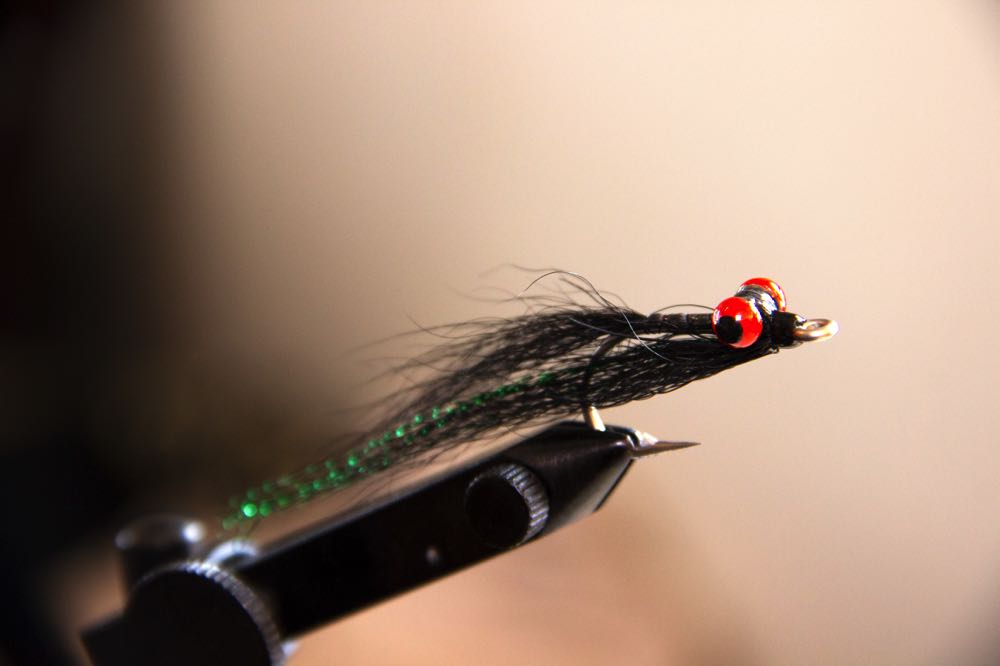 EP Micro Minnow
One of the best rigs for catching Atlantic mackerel is three EP Micro Minnows fished on a sinking line, spaced a foot apart.
Don't be surprised when you get three fish on the same cast!
Soft Hackle Pheasant Tail
Try a soft hackle Pheasant Tail nymph in the park's small streams for the small but vibrant native brook trout.
Acadia National Park Fishing Season
Acadia National Park's fishing season is best from May through the very start of October. Winter provides a few ice fishing opportunities, but a lot of the park roads are closed.
Spring and fall are best for brook trout fishing. In the summer, the lakes get warm and the streams get low. Fishing can put stress on these sensitive native fish. They also move into deep water where they're harder to reach anyway.
Summer and early fall are fabulous times to target mackerel and pollock. They're also busy tourist seasons, so plan to fish early and late and go during weekdays if you can.
Acadia National Park Fishing Report
When I last fished Acadia, it was July and the pollock and mackerel were in thick. My friend and I were catching fish in almost every cast with jigs, Sabiki rigs, and Woolly Buggers. They were holding right tight to the rocks.
We found our best spots were places where a small point of rock jutting out created an ambush point. We also didn't do as well inside coves and we did on points and heads, where the water was deepest.
Acadia National Park Fishing Guides
There are a number of guides and charters for fishing near Acadia National Park.
Eggemoggin Guide Service
Eggemoggin Guide Service offers some exciting fishing near Acadia National Park. From floating the jigging mackerel and pollock inshore to casting a 14 weight fly rod for sharks and tuna, they provide a wide array of experiences! They do offer local freshwater fishing trips as well as saltwater charters.
Eagle Mountain Guide Service
Eagle Mountain Guide Service offers freshwater fishing and hunting trips a short distance from Bar Harbor. Smallmouth bass, brook trout, landlocked salmon, and lake trout are some of the species they offer guided trips for.
Acadia Fishing Tours
For those looking for a family oriented fishing outing, Acadia Fishing Tours is an excellent option. All fishing tackle is provided. This is a deep-sea type fishing charter.
Conclusion
Though Acadia will likely never become a world-renowned fly fishing destination, if you're looking for a fun and unique place to visit, it has plenty to offer. Catching pollock on a fly rod with a big mountain in the background isn't something you can do in many other places in the United States.
From salter brookies to Atlantic mackerel, Acadia National Park's fish may not be big, but they sure are beautiful and a lot of fun to catch! I love catching big fish, and I like experiencing new things more. That's why I fell in love with Acadia.
If you visit Acadia National Park on a vacation, bring a rod! Make some casts and you may just catch something that brings a smile to your face.
Amazon and the Amazon logo are trademarks of Amazon.com, Inc, or its affiliates.
As a part of the Amazon Associates Program and other affiliate programs, Into Fly Fishing® may receive a comission if you order products through links on this website.