As an Amazon Associate I earn from qualifying purchases.
When people think of the western United States, the first places to pop into their minds are often Montana, Colorado and Wyoming, and rightfully so. The national parks in these states are beautiful and amazing to visit.
There are, however, a few states that often get left off the list due to a lack of national parks. Idaho is one of the most beautiful states in America, and the fly fishing there is top notch. Since much of the state is national forest land, tourists don't have it at the top of their list to visit.
I made my first trip to Salmon, Idaho, a few years ago and I couldn't believe that I'd never bothered visiting before. I came to fly fish, and the Salmon River exceeded my expectations with its nice sized fish and beautiful mountain scenery. A large bald eagle even perched in a tree above my head, appearing to watch me cast.
The town itself was worth checking out too, a sleepy but friendly place with several good restaurants, cabins for rent nearby, and an authentic Western vibe.
In short, the area's beautiful, the fish were big and biting, and I had a wonderful time exploring all that the surrounding areas in the state had to offer.
Fly Fishing Salmon: Why Go?
When you think of fly fishing in Idaho, you think of the Salmon River. Salmon, Idaho, is located in the Salmon River Valley conveniently located right near the Main and Middle Fork of the Salmon River.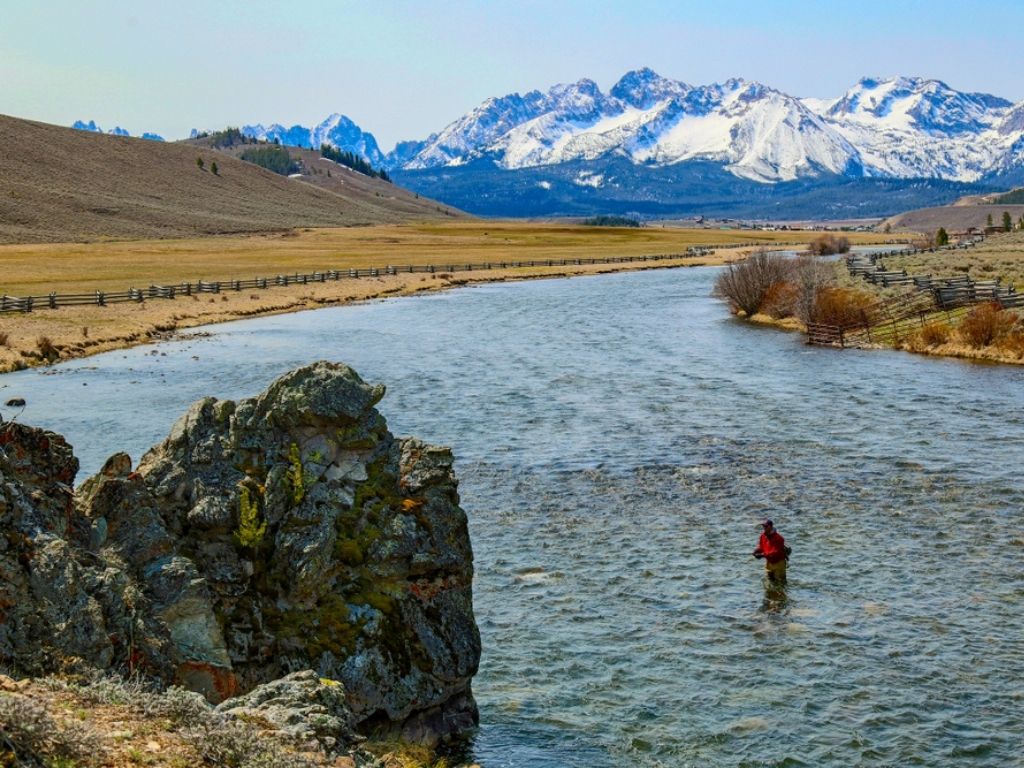 You'll find a bit of seclusion you might not find on other Western rivers due to the more work it takes to be successful when fishing on the Salmon River. It's a true Western fly fishing experience!
Species for Salmon Fly Fishing
While fly fishing in Salmon, I encountered a nice variety of fish that I was able to catch when I targeted the surrounding waters. Anglers won't get bored by landing only one species.
Steelhead
Yes, you can even target steelhead on the Salmon River in Idaho. It's the only inland Western state that has ocean-run fish like this! I hooked into some steelhead at the Bonneville Dam Fish Ladder and also around the Lake Creek Bridge. These fish are found in late September and early October.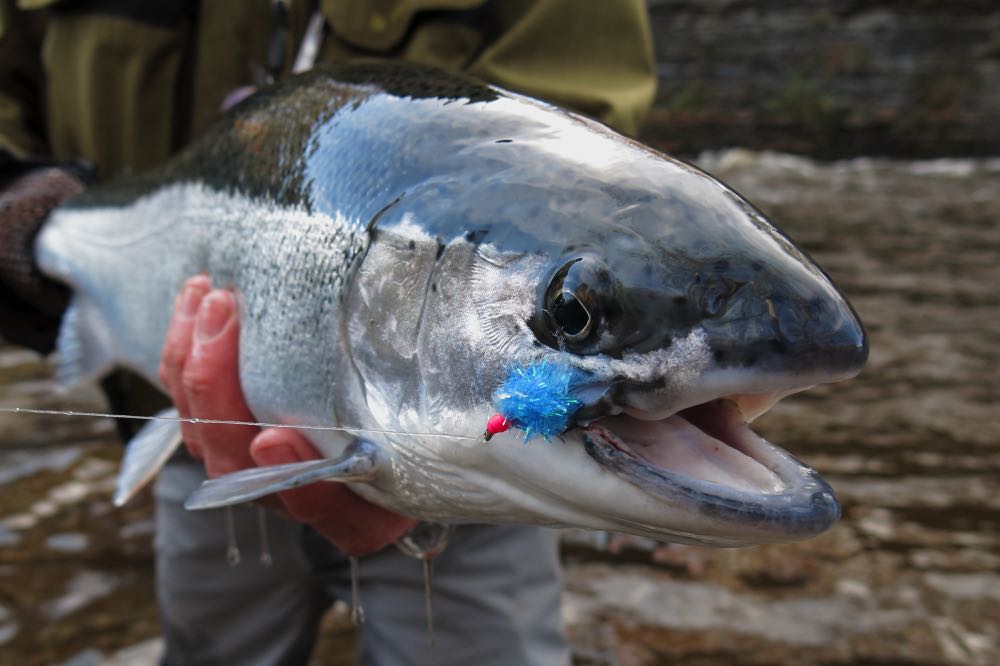 Bring along your 7 or 8 weights! You're going to need them with these fish.
Rainbow Trout
Rainbow trout are another common species that anglers will find near Salmon, Idaho. These fish grow upwards of 25 inches and can put up an impressive fight. Look for them throughout the Main and Middle Salmon Rivers. They're quite active.
Bring along those Pheasant Tails and Clouser Minnows when targeting these fish.
Cutthroat Trout
Cutthroat are another one of the fan favorites in Salmon. These fish are beautiful and some of the harder fighting trout that you'll find. Look for them throughout the Salmon River along the cut banks.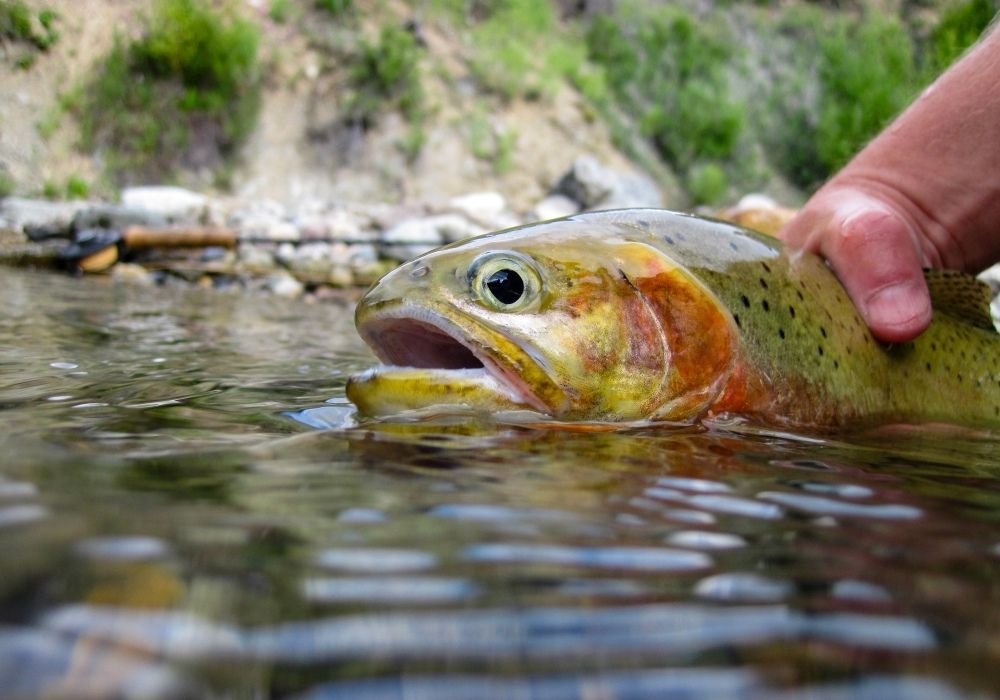 You can land them on Prince Nymphs, Pheasant Tails and Elk Hair Caddis.
Brook Trout
One of the best parts about fishing near Salmon, Idaho, is the opportunity to land some brook trout. On one day in particular while I was fishing there, I must have pulled at least 20 out of the water. They weren't huge by any means, but they put up an admirable fight.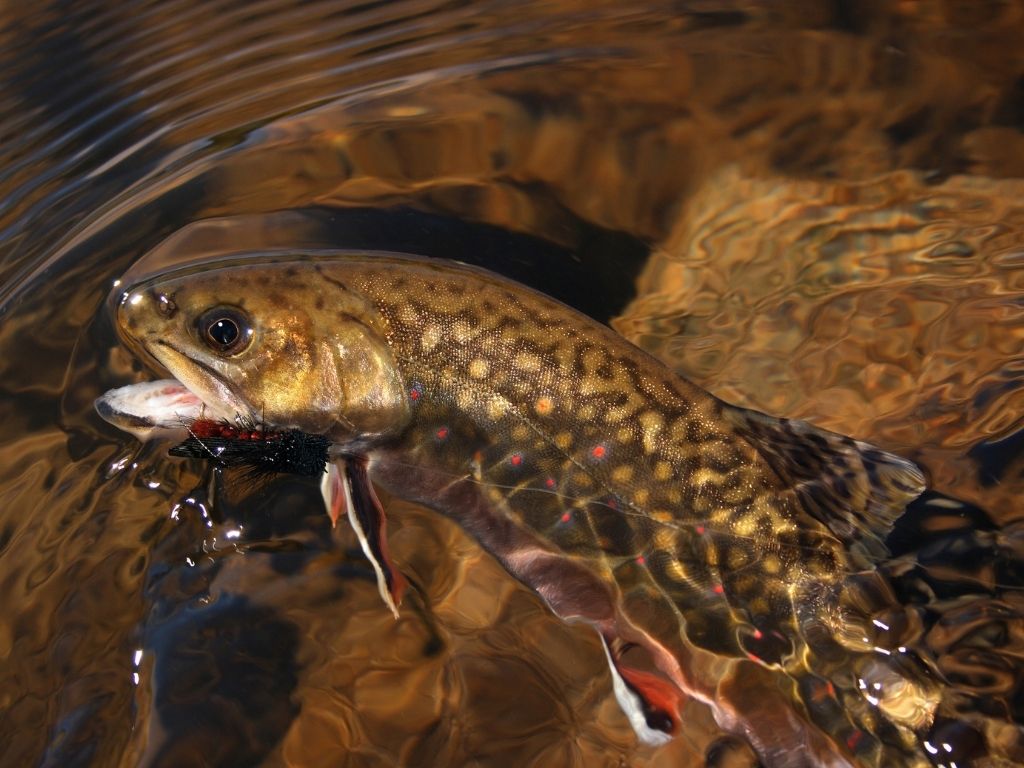 Try to identify the coldest water possible because this is where the fish flourish.
Best Spots for Fly Fishing Salmon
Since there's so much water surrounding Salmon, Idaho, anglers should spend multiple days in the area targeting fish. The majority of your time should be spent on the Salmon River, however.
Cottonwood Recreation Site
If you're staying near Salmon, travel south towards the Cottonwood Recreation Site. This is right between Challis and Salmon. This is a BLM site with a drift boat launch, and you'll also have ample access to bank fishing.
Bring along those Pheasant Tails, Elk Hair Caddis and salmonfly patterns. I found that these produced the most fish. You'll most likely be swinging streamers, high-stick nymphing, or throwing those dry patterns at the rises you see.
Sawtooth Fish Hatchery
Downstream from the Salmon Fish Hatchery, you'll run into Idaho 75. Idaho 75 contains numerous pull-offs for anglers searching to take a beautiful drive along the river and wade fish along the road. You can even stop at a few of those public campsites if you want to take a few days to fully explore the area.
Take along your 5 or 6 weight, floating line, and quite a few dry fly patterns. Pheasant Tails, Clouser Minnows and some terrestrial patterns will do the trick in late summer.
Lower Pahsimeroi Hatchery
The Lower Pahsimeroi Fish Hatchery is another location that anglers often start at when targeting fish on the Upper Salmon. Here, you'll have access to some of the steelhead that run throughout September and October.
The hatchery is located right where the Pahsimeroi River connects with the main portion of the Salmon. Bring your steelhead flies as well as some caddis patterns.
Best Flies for Salmon
The hatches on the Salmon River are phenomenal. You'll need a wide assortment of flies for your time in Idaho. Since the hatches are so prominent, don't be married to one pattern!
Chernobyl Ant
The Chernobyl Ant is a perfect pattern for the Salmon River if you're fishing it late in the summer.
Terrestrial flies are active especially up along the banks covered in vegetation. Let them drift through the middle of the river before you cast again.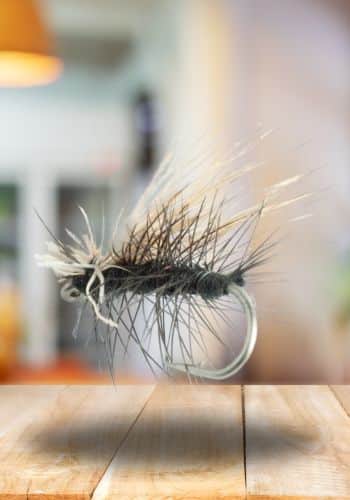 Elk Hair Caddis
Elk Hair Caddis patterns work throughout the morning and evening hatches. Use these patterns in sizes 14-18 if at all possible.
Don't make it too complicated, just cast to the rises!

Woolly Bugger
The Woolly Bugger is a classic pattern that's always worked regardless of where you're fishing and what you're targeting. Fish these through the deeper pools.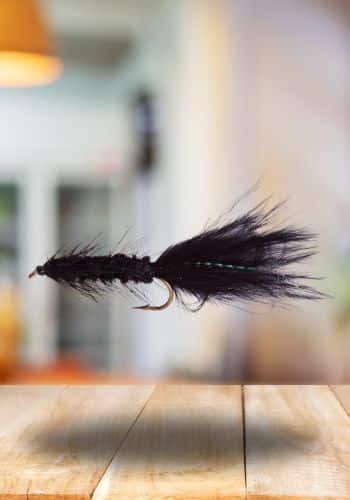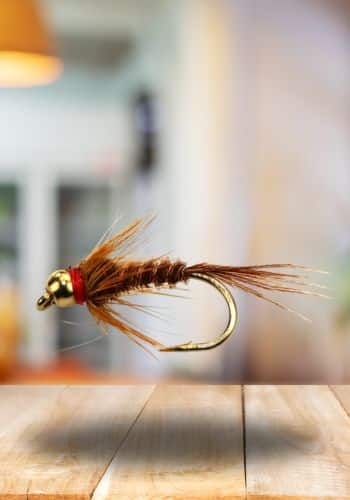 Pheasant Tail Nymphs
BWO hatches are prominent on the Salmon River in the spring. Fish these Pheasant Tail Nymphs through the ripples.

Rabbit Fur Leeches
Leeches are another pattern that anglers need to have in their box. If you're fishing in the middle of the day, go ahead and toss these through the deep portions of the river.
Salmon Fishing Season
The Salmon River can be fished year round. Steelhead run late in the fall, but the trout will feast from late June through October.
I try to make it for the steelhead fun in fall, but I've had a lot of success with brook trout and rainbow trout in the summer too. Both times are excellent for enjoying all the area has to offer.
Salmon Fishing Report
The Upper Salmon was fishing wonderfully in late July of last year. Terrestrial patterns were just starting to work and Woolly Buggers were fishing well near the Sawtooth Fish Hatchery.
Also, if you're interested in another one of my favorite states for fly fishing way over on the other side of the country, don't miss our complete guide to fly fishing around Rhode Island.
Conclusion
Salmon, Idaho, offers anglers some of the most extraordinary fishing experiences in the country. Landing steelhead and salmon hundreds of miles from the nearest ocean is rare. Take advantage of the scenery and the fish! I know I've really enjoyed my visits there, and I can't wait for the next one.
Amazon and the Amazon logo are trademarks of Amazon.com, Inc, or its affiliates.
As a part of the Amazon Associates Program and other affiliate programs, Into Fly Fishing® may receive a comission if you order products through links on this website.