As an Amazon Associate I earn from qualifying purchases.
St. Johns River fishing means different things to different anglers. For some, it conjures images of giant largemouth bass. For others, it brings to mind shad on a fly rod. Others think of redfish sight fishing near the river's mouth.
The relative wildness of much of the river, the variety of fish species, and the abundant wildlife have drawn anglers to the St. Johns for years. So far it has escaped the type of development plaguing much of the state of Florida.
If getting into the wilds of central Florida and catching big fish appeals to you, St. Johns River fishing is worth looking into.
Where Is the St. Johns River?
The St. Johns River is Florida's longest river. It originates south of Blue Cypress Lake in thick marshland and flows 31o miles before entering the Atlantic just east of Jacksonville.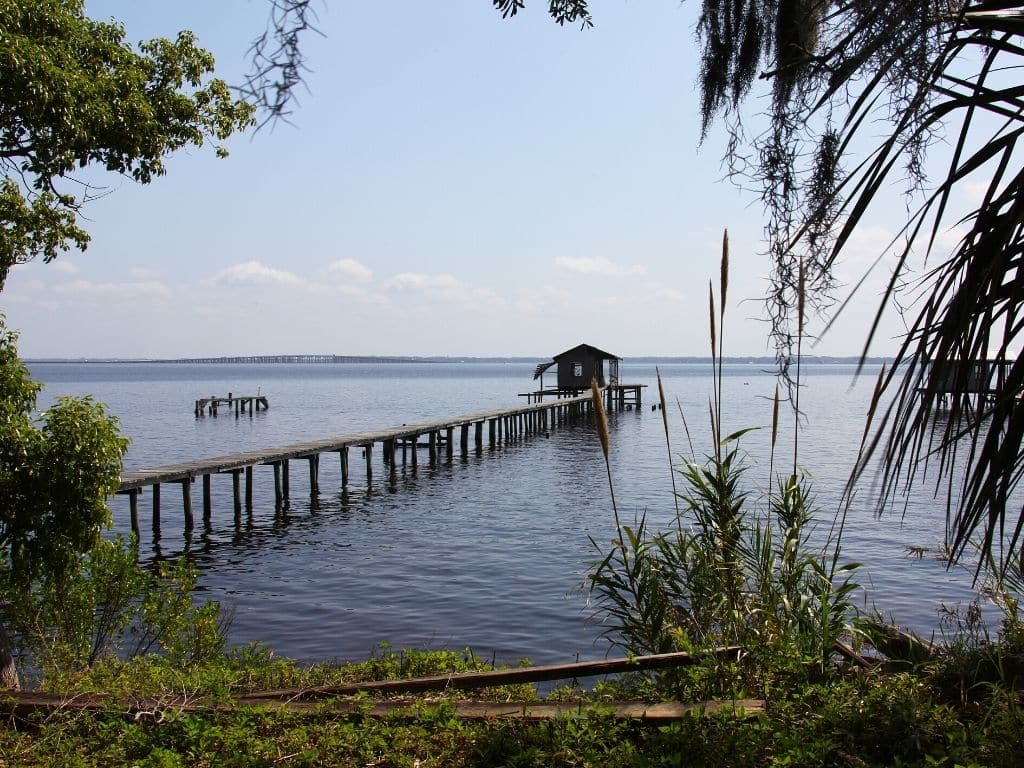 Many towns and cities are near the St. Johns, including Orlando. Although it's close to heavily developed areas, it isn't too hard to get away from signs of human activity on some stretches of the river.
St. Johns River Fishing: Why Go?
If the prospect of catching big largemouth bass, hard fighting shad, or redfish in shallow water interests you, the St. Johns watershed is a place to add to the bucket list.
The St. Johns River has a character unlike many famous fishing rivers, both in Florida and elsewhere. It's worth exploring, especially by boat or kayak.
Types of Fishing in St. Johns River
There are a few ways to fish the St. Johns River, each with its own advantages.
Fly Fishing St. Johns River
St. Johns River fly fishing is a good way to catch many of the species that swim this river. It's one of the most fun ways to catch bass, shad, and red drum.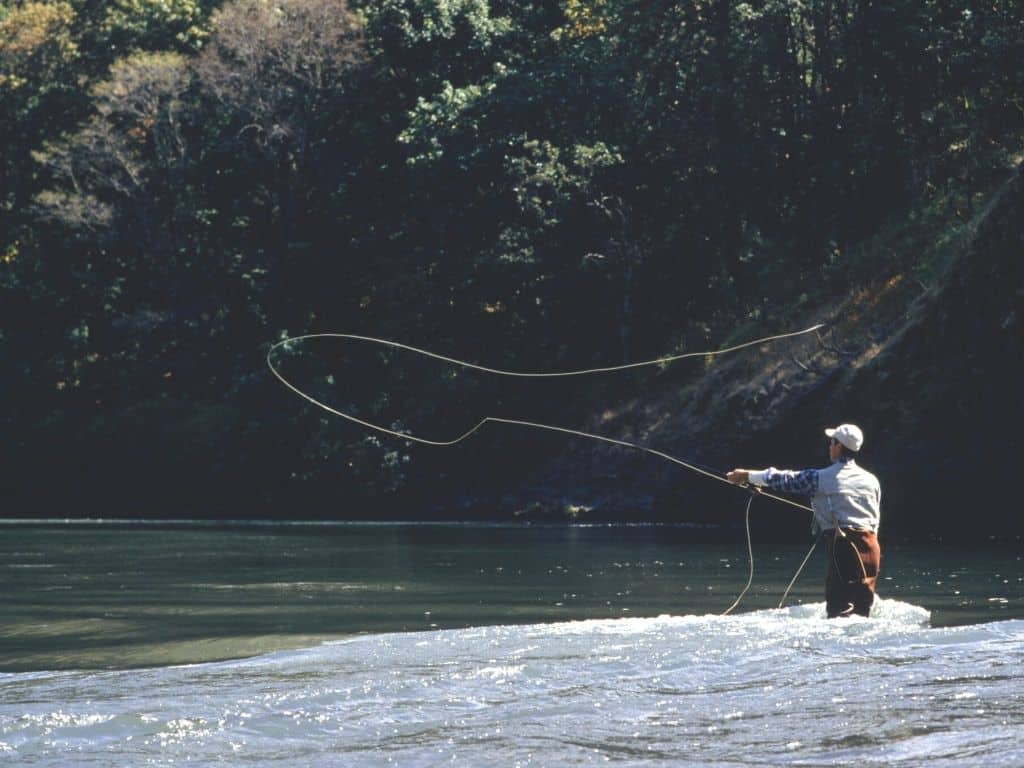 For 5 wt lovers, casting small streamers for crappies and giant bluegills is the way to go. If heavier gear is your preference, cast an 8wt for largemouth or, down near the river's mouth, for redfish and speckled trout.
Spin Fishing St. Johns River
Spin fishing the St. Johns River is about as versatile as fly fishing. Light rods are best for shad and panfish, medium heavy for bass, and heavy surf gear is best when bull reds are around the outlet.
Baitcasting St. Johns River
Perhaps the best gear for largemouth bass in the St. Johns River is a bait caster. For accurate casts with heavy jigs and Texas rigs around the structure, it's hard to beat.
St. Johns River Fish Species
The St. Johns River has a healthy diversity of species, many of which are of interest to anglers.
Largemouth Bass
Perhaps the best known game species that swims the St. Johns River is the largemouth bass. Florida largemouths are known for their size and strength, and the St. Johns does grow bass over 10 pounds.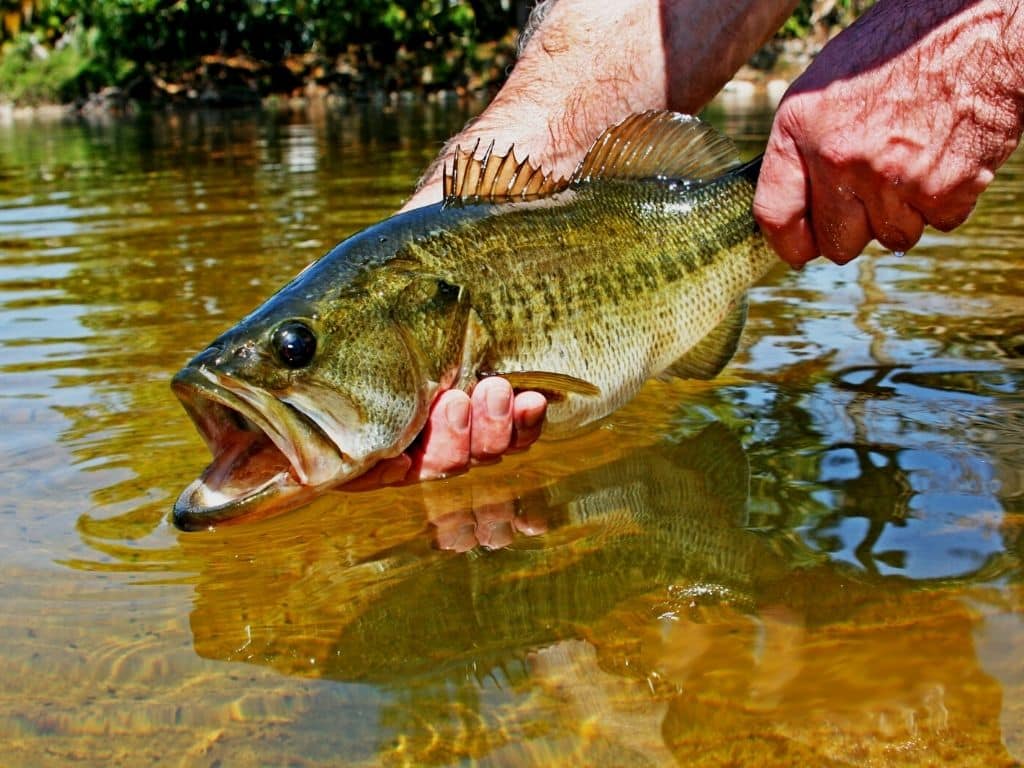 They can be caught bait casting, spinning, or on the fly, and they require heavy tackle as they are often in heavy weed growth.
Shad
Shad are often an under-appreciated species, but not on the St. Johns. There's a significant number of anglers that visit the St. Johns during the winter shad run just to fish for it. Most often, they're targeted with small jigs on spinning gear or with brightly colored flies.
Black Crappie
The St. Johns River harbors one of the best crappie fisheries in Florida, along with big bluegills. Bait or jigs under a float and small streamers or topwater bugs are good for fishing these panfish.
Red Drum
Around Jacksonville and the marshes near the mouth of the St. Johns River, red drum or redfish is the primary species to fish for.
Redfish can be caught blind casting with jigs, and it's possible to get some very large bulls doing this. Perhaps the most exciting way to get them though is sight casting in shallow water with a fly rod.
Speckled Trout
The St. Johns has a great population of speckled sea trout in the lower reaches. These aggressive fish look very different from redfish but are also in the drum family.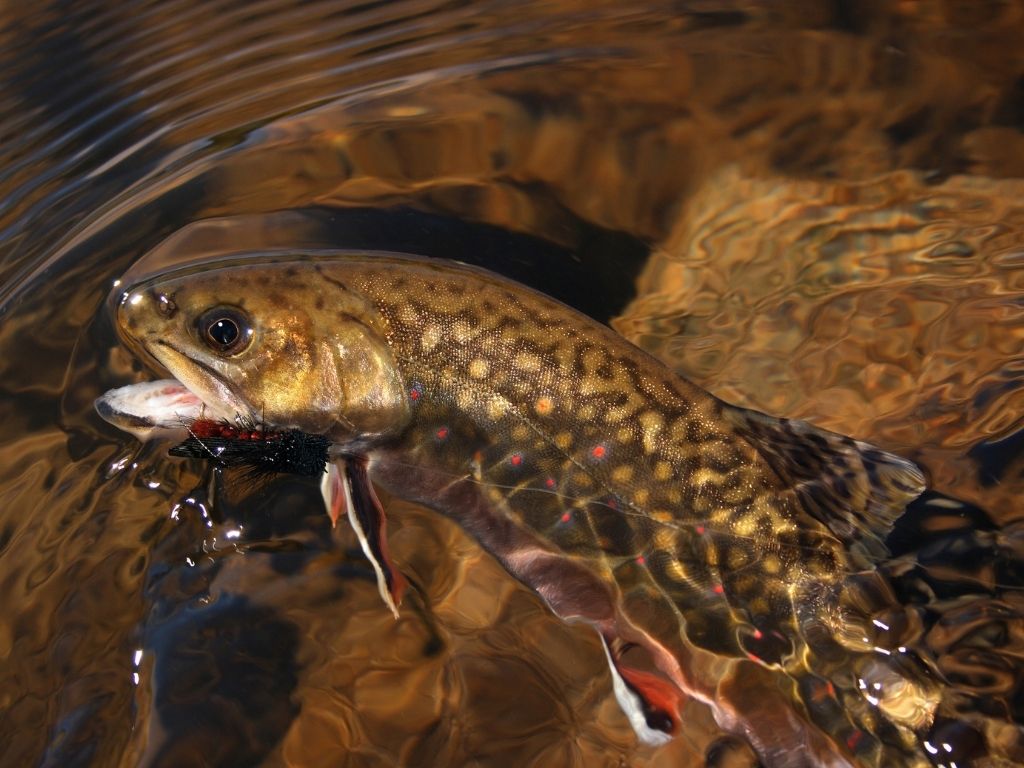 They feed aggressively on baitfish and shrimp and can be caught on flies, jigs, and topwaters.
Best Spots for Fishing the St. Johns River
In 310 miles of water, there are a lot of good fishing spots, but this list should narrow it down for you. Most of the river, though, is best accessed by boat, kayak, or canoe.
Jacksonville
The Jacksonville area is the best for fishing the St. Johns River for red drum and speckled trout. There are also other fish species present, including flounder and black drum.
Though the setting is more urban, the Jacksonville area has some great fly fishing. The most notable structure is dock lines, and there are a lot of them.
Lake George
One of the handful of lakes along the course of the St. Johns River, Lake George is most noted for its big largemouth bass. Weed edges along its peripherals can hold large trophy bass.
Puzzle Lake
Aptly named, this portion of the St. Johns is a tangle of channels, bends, and islands. The Econlockhatchee River enters at the northern end and this is a good area for shad, bass, and panfish.
Best Flies for Fishing the St. Johns River
Don't fish the St. Johns without these flies in your box!
Clouser Minnow
The Clouser Minnow is a great baitfish imitation for red drum, largemouth bass, and redfish. Try black and purple for redfish, and chartreuse and white for largemouth.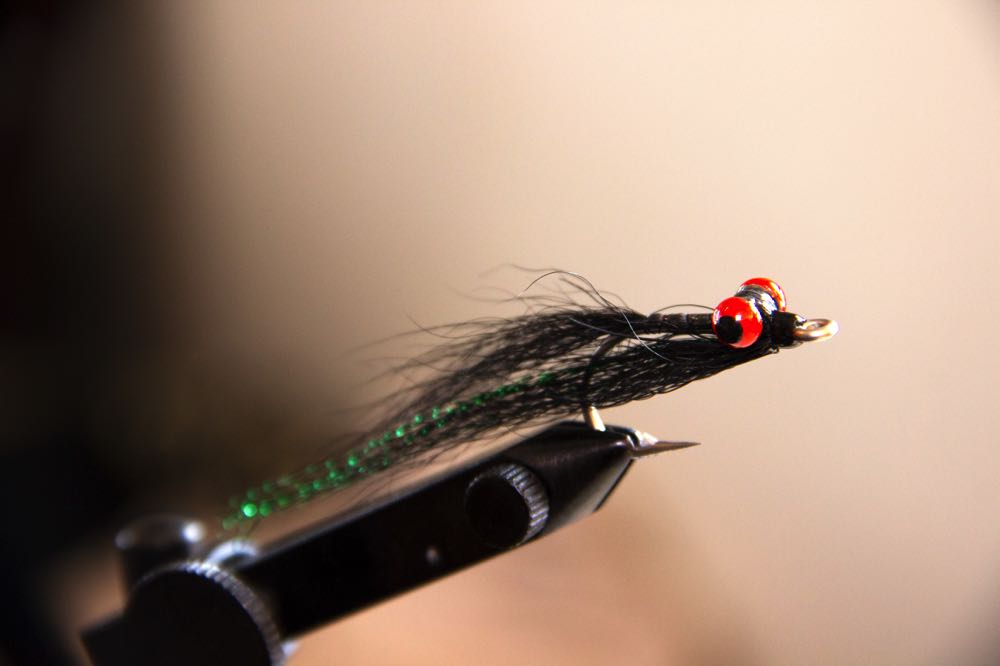 Dahlberg Diver
When largemouth are actively feeding near the surface, the Dahlberg Diver classic fly is a great choice. Use one with a weed guard, as the biggest fish will be in the thick vegetation.

Shad Comet
The Shad Comet is small, brightly colored fly that's great not only for the shad it was designed for, but panfish too.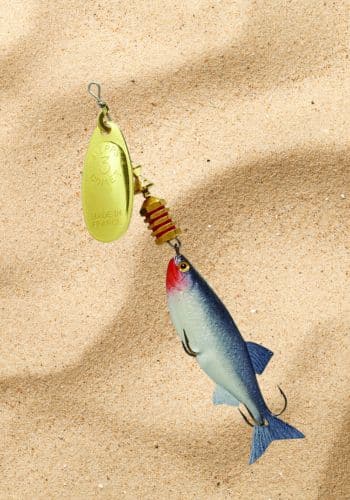 Gartside Gurgler
When speckled trout are feeding on shrimp at the surface, the Gartside Gurgler is a great pattern to cast.

EP Mangrove Baitfish
Whatever predator fish you are seeking, the EP Mangrove Baitfish is a good fly to cast. There aren't really mangroves in the St. Johns, but it's still an excellent imitation of baitfish in both the freshwater and brackish water portions.
St. Johns River Fishing Season
There's really not a bad time for fishing the St. Johns River. The shad run is best in the winter, but it only lasts a short time.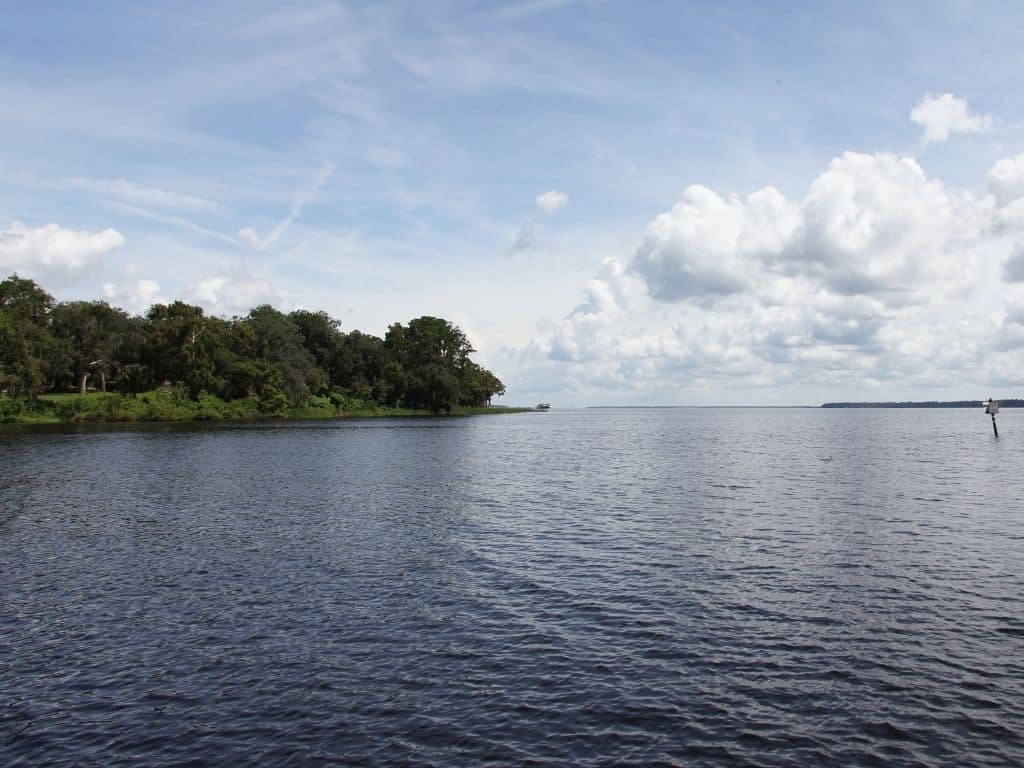 Fall and winter are also good times to target redfish, and the fishing for those species and speckled trout remains good most of the year. Big bass can also be caught year round, but the pre-spawn window is best for giant females.
St. Johns River Fishing Report
For a St. Johns River fishing report, check out Coastal Angler Magazine.
St. Johns River Fishing Guides
Here are some of the best guides for hire on the St. Johns River.
Bob Stonewater's Trophy Bass Guide Service
If big bass on conventional tackle are your primary interest, this guide service is a good choice. Guide Bob Stonewater is especially adept at trophy bass fishing on and around the St. Johns River.
First Coast Fly Fishing Unlimited
Capt. Rich Santos out of Jacksonville specializes in redfish, black drum, and speckled trout on fly tackle. If you're interested in these saltwater species and fishing near the St. Johns River, he's one of the best guides to make it happen.
Central Florida Sight Fishing Charters
Though primarily focused on red drum and small tarpon on the fly in the Mosquito Lagoon, Capt. Chris Myers also fishes the St. Johns River. If you're looking to target shad on the fly in this area and aren't confident you can find them on your own, Capt. Myers is worth reaching out to.
Conclusion
The long, slow moving St. Johns River may not look or feel like many famous fishing rivers. However, it's absolutely worth a visit. There's a great variety of fish to catch and wildlife to see.
Fishing the St. Johns River yields both freshwater and saltwater species and offers opportunities for fly fishers and conventional gear anglers alike. Though having a boat or some other form of watercraft is necessary for most portions of the watershed, the public access is good.
The St. Johns has some of the best fishing in central Florida. It can be a great escape from the cities. I definitely recommend adding this river to your bucket list.
Amazon and the Amazon logo are trademarks of Amazon.com, Inc, or its affiliates.
As a part of the Amazon Associates Program and other affiliate programs, Into Fly Fishing® may receive a comission if you order products through links on this website.