Some claim Michigan is on the East Coast, while others say it's part of the Midwest. Regardless of what you believe, you can't argue with the fact that it's perhaps the most fly-fishable state in the United States.
With over 20,000 miles of streams and rivers to fish, the whole state offers phenomenal angling. Grayling is located right in the heart of some of the most productive water in Michigan. It has multiple rivers to choose from and some impressively large fish.
I visited this area for the first time almost 10 years ago and brought along a spin rod. I didn't even realize all of the opportunities there would be for fly angling. Since then, I've experienced how amazing it is multiple times.
As an Amazon Associate I earn from qualifying purchases.
Fly Fishing Grayling: Why Go?
Growing up in Minnesota, I thought I had a lot of water I could fish. Once I visited Michigan for the first time, I learned how spoiled they are. It seems like every corner you turn, you have fishable water.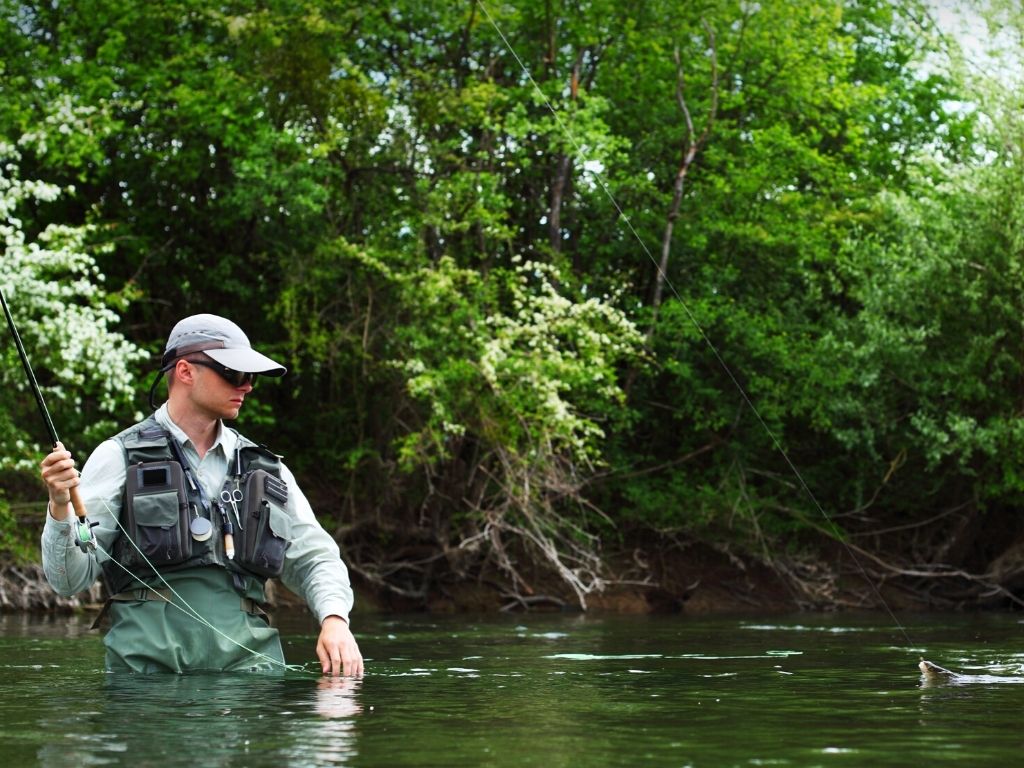 Grayling is located right near the Manistee and AuSable. If you know anything about fly fishing, you know these two rivers. You know how loaded they are with fish and how spectacular the experience is.
Don't miss our full guide to fly fishing around Michigan.
Species For Grayling Fly Fishing
Grayling has the traditional fly fishing species for anglers to target. If you want some larger freshwater species, you can spend some time in non-moving water looking for some of those predatory fish.
Brook Trout
Brook trout are a rare find in many waters throughout the United States. Due to year-round cold water temperatures and plentiful food, brook trout have an easier time surviving.
Plus, they can grow upwards of 15-20 inches! This is a rarity in the world of brook trout.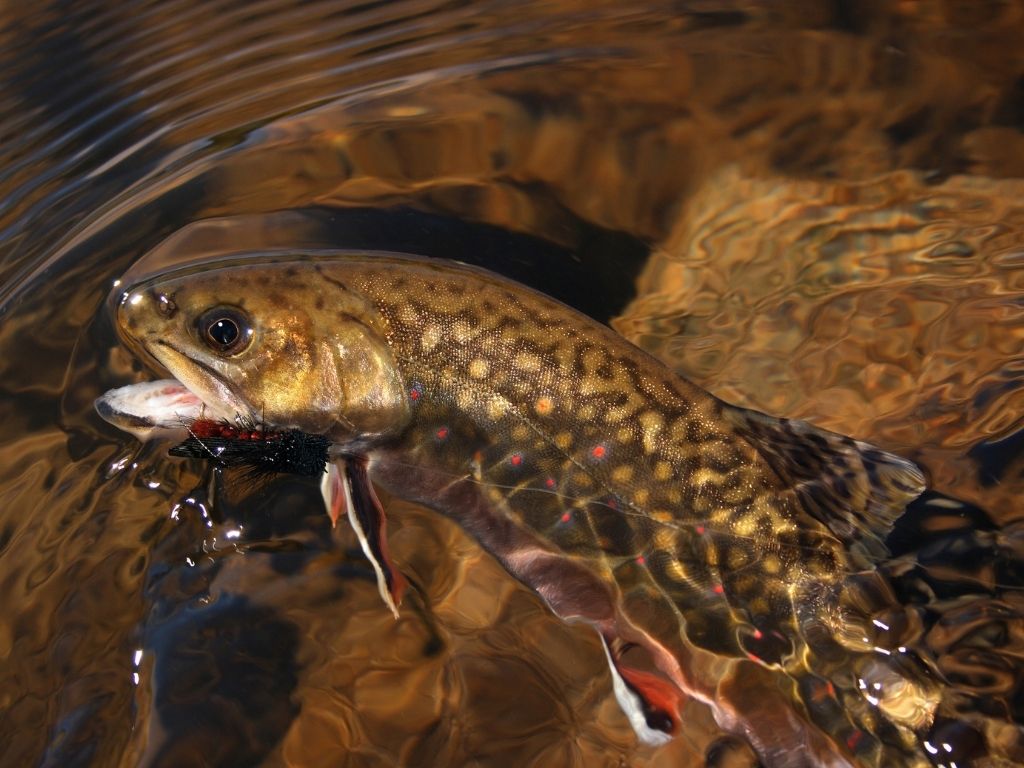 Look for these fish in the Manistee and AuSable. You'll find them in decent numbers throughout both rivers. Bring along Stoneflies and Caddis patterns as well as quite a few Blue Winged Olive flies. These are going to be productive almost all year long.
Rainbow Trout
The rainbow trout around Grayling are beautiful. Not only are they large, but they're also aggressive fighters. The cooler water temperatures keep them active and they don't often become sluggish like they would in other areas of the country.
Target these in the AuSable. It's one of the most famous rainbow trout fisheries in the world. Target them with Drake, Little Black Caddis and Golden Stoneflies. They strike aggressively and will make you work for them.
Brown Trout
Brown trout are some of the most sizable fish in Grayling. You can find them upwards of 25 inches throughout the different portions of the Manistee and AuSable.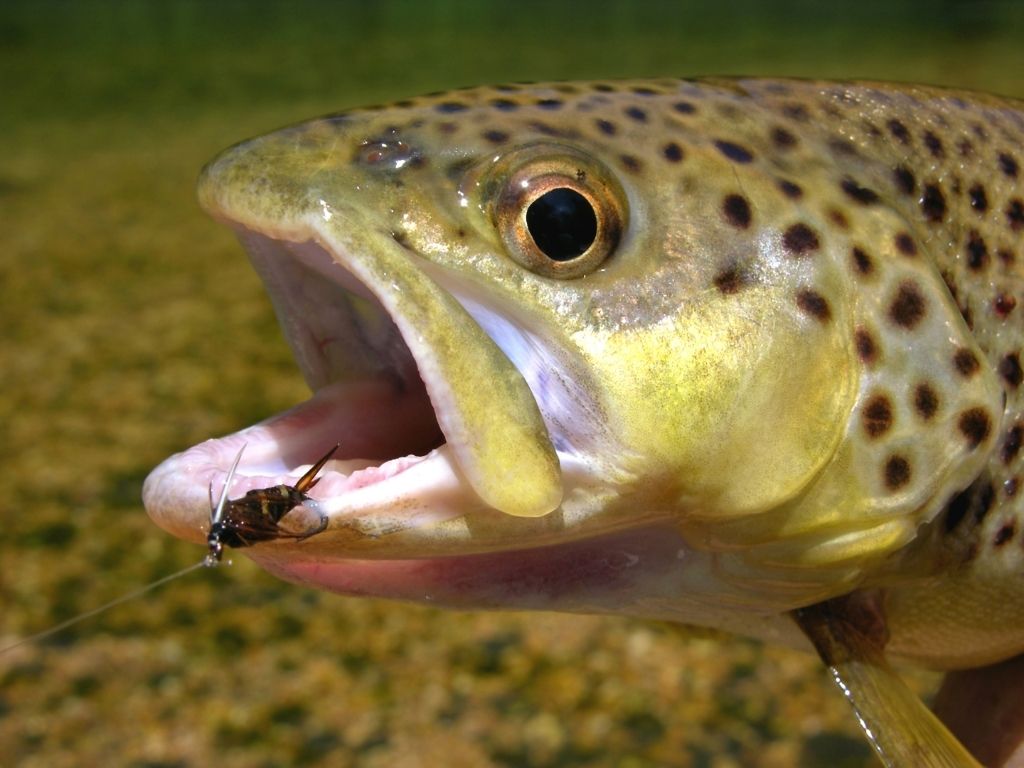 You'll find them with your Clouser Minnows, Wooly Buggers and Stonefly patterns. The buggier looking the fly, the better.
Best Spots for Fly Fishing Grayling
Grayling has hundreds of fishable portions of water right near the town. Throw a dart at the map and odds are you'll have a spot to fish. There are, however, a few hot spots.
Burton's Landing
Burton's Landing is what puts Grayling on the map. This nine-mile portion of the AuSable is an ideal fly fishing section of water. Only fly fishing is allowed, and catch and release is mandatory. It's wide and easy to wade, and the bottom is mostly sand and gravel.
This area ends at the Wakeley Bridge. One of the best parts about this section of water is that access is quite simple. Michigan does a great job of keeping water public and easily accessible for anglers. Focus on those riffles and banks. If you locate structure, you've found fish!
South Branch-Chase Bridge
This area of the AuSable is another fly fishing-only section. These aren't common to find throughout the country. Specific portions of tailwaters out West have these types of water, but they're extremely common in Michigan.
Again, access is easy and you'll find some really solid casting lanes. Bring those Pheasant Tails and Stoneflies to this portion of the river. Also, beware of the mosquitoes and gnats. They're prevalent throughout this section of the water.
Manistee-M72 W to CCC Bridge
This is a fly fishing-only section of the Manistee River. The Manistee doesn't receive as much action as the AuSable, and this is just fine for many anglers. They don't mind having a bit more privacy. Overall, the AuSable may be a bit more productive, but the Manistee is nothing to laugh at.
Take along some March Browns, Stoneflies and plenty of streamers. There are quite a few nice pools throughout this section of the river.
Best Flies for Grayling
Grayling is a productive area to fish due to the excessive amount of hatches throughout the year. The fish are hungry and there's often plenty to eat. You won't always find the fish feeding at the surface because there's so much food below.
Golden Stoneflies
Golden Stone patterns are going to work great from June to August. Wait for mornings and evenings and you'll see these showing up in the faster moving portions of the AuSable as well as the Manistee.

Pheasant Tail Nymph
The BWO hatches are prevalent throughout northern Michigan. Be sure to fish these flies with Pheasant Tail Nymphs throughout the seams, pockets and some of the more shallow pools.

Gray Drakes
Fish Gray Drake patterns in size 8-10. These flies are a bit larger and the trout love to feast on them if they have the chance.

Elk Hair Caddis
Elk Hair Caddis flies are seen as candy on the waters near Grayling. Fish these in size 16-20. Anywhere you see a rise, make sure you cast towards it.

Green Sedge
If you're looking for some great dry fly action, there are sedge hatches from early May all the way until late September. Green Sedge are some of the longer lasting flies in northern Michigan.
Grayling Fishing Season
Your best bet for fishing is from May until late October. While it's still possible to land fish throughout the winter, you're going to have the most production in the warmer months. The Grayling Fishing Season is one that every angler should experience.
Grayling Fishing Report
Grayling fishing is wonderful in mid-June. Runoff season has concluded and the fish are looking to feast. There are dozens of hatches that occur on a daily basis on these waters. Make sure you visit Burton's Landing in the month of June. Those big fish are ready to eat.
Conclusion
Northern Michigan isn't an easy place to travel to and it's not a priority on many anglers' lists. Although it's beautiful in its own right, Grayling doesn't attract many tourists like the mountains out West do.
This area is perfect for the fly angler seeking seclusion. Make your way up north and you'll find yourself in the midst of some impressive fish.