As an Amazon Associate I earn from qualifying purchases.
It might seem to some that fly fishing in Rhode Island, the smallest state in the United States, wouldn't be all that exciting. It certainly isn't world renowned. However, the saltwater fly fishing for striped bass is well known throughout the Northeast. Rhode Island also has some well hidden trout, bass, and carp fisheries.
I've been fly fishing in Rhode Island for almost ten years now. It's just one state over from my home in Connecticut. Though I go there almost exclusively to fish salt water, I plan to branch out more in the future. Small though it is, there's a fair amount of exploring to be done in Rhode Island.
From casting to stripers in Providence to waiting for a Hexegenia hatch on the wood river, Rhode Island has a surprising number of opportunities. The fishing is varied and often exciting. So let's take a look, shall we?
As a part of the Amazon Associates Program and other affiliate programs, Into Fly Fishing® may receive a comission if you order products through links on this website.
Why Go Fly Fishing in Rhode Island?
Undoubtedly, the saltwater fly fishing is the biggest draw to Rhode Island. In the spring, hoards of striped bass feed on small cinder worms in shallow salt ponds. In the fall, stripers, blues, and little tunny blitz on small baitfish. These fish are very thrilling to catch on the fly.
There's some good freshwater fishing in Rhode Island too. Largemouth bass and chain pickerel inhabit the many ponds that dot the state. Stocked trout and a handful of native brook trout inhabit some of the rivers and streams. And because these fisheries aren't so well known, they don't see flies as often as fish in other areas do.
Rhode Island Fly Fishing Species
Though not extremely diverse in terms of fish species, Rhode Island still has a healthy selection to fly fish for.
Brook Trout
Brook trout are the only wild salmonid readily found in Rhode Island. Historically, the state produced brook trout into the mid teens in length. Nowadays, catching a wild brook trout over 12 inches in Rhode Island is uncommon. However, these beautiful jewels can be found if you put the time in.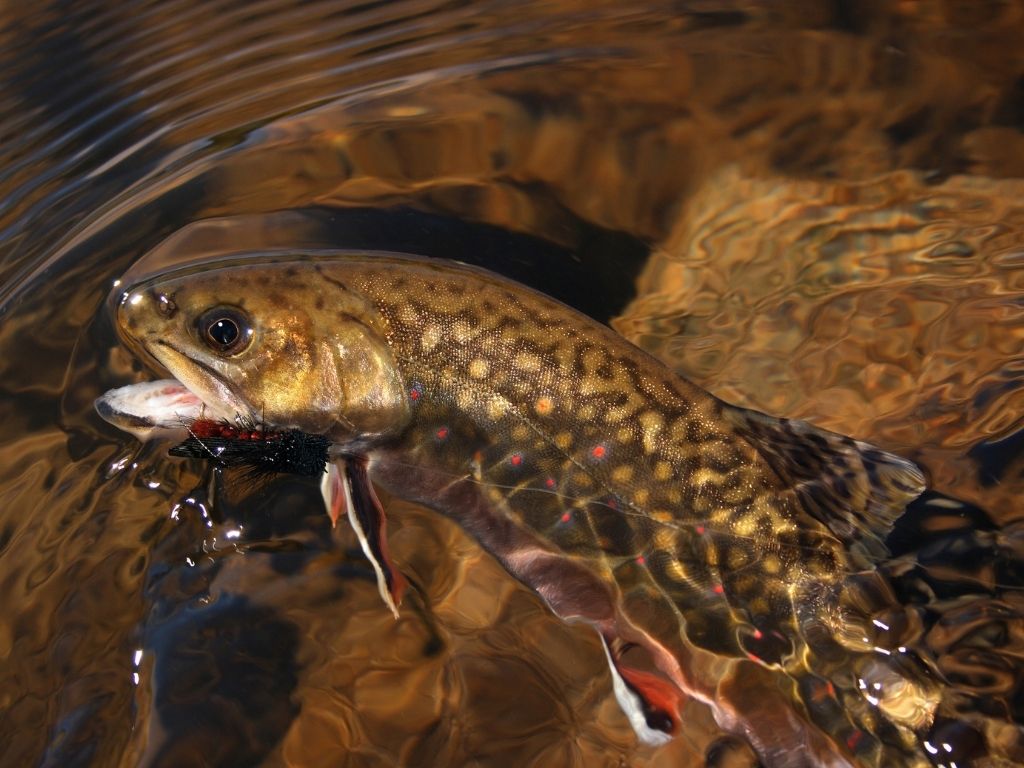 It's best to fish 3 and 4 weight rods for brookies in Rhode Island. Knowing how to roll cast and bow and arrow cast is key. Many of the state's brook trout streams are heavily brushed in. These are very special fish, so take extra care to release them unharmed.
Brown & Rainbow Trout
Brown and rainbow trout are stocked in many Rhode Island streams and ponds. They provide some good fly fishing and are fairly large. In most cases, a 5 weight rod and floating line will do well. In ponds, a sink tip line may at times be useful. These trout rise well to spring and early summer hatches.
Small streamers and nymphs are also important to carry. Unfortunately, stocking brown and rainbow trout over wild brook trout is rampant in RI and damages their populations. It's acceptable to take a limit of brown or rainbow trout when it's legal to do so in Rhode Island.
Though the trout fishing in Rhode Island is good, it comes at a cost to the native brookies.
Largemouth Bass
Many Rhode Island ponds hold populations of largemouth bass. The state is certainly not well known for big bass, but a 5 pound fish can't be ruled out. Fish topwater bugs around weeds, rocks, and logs in the summer to get aggressive blowups.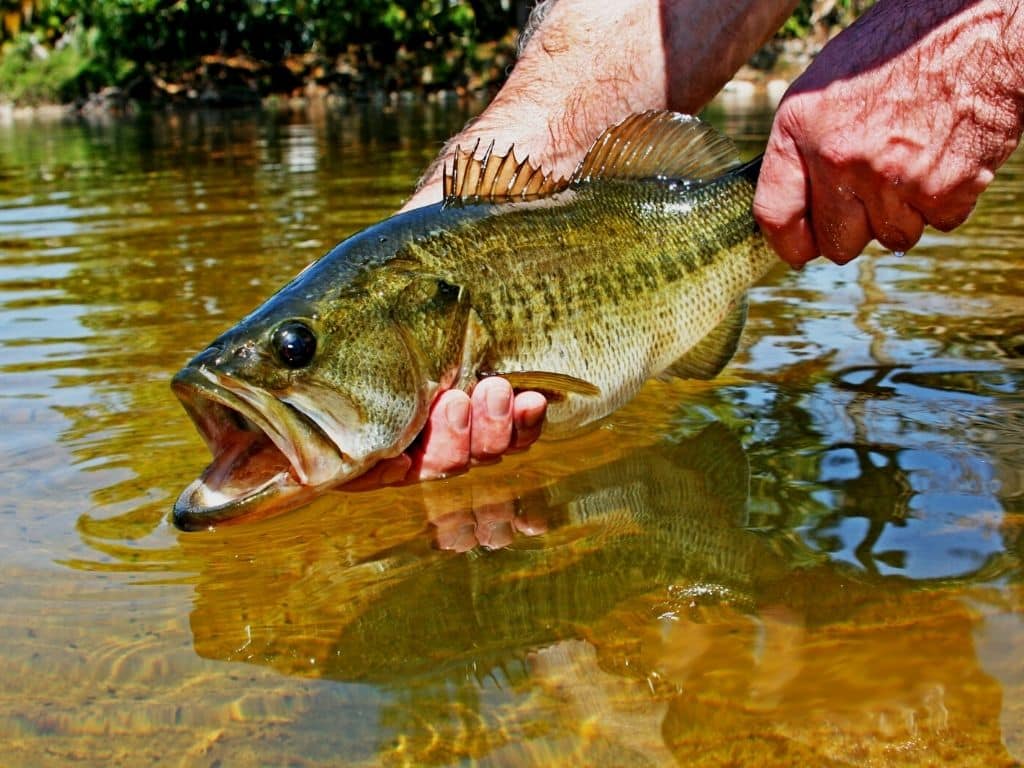 Stripping Woolly Buggers or Clousers when the fish are less surface oriented is also a great way to catch largemouth bass. 6 to 8 weight fly rods work well.
Panfish
Bluegills, perch, and crappies can be a fun alternative in Rhode Island waters. Many ponds have an abundance of these species. Crappies are the least common, with the best fishing found in Worden Pond, Watchaug Pond, and Tiogue Lake. Perch and bluegills are much more abundant.
Small wet flies, streamers, and topwater bugs are great for panfish. I'd use 4 and 5 weight fly rods with floating lines. Early spring is a great time for targeting big panfish.
Chain Pickerel
Chain pickerel are the original native freshwater predator fish in Rhode Island. They thrive in the state's shallow blackwater ponds and lakes. These toothy fish are a beautiful, hard fighting, and underrated fly rod species. Topwater bugs and streamers, especially in red and white, work fantastically.
There's also no such thing as too much flash in a pickerel fly. 6 to 8 weight rods work well when you're casting for chain pickerel in Rhode Island. Spring and fall are the best times to net a trophy.
Northern Pike
Though not known for its pike fishing, there are indeed northern pike in Rhode Island. The big, weedy, shallow ponds provide good habitat for these fish. An 8 weight fly rod and Deceivers, Flashtail Whistlers, and Hollow Fleyes are great picks. Pike fishing in Rhode Island can be very fun.
Common Carp
Common carp are found in the Blackstone River and some of the surrounding ponds. Some of these fish reach well over 20 pounds. Carp are a very challenging fish to catch on the fly. Look for fishtailing in shallow water in the spring and summer, and fish to them with flies that imitate macro-invertebrates.
Montana's Hybrid, the Carp Carrot, and the Carp Bitter are all good choices. An 8 weight is a good rod for carp fishing in Rhode Island.
Striped Bass
Striped bass are probably the most popular fish for fly anglers in Rhode Island. The big spring cinder worm "hatch," summer sight fishing, and fall blitzes draw anglers from all around the Northeast. Having a small boat is often useful. Around Block Island, it's sometimes possible to catch stripers over 30 pounds on the fly.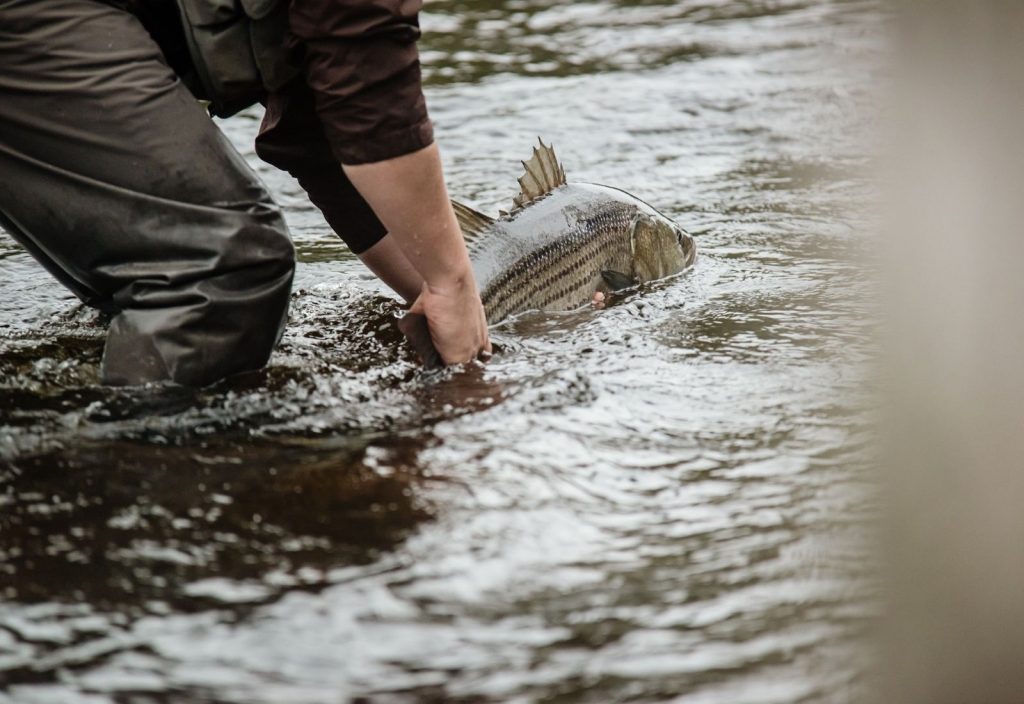 Big bass can also be caught in Narragansett Bay, along the South County Beaches, and at Watch Hill. It's best to use 8 weight rods for schoolies and 10 to 12 weight rods for those elusive cows. Hollow Fleyes, Bob's Bangers, Gurglers, Flat Wings, and Ray's Fly are all great for stripers.
Bluefish
Often looked down upon, bluefish are a lot of fun on the fly rod. These yellow eyed demons eat with reckless abandon, sometimes filling the water with the blood and scales of their prey. Wire leaders and simple Deceivers, Clousers, and poppers are very productive when blues are around.
Bonito & Little Tunny
These speedsters visit Rhode Island's shoreline in late summer and fall. They come and go quickly, and sometimes might not come at all. Every saltwater fly angler in the state seems to go crazy when they're around.
It's no wonder why… little tunny run up to 40 miles per hour! Fish 8 and 10 weight rods and reels with a good drag and lots of backing.
Scup & Black Sea Bass
Though not well known fly targets, when striper, blues, and tunny aren't around, scup and sea bass can save the day. In the spring, summer, and fall, dropping a small Clouser to the bottom could draw out these hard fighting and good tasting fish.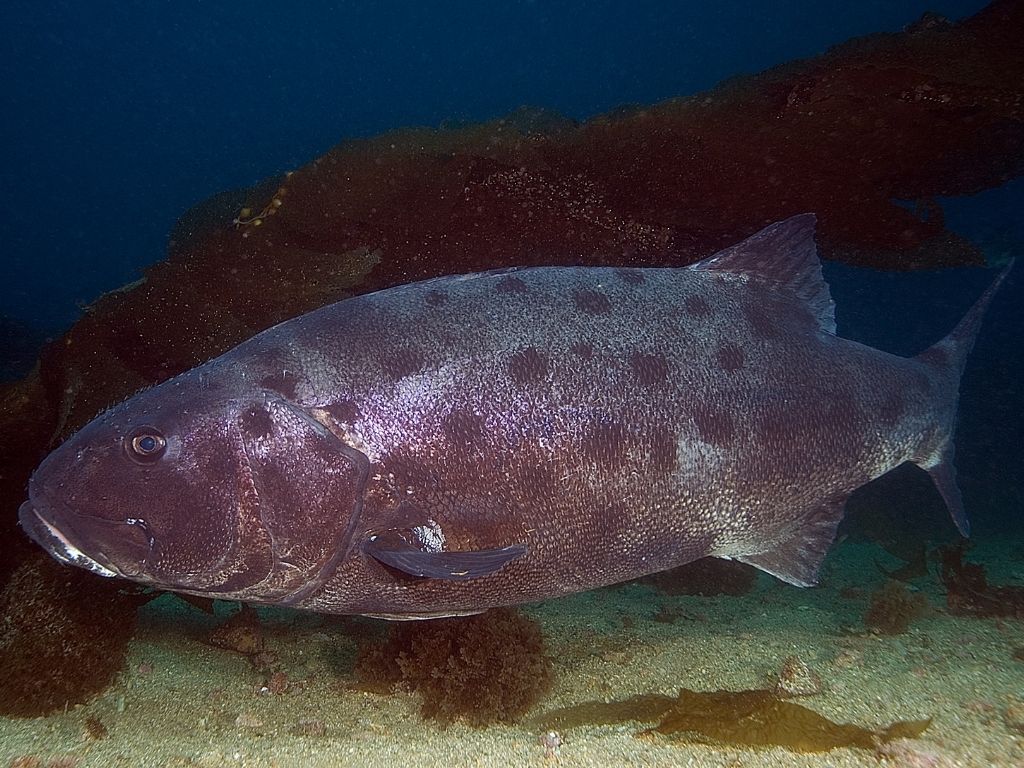 I use full sink fly lines and fish primarily around rocky reefs.
Best Fly Fishing Spots in Rhode Island
Despite being the smallest state in the union, Rhode Island has so many fishing spots that they can't all be covered in an article. Here are some of the best known and most popular.
Fly Fishing Rivers in Rhode Island
Rhode Island lacks high gradient, fast flowing rivers. There are some rocky stretches with riffles and pocket water in various parts of the state, but on the whole the rivers are slow and meandering. This doesn't mean the fishing is bad, though! In fact, their nature has resulted in some of the best parts of Rhode Island fly fishing.
Wood River
The Wood River flows mostly through public lands, and much of it is accessible to fly fishers. However, for many stretches, it's best not to be on foot. The upper reaches hold one of the healthier brook trout populations in Rhode Island and are wadeable, though the casting is often tight.
The lower end is slow, deep, and muddy. This part is best accessed by canoe or kayak. It's worth the effort, though, as these slow muddy areas produce hatches of the biggest mayfly in the country, the Hexegenia. Evening hex hatches bring up some big trout. They're difficult to pin down, but carry a headlamp and a few big parachute dries just in case.
Pawcatuck River
Also stocked with trout, the Pawcatuck River is the widest stream in western Rhode Island. Many stretches are best fished from a canoe. In the summer, warmwater fish species far outnumber trout. Carrying a 5 weight with a variety of streamers and a few dry flies is a good way to fish the Pawcatuck River.
The bottom tidal end also sees some striped bass in the spring, so having a 10 weight and flies that imitate herring is a good idea.
Blackstone River
The Blackstone River is Rhode Island's premier carp fishery. Stalking the shallow backwaters in the spring, when the river is high, is a great way to catch common carp. The Blackstone also has some stocked trout, panfish, fallfish, and bass. Fishing the Blackstone River is truly a mixed bag.
Carrying a 5 and 8 weight rod and a big variety of streamers, nymphs, and topwater bugs is a good plan.
Providence River
In the winter, the Providence River is a gathering place for young male striped bass seeking warm water. These fish can be caught on sinking and sink tip lines with Clousers.
This is an urban fishing scenery and not for everybody.
Narrow River
The Narrow River in Narragansett is an excellent spring and fall fishery for striped bass and hickory shad. Large white perch can also be caught there at times. This can be a fun place to swing Flatwings with a spey rod. An 8 weight with an intermediate line and a Clouser also works. The Narrow River can get crowded at times, so be polite and don't fish too close to others.
Fly Fishing Lakes in Rhode Island
Rhode Island doesn't really have any big lakes. Scituate Reservoir is the largest stillwater but is illegal to fish. Most of Rhode Island's stillwater fishing happens in the many blackwater ponds.
Worden Pond
Worden Pond holds an abundance of bass, pickerel, and northern pike. It's best fished from a boat, canoe, or kayak. A boat launch on the southern end provides access to this great fishery. The pickerel here average on the large side and are easily caught on red and white deceivers.
Crappies are also found at Worden Pond. Carrying a 5 weight for panfish is a good idea, but an 8 weight is best all around for fly fishing Worden Pond. Shallow water and heavy weed growth mean flies with a weed guard will be key here.
Watchaug Pond
Watchaug Pond is another good warmwater fishery with bass, pickerel, and panfish. Burlingame State Park provides both abundant shoreline and car-top boat access. Small boats are definitely an excellent way to fish here. Consider an intermediate line and small chartreuse Tabory Snake Fly to try to get a big bass at Watchaug Pond.
Beach Pond
Beach Pond, on the Rhode Island-Connecticut border, provides fishing for some species not often found in the state. Smallmouth bass and walleye, in particular. There's small boat access on the Connecticut side, and shore access on both.
Sink tips are a good thing to carry, as the water is deeper here. Rhode Island also stocks Beach Pond with brown and rainbow trout. Try slow stripping a Woolly Bugger just after ice-out.
Olney Pond
Olney Pond in Lincoln Woods is stocked with trout and has bass, pickerel, and panfish as well. This popular park can get very pressured, but the fish don't see flies that often. Try on weekdays in the spring and fall with small streamers and wet flies. A 5 or 6 weight rod is a good choice.
Indian Lake
Indian Lake in South Kingston is another good Rhode Island bass pond. A small launch at the south end provides access. Motors are limited to 10 horsepower and under. The west side is mostly wooded, while the east side has a long row of docks.
Try fishing Clousers around the docks for largemouth in the summer. Perch and pickerel are also abundant at Indian Lake.
Saltwater Fly Fishing in Rhode Island
The salt water is undoubtedly the largest draw to Rhode Island for fly fishers. It can be fickle, but spring through early winter, there's always something to catch. Carry 8 to 12 weight fly rods when saltwater fly fishing in Rhode Island.
Narragansett Bay
Narragansett Bay encompasses a huge area, and there are really a bunch of different spots within it. Many of the shoreline areas are extremely rocky and not for the faint of heart. Both boat fishing and surf fishing can be dangerous here.
In recent years, Narragansett Bay has been one of the most consistent spots for bluefish in southern New England. Look for blues from June through September. They're very willing to go after big poppers.
Point Judith
Point Judith is one of the best known areas to target little tunny and bonito in late summer and fall. They don't show consistently, so you either need to be out on the water daily or carefully watch the reports. Blink and you could miss it, because these speedsters are here one day and gone the next.
An incoming tide is often good for shore bound anglers, while an outgoing tide is good for the boats, but this isn't always a rule that can be trusted.
Ninigret Pond
Ninigret Pond is one of a number of big salt ponds on Rhode Island's southern shore. It's particularly famous for its spring and early summer cinder worm hatch. This isn't really a hatch, but a breeding swarm. Small flies in tan, orange, and red that imitate the worms are best.
Fish a floating line and 8 weight rods. The bite is often best at dusk but can be really good throughout the afternoon.
Misquamicut Beach
In the spring and fall, striped bass and other species run along the sandy shoreline. Some anglers get over-sands permits to drive on the beach and chase down the fish during the off-season. Make sure your vehicle is suitable for beach driving before you try to get the permit.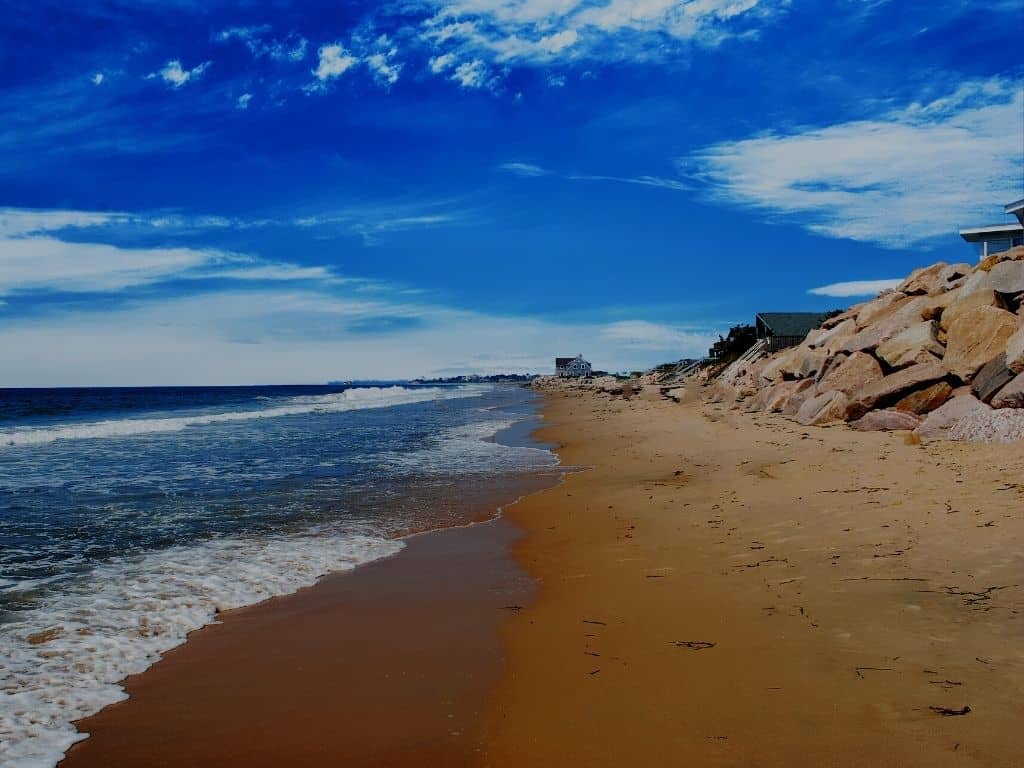 Always remember to air down your tires. A 10 weight fly rod is a great tool for fall stripers on the beach. A stripping basket is extremely helpful.
Block Island
Both the inshore and nearshore water around Block Island hold large stripers at different times during the season. They're most abundant to the south of the island where boat anglers fish live eels for them. Though difficult, it's possible to get these big bass on the fly.
The best opportunity is when the fish push sand eels or squid to the surface. Big bluefish also do this. 12 weight rods and sink tip or full sinking fly lines are best.
Rhode Island Fishing Seasons
Without a doubt, the best fishing in Rhode Island occurs spring through autumn. There can be decent fishing in the winter too, but it's much more difficult even compared to neighboring states.
Rhode Island Fly Fishing in December-February
As previously stated, winter fly fishing in Rhode Island can be a bit grim. If you live in the area, the Providence River schoolies can offer a brief cure to the winter doldrums. If you're traveling from out of state, though, it's best to pick another time of year.
Rhode Island Fly Fishing in March-May
Rhode Island fly fishing picks up as the ice begins to thaw off the ponds. This is a fantastic time to target pickerel and panfish. It's also a great time for carp and pike. When the trout season opens on the second Saturday in April, it's a good time to go looking for the first hatches of the year.
By mid April, the stripers are usually showing up in good numbers. Once May rolls around, there are plenty of schoolies to be caught. Like anywhere in the Northeast, it can be hard to decide what to fish for in May. Everything is on.
Rhode Island Fly Fishing in June-August
Summer can have its doldrums and slow fishing, but in recent years there've been lots of schoolie stripers and mackerel around. It's also a good time to look for bluefish in the bay. Bass fishing with topwater flies can be great in June and July.
Rhode Island Fly Fishing in September-November
Fall is blitz time. It's hard to think about fresh water when the wildest bites of the year are happening along the oceanfront. In September, look for little tunny and bonito around Watch Hill and Point Judith. Stripers feed heavily on the beaches as well. Some years, bluefish are abundant and large, especially if there's a big push of herring in November.
Best Fly Shops in Rhode Island
Unsurprisingly, there aren't many fly shops in Rhode Island. Though I'd typically cover three different shops, I can only do two for this tiny state.
Watch Hill Outfitters
Watch Hill Outfitters is one of the best known sources for fishing gear in Rhode Island. The shop is well stocked, and though it mostly stocks conventional tackle, they carry flies and fly tackle as well. Watch Hill Outfitters is one of the best sources for a Rhode Island fishing report.
The Saltwater Edge
The Saltwater Edge is an excellent tackle outlet in Middletown, RI. They carry a fantastic selection of flies, gear, and tying materials and tools. The shop is, of course, mostly geared towards saltwater fishing. But it may have the best fly fishing selection available in the state.
Conclusion
Rhode Island is tiny. You can get anywhere in the state in less than two hours time. And yet it has plenty of fly fishing opportunities. It may lack mountains, but the shoreline is majestic and full of life. The ponds and streams fish very well for bass, trout, and panfish. The state even has a great carp fishery in the Blackstone River.
Rhode Island may not be on your list of places to visit, but perhaps it should be. The remarkable saltwater fishing is the biggest draw, and the quiet ponds remain relatively untouched by fly fishers. I'll be fly fishing in Rhode Island for years to come. It's a wonderful place.
Amazon and the Amazon logo are trademarks of Amazon.com, Inc, or its affiliates.