England boasts a diverse range of exceptional angling destinations. Allow me, a seasoned UK fly fishing expert who specializes in guiding trout and salmon across the country, to take you through the premier fly fishing locations in England.
England is renowned for its land and exceptional salmon and trout fly fishing opportunities. Fly fishermen from around the globe travel to fly fish in England. So, where might one find the best fishing locations to pursue in England?
My Experience Fly Fishing in England
Over the past ten years, I've had the opportunity to target Atlantic salmon in the Tyne River for multiple seasons, which is one of England's best rivers for Atlantic salmon fishing. I've additionally experienced the thrill of catching brown trout weighing over 6lb in England.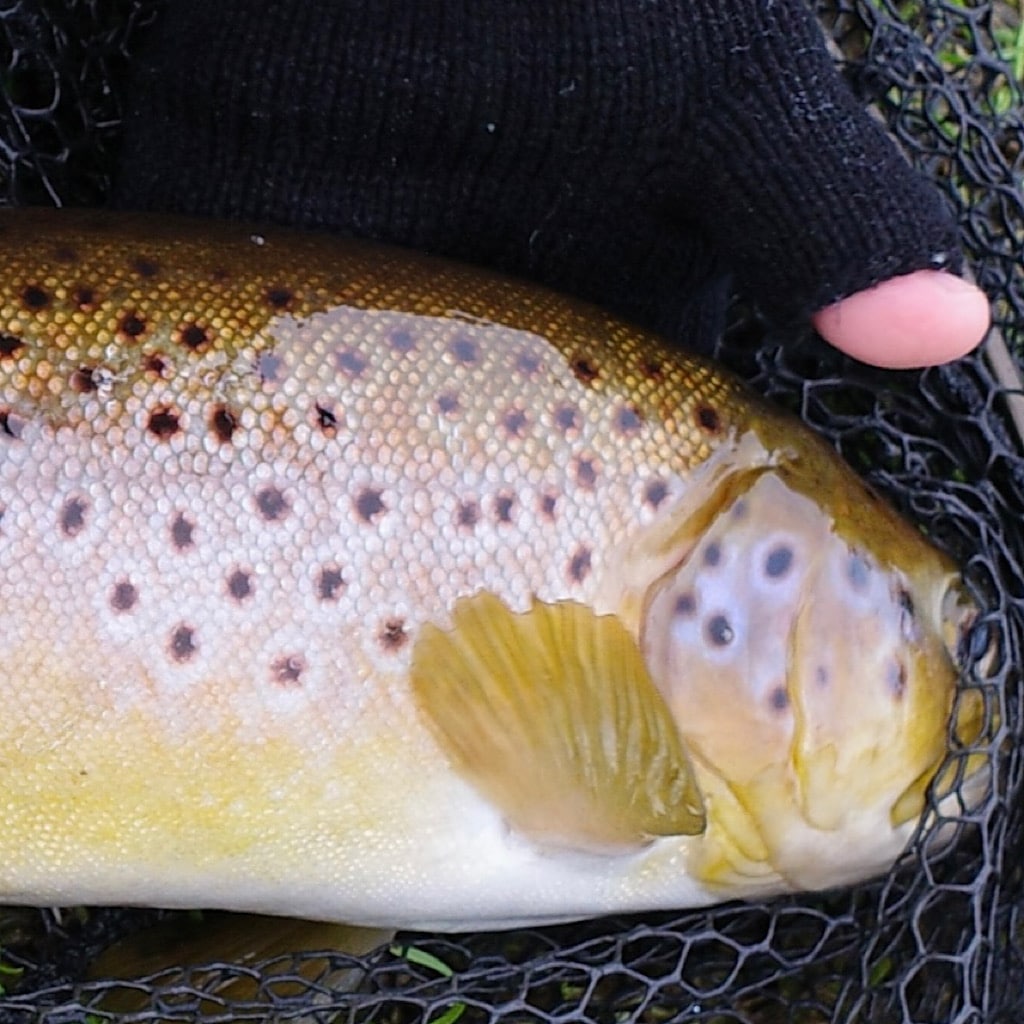 I've been fortunate enough to explore England's concealed angling treasures and have been introduced to the impressive population of smaller brown trout, to the point where I was catching one with every single cast at Brantry Lough.
The information I'll share in today's article is unparalleled, as I discuss invaluable insider secrets about the fantastic fishing destinations England has to offer.
Why Fly Fish in England?
Aside from its rich cultural experiences, fishing heritage, and spectacular scenery, England also stands out as a fantastic fly fishing destination thanks to its diverse selection of lakes, rivers, and opportunities to pursue both trout and salmon.
10 Best Trout Rivers in England
Fly Fishing in England offers an abundance of unspoiled rivers, ideal for various fly fishing styles.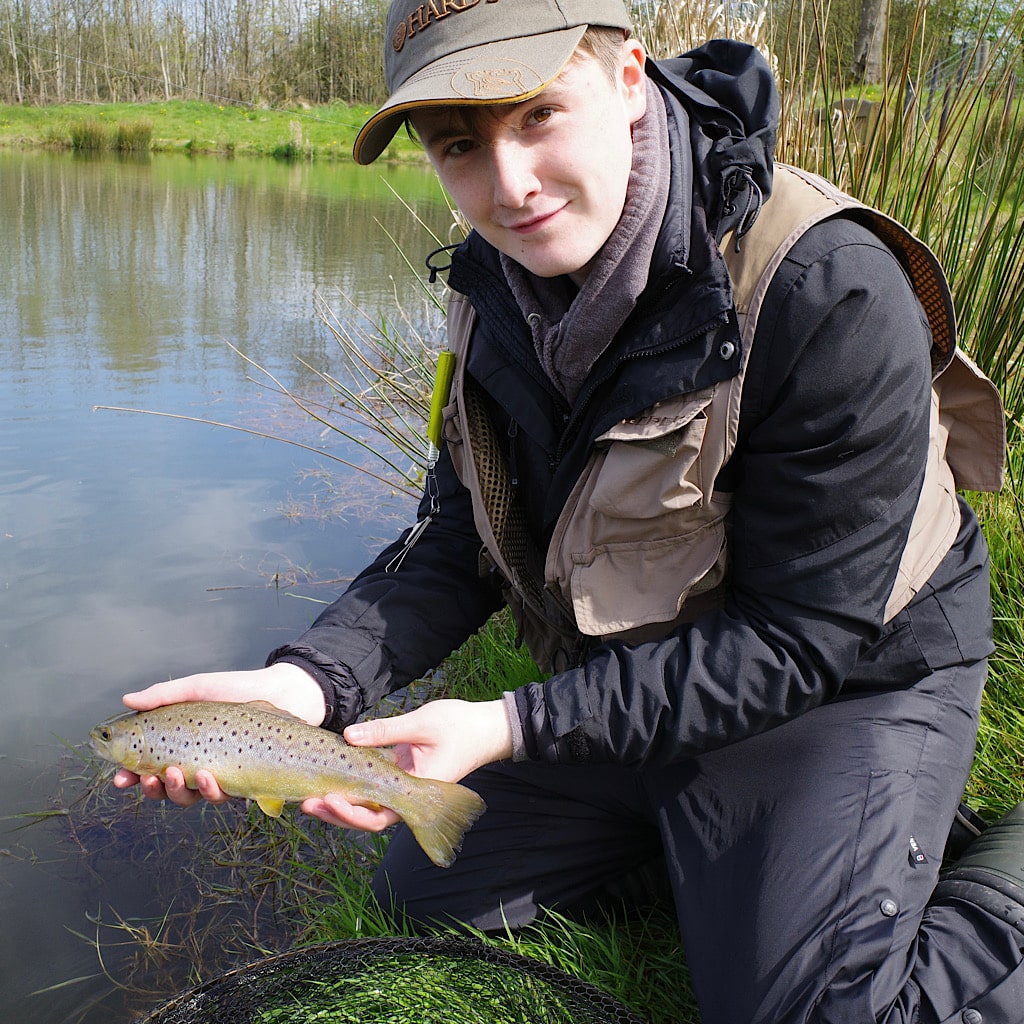 The primary pursuit among fly fishermen in England is the brown trout, a challenging yet highly rewarding catch when using a fly.
River Test
The River Test is located near Hampshire and is famous because of Frederick Halford, a pioneer in dry fly fishing, who developed many of his techniques on this very river. The river doesn't require a 4×4 to be accessed and fishes well using wolly buggers. 
River Itchen
The River Itchen is well known for its remarkable clarity and fantastic brown trout sight fishing. It's very close to the River Test located beside Hampshire. No 4×4 is required to reach this river and a butcher fly works well on it. 
River Wiltshire
The River Wiltshire is situated in Avon and is famous for its large may fly hatches that occur in springtime. Unsurprisingly, any may fly nymph pattern is very efficient for catching wild brown trout on this river. 
River Wharfe
The River Wharfe has an uncommon feature known as the "Strid", a dangerous, and narrow section where the river suddenly tapers. This section of the river is targeted by anglers all over the world as it's known for holding large wild brown trout. 
River Dove
The Dove River is on the border between England and Wales and is famous for anglers such as Charles Cotton, and angling author Izaak Walton, author of "The Compleat Angler" fishing it. On this river, the CDC Midge is known to work well for trout. 
River Eden
The River Eden is one of the most sought-after fly fishing destinations on today's list, due to its population of genetically unique indigenous wild brown trout, found only in this river system. These Eden trout are commonly caught on the Griffith's Gnat fly. 
River Ribble
A designated area of special interest, the River Ribble is situated close to North Yorkshire and Lancashire. This river is well known for its evening rises, so make sure to pack plenty of dry flies in your fly box.
River Tees
Every year, the River Tees has a great run of both sea trout and salmon. This river is situated close to cross-fall, a large scenic waterfall in North England. I recommend using a Willie Gunn Mustad Double as this is a prevalent salmon fly on this river. 
River East Lyn
The East Lyn River is located in Somerset and is well known for its fantastic trout nymphing. The East Lyn fishes well using a zebra midge and no 4×4 is required to access the river. 
River Teme
The Teme is located along the border of Wales and England and is home to the famous Ludlow Castle. Caenis fly patterns are superb on this river for catching large wild brown trout and a 4×4 isn't required to access this river. 
10 Best Trout Lake Lakes in England
Fly fishing in England boasts not only fantastic trout rivers but also a diverse array of brown trout lakes – perfect for fly fishing. In this section, we'll delve into the top lakes for fly fishing for brown trout in England:
Lake Malham Tarn
Malham Tarn is located in Yorkshire Dales National Park. Surrounded by breathtaking limestone scenery, this is a fantastic lake for wild brown trout. Greenwell's Glory is an effective fly to use on this body of water and if you're interested in bird spotting, the elusive redstart bird can be found here. 
Lake Haweswater
Haweswater is a man-made lake that's situated in the Lake District. Its open shoreline makes it great for beginner casters. Interestingly, when the lake's water levels are low you can see the remains of an old village named Mardale Green. 
Lake Esthwaite Water
Lake Esthwaite Water is situated in Hawkshead, Cumbria. Esthwaite Water fishes well with classic wet patterns such as the March Brown. This lake has sizeable trout in it and can be accessed on foot without any need for a 4×4. 
Lake Derwent
Derwent Reservoir has some of the best brown trout nymphing in England.
This lake fishes well in late spring to early summer time and is perfect for impaired anglers who require easy access.
Lake Blagdon
Blagdon Lake, situated close to Bristol, is a great trout fishery with lots of posts suitable for fly fishing. This fishes well using a bushy palmer fly such as the Bibio. 
Lake Ullswater
Ullswater is located in the Lake District and is the second-largest lake in the entire region. Ullswater has a stocking of wild brown trout and it is often referred to as the 'Dark Lake' because of the tales surrounding its lake monster, known as the 'Ullie.'
Lake Redmire Poll
Redmire Poll is famous for angler Richard Walker catching a record carp weighing 44 pounds in 1952. Nowadays Redmire Poll is known to be one of the best brown trout lakes in England, which fishes well with a Redmire Sedge.
Lake Windermere
Windermere is England's most iconic lake and is situated beside Bowness-on-Windermere. Windermere holds an impressive array of both brown trout and pike that can be easily caught on dawlbach and clouser minnows. 
Kielder
Located near Northumberland, Lake Kielder is one of England's largest reservoirs, known for yielding impressive double-figure brown trout catches via fly fishing. Accessible without the need for a 4×4 vehicle, it welcomes anglers of all levels of experience.
Fly Fishing in England Regions
England's diverse fly fishing opportunities offer something for every angler. Whether you're seeking freshwater streams or the joy of saltwater fly fishing, you're bound to find the perfect spot to cast your fly line.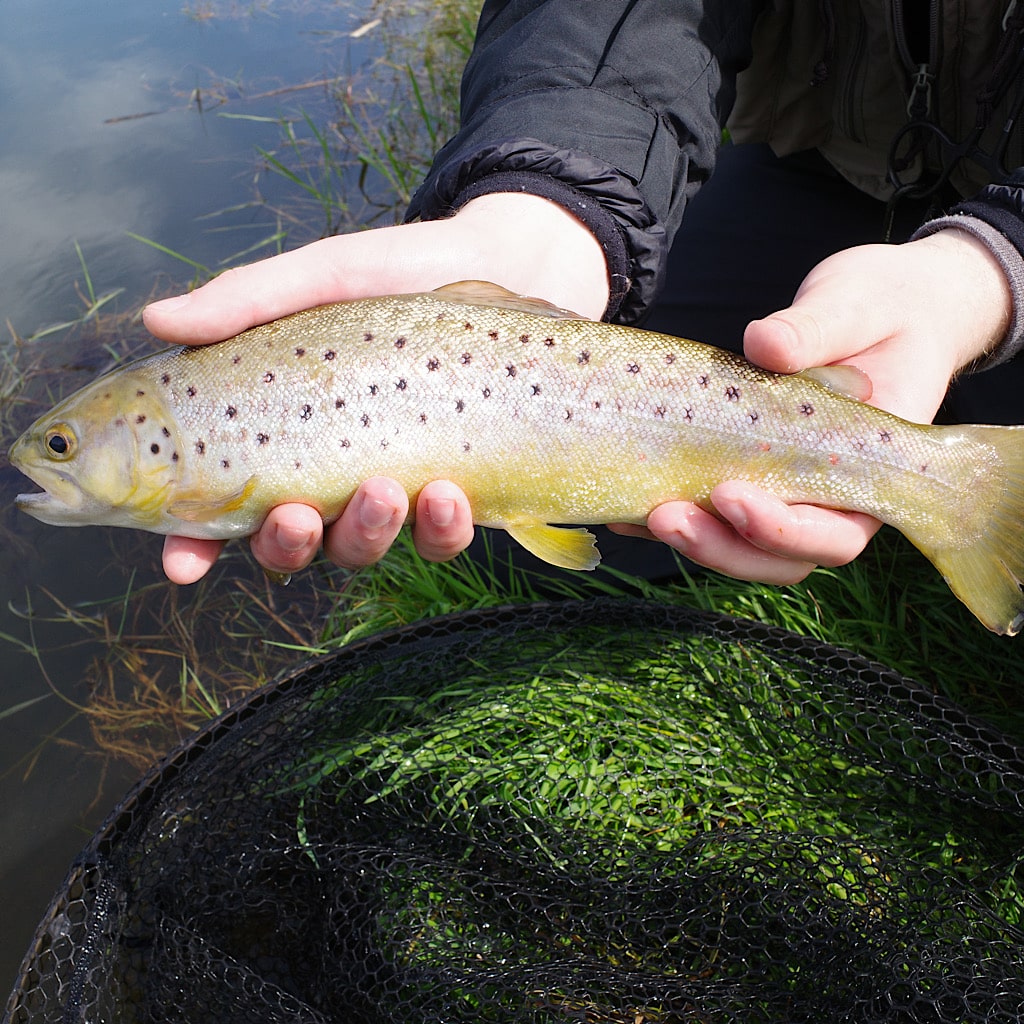 In this section, we dive into England's best fishing regions:
South West England
South West England is notorious for being a trout fishing hot spot. Whether your preference is for stream, river, or lake fishing, South West England offers abundant opportunities.
North West England
North West England is home to Windermere, renowned for its exceptional trout and pike fly fishing. You can easily rent boats for angling adventures on Windermere and explore the other lakes within the national park.
East Anglia
East Anglia is home to England's famous fly fishing chalk streams, including the notable River Test and River Itchen. If you are seeking crystal clear trout fishing, this is the region for you.
Isles of Scilly
Located just north of Cornwall, these remote islands provide a truly unique fly fishing experience. The main attractions for fly anglers along this coastline are saltwater bass and pollock. I've had the thrill of landing double-figure pollock in this area.
England Fly Fishing – Fish Species
England offers a wide variety of species to target on the fly. In this section, I'll cover the four main species commonly caught in England on a fly rod.
Brown Trout
Trout can be caught all over England, and they put up a great fight on the fly. Brown trout come in all sizes, from small stream trout to large local lake trout weighing over ten pounds.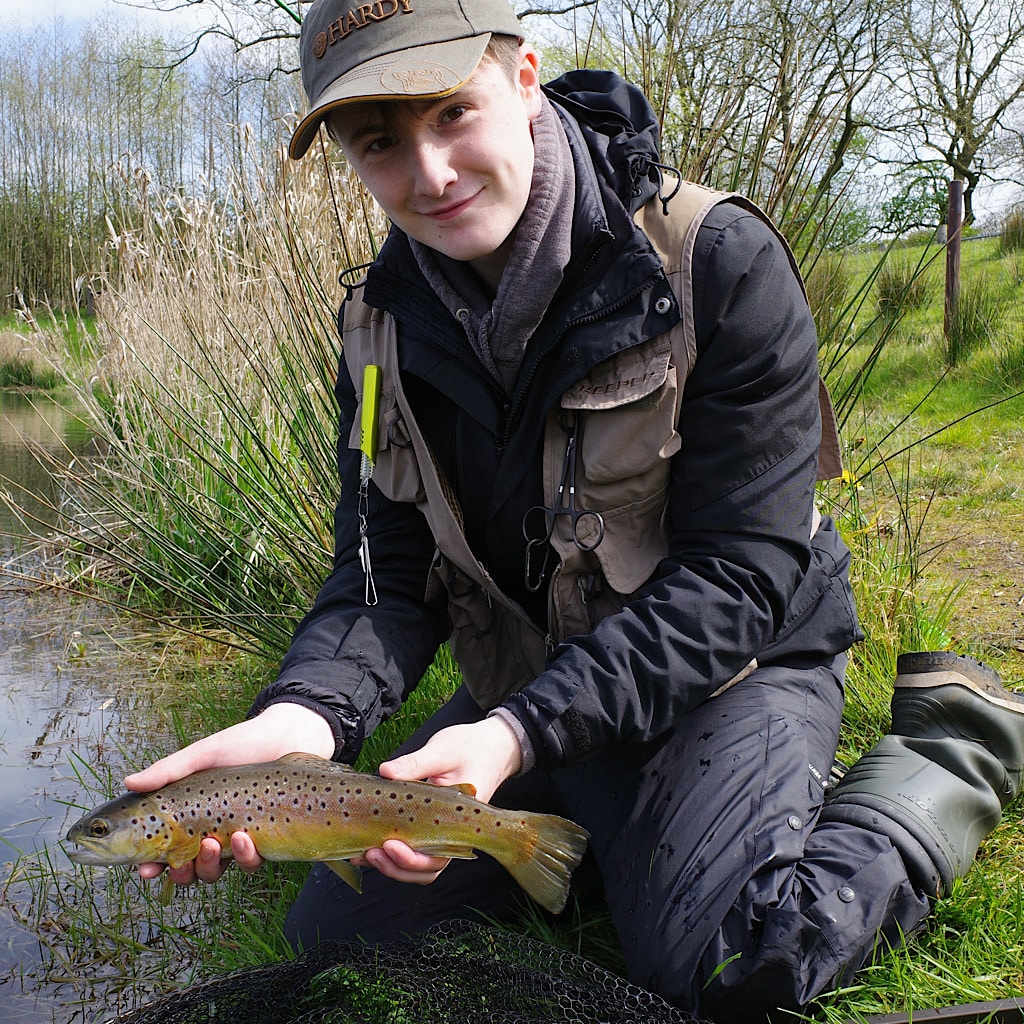 Atlantic Salmon
Atlantic salmon is a prized fish to catch in England. Some anglers will spend an entire season trying to land these beauties. However, if you find the right spot, you'll have a much better chance of landing these fish.
Pike
Pike are large predators in England; often feeding on small baitfish such as roach, rudd, and perch. Fly anglers frequently use perch and roach imitation flies to catch these giant fish.
Sea Bass
Sea bass are notoriously difficult fish to catch in England, however, they put up a fantastic fight on a fly rod and often swim in shoals, so multiple catches in a single day are possible if you're lucky. Most anglers use a blue/white deceiver fly to catch sea bass.
More on Fly Fishing Different Species of Fish:
Best Flies For England
There are hundreds of fantastic flies that can be used in England for trout, salmon, pike, and sea trout. This list focuses on my favorite flies to use in England: 
Dry Flies
In this section, I've selected five of my favorite dry flies to use in England:
Adams Irresistible: Best fished in caddis and may fly hatches, Its appealing shades of grey and brown make it a popular choice for English fly fishermen.
The Caddis Pattern: Mimics adult caddisflies. Use it when caddis hatch, tan, or other natural colors work best.
Daddy Long Legs: Imitating daddy long legs flies, especially during their hatches, drawing brown trout with its long, delicate body and long, slender legs.
BWO Sparkle Dunn: A great imitation of the Blue-Winged Olive fly, when these insects are active, both trout and Atlantic salmon can be attracted to its silver shimmering body.
Hendrickson: Distinguished by its pinkish body and dark wings, it's a perfect fly for brown trout in England.
Wet Flies
I've listed five of my favorite wet flies in England:
Bumbles: Bumbles are a traditional wet fly pattern recognized for their vivid colors and pulsating movement in the water.
Bibio: Bibio wet fly is a favorite choice for luring trout and salmon when imitating dark-colored flies.
Zulu: Zulu wet flies are a classic choice for getting strikes from brown trout and Atlantic salmon thanks to their distinctive red and peacock herl bodies.
The White Moth Fly: A superb wet fly for simulating moth activity, most effective at night for brown trout.
Yellow Owl Sedgehog: A staple wet fly for England's waterways due to its attractive yellow color. It's a favorite among anglers trying to attract fish during caddisfly hatches.
Streamers
In this section, I've chosen four of my favorite Atlantic salmon streamer flies to use in England:
Woolly Bugger: Its lifelike movement and versatility make it a go-to option for anglers fishing brown trout and Atlantic salmon in England.
The Spey Fly: Renowned for its traditional design, this fly is very successful when luring Atlantic salmon in English rivers.
The Ally Shrimp: A well-known pattern for angling for Atlantic salmon in England because of its eye-catching color and alluring movement.
The Stoats Teal: It has a simple yet effective design, with a prominent presence in the world of Atlantic salmon fishing in England.
Nymphs
Below, I've listed five of my go-to nymphs for targeting English trout:
Pheasant tail nymph: This nymph is a superb option because of its slim profile and natural coloration, which continuously allures brown trout in England.
Prince Nymph: This nymph is a dependable choice for anglers pursuing trout and Atlantic salmon since it successfully imitates stoneflies and caddisfly nymphs thanks to its peacock herl body and white wings.
Goldhead Damsel: A go-to pattern in England, made to imitate damselfly nymphs.
Zebra Midge: Its simple pattern in black, red, or olive, is a favorite when hunting fish in English waters, especially during midge hatches.
Hare's Ear: In England, brown trout and Atlantic salmon respond very well to the Hare's Ear – a flexible fly with a natural appearance and a soft, buggy body that has long been a favorite among English fishermen.
Saltwater Flies
In this section, I've chosen four of my favorite saltwater flies to use when fishing for saltwater bass in England:
Deceiver: A flexible design that resembles different types of baitfish. I personally recommend using golden and brown colors.
Crease Fly: Great for saltwater bass topwater activity. Use in popper-style designs with a range of vibrant colors like red and blue.
Lefty's Deceiver: Perfect for saltwater bass, consider using shades of white, chartreuse, or olive.
Crab Patterns: Mimics crabs – a saltwater bass's favorite diet. To encourage strikes, choose earthy colors like brown or olive.
England Fishing Season
The prime times for fly fishing in England are from June to September, typically during the early morning and late afternoon. During these periods, fish are more active, and it coincides with the migration of trout, salmon, mullet, and mackerel inland.
England Fly Fishing in June
In my opinion, June marks the beginning of the trout fishing season on rivers in England. While you can catch brown trout in rivers from April onwards, I believe that the larger fish tend to migrate further upstream for spawning in the later months.
The extent of this migration can vary depending on your location. Coastal areas may witness fish moving through the waters earlier in the year.
England Fly Fishing in July
During July, most rivers that hold salmon are well into their salmon season and are experiencing a significant number of successful catches. This is when angling activity intensifies, with more anglers on the rivers, but it's also a time when you can expect to catch more fish.
England Fly Fishing in August
August is my preferred month for fly fishing in England. During this time, salmon and trout are abundant in the river systems, and there are ample opportunities for catching mackerel and mullet along the coastline.
England Fly Fishing in September
September represents the final opportunity for fly fishermen to enjoy catching large numbers of fish. Towards the end of September, saltwater fish populations along the coastline tend to decrease as water temperatures begin to cool.
England Fishing Report
During my last outing to England, I fished the River Tyne in a section known as the Devil's Water. I spent the entire day fishing and had a productive session, landing one sea trout, a handful of small brown trout, and even a small Atlantic salmon. 
All of the fish I caught were in pristine condition, and I was very impressed by the excellent maintenance of the river.
The surrounding scenery was fantastic, and the locals were incredibly helpful; providing valuable guidance to help me land more fish. It was a memorable and rewarding experience.
Best Fly Shops in England
In this section, we'll explore some excellent fly fishing stores that England has to offer:
The Essential Fly
The Essential Fly – A dedicated UK fly sign store with over sixteen years of experience. This business provides anglers with high-quality fly-tying materials fly rods, reels, and even custom-tied flies. 
The Fly-Tying Den
The Fly-Tying Den – Located in Swalwell, England, this store boasts an impressive array of fly fishing gear. This tackle store goes a step further by offering fly-tying lessons that can be conveniently booked through their website.
Troutflies UK Ltd
Troutflies UK Ltd – The ultimate one-stop shop for trout fishing enthusiasts in England. With a specialized focus on trout fishing, this store offers a fantastic range of fly fishing gear, making it an excellent destination for fly anglers.
England Fly Fishing Licenses
You have the convenience of purchasing fishing licenses online, with options available for 1-day, 8-day, or 12-month durations. There are also reduced rates available for individuals aged 66 or over, or those with disabilities.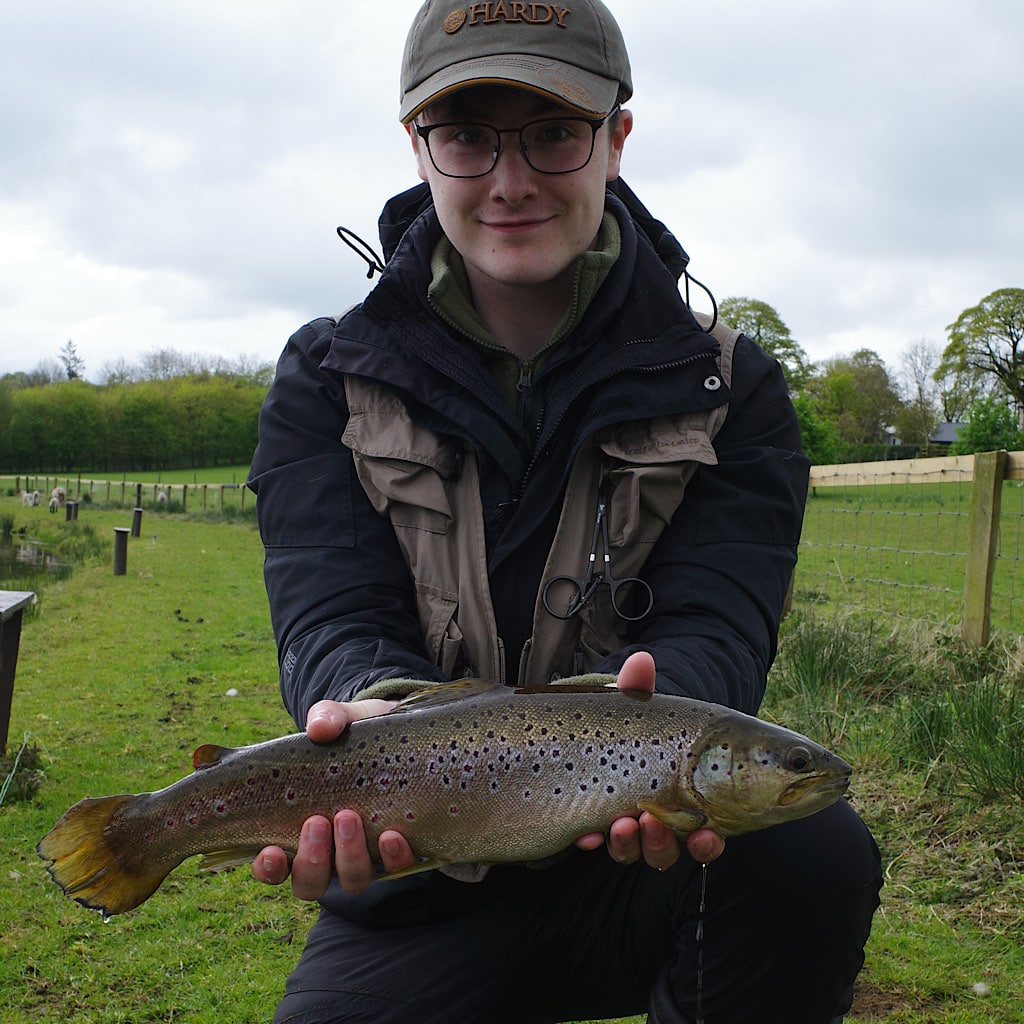 The fees for these licenses are as follows:
1-day license: Costs £6.60 for trout and coarse (up to 2-rod), and £12.60 for salmon and sea trout.
8-day license: Priced at £13.20 for trout and coarse (up to 2-rod), and £28.30 for salmon and sea trout.
12-month license: The fees are £33 for trout and coarse (up to 2-rod), £49.50 for trout and coarse (3-rod), and £86.10 for salmon and sea trout.
Fly Fishing Guide Services in England
In this section, I've curated a short list of some highly recommended fly fishing guides in England:
Tek2 Fly Fishing
Email: jeff.metcalfe1@btinternet.com
Phone Number: 07791700553
Professional fly fishing tuition as well as fly casting instruction and guided fishing to individuals and groups in the Yorkshire region.
Fishing Breaks
A professional and very well-known grayling and trout guide based in England. Fishing Breaks specializes in fly fishing and will ensure you catch a fish while visiting England.
The Durham Fly Fishing Company
In 2022, The Durham Fly Fishing Company was awarded the Certificate of Excellence by TripAdvisor for being a top-rated guiding service in England. They are known for providing exceptional guiding services.
Conclusion
England's rivers, lakes, and coastline offer the perfect spot for fly fishing enthusiasts, whether you're pursuing the mighty Atlantic salmon or a small fast-action mackerel, there's something for every type of fly angler.
I highly recommend exploring England, not only for its diverse range of species but because the country is truly remarkable. Its rich heritage, history, and welcoming populace make it stand out as a must-visit destination for any avid fly angler.
Disclaimer: IntoFlyFishing.com is a participant in the Amazon Services LLC Associates Program, as an Amazon Associate I earn from qualifying purchases. Please see our Privacy Page for more information.